This tasty vegan corn soup recipe with Thai spices is creamy and full of flavour and made with healthy ingredients such as coconut, turmeric and garlic.
Soups are the epitome of an easy healthy meal. You can cram as many of your recommended daily dose of fruit and vegetables as you can think of with an infinite amount of end results of flavours and even moods. Everyone has a favourite, and there is a soup for just about every occasion. With this version of a much-loved classic, we have re-imagined a creamy, sweet and warming corn soup to showcase the very best healthy, plant-based ingredients with a spicy and fragrant Asian twist. With this, our best vegan corn soup recipe not only have we jazzed it up with the aromatic spices of Thailand we have pimped this sweet soup ride up with the boost of all their health benefits too. This is a totally plant-based soup, so no butter or cream, just the healthy kernels of corn with coconut with the sharp hit of chili, Thai basil and lemongrass. This easy to make soup is savoury and sweet but there is no added sugar, the corn does that for you. An ear of corn contains roughly half the sugar of a banana so you can fill up. Our best vegan corn soup recipe is not only a summer staple, but this plant-based soup is also to be enjoyed all year round. 
Corn soup comes in many different styles from corn chowder, curried corn to Chinese sweetcorn soup but our corn soup recipe with Thai spices is:
Full of east meets west fusion flavour
Creamy and spicy and sweet and savoury
Easy to make with simple healthy ingredients
Healthier as cooking corn increases its antioxidant activity
Cooked with healthy ingredients such as coconut, turmeric and garlic
Why spicy corn soup recipe?
Many corn soups recipes rely on other flavours and ingredients to create their identity. The staples would be corn chowder that uses rashers of bacon to add saltiness and depth, or crab and sweetcorn soup which is a Chinese restaurant classic and chicken and sweetcorn soup which has an egg stirred through to give it its uniqueness. With the anti-Cancer Kitchen corn soup, there are no animal proteins used to add texture or flavour, we rely solely on the goodness of plant-based ingredients. Corn by itself is a wonderful sweet ingredient and can make a nice addition to other meals such as a chili or veg lasagne but the flavour itself does need to be intensified or paired with other ingredients and to elevate its use for a whole meal or a soup. With this recipe, the aromatic south-east Asian spices complement the corn perfectly creating a tasty soup that is as warming on a cold winter's night as it is as bright and refreshing as a spicy broth enjoyed in warmer climates such as India and Thailand where much of the inspiration has come from.  
Other wonderful soups like this and where we have taken ideas from are soups such as Thai Tom Yum or Tom Kha soup and Indian Dhal Soup and curried cauliflower soup. To make these more of a substantial meal and to provide more flavours and textures, side dishes such as Onion fritters, home-made flatbreads or crunchy salads such as a peanut salad work really well. If you were to add some popped corn to the mix too not only would you keep a clever theme running throughout you would also be adding a dose of ferulic acid which is a potent free-radical hunter and antioxidant found in the cell wall of plants which is particularly prevalent in corn. Adding further components on the side of this corn soup will aid you to balance your diet and nutrition and complement the health values supplied by the corn.
What are the health benefits of sweetcorn?
The star of this show, sweetcorn, which can be fresh cut straight from an ear of corn, or it can be frozen, which we would always be an advocate for or tinned which also seals in the nutrients straight after it has been picked. Whichever you choose which can depend on what time of year you are buying the corn or whether or not you decide to buy in bulk, it won't matter too much as the cooking process ends up with the same result either way. 
Corn or maize which is a grain contains vitamin C and a carotenoid called lycopene which has an antioxidant effect on the body. Carotenoids such as lycopene are recognised for their dietary importance and found in yellow, orange, red and dark green vegetables including tomatoes and sweetcorn (which also comes in many varieties such as orange, blue and purple). Cooking fruit, vegetables and grains such as tomatoes and corn which are high in lycopene can also help release up to five times the amount of lycopene than consuming them raw. So foods such as tomato puree and slow-cooked corn contain the richest dietary sources of lycopene. There is a strong correlation too between blood lycopene levels and the reduced risk of certain cancers. The J. Natl Cancer inst. assessed almost 48,000 health workers between 1986 and 1992 showing a massive 35% reduced risk of certain cancers in those who consumed up to 10 servings of lycopene-rich tomatoes per week against those who consumed 1.5 servings per week.
Sweetcorn is also a good source of complex carbohydrates which as it digests at a lower rate helps provide energy for a longer duration. It is also a good source of fibre which helps the body ferry cholesterol out of the body. Other overlooked health benefits of sweetcorn are that it's loaded with lutein, vitamin B12, folic acid and iron, this means it helps reduce the risk of anaemia and helps slow macular degeneration too. When consuming foods rich in iron however, it is always recommended speaking to your health specialist to see if this can affect you.
Our secret ingredients in this corn soup recipe
With our fully plant-based Corn soup recipe not only have we had to make substitutions to keep this a fully vegan soup we've added some special ingredients that add the extra pizazz. These ingredients not only add a flavour and a mood they add a well-needed hit of antioxidants and nutrition too. This is definitely a well being and healing soup. We feel that the South East Asian flavours add a little bit of zen to this soup too. The coconut milk which replaces cream or milk in this recipe along with our foolproof mix of Thai herbs and spices being lemongrass, Thai basil, chilli, garlic, ginger, lime leaves and coriander which could be added to many other classic recipes to give them a Thai twist too. We've just added turmeric which not only develops the soups glorious golden colour it adds a powerhouse hit of anticancer properties too.
Making corn soup  – Tips  

One thing that we've found whilst creating recipes or putting our slant on a classic is that there is more than one way to skin a cat. With this corn soup recipe if you prefer to add an Indian flavour to the finished soup then think about adding spices such as cumin, cardamom and cinnamon. If you want to have a North African twist to your soup then add sumac, Ra el Hanout and finish with pomegranates or dates for example. Paprika, lime, chilli and oregano would give you a Mexican style flavour as would adding sage, basil and oregano make this Italianesque or garlic and parsley make this French. All would be amazingly tasty and very healthy.
Other healthy soup recipes you'll love
Have you made this healthy corn soup with Thai spices?
We'd love to see your food creations! Please leave a comment below, share or tag using @anticancerkitchen on Instagram and hashtag it #anticancerkitchen.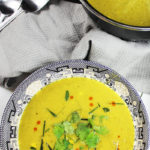 Ingredients
400g of frozen sweetcorn

325g of peeled and diced Desiree potatoes

1 large finely diced white onion

2 chopped garlic cloves

3cm of peeled and chopped ginger

2 lemongrass stalks finely diced

1 teaspoon of turmeric

10g of Thai basil

10g of fresh coriander/ cilantro

½ teaspoon of chilli flakes

3 tablespoons of sesame oil

1 tablespoon of soy sauce

1.25 liter of vegetable stock

400ml of coconut milk

3 kaffir lime leaves finely sliced

Chilli oil to garnish
Instructions
Pour a little of the sesame oil in a large pan and bring to medium-high heat. Add the onion and fry for 5 minutes until the onions start to soften. 
Meanwhile, combine the garlic, ginger, lemongrass, Thai basil, chilli flakes and turmeric with the rest of the sesame oil and blitz to a smooth paste using a hand blender or food processor.
Once the onion has softened and now starting to brown add the paste and the diced potato and stir through. Turn the heat down and cook for a further 5 minutes.
Add the stock, coconut milk and soy sauce and simmer for 30 minutes.
Pour in the sweetcorn and heat through for 2-3 minutes and take off the heat.
Transfer half the contents into a blender and process until just smooth. Do not over blend the soup or the potato starch will become sticky.
Combine the soup back together and serve with coriander leaves, lime leaves and chilli oil.

Copyright secured by Digiprove © 2020 The Anti-Cancer Kitchen