Warning, there is no bulgur in this quinoa tabouli recipe. Mainly due to the fact that we did not have any in the cupboard. The traditional tabbouleh is made with bulgur so to solve our tabouli (tabbouleh) cravings we went for the next best ingredient if not THE best.
Quinoa tabouli recipe
Ancient grains such as quinoa, amaranth, brown rice and buckwheat offer the re-making of the classic vegan side dish so preeminent in Middle Eastern cuisine a gluten free make over. In this gorgeous tabbouleh version quinoa (which is actually a seed) is used as the health benefits are quite extraordinary (hence the best).
Firstly, it is packed with full of protein and for a vegan or our readers that are mainly following a plant-based diet that is important, secondly, it contains l-lysine, an amino acid well documented for preventing cancer and reducing anxiety, and thirdly it has all the 10 essential acids our bodies don't produce.
Other than these health benefits, it is super easy to make and goes well with so many foods. Add tomatoes, pomegranate seeds, citrus, a handful of fresh herbs and some cider vinegar you've made what's healthy, really super amazingly healthy.
Have you made this delicious tabouli recipe?
We'd love to see your food creations! Please leave a comment below, share or tag using @anticancerkitchen on Instagram and hashtag it #anticancerkitchen.
More anti-cancer salad recipes
Check out our tasty and anti-cancer mains and salad category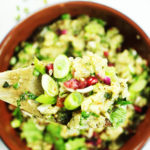 Ingredients
100g of quinoa

Finely diced bulbs of 6 spring onions and the chopped stalks of 2

2 tablespoons of pomegranate seeds

3-4 tomatoes finely chopped

100g of finely chopped cucumber

A handful each of chopped fresh coriander, mint and parsley

1 tablespoon of sunflower seeds

1 tablespoon of olive oil

1 teaspoon of cider vinegar

Juice of 1 lemon

300ml of vegetable stock
Instructions
Rinse the quinoa with cold water and drain. Put the grains in a pan along with the stock and bring to the boil then put a lid on and reduce the heat and simmer until all the liquid has been soaked up.
In a mixing bowl add all the chopped ingredients and mix through the lemon juice, oil and the cider vinegar. When the quinoa is cooked fluff up with a fork and combine with the chopped ingredients. Garnish with the pomegranate seeds and sunflower seeds and the chopped spring onion stalks.