Roasted tomato sauce with courgetti is low in calories, super healthy, rich, comforting, flavoursome and cancer-fighting.
Roasted tomato sauce recipe
We're talking tomatoes, and especially slow-roasted tomatoes, why? Because slow-roasted tomatoes not only intensify in flavour they are packed with lycopene which is a cancer-fighting phytonutrient, in other words, a very effective antioxidant so healthy it protects your body against a catalogue of toxins. Yes, please!
Number one on the tomato menu has to be a rich, robust and herby tomato sauce which is the perfect pairing for pasta or vegetables. Add meat for a Bolognaise or shellfish for a marinara and you've got a perfect meal for a candlelit dinner or a sun-soaked terrace lunch. What we've also done here though is to give this classic tomato pasta sauce a bit of a twist. We have influences from the spice and zing of Mexican street food and the fresh fragrance and aromas of the middle east such as you would find in a classic Tabbouleh. Added to this tomato sauce is a wonderful combination of coriander, mint and parsley and the depth of flavour created by sumac, paprika and chilli. Honestly, it's so yum you have to give this a go.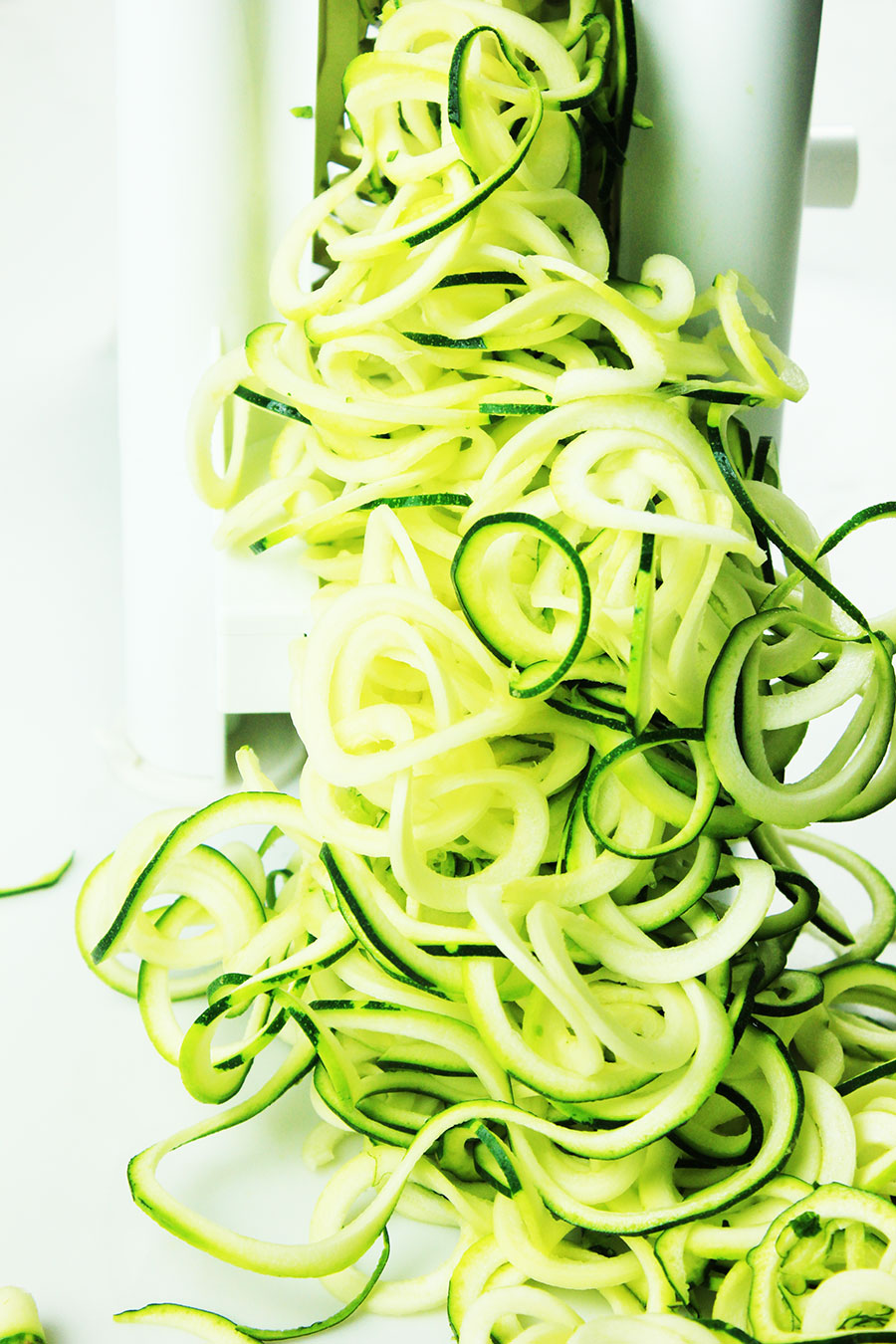 Have you made this delicious courgetti recipe?
We'd love to see your food creations! Please leave a comment below, share or tag using @anticancerkitchen on Instagram and hashtag it #anticancerkitchen.
More anti-cancer dinner recipes
Check out our tasty and anti-cancer mains and salad category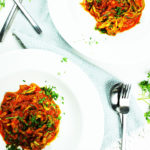 Ingredients
6 tomatoes

1 chopped and de-seeded red pepper

2 chopped celery sticks

6 garlic cloves (skin on)

½ teaspoon of cayenne pepper

½ teaspoon of ground cloves

½ teaspoon of paprika

½ teaspoon of sumac

1 tablespoon of olive oil

1 tablespoon of balsamic vinegar

1 tablespoon of agave nectar

3g/handful of chopped fresh mint

3g/handful of chopped fresh parsley

3g/handful of fresh chopped coriander

Juice of half a lemon or lime

Salt (seasoning)
Instructions
Put the tomatoes, celery, pepper and garlic in a roasting tin and drizzle with a little olive oil and season with salt. Place into a pre-heated oven at 160c and roast for 1 ½ hours. In the meantime, just before the roasting tin is done - make courgetti/zoodles using a spiralizer, honestly it's so much fun. If you don't have one, you can make courgette ribbons using a potato peeler as that works too. Bring a pan to boil. Cook the courgetti/zoodles/ribbons until slightly softened, for approximately 2 mins. When the cooking time is complete, remove the roasting tin from the oven and leave to cool. Peel the garlic cloves and discard the skin. Combine all the ingredients together a blitz smooth in a blender or food processor. Use as a stir through sauce to add to the courgetti (zoodles) or your favourite pasta.