This method of creating a fool-proof tomato vegetable soup is very easy to follow and it produces stunning results every time. We are bringing you a roasted tomato soup which is also a roasted vegetable soup too (more of your five a day) as it is created using the classic French technique of cooking a mirepoix which is not as complicated as it sounds as it is simply sweetening a mix of diced vegetables by slowly cooking them. Adding some full of flavour and full of goodness tomatoes on top create the perfect healthy vegan soup.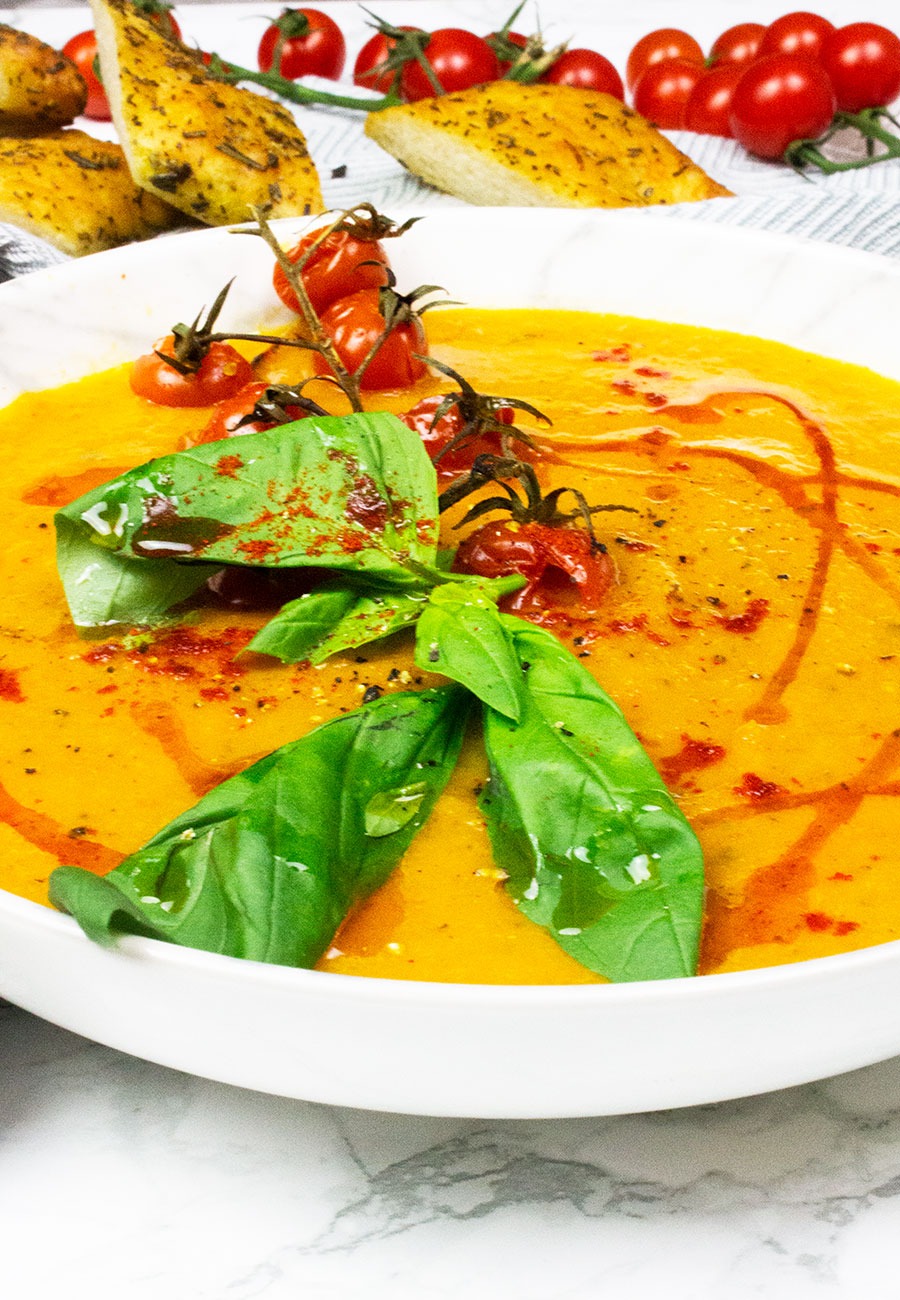 A warming classic soup full of vegetables   
Tomato vegetable soup is a warming classic soup perfect for winter nights in and also for a refreshing zingy light summer dish. Tomatoes are incredibly healthy and abundant in polyphenols and antioxidants and when roasted their nutritional values are intensified turning ordinary tomatoes into rich nutritious ruby gems. This is certainly an all round anti-cancer soup and by roasting the vegetables rather than frying gives this soup this added healthy kick as well as developing the flavour.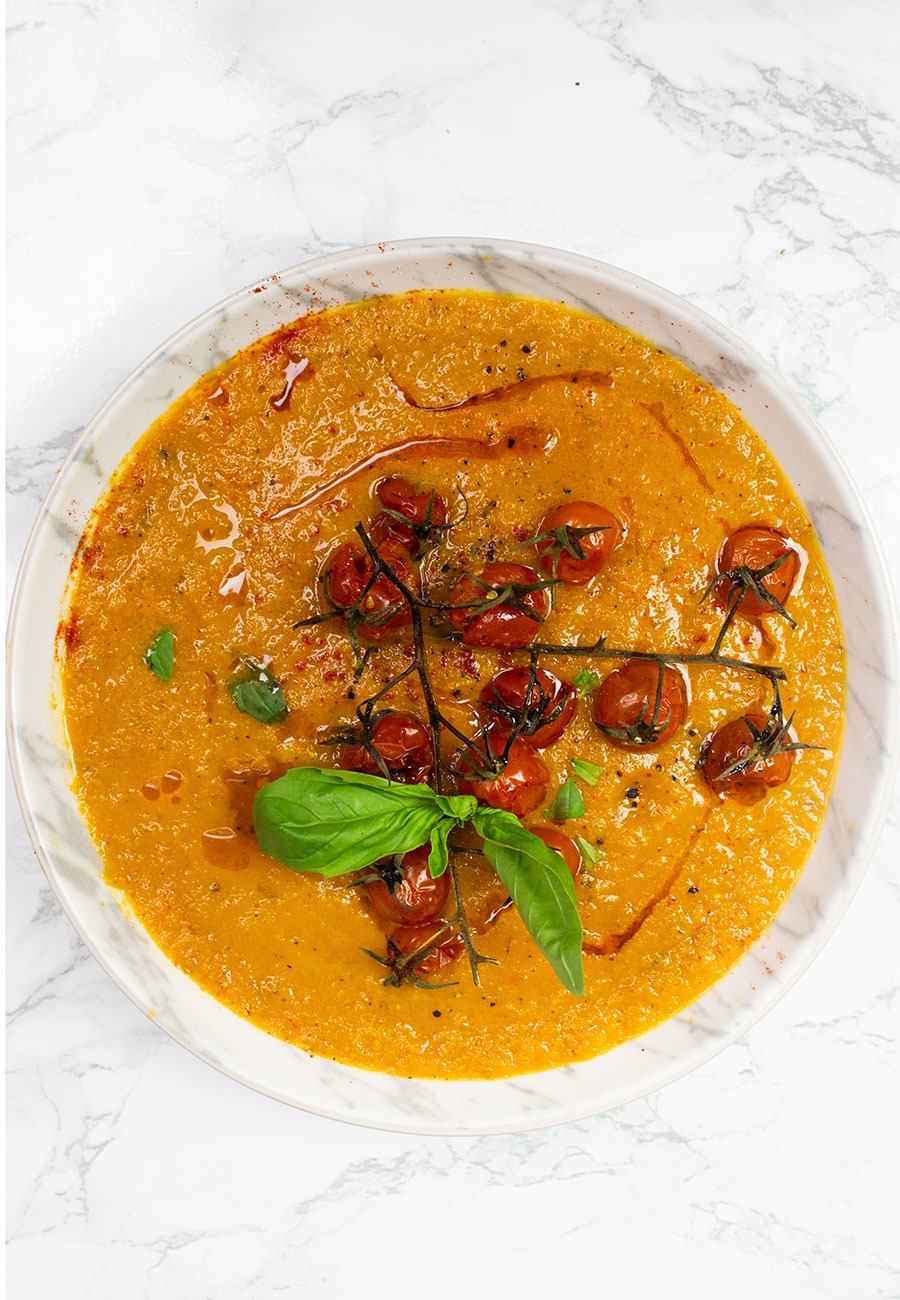 With tomatoes available all year round whether grown in your own garden, window sill or simply from a can you can make this restaurant quality soup in the comfort of your own home any time of the year. It is purely vegan and totally healthy and what's more is that you can simply prepare the ingredients then pretty much let the oven do all the work for you. The only other ingredients are for a mirepoix which is simply diced carrot, onion and celery. This holy trinity of ingredients are the base of many classic french dishes and it is simply roughly diced vegetables which are cooked gently which not only sweeten their flavours but intensifies them too. You do not need to have trained as a chef to dice some vegetables after all. Roasting the whole lot couldn't be easier and the fact that many of the antioxidants are intensified when cooked is only an added benefit. The result, a flawless homemade nutritious tasty soup that is off the charts, not off the supermarket shelf.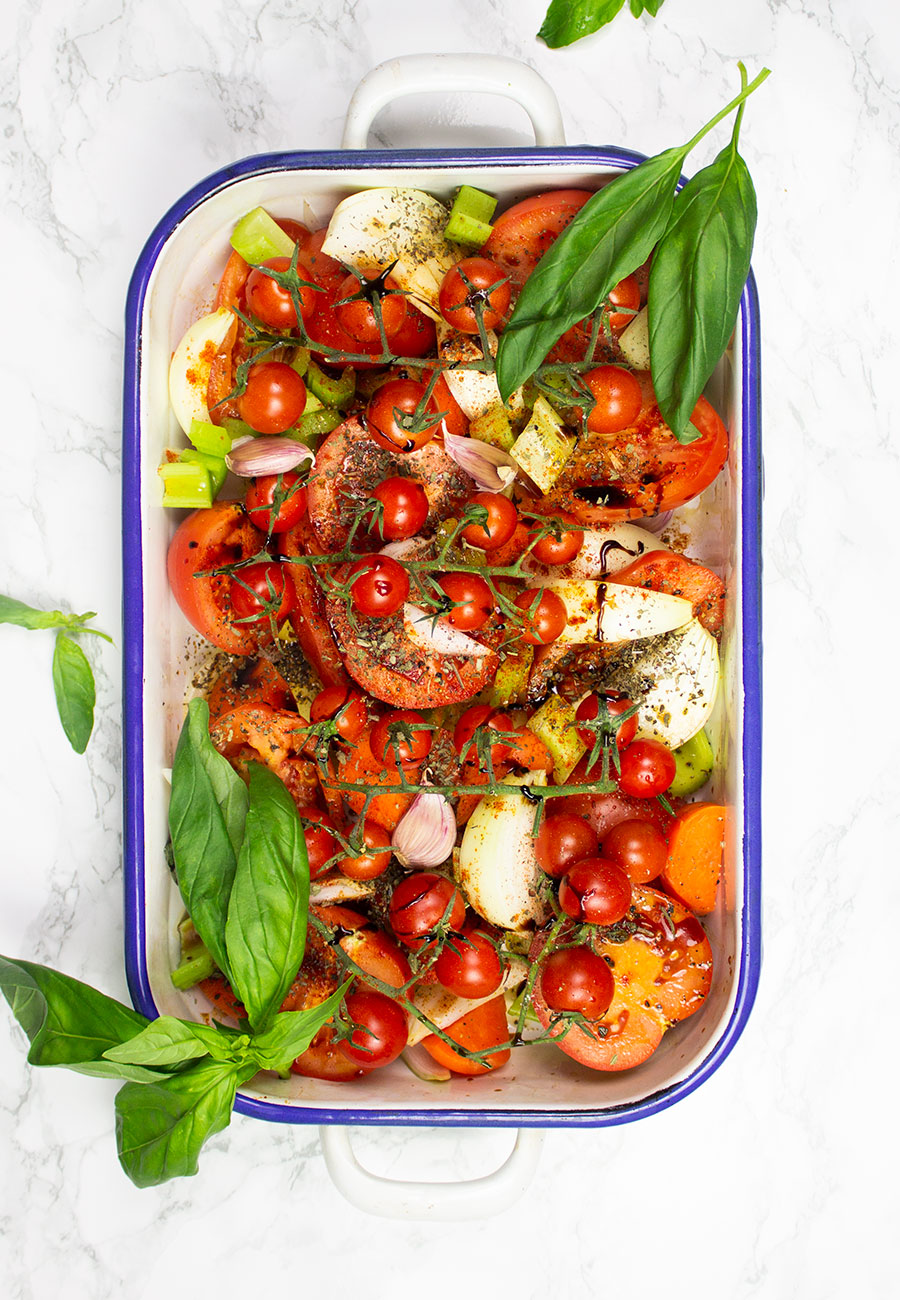 This roasted tomato vegetable soup recipe is
An all year round family favourite

Rich yet fresh and full of flavour

Easy to prepare yet give excellent restaurant quality results

A wonderful light lunch or a evening meal to serve with sandwiches

Packed with antioxidants such as lycopene which numerous studies have suggested can lower the risk of certain cancers
Why make your own when you can buy a can of soup?
A can of soup is a very convenient product to be able to buy. Buying produce in cans especially canned/tinned tomatoes does mean that the goodness has been locked in at the time the product was picked or made. You may prefer a pot of fresh soup rather than a tin of soup and we will be the first to admit that there are some lovely brands out there.
Why we are giving you this recipe is for the simple reason that we can make this soup even healthier by the roasting of the tomatoes. Canned/tinned soups will contain preservatives and additives such as starches or acid regulators so making your own will of course be totally free of unknown extras, but the roasting of tomatoes intensifies a specific carotenoid called lycopene.
Lycopene is an important dietary carotenoid which makes up around 50% of all carotenoids found in the body. It is the red pigment found in fruit and vegetables, namely tomatoes but also grapefruits, watermelons, guava and papaya amongst others. Cooking tomatoes releases five times more lycopene than you would get by consuming just raw tomatoes. Even though lycopene is not essential for humans studies have suggested that there is a strong link between tomato intake and blood lycopene levels alongside the reduced risk of many cancers.
Whether or not this correlation of eating tomatoes is directly associated with reducing the risk of cancer is fact, it is certainly a marker as eating a tomato rich diet would certainly sit alongside a lifestyle choice of generally eating healthier. Whatever you think it is certainly a good start to wanting to lead a healthy lifestyle.  
Tomato soup is just one way but you can look at lots of other tomato recipes where the tomatoes have been intensified such as our jackfruit pizza recipe or our roasted tomato tartare.
To get the tastiest results we think that the best tomatoes to use are smaller vine tomatoes which are rich and sweet when cooked and San Marzano or Roma tomatoes which make fabulous tomato sauces.
Avoid larger varieties such as beef tomatoes as they are much milder in flavour and contain more juice, these are better suited to making salsas etc. Find a good balsamic vinegar and olive oil to drizzle over tomatoes before you roast them as this will produce tastier results. The main antioxidant lycopene in this tomato vegetable soup recipe is also digested easier in oil. Like all dishes you can expand on the recipe and infuse other flavours and cooking styles. You can make beautifully different coloured soups by using heirloom tomatoes or adding another unique flavour to the mix such as fennel for an aniseed flavour or saffron or truffles for example for something special. Remember, this tomato vegetable soup can be used for an everyday dish or indeed a dinner party.
Have you made this healthy soup recipe?
We'd love to see your soup creations! Please leave a comment below, share or tag using @anticancerkitchen on Instagram and hashtag it #anticancerkitchen.
More healthy anti-cancer soup recipes with tomato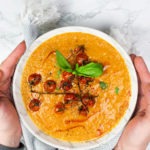 Ingredients
400g of San Marzano or Roma tomatoes halved

450g of vine tomatoes

200g of cherry tomatoes

1 carrot diced

1 celery stick diced

1 onion quartered

4 cloves of garlic, lightly crushed

10g of fresh basil

2 teaspoons of dried Italian herbs such as basil, oregano and sage

2 tablespoons of olive oil

2 teaspoons of balsamic vinegar

1 cup or 250ml of vegetable stock
Instructions
Combine the diced carrot, celery and quartered onion together and lay on the bottom of your roasting tray. Drizzle on some olive oil and season with half the herbs. Mix to coat in the oil.
Place the tomatoes skin side down on top and scatter the garlic around. Drizzle with the rest of the olive oil and balsamic vinegar and season with the herbs and a good amount of salt and pepper.
Place in a preheated 170℃ (338°F) oven and roast for 35 - 40 minutes. 
Set aside the cherry tomatoes. 
Take the skins of the garlic and transfer the contents of the roasting tray along with the vegetable stock in a blender and pulse to get your desired consistency (we like slightly bitty) however pureeing totally will produce a lovely creamy result.
Serve immediately and garnish with the cherry tomatoes still on the vine and basil leaves.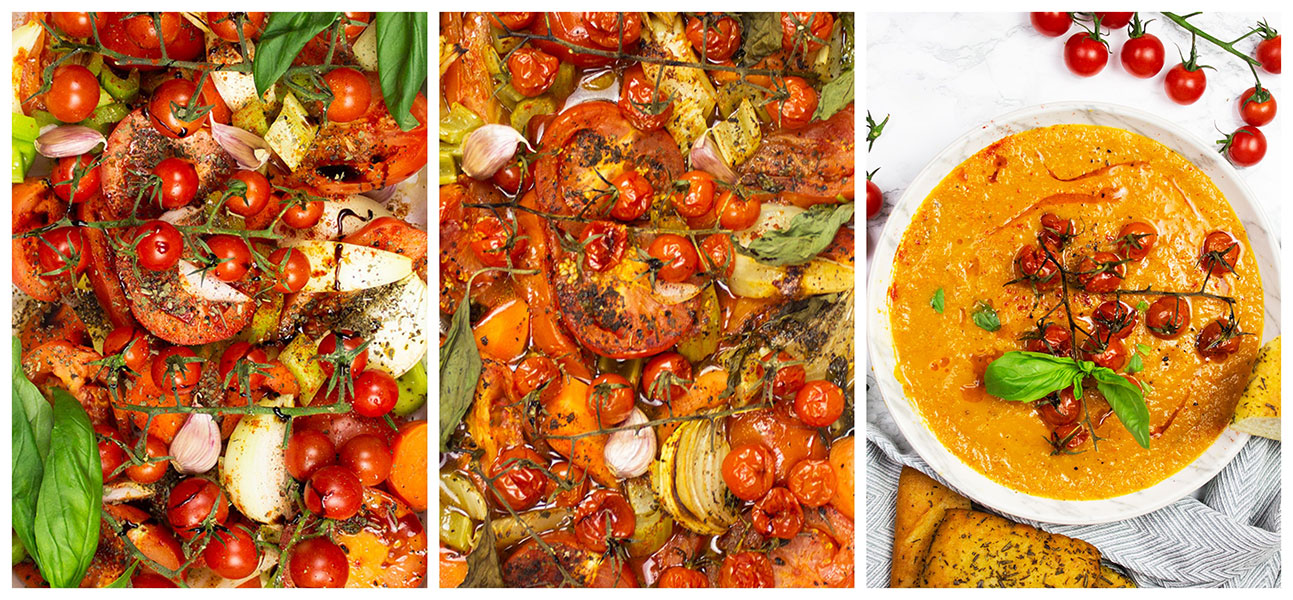 Copyright secured by Digiprove © 2020 The Anti-Cancer Kitchen