Delicious vegan potato gnocchi recipe with amazingly tasty green garlic sauce. Healthy and full of flavour!
Vegan potato gnocchi recipe
An inspiring modern take on a classic gnocchi recipe that introduces a fusion mix of healthy plant-based herbs, spices and everyday ingredients that elevate a simple and easy to prepare Italian dish into a vegan sensation.
With our vegan potato gnocchi recipe which is made without egg (which is traditional but not essential) we have introduced the golden colouring of turmeric which not only gives the dumplings a beautiful vibrancy it adds another health benefit to the dish. We've paired the turmeric up with sage which is a wonderfully fresh aromatic almost medicinal herb that is often used to flavour a buttery sauce to accompany a traditional Italian gnocchi recipe. However, not wanting to use butter to flavour our gnocchi we have opted instead for an intense green garlic, sage and spinach dressing that coats our dumplings which have been kneaded for longer which without the use of an egg gives these totally plant-based gnocchis a firm bouncy pillowy texture. We make a classic shape with small ridges that catch all the sauce and with a final flourish for this simple-to-make-recipe, we add a small vine of slow roasted cherry tomatoes that sit elegantly on top.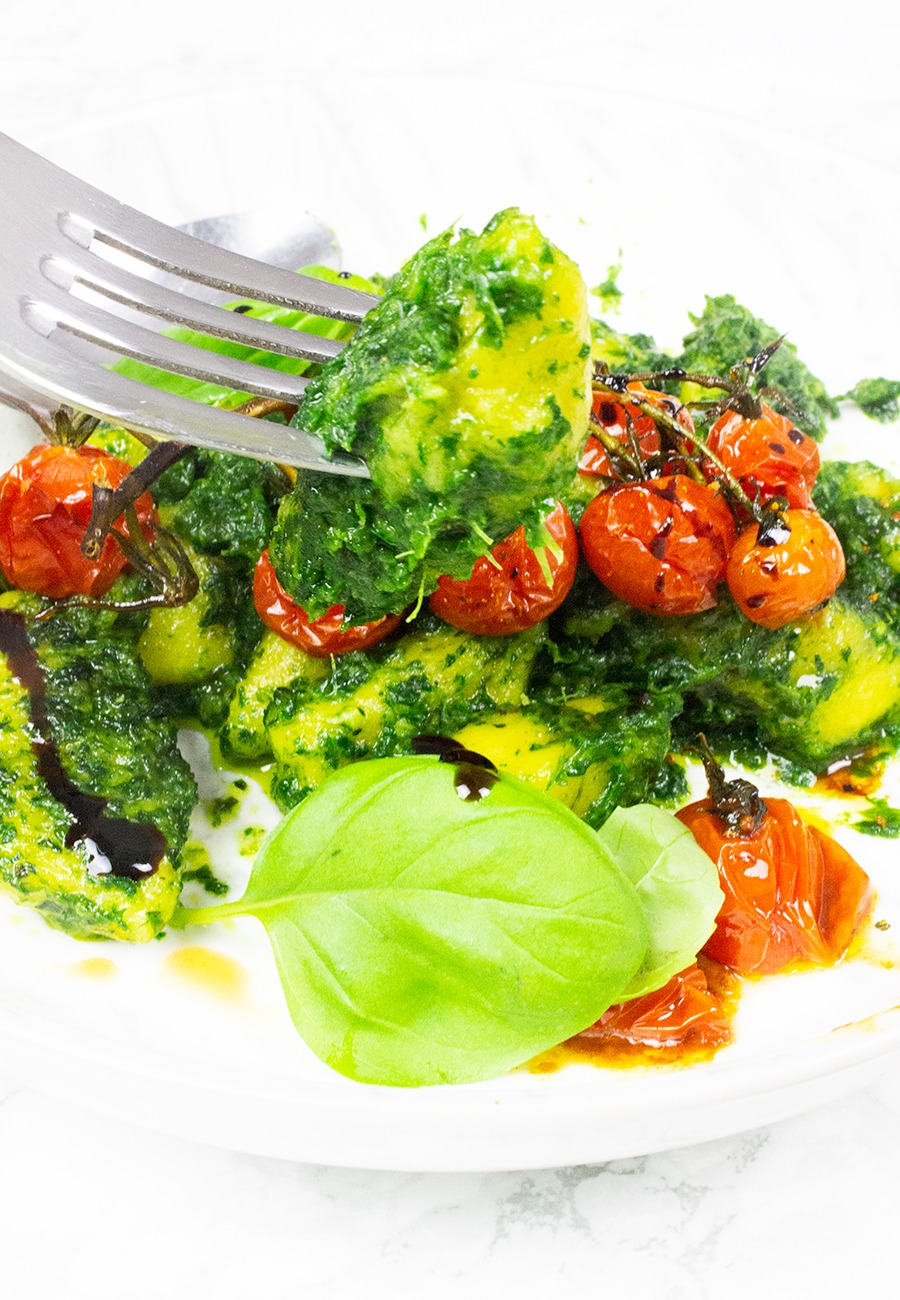 Our best ever vegan potato gnocchi recipe is:
A modern tasty version of a traditional classic with added health benefits

Easy to prepare to use straight away or keep for later        

Versatile to use alternative sauces

Firm and pillowy to the bite and flavoursome

A great alternative to pasta

Easy but rewarding to make with a real professional finish
Gnocchi is a pasta dumpling made with potato or semolina and just like pasta it hails from Roman times. The modern recipe that uses potato is relatively newer being that potatoes were introduced to Europe in the 1500s. Today though, because gnocchi was introduced via invading Roman armies, many countries have their own versions which have now been passed down from generation to generation. In Austria and Hungary these dumplings are used in stews such as goulash. In Poland they are called kluski and also made without egg and are spiced with various flavours such as cinnamon and pepper. France has an indulgent recipe that adds bechamel sauce and gratinated not too dissimilarly to a Gnocchi alla Romana where the dumplings are baked in a dish until browned then sprinkled with cheese then baked once more. Who knew that such a simple classic dumpling could be so versatile. Other additions commonly added into a gnocchi dough are spinach which makes it green and healthy or truffles which makes it a more decadent option. 
So, use this recipe as an inspiration and experiment. Just follow this foolproof technique to make perfectly textured gnocchi every time and we'll be sure you'll be wanting to make them time and time again.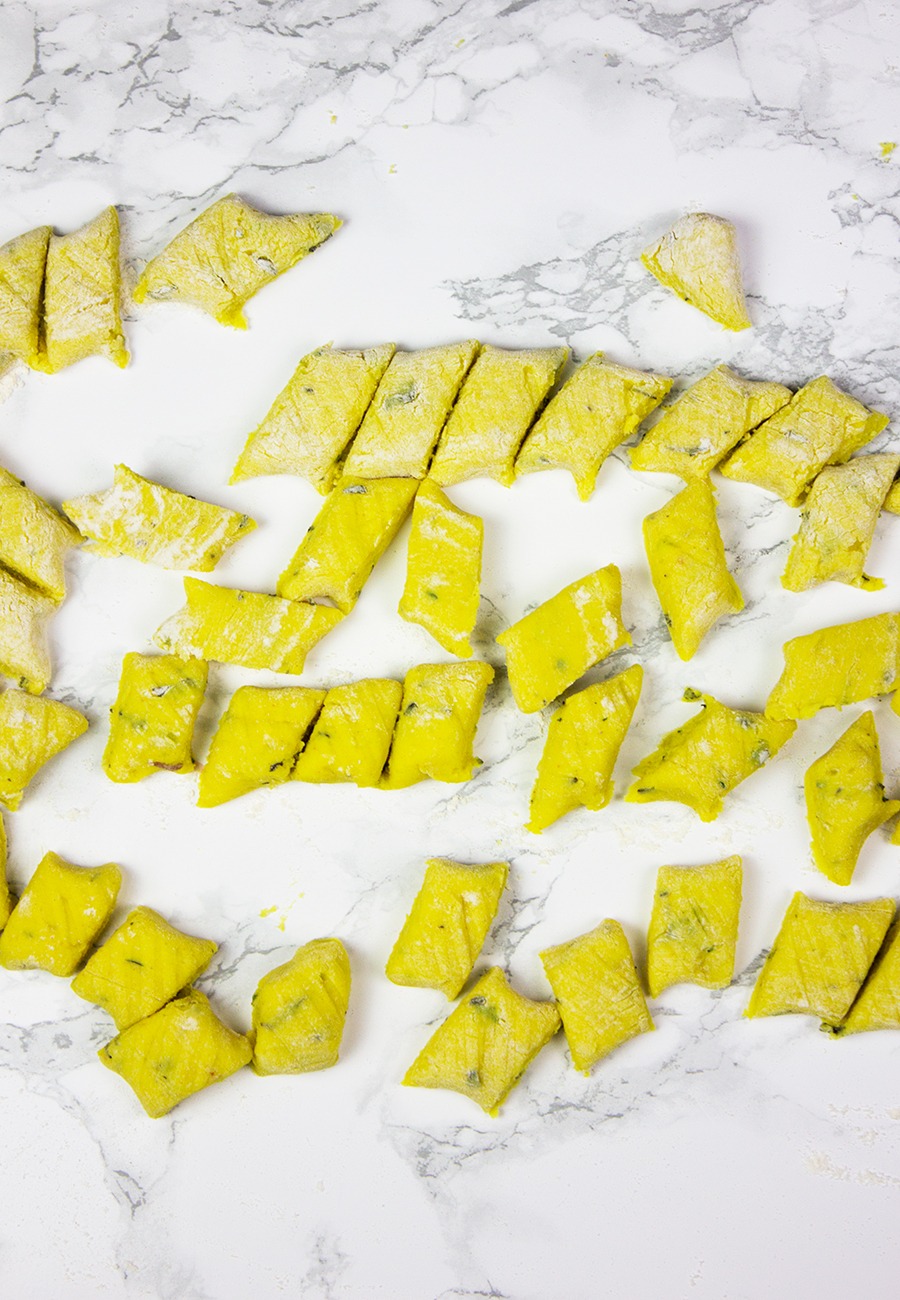 With our delicious vegan potato gnocchi recipe the sauce is also in integral part. Many recipes add a classic pasta sauce such as tomato/ pomodoro sauce, ragu or sage butter and because it was the sage butter classic accompaniment that we had looked to for inspiration in the first place it was this sauce's style that we have wanted to recreate the Anti-Cancer Kitchen way. As we've used sage in the gnocchi, we've added a little to an old sauce recipe that we'd created previously to accompany a vegan version of a classic french snails with garlic and parsley butter (escargots) which we thought would work perfectly with our gnocchi. This sauce used spinach, kale, parsley and garlic blended to a simple but very tasty puree. Using organic vegetable stock and sage livens it up and gives it the right texture that latches perfectly onto this gnocchi.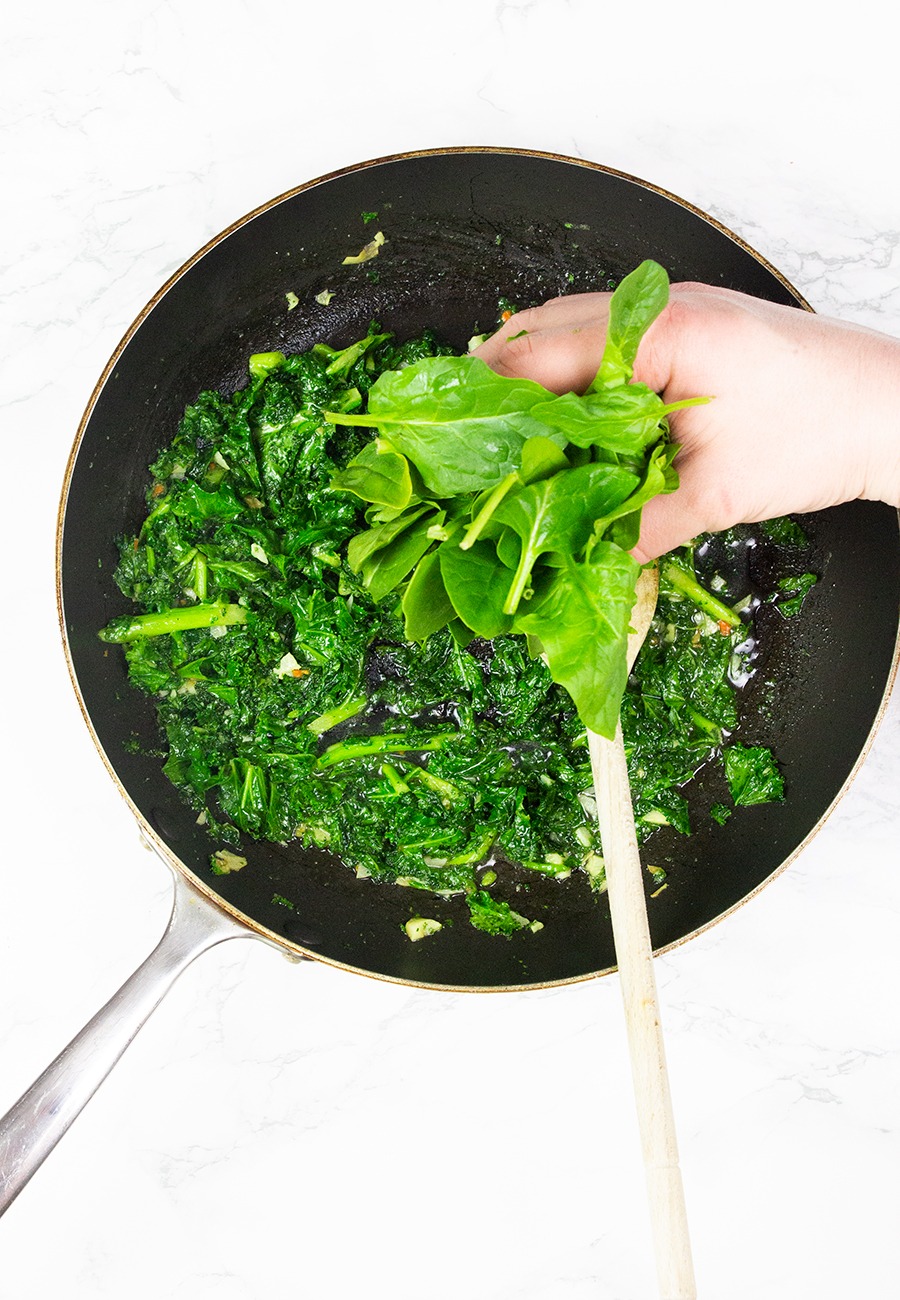 The healthy part of our vegan potato gnocchi recipe 
The main ingredient of our perfect vegan gnocchi is potato. Although potatoes have fallen out of favour in recent years due to the want of a carb free diet they are actually very healthy. They remain one of the largest vegetable crops in the world and as such are economical and easy to get. No wonder that potatoes are made into so many different things from chips, mashes and bakes to wonderful gnocchi that people the whole world over eat on a day to day basis. Obviously there are different nutritional advantages to how you cook them but generally speaking you lock the goodness into the potato when they are baked whole or steamed. This you can do for our recipe but with keeping time down to a minimum we gently boil the potato and let them steam until cooled to take out the moisture content which is key to getting a good texture. The humble potato is in fact full of fibre, vitamins, minerals and phytochemicals (plant chemicals). Potatoes are a source of vitamin c which is an antioxidant but more importantly a source of Vitamin B, folate which helps repair damaged cells and could potentially prevent cancers. Potatoes are also high in potassium with which a high intake has been shown to reduce heart disease. Potatoes do have the effect due to the amount of dietary fibre they contain of making people feel fuller for longer, which is actually an important part of weight management, so rather than thinking that potatoes are just full of carbohydrates therefore they must be avoided are in fact an important part of your diet.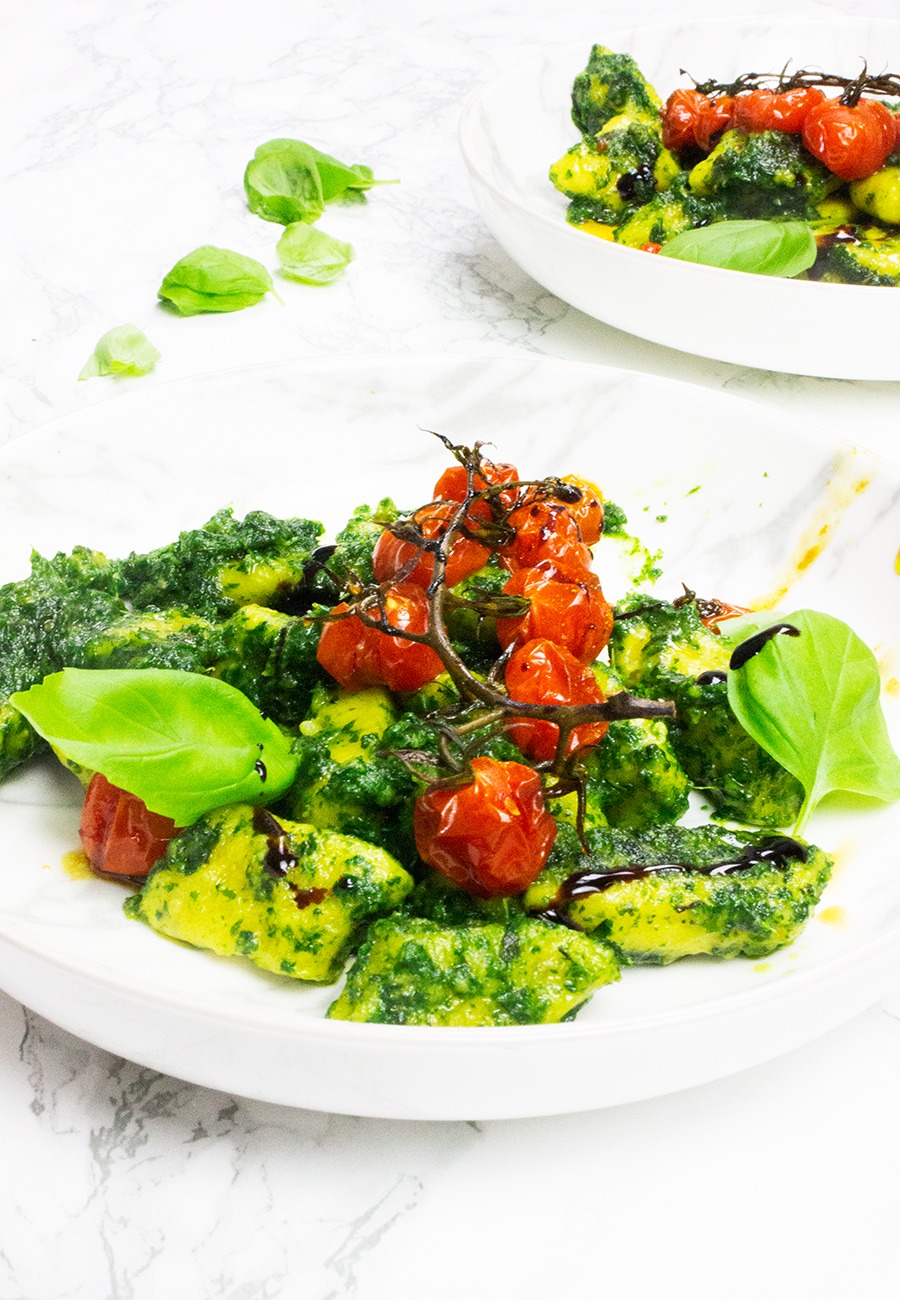 The addition of sage is not just for flavour, although it adds a wonderful woody yet flowery pepperiness just as it does in its use for sage and onion stuffing, sage tea and the many other Italian dishes it accompanies, it is like so many other dense green herbs packed full of polyphenols that act as antioxidants in your body. Caffeic acid, chlorogenic acid, ellagic acid and rosmarinic acid which are all found in sage have been linked to a whole host of health benefits including lowering the risk of cancer and improving brain function. Not only is the sage added to the Gnocchi it is added to the green sauce along with spinach, kale, parsley and garlic. These green ingredients are packed with further antioxidants such as the flavonoid Quercetin and Vitamins C and K amongst others. The health benefits are numerous making these green cruciferous vegetables some of the most nutrient dense foods in the world
 Vegan potato gnocchi recipe with turmeric  
The beautiful golden colour of the gnocchi comes from turmeric which contains curcumin which is the natural powerful anti-inflammatory compound that is as effective as many anti-inflammatory drugs. Our body's immunity system has to cause natural inflammation so it can repair damaged cells and fight off pathogens, this is essential. Inflammation on the other hand can become chronic when at a low-level it constantly attacks your own body and it is this inflammation that scientists believe is present in the majority of chronic diseases such as cancer. Curcumin is present in turmeric but even at only 3% by weight it is important to include it in your daily diet. Adding black pepper helps the body absorb this amazing substance by up to 2000%
Our final flourish is the beautifully rich red roasted vine of tomatoes which create our tri-color flag of The Anti-Cancer Kitchen. This rich red comes from lycopene which is also a powerful antioxidant that is concentrated when slow cooked making our vine tomatoes for this dish not only tastier but healthier too. The colour scheme we have is here by no accident. Turmeric yellow, the green of cruciferous vegetables and the rich crimson of lycopene packed fruit and vegetables. It is this trinity of colours provided by nature which will constantly give you healthy nutrient rich food every time and showcased here to great effect.
Variations of potato gnocchi 
Like most of our recipes though we like the ingredients to be played around with, so as well as trying this recipe why not try adding curry powder to the gnocchi and make a coconut broth for an Indian inspired dish or olives and feta for a vegetarian Greek inspired dish or sweeten it up with cocoa and dates for a dessert. The world is literally your inspiration.
Have you made this vegan potato gnocchi recipe?
We'd love to see your vegan potato gnocchi creations! Please leave a comment below, share or tag using @anticancerkitchen on Instagram and hashtag it #anticancerkitchen.
More healthy Italian recipes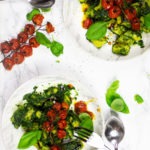 Ingredients
Gnocchi:

700g of a floury potato such as Maris Piper or King Edward

150g /1 cup of tightly packed flour

1 teaspoon of turmeric

1 teaspoon of back pepper

1 teaspoon of salt

2 tablespoons of chopped fresh sage

2 tablespoons of olive oil

Green sauce:

120g of fresh spinach

50g of kale

2 crushed garlic cloves

75ml of vegetable stock

2 tablespoons of chopped fresh parsley

2 tablespoons of fresh chopped sage

1 tablespoon of olive oil

Garnish:

200g of cherry / vine tomatoes

1 tablespoon of olive oil

Salt and pepper

1 teaspoon of balsamic vinegar

Fresh basil leaves
Instructions
Vegan potato gnocchi
Peel and quarter the potatoes and place them into a pan and cover with cold water. Season generously with salt and on a high heat bring to a boil. 
Turn the heat down and simmer for between 15-20 minutes until the potatoes are tender. 
Drain and leave the potatoes in a colander to steam as much excess liquid out as possible.
When the potatoes have stopped steaming, mash them in a mixing bowl or put through a potato ricer. 
When the mash is cool mix in the flour, turmeric, salt and pepper and sage until incorporated into a smooth dough. Add the olive oil and knead with your hands to bring out the starch. This will give the gnocchi a firm bite.
Divide the dough into four and using a lightly floured work surface roll the portions into four 30cm long sausages. Flatten each roll slightly to make them oval. Press the back of a fork along the length to create the ridges.
Using the back of a knife cut the rolls slightly on the diagonal into 3cm pieces.
Bring a deep pan of salted water to the boil and have a bowl of iced water ready on the side.
Cook the gnocchi in batches to avoid them sticking together in boiling water for 2-3 minutes. When they rise to the surface use a slotted spoon to transfer them to the iced water. Leave them in the iced water for a minute then use the slotted spoon to place them aside and pat dry with kitchen paper. Repeat the process until all the gnocchi are cooked then place all the gnocchi in a bowl and drizzle a little olive oil in to prevent them sticking and set aside.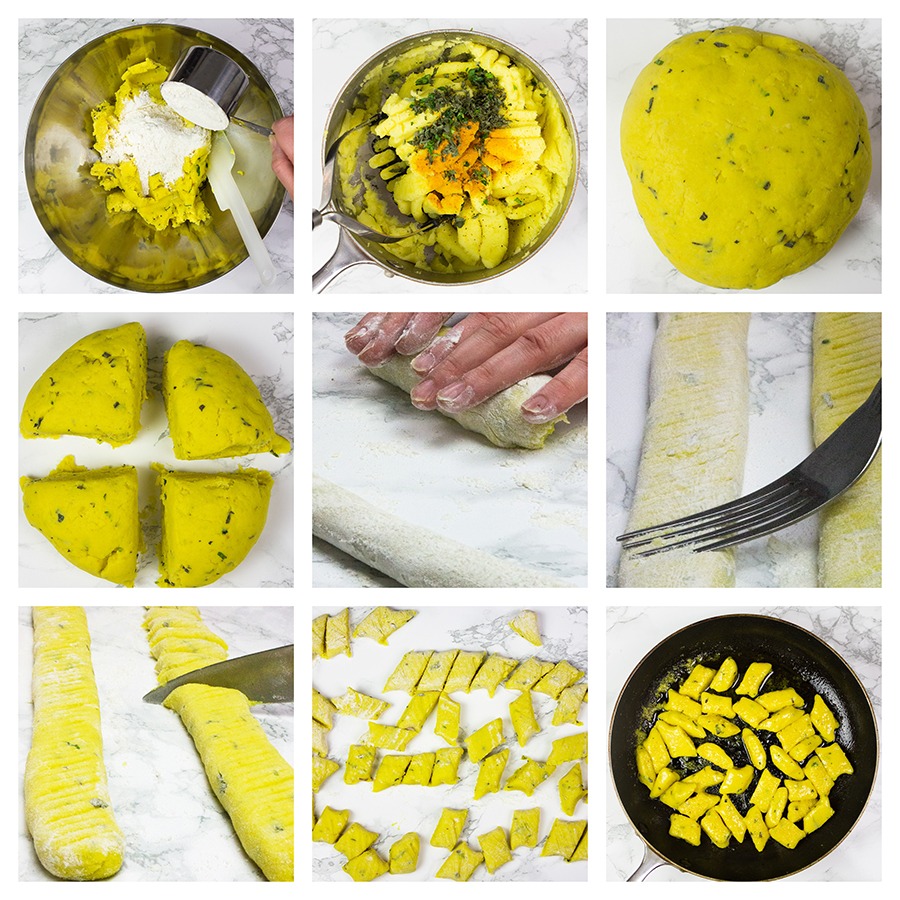 Tomato garnish
Place the vine tomatoes in a roasting tray and drizzle over the oil, balsamic vinegar and salt and pepper.
Place in a preheated 190℃ oven and roast for 20 - 25 minutes.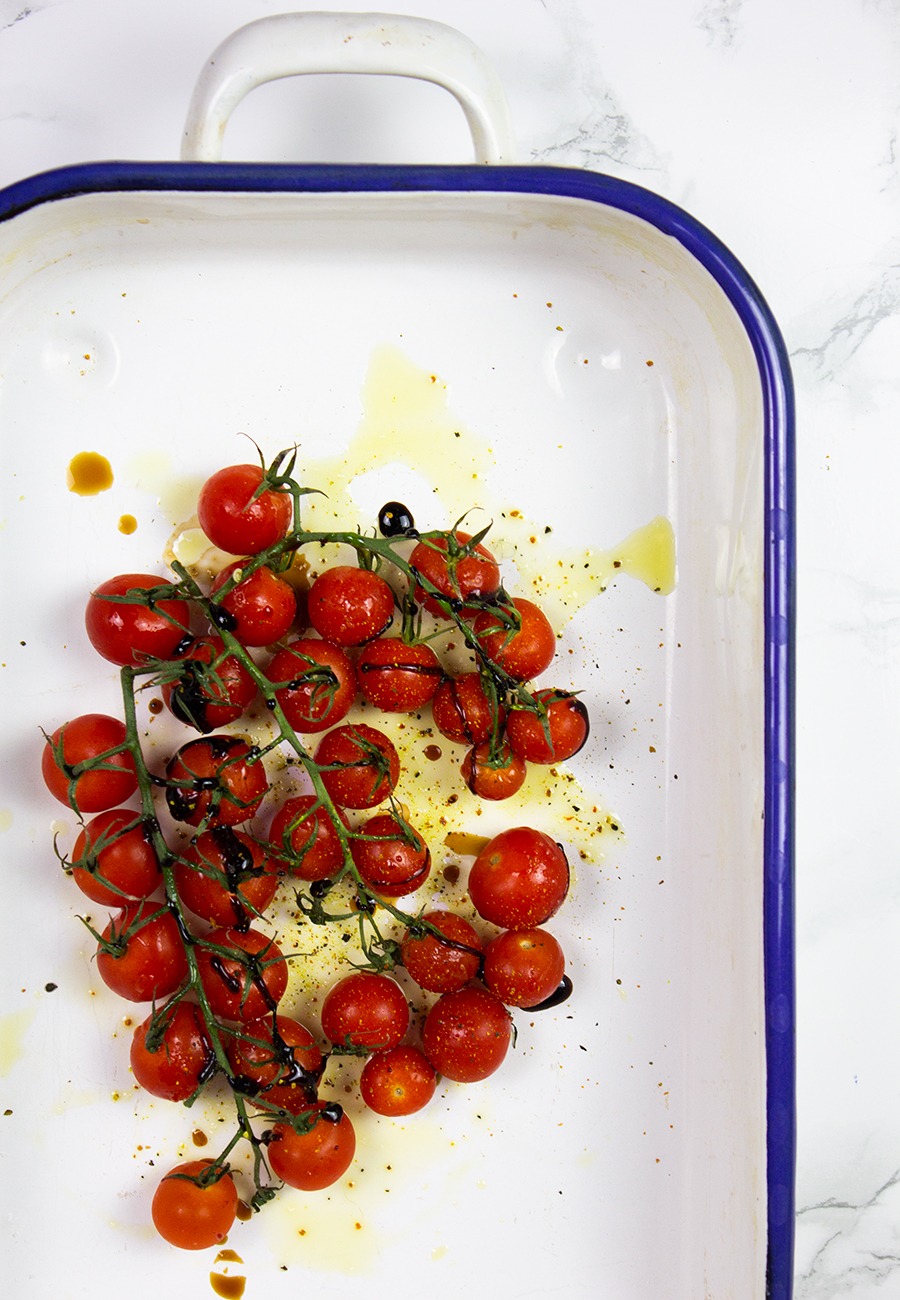 Garlic green sauce
Add the olive oil to a frying pan and bring it to a medium heat. Add the garlic and fry for a minute until starting to colour.
Add the kale to the pan along with the stock and simmer for 4 minutes. 
Add the spinach, sage and parsley in batches until all the spinach has wilted.
Transfer to a blender or use a stick blender to roughly puree the mix.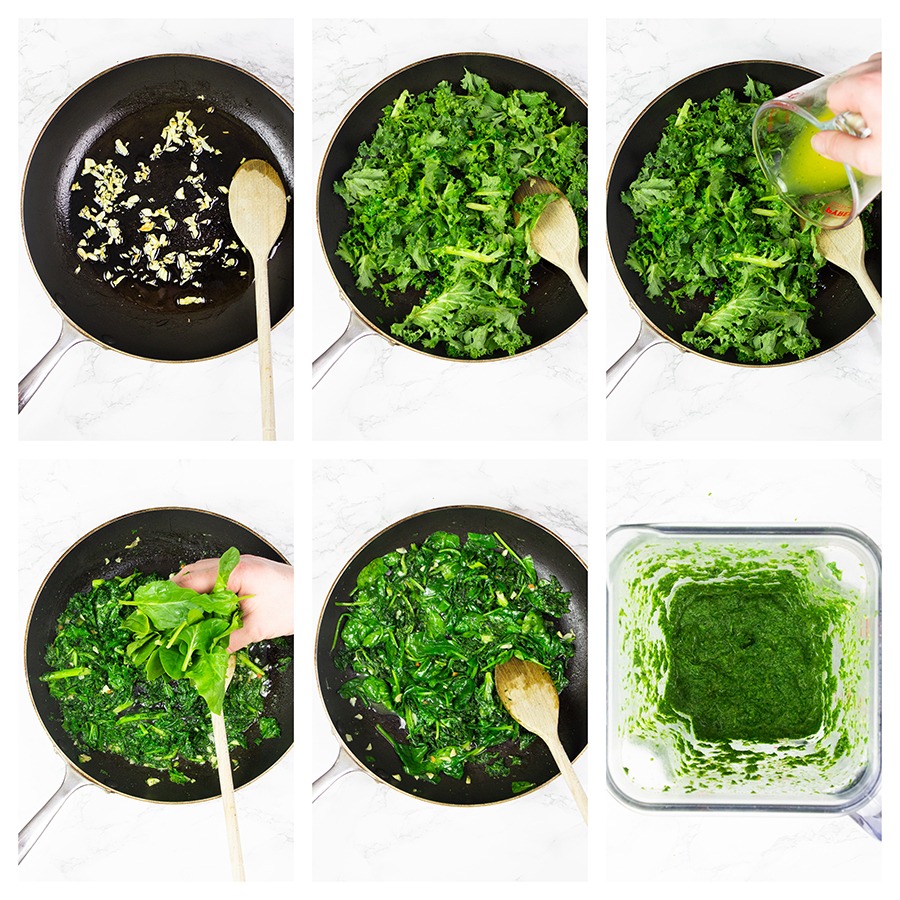 To serve
Heat a little olive oil in a pan and gently cook the gnocchi in batches on both sides until browned and slightly crispy and keep in a warm oven until all the gnocchi is cooked.
Serve with the warmed green sauce, place the tomatoes on top and scatter over some fresh basil leaves and drizzle with olive oil. 

Copyright secured by Digiprove © 2020 The Anti-Cancer Kitchen