Homemade katsu curry recipe that is authentic-tasting, vegan and full of flavour. This katsu curry recipe with aubergine is healthy and nutrient-dense.
A tasty katsu curry is no longer the treat that you could only get in a Japanese restaurant, it is the treat that you can prepare yourself very easily at home with readily available produce from the supermarket. With this healthy and easy to prepare purely plant-based katsu curry recipe you might never bother buying it in a restaurant ever again.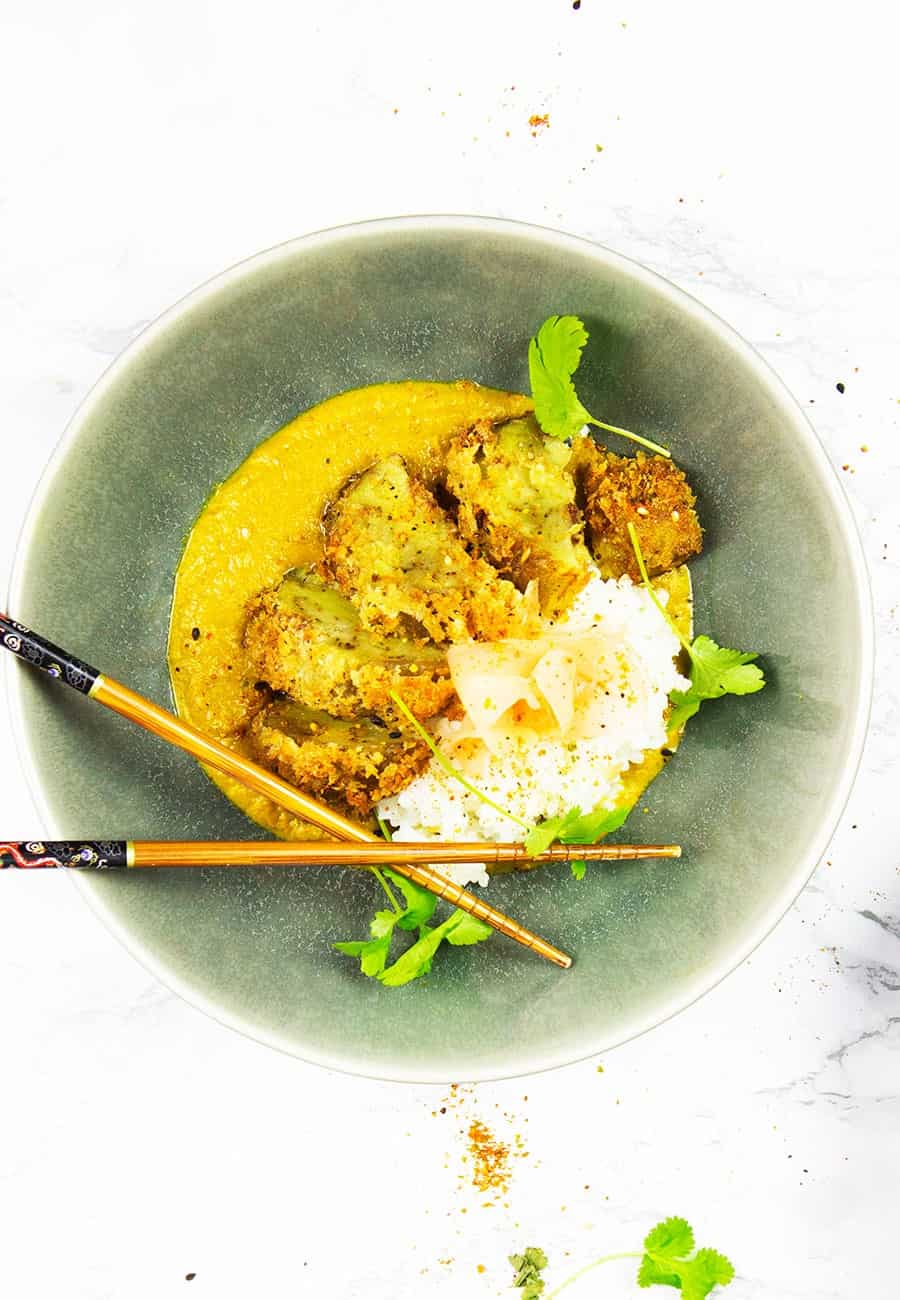 There are also many versions of katsu curry sauces you can buy pre-made but with the extra preservatives and stabilizers etcetera you can never be sure of how healthy they are, one further point to observe is also that many of these packets or jarred sauces don't, however, taste like a proper katsu curry which after spending the extra money to get something convenient is very disappointing. Our vegan katsu curry recipe does not only tastes authentic, but it also looks so good you can eat it any night as well as serving it up for a dinner party which we have done many times.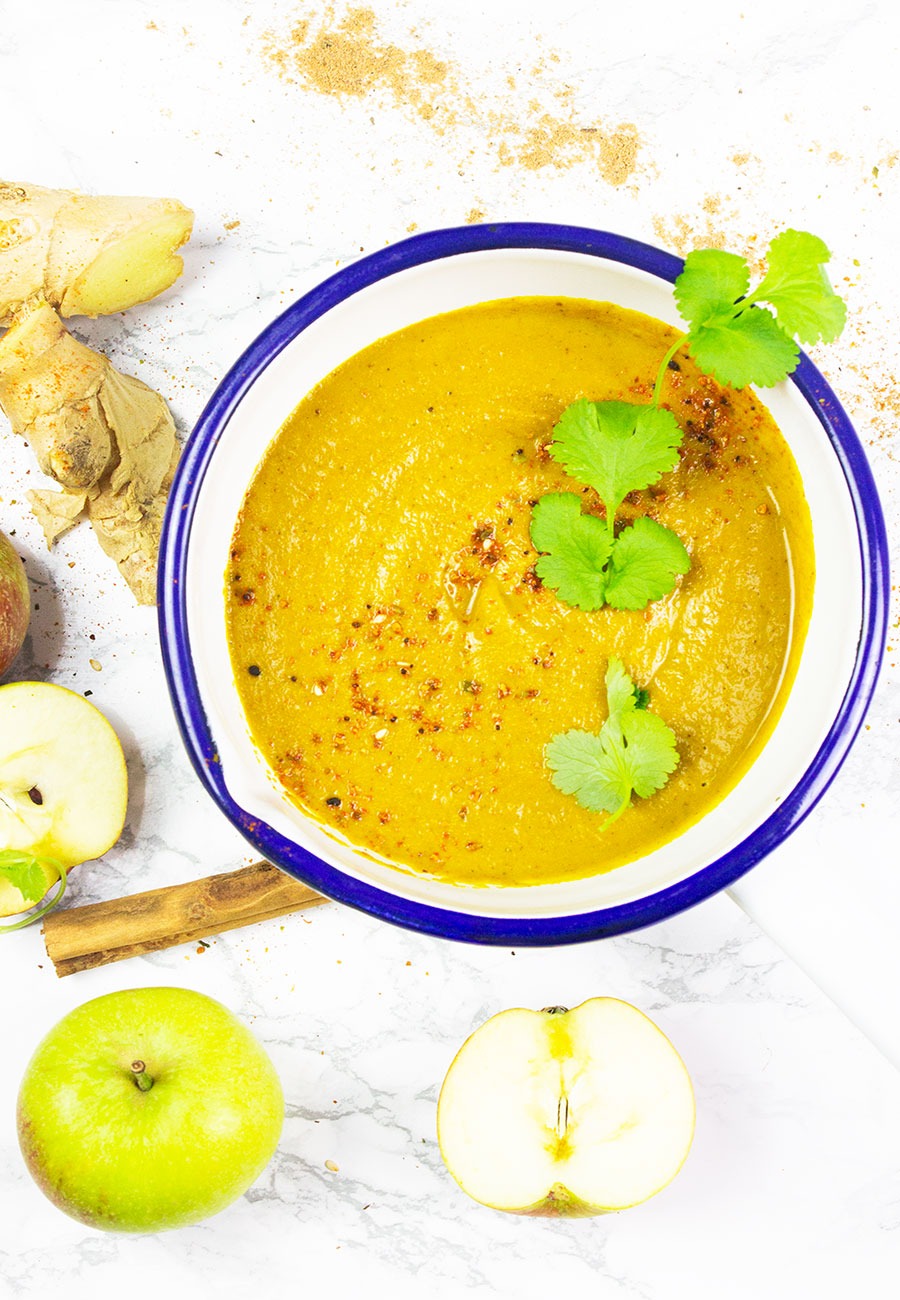 What is katsu curry?
Katsu is a shortened Japanese word of katsuretsu meaning cutlet. The original recipe would use chicken or pork "tonkatsu" which would be coated in "panko" Japanese breadcrumbs and would be generally served with a tonkatsu sauce which is a fruit-based bbq sauce. 
With a katsu curry however, the dish is elevated to showcase more diverse flavours and textures. This is the crispy breadcrumb on your main ingredient paired with a warm aromatic curry sauce that has a sharp fruity tang made by apples running through it served alongside a rice wine infused rice side with some sweet and crunchy pickles dotted throughout. Finally, this is served with a crisp refreshing salad dressed with a mirin sweetened mayonnaise. A vegan version can be easily made by making the mayonnaise with aquafaba rather than egg.
Vegan katsu curry recipe with aubergine/eggplant
For our best ever katsu curry recipe we have used eggplant/aubergine to don the crispy breadcrumb coating. The eggplant/aubergine belongs to the nightshade plant family just like bell peppers and grows in the same way. They are very versatile and can be used in salads to stews and even stuffed. What we have picked an aubergine here for though is because of the texture. It can remain quite firm when cooked very quickly and the crispy coating we give it here works wonderfully with the slightly sweet taste. Other very good options would be to use sweet potato, cauliflower or tofu, however, we just want to use plant-based foods that have not been processed for this particular recipe.
Aubergines/eggplants are also a healthy option. They are high in dietary fibre and low in fat. This makes them good for people looking to manage their weight and for those managing type 2 diabetes. By keeping the skin on you will also maximise on the antioxidant nasunin which research has shown protects fatty acids essential for healthy brain function.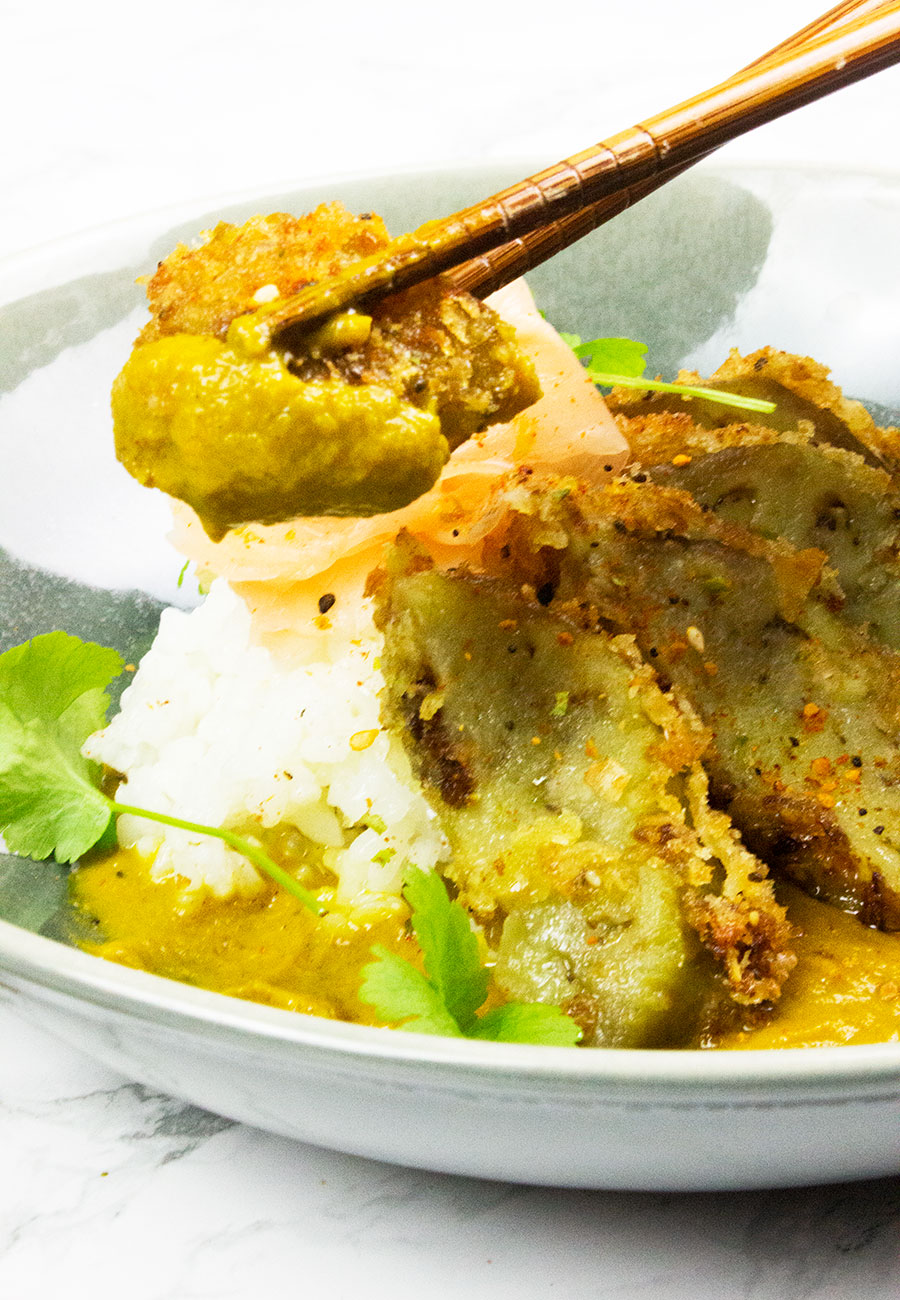 What is in this silky Japanese sauce and why is it just so tasty
Curry was introduced to Japan by the British over 100 years ago but is now one of the most popular dishes cooked in Japan today. It has been suggested that curry is addictive due to the effects ingredients such as chilli and turmeric have on the brain. This curry differs however from its Indian counterparts by adding a sweet yet sharp ingredient with the apple. This zingy addition resembles the fruity flavour of the tonkatsu bbq which originally accompanies a katsu. The Japanese approach to this curry is to produce a sauce to serve on the side of other ingredients rather than a spiced stew, if you were to do that with a katsu curry the breadcrumbs would become soggy and lose all the texture it is there for. The other ingredients are also far eastern-influenced with the addition of soy sauce and ginger. Also, think chinese five spice which is commonly star anise, cinnamon, Sichuan pepper, fennel and cloves but adding a little bit of curry flavour with cumin, turmeric and cardamom. Apples taste amazing when cooked with warm cinnamon, star anise and cloves. Of course a curry also tastes amazing with these ingredients too so it's no wonder that this secret ingredient adds such a worthy dimension to a katsu curry sauce. 
The base of the curry sauce is onion and carrot which is lightly fried and flavoured with the aromatic warm spices and ginger, soy and apple. With this easy vegan recipe there is no addition of starch to thicken it up, the smooth silky texture comes from purely blending the ingredients rather like a soup. It massively packs a punch with flavour and the inclusion of turmeric adds a further healthy kick too as it is laiden with curcumin which research that is ongoing is showing positive results for its effects against cancer cells by being a natural anti-inflammatory compound.
How to make the best katsu curry – Here are some tips 
Whilst the curry sauce is very easy to prepare using nothing but plant-based produce the breadcrumbing process does have to alter slightly as it is easiest to use an egg to wash the aubergine/ eggplant with but we are making this dish 100% plant-based. Instead, we have used aquafaba which is the water from a tin of chickpeas. It has a gelling like quality and when whisked it can make a lovely vegan mayonnaise by adding some mustard, mirin and olive oil. Rapeseed oil and sesame oil give it an Asian flavour too, perfect for dressing a salad to go on the side. Here we add a spoonful of flour to the aquafaba and whisk to a paste to coat the aubergine prior to coating in the Panko breadcrumb. For an added health dimension try adding seeds such as linseed, sesame and chia to the mix. 
Pickling vegetables on the side also gives another refreshing and tart crunch. We have used pickled ginger but pickled radish, cabbage or red onion work really well.
For the rice, it is important to add rice wine vinegar to give it a rounded flavour and elevate it from being bland.
Finally, sprinkle with shichimi togarashi seasoning which is wonderfully spicy and warming and through some coriander/cilantro leaves to garnish.
Other turmeric recipes you might want to try
Have you made this katsu curry recipe with aubergine/eggplant?
We'd love to see your food creations! Please leave a comment below, share or tag using @anticancerkitchen on Instagram and hashtag it #anticancerkitchen.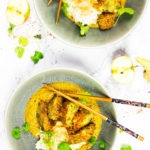 Ingredients
For the katsu curry sauce:

1 x diced large white onion

2 x diced medium carrots

2 x crushed garlic cloves

2 tablespoons of minced fresh ginger

Curry powder, we mix 1 teaspoon of cumin, 1 teaspoon of turmeric, ½ teaspoon of cinnamon, 2

crushed cardamom pods, 1 teaspoon of paprika, 1-star anise clove

1 cup or 250 ml of vegetable stock

Just under a 1/3 of a cup or 75 ml of apple juice

2-3 tablespoons of soy sauce

1 teaspoon of mirin

1 teaspoon of rice wine vinegar

For the eggplant /aubergine:

1/2 an Aubergine per person (peeled helps the breadcrumb stick)

1 cup or 90g of panko breadcrumbs (add sesame seeds, linseeds and chia)

½ cup or 118 ml of aquafaba ( liquid from 1 tin of chickpeas)

1 tablespoon of flour

1 cup of oil for frying
Instructions
Method katsu curry sauce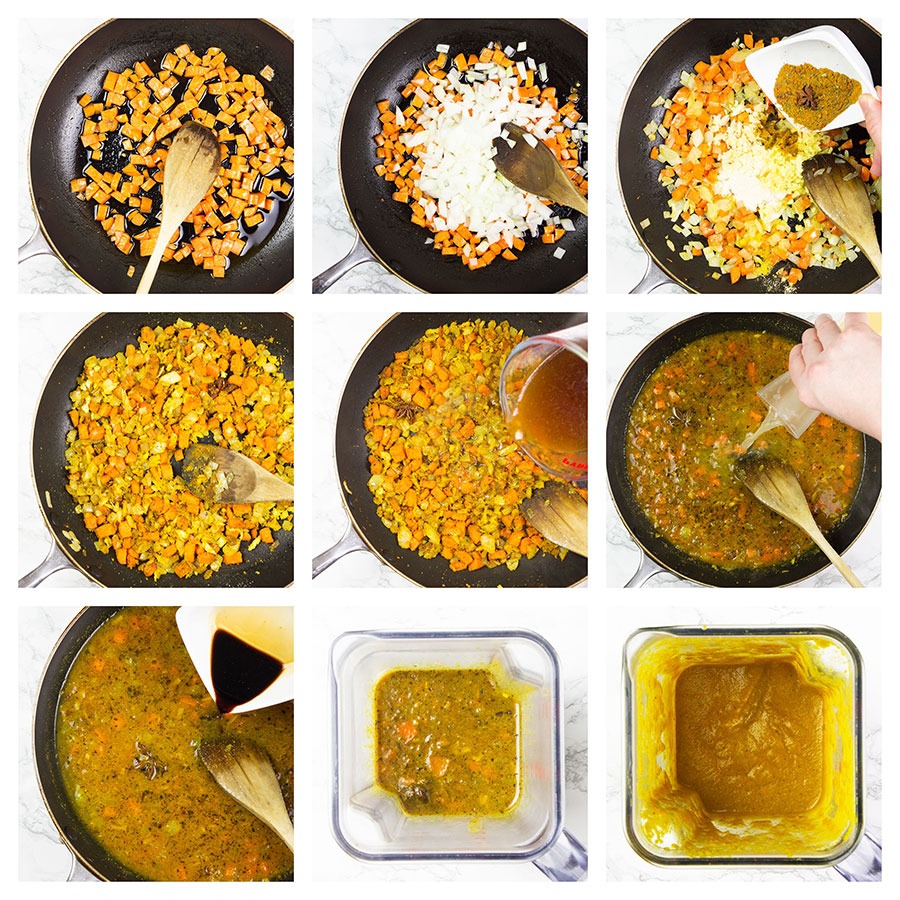 Pour a little oil to a pan on medium heat and add the diced carrot, fry for 3 minutes. Add the onion and cook for a further 3-4 minutes until the onions start to glaze.
Add the garlic, ginger and curry powder mix and stir through to flavours of the spices for 2 minutes.
Once the mix looks dry, add the stock, apple juice, and soy sauce and simmer for 5 minutes.
Take off the heat to cool a little before transferring to a blender and process until smooth. Alternatively, keep in the pan and use a hand blender.
Method katsu curry aubergine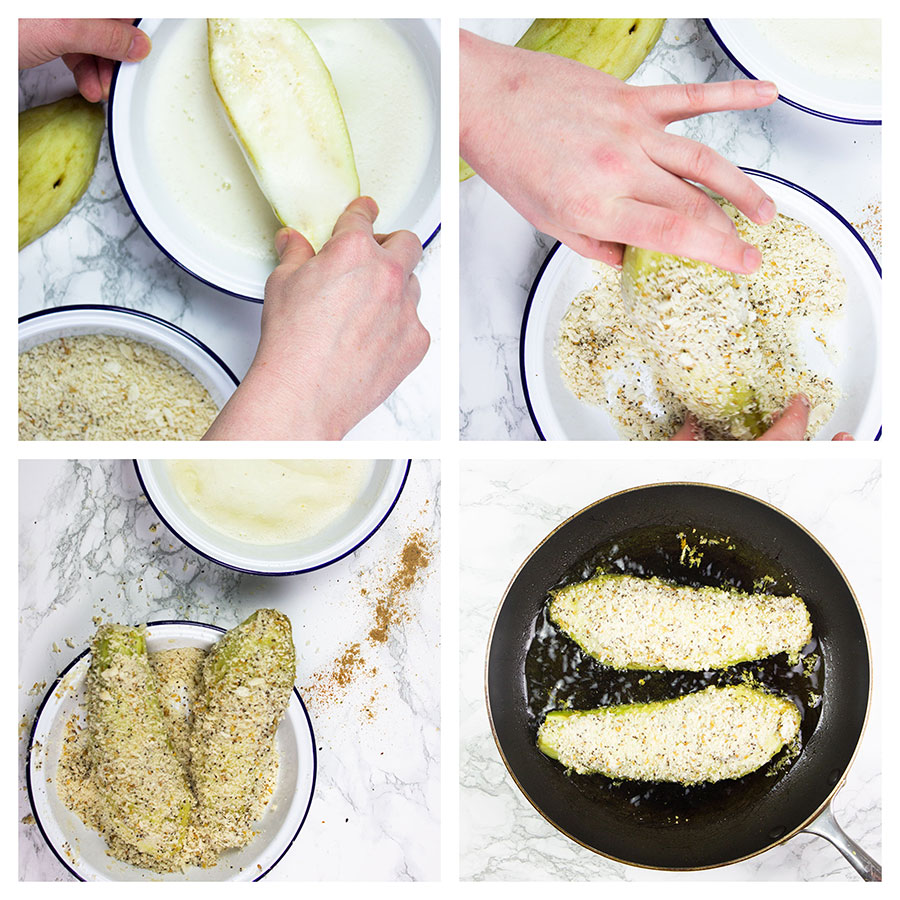 Heat the oil in a pan and set the oven to 200c
Pour the aquafaba in a shallow bowl, add the flour and whisk together.
In another bowl pour in the panko breadcrumbs. 
Coat each half of aubergine in the aquafaba then in the breadcrumbs.
Carefully transfer the coated aubergine/ eggplant into the oil and fry for a minute on each side.   
Transfer the fried aubergine/eggplant to the oven and cook for approximately 4 minutes which will ensure a firm bit remains. Remove and slice.
Method rice 
First, wash the rice and drain.
Add the rice with the water to a pan which has a lid and pour in the vinegar and mirin
Bring to the boil and immediately reduce the heat to the lowest setting and secure the lid on top. Gently cook until all the water has been absorbed.
To serve
First, pour in the sauce to your plates, then place the rice on top followed by the aubergine. This will avoid your breadcrumbs from going soggy Garnish with coriander /cilantro and pickled vegetables and shichimi togarashi.
Serve with a side salad (optional)

Copyright secured by Digiprove © 2020 The Anti-Cancer Kitchen