Our black rice risotto is so delicious, it is full of flavour and umami. In our opinion, it's even better than a traditional creamy white risotto. And, the best thing is that this black rice risotto recipe comes with lots and lots of health benefits.
If you're looking for a delicious risotto recipe that is slightly different from the normal white rice-based creamy versions, then this could be the perfect dish for you. Black rice has a phenomenal amount of health benefits, so much so that it has been classified as a superfood. It is packed full of antioxidants, minerals, and fibre and combined with the Shiitake mushrooms you have a clean-eating, easy-to-make meal that is perfect for busy weekdays but yet sophisticated enough to be on the menu for a dinner party with friends or family.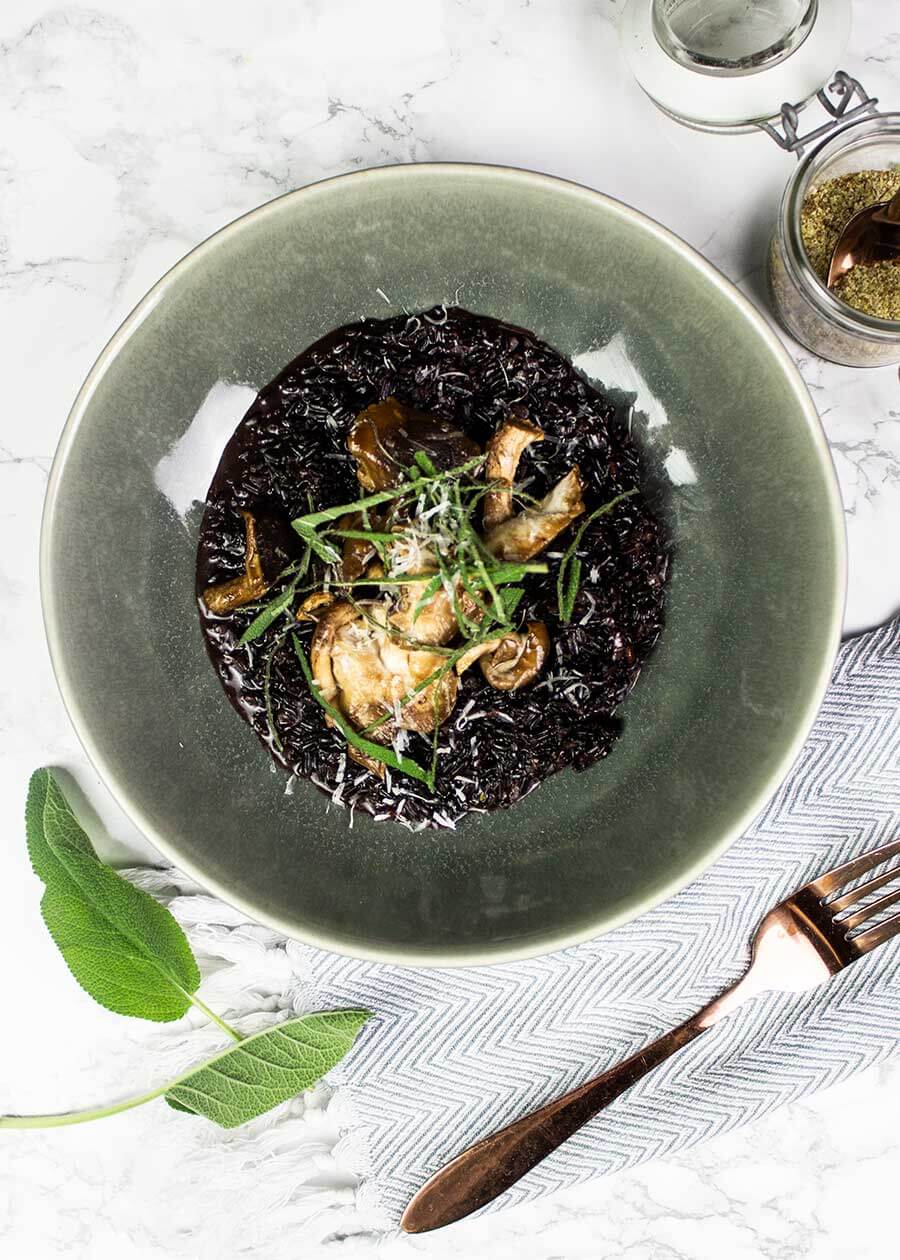 Black rice risotto recipe
This is a black rice risotto recipe that focuses on cuisines from two countries with exceptionally high life expectancy rates, Japan and Italy.
The fusion of a traditional Italian risotto made with healthy black rice and the addition of Japanese flavours from soy to sake and earthy Shiitake mushrooms propel the flavours to another level. Let's face it both cultures enjoy oodles of umami. Our black rice risotto is:
Delicious
Impressive
Creamy
Vegan – only plant-based goodness
Flavoursome
Immune system boosting
And, so easy-to-make
Variations
We have opted for more Mediterranean herbs which work well to balance the fusion of the two cuisines but you can upgrade this black rice dish with healthy far eastern herbs and spices instead such as Thai holy basil, ginger, turmeric, lemongrass and lime leaf and garnish with coriander.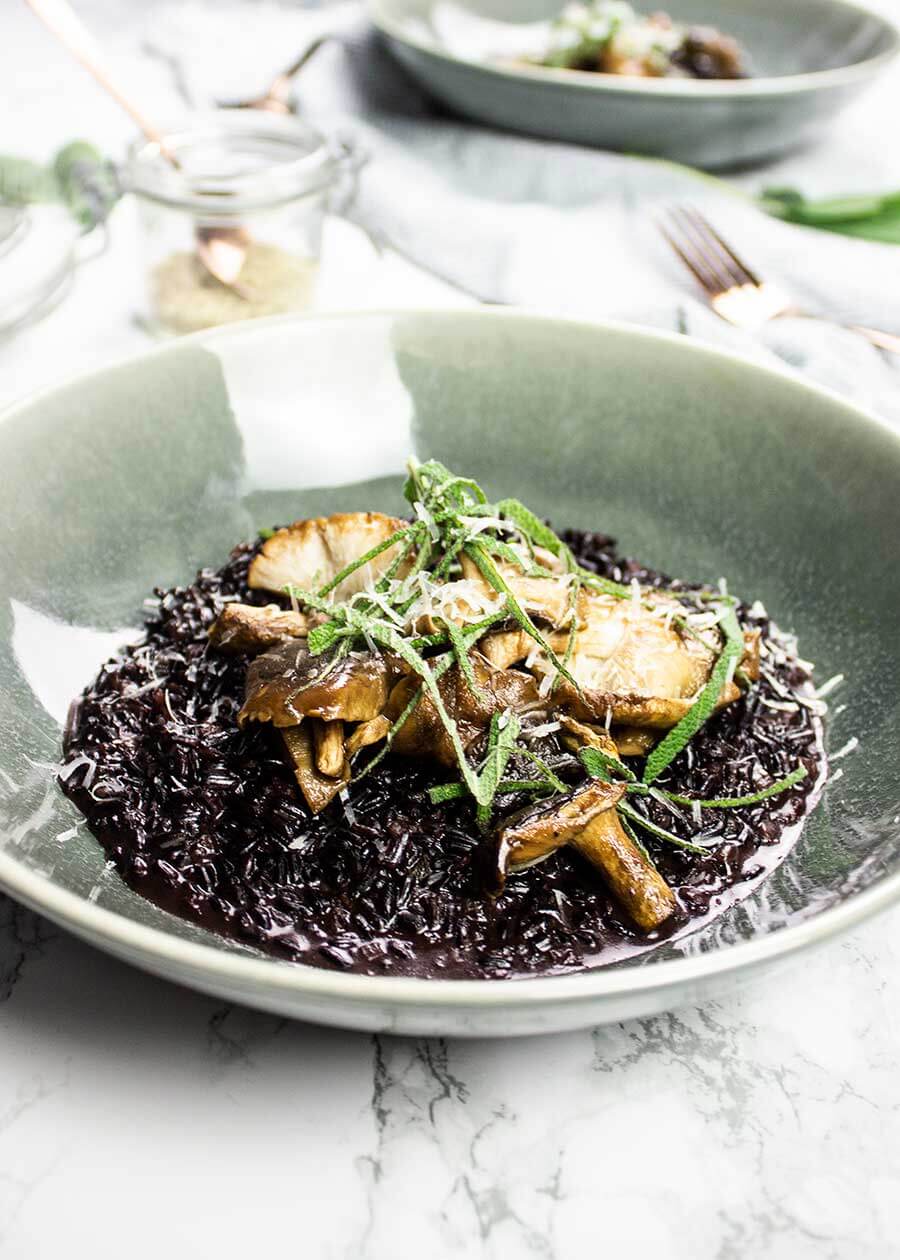 Black rice versus white rice
Black rice has a slightly unusual flavour which can be described as nutty and slightly sweet. It does take slightly longer than white rice to cook but it is well worth the wait. We always consider cooking the risotto as something of a meditation. It is very satisfying to just sit quietly and watch the dish evolve from the solid hard grains of rice into the delicious silky and kind of creamy finish. Although it requires a lot of attention and stirring.
Black rice originates from China and years and years ago, black rice was so rare, that it was actually only available to the royalty. Already in those days, they believed that the healing powers of black rice were so strong it would help them to live a longer life. Luckily, today, we can all have access to this amazing ancient unprocessed grain in our normal supermarkets. We just have to eat it more.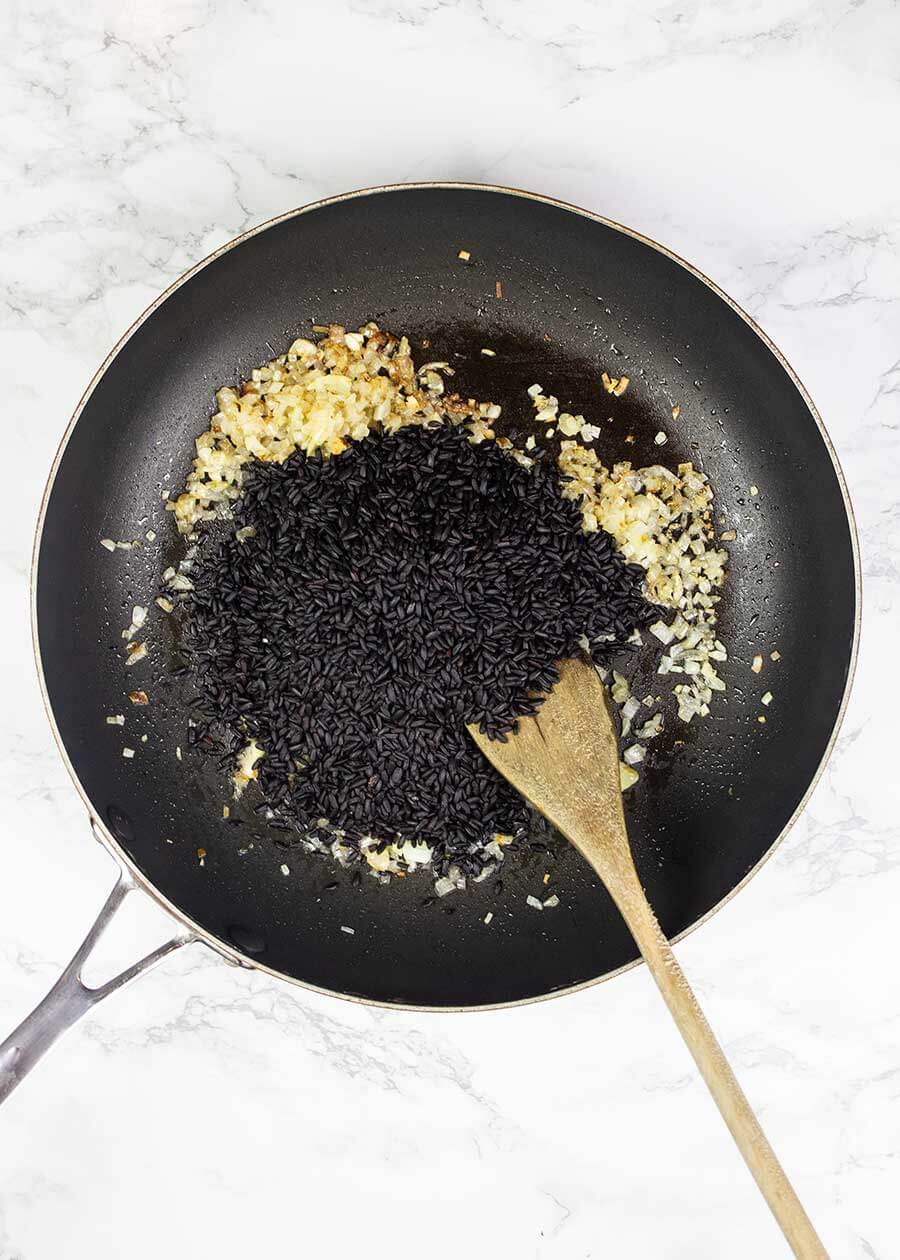 So let's talk about the health benefits of black rice.
Research suggests that black rice contains powerful cancer-fighting antioxidants, directory fibre, anti-inflammatory agents and minerals such as iron and copper. Moreover, it has the highest levels of at the anthocyanin antioxidants of any food. These antioxidants are crucial in an anti-cancer diet as they reduce inflammation by detoxifying the body and closing the liver of harmful toxic build-up.
The biggest difference between white rice and black rice is that black rice is unprocessed.
When white rice is being brought to the supermarket shelves, it is stripped of much of the nutritional content and any beneficial properties because of the intensive milling process it goes through. A lot of benefits from rice are found in the outer layer which is known as the hull and as black rice is not refined the hull remains intact. A lot of the goodness is found in this outer layer, so it is vital to the healing capacity of black rice.
Nevertheless, black rice also has a higher protein count which is perfect if you need to cut down on your carbohydrate intake. It offers 8.5g of protein in any 100g serving when compared to highly refined white rice which has only 6.8g of protein. The fact is it is very high in fibre which means that it is also good for those trying to lose some weight and also good for people trying to build muscle. Moreover, black rice makes it an ideal grain for people who are trying to improve diabetes care or minimise diabetes risk and for those who may be susceptible to heart disease.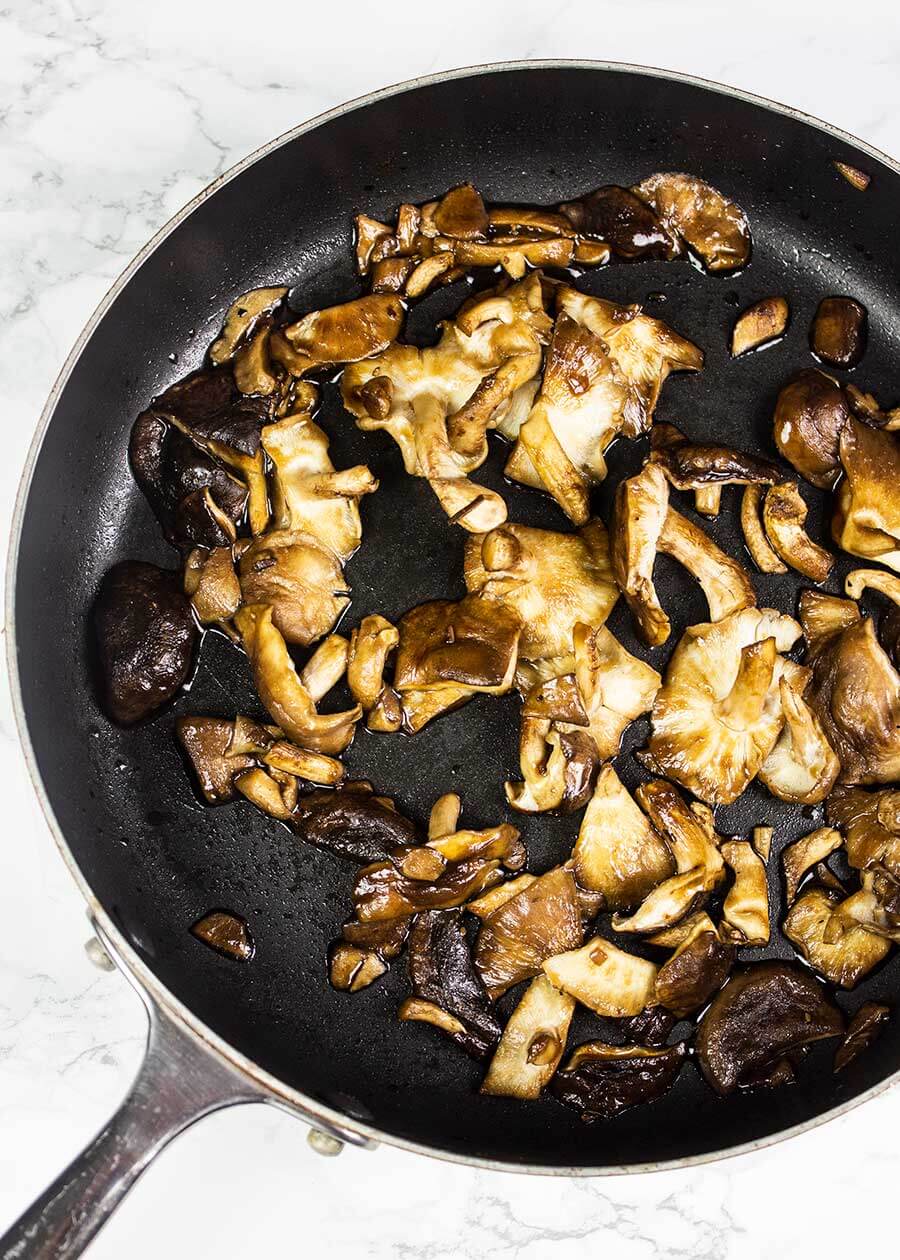 Shiitake mushrooms are perfect in this risotto
In our black rice risotto recipe, we have decided to cook with Shiitake mushrooms. Shiitake mushrooms are 'meaty' and rich and they complement the black rice risotto perfectly. These wonderful mushrooms are low in calories and provide us with many vitamins, minerals, and other health-promoting compounds our bodies need. Research has shown that Shiitake mushrooms are incredibly anti-inflammatory, anti-cancer and are perfect for boosting our immune systems as well as helping to lower our cholesterol levels.
Other healthy black rice recipes on the blog
GREEN GARDEN SALAD
Have you made this risotto recipe?
We'd love to see your black rice risotto creations! Please leave a comment below, share or tag using @anticancerkitchen on Instagram and hashtag it #anticancerkitchen.
Update notes: This post was originally published on the 6 of October 2017, but was republished with new photos, step-by-step instructions and tips in June 2020.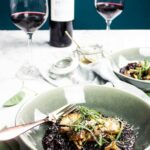 Ingredients
200g (1 cup) of uncooked black rice

125g (1 ¼ cups) of mushrooms, preferably Shiitake mushrooms or something with a firm texture

850ml (3 1/4 cups) of vegetable stock or (750ml (3 cups) of vegetable stock + approximately 175ml (3/4 cup) of Japanese rice wine sake, Vermouth or white wine)

2 shallots

30ml/ 2 tablespoons of soy sauce

A handful of fresh chopped sage and thyme or 2 tablespoons of dried sage and thyme

A glug of olive oil

A handful of fresh sage to garnish

Vegan parmesan (optional)
Instructions
Peel and finely dice the shallots and put into a medium heat sauté-pan/skillet with the olive oil and lightly sauté until translucent for about 2-3 minutes. Add the uncooked rice and stir until coated with oil for about 2 minutes.
Pour in the wine and simmer until the rice absorbs most of the liquid. Now add the vegetable stock, 1 ladle at a time, stirring and waiting until each ladle fully absorbed by the rice before adding the next one. The rice at the end of this cooking process will be slightly al dente (firm to the taste) but well complimented by the smooth velvety sauce.
Step-by-step - black rice risotto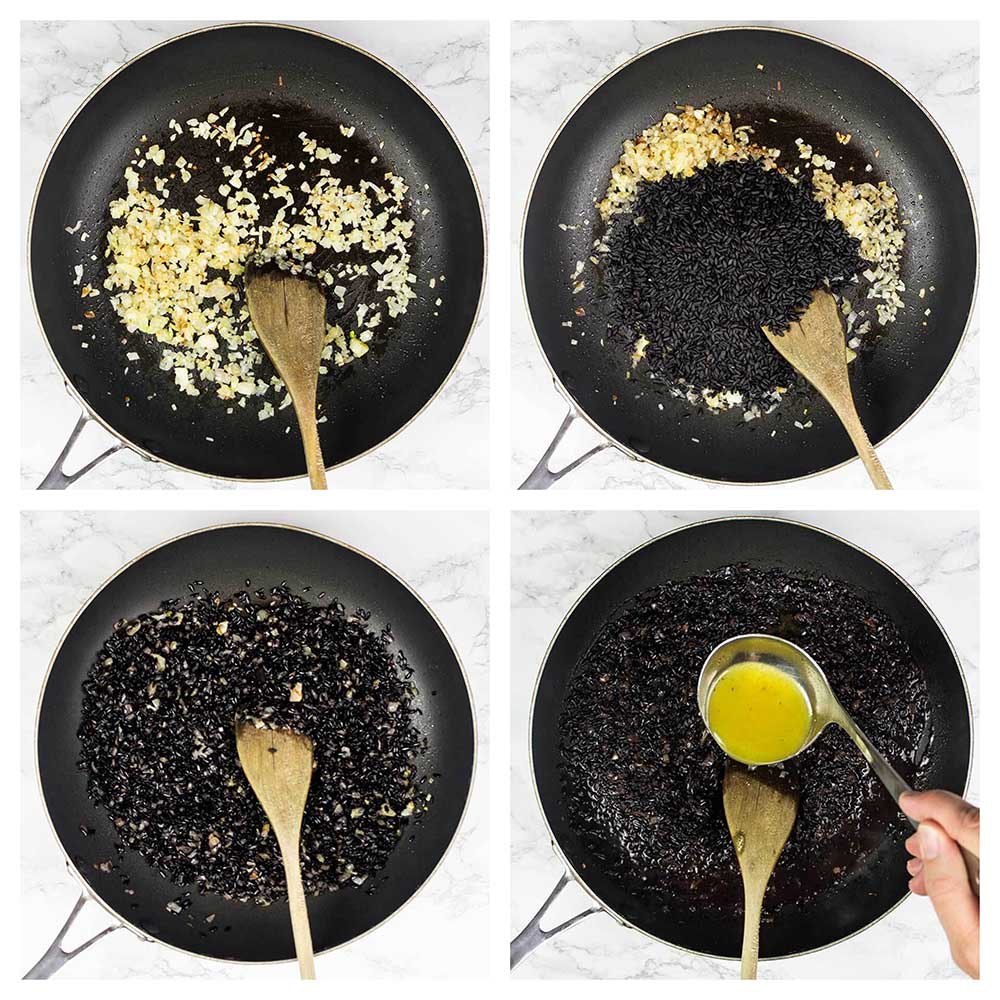 Whist the risotto is cooking and absorbing all that stock, coarsely chop the mushrooms and sauté in another pan with the soy sauce until softened.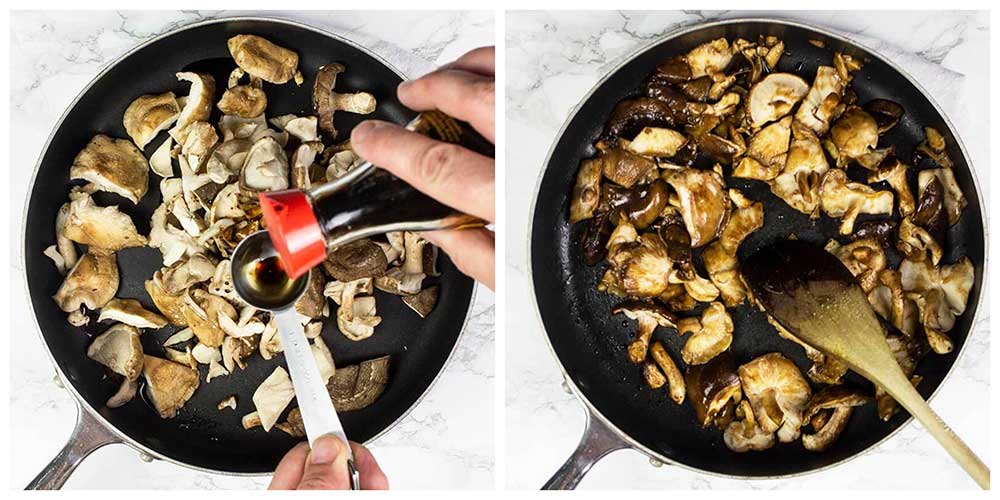 When the rice is done and ready to serve, stir half of the mushrooms through the risotto. Garnish with the rest of the mushrooms on top and finish with some freshly cut sage, and vegan parmesan (optional).

Copyright secured by Digiprove © 2020-2021 The Anti-Cancer Kitchen