For the ultimate plant-based BBQ you need the best vegan burger recipe and these grilled jackfruit burgers with beetroot and garbanzo beans (chickpeas) are totally wicked.
They are very simply prepared and what's more, they not only look the part, they are a taste sensation with a great texture that comes from firm pulled jackfruit combined with what could be described as the best beetroot falafel you'll ever have.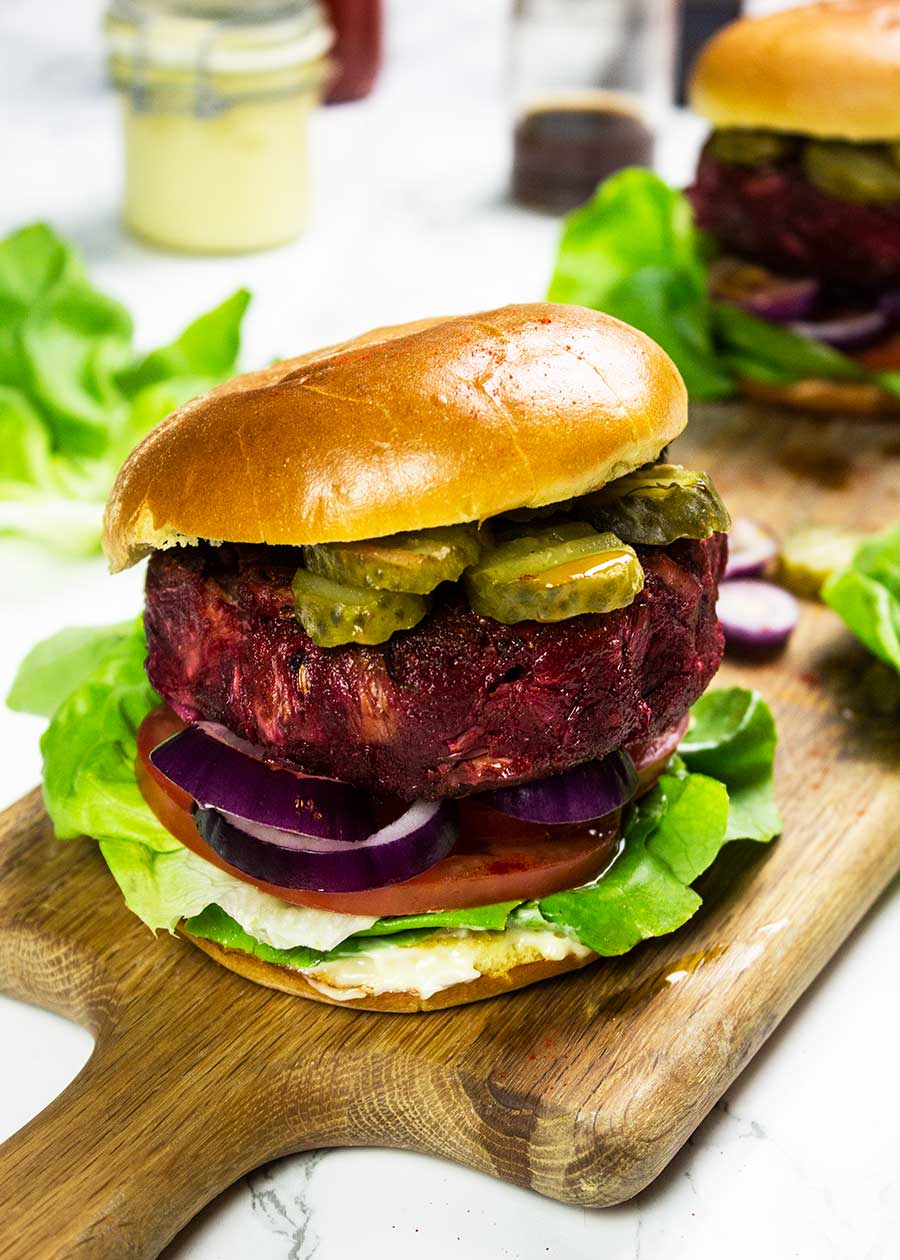 All put together in a beautiful shiny vegan brioche bun, simply slather on your favourite burger sauces such as our vegan mayo, pickles and relishes and enjoy the best ever vegan burger recipe.
The best vegan burger recipe, literally
When it comes to making the best vegan burger recipe or the best vegetarian burger there are many factors to consider. First of all, you do "eat with your eyes", so the presentation has to be spot on. Thinking of burgers, images of glistening patties dripping with the juice being flipped on a hot grill come to mind. So, whether you like a thin patty or a nice big hunk crammed in your bun it must look juicy and tasty and of course, it has to be juicy and tasty.
A dry burger that falls apart just won't do. In our best vegan burger recipe, the jackfruit gives you a wonderful meaty texture, but the beetroot adds juiciness and alluring colour, and the garbanzo beans/chickpeas just bring it all together. The flavour is savoury and herby too with the carefully chosen flavours of fennel seeds, onion and paprika.
You may forget and think that you're eating a devilishly unhealthy burger because it looks exactly that but in fact, you will be consuming a healthy fruit and vegetable cram-packed burger that is high in nutrients and antioxidants that will not only satisfy your hunger, it will give you a health boost too.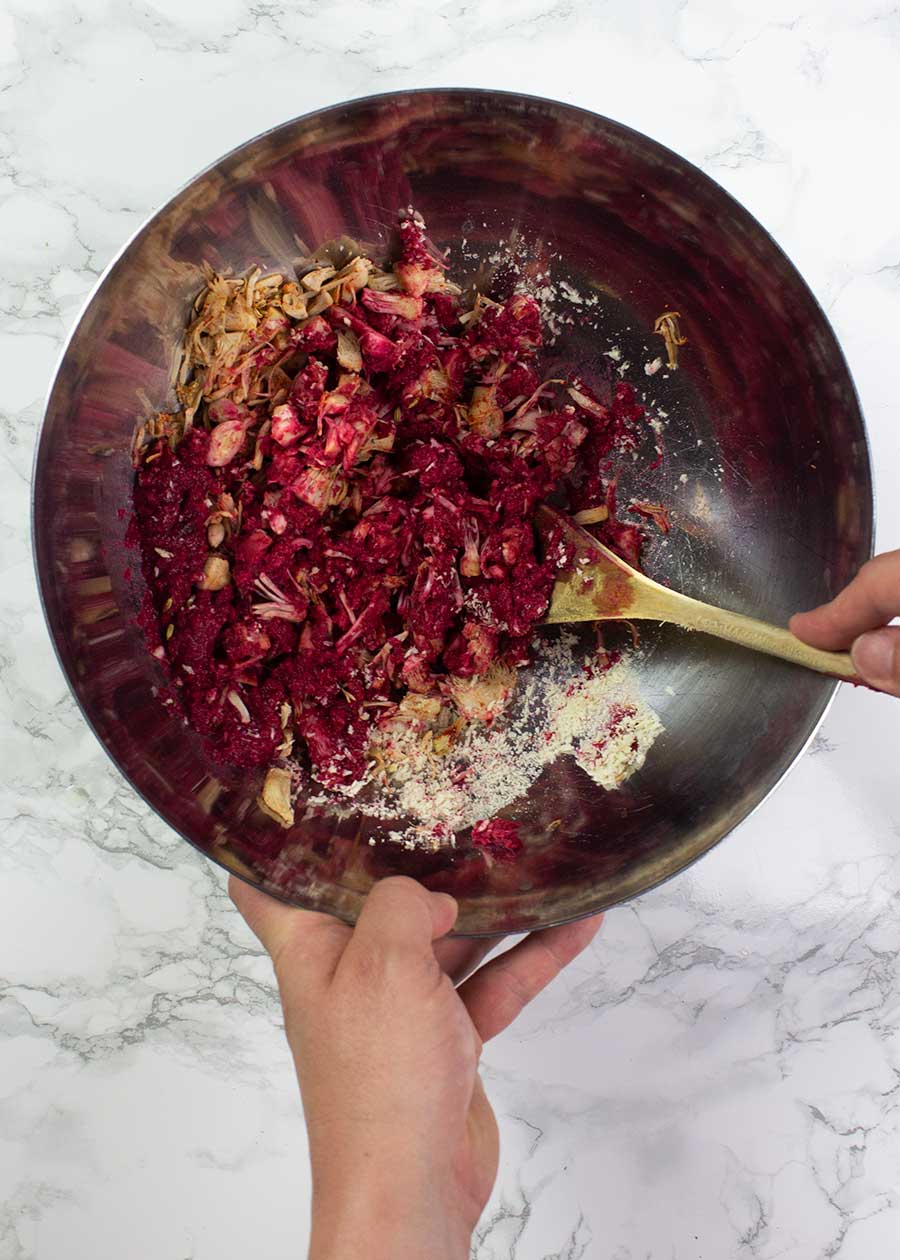 Made with jackfruit
For the meaty aspect, we have used grilled jackfruit. This flavoursome ingredient which has a texture like a firm artichoke heart mixed with a pineapple when grilled can be pulled apart to create meaty strands which are used as a vegan version of pulled pork. It makes amazing other recipes such as our jackfruit Mexican salad, sloppy joe pizza, and shredded jackfruit "duck" pancakes with hoisin sauce. We use tinned jackfruit which is readily available in the supermarket and drain it and simply break it apart and add some flavour of onion powder, fennel seed and paprika and put it under a hot grill for 10 minutes to firm it up. Next, we blend together two small cooked beetroots with a small tin of garbanzo beans/chickpeas and mix the whole lot together with some bread crumbs to create the best vegan burger mix. All that is left to do is form the patties in your hand and then quickly fry in a little healthy extra virgin olive oil to brown the burgers and heat through in the oven. 
Jackfruits come from a tree that is related to the fig tree and mulberry tree. The fruits are the largest known in the world. It is, however, the young fruits we use because they are under-ripe and have less sweetness than their fully-grown counterparts. They are also a lot firmer which is why they are used as a meat substitute.
Fibre is important to our diet as it binds onto toxins in our gut and helps us naturally get rid of it. Generally speaking, fruits such as apples tend to have about 1 gram of fibre but jackfruit contains about three times as much. The fibre content of jackfruit will also slow digestion which will slow the increase of blood sugar levels making them good for diabetics.
Jackfruits also contain the majority of vitamins and minerals that your body needs. It is high in Vitamin C which is a potent antioxidant that is needed for multiple metabolic reactions in the body including the production of collagen which is a major structural protein in the body. Collagen is essential for the growth and repair of healthy skin, bones, teeth and reproduction. Vitamin C not only regenerates other antioxidants such as Vitamin E it helps the absorption of iron and has numerous other benefits such as protecting cholesterol against oxidation. It is the oxidised cholesterol that is associated with the hardening and furring up of arteries that can raise the risk of strokes and heart attacks. 
Studies have also shown that people with the highest intakes of Vitamin C are also less likely to develop certain cancers. Up to 15% of cancers have been shown to have come from mutations in  DNA which can be potentially prevented by Vitamin C.
People who lack Vitamin C could end up with a higher susceptibility to colds and coughs as well as poor healing, prevalence to bruising, hair loss, dry lips, inflamed, bleeding gums and lethargy.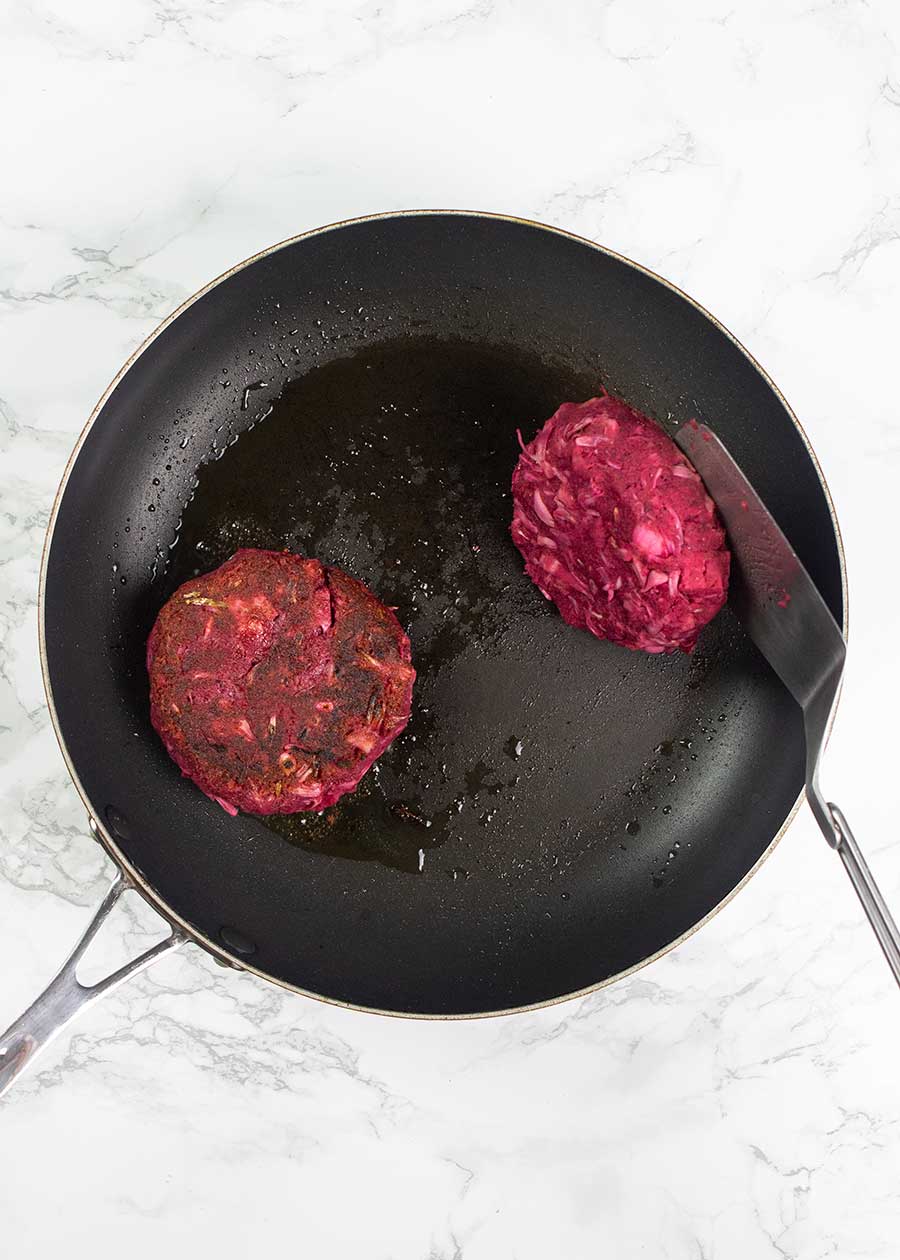 Beetroot makes this vegan burger deep red
Beetroots are widely regarded as a healthy vegetable which can aid recuperation. Athletes have been studied to gain performance after 3 hours of consuming red beets or beetroot juice. They contain natural nitrates that positively affect the efficiency of mitochondria which are responsible for how cells get their energy.
The deep colour of red beets/ beetroot come from pigments called betalains. Dark coloured fruit and vegetables often have positive effects in the body as these pigments contain lots of anti-inflammatory properties. Therefore they could hold some defense against chronic inflammatory diseases such as cancer and heart disease. 
Beets are also low in calories, so you may want to incorporate even more into your burger. For us the vibrant colour that beetroots give this burger gives us a striking look, however, If you like your burger to look a little browner then try adding a little spinach to the mix.
Garbanzo beans/ chickpeas bind it all
Garbanzo beans, also known as chickpeas are very good sources of proteins for people who don't eat animal proteins. They are often used in many vegan recipes as a substitute for egg. The water that comes from a can of chickpeas is called aquafaba and contains much of the proteins to be a good substitute for an egg yolk. Burger recipes often contain egg yolk to help bind the mix together, however with our best vegan burger recipe we have omitted the aquafaba "egg" and just blended the garbanzo beans/chickpeas. We use chickpeas to bind together with other wonderful vegetable mixes such as our vegan sage and onion bhajis.
Chickpeas are most commonly known as the ingredient in hummus and falafel where we have gained inspiration too for this vegan burger recipe. They are high in dietary fibre and are also a great source of omega-3 oils that can also come from oily fish and other plant sources such as flaxseed, walnuts and soy.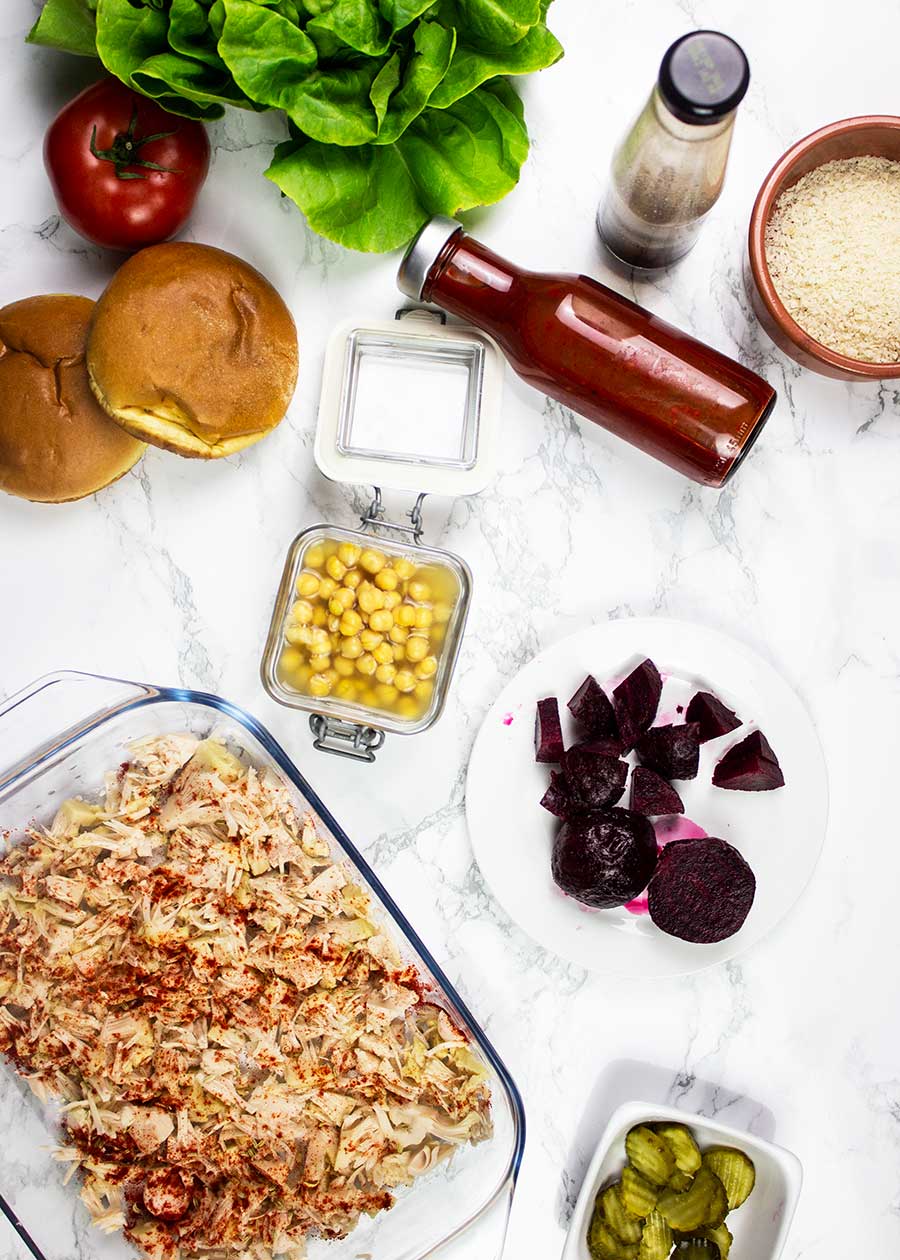 Tips for making the best vegan burger recipe 
Together we think these ingredients not only give you the most amazing looking burgers they are also nice and healthy. A vegetable burger needs to have a bite to them so we reduce the moisture in the Jackfruit by putting it under a hot grill for 10 minutes. This leaves you with much meatier strands. 
If you can't find jackfruit then a good substitute is soy mince. No need to pre-cook as they will soak up all the liquid from the beetroots.
We have used a beautiful shiny shop-bought vegan brioche however artisan breads also work really well, lookout for a nice sourdough bun too.
The herbs and spices we have chosen, paprika, onion and fennel are common herbs used to flavour Mediterranean sausages which we think give these burgers an awesome flavour. Of course, you may want to put an Asian twist on your burger so add soy or sriracha sauce where necessary. 
A beautifully crunchy slaw goes well in a burger but we thought the classic mix of tomatoes, pickles and mayo maybe can't be beaten. You choose.
Have you made this vegan burger recipe?
We'd love to see your ultimate vegan burger creations! Please leave a comment below, share or tag using @anticancerkitchen on Instagram and hashtag it #anticancerkitchen.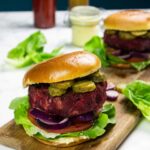 Ingredients
Ingredients for the patties:

1 x 500g tin of jackfruit, 280g drained weight

1 x 210g tin of garbanzo beans/chickpeas, approximately a ⅓ cup when drained

2 cooked small beetroots

1 teaspoon of yeast extract

½ a cup of breadcrumbs

1 teaspoon of fennel seeds

1 teaspoon of paprika

1 teaspoon of onion powder

To garnish:

2 vegan brioche buns

1 sliced tomato

Vegan mayo

Sliced pickles

A few Romaine lettuce leaves
Instructions
Drain the jackfruit from the tin and break apart into a roasting tray. Mix in the onion powder, paprika and fennel seeds and season with salt and pepper. Place under a hot grill for 10 minutes. Take out and cool.
Place the garbanzo beans/chickpeas, yeast extract, and beetroot into a blender and process until smooth.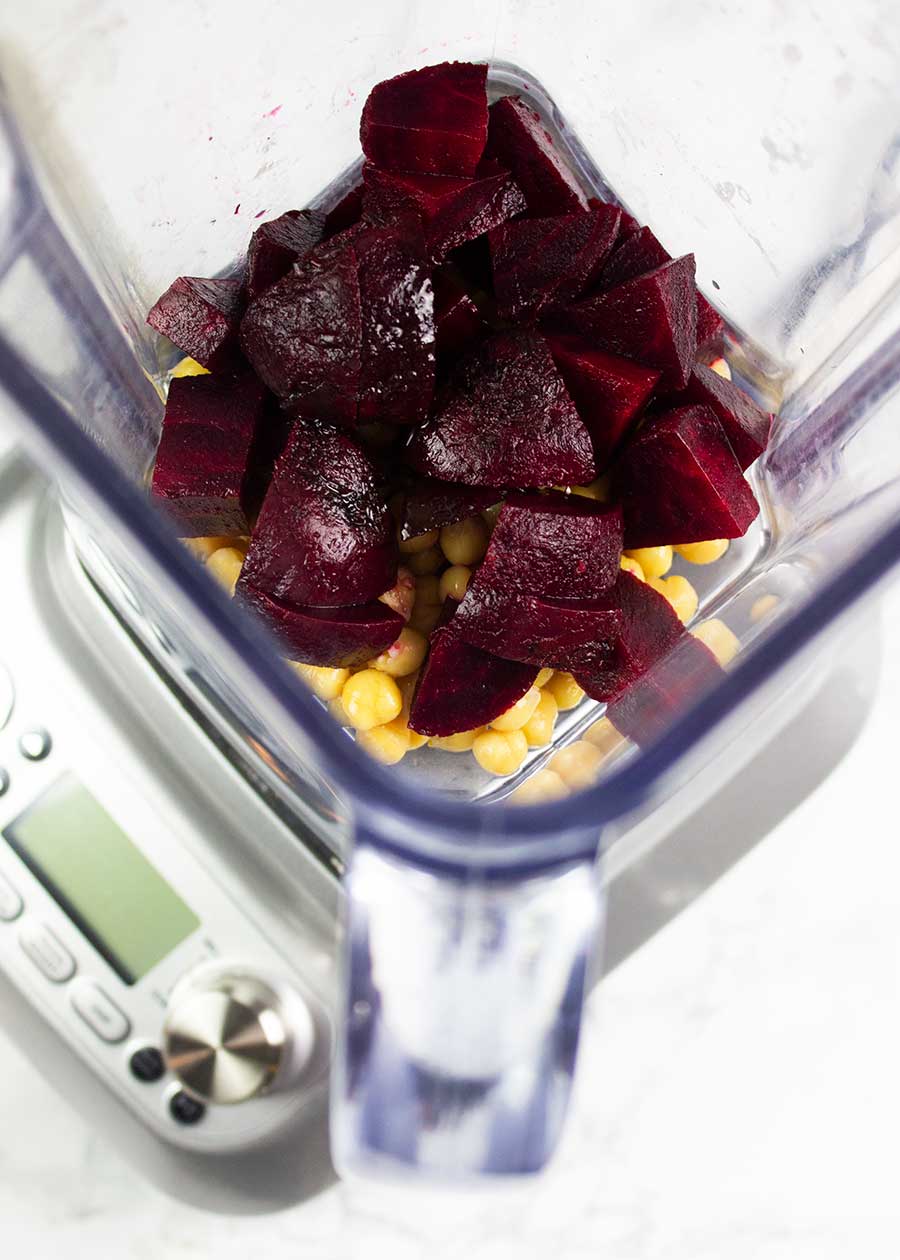 Tips! (add a few spinach leaves if you want a browner burger)
Combine the beetroot mix with the seasoned jackfruit and form into patties. 
Gently fry the burgers in some olive oil for a minute either side then place into a 200°C (390F) oven to warm through for 10 minutes.
Make up your burgers and top with the tomatoes, pickles, vegan mayo, and lettuce.

Copyright secured by Digiprove © 2020 The Anti-Cancer Kitchen