What a treat a big portion of creamy gratin dauphinoise is right? Oozing with layer upon layer of unctuous melting cheese and creamy potato slices you'd think that this would be hard to turn into a totally plant-based dish. However, it is very simple and "my word" it has an absolutely wonderful flavour, creamy texture and looks incredible. We're sure it will still stay a firm family favourite.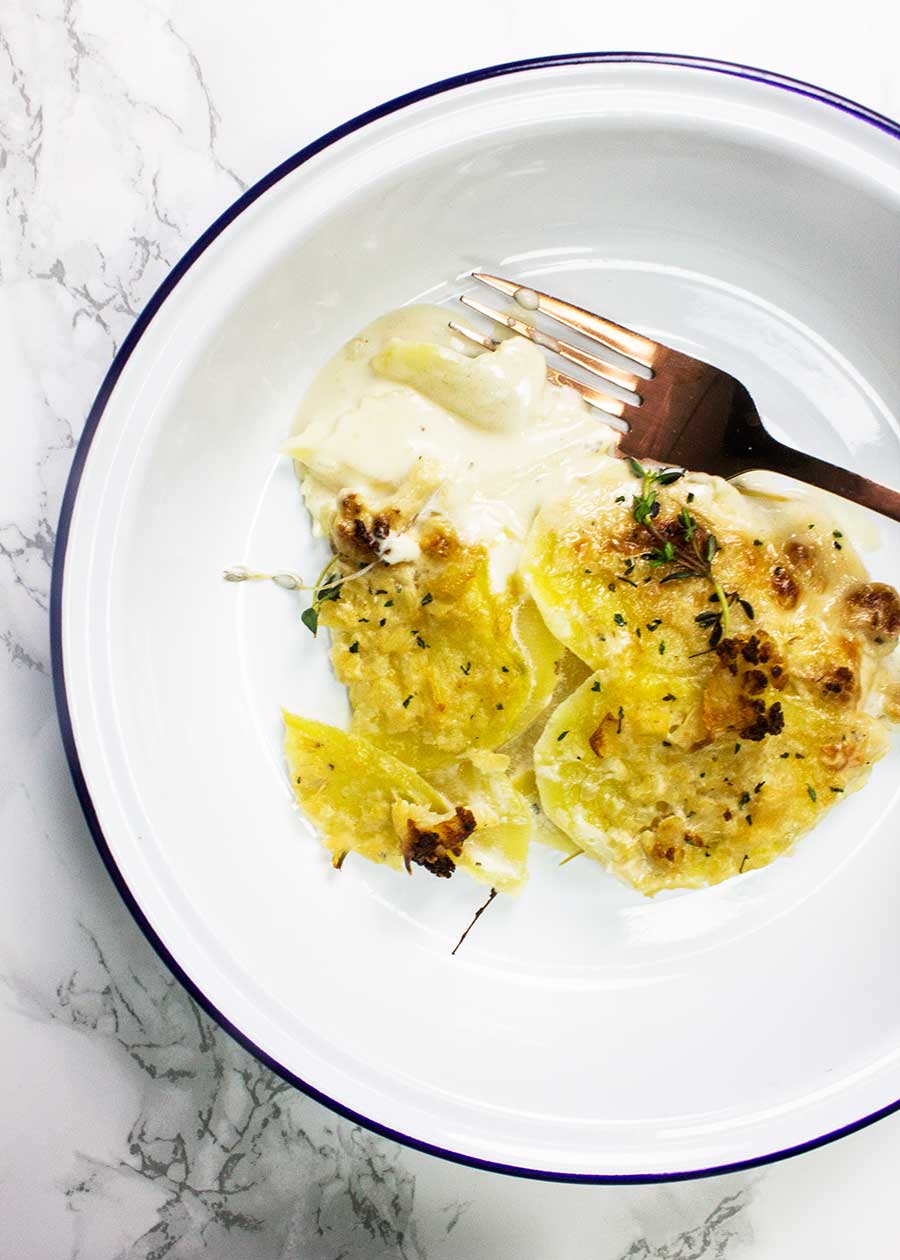 Many vegans weren't always vegans and this classic french gratin dauphinoise potato dish has been a favourite with many of them, including us. The reason we write vegan recipes is simply down to the positive effect a purely plant-based diet can have on your health. With many animal proteins such as cream and cheese, there have been studies that link them with inflammation and hormone consumption that could potentially cause chronic illness and disease such as cancers, high blood pressure resulting in heart attack and strokes and other degenerative diseases such as Alzheimer's. Whether this is 100% proven is yet to be seen but by maximising on your fruit, vegetable and grain intakes it can have a significant positive effect on your health.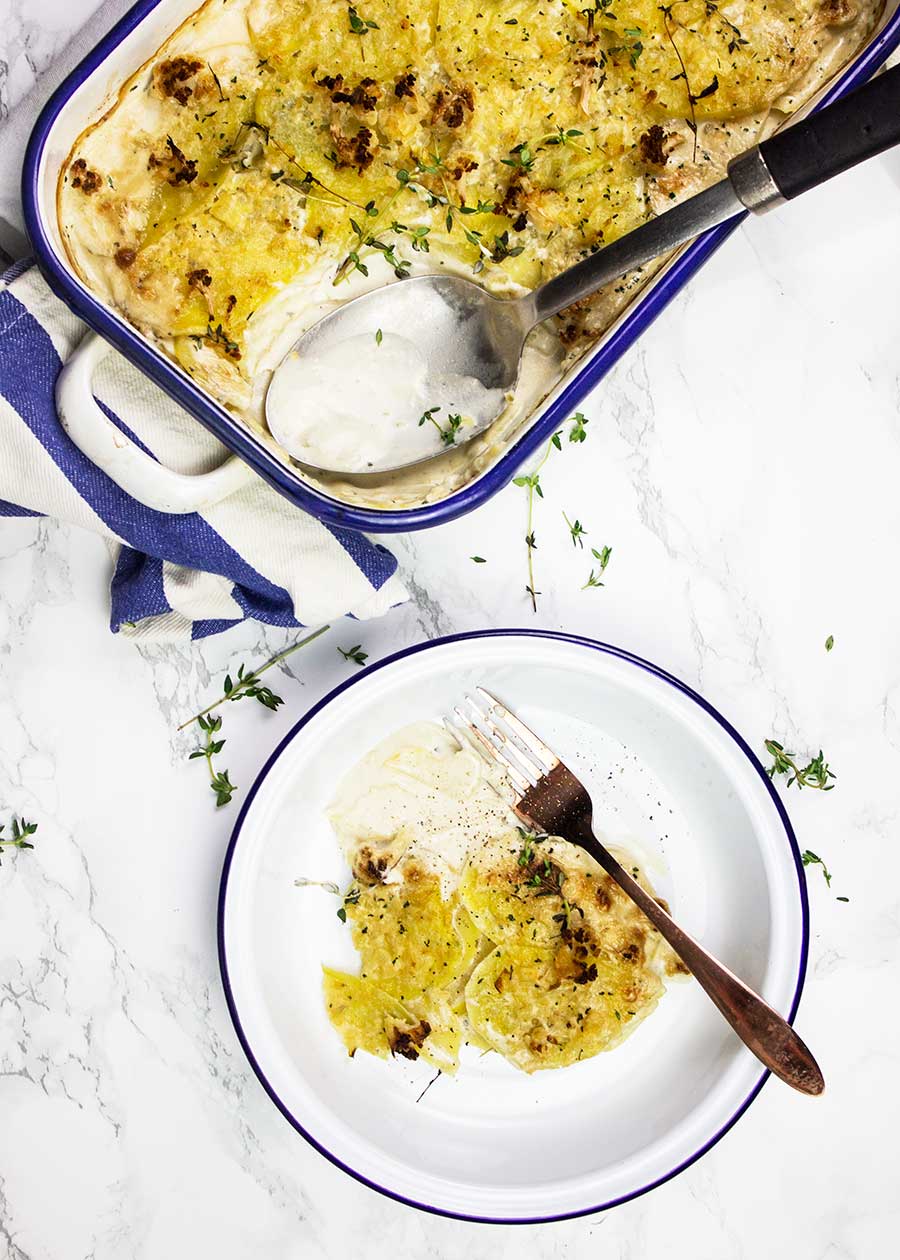 Classic gratin dauphinoise potatoes
Gratin dauphinoise potatoes which are classically thinly sliced potatoes normally using a mandoline to the thickness of a coin, then cooked in milk or cream then gratinated in a shallow earthenware dish rubbed with garlic. Originally cheese wasn't added but we think that most modern and well-loved recipes certainly do use cheese. Not only does it intensify the flavour, but the texture also becomes richer. 
So how do you recreate this delicious french gratin dauphinoise potato recipe without using these proteins? 
Firstly, potatoes, we like red potatoes, Maris Piper or King Edward potatoes as they are the fluffiest. These tubers are a staple the whole world around due to how easy they are to grow are actually healthy. Regardless that they are carbohydrate-rich, carbohydrates are important for giving us energy. They are high in choline which will actually help us to absorb fats correctly which can lead to weight loss. More importantly, they contain good amounts of folate which help with the maintenance of DNA which could lead to helping healthy cells from mutating and causing cancers. Also, potatoes contain Vitamin C and antioxidants such as quercetin which studies have linked to fighting cancer.
Potatoes are starchy, so when cooked in a liquid the starches combine to that the viscosity thickens which is part of the intrinsic nature of the dish. So given this effect, how important is cream, milk or indeed cheese in the grand scheme of things?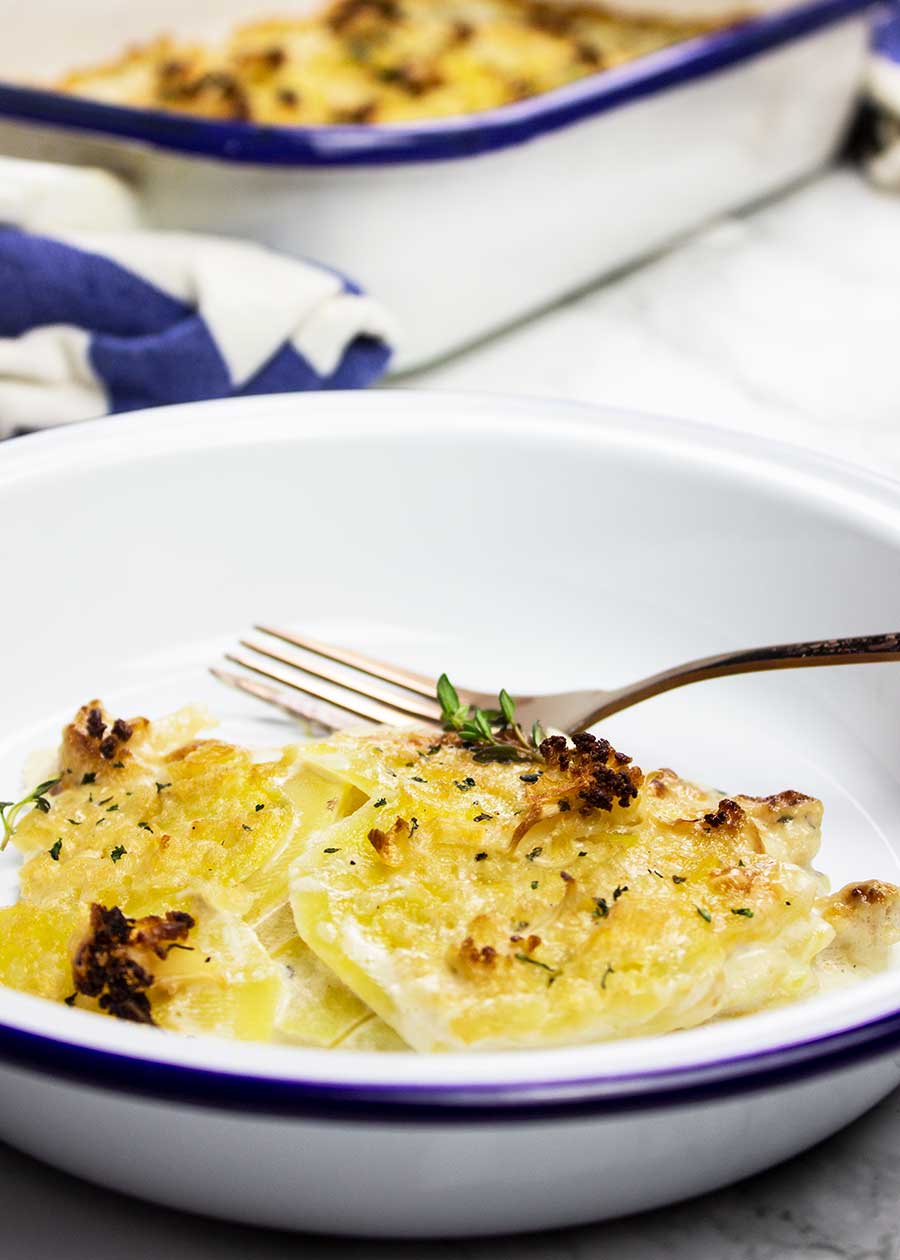 Super creamy vegan gratin dauphinois
For a really creamy texture though we use coconut milk mixed with almond milk and for the cheese flavour, we add nutritional yeast which is the classic flavouring of vegan cheese.
Coconut milk which is purely the white flesh of the coconut soaked in water and sieved. They are actually fruits and whilst they contain coconut oil which has been linked to boosting good cholesterol it does contain calorific fats which produce energy when metabolised. Without exercise, too much consumption can cause weight gain, so moderation of this ingredient could be monitored but having it a recipe every now and again is no cause for concern.
Almond milk is made from the edible seeds from an Almond tree which are soaked. They are classified as a fruit or tree nut rather than a nut that is a hard shell that contains the fruit and seed inside. These seeds are among the world's best sources of Vitamin E. In fact only about 30 grams of almonds contain as much as 40% of your recommended daily intake. Vitamin E is a potent antioxidant which plays an important role in strengthening the immune system and reducing oxidative stress caused by free radicals in the body.
Almonds are wonderfully sweet and tasty and really help this dauphinoise potato dish with a moreish flavour.
The secret ingredient and lack of one too
We have a secret ingredient to crumble on top that adds a great flavour and a great look too with cauliflower. Cauliflower is also high in fibre and contains many detoxifying compounds called isothiocyanates. Cruciferous vegetables such as cauliflower which contain these compounds have been shown to potentially offer protection against cancers.
When the crumbled cauliflower bakes it browns beautifully given a wonderful golden topping to our best ever vegan potato dauphinoise. You may want to add more cauliflower through the whole dish as we sometimes do as it is totally delicious.
One ingredient we don't use is garlic. Definitely not sacrilege. However flavoursome and healthy garlic is, our secret non-ingredient is not adding this to the dish. This way all the other flavours meld so nicely together and not over-burdened by a particular flavour. By all means, if you love garlic then add it but take our advice and try it without, we're sure you'll be making it more often. In fact whenever we have a Sunday lunch and enquire as to what potatoes would everyone like, then it is only ever one answer. Gratin dauphinoise.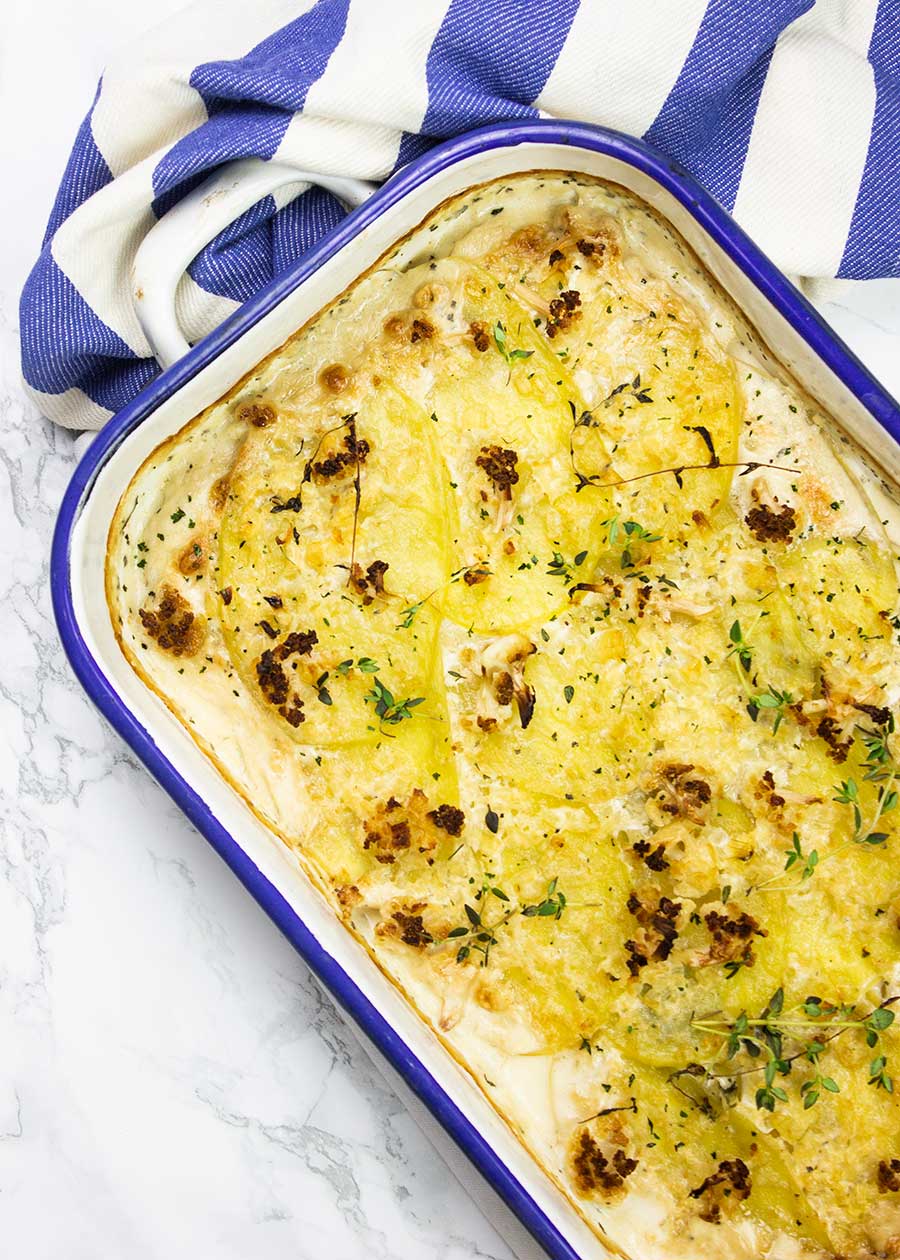 Tips for making vegan gratin dauphinoise potatoes
For this very easy vegan gratin dauphinoise potatoes recipe, you will need a nice shallow earthenware dish and a mandoline or a sharp knife. Another tip is not to cut the potatoes too thinly, about 4mm is perfect. Then instead of cooking the sliced potatoes in the coconut cream and almond milk, you layer them in three layers with the creamy sauce on top of each one. This method then means that when you put it in the oven at 190°C you can cook it for exactly 1 hour and 10 minutes to get a perfect result every time. Also, there is no need to raise the temperature at the end to "gratinate" it as it will naturally do this with the final top layer having crumbled cauliflower on top.
Variations to try
We love the classic gratin dauphinoise potato flavour, albeit without the garlic but that is just our preference. We use the fine herbs such as fresh thyme and chervil for a traditional flavour but there are other excellent fusion twists you can do too which you can see below.
However, thyme in particular not only has a wonderful flavour it is a herb that is a highly effective respiratory antiseptic and expectorant. It is especially potent against infections that result in coughing.
Try adding a spicy Thai green curry paste to your cream to add the flavour of SouthEast Asia. Use paprika, oregano and cumin with a little tomato paste and you will end up with a fajita flavoured potato dauphinoise. We love to get people loving our recipes then experimenting and putting their own stamp on it. Hope you love it. Bon appetit! 
We'd love to see your gratin dauphinoise potatoes creations! Please leave a comment below, share or tag using @anticancerkitchen on Instagram and hashtag it #anticancerkitchen.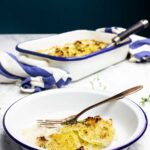 Ingredients
4 Red Rooster, Maris Piper or King Edward potatoes, peeled
1 white onion, finely diced
1 x 400ml tin of full-fat coconut milk
250ml / 1 cup of Almond milk
A few sprigs of fresh thyme
2 teaspoons of chopped chervil
2 tablespoons of nutritional yeast
1 bay leaf
2 florets of cauliflower, crumbled
Instructions
Slice the peeled potatoes to the thickness of about 4mm using either a sharp knife or mandoline.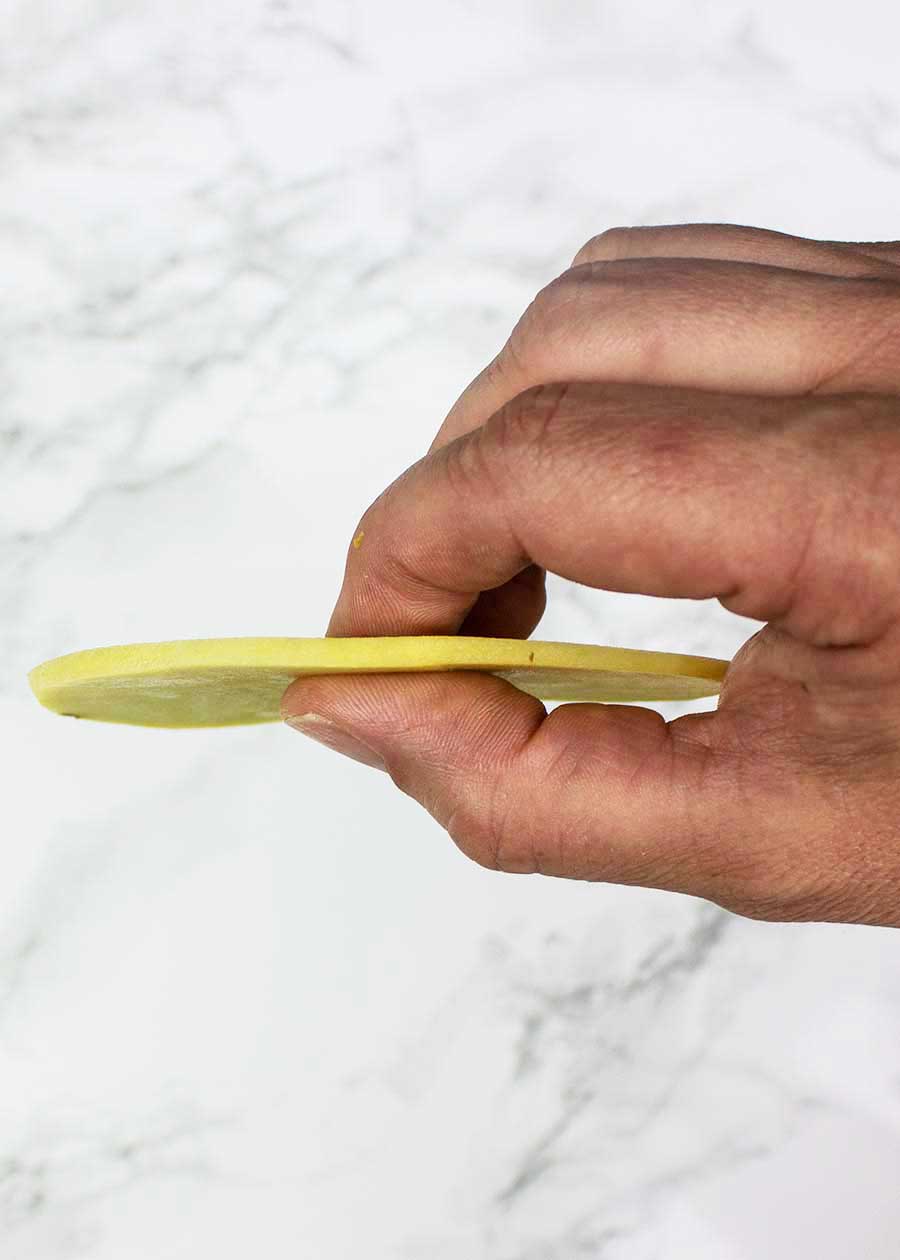 Pour the coconut milk and almond milk into a pan and add the yeast, bay leaf and diced white onion and bring to a simmer. Remove from the heat.
Put one layer of potato on the bottom of your dish so that they just overlap. Pour over a third of the milk and sprinkle a little chervil and thyme on top.
Repeat the process three times. On the final layer spread evenly the crumbled cauliflower before pouring over the final third of the milk. Sprinkle on the last amount of chervil and thyme and season with a little salt and pepper.
Place in a preheated oven at 190°C/374°F for 1 hour 10 minutes.
Step-by-step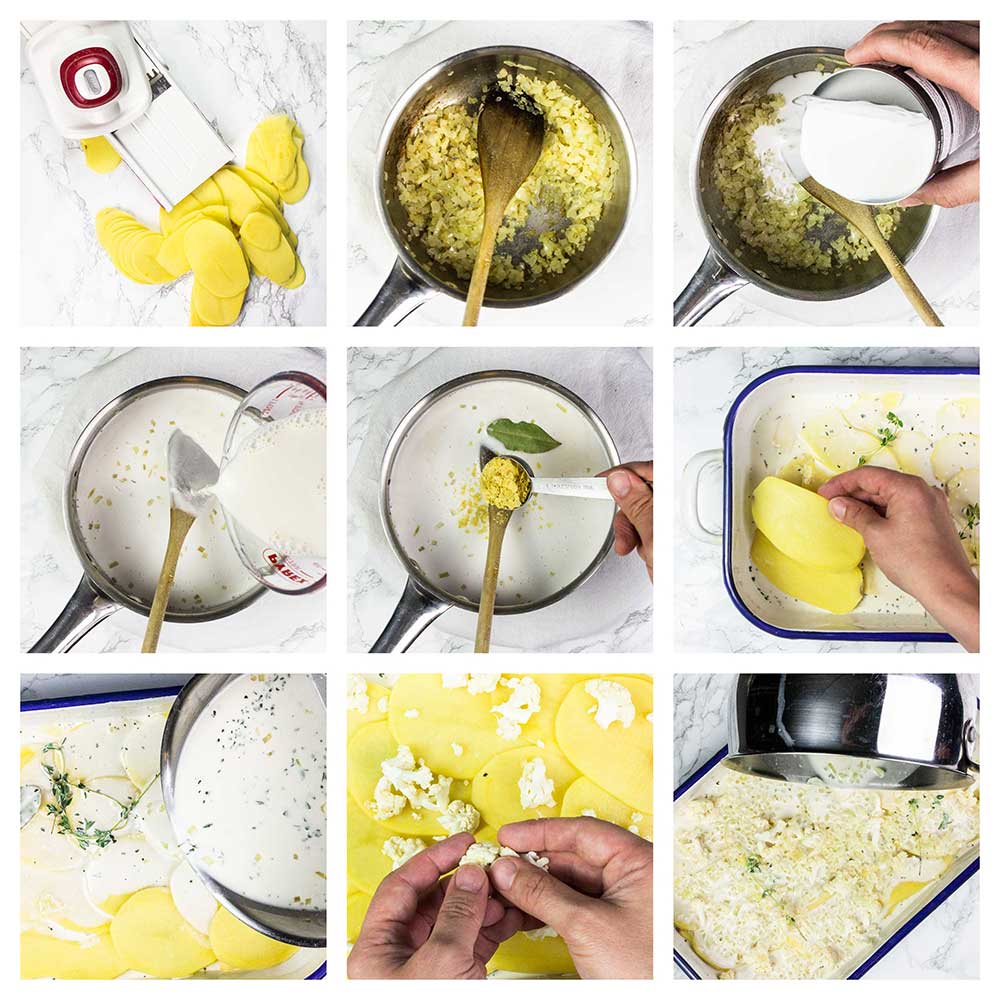 Copyright secured by Digiprove © 2020 The Anti-Cancer Kitchen