Our vegan quiche recipe is made with firm tofu blitzed with fragrant fresh basil and spinach leaves. Thes healthy greens give it an appetizing healthy Mediterranean twist.
Firm tofu makes an excellent substitute for an egg which is used in an original quiche but it also soaks up all the flavour you want to add to it too. We add a little bit of fresh oregano and nutritional yeast so you will be hard-pressed to discern it from the original. The result, a perfect vegan quiche recipe that will become your new favourite, guaranteed! 
The texture is bouncy like the original too. For the filling, we have opted for more ingredients that define Mediterranean cooking such as pitted black olives, red onion, roasted red pepper, tangy flavoursome cherry tomatoes and warm, rich sun-dried tomatoes.
You just need a blender, mix in the chopped vegetables then spread it all in some shortcrust pastry which you can either make or simply buy pre-made and then just bake. 
This amazing vegan quiche recipe with tofu is:
Simple to prepare with no pre-cooking of the mixture involved

Purely plant-based as it is dairy-free

Full of healthy unfussy Mediterranean ingredients

Can be eaten hot or cold

Great for light lunches or dinners

Easy to save for later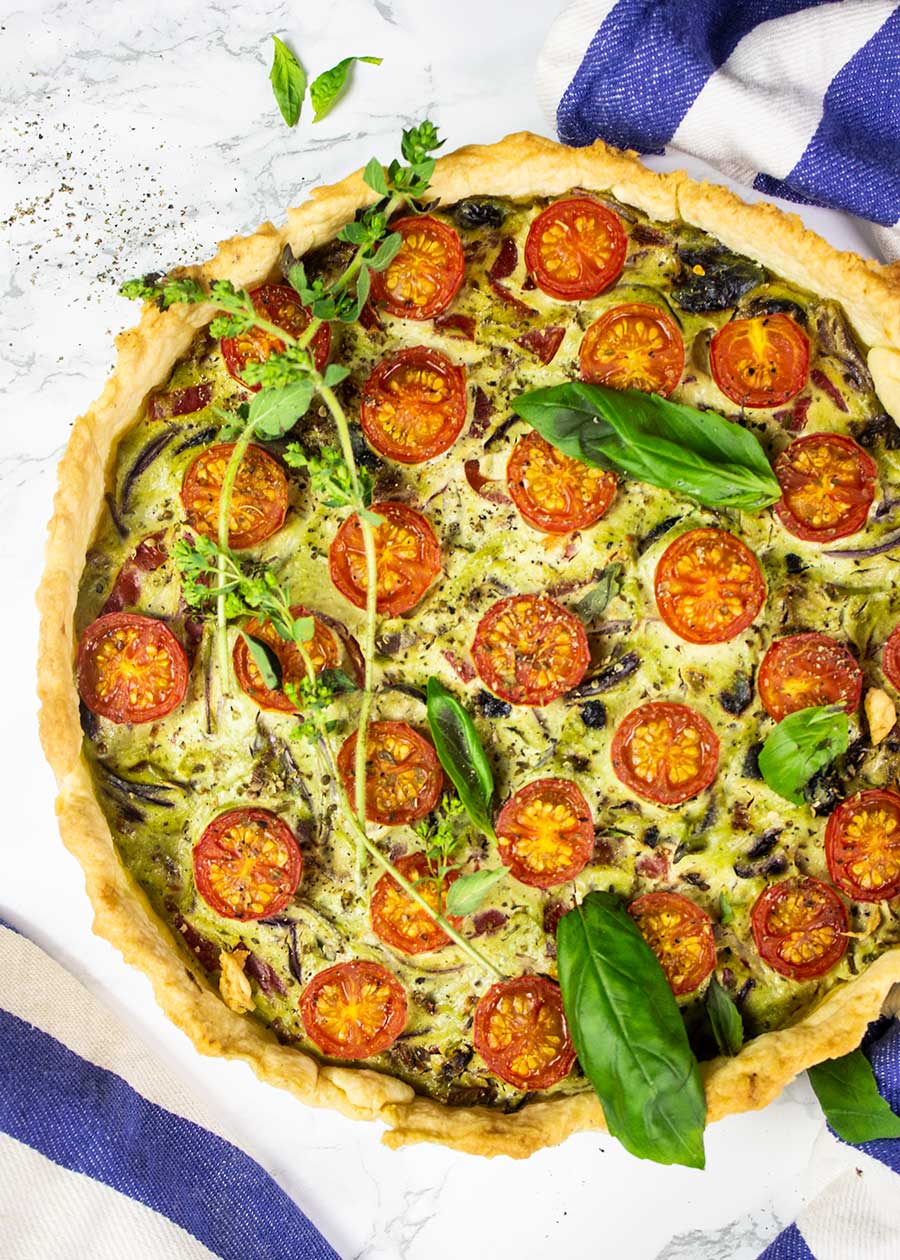 A quiche is traditionally made with an egg mix and cooked a little like a frittata or savoury flan but in a pastry case. The firm omelette like mix can be filled with numerous ingredients such as cheese and ham for a quiche lorraine or goats cheese and onion or smoked salmon etc. Quiches didn't look to be designed for plant-based diets but this recipe is proving that this simple french dish can be re-imagined for a new audience. We have chosen ingredients that we feel define the best of Mediterranean cuisine.
Basil
Basil, which gives this dish such an alluring green vitality is well known as the main flavour used for the pesto. It is high in phytochemicals which have been associated with helping the body's self-defence against cancer. It is also a natural adaptogen which means it helps the body deal with stress. The more basil you can pack into your sauce the more you will get out of it in terms of body and mind. 
Basil also contains the essential oils linalool and eugenol which have powerful anti-inflammatory properties that could potentially lower the risk of heart disease and other inflammatory conditions. Basil is also high in the flavonoid antioxidants orientin and viceninare. Antioxidants play an important role in strengthening the immune system and reducing oxidative stress caused by free radicals in the body. 
Free radicals are chemicals in the body that are molecularly unstable. They are negatively-charged molecules that set a chain reaction off with damaging effects to body proteins, fats and DNA. Our bodies are constantly under attack from this process and when genetic material is damaged it could then potentially allow cancers and other degenerative diseases to set in.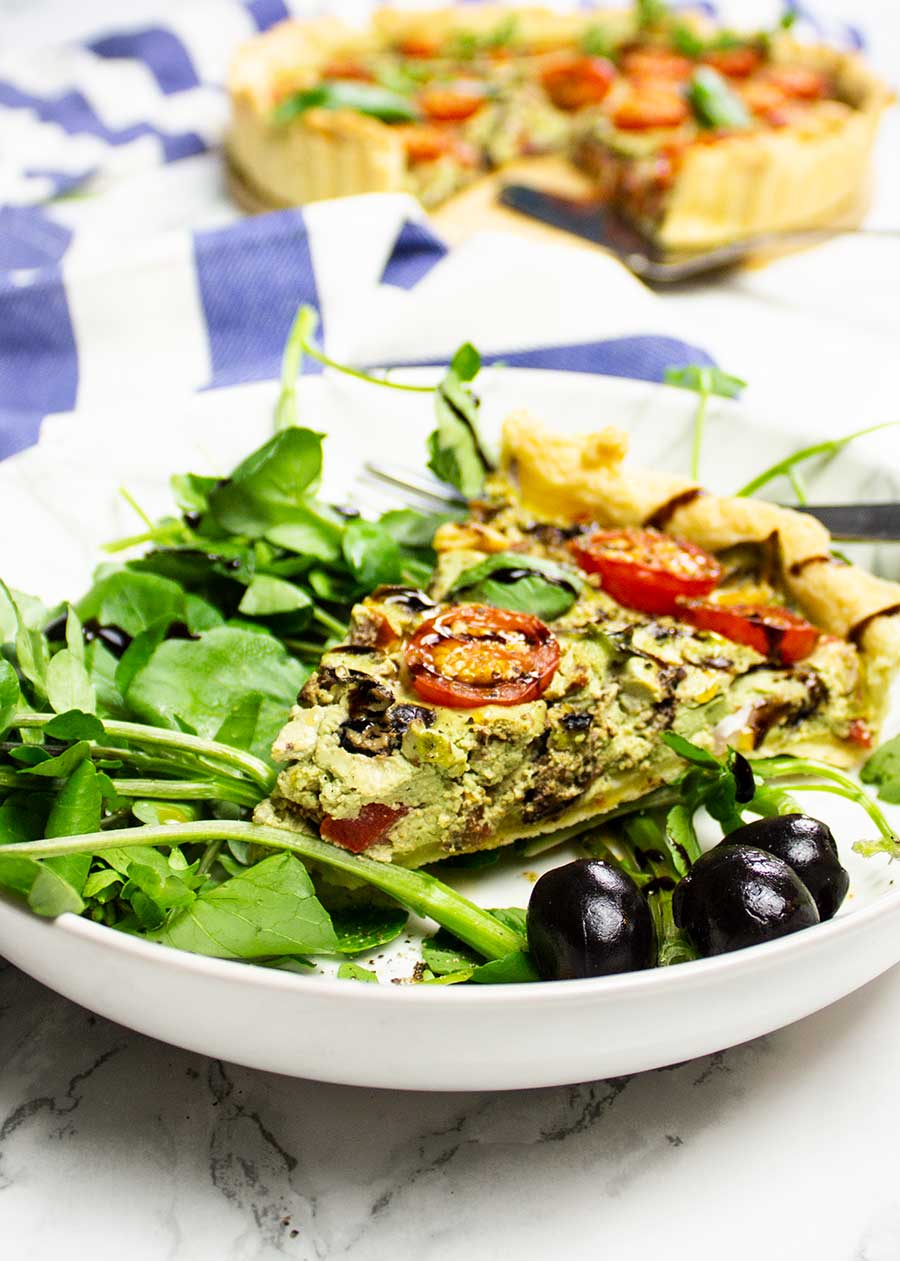 Spinach
We add spinach to the basil for another kick of taste and health as it is high in chlorophyll which several studies show combat carcinogens created when smoking or eating burnt food. 
Fresh spinach leaves are full of antioxidants too. There are ongoing studies regarding an x-ray structure in spinach leaves that aids photosynthesis for the plant called MGDG (monogalactosyldiacylglycerol) These studies link this plant compound to the inhibition of tumours. This means that eating spinach could potentially inhibit cancers.  
Bright red fruit and vegetables in our vegan quiche recipe
We use two types of tomatoes in this recipe as well as roasted red peppers. Cherry tomatoes which are placed on top of the quiche and sundried tomatoes which are added to the Mediterranean mix of vegetables.
When red fruits and vegetables such as tomatoes and re peppers are cooked a specific carotenoid called lycopene it contains is intensified. Lycopene is an important dietary carotenoid which makes up around 50% of all carotenoids found in the body. It is the red pigment found in fruit and vegetables. Cooking tomatoes releases five times more lycopene than you would get by consuming just raw tomatoes. Even though lycopene is not essential for humans studies have suggested that there is a strong link between tomato intake and blood lycopene levels alongside the reduced risk of many cancers. Whether or not this correlation of eating tomatoes is directly associated with reducing the risk of cancer is the fact, it is certainly a marker as eating a tomato-rich diet would certainly sit alongside a lifestyle choice of generally eating healthier. 
Olives
Olives are high in vitamin E, which has an incredible ability to battle free radicals in body fat that cause oxidation, especially working alongside the healthy monounsaturated fats found in olives. A diet rich in olives and olive oil which is so prevalent in the Mediterranean can also help with your digestion, bone health and your cholesterol levels too maintaining all-round health.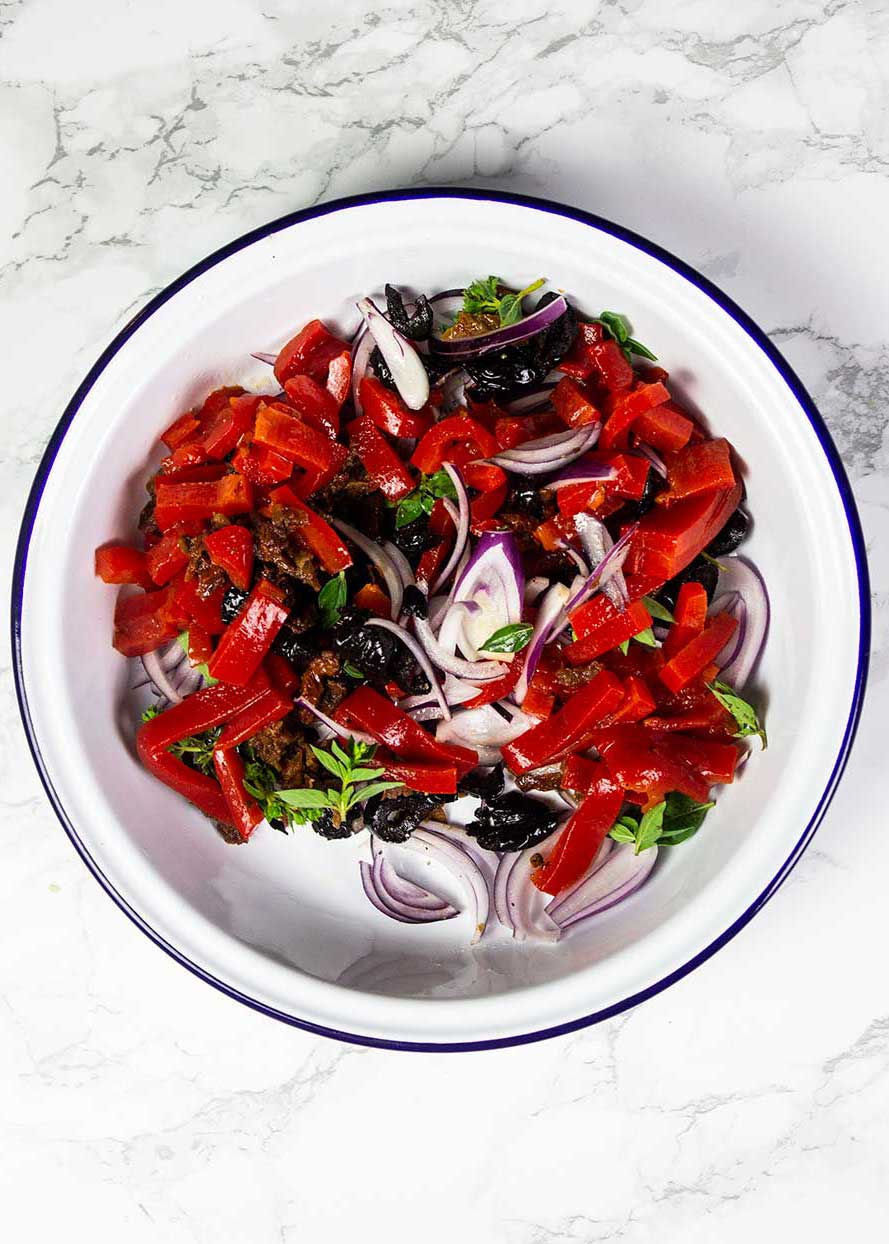 Red onion
Onions are bulbs from the Allium genus and are related to garlic, shallots, leeks and chives. They are one of the most widely used vegetables around the world as part of savoury dishes, They have been used for their medicinal capabilities in Eastern medicine and it has been long known that they can stave off illness most likely due to its Vitamin C concentration as well as it was used to treat eye disorders, 
Different varieties of onion have varied polyphenols or plant compounds that have differing effects on health. Certain polyphenols such as carotenoids and flavonoids are the main reason why a fruit or vegetable is either yellow, orange or red and there are 1000s of these pigments naturally found in plants. Anthocyanin, one of these pigments which is responsible for giving red onions their colour are potent antioxidants that help inflammation at a cellular level in the body. 
Onions are also high in Vitamin B essential for metabolism and nerve function and potassium which is vital for aiding proper kidney functions. Onions are also being studied for the further effect that their compounds have on tumours, quercetin another antioxidant has been linked to the reduction of tumour growth and recently a sulfur containing a compound called, onionin A, has been identified as a compound that also impairs the growth of tumours. 
Why we don't use egg 
We do need essential amino acids or complete proteins in our diet and many people would obtain this from meat, dairy and eggs but this makes it possible to consume unwanted hormones and chemicals introduced into the animal's diets. Many of these hormones have been associated with chronic diseases such as cancers, so erring on the side of caution The Anti-Cancer Kitchen prepares recipes which are mainly plant-based.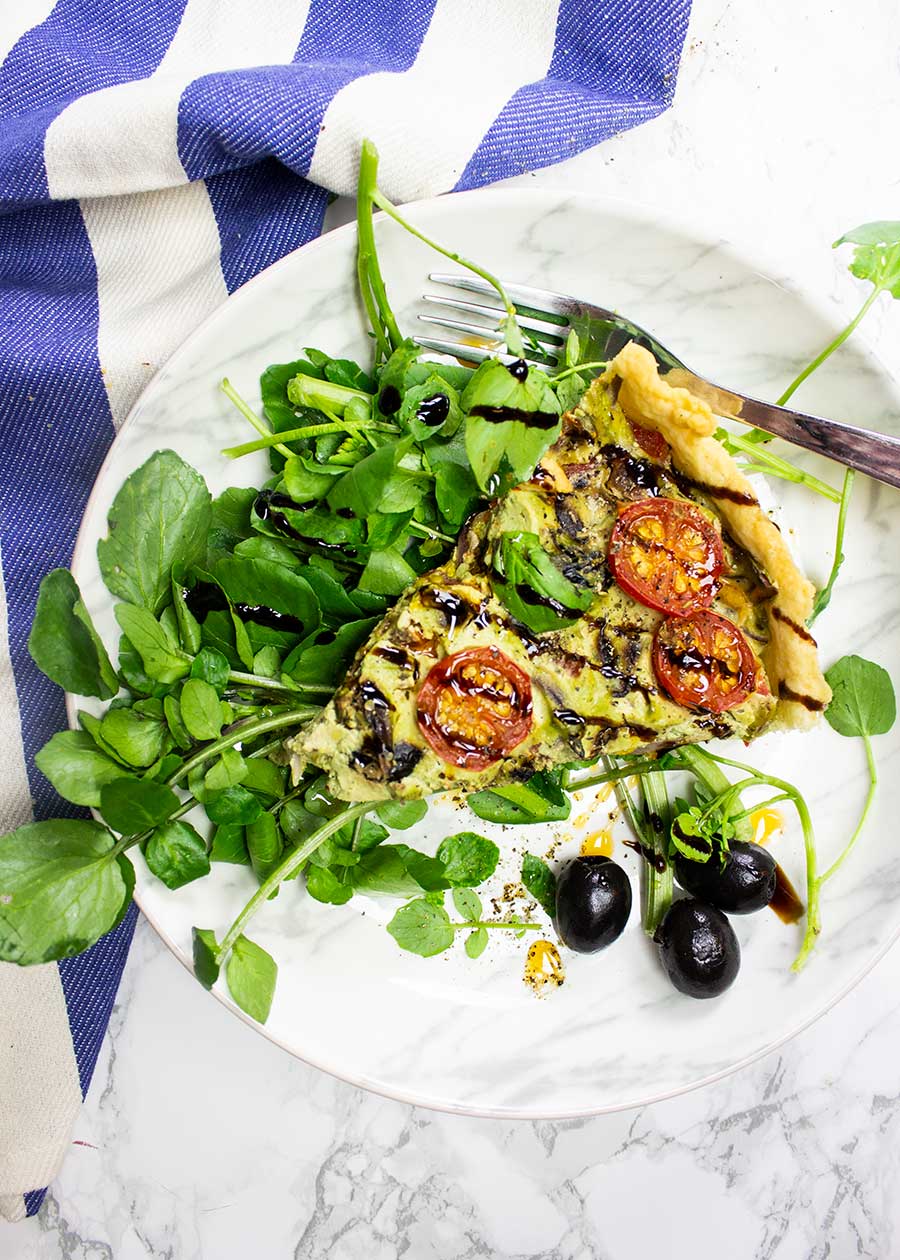 Shortcrust pastry
You can easily make your own vegan shortcrust pastry by mixing flour, salt together in a food processor. Slowly pour in some coconut oil until the mix becomes crumbly then add water to form a dough. Then simply roll out with a pin with some extra flour for dusting.
However vegan ready bought dough is easily available. You may just need to re-roll it out to cover your pie dish. 
Tips for making vegan quiche recipe 
Use firm tofu but gently squeeze it between your hands or wrapped in muslin to extract excess water to help the vegan quiche with a firmer finish. Remember, the added vegetables don't need to be cooked beforehand but they will lose liquid in the cooking process which will go into the quiche. Squeezing the tofu will stop the vegan quiche becoming soggy.
Have you made this easy vegan quiche recipe?
We'd love to see your food creations! Please leave a comment below, share or tag using @anticancerkitchen on Instagram and hashtag it #anticancerkitchen.
Other delicious and healthy Mediterranean food recipes on the blog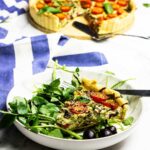 Ingredients
400g of firm tofu

1 cup of mixed fresh spinach leaves and basil leaves

1 cup of cherry tomatoes, halved

1 roasted red pepper, thinly sliced

1 red onion, thinly sliced

¼ cup of pitted black olives, chopped

3 sundried tomatoes, sliced

2 tablespoons of nutritional yeast

1 tablespoon of chopped fresh oregano or ½ tablespoon of dried oregano

1 teaspoon of onion powder

2 teaspoons of almond milk

320g of shortcrust pastry
Instructions
Roll out the pastry on a flour-dusted surface to fill a 9-inch pie dish and carefully place inside. Poke holes evenly on the bottom of the pastry with a fork. Press the dough around the tin and trim the sides. Set aside
Break the tofu up and put in a high-speed blender along with the basil, spinach and nutritional yeast and onion powder.
Process using a utensil to push into the mix to blend together and pour in the almond milk to help it process to a smooth paste. 
Combine the red pepper, red onion, black olives, sundried tomatoes, and oregano with the tofu paste and spread evenly in the pastry case.
Arrange the halved cherry tomatoes on top and place in a preheated 200°C (390F) oven for 40 minutes
Serve with a balsamic glaze and salad.
Step-by-step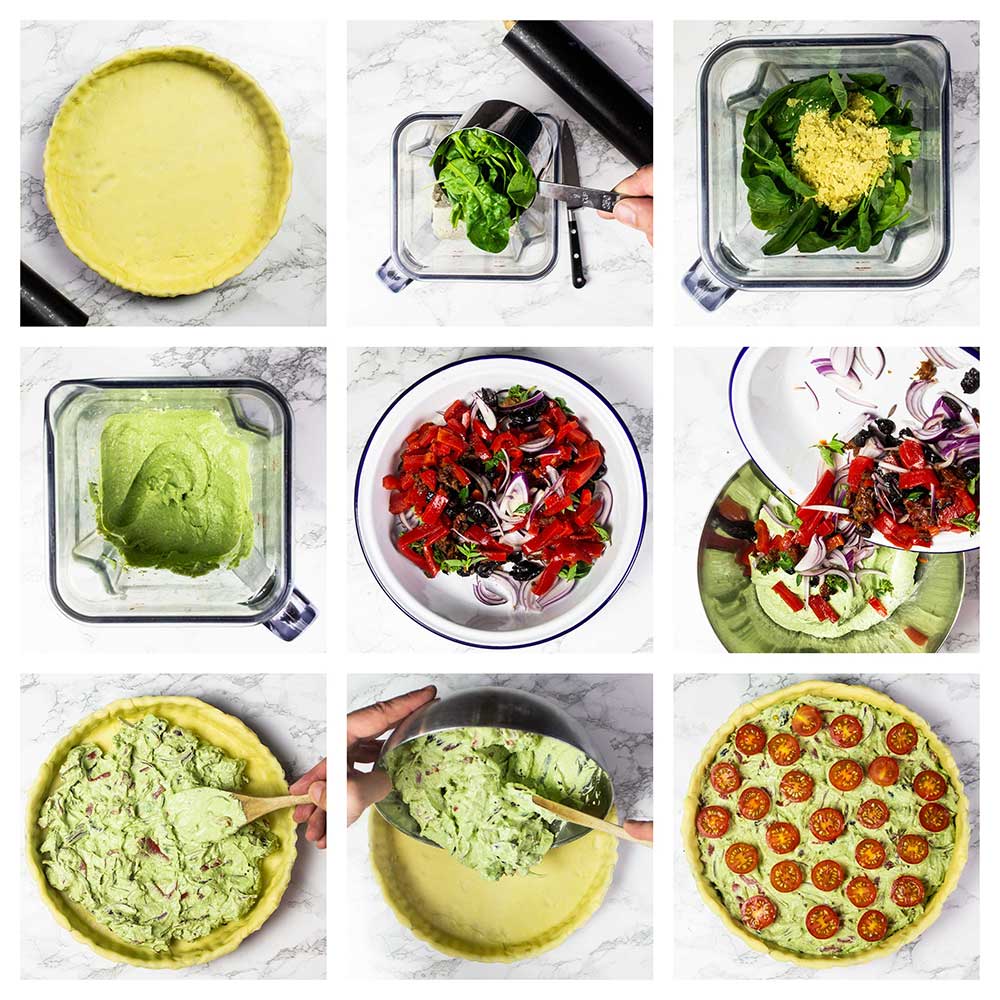 Copyright secured by Digiprove © 2020 The Anti-Cancer Kitchen