Delicious homemade onion bhaji recipe with sage that is full of flavour, healthy and immune-system boosting. This onion bhaji recipe will teach how to make an authentic onion bhaji with a twist, all cooked in healthy oil.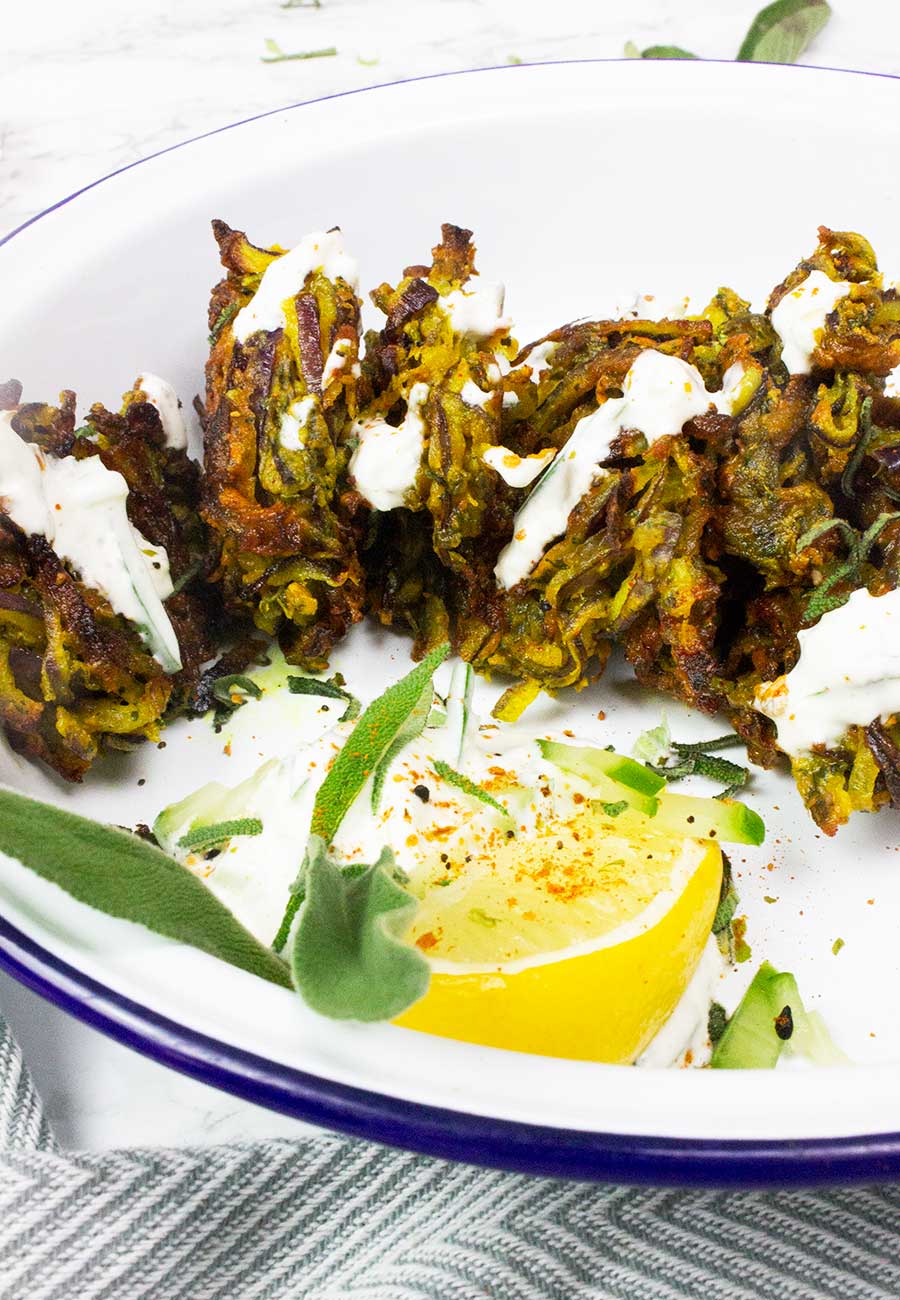 Onion bhajis are sweet crispy fritters made from thin slices of onion, herbs and spices bound together in gram flour (chickpea flour) then fried. Traditionally they come from the Indian subcontinent where they are a popular snack and often prepared for special occasions and festivals.  
They are so simple to prepare and of course are 100% totally plant-based. With our best ever onion bhaji recipe we have spruced up an already exceedingly tasty snack with the addition of some immune-boosting antioxidant fuelled fresh sage. The addition of this leafy herb brings a Mediterranean pine cone citrusy feel to a wonderful Indian staple which we feel can now be served alongside not only wonderful curries and rice dishes but soups, stews and salads and of course would make an amazing alternative to a sage and onion stuffing on the side of a Sunday roast. It still of course holds its own by itself as a starter/appetiser simply serves with a fruity chutney or yoghurt. We love a coconut yoghurt packed with garlic, lemon juice and fresh herbs. 
Onion bhajis would normally be deep fried but with this quick to make version we lightly fry in a little olive oil and keep the bhajis small so they cook quickly and go golden and crispy.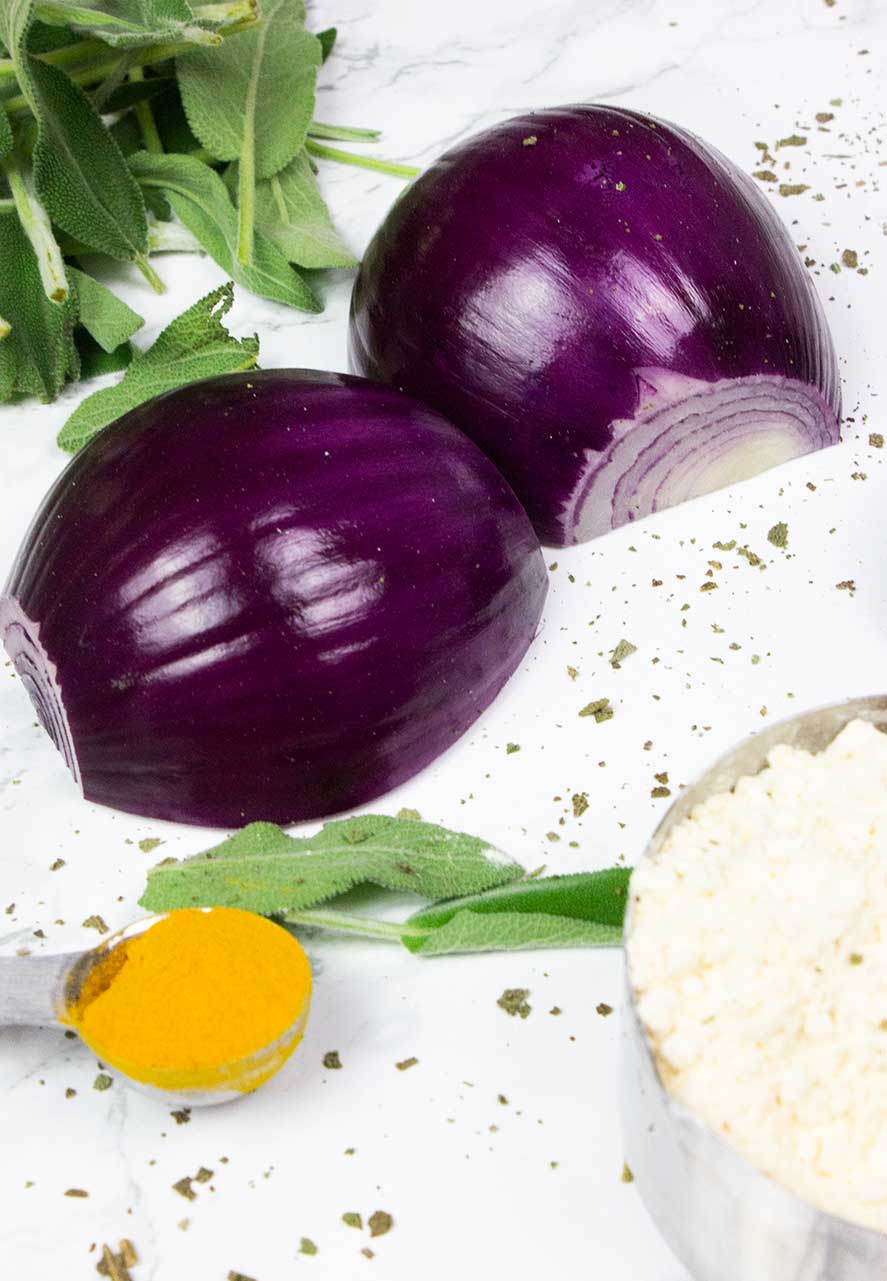 A simple technique to make onion bhajis
The main preparation here is slicing. Simply slice the onions very thinly so that there is more surface area for the flour to bind to. Slice the sage also thinly as they do have a powerful flavour. Place the onions, herbs and spices in a bowl and stir in gram flour, aka chickpea flour. Gram flour is a pulse flour made from chickpeas and as such is gluten free. Gram flour/chickpea flour has an amazing binding capability and will absorb all the liquid from the onions to stick them together.
Chickpeas and aquafaba (the water from a can of chickpeas) act as an egg would in non vegan food in baking and food preparation. Chickpeas also have a nice flavour that adds taste to our onion bhajis. If you can find rice flour then use this as a 2:1 chickpea to rice as it adds a little bit more of a crunch. Once the flour has been stirred through then all you have to do is leave the mix for 20 minutes before frying. So, no need to add any further liquid at all, easy.
Alternatively you could use corn flour as a substitute but we would recommend gram flour.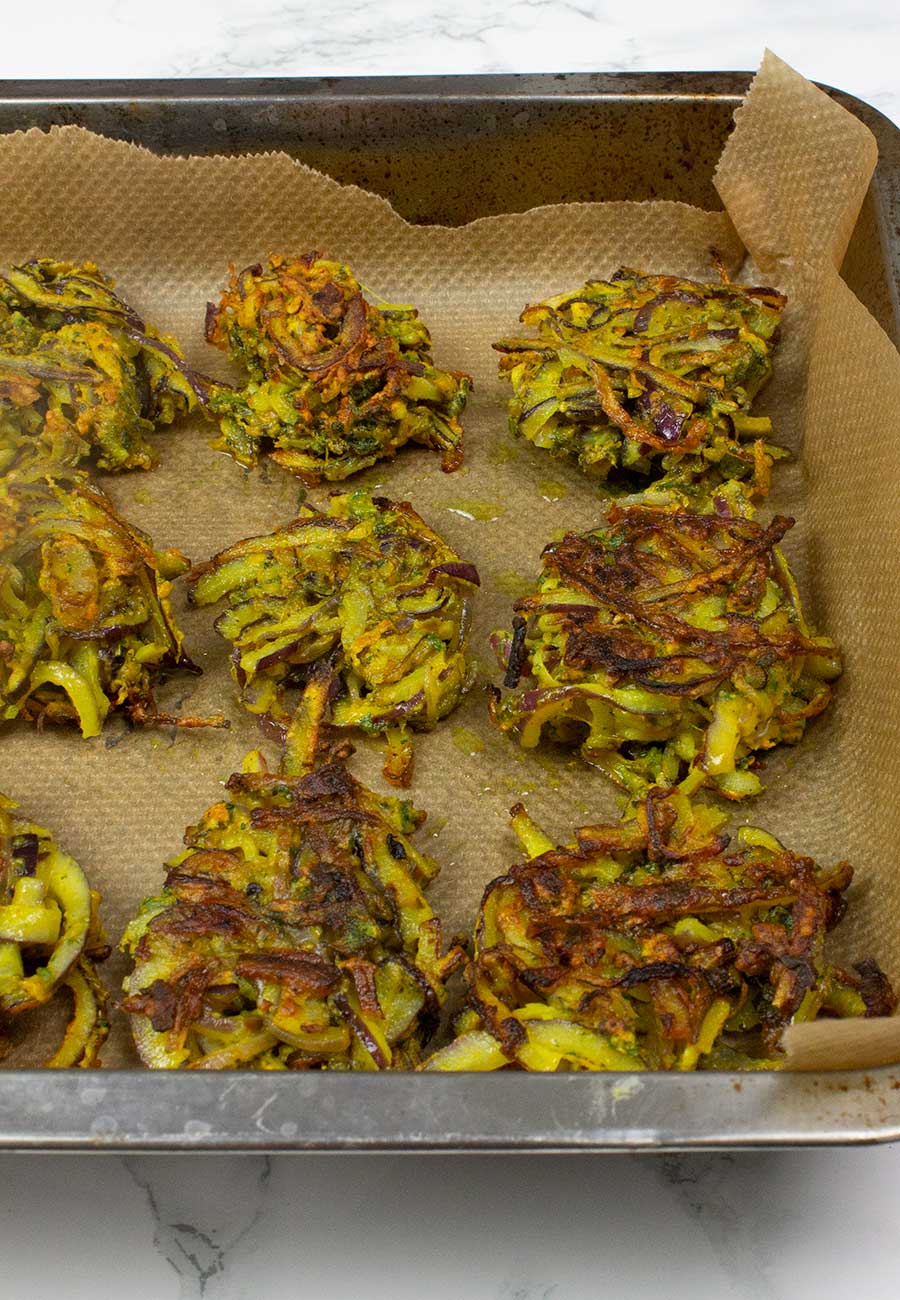 Frying food does not always mean being unhealthy
Deep frying is often associated with fast food chains and food that is bad for you. Certainly some restaurants will use unsaturated fats that have undergone a chemical process called hydrogenation to lengthen their shelf life. These hydrogenated oils are hard to break down and have an effect on bad cholesterol which in turn have been observed to have negative effects on health. These trans fats have been linked to obesity and degenerative diseases such as heart disease and cancer.
Healthy oils in our onion bhaji recipe
If a saturated fat is used to fry, such as olive oil, coconut oil or avocado oil and is used at the correct temperature and for the correct time then you can actually improve the health benefits of these oils. Also the purer the oil the better its health qualities. For example using extra virgin olive oil to cook your vegetables has even been seen to be healthier than boiling them. Quite simply it means that the vegetables retain more of the nutrients and the olive oil actually aids the body to absorb these phytonutrients.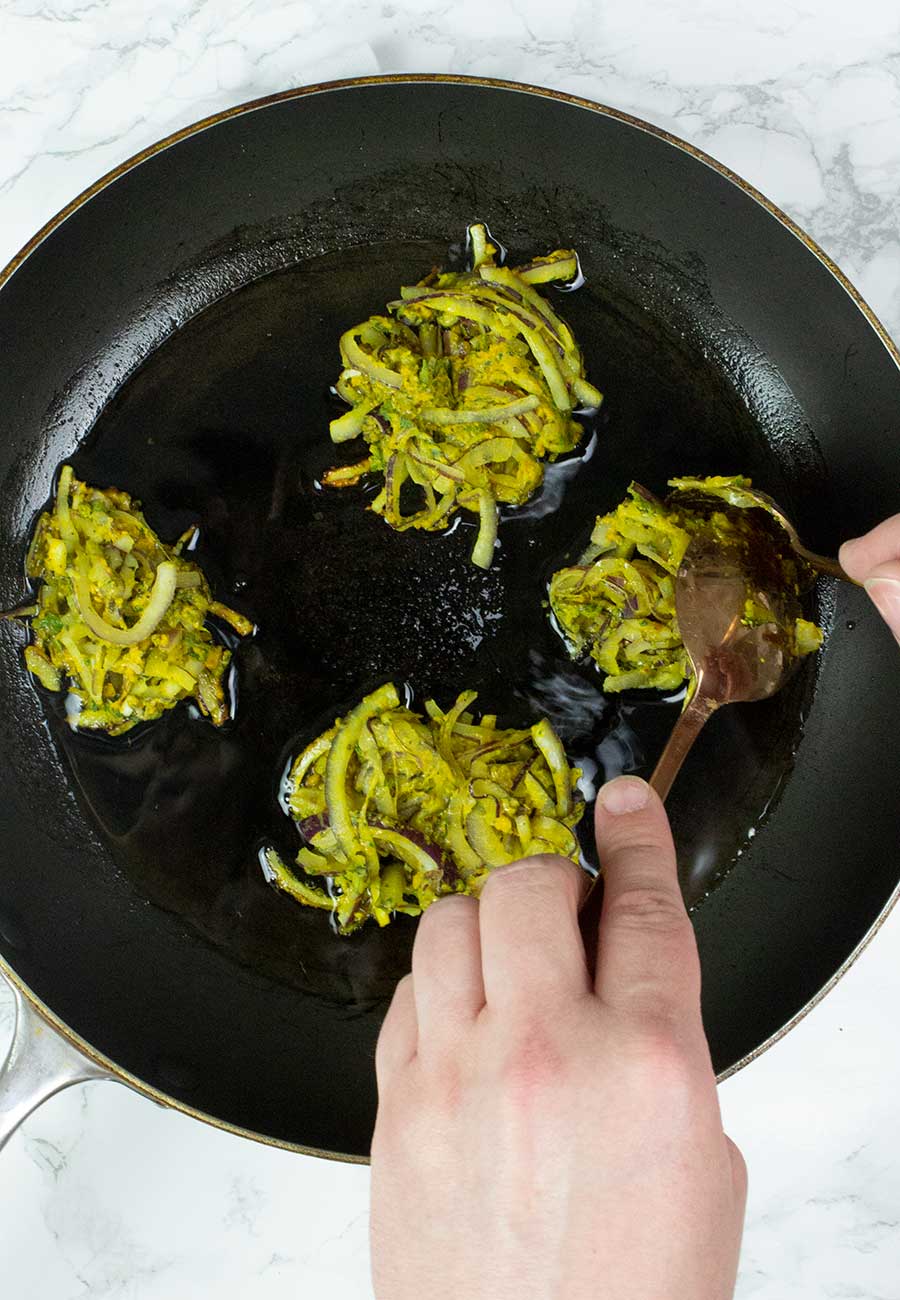 Why you can fry with extra virgin olive oil
There is the aspect of the smoking point of oil which is the temperature an oil gets to for it to start to smoke and taste acrid. Many oils have been suggested to be not suitable. However for a food to be properly cooked through using oil it must reach a heat of 176℃ or 350°F which means that even extra virgin olive oil can be used as its smoking point is around 190℃.
This is one of if not the most healthy oils around and has huge health benefits.
Simply put is that heating olive oil to fry foods does not increase the heat high enough to turn this saturated fat into an unhealthy fat. When cooking at the right temperature too, this means the food can crisp on the outside whilst warming the food all the way through. The reason why deep frying has been linked to being unhealthy is that when a high calorific oil is used incorrectly, then the vegetable being fried will lose liquid and absorb excess oil and will drastically increase its calorific content. The main point to take away is to always use healthy oil to fry and shallow frying can be just as effective.
The simplicity here is to add a little extra virgin olive oil to a hot pan and wait. The oil will become very viscous before it starts to smoke, at this point place a spoonful amount of your onion bhaji recipe mix in the pan and fry in batches for about a minute and a half each time. One tip to follow is to slide a spatula or turner underneath your onion bhaji once you've placed it in the pan to stop them from sticking.  
Onion + health
Onions are bulbs from the Allium genus and are related to garlic, shallots, leeks and chives. They are one of the most widely used vegetables around the world as part of savoury dishes, although they can be the star of the show as they are in this vegan onion bhaji recipe or a classic French onion soup. However they have been used for their medicinal capabilities in ancient times and it has been long known that they can stave off illness most likely due to its Vitamin C concentration as well as it was used to treat eye disorders, perhaps because of its ability to make your eyes water when you cut it.
Different varieties of onion have varied polyphenols or plant compounds that have differing effects on health. Certain polyphenols such as carotenoids and flavonoids are the main reason why a fruit or vegetable is either yellow, orange or red and there are 1000s of these pigments naturally found in plants. Anthocyanin, one of these pigments which is responsible for giving red onions their colour are potent antioxidants that help inflammation at a cellular level in the body. Antioxidants balance the unstable molecules caused as a by-product from chemical processes in the body such as your metabolism (the process of turning your food into energy) which damage cells which can go on to become cancerous. Yellow onions contain the most amount of flavonoids antioxidants and shallots contain the highest amount of polyphenols in them which may be associated with the reduced risk of chronic illnesses. 
Onions are also high in Vitamin B essential for metabolism and nerve function and potassium which is vital for aiding proper kidney functions. Onions are also being studied for further effect that their compounds have on tumours, quercetin another antioxidant has been linked to the reduction of tumour growth and recently a sulfur containing compound called onionin A has been identified as a compound that also impairs the growth of tumours. There seem to be many reasons why adding more onions to your diet could potentially have dramatic effects on your health.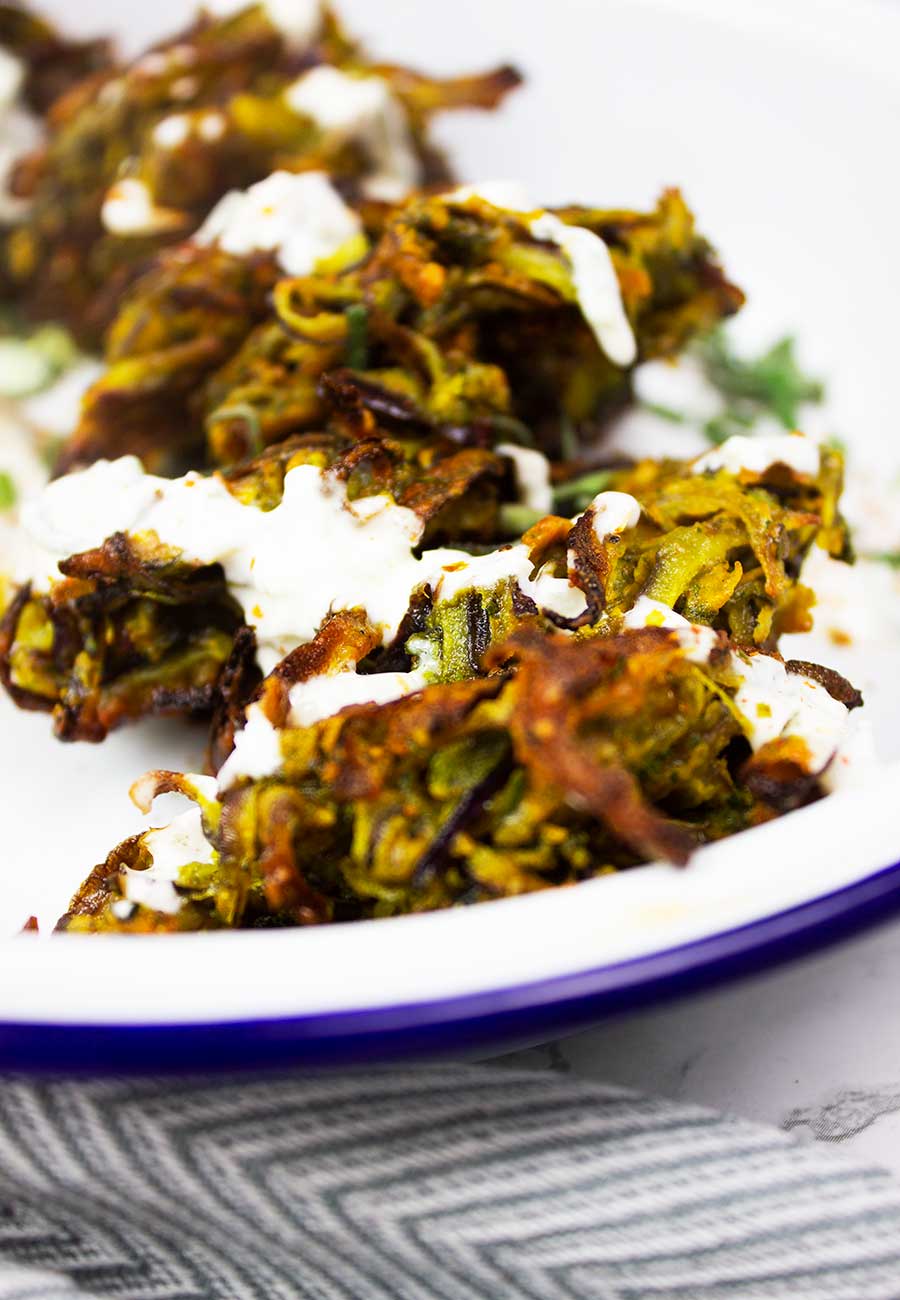 Sage
The addition of sage adds such a complimentary flavour to onions, a pinewood and flowery flavour at the same time as peppery and citrusy. It makes this onion bhaji recipe suddenly very Mediterranean tasting.
It is also like so many other dense green herbs and packed full of polyphenol antioxidants too. Caffeic acid, chlorogenic acid, ellagic acid and rosmarinic acid which are all found in sage have been linked to a whole host of health benefits including lowering the risk of cancer and improving brain function. Sage and onion is really a match made in heaven.
Turmeric is immune-system boosting
Not only does this marriage of sage and onion work so well on the taste part and health part we have teamed them up with turmeric not only to give this onion bhaji recipe a beautiful golden colour and to give it a nod to its heritage but to absolutely max it to the rafters with lots of antioxidant immune-system boosting capabilities. A recent study has also suggested that curcumin, the compound in turmeric that makes it so special has been linked with anti-depression. No wonder onion bhajis are the food of festivals and feel good!
Have you made this onion bhaji recipe with sage recipe?
We'd love to see your bhajis creations! Please leave a comment below, share or tag using @anticancerkitchen on Instagram and hashtag it #anticancerkitchen.
For more recipes with turmeric, visit our turmeric recipes category.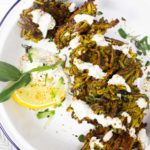 Ingredients
2 large red onions peeled, halved and very finely sliced

8g / ⅓ of a cup packed with thinly sliced fresh sage leaves

75g / ½ a cup of gram flour/ chickpea flour

1 teaspoon of turmeric

1 teaspoon of garlic granules

1 teaspoon of parsley (or any other herb to compliment the sage)

⅓ of a cup of extra virgin olive oil
Instructions
In a bowl add the very thinly sliced red onions and sliced sage. Stir in the turmeric, garlic and parsley.
Add the gram flour and stir through fully making sure that the flour fully coats the onions.
Leave the mix for 20 minutes so that the flour absorbs all the liquid in the onions to fully bind them.
Put a heavy frying pan on a medium heat and add your oil. Let your oil heat for 5 minutes so it reaches a heat of around 180℃ or 350°F.
Use 2 spoons to form your bhajis and place the mix in the oil and press lightly down onto the pan, fry in batches of around 4 per time and once you have put your batch in the pan immediately place a spatula or turner under each one to prevent sticking and burning. Fry the bhajis for about 1 ½ minutes each side or until golden brown.
Transfer your cooked bhajis to a warm oven whilst cooking the remaining batches.
Serve straight away to avoid your bhajis going soft.
Step-by-step preparation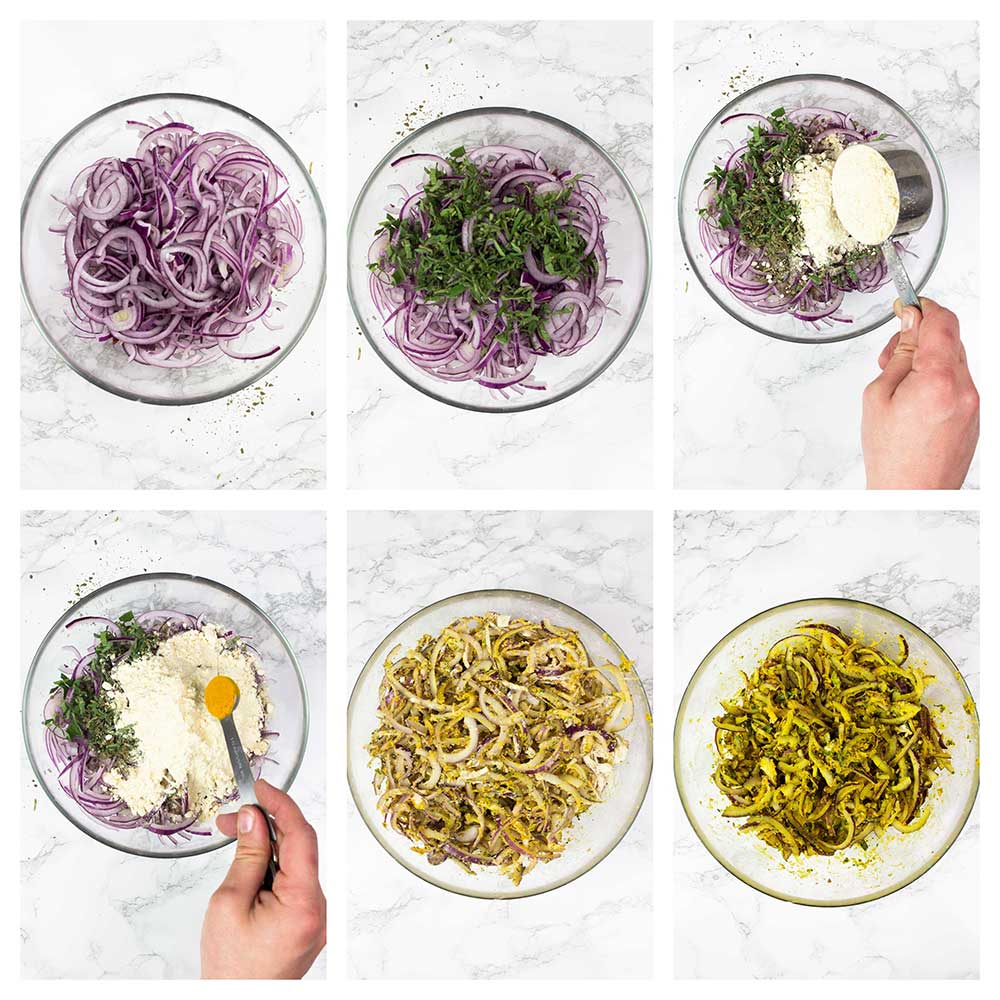 Copyright secured by Digiprove © 2020 The Anti-Cancer Kitchen