Whenever we crave an Indian curry, a take away menu and a phone need not be the first port of call. With this quick and easy vegetable korma recipe you'll have a beautiful aromatic creamy curry nourishing you and the family within minutes.
This homemade vegan vegetable korma curry is also very healthy brimming with braised cauliflower and potato covered in a luscious coconut and almond sauce lightly spiced with ginger, cardamom, cinnamon and turmeric for added antioxidant prowess.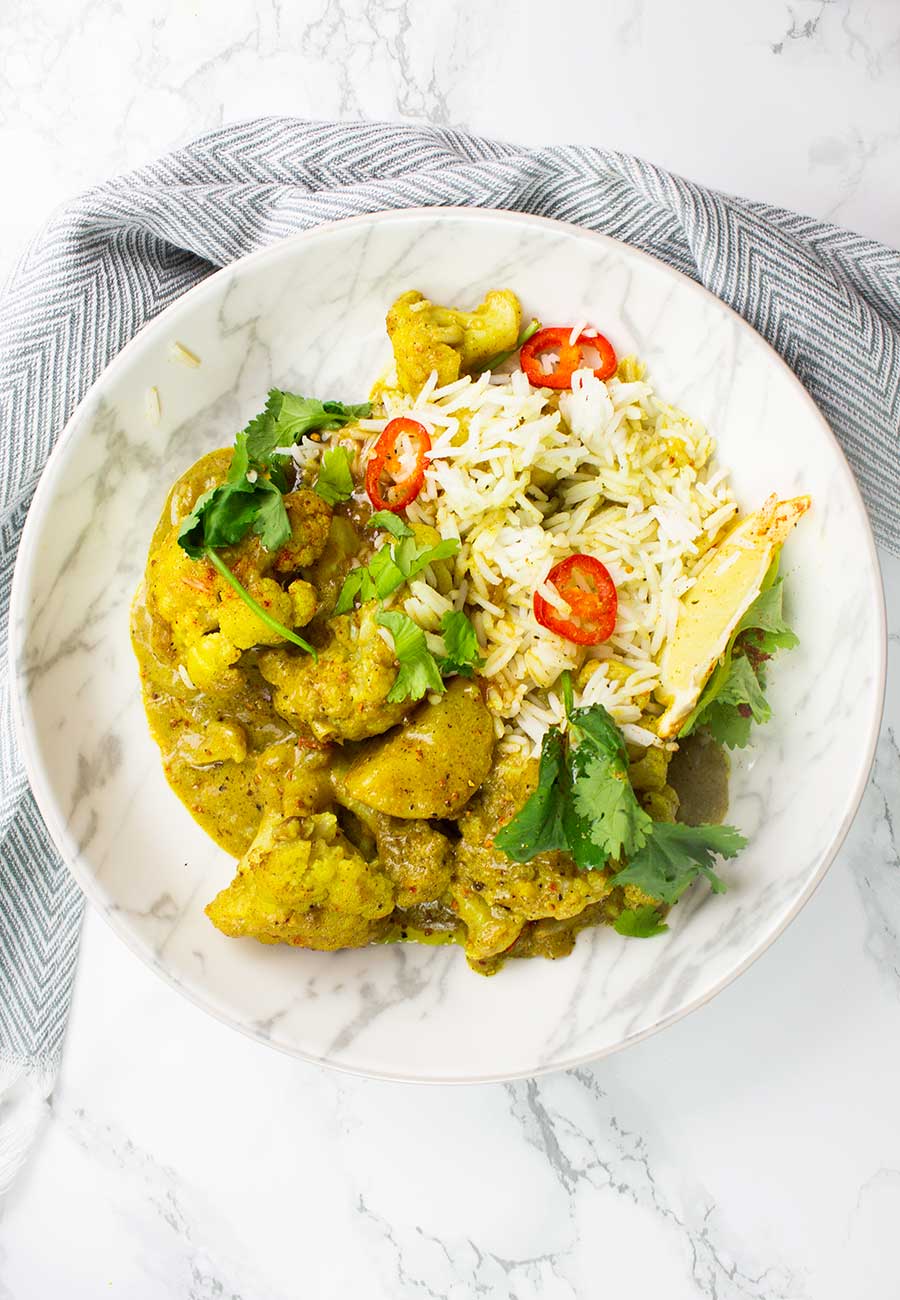 Easy homemade korma recipe
There is no need to buy ready made pastes as you can simply blend coconut milk with spices and almonds to create a velvety mild curry sauce to cook your vegetables or whatever you like in. Then bring some healthy extra virgin olive oil to heat in a heavy pan and fry some onions, cauliflower and potatoes in with some choice spices that are readily available and pour your delicious korma sauce over and simmer for 15 minutes until done. The result, an authentic aromatic curry that will never fail to impress. Just serve with bread or rice for a real crowd pleaser.
Step-by step guide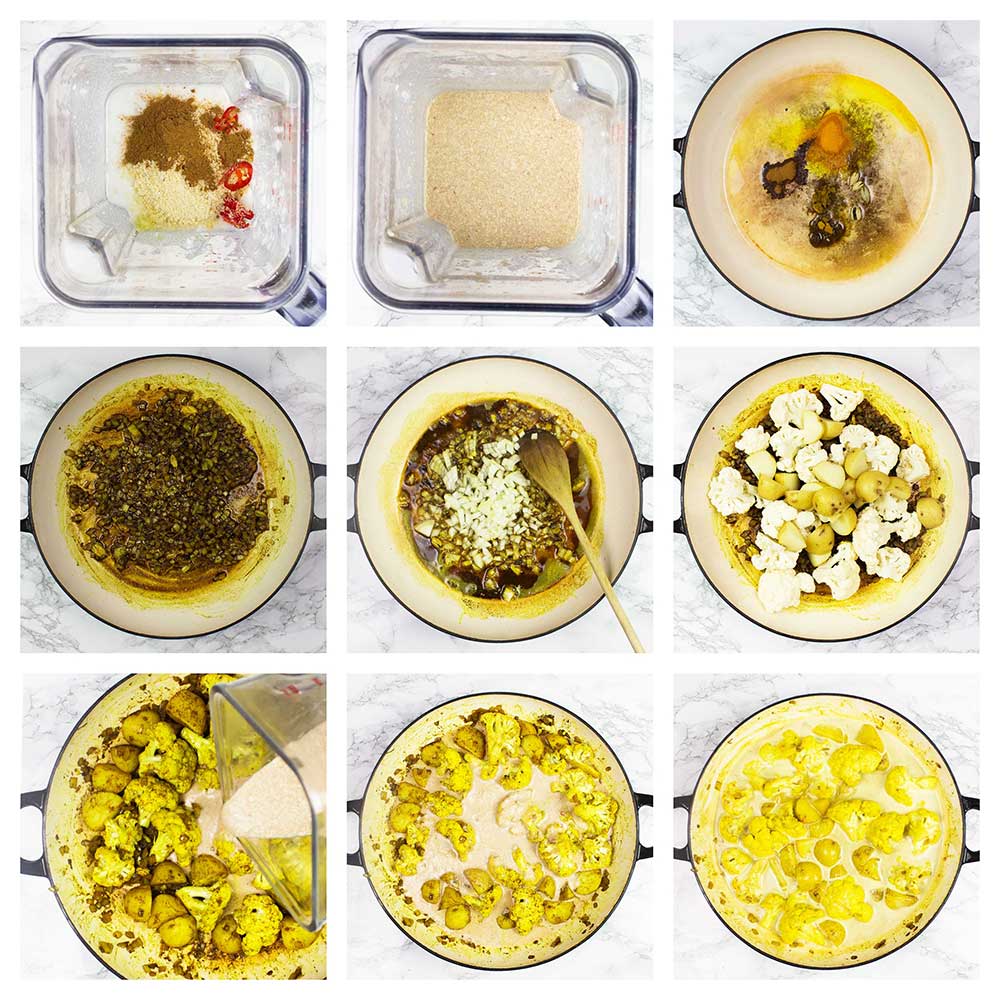 This vegetable korma is:
Just as good as a take-away if not better

A flavoursome home comfort 

A quick and simple recipe created from many well researched traditional recipes

Great for children and people who don't like spicy food

Creamy, aromatic and mild but with a depth of authentic flavour

Full of antioxidants to boost the immune system
What is korma?
Korma, which is the technique of braising (a method where first dry and then wet cooking methods are used to cook dishes) is one of the most well loved curries the world around. It always ranks alongside other popular curries such as a Tikka Masala, Madras, Baltis, Biryanis and Dhansaks. With a fragrant creamy flavour and mild heat this popular curry is especially great for children and those who prefer less spicy curries. It is exceptionally versatile too as to what you can cook with it. A classic korma would normally use a chicken or lamb flavoured predominantly with ginger and almond in yoghurt. There are many versions too and some that include a little tomato but with this vegan vegetable korma recipe though coconut milk which is often used in classic versions is a worthy addition. There are all the nutrient and vitamin rich vegetables you can choose from instead of meat too. Try sweet potato and spinach which works well or chickpeas, lentils or a mix of vibrant Mediterranean vegetables such as onions, courgettes and peppers.
The simplicity of this vegetable korma dish comes from the easy preparation of blending a sauce without the need to pre cook the flavours. Garlic, ginger, almonds and garam masala flavour the coconut milk and gives the sauce a luscious texture.
The other Indian flavours come from cumin, cardamom, turmeric and cinnamon which are fried in healthy olive oil to bring out their flavours which then colour and cook the vegetables. No rich butter or ghee or yoghurt needed. Just pour over the sauce and simmer.
A healthy vegetable korma recipe
When you home-cook a curry you can really optimise the healthy aspects of it. Spices are loaded with antioxidants and act as inflammatories. These highly flavoured plants and seeds have been used in ayurvedic medicine since ancient times. 
To cook with we don't use highly calorific protein oil or hydrogenated oils which are associated with an unhealthy diet in preference of extra virgin olive oil. Other healthy oils to use are coconut oil, sesame oil or avocado oil. These unsaturated healthy oils and especially extra virgin olive oil are a fantastic source of antioxidants and healthy fats. There are over 30 plant phenols found in olive oil that have huge health benefits that can stave off chronic illness. The healthy fat composition of olive oil is a major contributor to your health. The monounsaturated fat called oleic acid which makes up about 73% of its composition has been linked to the reduction of chronic inflammation, a precursor for cancer, heart disease, type 2 diabetes and Alzheimers. Olive oil is also a staple in Mediterranean diets which often see the longest living populations.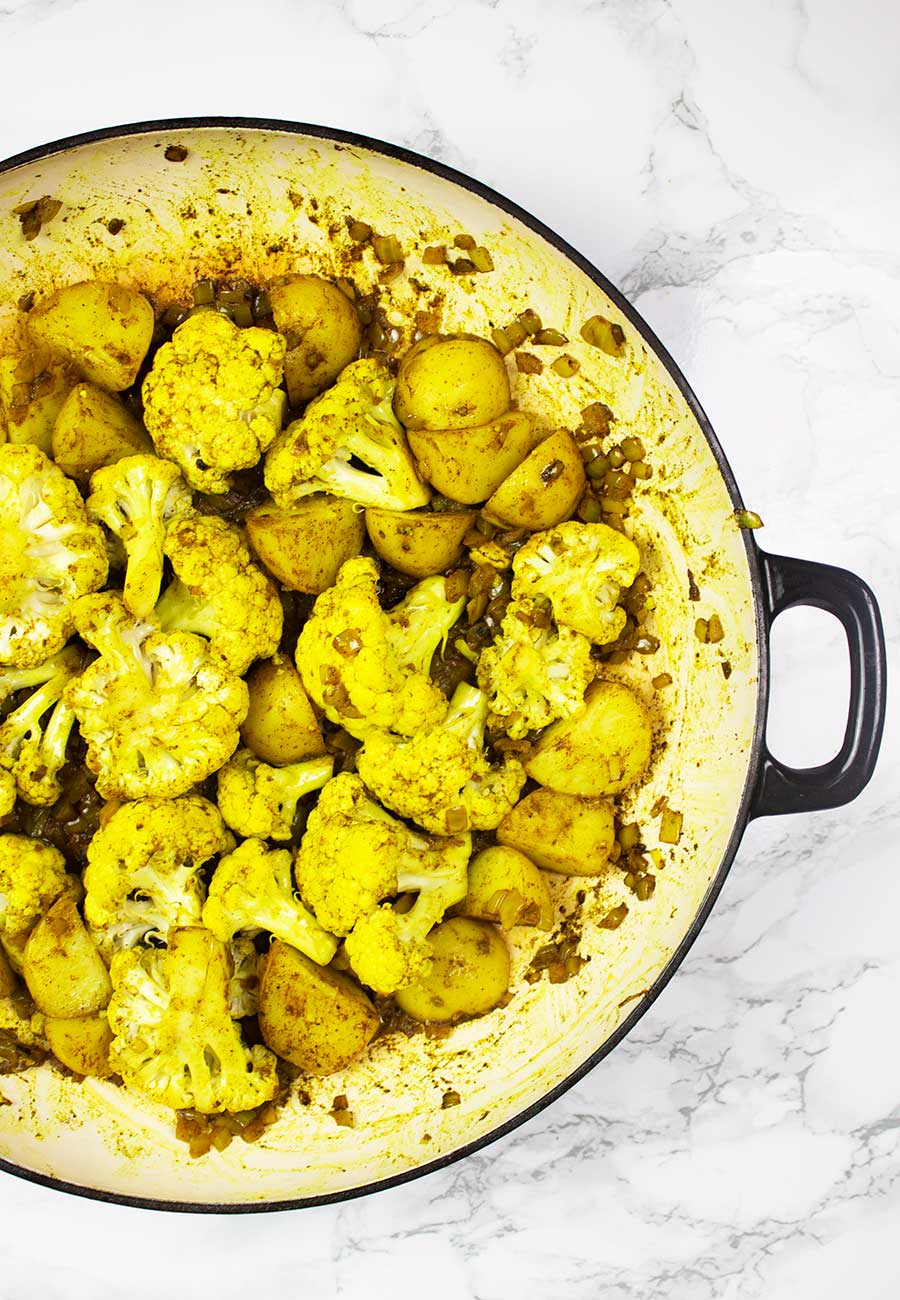 Korma flavours
Coconut for creaminess
The coconut milk we use is flavoured with ginger and almonds. Coconut milk which is purely the white flesh of the coconut soaked in water and sieved. Coconuts are actually fruits and whilst they contain coconut oil which has been linked to boosting good cholesterol it does contain calorific fats which produce energy when metabolised. Without exercise, too much consumption can cause weight gain.
Ginger for sweet spice
Ginger is a flowering root from China and is closely related to turmeric and galangal. It has a wonderful sweet and spicy flavour and used in a lot of Asian cooking and in teas. This unique flavour comes mainly from the essential oil gingerol which has been investigated for its effect on cancerous tumours with positive results. Ginger has also many anti-inflammatory compounds and over the centuries has been used to help with arthritis, menstrual pain and indigestion. Ginger has also been shown to lower blood sugar levels which could potentially lower the risk of heart disease. 
Almonds for sweet nuttiness
Almonds are the edible seeds from an Almond tree they are classified as a fruit or tree nut rather than a nut that is a hard shell that contains the fruit and seed inside. These seeds are among the world's best sources of Vitamin E. In fact only about 30 grams of almonds contain as much as 40% of you recommended daily intake. Vitamin E is a potent antioxidant which plays an important role in strengthening the immune system and reducing oxidative stress caused by free radicals in the body.
Almonds are wonderfully sweet and tasty and really give a korma its unique flavour. An alternative nut often used in making kormas are cashews.  
Indian spices
Curries use spices that are many and varied but most don't come without the use of cumin or turmeric which add depth of flavour to this dish and its distinct creamy golden colour. Lastly cardamom and a pinch of cinnamon along with a drizzle of sesame oil create a curry that is aromatic, sweet and nutty with a luxurious velvety cream sauce with a depth of flavour that is totally moreish.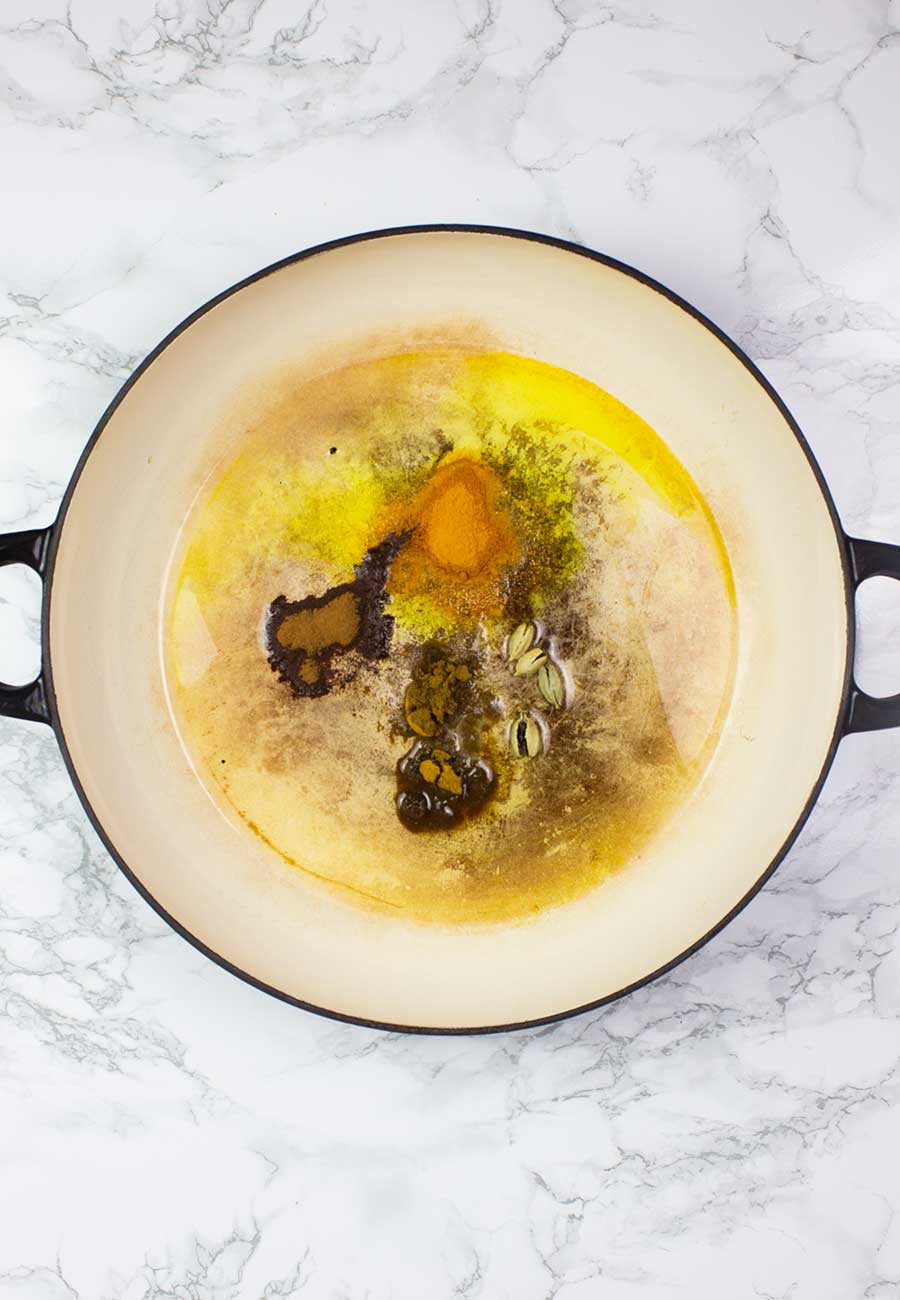 What to serve on the side of a vegetable korma
Curries are traditionally served with rice and flatbread so they can sop up all that gorgeous flavour. With rice, there are over 40,000 varieties all with differing health benefits. We have used basmati rice which accompanies a curry perfectly. The hindu words "bas" and "mati" translate to "aromatic" which is the main quality of this cereal and the reason we love it. Basmati is also low on the glycemic index which makes it a healthy carbohydrate to consume. Check out another of our basmati recipes with our vegan biryani recipe with jackfruit. 
Garnish the korma liberally with coriander and add sliced mild red chillies for an added zing of spice for those who like it. Finally scatter with a few more almonds and a drizzle of sesame oil and you have one proper authentic vegetable korma curry.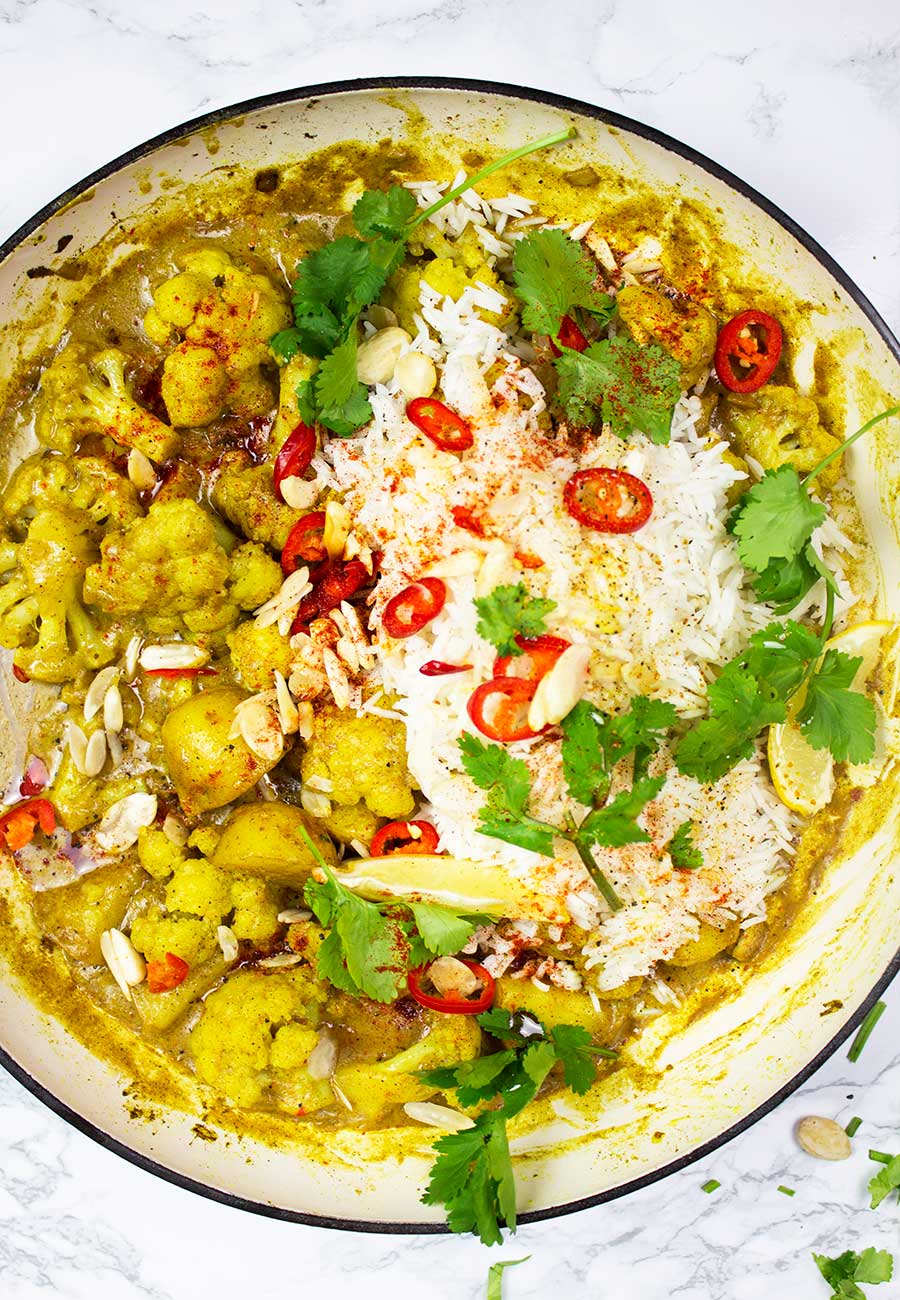 Other Indian recipes on the blog
Have you made this vegetable korma recipe?
We'd love to see your food creations! Please leave a comment below, share or tag using @anticancerkitchen on Instagram and hashtag it #anticancerkitchen.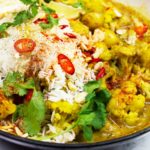 Ingredients
1 cauliflower cut into florets

250g of potatoes cut into bite sized pieces (par boiled for 5 minutes)

1 large yellow onion chopped

400ml of coconut milk

2 tablespoons of ground almonds

1 tablespoon of crushed garlic

1 tablespoon of grated ginger

1 small red chili (optional)

2 teaspoons of garam masala

½ teaspoon of cinnamon

1 teaspoon of cumin

4-5 crushed cardamom pods

1 teaspoon of turmeric

1 tablespoon of tomato puree (optional)

2 tablespoons of extra virgin olive oil

Garnish with chopped almonds, coriander, red chilli

Optional extras:

Basmati rice cooked per packet instruction

Flat bread

Mango chutney
Instructions
Put the coconut milk in a blender and add the ground almonds, garlic, ginger, chili, garam masala and optionally the tomato puree and puree until smooth.
Par boil the potatoes for 5 minutes and drain and set aside
Use a heavy frying pan and pour in some extra virgin olive oil and bring to a medium - low heat. Add the cumin, cinnamon, cardamom and turmeric and stir for 2 minutes to release the flavours. Add the onion and gently fry for 5-6 minutes until softened.
Add the florets of cauliflower and the potatoes to the pan and slightly raise the heat. Stir-fry for 3 minutes to coat the vegetables in the spiced oil. Add a cup of water to aid this if necessary.
Pour in the sauce and stir. Cover with a heavy lid and turn the heat down and simmer for 10 minutes.
Remove the lid and continue to cook for 5 minutes to thicken up.

Copyright secured by Digiprove © 2020 The Anti-Cancer Kitchen