Delicious roasted eggplant slices that you can use in multiple dishes, these incredibly versatile eggplant slices can be used in warm salads, chilis, stews or sauces, or even as antipasti. Our roasted eggplant slices are the perfect meat substitute.
One very important aspect of cooking plant-based meals is finding the right balance of textures often not found in the plant world. If you are looking to transition to a plant-based diet for your health or if you are looking to support someone else who is then undoubtedly you would be used to eating food that gets your teeth working. Whether this is a full-time or part-time move you are still going to want to replicate a firm protein texture. 
Why eggplant (aubergine)
There are hundreds of products available like this to purchase in-store such as soy mince, or firm tofu. Seitan or some other processed chunks look like and even taste like what they are meant to replicate. Many are and can be very tasty and there is definitely a market for it. What is good about this is that it gets people thinking about moving towards a plant-based diet and eases people in by giving them something they have been used to eating their whole lives. What we think is potentially bad about these products is that they are processed with techniques and ingredients that aren't necessarily healthy. Just because something is meat-free, it doesn't make it healthy, vegan friendly maybe but certainly not as nutritious as it could be. Also, there is a reasonable thought that these products invite people to be lazy. Not cook healthy, naked-ingredient, honest food but prepare quick and convenient dishes ready to please the palate but not necessarily the body's needs.
There are of course fabulous meat alternatives in the plant world that are natural. The mighty jackfruit is certainly one of them and we have advocated its use in many of our dishes where a meat substitute is of pivotal importance. Our jackfruit cottage pie showcases this ingredient's versatility and flavour to create an amazing family favourite. We mustn't forget pasta either, which no matter how ardent a meat eater you are, there is always a plant-based pasta dish that gets your mouth-watering.
At the end of the day, we want to create as many firm textures to add a bite to your stews, salads and snacks that is everything you had come to love meat for. Taste, texture and nutrition. This technique of cooking eggplant/aubergines creates a wonderful firm and full of flavour ingredient that you can do lots of versatile things with too.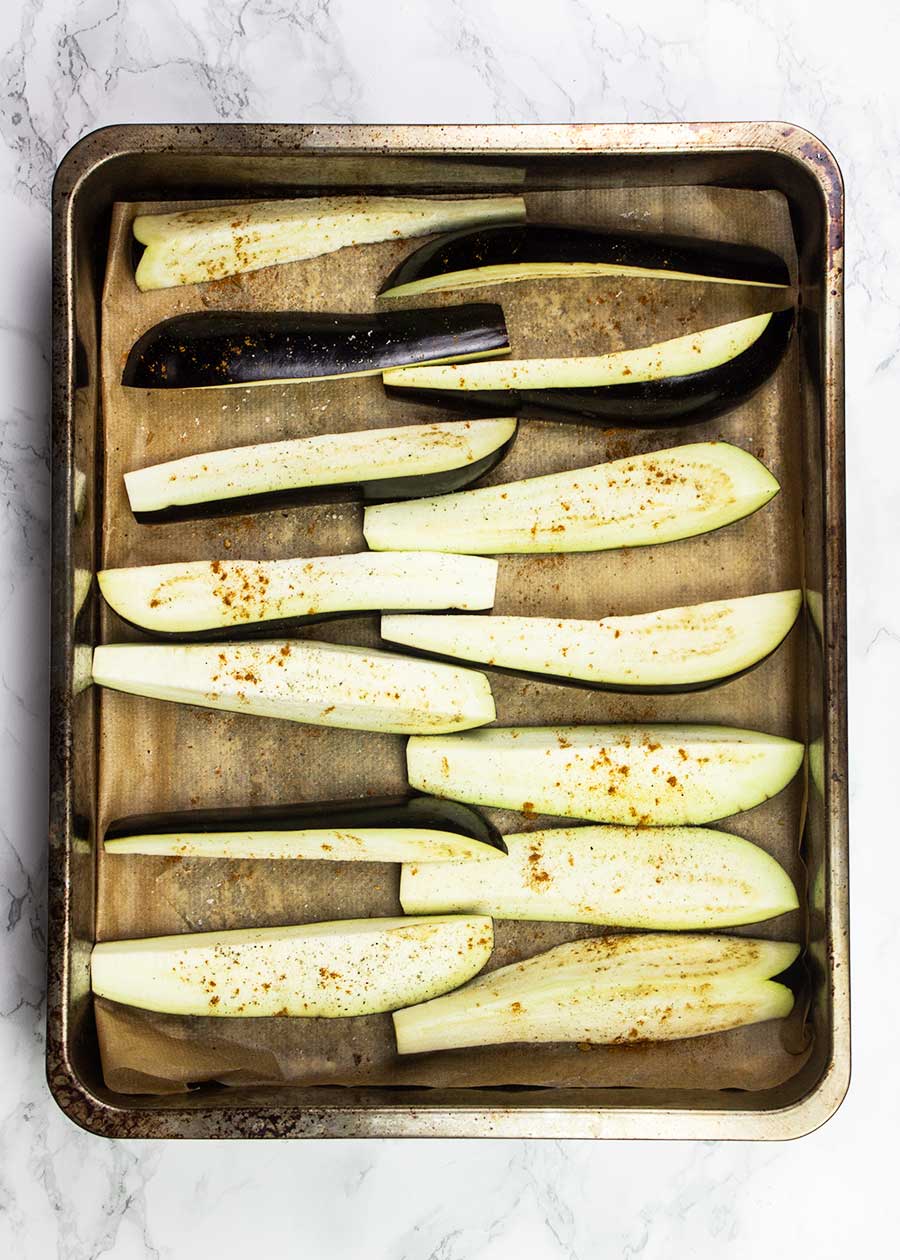 What to do with roasted eggplant slices
Try them simply grilled with a great sauce for a warm salad such as aubergine (eggplant) and courgette (zucchini) salad with spicy Zhoug dressing, or try pickling it in a soft vinegar and herb marinade to enjoy as antipasti along with some olives and a glass of wine.
You can bake it with tomatoes and our cream cheese to create a superb meatier version of a Melanzane Parmigiana. If you take the skin off you can pull the flesh apart to use in a vegan pulled meat recipe such as hoisin pancakes, or on a sloppy Giuseppe pizza or in sliders. 
All we have done is to semi-dry the eggplant/aubergine in a cool oven with little herbs and spices which can then be stored in a sealable jar for quite a long time until you are ready to use it.
How to make them
The wonderful thing about it is that you can just leave the aubergine slices to roast in the oven and do whatever else you want to. 60°C/140°F is all it takes and a bit of time on your hands so that you do not need the oven for 6 hours. Or let's face it if you need the oven in between, then just take it out and leave it on the side until you are ready to start drying them again.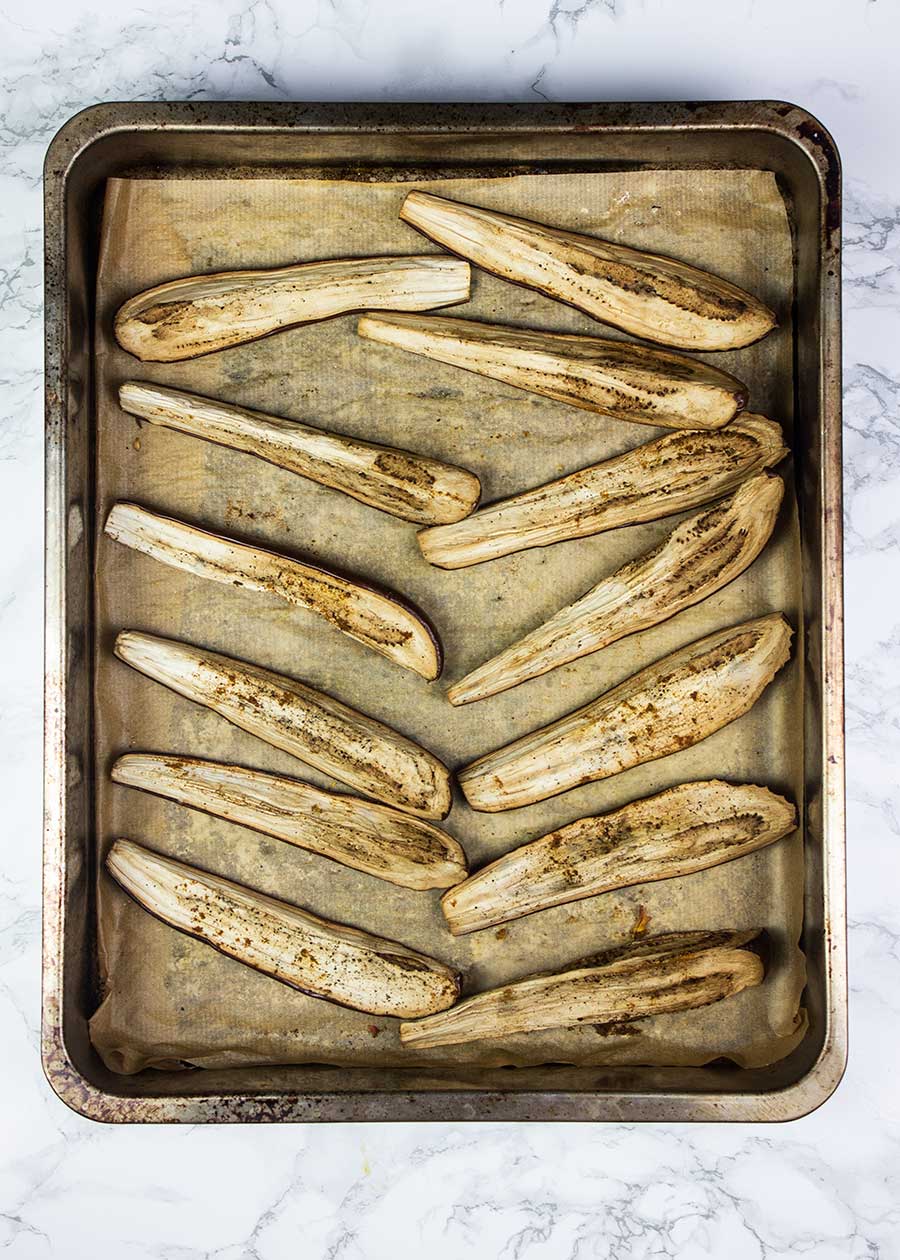 The herbs and spices which you can put on the aubergines whilst they dry can also be amended to whatever you want to use the finished article for. For our middle-eastern salad of aubergine, courgette and zhoug, we like to sprinkle over some warming Ras-el-Hanout spices. If you are looking for a southern-style pulled aubergine, then some cumin, cinnamon and paprika with a bit of fennel works amazingly. Mediterranean herbs such as basil and oregano flavour the aubergine for Italian dishes. You can also just easily put salt and pepper on them then store in a jar in olive oil and use them at a late date.
Eggplant/aubergine is a high fibre ingredient that is essential for a well-balanced diet. There are two kinds of fibre, soluble fibre and insoluble fibre. Eggplants/aubergines contain both types, soluble fibre turns into a gel-like substance and can help lower cholesterol. Insoluble fibre has been researched to show that it can bind onto toxins and other material and help its natural movement through the body. A diet high in fibre has been researched to show that it could potentially lower the risk of diseases such as cancers.    
The skin of eggplant/aubergine contains a potent antioxidant too called nasusin. This is the gene of the plant responsible for giving it its dark crimson colour. This compound helps protect the eggplant/aubergine against antagonists such as pests, fungus and cold and as such has health benefits for us when we consume it. Antioxidants help the body scavenge against free radicals which cause oxidative damage to the body at a cellular level. Consuming more antioxidants in your diet is highly recommended.
All you need is a little patience and you can transform a simple eggplant/aubergine into the firm and meaty slices that are flavoursome, nutritious and versatile to use in many of your favourite dishes.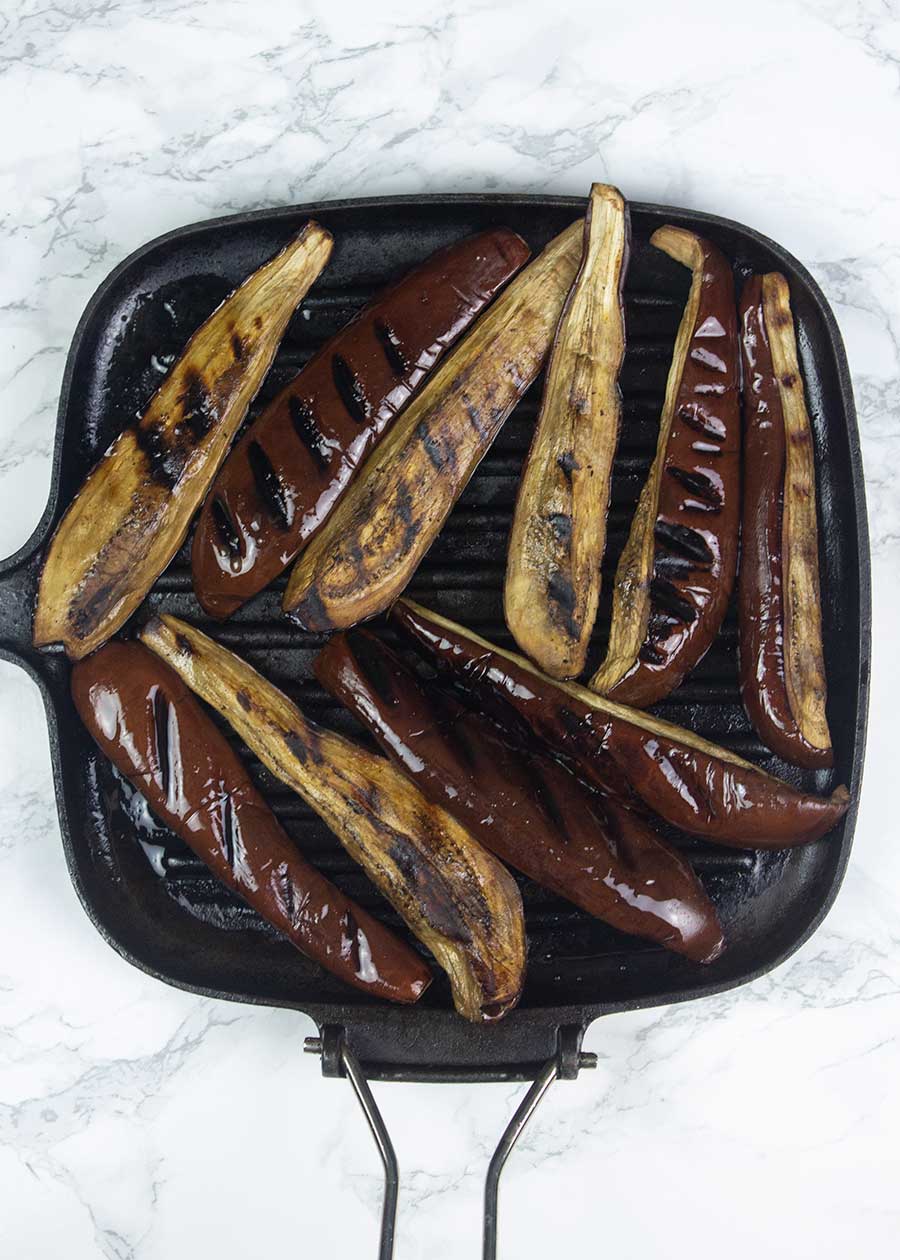 Other delicious recipes with aubergine (eggplant)
Have you made our roasted eggplant slices recipe?
We'd love to see your food creations! Please leave a comment below, share or tag using @anticancerkitchen on Instagram and hashtag it #anticancerkitchen.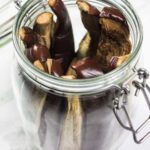 Ingredients
Fresh eggplant/aubergines (3-4)
Instructions
Remove the stalk and leafy parts.
Cut in half from the stalk down, and cut in further segment lengths.
Place on a roasting tray and cook in the oven at 60°C/ 140°F for six hours. 
Store in a sealable jar in the refrigerator for up to 5 days. (Remove skins and shred for 'pulled meat' recipes)

Copyright secured by Digiprove © 2020 The Anti-Cancer Kitchen