This eggplant rollatini is our eggplant/aubergine version of an Italian spinach and ricotta cannelloni. With the traditional recipe, a light almost fluffy ricotta cheese is stuffed with wilted spinach inside pasta tubes then baked with cheese and tomato on top. This wonderful entirely plant-based cannelloni version uses thin slices of eggplant instead of the pasta to add more nutritious vegetables to this exciting vibrant and tasty dish.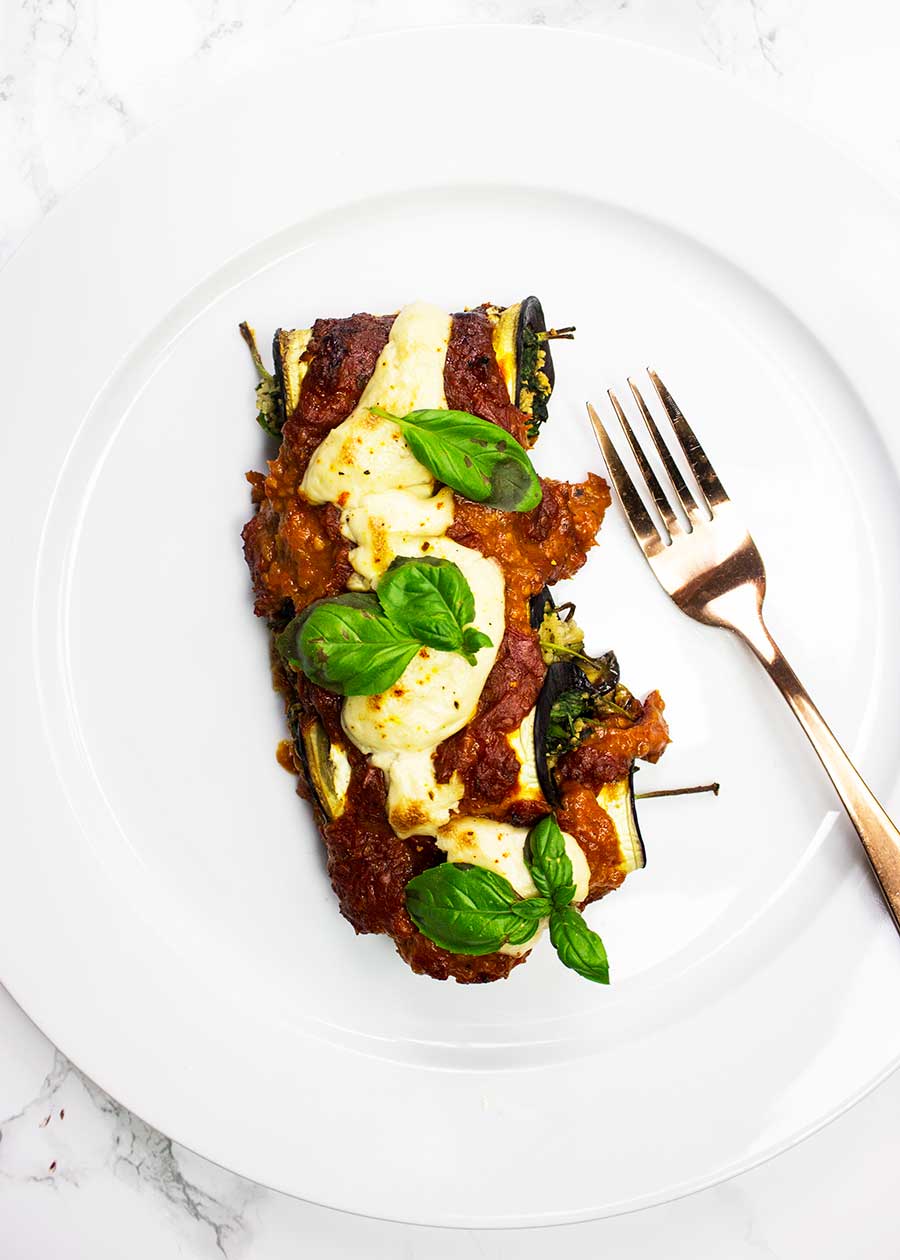 Delicious Italian flavours
For the filling, we use a very easy but powerfully flavoured homemade cream cheese made with cashews, toasted pine nuts and sweet roasted garlic. It has a luscious texture and taste that when mixed with spinach, couscous and a handful of some oregano and basil creates the perfect filling. Your favourite store-bought vegan cheese would work but homemade we feel is always that much better.
The tomato sauce we use is again a beautiful homemade tomato sauce that you can make in advance and have for your favourite dishes. We use another of our recipes of slow-roasted tomatoes as the base of this sauce, as the intense taste you get from slow roasting mixed with some onion, garlic, fennel and balsamic vinegar creates an Italian classic red sauce full of flavour. If you have a jar of slow-roasted tomatoes in your fridge, all you need to do is fry some garlic and onion off and add the slow-roasted tomatoes with some fresh cherry tomatoes and a little vegetable stock. You only need to cook the sauce down for 7-8 minutes then blend, simple. Again, however, for convenience, you can also use a shop-bought organic tomato sauce but the technique for this sauce adds more than just flavour it adds an even more concentrated hit of healthy antioxidants to help maintain a healthy diet.
One eggplant will make four to five rolls which is enough for a large portion for one person or for two as a lighter lunch. Look for longer eggplant/aubergines then top and tail them by slicing the stalk and the rounded bottom off. Slice two sides off too then slice them into equal-sized slices by continuing to cut where you have removed the sides. You really want to end up with slices just under 1cm thick. Once you have your prepared eggplant ready to roll you need to soften them by drizzling olive oil over them and roasting them in the oven at 180°C for 7-8 minutes.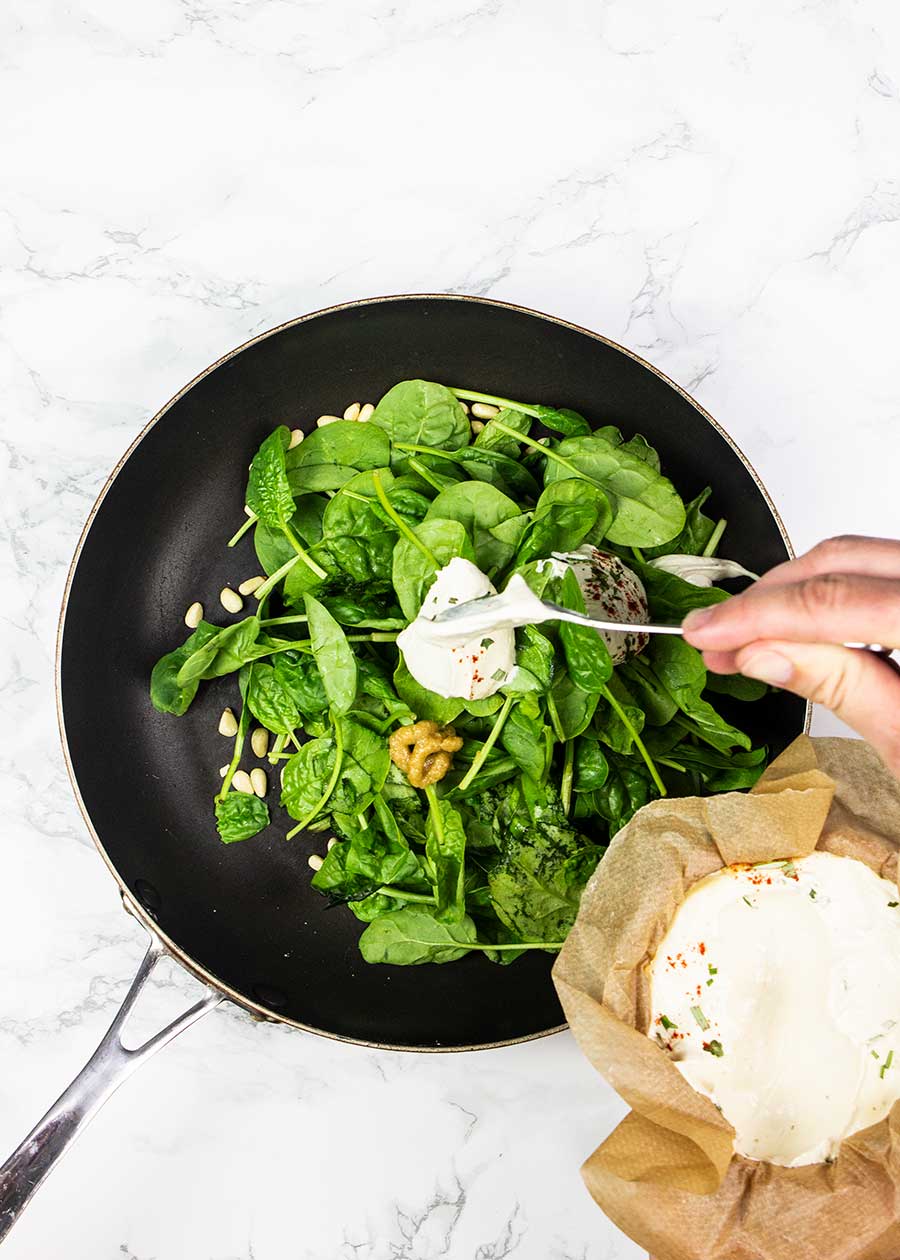 Simple eggplant rollatini filling
To prepare the filling is also simple. Start by preparing ½ a cup of couscous by pouring boiling water over them. Toast a few pine nuts in a pan then wilt the spinach with a little olive oil then add some roasted garlic puree, vegan cream cheese and the couscous. A little basil and oregano bring out a traditional Italian flavour and then just stir it all together. 
You only need a tablespoon of filling per roll. Start by placing one tablespoon of wilted spinach, cream cheese and couscous mix at one end and roll up. Place on a baking tray with the end of the slice facing down so that the roll doesn't unravel. Continue preparing all the rolls and then liberally top the whole lot with the slow-roasted tomato sauce and bake in the oven at 200°C/392°F for 20 minutes. The final flourish is to spoon on some of the cashew cream cheese then gratinate it under a hot grill for a few minutes to brown.
This is a stunning baked eggplant rollatini dish that will have everyone asking for more, and even the most ardent of meat-eaters too. The colours are vibrant and the taste is delicious which is great for a family to share or even a dinner party.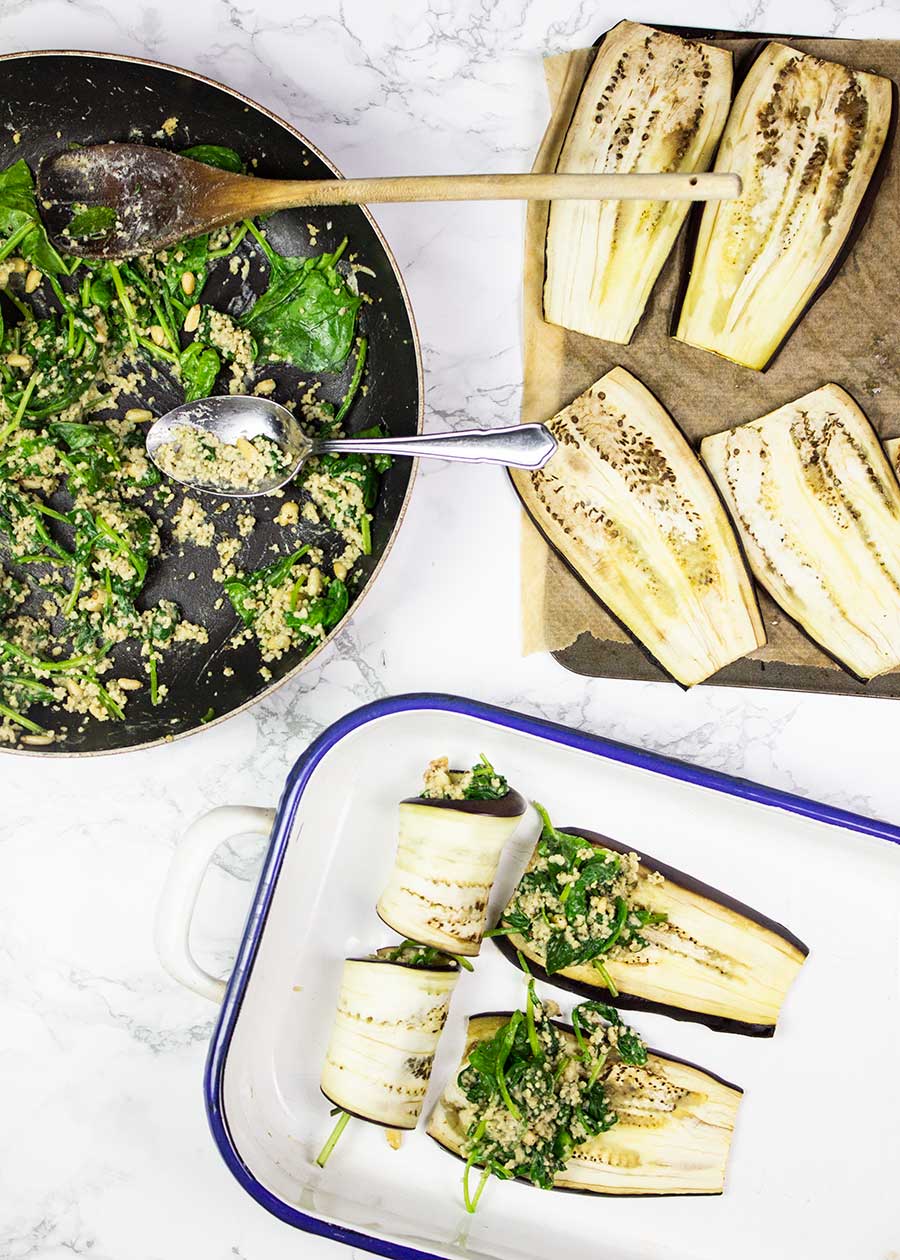 Eggplant rollatini and health benefits 
Cancer Research UK recommends eating a diet high in vegetables, grains, pulses and this dish contains a good mix of vegetables high in antioxidants such as tomatoes which are high in lycopene. Other pigments such as anthocyanins in eggplants and especially one called nasunin have been linked to reducing harmful free radicals in the body. We have optimised on grains with the couscous in the filling and the nut cream cheese made with cashews add extra health benefits too. Making this dish totally plant-based also helps to reduce the foods that we need to minimise for a cancer-fighting diet such as processed foods, sugars and red meat which of course is often used in traditional cannelloni dishes.
Eggplants also contain another compound solasodine rhamnosyl glycosides (SRGs). Test tube studies have shown that these compounds have been shown to stimulate apoptosis which is the programmed death of cancer cells. Certain studies have also suggested that they can help keep certain cancers at bay.
Lycopene which is the red pigment found in fruit and vegetables, namely tomatoes. It is not essential for humans, however, studies have suggested that there is a strong link between tomato intake and blood lycopene levels alongside the reduced risk of many cancers. Cooking tomatoes can release up to five times more lycopene than you would get by consuming just raw tomatoes. Slow cooking is the best way to concentrate these lycopene levels. 
Lycopene is also a powerful antioxidant and is about three times more potent than vitamin E. It has been studied that consuming just one serving of tomatoes can reduce oxidative stress to our bodies by as much as 50% within one day. Antioxidants help reduce damage caused by free radicals at a cellular level in our bodies. Free radicals are produced thousands of times a day in the body as a result of our metabolic reactions, muscle contractions during exercise, drinking, smoking and exposure to uva sunlight. Whilst these reactions are normal and essential and therefore unavoidable it is the antioxidant protection against excessive free radical damage that provides the benefits. Antioxidants come from fruit, vegetables and nuts in our diet and the correlation between people who have a high intake of fruit and vegetables and the reduced risk of high blood pressure, diabetes and cancer is encouraging.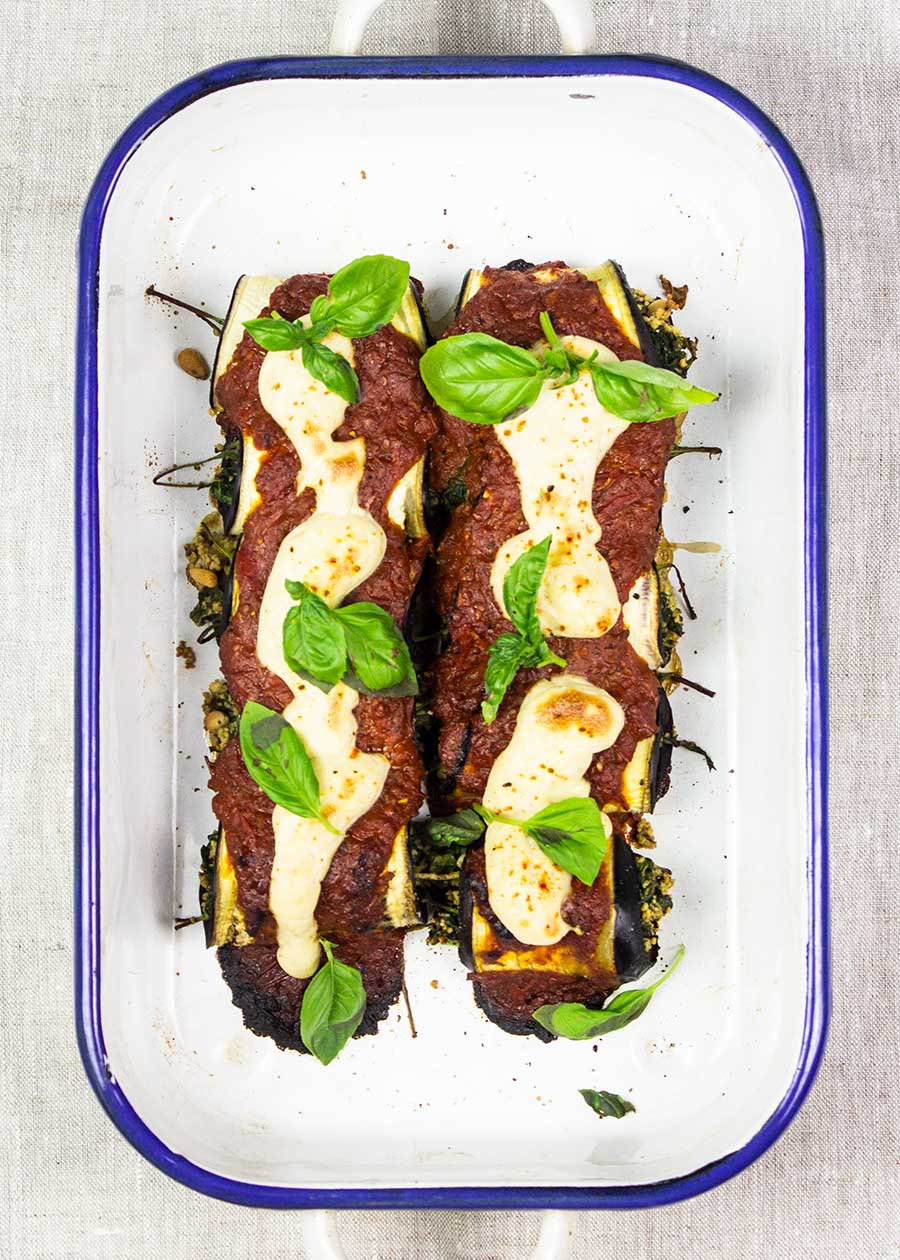 Have you made our eggplant rollatini recipe?
We'd love to see your food creations! Please leave a comment below, share or tag using @anticancerkitchen on Instagram and hashtag it #anticancerkitchen.
More healthy Italian recipes on the blog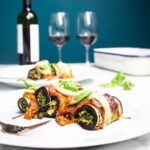 Ingredients
2 eggplants / aubergines

½ a cup of prepared couscous

1 tablespoon of pine nuts

3 cups of fresh spinach

1 teaspoon of garlic puree

1 teaspoon of oregano

1 teaspoon of basil

6 tablespoons of vegan cream cheese (see our tasty recipe)

For the sauce:

250g of roasted cherry tomatoes (roasted for 2 hours at 145°C/ 318°F) this can be pre-made

150g of fresh tomatoes

1 sweet white onion

1 garlic clove

1 teaspoon of oregano

1 teaspoon of fennel seeds

250ml of organic vegetable stock

½ a tablespoon of balsamic vinegar

1 tablespoon of tomato puree
Instructions
For the sauce
Chop the onion and garlic and fry in a pan with some olive oil for 4 minutes until softened and browned.
Add the fresh tomatoes and roasted tomatoes, vegetable stock and herbs and reduce for 7-8 minutes.
Transfer to a blender and process quickly being careful not to make it too smooth.
Return back to the pan and simmer for 4-5 minutes, set aside.
Chop the tops and bottoms off the eggplants/ aubergines. Slice two sides off and then cut into equal slices of just under 1cm thick to produce 4-5 slices.
Drizzle with olive oil and roast in the oven at 180°C/356°F for 7-8 minutes to soften them to allow them to be rolled.
For the filling
Place a dry pan on the heat and toast the pine nuts for a few minutes until slightly browned.
Add a glug of olive oil and add the spinach, garlic puree and herbs. Wilt the spinach.
Add 3 tablespoons of cream cheese and the cooked couscous and stir in together. Set aside.
To roll the eggplant rollatini, take a slice and place 1 tablespoon of the filling at one end. Roll the eggplant up and place it in a roasting dish with the end side down to avoid it unrolling. Continue to roll up all the eggplants and lay them side by side in the dish.
Spoon on all the tomato sauce covering each roll.
Place into a preheated oven at 200°C/392°F for 20 minutes.
Remove and spoon on the remaining cream cheese and then place under a grill/ broiler on high heat for 4 minutes to gratinate. 
Step-by-step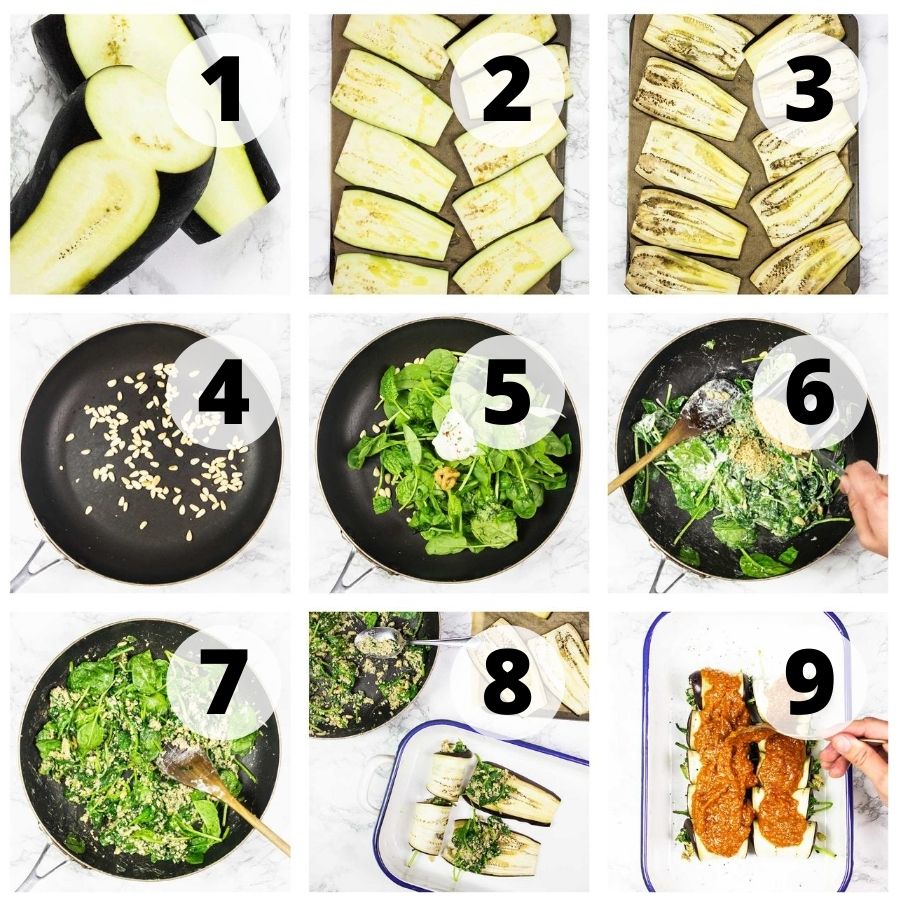 Copyright secured by Digiprove © 2020 The Anti-Cancer Kitchen