The wonderful world of vegan stuffed peppers is huge but our best ever stuffed peppers are a celebration of the taste of the pepper themselves. Our vegan filling takes crispy chickpeas and envelopes them with a gloriously spicy yet sweet red pepper sauce flavoured with paprika and fresh green herbs. Full of taste, full of vibrancy this will satisfy the eyes as well as the belly. This is a twist on a Spanish tapas classic, but as it is totally plant-based we have a great healthy and tasty recipe perfect to get your mouth watering.
This is a dish that we were really excited to create. One of the main reasons is that stuffed peppers are one of those meals that we would have as a family when we were younger and many times already vegetarian or vegan. Classically, peppers are stuffed with everything from leftovers to rice or grains and wonderfully herby cheeses. There is something evidently pan European cuisine and even American with stuffed peppers. You only need to put images up on your screen and you are faced with stuffed peppers with ground meat, Greek, Italian stuffed peppers or even taco stuffed peppers. You can put different cheese such as feta, goats cheese (one of our once all-time favourites) or mozzarella inside with either herbs or a tomato sauce. Make it spicy, make it crunchy, it is so versatile and easy the lists just go on and on.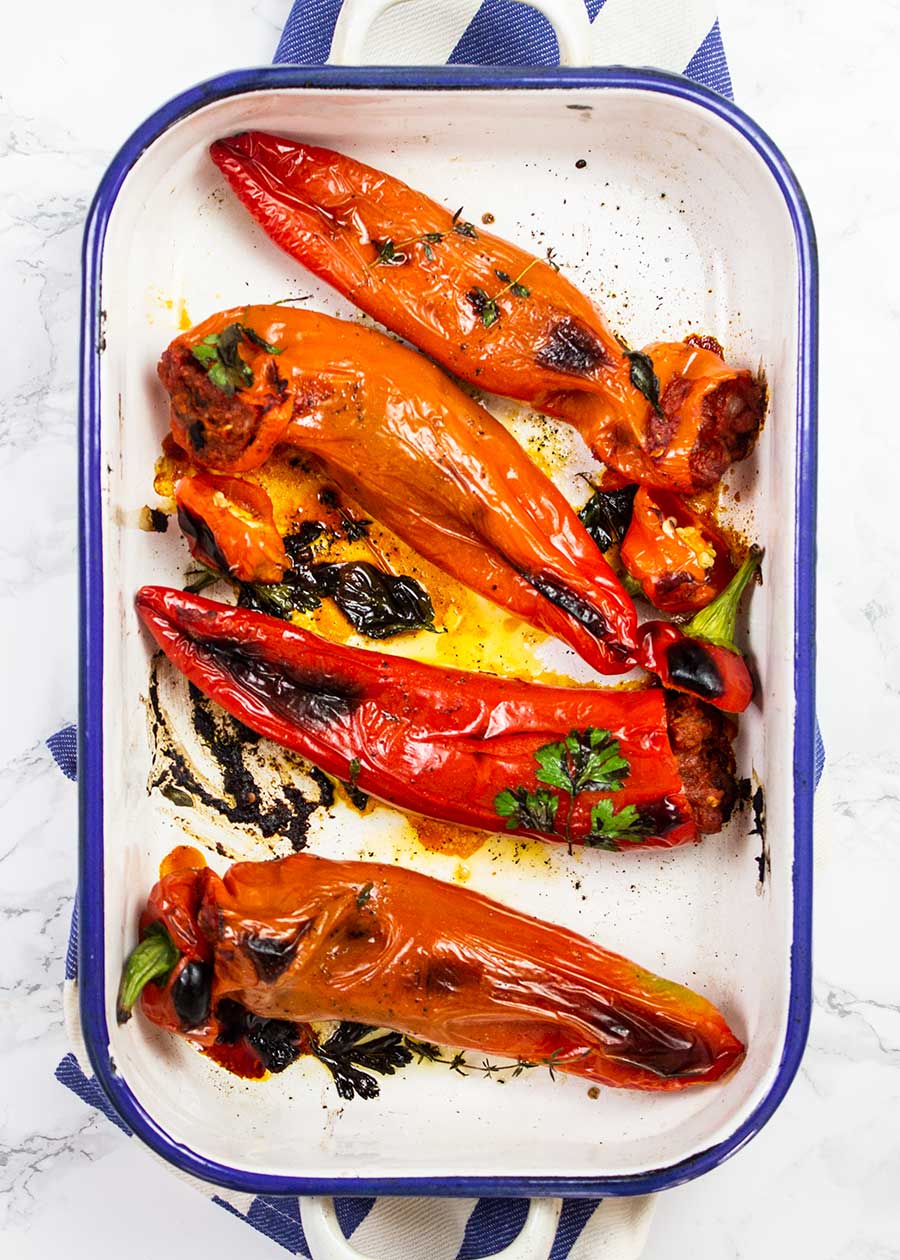 What's more, this is so versatile in size too, you can make them for a light lunch or part as a tapas or antipasti selection or double up as a main course.
For this particular vegan stuffed peppers recipe we have focused on the sweet red peppers themselves for inspiration and specifically what else you find these peppers in and we've looked to Spain for one of their most iconic dishes – patatas bravas or brave potatoes as they are beautifully golden crispy roasted potato bites smothered in a sweet but spicy red pepper and tomato sauce with paprika which is also made with red peppers. We could have easily filled the peppers with patatas bravas but just to add a little more of a protein hit to this dish we have substituted the potato for some flash-fried crispy chickpeas. The fiery pepper sauce just adds more oomph to what is essentially a celebration of everything red pepper.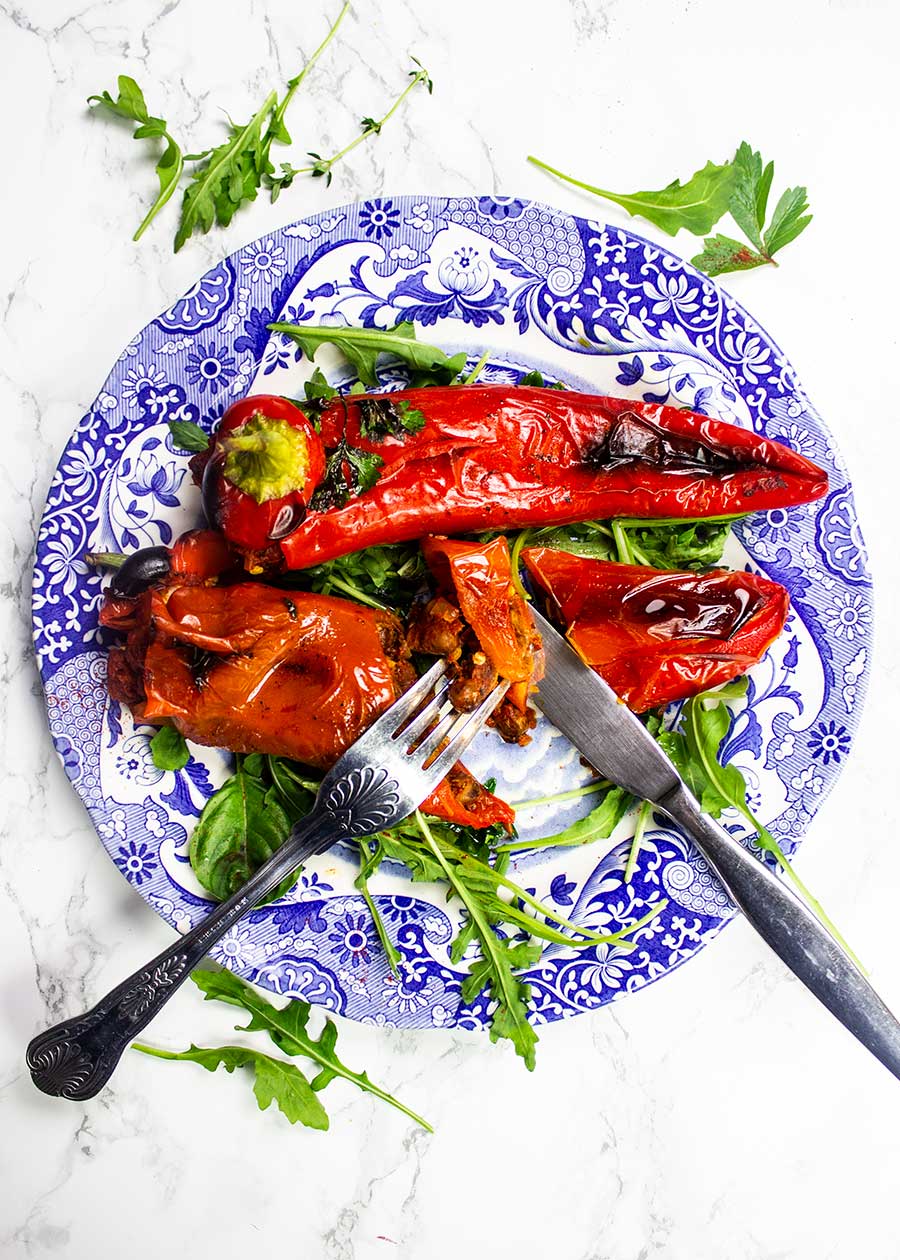 Loaded with vitamin C
Red peppers are matured green peppers and as such have more health benefits to offer. For a start they are high in vitamin C which is a powerful antioxidant that is needed for at least 300 metabolic reactions including the production of collagen which is a major structural protein in the body. It also seems that 300 is the lucky number as red peppers contain 300% of your daily intake. Collagen is essential for the growth and repair of healthy skin, bones, teeth and reproduction. 
Vitamin C not only regenerates other antioxidants such as Vitamin E it helps the absorption of iron and has numerous other benefits such as protecting cholesterol against oxidation as it is the oxidised cholesterol that is associated with the hardening and furring up of arteries. Studies have also suggested that people with the highest intakes of vitamin C are less likely to develop certain cancers.
A lack of vitamin C could result in the higher susceptibility to colds and coughs, poor healing, prevalence to bruising, hair loss, dry lips and inflamed bleeding gums and lethargy.
Contained within red peppers is also a healthy balance of magnesium and Vitamin B6. This mix has been reported to aid anxiety, especially anxiety related to hormonal stress. Whether this has a positive impact on on hormonal issues is yet to be researched but at The Anti-Cancer Kitchen we often talk about taking care of your terroir which is looking after your diet, your physical exercise and your mental well being, with this dish, if you can effect two out of three, then that ain't bad.
The antioxidant values of red pepper are also high. We need antioxidants to help neutralise the harmful effects of free radicals in the body.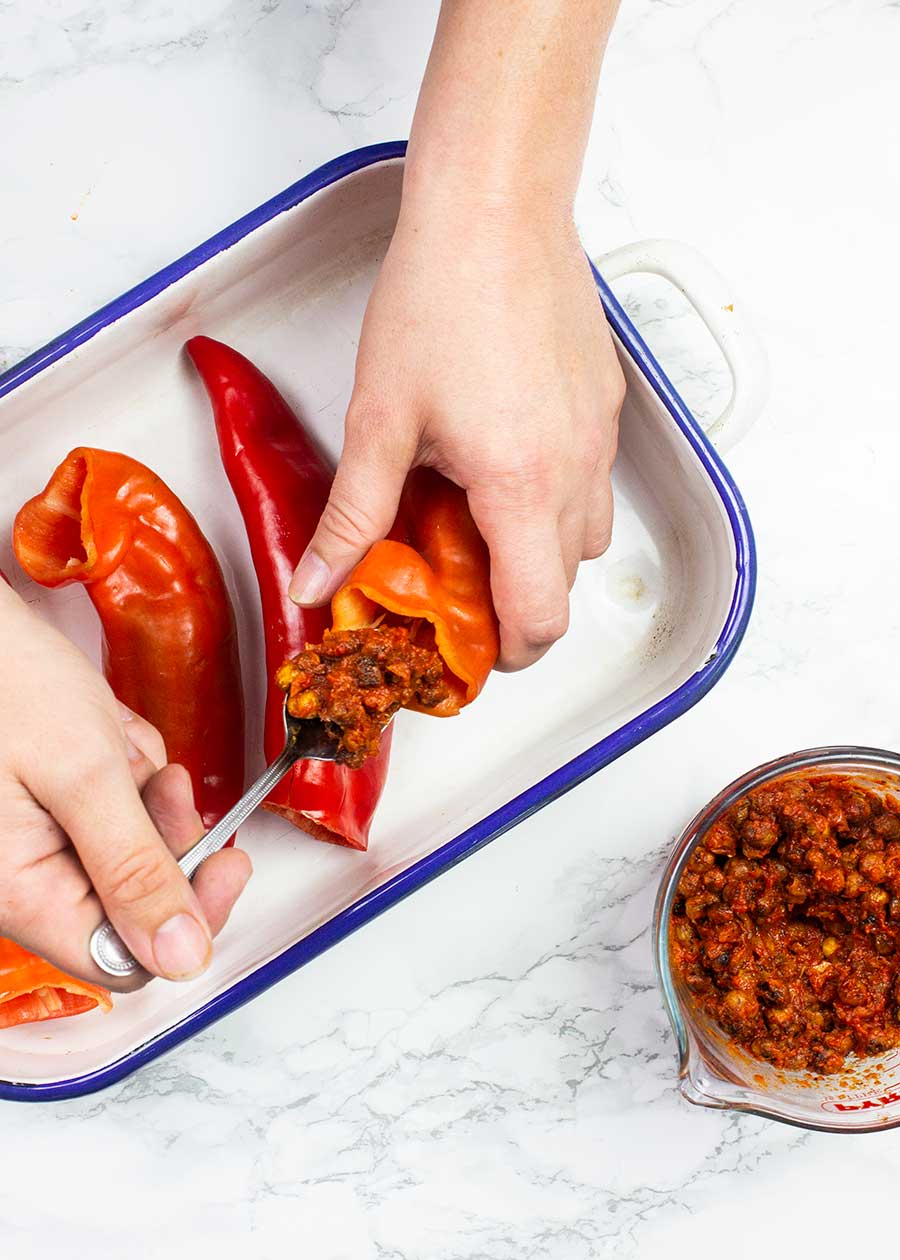 What are free radicals and why do we need to fight them
Free radicals are chemicals in the body that are molecularly unstable. These are negatively-charged molecules that set a chain reaction off with damaging effects to body proteins, fats and DNA. In fact the body is constantly under attack from this process and when genetic material is damaged it is the precursor for cancer and other degenerative diseases. For this reason, consuming foods with antioxidant capabilities are vital for detoxifying your body. Oxidation, however, is also a vital part of the body's function but we all need to consume substances that help neutralize the damaging oxidation reactions. Adding more fruits and vegetables such as red peppers and in fact the leafy herbs also in this dish, to your diet will give you a better opportunity to improve your health. 
Health benefits chickpeas
Chickpeas also known as garbanzo beans are most commonly known as the ingredient in Hummus, are high in dietary fibre. For this recipe we use them as a substitute for the potatoes used in patatas bravas, however they do not anywhere near require the amount of cooking required to make them satisfactorily crispy. Just a few minutes fried in some heart-healthy extra virgin olive oil and they are great. They can also be enjoyed exactly like this as a snake with a little added salt and spices. They are also a great source of omega-3 oils that come from oily fish and other plant sources such as flaxseed, walnuts and beans such as soy. They provide a large amount of protein too which for people who don't consume animal produce can be harder to obtain in your diet.
The fiber contained in chickpeas is also healthy as this binds onto toxins and helps maintain a healthy gut and digestive system. Eating fiber also aids in weight management by helping you feel fuller for longer, reducing the want of overeating.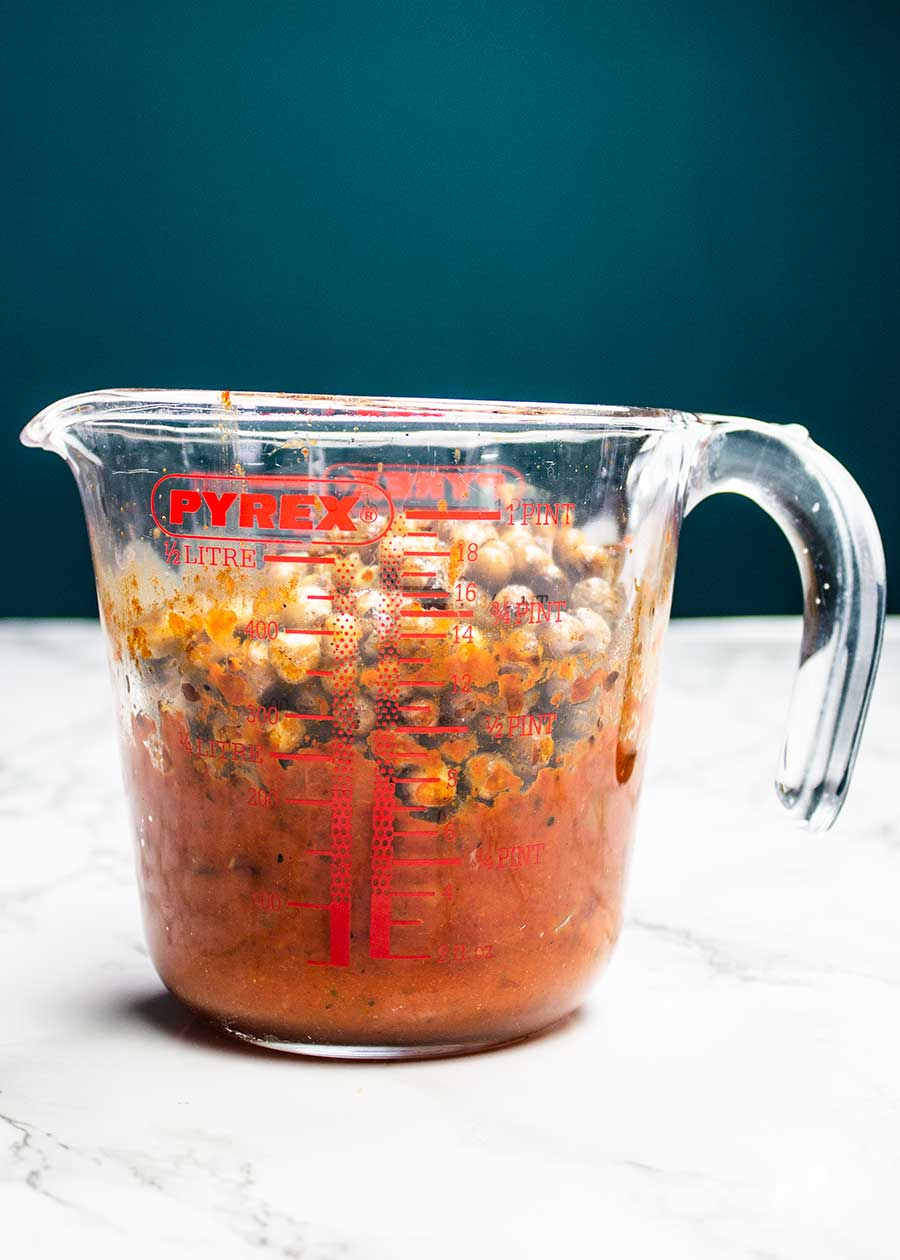 Easy steps to make the best vegan stuffed peppers
There are really only three stages to making our vegan stuffed peppers which are all very easy.
Step 1: Make the bravas sauce. For ease just add one chopped red onion, one chopped garlic clove and one cup of chopped roasted red peppers from a jar to a pan with some olive oil. Fry for about 5 minutes until the onions soften. Stir in some tomato puree, oregano, parsley, chili, cumin and a good couple of teaspoons of paprika and simply blend together.
Step 2: Drain a can of garbanzo/chickpeas and reserve the aquafaba (leftover chickpea water) to use in other dishes as a replacement for egg. Pour some extra virgin olive oil in a pan and flash fry the chickpeas for up to 10 minutes or until they go crispy. Add them to the sauce. 
Step 3: Chop the tops off the peppers and remove the seeds. Simply stuff the peppers as full as you can with chickpea bravas and put under the grill/ broiler on the hottest heat for only 10 minutes. Turn once in the middle and you will end up with the perfect texture and piping hot ready to serve.
Add onto some salad or alongside a tapas or antipasti selection or keep in the fridge ready to cook on a bbq. Whatever you serve these vegan stuffed peppers with we're sure you're going to love them.
Have you made our vegan stuffed peppers recipe?
We'd love to see your food creations! Please leave a comment below, share or tag using @anticancerkitchen on Instagram and hashtag it #anticancerkitchen.
More healthy Spanish recipes on the blog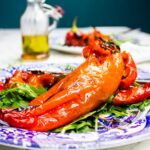 Ingredients
400g (1 drained tin) of garbanzo beans / chickpeas

4 x fresh sweet red peppers, tops cut off and seeds removed

For the bravas sauce:

1 chopped red onion

1 cup of chopped roasted red peppers

1 chopped garlic clove

1 tablespoon of tomato puree (sundried tomato puree works well too)

1 teaspoon of oregano

1 teaspoon of parsley

½ a teaspoon of chili flakes (or to taste)

½ a teaspoon of cumin

2 teaspoons of smoked paprika
Instructions
Add the onion, roasted red peppers and garlic into a pan of olive oil. Fry for 5 minutes until the onions have softened. Add the tomato puree, oregano, parsley, chili, cumin and paprika and stir in.
Using a hand blender process until no large pieces remain. Set aside. 
Put a clean frying pan on the hob and add some olive oil. Add the drained garbanzo beans/chickpeas and fry tossing every so often for about 10 minutes until crispy. Add together in the sauce.
Stuff the peppers using a small spoon and place in a roasting pan/tin. Place under a hot grill/broiler for 10 minutes turning once for a nice slightly charred skin.
Step-by-step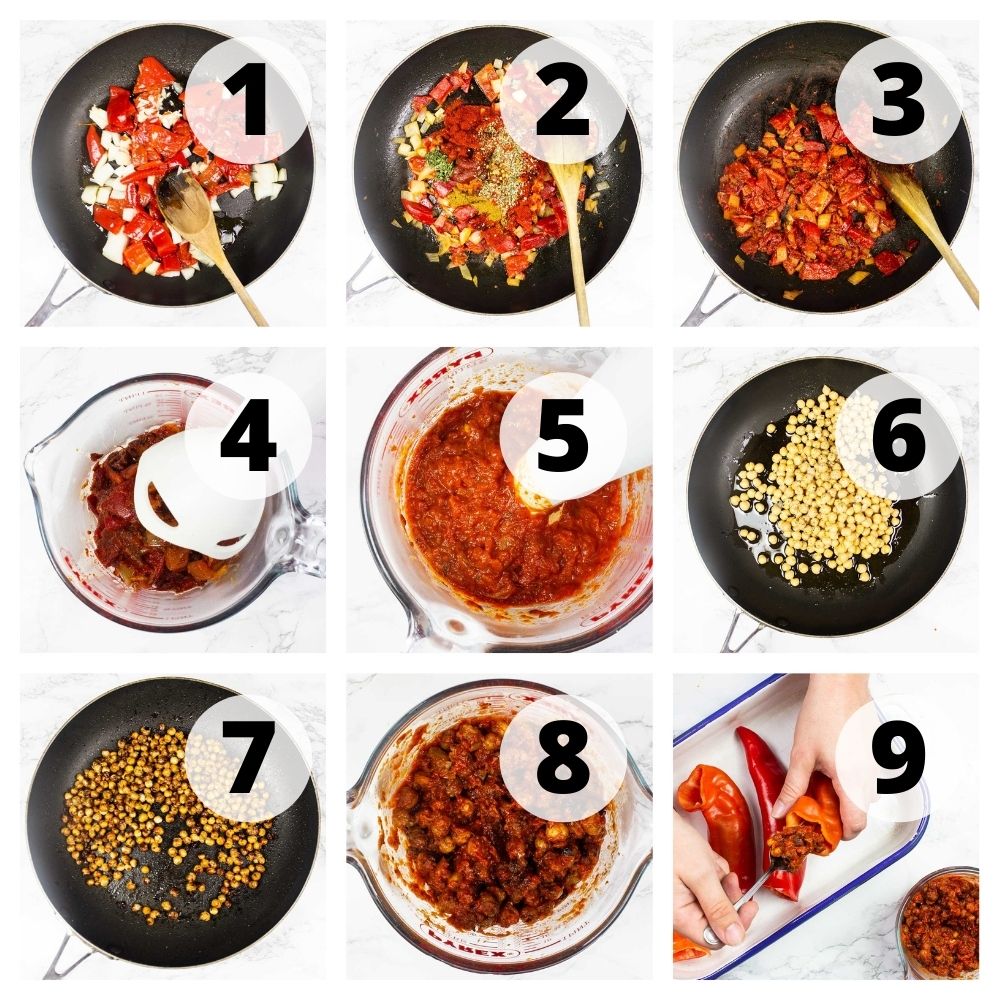 Copyright secured by Digiprove © 2020 The Anti-Cancer Kitchen