This is an incredibly healthy pan con tomate recipe made with oven dried tomatoes. Don't let the simplicity of this pan con tomate recipe fool you. This toast with tomatoes is so incredibly good, and proof that you can eat amazingly flavoursome pan con tomate using just a few staple ingredients.
Why oven dried tomatoes
Oven dried tomatoes are an excellent ingredient to add a massive umami rich tomato punch to pizza, pasta, salads or to top bruschetta or toast like the classic Spanish pan con tomate or pa amb tomaquet as it is called in Catalan. They are much fuller in flavour than a fresh tomato and not as strong or tough as a sun-dried tomato. They are the perfect medium that have simply been roasted for a longer time in a cool oven with a dash of healthy extra virgin olive oil and salt.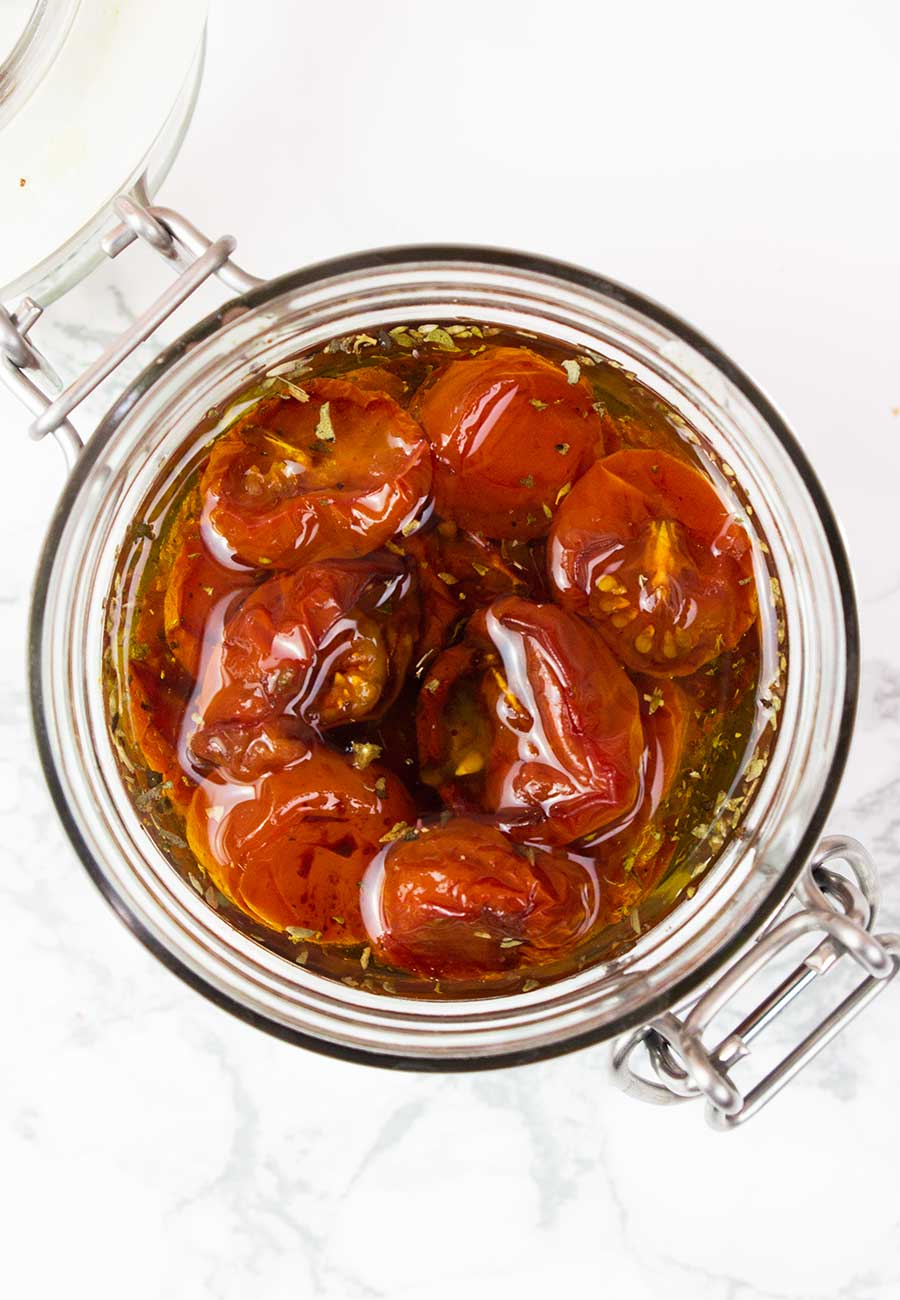 The best tomato flavour for pan con tomate
This is our best ever oven dried tomato recipe. By slow roasting these tomatoes you end up with the most amazing sweet intense tapas or anti-pasti that is packed with flavour and concentrated antioxidants for an incredibly healthy addition to your diet. They can be eaten by themselves along with mediterranean staples such as olives, artichokes and bread or added to any dish you want. You will be amazed at how tasty they are and how you can impress friends and family with how to transform a simple plant-based dish such as Spanish tomato bread into something much, much more. Spanish tapas centres much more around meat and fish so to bring this totally plant-based tapas to the table will really show everyone why it is a nation's favourite. It must be the best plant-based tapas around!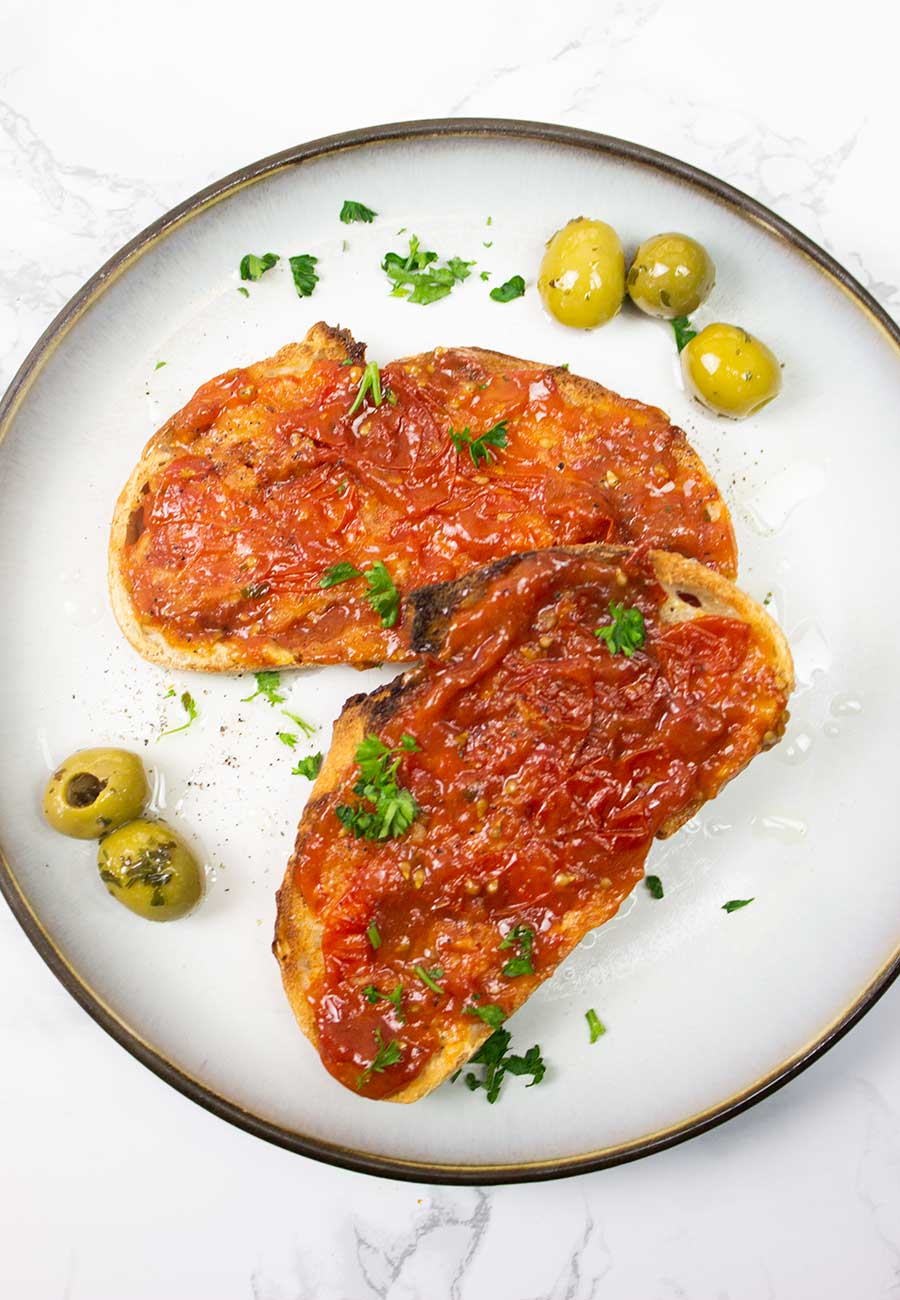 Cooking tomatoes makes all the difference 
Don't let the length of time to create these ruby gems put you off. They don't take days to create like sun-dried tomatoes and what's more is that it is a great way to use up older tomatoes from your fridge and increase their shelf life for up to another week.
By slow roasting or oven drying small cherry tomatoes the flavours are intensified and elevate a simple sweet fruity cherry tomato into a gastronomic delight. After a little preparation the oven does all the work for you. You can then just store them in a sealed jar with a little olive oil and use them for whatever recipe you want. They are well worth the wait.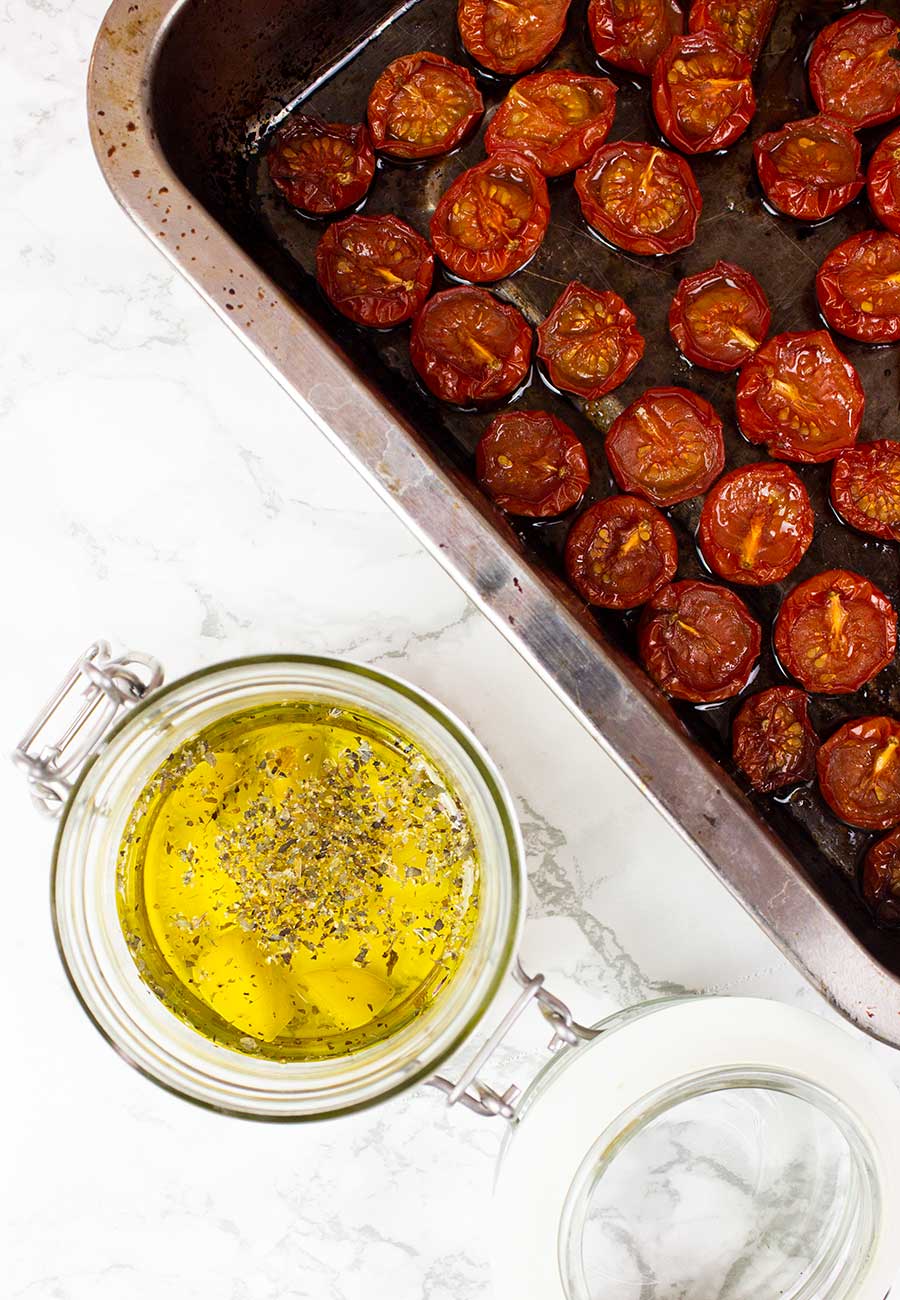 Tomato bread – pan con tomate
Pan con tomate is one of Spain's national dishes. It is crystal bread which is a Spanish version of ciabatta which is either fresh or toasted then rubbed first with fresh garlic and then with tomato. Like many of the best dishes in the world this also has humble origins as pa de pages or peasant's bread would have been used. It was said that when the bread was old and dry a tomato would have been squeezed and rubbed over it to breathe life back into it. Today and traditionally a fresh, sour smaller vine tomato is used however we have used these intense oven dried tomatoes firstly to add even more flavour to this traditional Spanish tapas and secondly to increase the health benefits too.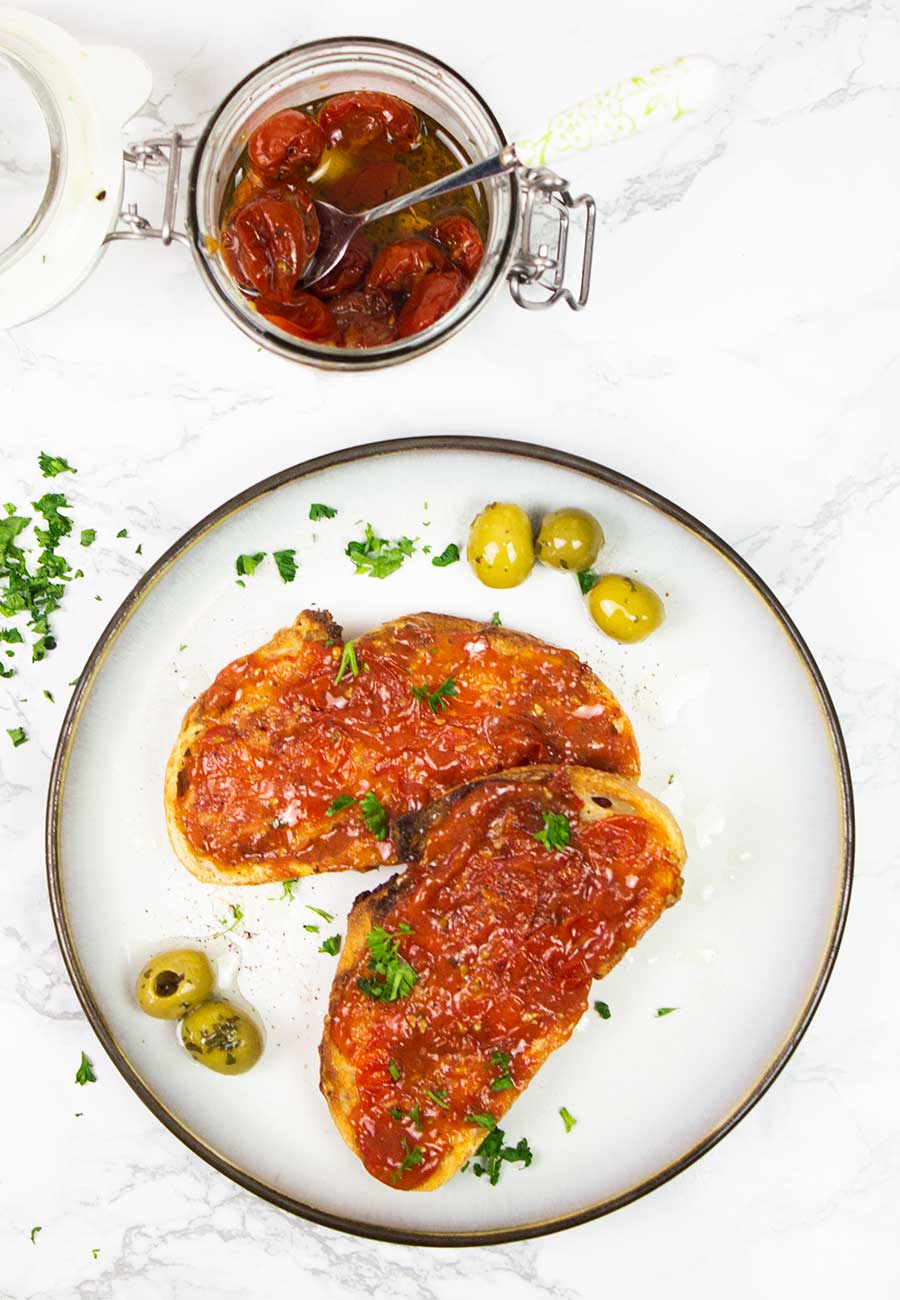 Health benefits of tomatoes
Slow roasting tomatoes intensifies its lycopene content. Lycopene is a plant compound and one of 600 carotenoids found in fruit and vegetables but more importantly one of only a handful that are recognised as important to human health. Carotenoids are found in yellow, orange, red and dark green fruit and vegetables, including tomatoes, sweetcorn, oranges and spinach. Around 50 identified carotenoids including lycopene are converted into Vitamin A in the body. Vitamin A is a fat soluble vitamin that is stored in the liver. It is essential for many functions in the body as it binds on to certain cells that regulates how our bodies read genes. It is vital for the production of some proteins and important enzymes that maintain normal growth and development of our cells including helping our bodies heal.
Lycopene which is the red pigment found in fruit and vegetables, namely tomatoes but also grapefruits, watermelons, guava and papaya amongst others, is not essential for humans, However studies have suggested that there is a strong link between tomato intake and blood lycopene levels alongside the reduced risk of many cancers. Cooking tomatoes can release up to  five times more lycopene than you would get by consuming just raw tomatoes. Slow cooking is the best way to concentrate these lycopene levels. 
Lycopene is also a powerful antioxidant and is about three times more potent than Vitamin E. It has been studied that consuming just one serving of tomatoes can reduce oxidative stress to our bodies by as much as 50% within one day. Antioxidants help reduce damage caused by free radicals at a cellular level in our bodies. Free radicals are produced thousands of times a day in the body as a result of our metabolic reactions, muscle contractions during exercise, drinking, smoking and exposure to uva sunlight. Whilst these reactions are normal and essential and therefore unavoidable it is the antioxidant protection against excessive free radical damage that provides the benefits. Antioxidants come from fruit, vegetables and nuts in our diet and the correlation between people who have a high intake of fruit and vegetables and the reduced risk of high blood pressure, diabetes and cancer is overwhelming.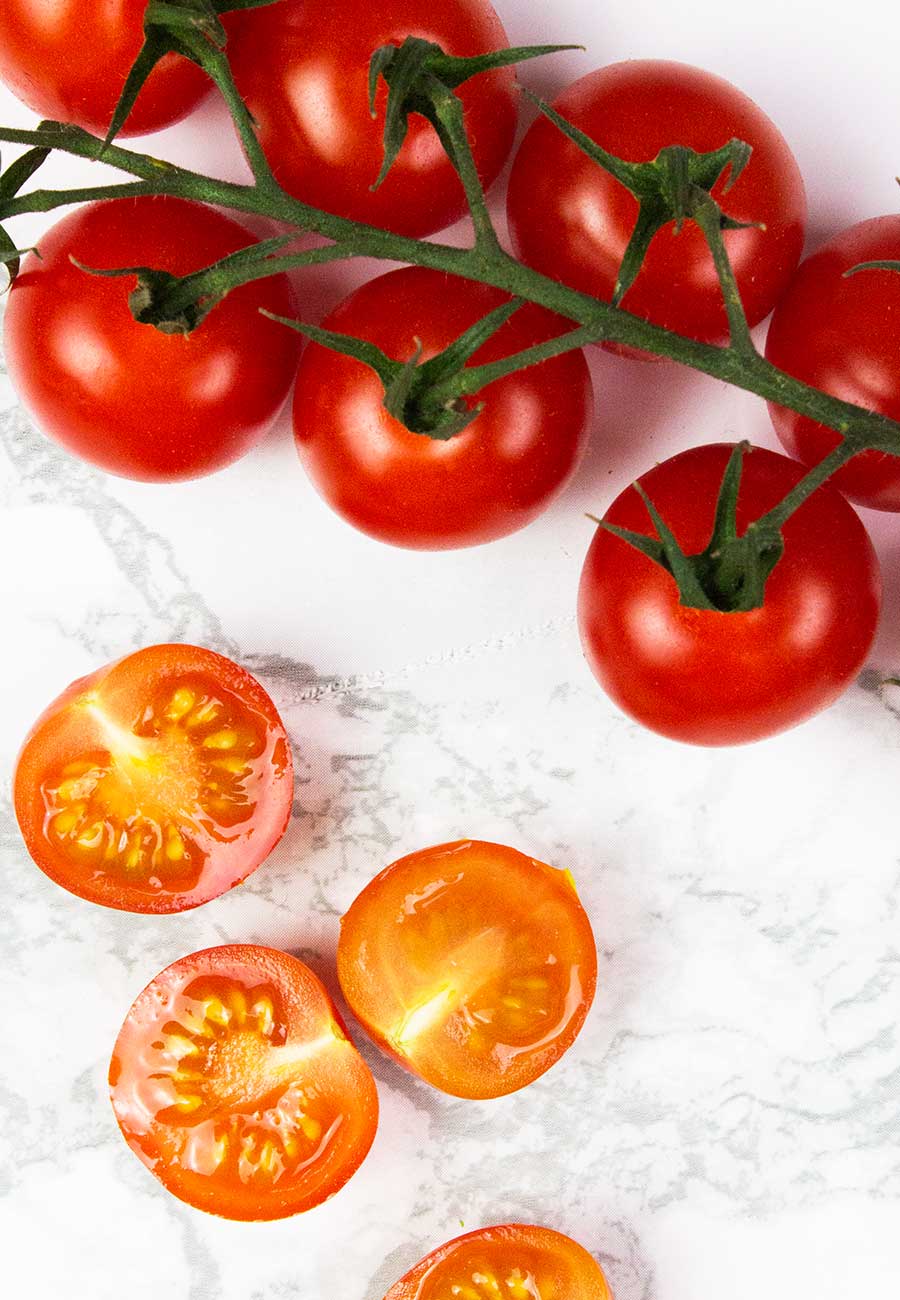 Understanding that cooking tomatoes increases their health benefits so why not do it more!
Let's share three ways to slow cook tomatoes!
Cooking temperatures and cooking times will differ to how you want your end result to turn out. Of course sometimes you simply won't have the time but if you are at home and not needing to use the oven for a few hours then definitely take the time to oven dry some tomatoes for later use.
For tomatoes that are still juicy but with an amazing concentrated flavour you need the longest time.
Heat the oven to 130℃ and cut the tomatoes in half and place in a lightly oiled tray, sprinkle with salt and roast for 3½ hours. This will produce a still 'poppable' tomato that can be spread directly onto bread and is excellent for pan con tomate.
For firmer and sometimes slightly chewy tomatoes that are best to eat by themselves for snacking, you can reduce the cooking time to 1 hour 45 minutes and increase the temperature to 150℃. 
The best technique to produce the best all round oven dried tomato which will serve as a great addition to dishes is to cook them in a 140℃ oven for 2¼ hours.
Once cooked, simply let them cool and store in a sealable jar and add a little olive oil and whatever herbs you like. A touch of fresh garlic works well too.
Have you made this pan con tomate with oven dried tomato recipe?
We'd love to see your toast creations! Please leave a comment below, share or tag using @anticancerkitchen on Instagram and hashtag it #anticancerkitchen.
More healthy toast recipes on the blog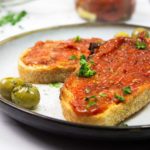 Ingredients
Oven dried tomatoes ingredients:

300g of cherry tomatoes

1 tablespoon of extra virgin olive oil

½ a teaspoon of sea salt

Pan con tomate:

6-8 slices of sour dough, ciabatta or crystal bread

1 large clove of garlic, cut in half
Instructions
How to make oven dried tomatoes
Cut the tomatoes in half and make sure they do not have any stalks attached.
Lightly oil a baking tray and place the tomatoes cut side up inside. Sprinkle on the sea salt.
Drying tomatoes in the oven - 3 options
Option 1. Place in a 150℃/ 302°F oven for 1 hour 45 minutes for a firm tomato
Option 2. Place in a 140℃/284°F oven for 2 hours 15 minutes for a firm tomato with some juice
Option 3. Place in a 130℃/266°F oven for 3 hours 30 minutes for a soft juicy full flavoured tomato.
How to make pan con tomate
Lightly toast the sourdough/ciabatta/crystal bread.
Rub garlic all over one side of the bread.
Spoon 2-3 tomatoes at the time on the bread and spread until covered.
Step-by-step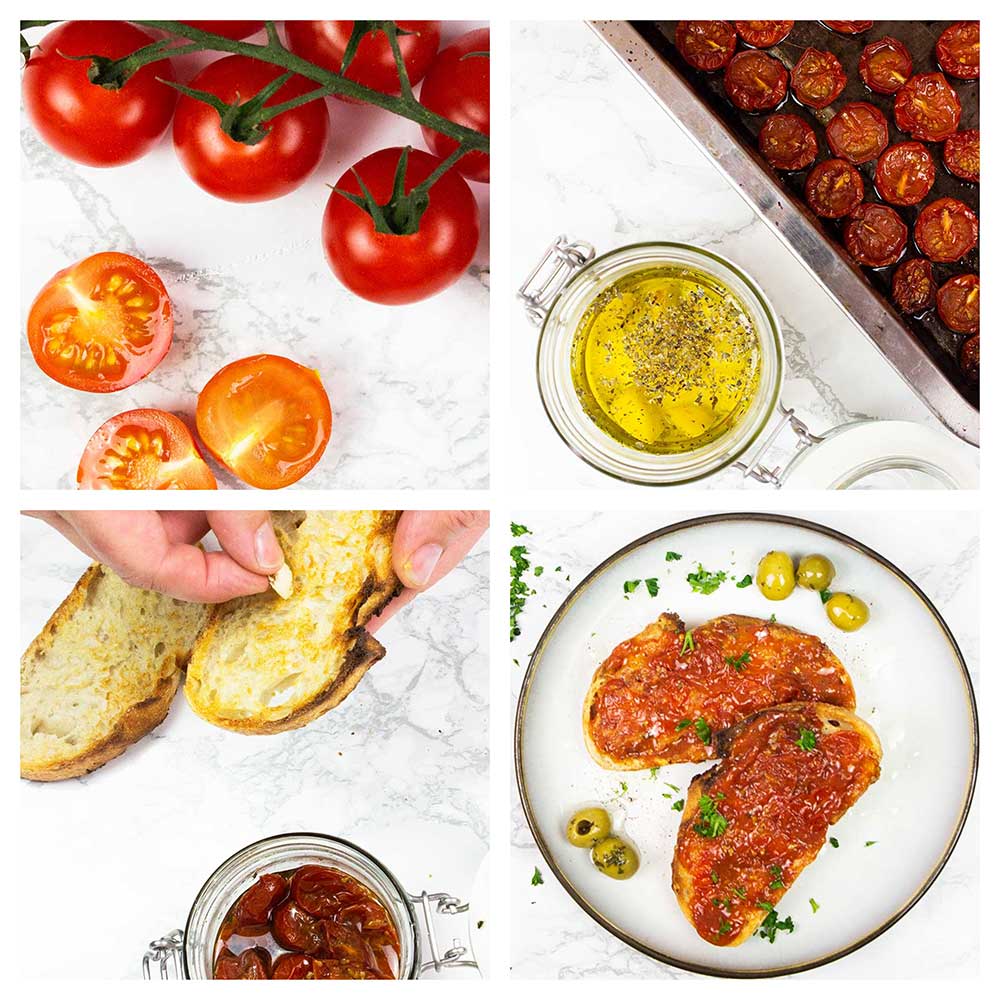 Copyright secured by Digiprove © 2020 The Anti-Cancer Kitchen