This vegan mayo recipe is a simple home-made addition to your plant-based pantry. We use only a few easy to buy ingredients and show you how to create a lusciously light and velvety tangy vegan mayonnaise that is the perfect accompaniment to your chips, sandwiches and burgers!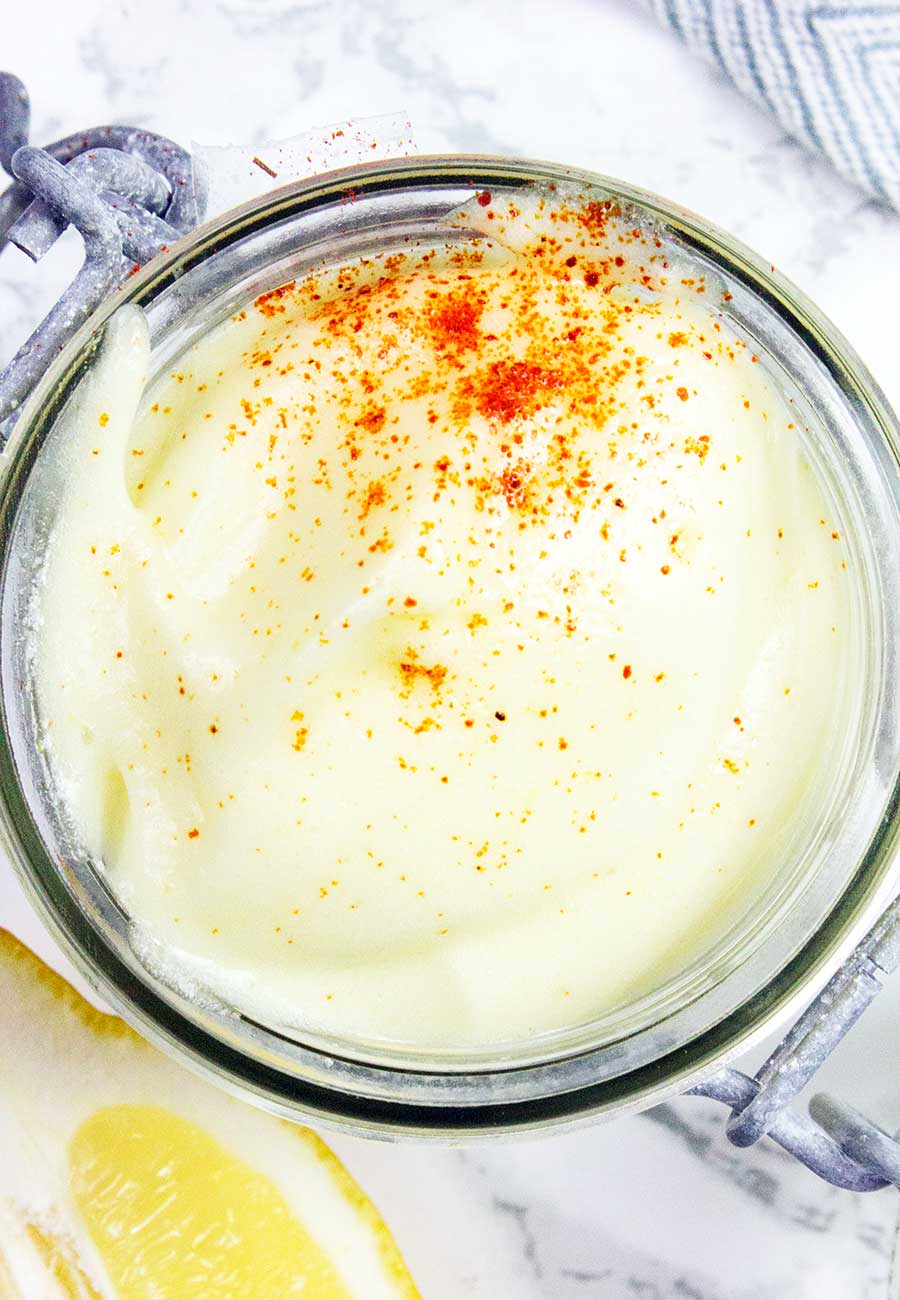 Vegan mayo with aquafaba
Mayonnaise is a very simple condiment as it is an emulsion which is basically an oil suspended in water, in this case vinegar or lemon juice then emulsified traditionally with an egg and mustard. To therefore make a plant-based mayo or vegan mayo isn't as difficult as you might expect as you only need to find a substitute for the egg and we use aquafaba.
The reason that you need an emulsifier is that when you make an emulsion which is the combination of two ingredients that don't normally mix such as oil and water the solution is unstable. The molecules in the water are attracted to the water and the oil molecules want to cling on only to the oil molecules. In the case of emulsions such as mayonnaise and dressings, one of the ingredients needs to be broken down into lots of miniscule droplets which means the other ingredient's molecules have a harder time to attract each other and split. If you think of a simple salad dressing for example which is olive oil suspended in vinegar which has been whisked together it forms a beautifully fatty, velvety texture, however when left it doesn't take long for the two ingredients to split. This would not be ideal for mayonnaise if you kept on having to shake it vigorously before serving.
Healthy, complex protein
The emulsifier, other than another flavour has the more important role of stabilising the sauce. The reason it does this is because the molecules are larger and when the other ingredients are broken down into their tiny droplets, the large emulsifier molecules get in the way and keep them there. Proteins are longer, complicated molecules and are perfect for creating emulsions. The egg yolk which is traditionally used to make mayonnaise is a high protein ingredient but studies have suggested a correlation between animal proteins and the growth of certain cancers. This is why we look toward a plant protein to act as the egg. Soybeans, flaxseed, chia and chickpeas are very good sources of proteins for people who don't eat animal proteins. These ingredients are often used in many vegan recipes as a substitute for egg. The water that comes from a can of chickpeas is called aquafaba and contains much of the proteins to be a good substitute for an egg yolk. Most recipes for vegan mayo call for the aquafaba straight from the tin, however, we have put in one extra step by reducing the liquid in a pan for 5 minutes to give the liquid an added thickness. We find that this step creates a superior mayo.  
Whisking aquafaba as the emulsifier will then produce a great mayonnaise, a rich, unctuous enveloping sauce that coats chips, creates velvety dressings and aolis and is perfect to top your plant-based burgers.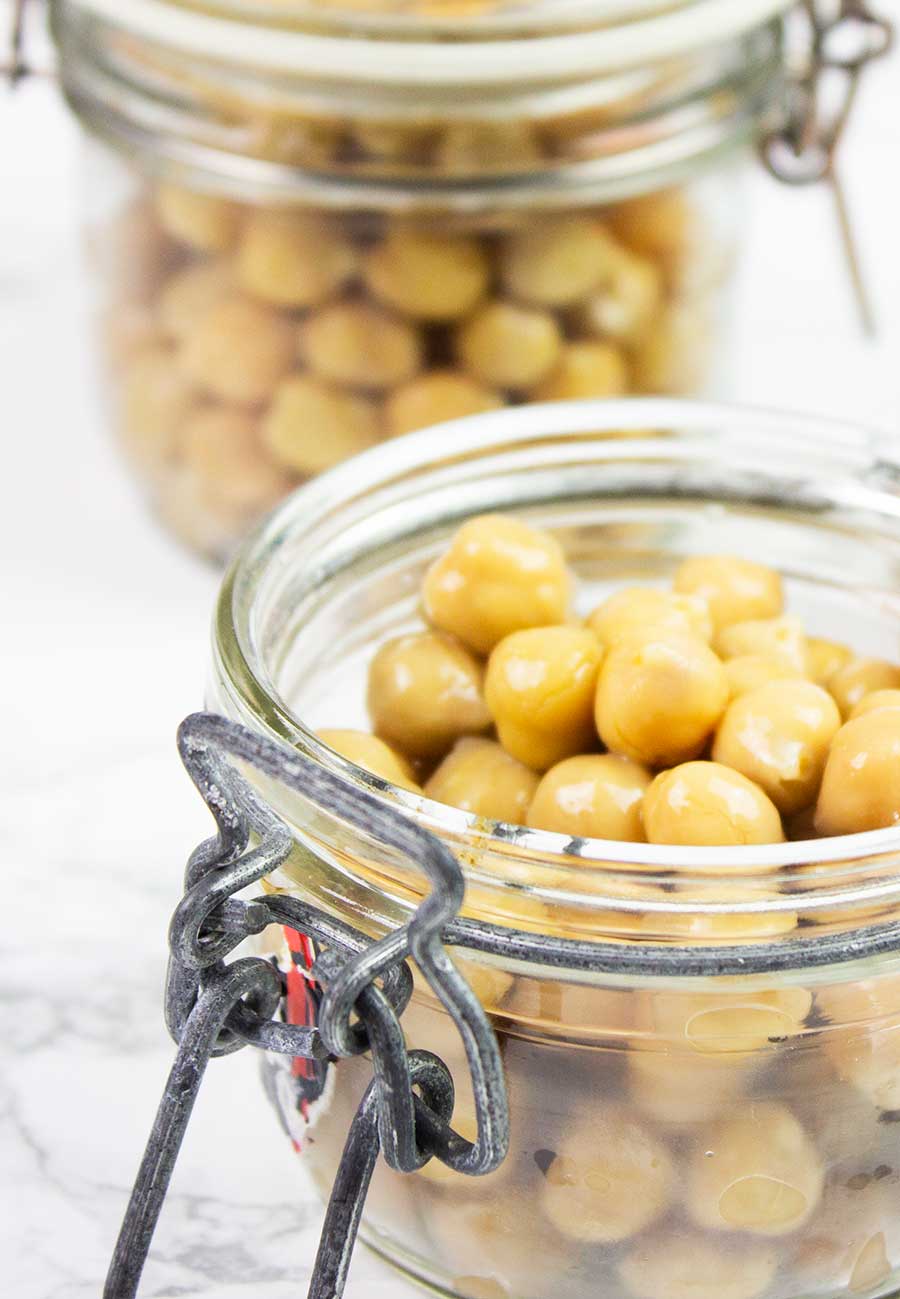 Which oil to use?
All chefs will have their favourite oil to use and many will have differing opinions. The late great Michel Roux and his brother Albert used groundnut oil in their traditional French recipe. The one thing though to look for is a lighter tasting oil. This therefore takes olive oil out of the equation and certainly extra virgin olive oil as it is far too bitter in larger quantities. Remember, the flavouring for mayonnaise is actually the vinegar and mustard and not the oil although you can add a highly flavoured oil such as extra virgin olive oil or sesame oil at the end but only in minute amounts just to impart a slight twist to your ultimate flavour. 
Mild flavoured oils such as sunflower oils, avocado oil, groundnut oil and vegetable oils like rapeseed oils work well. There are a lot of advocates of grapeseed oil too as it is very neutral in flavour but just as many people think then the flavours can be too harsh if a totally neutral oil is used. This then gives rise to the thought that a blend of oils are best. For our best vegan mayo we have used a mild rapeseed oil finished with a drizzle of olive oil.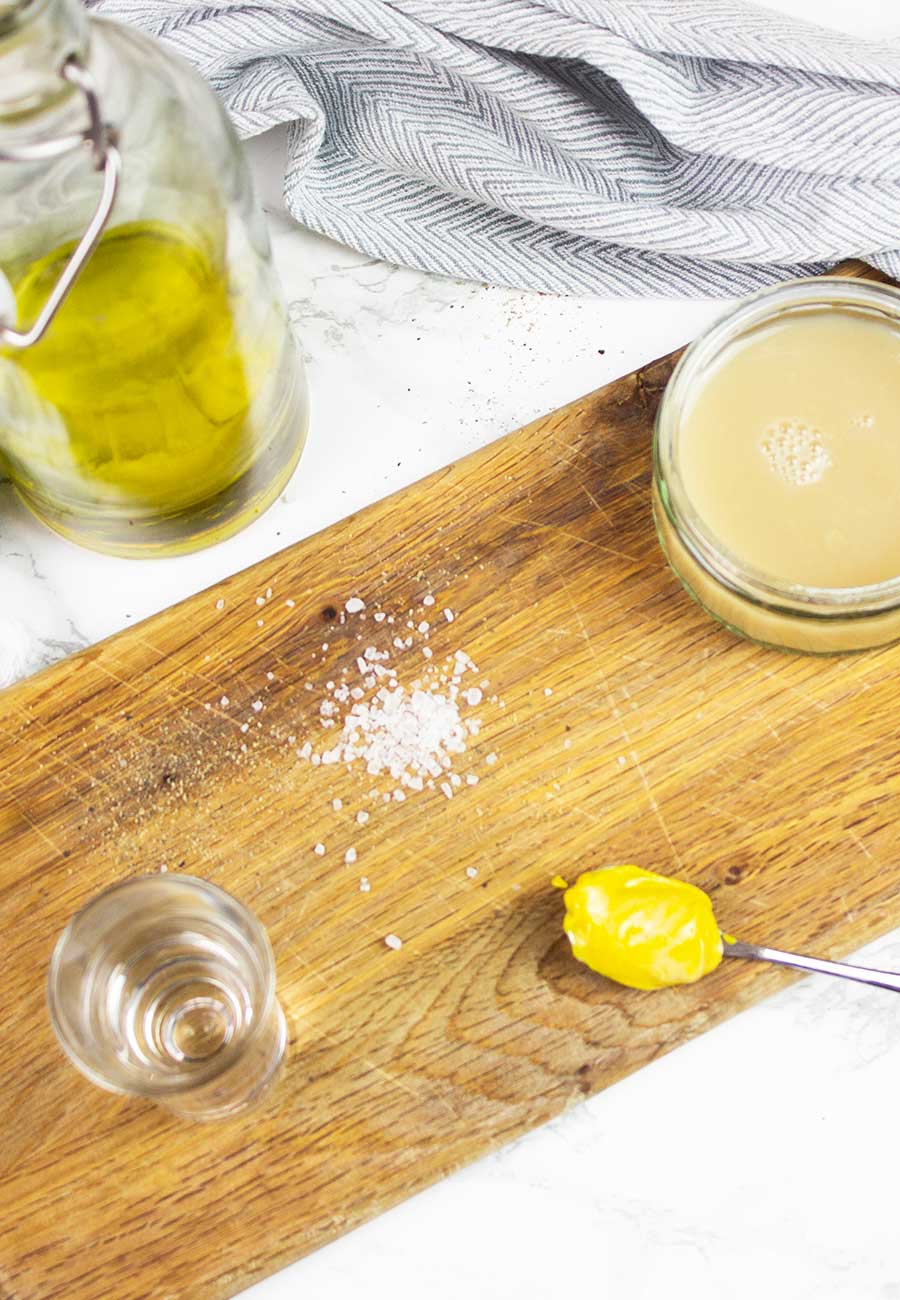 Is vegetable oil healthy?
The world is full of contradictory statements and when it comes to vegetable oil you will find a lot. Polyunsaturated fats which predominantly come from vegetable oils have had a somewhat bad rap in recent years. The reason is that they are high in omega-6 fats and specifically linolenic acid which is the most common omega-6 fat which can be converted into arachidonic acid that has been related to inflammation. This is the precursor of cancers and heart disease. However it turns out that the body converts very little linolenic acid into arachidonic acid even when it is abundant in the diet. So, the latest guidelines have suggested that we continue to get up to 10% of our daily fat intake from vegetable oils as they have actually been shown to reduce markers for inflammation and also and very importantly balance the consumption of omega-6 fats with omega-3 oils that come from oily fish and plant sources such as flaxseed, walnuts and beans such as soy and chickpeas. One of the main reasons we believe that chronic illness has risen alongside the increase of consumption of these oils is that much of our produce such as butters for example have been replaced with vegetable oil products such as margarine and therefore the balance of our fat intakes have shifted. It therefore seems that not consuming enough omega-3 fats is the culprit as to why vegetable oils or polyunsaturated oils have been given so much mis-information. One point to regard though is to avoid trans fats, these are fats that have undergone a hydrogenated process to give them a longer shelf life. These are mainly consumed in mass made produce and from many fast food outlets.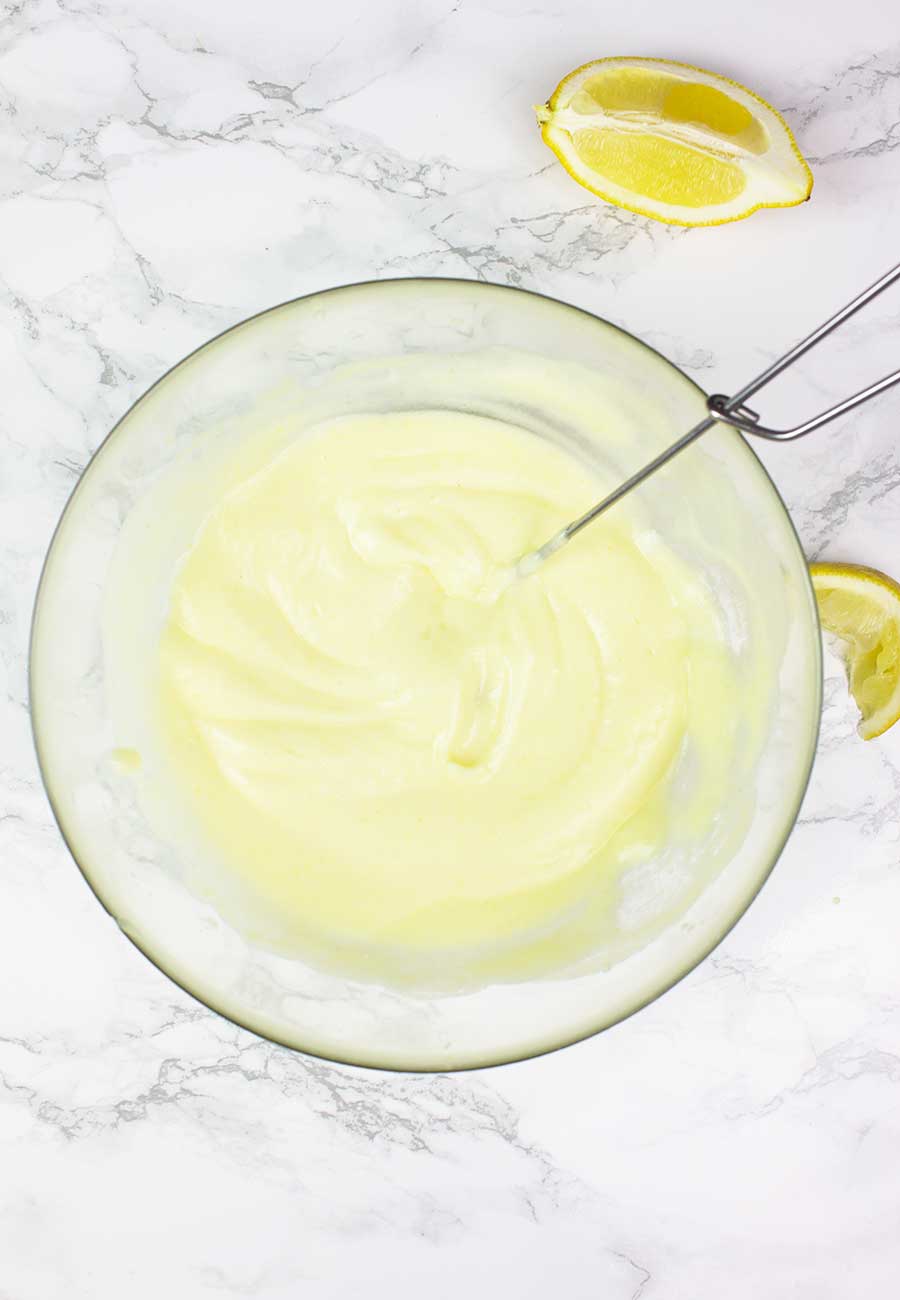 Vegan mayo full of flavour
Using the right oil or combination of oils will allow the right flavours to shine through your mayo. Just a couple of teaspoons of white wine vinegar with a squeeze of lemon juice is enough to flavour a whole cup of oil and ¼ cup of aquafaba. Japanese rice wine vinegar works well especially with wasabi instead of mustard to give you an Asian twist, as does cider vinegar work well too as an alternative but red wine vinegar, malt vinegar or balsamic are just too strong, plus the colour will alter to give an uncharacteristic mayo.
For the final dimension to an authentic flavoured mayo we recommend a bold mustard. A spicy dijon is traditional but only because it hails from France where the original recipe is purportedly from when the chef to the duke of Richelieu designed a celebration meal after the duke seized control of Port Mahon in Menorca in 1756, hence the name derived from Mahonnaise. However the full flavoured classic English mustard we think serves as a better flavour. It is the mustard that contains lecithin that also helps to emulsify the mayo. Bizarrely, the final result is nothing like anyone of its constituents but rather an amazing marriage of slight sweetness, tanginess and fattiness. 
How to blend vegan mayo
In this recipe, we use a whisk to thicken up the base of the mayo as it would have been the only utensil available at the time of its conception and by hand whisking the result is a fluffier more aerated condiment, unlike the thick sometimes gelatinous version most of us would be used to from a shop bought staple. The ratios of flavours are perfect and the texture is wonderfully light but enveloping.
For ease if the vigorous whisking is too much of a strain as it can be then you can use a stick blender / immersion blender. This way will produce quick results and nice thick mayo. Finally, only If you own a high-quality blender such as a Sage, vitamix or magimix should you use that as in our experience you can't start the process off adequately otherwise.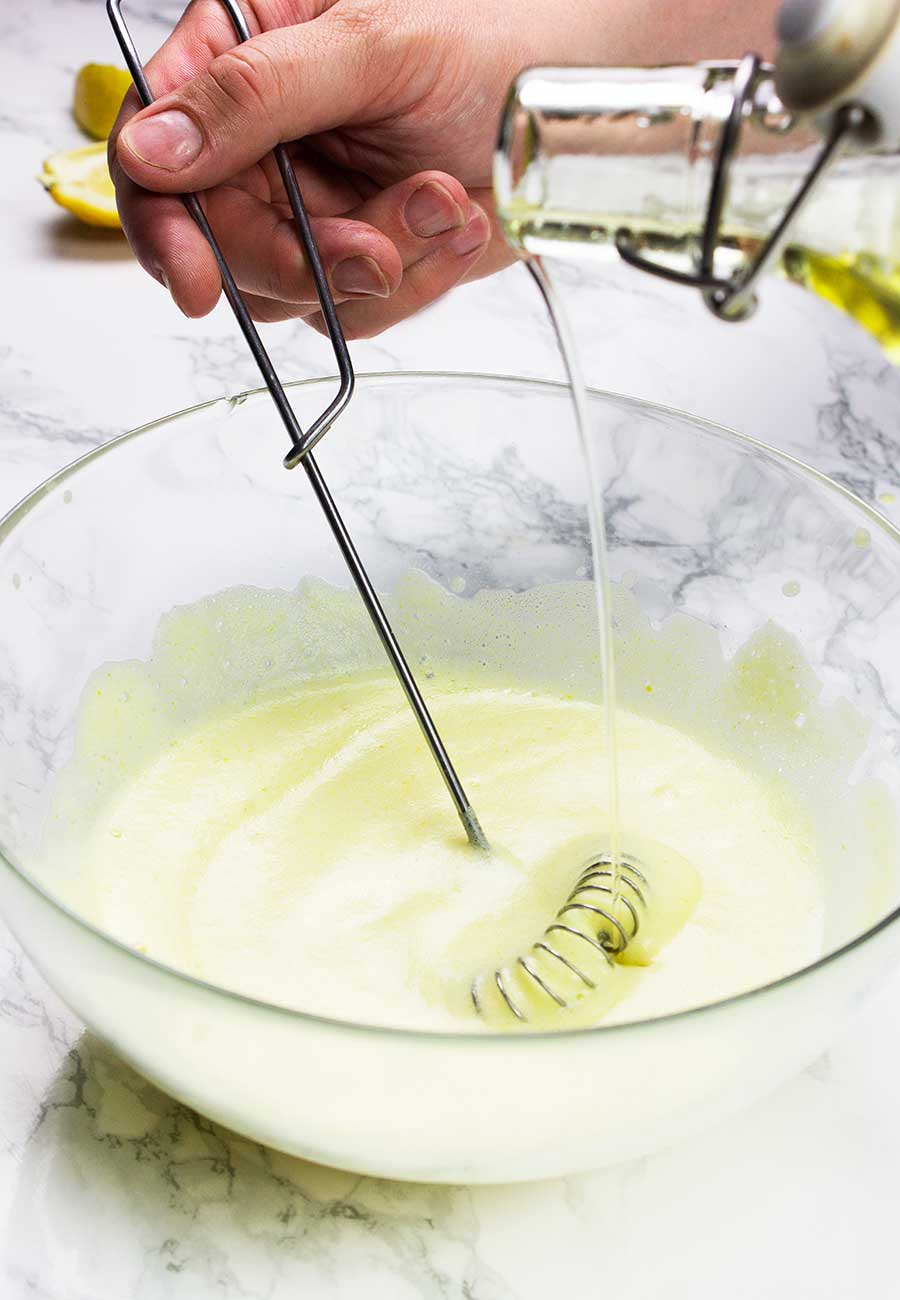 Once you have your mayo you can either use it by itself or it will make amazing tartare sauces, dressings or aiolis. Do everything with it a traditional mayonnaise would be used for including giving it to non-vegans who won't know its secret!
How to make vegan mayo step-by-step in images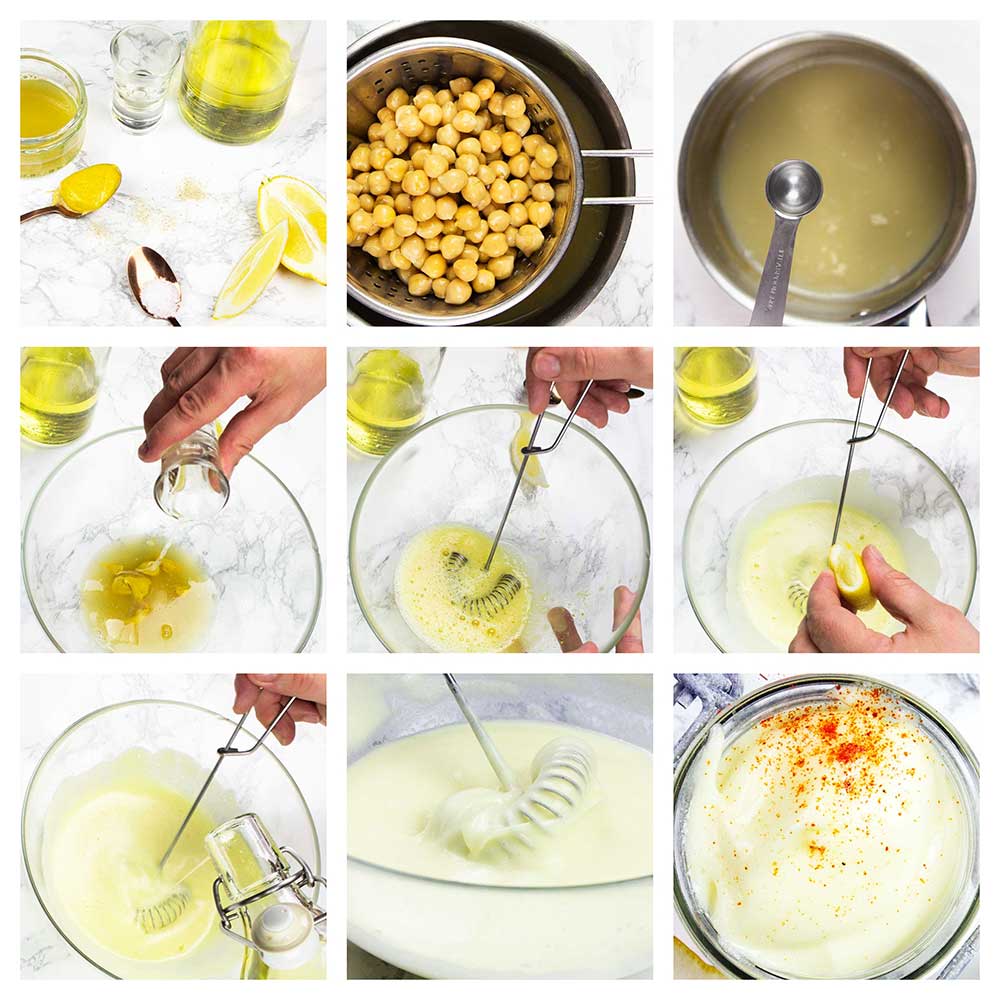 Have you made this vegan mayo recipe?
We'd love to see your food creations! Please leave a comment below, share or tag using @anticancerkitchen on Instagram and hashtag it #anticancerkitchen.
Other delicious (and healthy) sauce and salsa recipes on the blog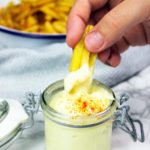 Ingredients
Aquafaba from 1x400g tin of chickpeas (approximately ½ a cup to reduce to ¼ of a cup)

1 cup of vegetable rapeseed oil

1 tablespoon of olive oil

2 teaspoons of white wine vinegar

1 teaspoon of English mustard

½ teaspoon of salt

½ teaspoon of white pepper

Juice from a segment of lemon to taste
Instructions
Pour the contents of the tin of chickpeas into a colander over a bowl to catch the liquid. Reserve the chickpeas to use for another recipe.
Pour the aquafaba in a pan along with 1 teaspoon of the vinegar and bring to a light simmer for 5 minutes to reduce by half. Set aside to cool.
In a bowl add the mustard, salt and pepper and ¼ of a cup of aquafaba and whisk (optionally with a stick/immersion blender) until the mixture has thickened. Pour in the other teaspoon of vinegar and start to slowly drizzle in the rapeseed oil whisking or blending continuously until the mayo forms stiff peaks. Whisk in the olive oil and lemon juice to taste.
Store the vegan mayo in the fridge for up to 5 days.      

Copyright secured by Digiprove © 2020 The Anti-Cancer Kitchen