Introducing two delicious and super healthy salsa recipes you must try. This is if you love mushrooms, dill and raspberries like we do.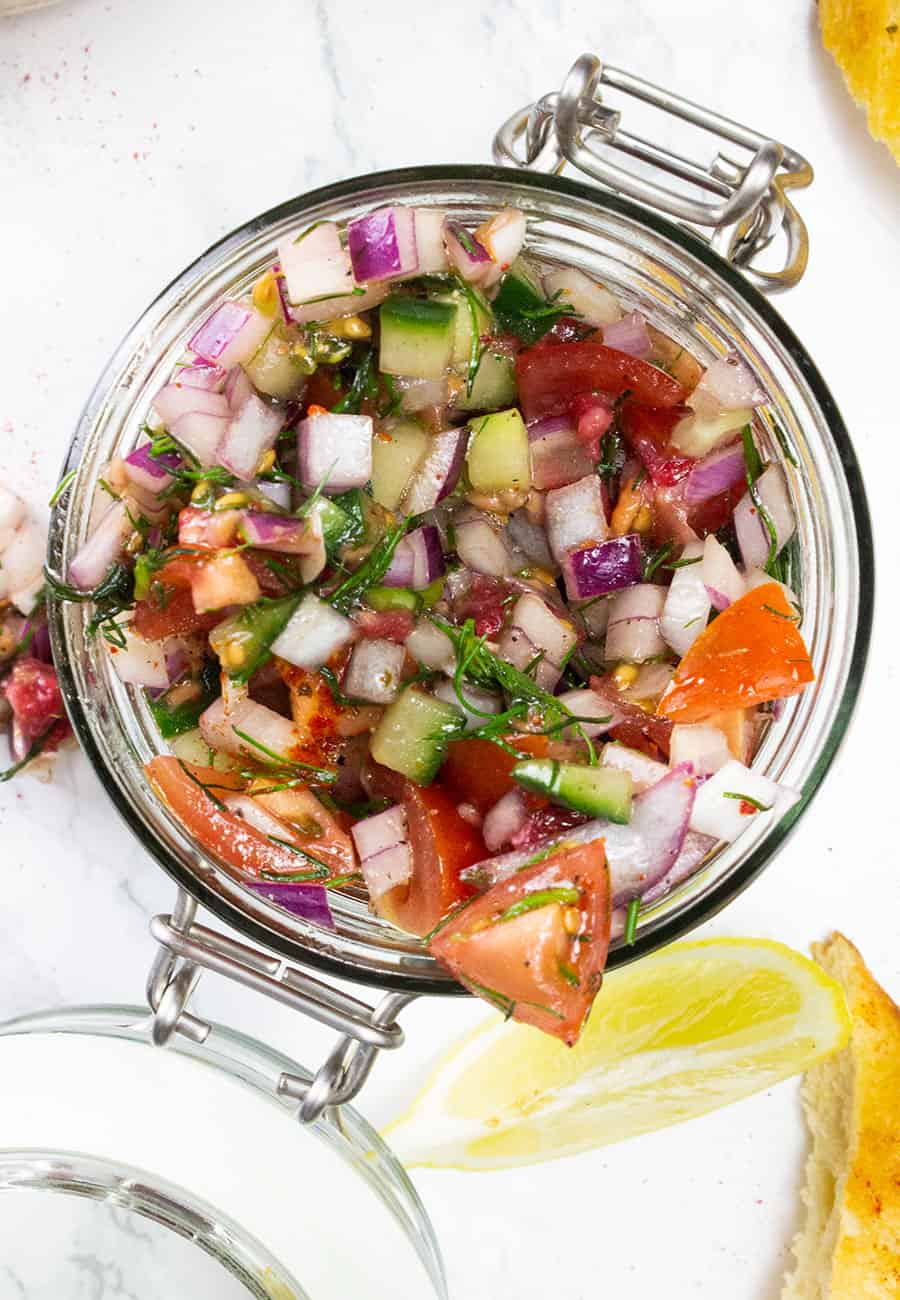 Healthy dips and salsas
A summer's table is full of family and friends sharing wonderful spreads of foods and refreshing jugs of ice cold drinks whiling the hours away. A Scandinavian midsommar smorgasbord amid a fir tree lined lake comes to mind or a Mediterranean terrace overlooking the azure sea with bread, olives and sun-drenched ripe tomatoes and peppers or even a jostling green garden bellowing with maple chip smoke from a roaring hot bbq. Whatever the scene, the theme remains the same with food being shared. "Break bread with me", and what better way to do it is to dip it into something very tasty. 
The best way to share bread are the simple ways, dipped into a seasoned olive oil with a hint of balsamic vinegar, a little pâté perhaps, a simple sandwich or a bruschetta topped with a few fresh onions and tomatoes. Just very simple, so these wonderfully healthy salsa recipes are perfect to dip bread in for a summer table.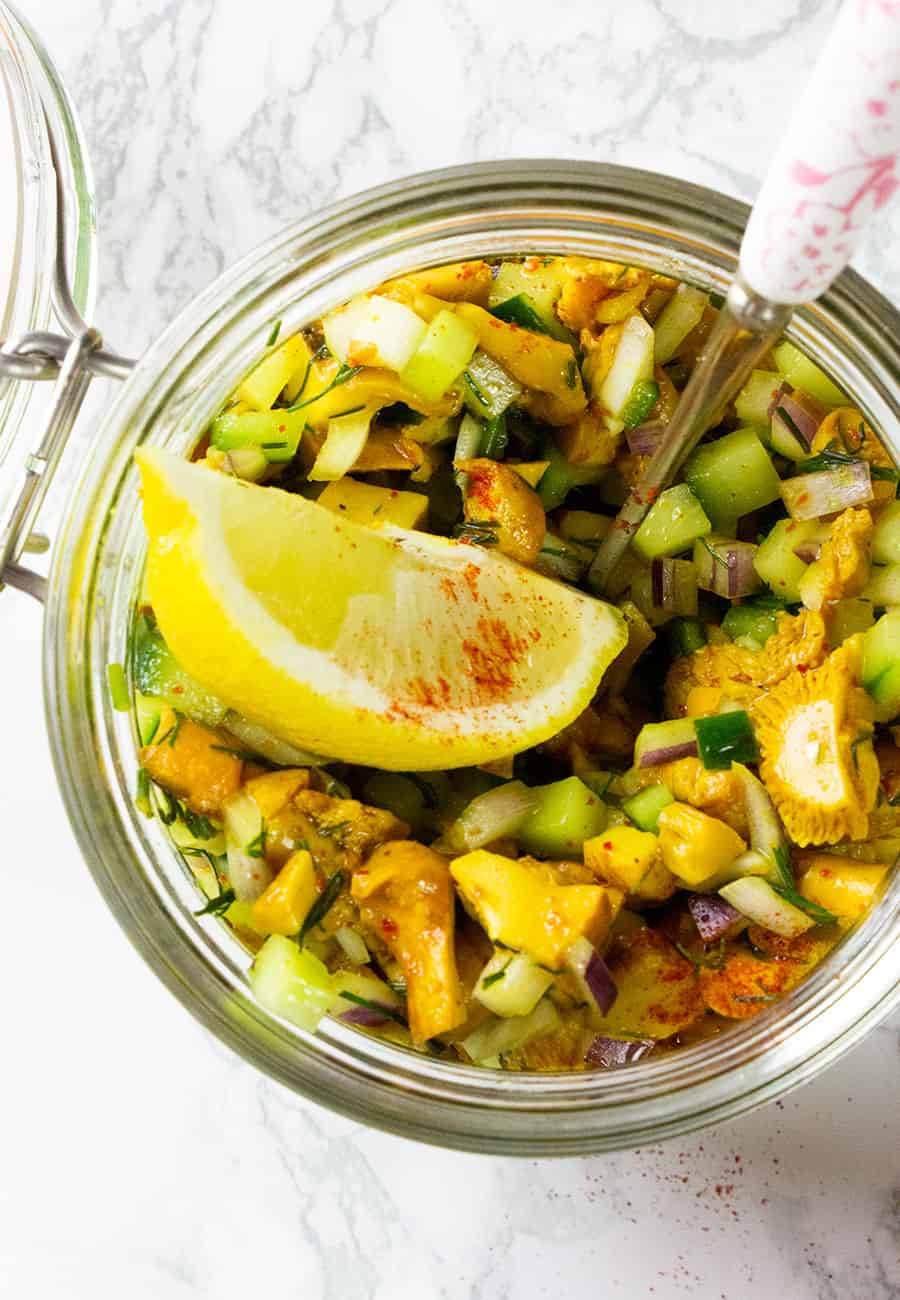 Healthy mushroom salsa recipe
This is the first one of the our two healthy salsa recipes and potentially the yummiest. This vegan mushroom salsa has a varied origin in that the recipe has very much the same preparation of a traditional tomato based salsa typical of Mexican cuisine where the salsa can be piquant ranging from mild to very hot depending on how much chili you put in and the oil and acid introduced too, but it also uses dill which is much more prevalent in Scandinavian cuisine and of course the mushroom which in this case is French as we have used girolles/chanterelles.
The dip itself has a wonderful spiced earthy tone to it and very fresh and zingy as a salsa should be. By simply sautéing the girolles with a little turmeric to boost the health benefits and its golden colour first, then adding the raw onion, cucumber and dill with the lemon juice you end up with a dip that has an almost pate like quality. A perfect Al-fresco treat
Girolles are one of the most prized varieties of mushrooms and are used for their unique taste in gourmet dishes. They are found in Europe, North America and Asia but first came to notoriety in France in the 18th century. Not only is it a tasty morsel it boasts quite an impressive cv of health benefits too. It contains a high amount of selenium which has recently been considered as one of the most important trace elements in your diet and a powerful antioxidant. Selenium is needed for normal cell growth and also enhances the potency of the liver enzyme P450 which detoxifies carcinogens in the body. In countries that have low levels of selenium in their soil have been documented to have incidences of cancer increased by as much as six fold. These mushrooms also contain a powerful compound called lentinan which is known to fight cancer causing agents. Lentinan is also an approved drug provided for cancer patients in Japan in the form of an injection. Just because we are The Anti-Cancer Kitchen we've added the powerhouse of turmeric to these mushrooms too. The anti-cancer potency of this root is well known and it adds a wonderful golden hue to the mushrooms too.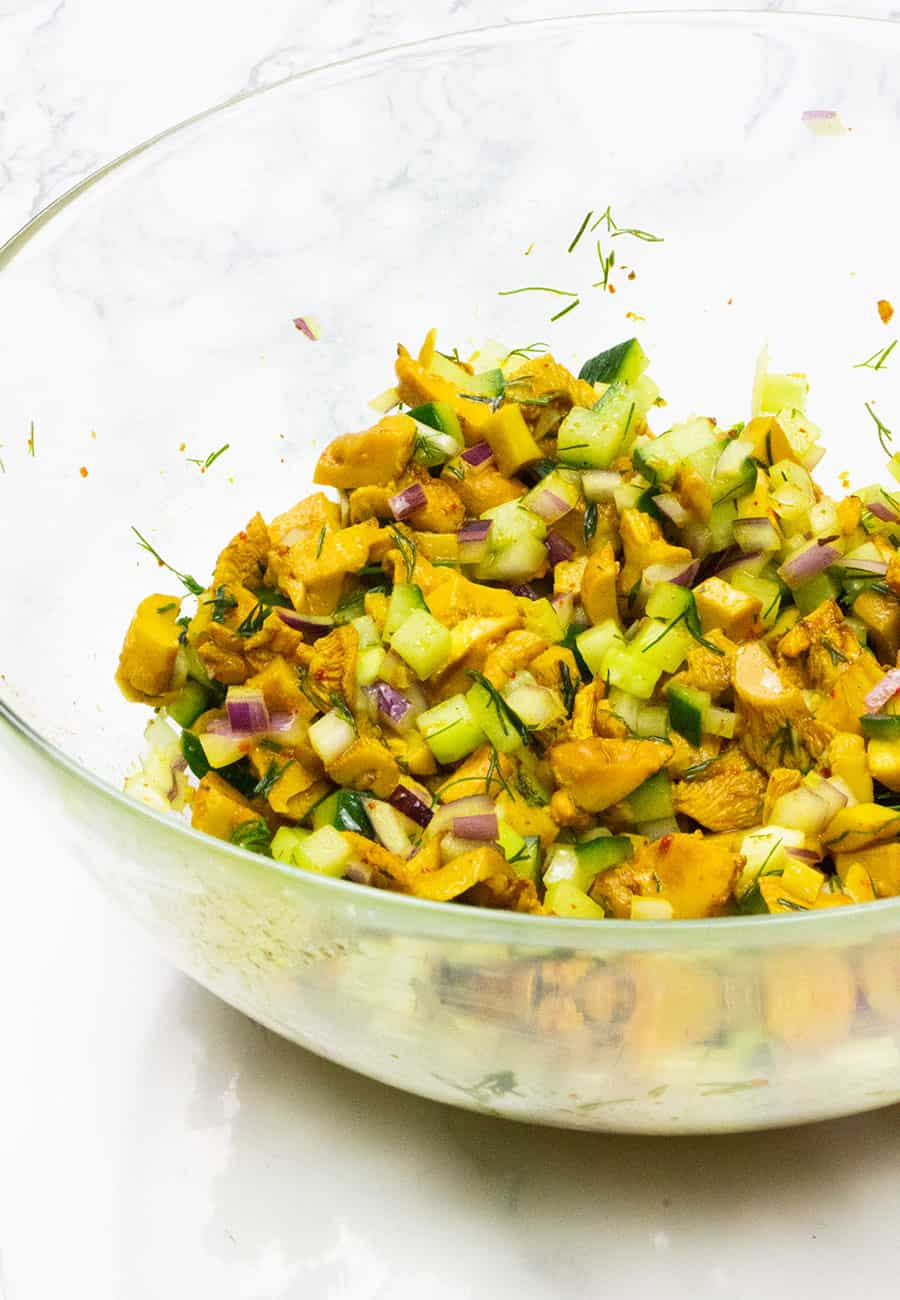 Dill health benefits
The dill used which provides a fresh celery / anise grass flavour is also a herb with it's own list of health benefits such as providing good fiber which helps ferry free radicals caused from oxidative stress out of the body. Most of the time you don't need to use a lot of dill but don't be thrifty here, a good two tablespoons will boost your levels of vitamin A and C too.
It is this dill that acts as the thread that will sew a theme into your table of sharing foods. Alongside this mushroom dip we have paired it up with a beautiful complimenting and refreshingly contrasting raspberry salsa. The beauty of using such a unique flavour such as dill really helps to bring naturally contrasting foods together.
Healthy raspberry and tomato salsa
Raspberries have a sharp, fresh and sweet flavour that works very well in savoury foods, paired together with red onion, tomato and cucumber this simple addition adds an excellent seasonal spin on a classic salsa. The raspberries themselves are incredibly healthy. They have a high orac score which is the oxygen radical absorbance capacity score that shows the antioxidant potency of a food substance and they have very high anthocyanin and ellagic acid values too. Research has shown that eating red raspberries help fight cancer by supporting the body's ability to inhibit the abnormal division of cells. Ellagic acid also has an anti-carcinogenic effect on a wide range of carcinogens including promoting apoptosis (the natural death of cancer cells).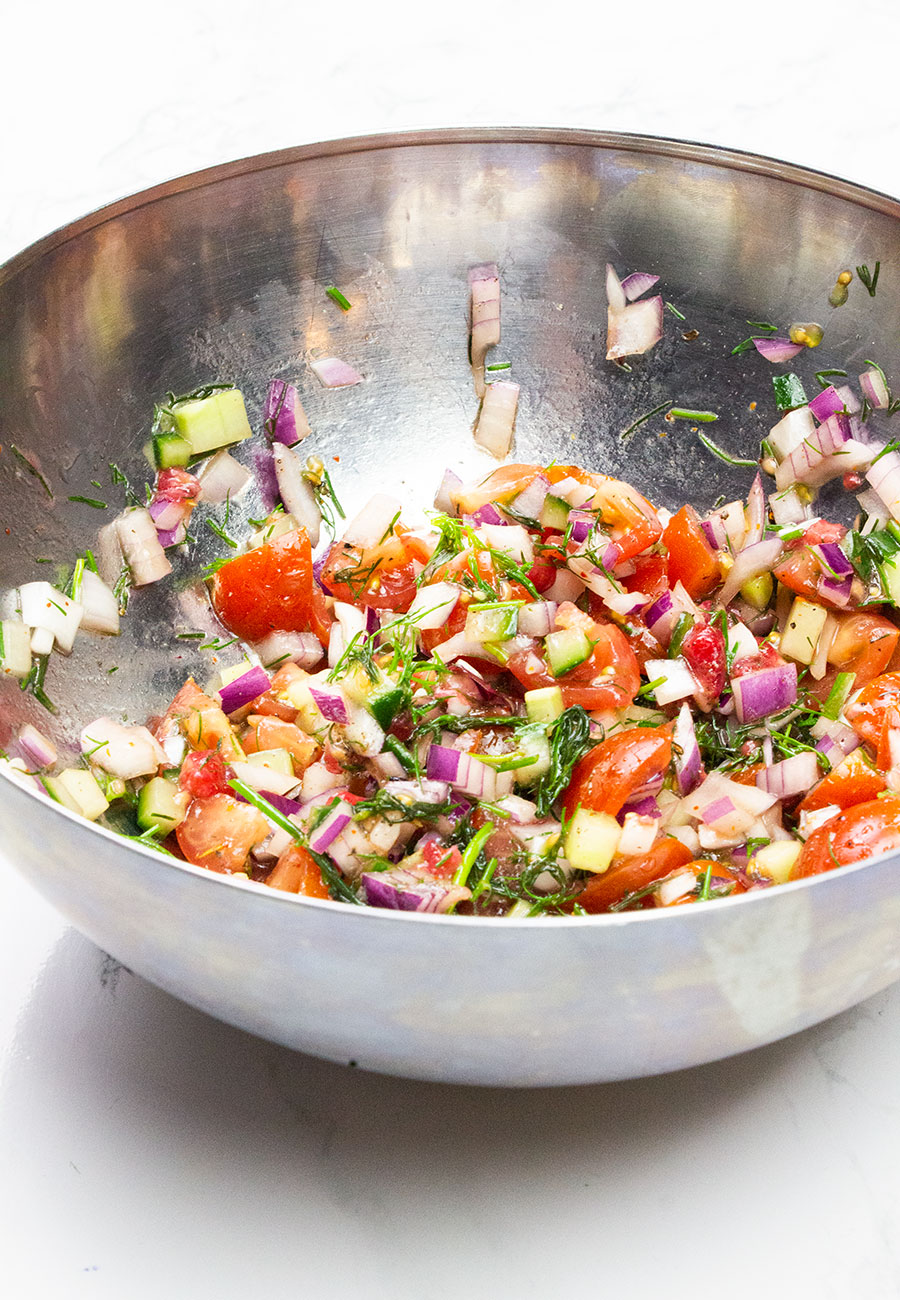 When selecting your tomatoes, you have a wealth of varieties to choose from. A classic pico de gallo salsa which this salsa is a variation of uses a tomato which is very juicy such as paste tomato of beefsteak tomato. Because this salsa a raw recipe it is best not to use a roma or heirloom tomato as these varieties benefit from slow cooking and especially good for sauces. We like to use small cherry tomatoes as they have an intense sharp sweet flavour. They come in a plethora of colours and the tartest ones tend to be the under ripe green or yellow ones. The Anti-Cancer Kitchen want to use very ripe juicy tomatoes as they are higher in nutrients and the compound lycopene which gives it its red colour. Lycopene is a carotenoid that as an antioxidant has been highly studied for its anti-cancer qualities.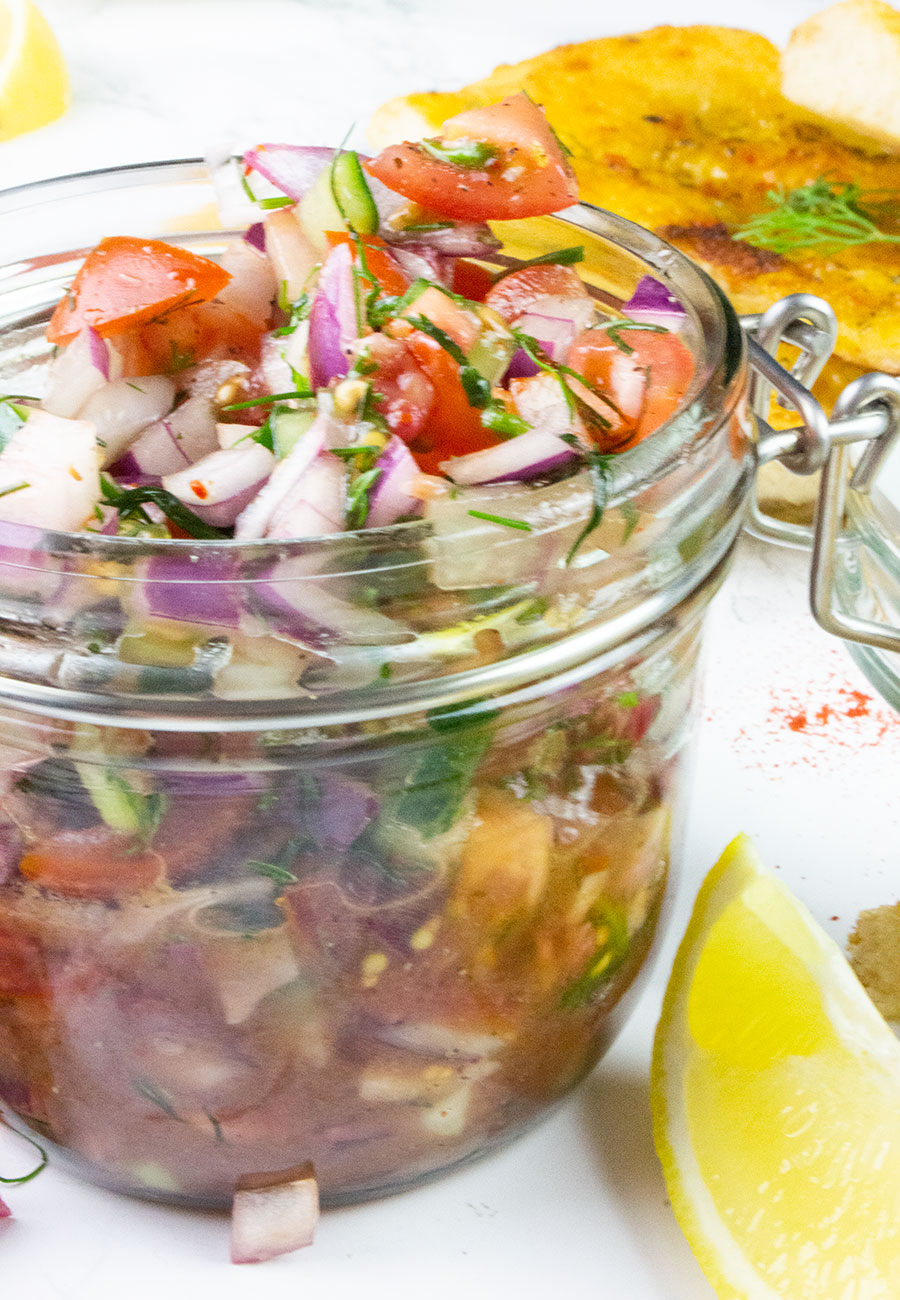 This recipe for a vegan plant-based healthy salsa is incredibly easy to follow and quick to prepare. Use it for other dishes but here it is gorgeous with some lovely garlic bread.
You can simply buy some flat bread and brush with olive oil infused with fresh garlic but flat bread recipes are quick and simple to follow too. Whatever you choose, the only hard decision is what choice of summer salsa you decide to dip your garlicky fragrant bread into.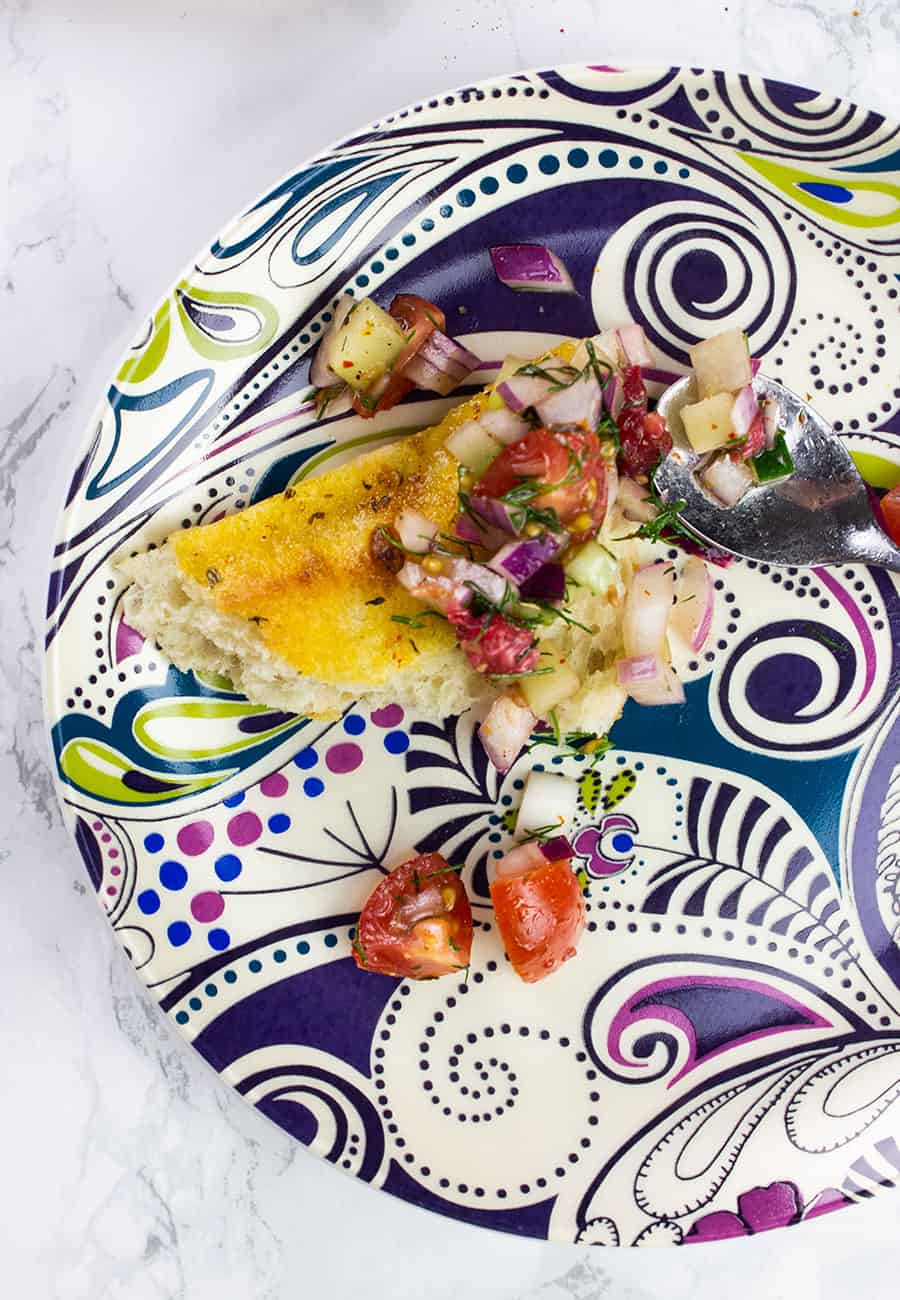 Have you made these two healthy salsa recipes?
We'd love to see your food creations! Please leave a comment below, share or tag using @anticancerkitchen on Instagram and hashtag it #anticancerkitchen.
Love dishes with turmeric?
Check out our turmeric recipes category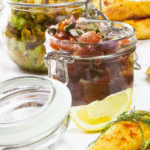 Ingredients
For the mushroom salsa:

200g of girolles, finely diced

½ a cup of cucumber, finely diced

½ a cup of red onion, finely diced

½ teaspoon of turmeric

2 tablespoon of dill, finely chopped

Juice of 1 lemon

1 tablespoon of olive oil

Togarashi seasoning or chilli flakes

A dash of chili oil

For the raspberry salsa:

½ a cup of red onion, finely diced

½ a cup of cherry tomatoes, finely chopped, including the juice

½ cup of cucumber, finely diced

¼ cup of raspberries, finely chopped

2 tablespoons of olive oil

Juice of ½ a lime or lemon

A dash of balsamic vinegar

2 tablespoons of dill

Salt and pepper to season
Instructions
Mushroom salsa
Pour the chili oil in a hot pan and add the mushrooms and turmeric and fry for 5 - 6 minutes. Drain the mushrooms in a sieve and reserve the liquid and set aside.
Pour the lemon juice into the reserved liquid and add the olive oil and stir together.
When the mushrooms are cool add the cucumber and onion and mix in the dressing. Stir in the dill.
Season with togarashi or chilli flakes
Raspberry salsa
Simply combine all the ingredients together in a bowl and season.
Allow to stand to infuse all the flavours.

Copyright secured by Digiprove © 2020 The Anti-Cancer Kitchen