Juicing sweet potatoes might sound strange but they are absolutely delicious in juices. This sweet potato juice recipe with turmeric is gut-soothing, energy-boosting and cancer-fighting. Everything you want in a homemade vegetable juice.
There are many common vegetable-based juices that use fruit to sweeten them. Carrots are sweet and generally the go-to ingredient. Sometimes however carrots can be overpowering and vegetative in flavour. Sweet potatoes are a surprisingly tasty alternative. This sweet root vegetable adds a lighter flavour and texture that works really well partnering other fruit and vegetable combinations. In this sweet potato juice recipe we have started with a classic healthy base of carrots and celery then added apples for a fresh sweet burst of flavour and then the sweet potatoes which meld the whole lot together very satisfyingly. Lastly, a splash of golden goodness of the incredibly antioxidant-rich turmeric is mixed through to add another healthy dimension to the already healthy routine of juicing.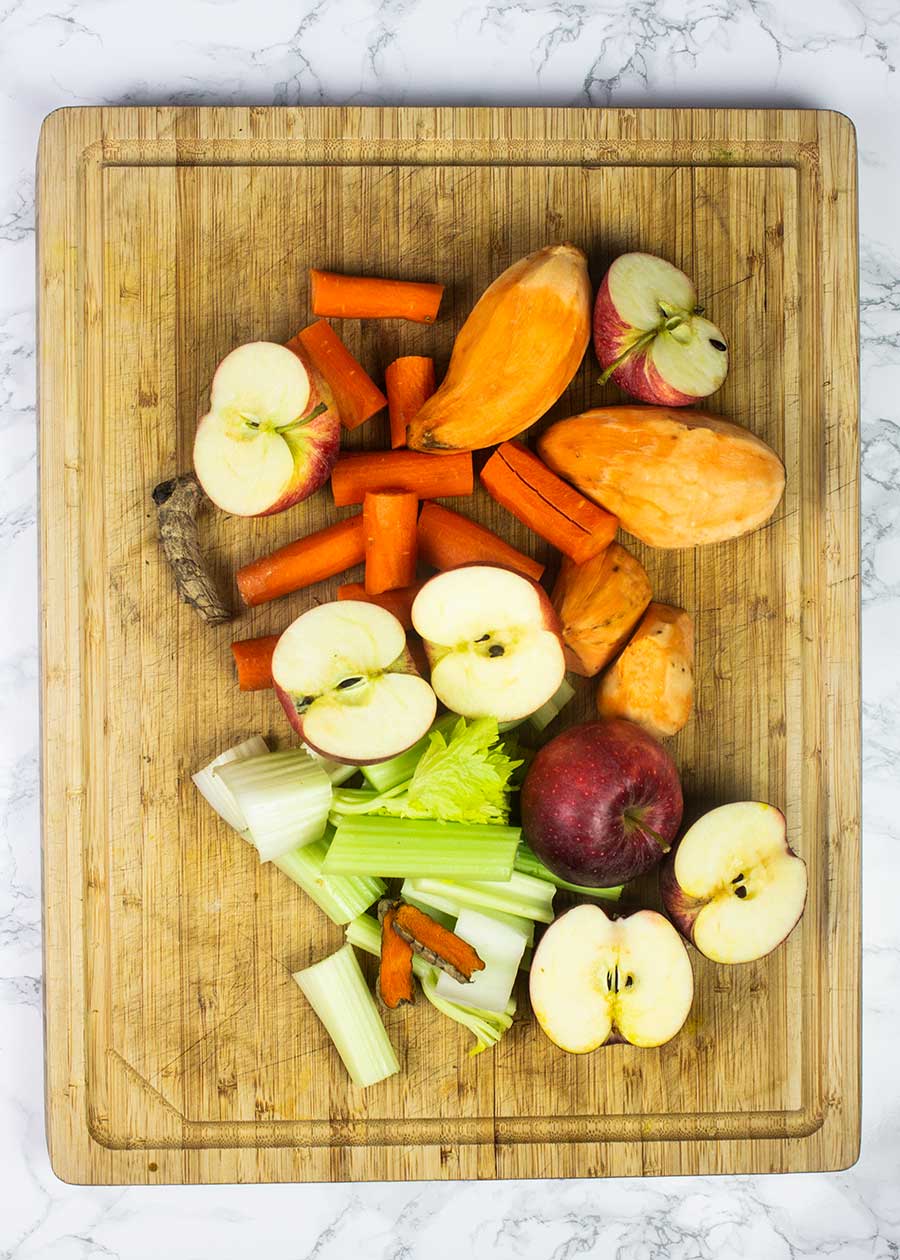 Why juice sweet potato and turmeric
Sweet potatoes are highly popular globally and widely available in many parts of the world. Nutrient-rich, the starchy root plant is sweet and comes in diverse colors, ranging from purple, orange to white.
On the other hand, Curcuma longa or turmeric is a popular spice usually bright yellow in color and has been a staple in most of Asia for hundreds of years.
Both turmeric and sweet potatoes are nutrient-rich, especially when juiced together. Juicing sweet potatoes and turmeric offers you incredible health benefits.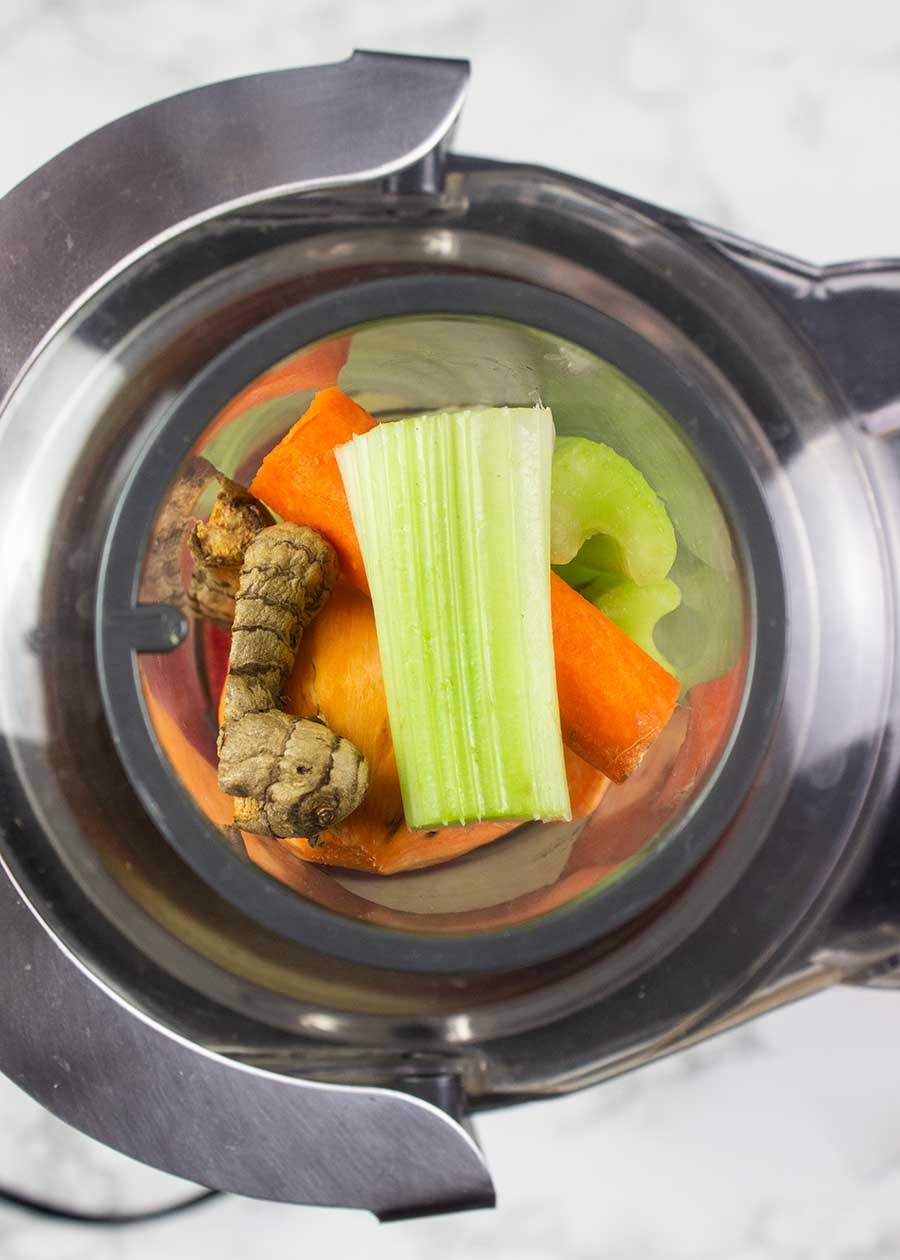 Nutrients in sweet potatoes juice
Antioxidants and protection from free radicals
Sweet potatoes are packed with nutrients right from carbs, protein, fat, vitamins and other minerals such as manganese, potassium, and niacin, copper to pantothenic acid, among others. The purple and orange sweet potatoes are more nutritious and packed with antioxidants that keep body cells safe from the onslaught of free radicals.
As such, juicing the starchy root vegetable keeps the body safe from cancer among other chronic complications while enhancing heart health and promoting youthfulness. Antioxidants in sweet potatoes have been found to lower cancer cell growth in the breast, stomach, colon and bladder.
Vision improvement
Beta-carotene is richly found in sweet potatoes and gives the food a bright shade of orange. In fact, it offers sufficient beta-carotene needed by an adult in just 200 grams. The body converts beta-carotene into vitamin A, which is vital in improving sight and helps prevent the body against xerophthalmia blindness as well as keeping eye cells healthy.
Mental functions
Intake of sweet potatoes, especially the purple variety has been found to enhance mental functions. Anthocyanins in the plant reduce potential damage by free radicals as well as inflammations, which increase memory and learning functions.
Immune-system enhancer
The beta-carotene in sweet potatoes and its conversion into vitamin A is highly vital in improving immune system health, boosting immunity and ensuring the mucous membranes are healthy inside the gut.
Blood sugar balance
While sweet potatoes might seem to be a starchy root in nature full of carbohydrates, they contain adiponectin, a hormone critical in balancing insulin metabolism in the body. Insulin-resistant patients lack sufficient levels of adiponectin, which juicing sweet potatoes can help boost.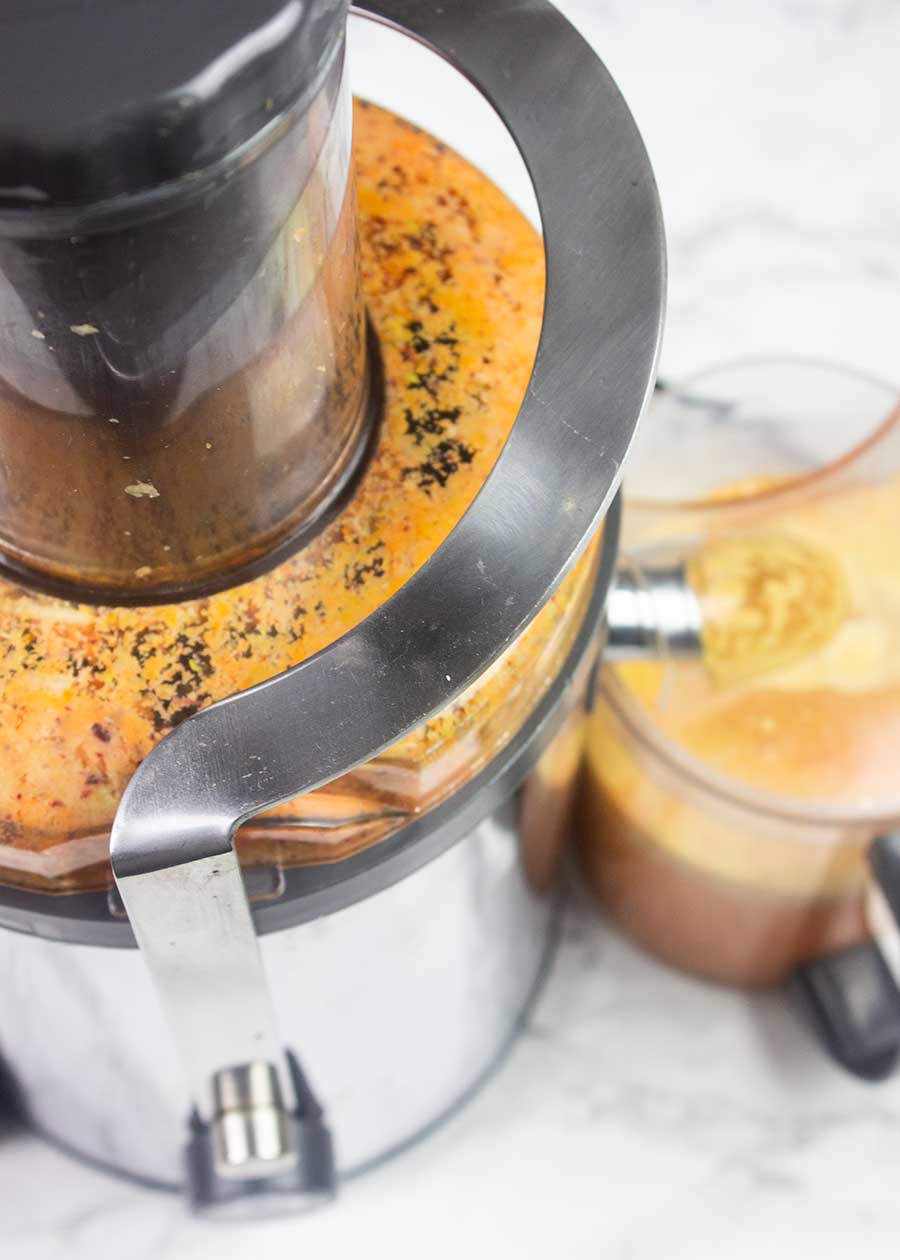 Turmeric health benefits

Juicing turmeric with sweet potatoes is one of the best ways of making the most of two nutrient-rich foods. Turmeric has a number of significant benefits as well.
Anti-inflammatory
For the body to effectively repair and deal with injuries, viruses and bacteria it needs anti-inflammatory boosts. Turmeric contains a compound known as curcumin that offers strong anti-inflammatory action, particularly for those suffering from bowel malfunctions, rheumatoid arthritis, Alzheimer's and many others. Actually, the strength of curcumin as an anti-inflammatory compound has been found to be more effective than a number of anti-inflammatory pills.
Antioxidants and anti-cancer effects
Due to heavy antioxidant level in turmeric it's able to offset the damage of free radicals in the body. Curcumin in turmeric is critical in boosting the body with antioxidant goodness that helps, among others, to reduce cardiovascular complications and helping with proper heart disease management.
Turmeric is also heavily influential in reducing cancer from spreading by destroying cancerous cells. It has also been cited as critical in lowering the effects of different carcinogenic additives in processed foods.
Skin health
Turmeric helps enhance skin health and deal with a number of skin problems. A study has found the compounds in it effective in reducing the side-effects of skin complications such as eczema and psoriasis.
Brain function
Turmeric can make a person smarter as it enhances mental functions. Curcumin in turmeric has been found to boost the brain-derived neurotrophic factor hormone found in the brain. The hormone level is usually reduced by certain ailments like Alzheimer's and depression. By increasing the levels of the hormone, curcumin can actually reverse these complications and other brain and memory problems.
Effects against heart disease
Globally, heart diseases are one of the most ravaging. Intake of turmeric has been found to be sufficient against heart complications. Curcumin in turmeric helps improve endothelium function in blood vessels, which prevents blood clots, blood pressure and other heart-related issues. By reducing oxidation and inflammation in the body, curcumin also ensures the heart remains as healthy as possible.
Turmeric and sweet potatoes have numerous health benefits. By juicing them you won't just enjoy a quality vegetable juice but fortifying with some of the most critical nutrients your body needs every day.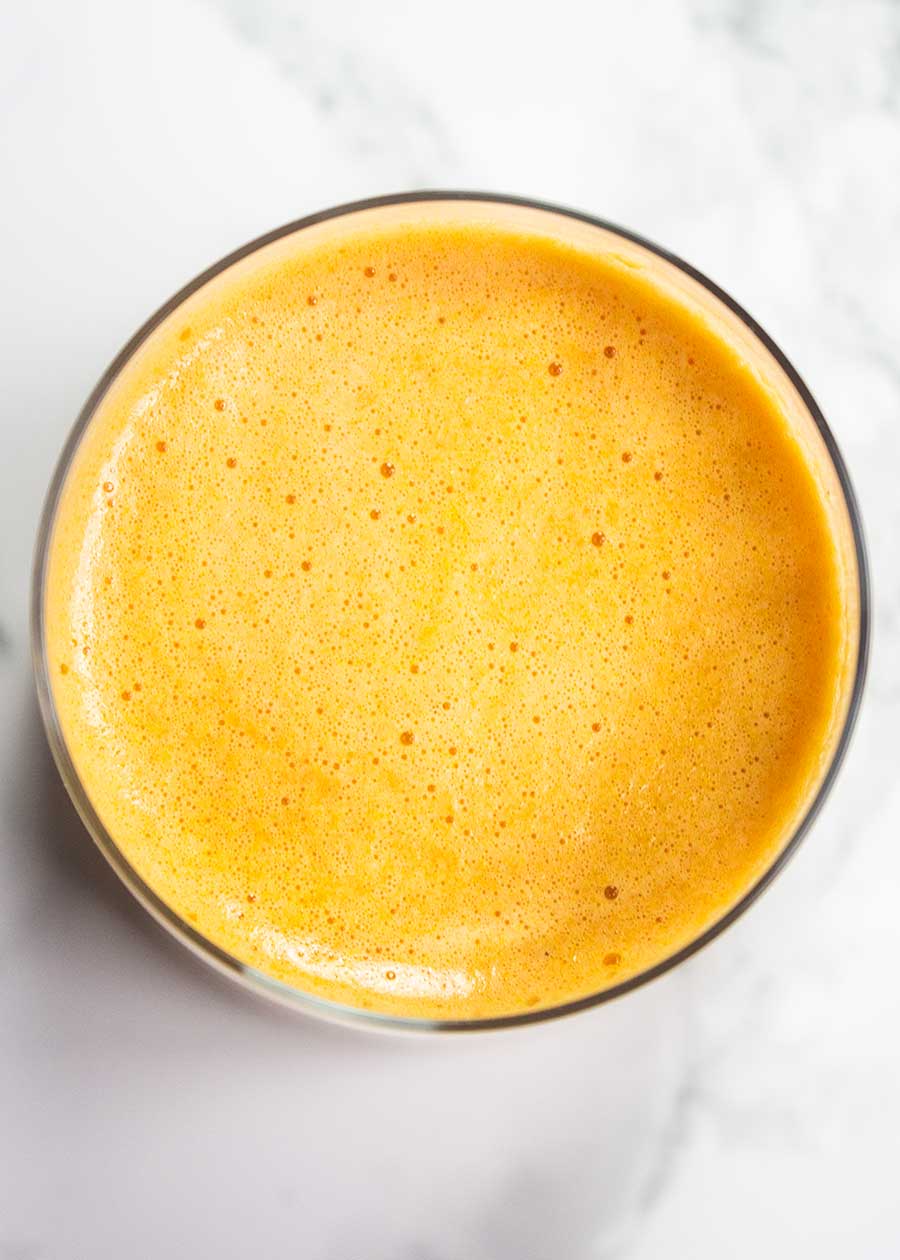 More delicious juices on the blog
Have you been juicing sweet potatoes?
We'd love to see your juice creations! Please leave a comment below, share or tag using @anticancerkitchen on Instagram and hashtag it #anticancerkitchen.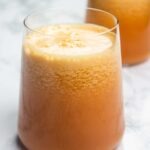 Ingredients
3 sweet potato (small)

4 apples

4 carrots

4 celery stalks

10-12 cm of fresh turmeric
Instructions
Wash all the fruit and vegetables.
Peel the sweet potatoes.
Cut apples to fit into your juicer chute. Chop carrots and celery into smaller sticks.
Turn your juicer on and push sweet potatoes, turmeric, carrots, celery and apples through the juicer. Give the juice a stir and enjoy it immediately.  You can also store the juice in the refrigerator for up to 2 days.

Copyright secured by Digiprove © 2020 The Anti-Cancer Kitchen