Making a spicy tuna roll entirely vegan calls on finding a really good substitute for the tuna. There are plenty of plant-based ingredients that replicate meat and especially ones you can buy pre-made in the shops but fish seems to be a little harder to come by. Tuna has a firm texture which can be found similarly in jackfruit but the flavours have to come from the addition of marinating the fruit in dashi, which is a stock made with kombu seaweed.
To add an even greater depth of flavour we have added salt to make the dashi more like a brine and red miso paste, fermented soybeans and organic rice paste that gives a rich umami kick. This preparation method completely replaces the light fruit flavour that you would find in jackfruit if you were to do nothing to it and turns it into an amazing vegan tuna. 
This vegan tuna is great and very healthy as it is totally plant-based with no traces of mercury that potentially exist in tuna itself. The fruit too is nutrient-dense and with the addition of these wonderful flavours not only does it increase its health benefits with antioxidants, but you can also now use this deeply flavoured versatile ingredient in many dishes. It works exceptionally well in vegan sushi and our plant-based spicy tuna roll.
Vegan and vegetarian sushi does not need to be boring. There are many classic but simple sushis such as cucumber maki, or rolls with the usual suspects of avocado, carrots, aubergine which are all nice, but the vegan menus in even the best sushi restaurants pale into insignificance against the traditional fish choices. There is of course one big reason for this and that is that sushi is about key raw ingredients such as fish or vegetables in their natural state. Unadulterated, expertly prepared and slices and simply served in rice and seaweed. It could be argued that raw fish has a much more beguiling and discerning flavour and texture than raw vegetables. As such they do not need to be changed. This adds simplicity to the recipe in certain terms over the vegetarian or vegan options but nowadays when is good food that simple?     
To truly create amazing vegetable and totally plant-based dishes you have to employ a-typical processes or at least go a little above and beyond what you would have to with a simple meat or fish dish. Needless to say that fish and meat regularly undergo massive amounts of preparation these days in exquisite dishes but we are talking about home-made dishes after all.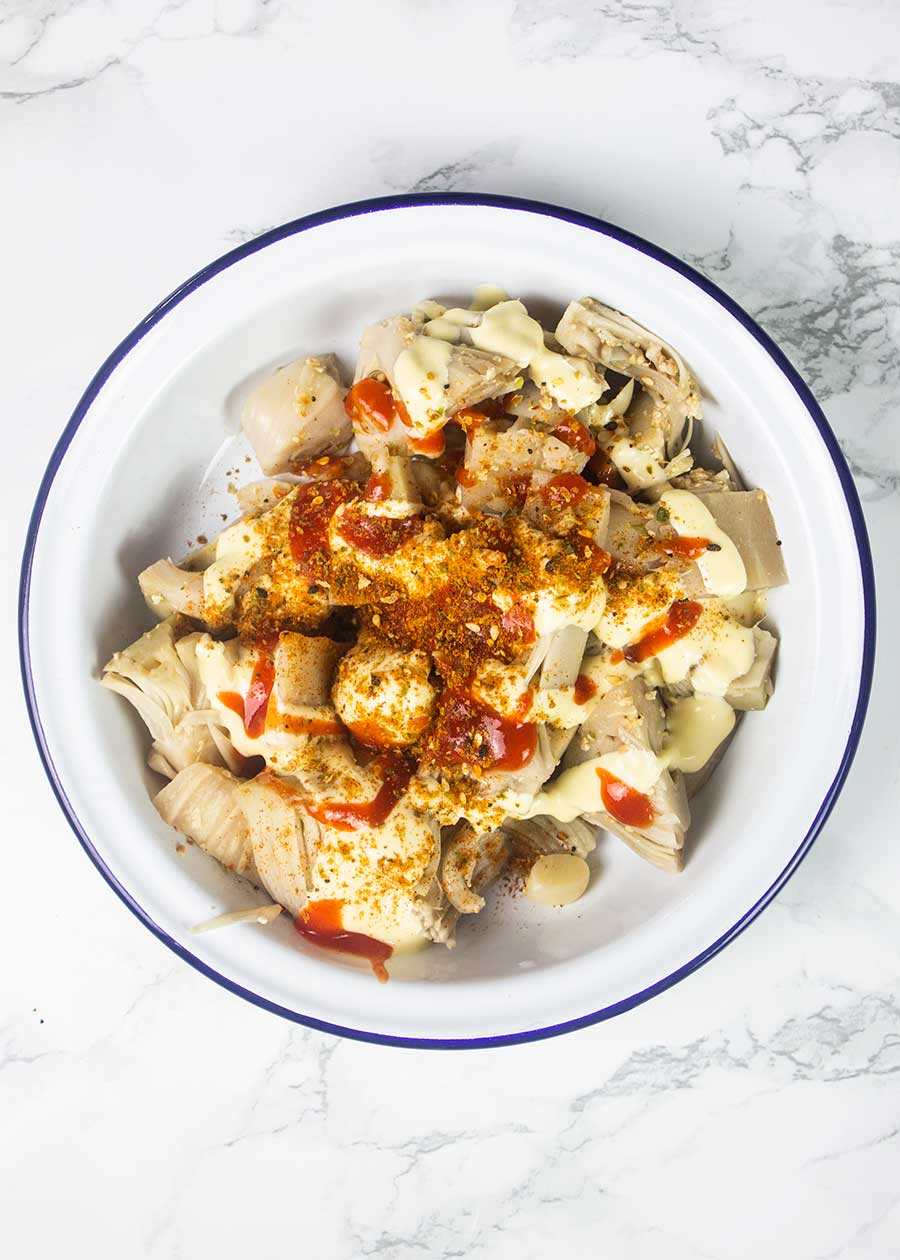 Sometimes you need to remove a flavour or texture first before adding the new dimension you want. This can be dehydrating a vegetable to remove excess liquid which gives it an original flavour. Slowly oven drying aubergine slices for example will produce an amazing meaty texture. Rehydrating them in a stock with a flavour of your choice will then transform the ingredient yet again. Applying this method to jackfruit (as is in this recipe) and any other fruit and vegetable ingredient will do the same. If you grill jackfruit (normally obtained from a can) you can firm up the texture to create a clever meat substitute. However with our vegan spicy tuna roll, what we want is to create the best raw tuna texture possible from a piece of fruit. This, therefore, calls for the long process of drying to be omitted, thankfully. All that is required is for the jackfruit to be drained and lightly squeezed (to get rid of just a little liquid) before being steeped in the dashi/brine broth. The longer you do this the deeper and more complex the flavour becomes, which is exactly what you are looking for in sushi.
Once you have created your dashi/brine go ahead and experiment with other fruit and vegetables. Try lightly roasted carrot slices for amazing vegan carrot sashimi or a whole peeled melon which you can then roast which turns into an avant-garde pot roast. 
Our jackfruit spicy tuna roll recipe, however, is simply delicious.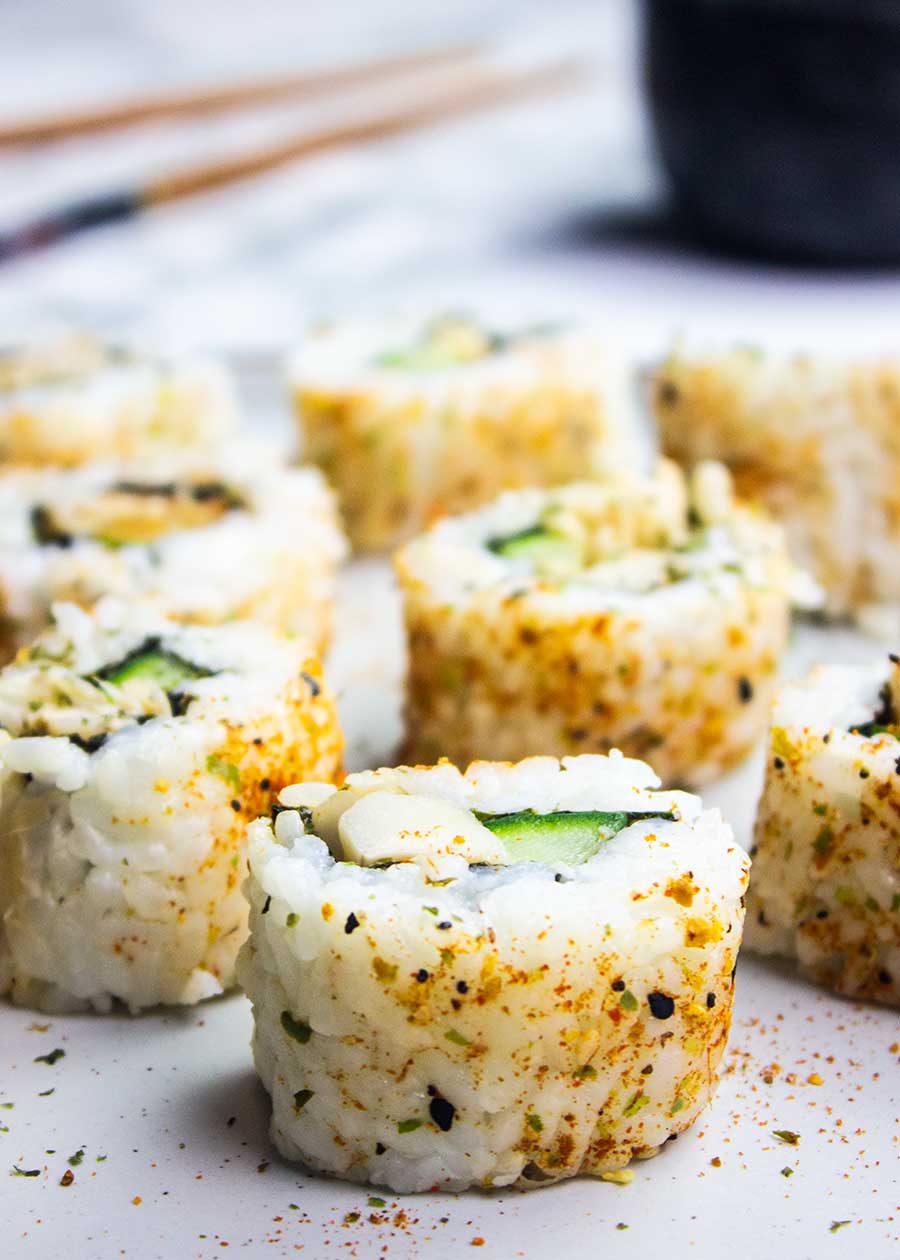 A plant-based Japanese banquet
This vegan spicy tuna roll should be a part of any plant-based repertoire. If you want to prepare a sushi banquet then just look at the preparation in a similar view to how you would marinade your ingredients prior to having a barbeque. Create your dashi/brine broth and marinade your ingredients for a few hours or ideally overnight. When you are ready to create, just prepare the sushi rice and get rolling with some nori sheets.
Along with this vegan spicy tuna roll which is an absolute staple on our sushi table other Japanese dishes to try are California rolls with marinated carrot and fresh avocado, carrot sashimi, marinated aubergine nigiri, vegetable gyozas, pumpkin korokes, seaweed salad and edamame.
For the vegan spicy tuna roll you will need: 
Cooked sushi rice

Marinated jackfruit
Cucumber
Vegan mayonnaise
Sriracha hot sauce
Togarashi seasoning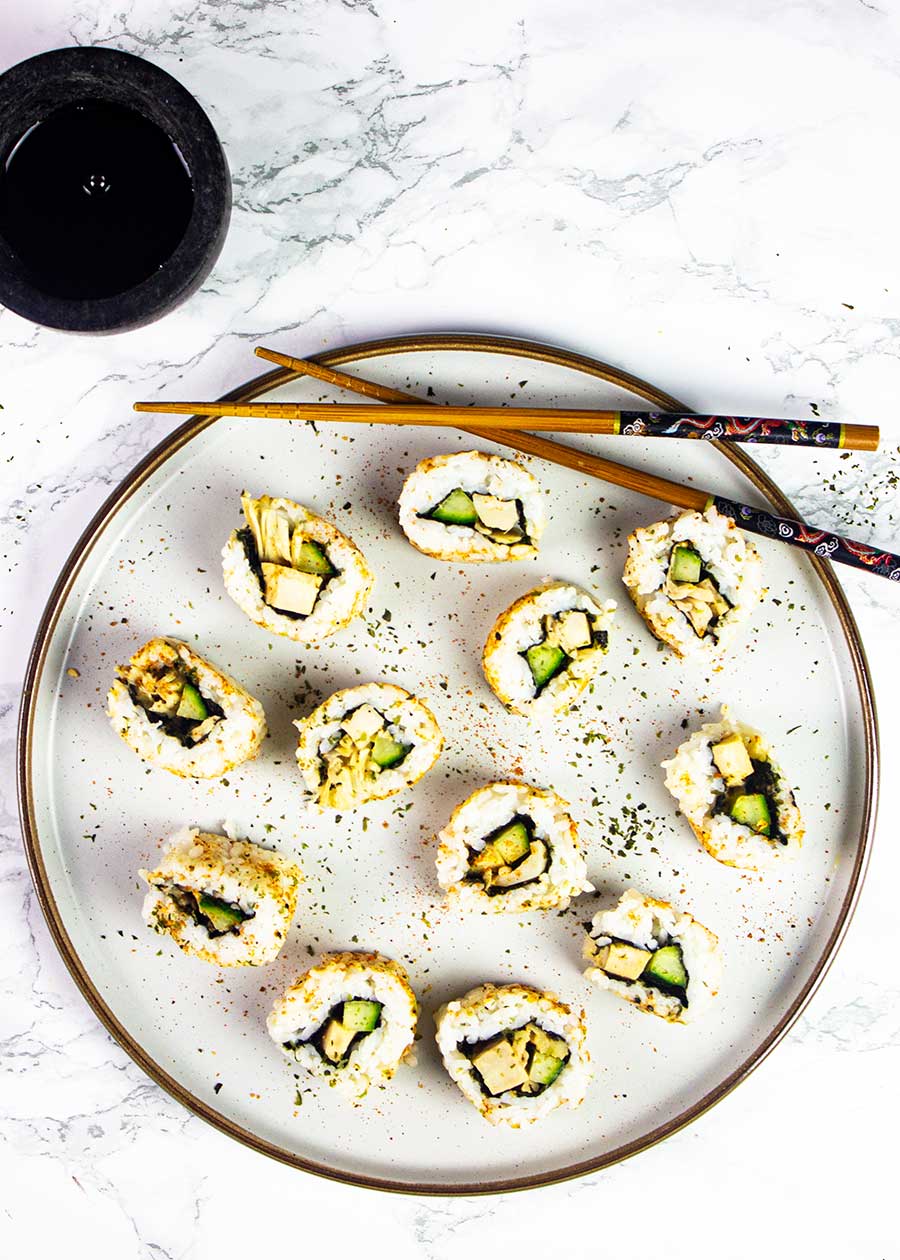 Place a nori sheet on a working surface with the lines running vertically. Fold in half lengthways, then cut along the fold to create two rectangles.
With slightly wet hands, cover the sheets with a layer of the cooked sushi rice then sprinkle with ample amounts of togarashi seasoning.
Place the nori sheet rice side down on the bottom half of a sushi rolling matt.
In a bowl, add some slices of marinated jackfruit and add a tablespoon or so of vegan mayonnaise and sriracha sauce and stir. 
Place a long slice of cucumber in the middle of the sheet lengthways and spoon on some mixed jackfruit underneath and roll up the sushi. 
Cut the roll into equal-sized pieces and serve with soy sauce and wasabi.
Other delicious Japanese recipes on the blog
Have you made our homemade vegan spicy tuna roll recipe?
We'd love to see your food creations! Please leave a comment below, share or tag using @anticancerkitchen on Instagram and hashtag it #anticancerkitchen.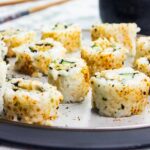 Ingredients
For the dashi stock/brine:

500ml or 2 cups of vegetable stock

1 sheet of kombu seaweed

2 tablespoons of red miso paste

1 tablespoon of rock salt

For the filling:

240g drained tin of jackfruit in water

2 long slices of cucumber 1cm thick

1 tablespoon of vegan mayonnaise

1-2 teaspoons of sriracha sauce (or to taste)

1 teaspoon of togarashi seasoning

1 sheet of nori paper cut in half lengthways.

For the rice:

150g or ¾ of a cup of sushi rice

370ml or 1½ cups of water

3 teaspoons of sushi rice seasoning vinegar
Instructions
Prepare the dashi stock by boiling 500ml (2 cups) of water and add a vegetable stock cube. Pour into a pan or large jar and add the kombu sheet, miso paste and salt. Leave for half an hour.
Drain the jackfruit and squeeze gently to remove some of the liquid (which will be replaced by the dashi stock/brine. Add the jackfruit to the dashi stock/brine and leave for 2 hours or overnight.
Step-by-step spicy jackfruit tuna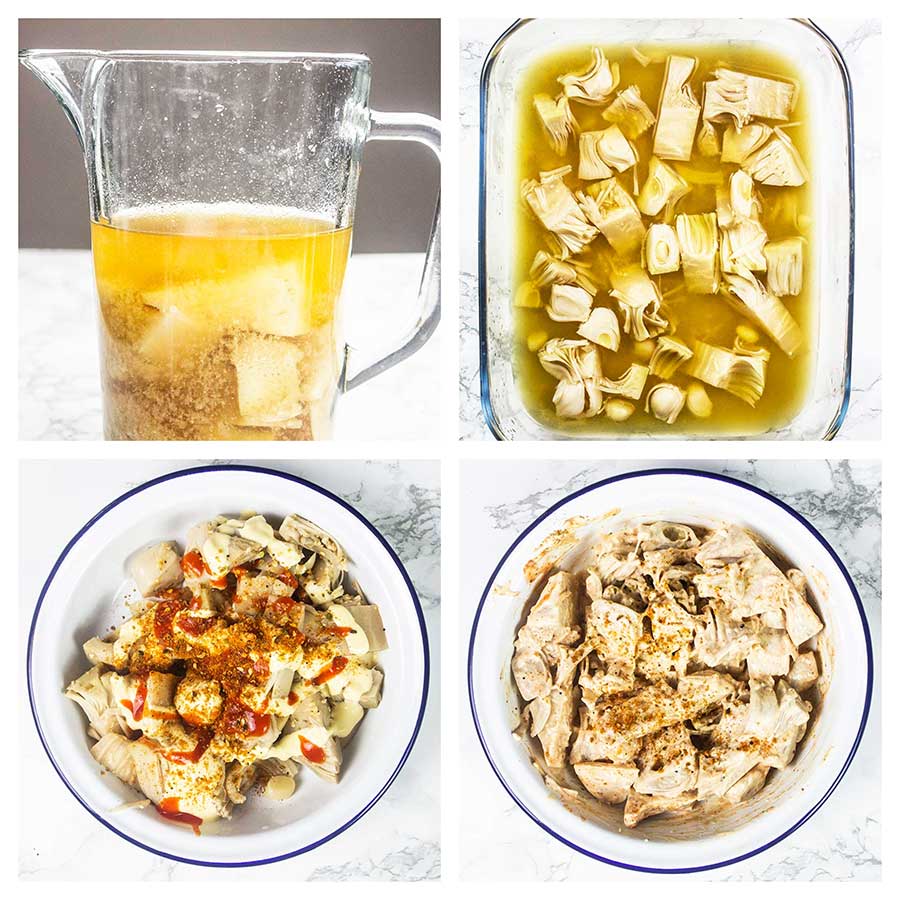 Prepare the rice by washing the grains in several changes of cold water. Drain the rice and put it in a pan with a lid. Pour in the measured water and bring to the boil (about 1-2 minutes), reduce the heat to very low and simmer for 12 minutes until the water has been absorbed. Remove from the heat and keep the lid on for a further 10 minutes.
Take the lid off and sprinkle over the rice vinegar seasoning and gently stir through using a wooden spoon. Leave to cool. 
Use wet fingers to spread the rice on the half nori sheets and then season with togarashi. Place the nori sheets one at a time rice side down on a sushi rolling matt.
Remove the jackfruit from the dashi stock / brine and slice into 1cm lengths. Mix the jackfruit together with the mayonnaise and sriracha in a bowl and spoon onto the nori sheet on the lower part. Place a cucumber slice above and roll. Repeat the process to make another roll.
Cut the rolls using a wet knife into 8 pieces each. Serve with soy sauce and wasabi.
How to make vegan spicy jackfruit tuna rolls - step-by-step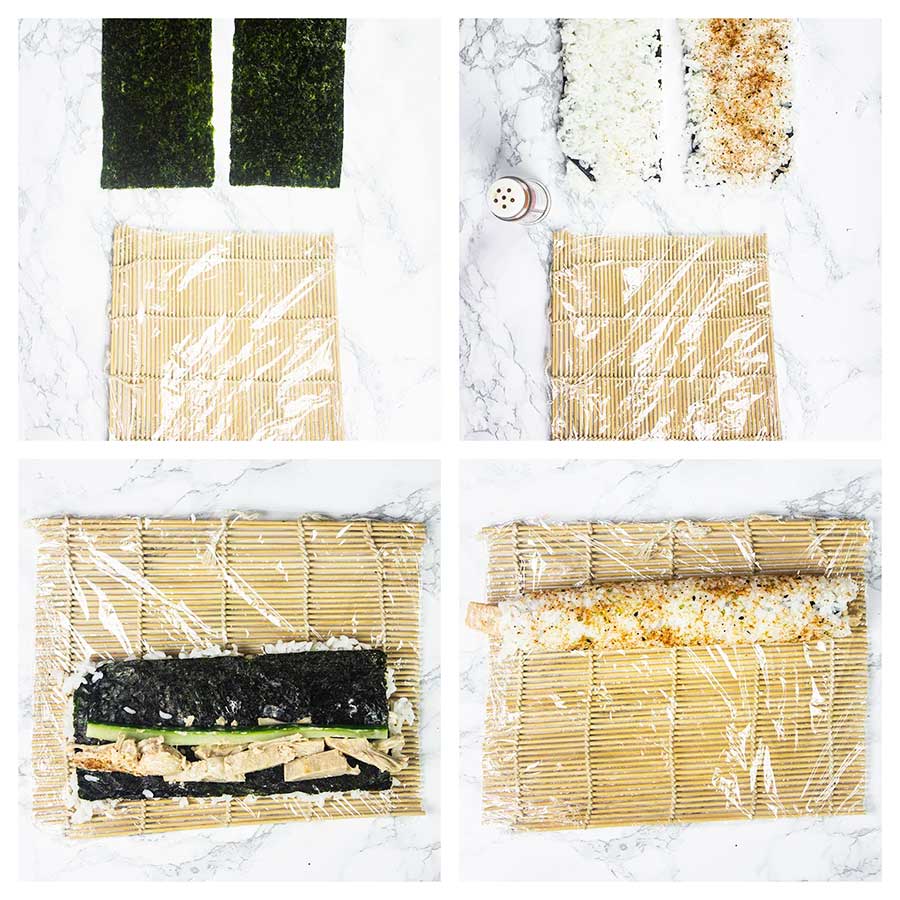 Copyright secured by Digiprove © 2020 The Anti-Cancer Kitchen