Introducing a delicious vegan ramen recipe that is full of flavour and antioxidants.  This is an amazing kombu broth, where the key ingredients of ramen noodles are added and topped with tofu, wakame seaweed and other Asian ingredients such as shiitake mushroom and pak choi. Japanese flavours such as soy and white miso are added with a little spicy togarashi shichimi and the result is simply mouth-watering vegan ramen recipe. 
The ingredients such as soba noodles provide all eight essential amino acids your body needs and the antioxidant values of the added seaweed not only add even more health benefits but a refined deep flavour. Mushrooms add a richness and added antioxidative protection with selenium and tofu adds texture and all the health benefits of the soybeans it's made with.
Ramen is easily found in ready to prepare kits but making your own with a few easily sourced ingredients including wakame and kombu seaweeds which every Asian supermarket would stock, this is very easy to make and something to try rather than being afraid of making.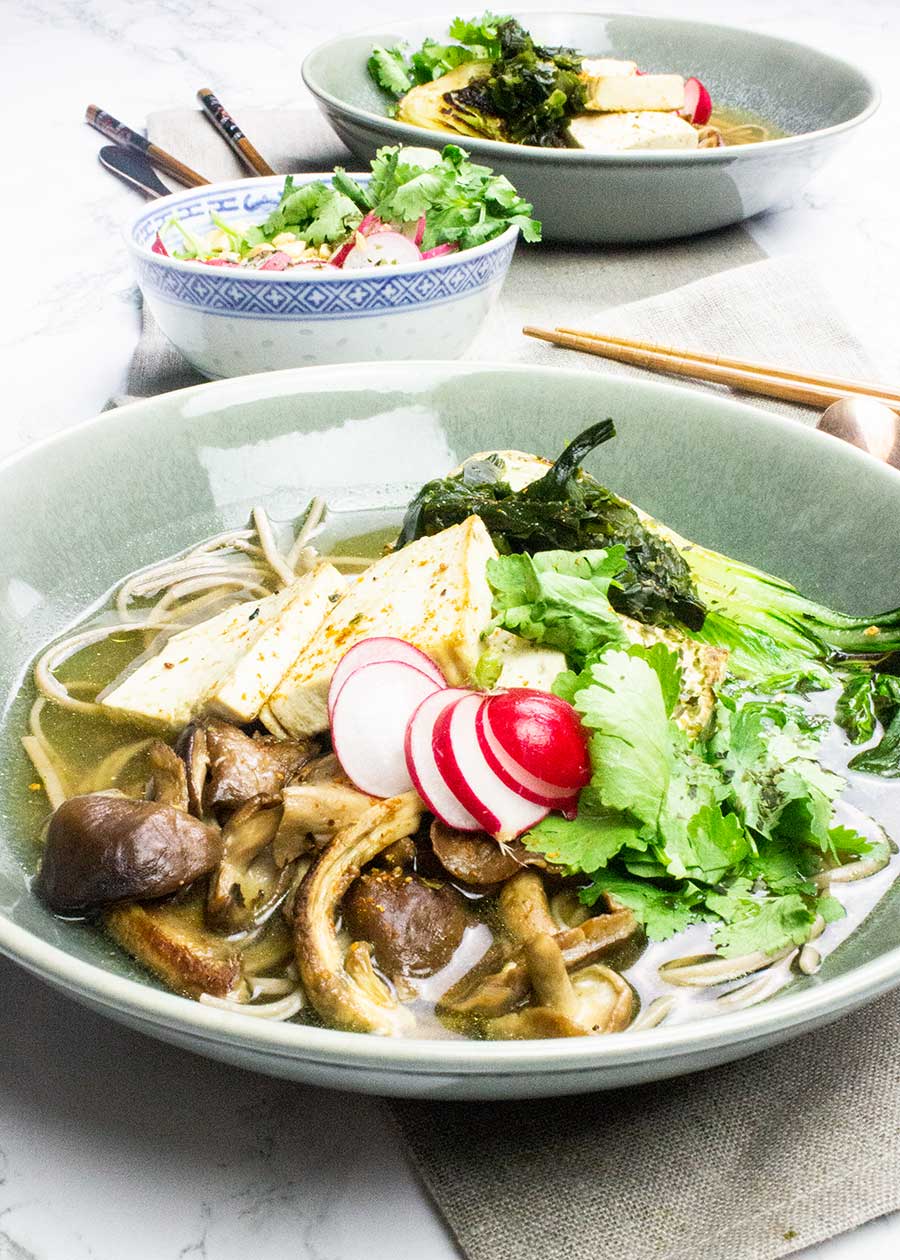 What is ramen?
Traditionally ramen, which made its way to Japan from Chinese immigrants who brought the soup over to serve "Chinese Soup" or "Shina Soba" to Japanese customers, was made with noodles topped with Chinese pork in a bone broth. After world war II when the Americans had the military occupation of Japan the rice crops diminished massively so they flooded the market with cheap wheat which then made its way into hugely produced wheat noodles which in turn made its way into the Ramen stalls. Today, ramen is considered an iconic Japanese staple and every region has its own unique version.
Our version is purely plant-based and offers up oodles of noodle flavour with detoxifying properties ready to soothe your gut and soul.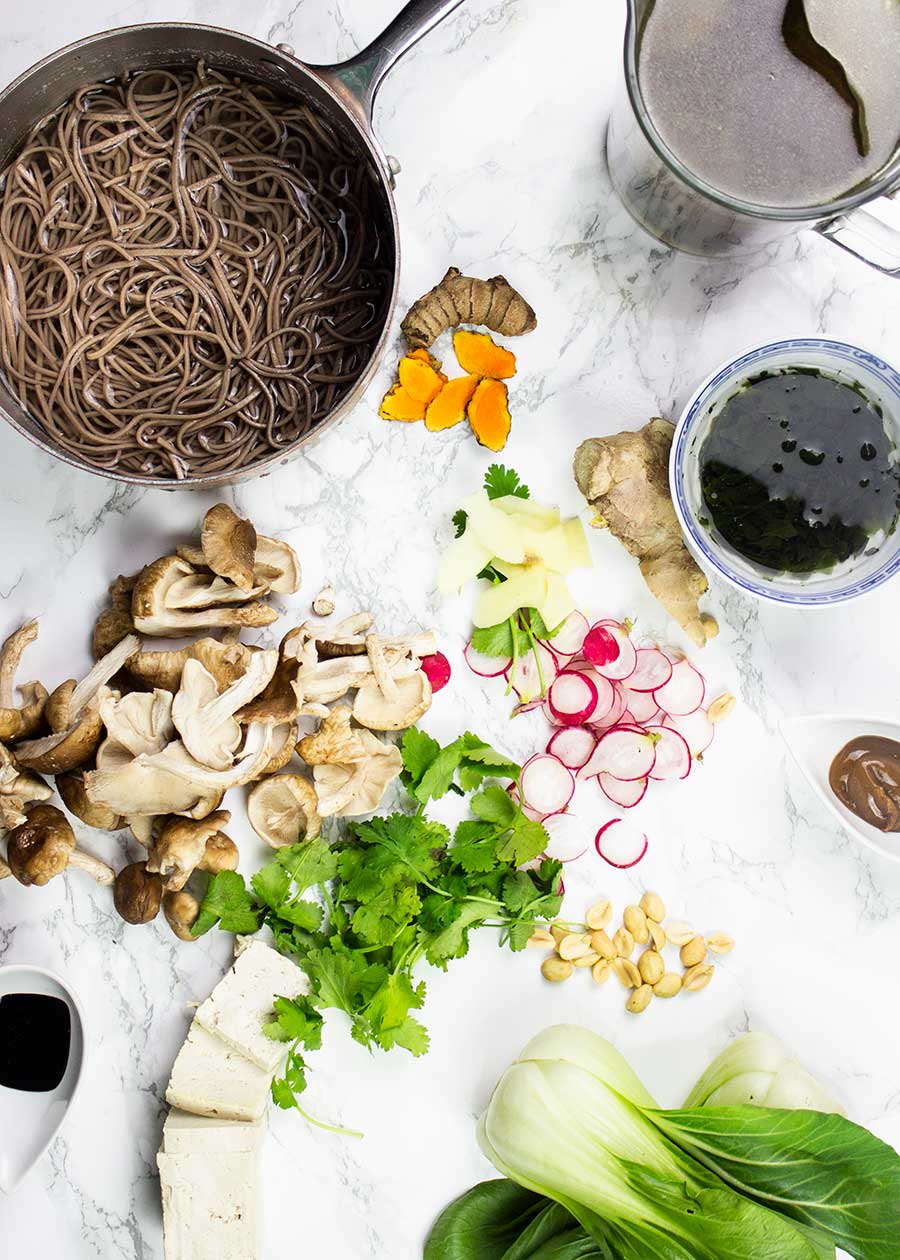 How to make a healthy vegan ramen recipe
For a vegan ramen recipe, you will need:
2 sheets of Kombu which are added to a litre of Organic Vegetable Stock. These are sheets of dried dark green seaweed leaves that soften and impart an amazing rich umami flavour. You only need to soak them for 20 minutes but the longer you have the more flavour you will be rewarded with. Once the stock is ready you simply take out the kombu and discard.
1 tablespoon of dried Wakame Seaweed which is soaked in water for only 5 minutes so that they unfold and grow in size. Once drained this seaweed has a wonderful flavour and texture that adds a great dimension to this best-ever vegan ramen recipe. Read about its incredible health benefits below.
A block of Firm Tofu which adds a silky texture which you can quickly grill to give some aesthetic grill lines. This adds well-needed protein to a plant-based diet.
Soba Noodles, which are buckwheat noodles that unlike normal wheat noodles such as the thick udon noodle contain all of the essential amino acids. Proteins are made up of 20 amino acids, 11 of which can be synthesised in the body with the remaining needed to be gained from diet. Foods that contain all of these remaining amino acids are known as complete proteins and this includes buckwheat and soybeans on its list.    
Simply cook the noodles in boiling water and when ready, drain and plunge in cold water to leave until ready to use.     
A Couple of Pak Choy or Bok Choy which is the larger variety which is a tender Chinese cabbage. It is best cooked on a grill pan on high heat to wilt it very quickly very much like spinach. It only takes a minute or so that the bite is still there but soft enough not to chew. Bok Choi is known to contain glucosinolates which have been studied for their cancer-fighting qualities
Shiitake Mushrooms which adds an earthy flavour along with some Soy Sauce which makes this dish unmistakably Japanese.
Sliced fresh Ginger and fresh Turmeric and some White Miso Paste. These are all not only incredibly detoxifying and known for their anti-cancer properties, impart such an amazing vibrancy and flavour, but they should also be part of every pantry. Simply bring the broth to a boil and add these to infuse those colours and flavours.
Finally, you need a garnish and we have a beautifully textured and coloured trio for you with sliced Red Radish, Coriander/ Cilantro and chopped Peanuts.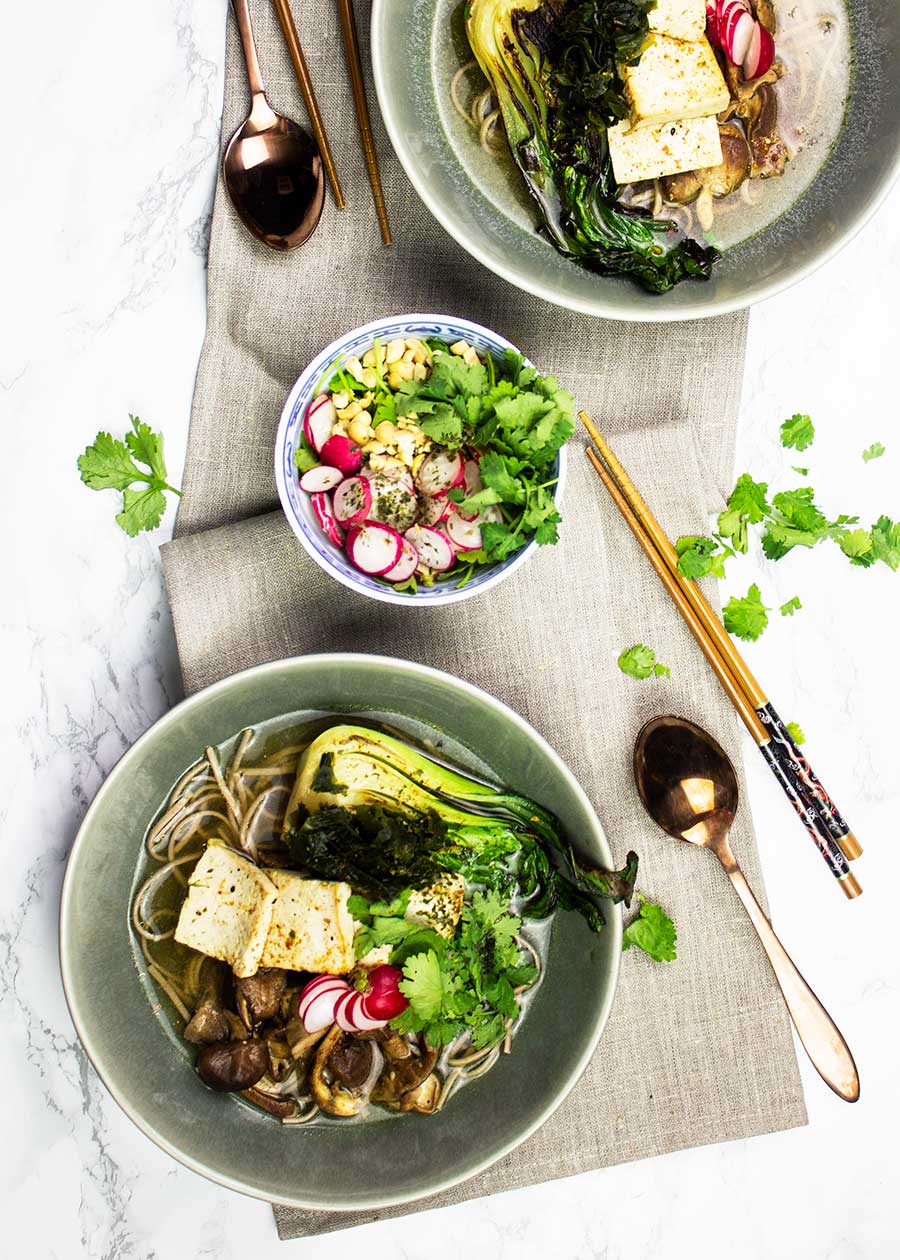 Vegan ramen health benefits
When you think about soups, sushi, salads, tofu or even the sunomono you probably have superfoods and nutrient-rich ingredients in mind such as ginger, kombu and wakame seaweeds. Considering the huge interest in them in the last few years, here are top reasons why you should definitely check them out today.
Wakame seaweed
Wakame is a superfood considered a top addition to cold salads and all manner of dishes from soups to rice and tofu, wakame is widely used around the world, particularly in Chinese, Korean and Japanese cuisines as well as most of South-East Asia.
Top benefits of wakame seaweed include:
Great thyroid value: Contains huge levels of iodine critical in proper functioning of the thyroid and its related hormones. Iodine helps in cellular repair, protein synthesis, enhancing metabolism, aiding growth in humans and preventing hypothyroidism.
Cardiovascular and blood pressure reduction: In a study, wakame seaweed was found to be effective in lowering systolic pressure of blood as well as helping to effectively control blood pressure and guaranteeing cardiovascular health.
Cancer-fighting function: Studies over the years indicate wakame is great at blocking the growth of cancer cells, such as kidney to colon cancer.
Reducing cholesterol volume: Obviously not all cholesterol is bad. Even so, research shows wakame intake helps in lowering the levels of harmful LDL cholesterol, ensuring that arteries aren't blocked and blood flows as required avoiding strokes and heart attacks.
Helps in weight reduction: Wakame might just be the seaweed to add into your diet for weight loss purposes. Studies have indicated it's able to suppress weight increase even in a diet characterized by lots of fat.
 Enhancing insulin resistance: Wakame has been found to be helpful in blood sugar reduction and enhancing insulin resistance.
Anti-inflammatory effects: Due to high levels of Omega-3 fats the seaweed has been found to be effective in reducing inflammation in humans. It prevents and manages diseases such as digestive conditions, diabetes and heart disease.

Dashi kombu seaweed
A unique sea vegetable, Kombu is heavily used in diverse stew dishes, soups, grain foods, beans and vegetables, including dashi, a unique noodle dish in Japan. It comes with lots of nutrients and benefits. These include:
Vitamins and mineral richness: A powerhouse of diverse nutrients, Kombu is low-calorie and contains lots of minerals such as potassium, manganese, sodium, copper, iron, iodine and vitamins such as the B-vitamins, vitamin K, C, A and E. As such, Kombu is an essential immunity booster.
Thyroid health and brain development: Considering its substantial richness in Iodine, dashi kombu boosts mental development, including stocking on thyroid hormones. It's thus perfect for breastfeeding and pregnant women.
Lots of fibre benefits: due to its fibre-richness, kombu is perfect for those watching their weight, in need of enhanced blood sugar management and preventing heart diseases.
Omega-3 fatty acids in plenty: Kombu in contrast with other algae forms offers the highest level of Omega-3 fatty acids, particularly DHA (Docosahexaenoic acid) and EPA (Eicosapentaenoic acid). These are superb in brain development and growth and known for their unique anti-inflammatory effects.
Antioxidants abundance: Kombu has high antioxidant levels such as fucoxanthin, which research indicates is highly helpful in the prevention of chronic conditions and obesity, among others.
Fucoidan goodness: A major component of kombu is the polysaccharide fucoidan, which has been found to contain sufficient ability to prevent cancer as well as having anti-inflammatory and immune-boosting benefits, antiviral properties, enhanced gut health advantages and obesity management.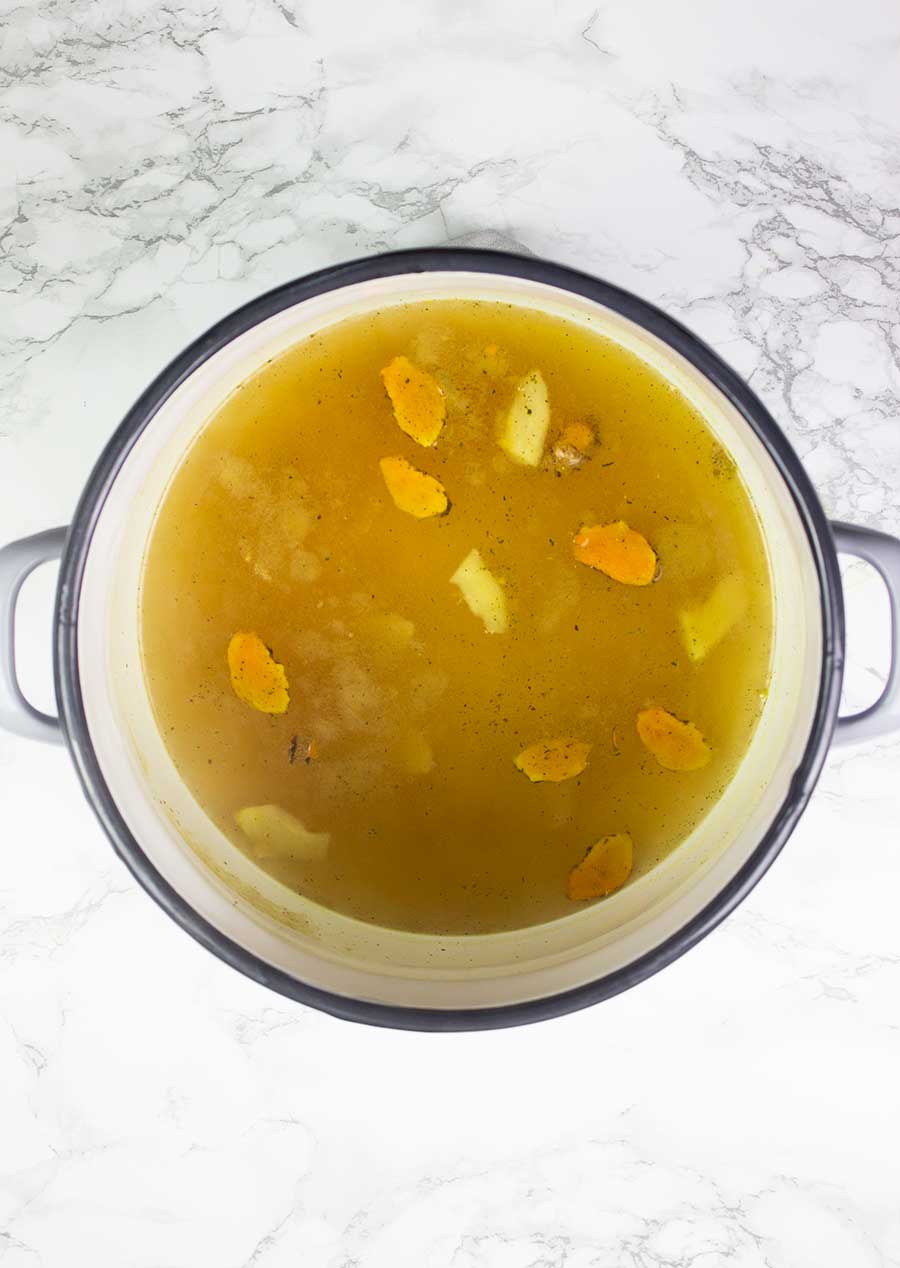 Ginger
Among one of the most versatile and effective spices on earth, ginger is one of the most nutrient-rich universally. Its benefits are enormous, including:
Gingerol medicinal value: Ginger's bioactive compound, gingerol, is an efficient antioxidant and anti-inflammatory element as research indicates. It allows the ginger root to be used in so many areas of treatment.
Morning sickness/nausea management: Studies show ginger has been used for centuries to effectively manage morning sickness, vomiting and all forms of nausea related to pregnancies, including nausea associated with chemotherapy.
Muscle soreness/pain reliever: Research indicates that consumption of ginger on a daily basis greatly lowers muscle pain and soreness after workouts.
Helps with osteoarthritis: Controlled studies have revealed ginger is effective in the management of osteoarthritis; those who took it reported reduced pain and stiffness and didn't need any type of medicine for their pain.
Enhanced cardiovascular health and diabetes management:  Ginger in powder form was found to be helpful in lowering diabetes type 2, including lowering main risk factors for cardiovascular disease, especially oxidized lipoproteins.
Severe indigestion relief: Dyspepsia causes huge discomfort in the stomach and constant pain in chronic indigestion due to lateness in tummy emptying. Ginger has been found to lower stomach emptying period by over 50%.  
Lowers menstrual discomfort: Pain during menstruation known as dysmenorrhea is common everywhere and ginger has been found to relieve pain during menses at the same level as some pain medication such as ibuprofen.
Cancer prevention: Over the years, ginger has come up as a quality alternative in different treatments of diverse cancers, especially due to 6-gingerol properties, a component in ginger. This includes evidence of efficiency in ovarian, breast and pancreatic cancers.
When it comes to your ramens, dashi, rice, salads, sushi, tofu among others, adding seaweeds such as kombu and wakame with some nutrient-rich ginger could get you all the health benefits you need.
Other delicious and healthy soup recipes on the blog
Have you made this vegan ramen recipe?
We'd love to see your vegan ramen creations! Please leave a comment below, share or tag using @anticancerkitchen on Instagram and hashtag it #anticancerkitchen.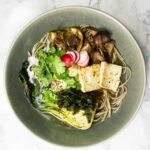 Ingredients
4 cups or 1 liter of organic vegetable stock

2 sheets of dried Kombu

250g of Soba Noodles

150g of Tofu, sliced

2 pak / bok choy cut in half

1 tablespoon of dried Wakame

150g of Shiitake mushrooms

5-6 slices of fresh Ginger and fresh Turmeric

2 tablespoons of white Miso paste

1 teaspoon of soy sauce

Garnish:

4 sliced Red Radishes

2 tablespoons of chopped peanuts

½ a cup of fresh coriander/cilantro leaves

1 teaspoon of togarashi Shichimi
Instructions
Prepare a liter (4 cups) of vegetable stock and place the kombu leaves inside to infuse. Leave for a minimum of 20 minutes. 
Add the wakame seaweed to a bowl of cold water and soak for 5 minutes. Drain and set aside.
Bring a pan of salted water to the boil and add the soba noodles. Simmer for 3-4 minutes until the noodles are softened. Drain and rinse under cold water and set aside until ready to use.  
Put the vegetable stock in a pan and discard the kombu sheets. Add the ginger, turmeric and white miso and bring to the boil. Reduce the heat and simmer on a very low heat until ready to use.
Add a little oil to a hot wok and stir fry the pak choi for 45 seconds. Add the mushrooms and the soy sauce and stir fry together for a further 45 seconds. Remove from the wok and set aside. 
Add the tofu to the wok or using a hot grill pan sear the tofu for about a minute on each side (or a little longer for a firmer texture)
To serve, drain the noodles and divide between the ramen bowls and add the mushrooms, pak / bok choi, wakame and tofu on top. Ladle on the broth and top with the garnish.
Step-by-step pictures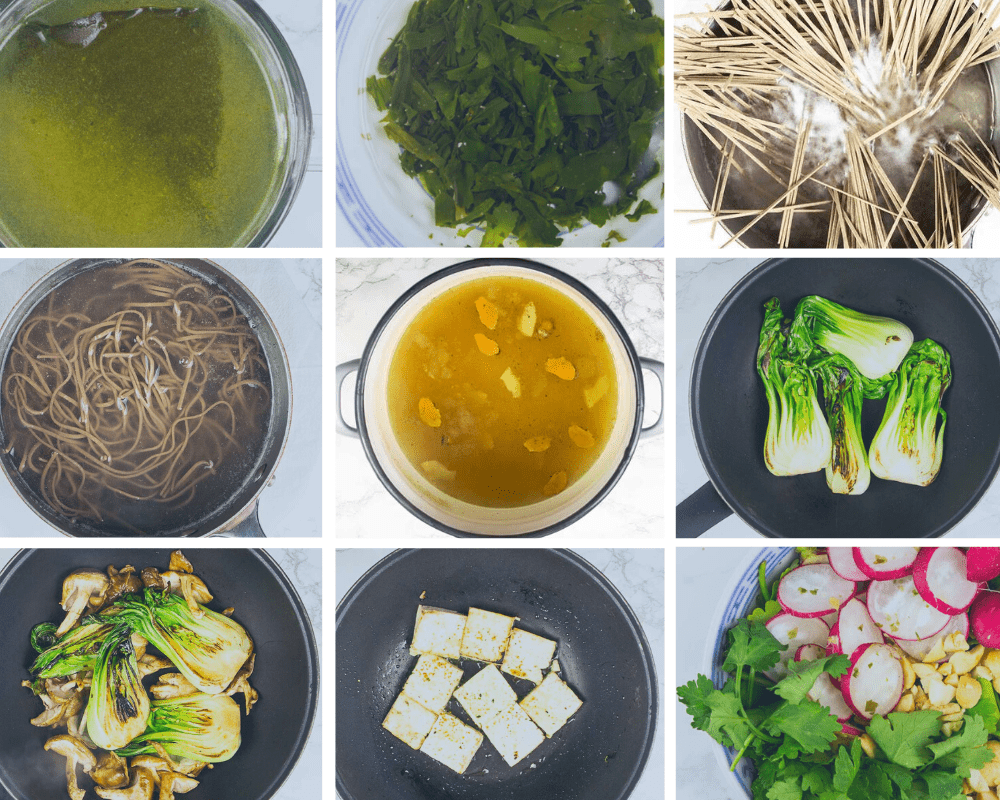 Copyright secured by Digiprove © 2020 The Anti-Cancer Kitchen