Calling all cauliflower lovers, we have the best and most flavoursome roasted cauliflower soup recipe for you. This recipe is not only quick and easy to prepare, but it is also pretty and incredibly healthy, too.
With minimal preparation involved, this hearty bowl of soup is done in next to no time, perfect for a quick lunch or warming dinner. Moreover, this delicious cauliflower soup with Indian spices is:
Packed with fibre
Low in calories
Cancer-fighting
Anti-inflammatory
Healing and detoxifying

How to make this super easy roasted cauliflower soup recipe
The good thing about this roasted cauliflower soup recipe is that it does not involve a huge investment of effort. It's a one roasting tin job that is then transferred to a high-speed blender to finish off the soup. Here is how to make it step by step.
Step one
Mix the cauliflower florets and sweet potato in the olive oil and Indian spices in a roasting dish and roast in the oven for approximately half an hour.
Step two
Whilst your vegetables are roasting, make a litre (4 cups) of vegetable stock and leave to cool on the side.
Step three
Transfer the vegetables and stock to a blender, in batches if required, and add the almond milk and blitz until smooth. You can use a hand blender if you don't have a high-speed blender. Just use a pan with the vegetables and the stock and blend it by hand together with some almond milk. If you don't have almond milk, you can use any other plant-based milk alternatives such as cashew milk, or coconut milk.
Serve with a dollop of plant-based mint yoghurt and coriander/cilantro on top. Delicious, nutritious and oh-so-satisfying.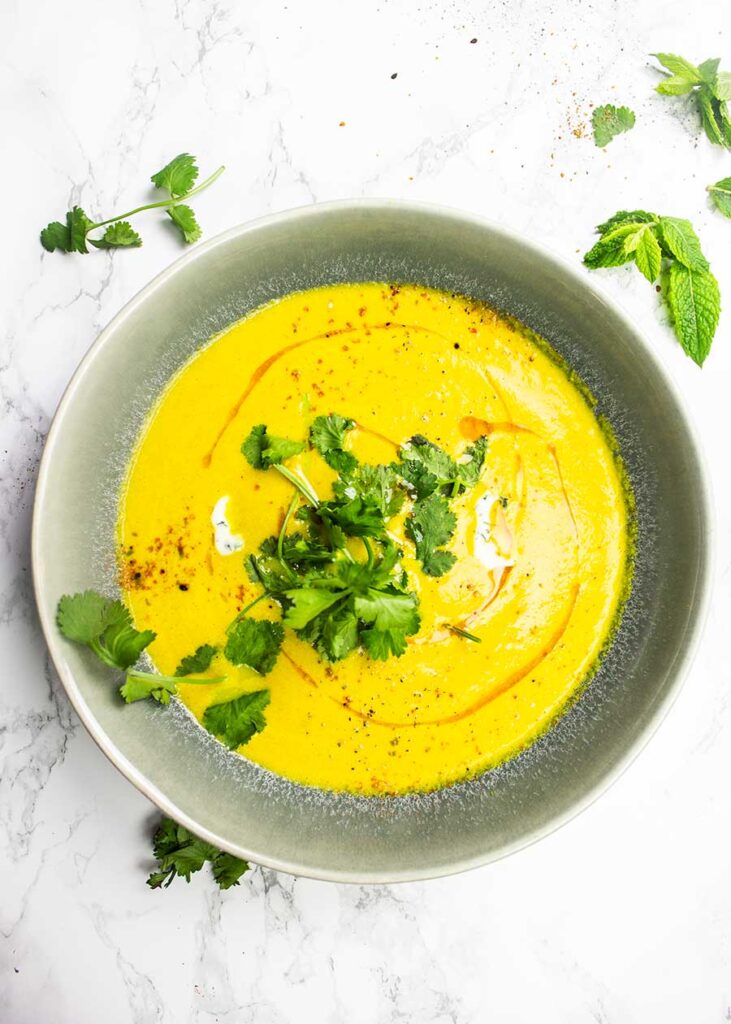 Health benefits of our roasted cauliflower soup
It's well-known that vegetables are generally good for our health, especially when they are organic. Cauliflower is one of the vegetables that is high in fibre which is something we need in our daily diet to stay healthy. Fibre is vital for healthy bacteria tube to thrive in our gut which in turn helps us with the reduction of inflammation and gives us a better overall digestive health. Having enough fibre in our diet can help eliminate some serious issues including diverticulitis, constipation and even inflammatory bowel disease.
Vegetables like cauliflower and sweet potato that are high in fibre have also been shown to lower the risk of cancer, diabetes and heart problems. Having a good fibre intake helps us feel full for longer which means that in theory, we should eat fewer calories and therefore help prevent obesity. According to research people who are overweight are at greater risk for diseases, including diabetes, high blood pressure, heart disease, stroke and many cancers.
Cauliflower is also an excellent source of antioxidants which are protecting our bodies against cell damage which is caused by harmful free radicals and inflammation. Being part of the cruciferous vegetable family, cauliflower is very high in glucosinolates and isothiocyanates. These are two important antioxidants that we know of that can potentially help with prevention of lung, breast, colon and prostate cancer.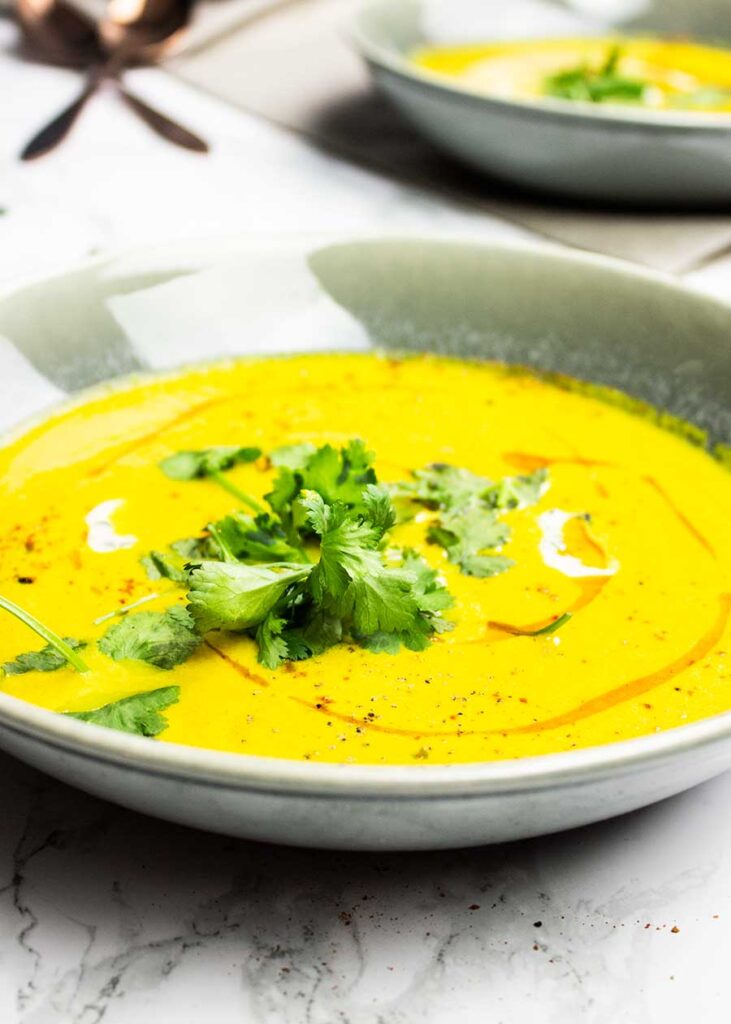 Turmeric, turmeric and more turmeric
This roasted cauliflower soup recipe is nothing without turmeric. Turmeric is an amazing spice originating from India that has some serious major benefits for our health. It has a warm, bitter taste and is frequently used in Indian curries as well as flavouring and colouring curry powders, mustards and roast potatoes.
Turmeric has a very long-standing history both as a flavouring food and as a substance for medicinal purposes. If you have ever heard it referred to as curcumin and wondered why it is because curcumin is the main active ingredient found in turmeric.
Curcumin is a very powerful antioxidant with astonishing anti-inflammatory properties which may also help improve symptoms of depression and arthritis. Additionally, turmeric and curcumin may also be able to counteract the effects of some carcinogens, such as certain add-ons used in processed food.
It's good to know that curcumin on its own is poorly absorbed into our bloodstream. To maximise curcumin absorption, we use healthy fats and/or black pepper in our food recipes. This is because curcumin will bind to fat and is then more easily absorbed by our gut. When it comes to black pepper, research has shown that piperine can increase the bioavailability of curcumin by 2000%. 
Have you made this roasted cauliflower soup recipe?
We'd love to see your food creations! Please leave a comment below, share or tag using @anticancerkitchen on Instagram and hashtag it #anticancerkitchen.
More delicious soup recipes on the blog
Update notes: This post was originally published on the 11 of December 2017, but was republished with new photos, step-by-step instructions and tips in July 2020.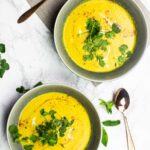 Ingredients
1 medium-sized cauliflower cut into florets

1 medium-sized peeled sweet potato cubed

1 litre of organic vegetable stock

Indian spices: 1 tablespoon of turmeric, 1 teaspoon of cumin, 1 teaspoon of cinnamon, 1 teaspoon of garam masala, 1 teaspoon of fennel seeds, a pinch of chilli flakes

250ml (1 cup) almond milk

Splash of olive oil

Salt and black pepper to season

Fresh coriander/cilantro and chilli oil to garnish

Plant-based mint yoghurt (optional)
Instructions
Mix the cauliflower florets and sweet potato in the olive oil and Indian spices in a roasting dish and put it into an oven at 180c/356°F for 25-30 minutes.
Make a litre (4 cups) of vegetable stock and leave to cool for a while as with the cauliflower and potato, once taken out of the oven.
Transfer the vegetables and stock to a blender (in batches if required) and add the almond milk. Blitz until smooth.
Optional - prepare your mint yoghurt. Finely chop a few fresh mint leaves on a chopping board, discarding the stalks, then add them to a mixing bowl. Then peel and very finely chop a little bit of garlic. Then scoop it up and add to the mixing bowl. Add 4-5 tablespoons of plant-based (unsweetened, Greek-style if possible) yoghurt and a tiny pinch of salt and pepper, then stir everything together to make a beautiful chunky dip.
Re-heat the soup in a pan before serving, season with salt and pepper. Pour into bowls and place a dollop of mint yoghurt the middle. Garnish with coriander (cilantro) and a drizzle of chilli oil.
Step-by-step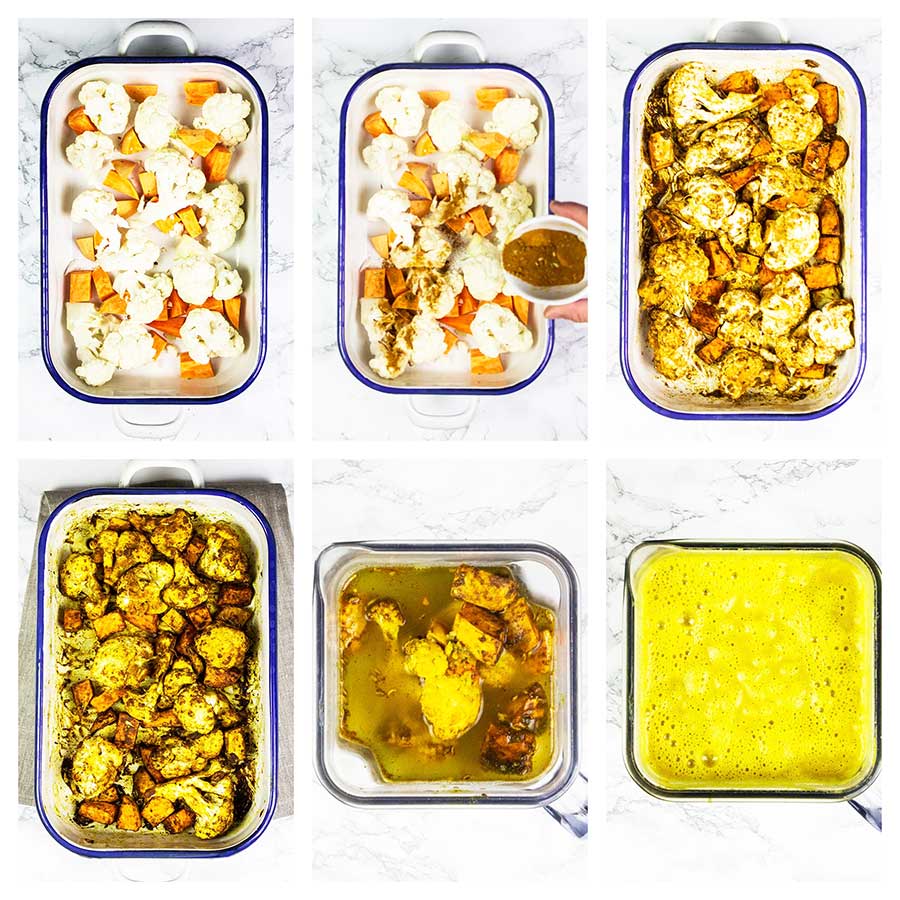 Copyright secured by Digiprove © 2020 The Anti-Cancer Kitchen