These vegan gyros are the best plant-based gyros you can make at home. Made with cauliflower florets which have been marinated in the most wonderful Greek flavours and wrapped in fluffy Mediterranean flatbreads with fresh vegan garlic mayo and chilli sauce and a salad of spicy-sweet red onion and juicy tomatoes,  this vegan gyros recipe is: 
Healthy in fibre
Satisfying
Made with cancer-fighting cauliflower 
Full of unique healthy plant compounds
Easy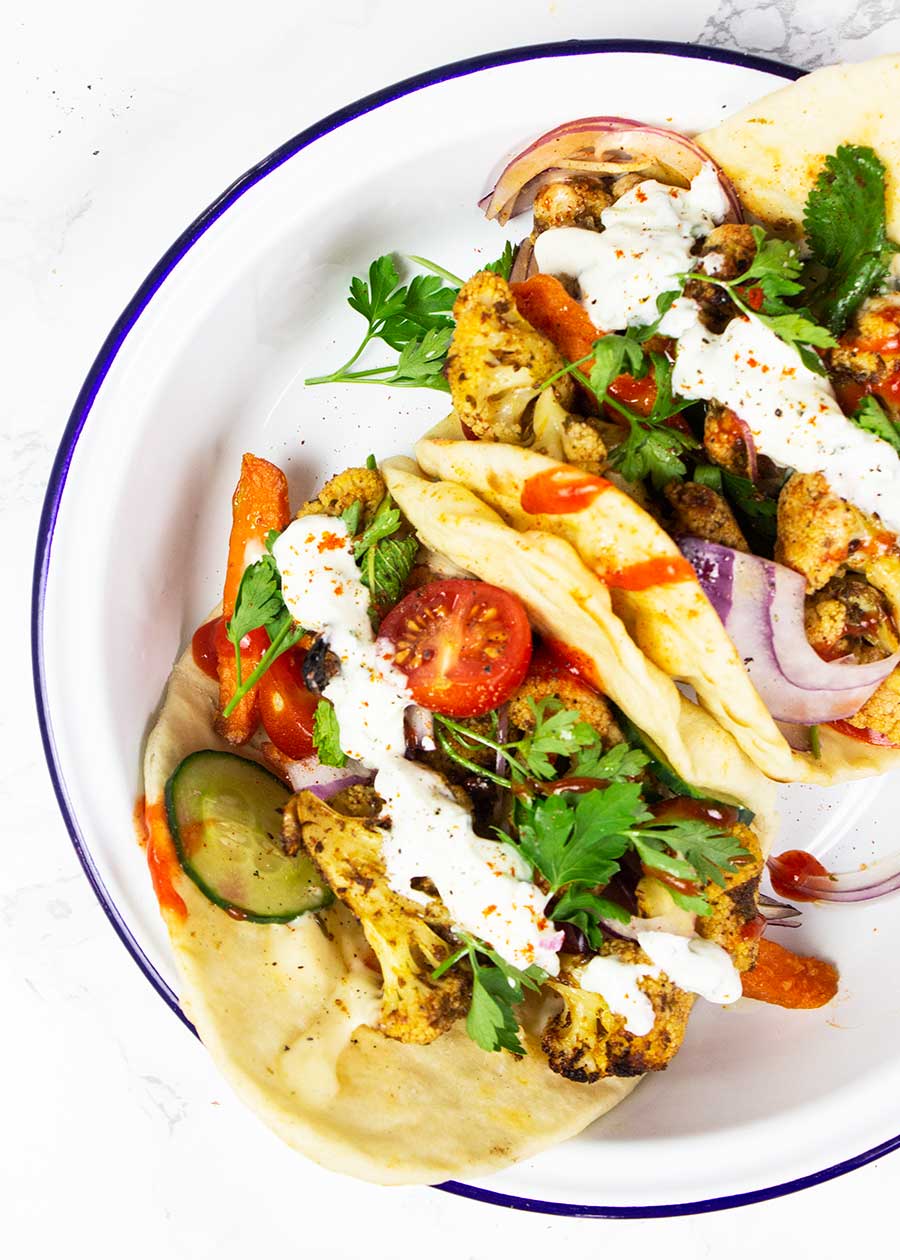 Gyros (pronounced yee-ros) are filling fast food kebabs hailing from Greece. Traditionally they are wrapped flatbreads stuffed with carved meat which has been roasted on a vertical rotisserie accompanied with a fresh salad of red onion and tomato with a dollop of tzatziki. Often today you will see lamb, pork or chicken which is the original filling but a lot more you will see vegetarian versions such as halloumi and entirely plant-based/vegan gyros versions with sweet potato, aubergine/ egg-plant or like ours the best ever vegan gyros with cauliflower. Many gyros recipes use chips in the mix too but we have opted for the addition of oven-roasted sweet potato fries, yummy!
These kebabs have come to Greece via Turkey where they were invented back in the times of the Ottoman Empire. Originally known as doner kebabs which are still very popular, the style of cooking on a vertical rotisserie worked very well with Greek flavours and ingredients and the name doner which means turn in Turkish was changed to gyros which means circle or turn in Greek.
Vegan gyros with authentic Greek flavours 
The cauliflower marinade in our vegan gyros uses some of the best Mediterranean flavours that are unmistakably Greek. We marry garlic in olive oil with a classic combination of cumin, cinnamon and paprika which gives warmth, spice and smokiness then we add some sharpness of lemon and red wine vinegar which cuts right through it.
The fresh aromatic herbal scents of oregano and parsley are incredible and to add a little sweetness we add some date nectar. If you use honey then this adds another dimension of traditional Greek flavours to the marinade. Altogether the flavours infuse and permeate the cauliflower right through. When left for a couple of hours the cauliflowers soak up the entire marinade which not only makes them incredibly tasty but their texture becomes firm but juicy which is perfect for a kebab.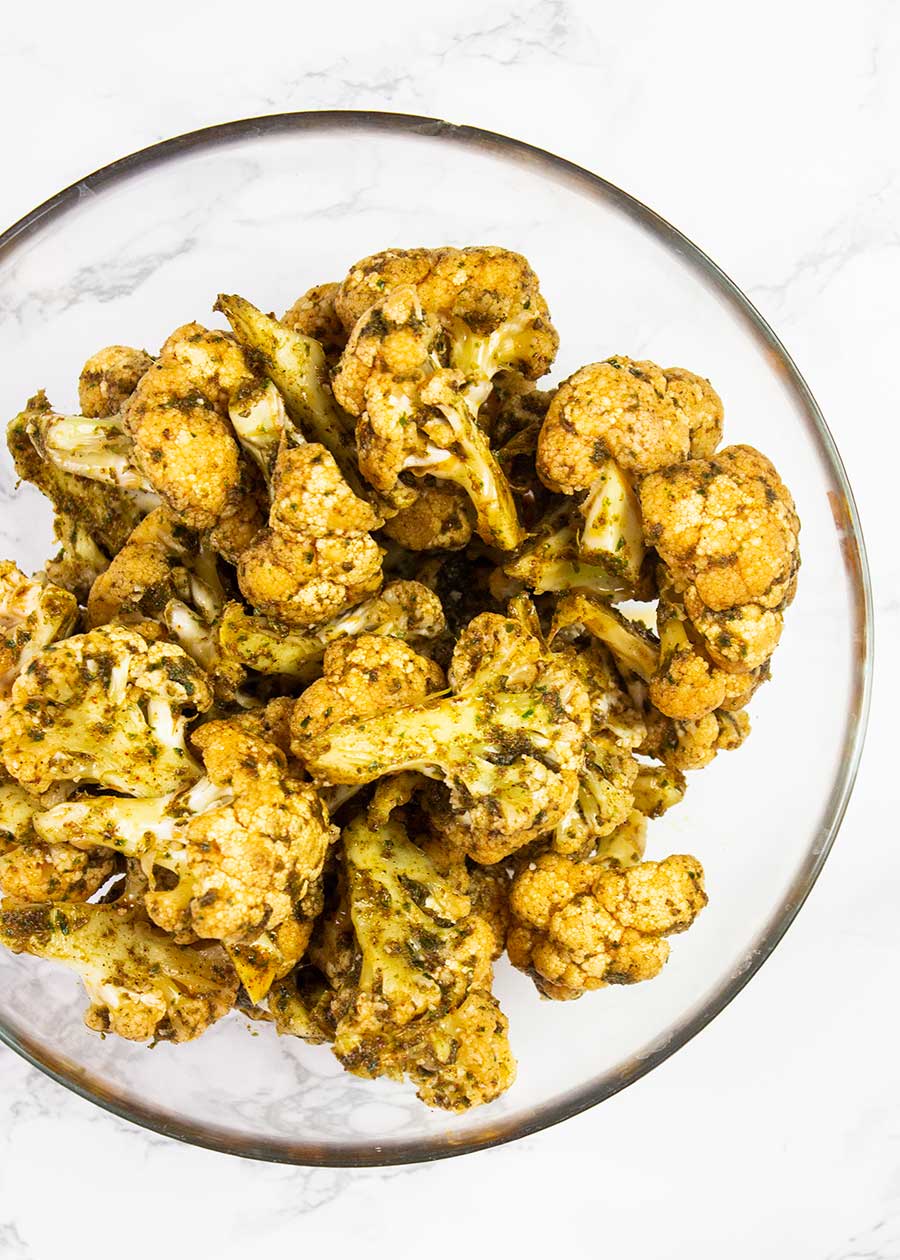 Accompanying the marinated cauliflower is a classic mix of sweet and spicy red onion and ripe tomatoes bursting with sweet and tart juiciness. If you want you can add olives or sundried tomatoes too.
For the sauce, you can make simple vegan tzatziki with either coconut yoghurt or soy creme fraiche with grated garlic and cucumber with a splash of lemon juice or keep it simple with some vegan mayo with garlic and a line of chilli sauce such as sriracha through it.
A fluffy Mediterranean flatbread is the best vessel to sop up all this flavour and the addition of some oven-roasted sweet potato fries are a lot healthier than eating traditional fries.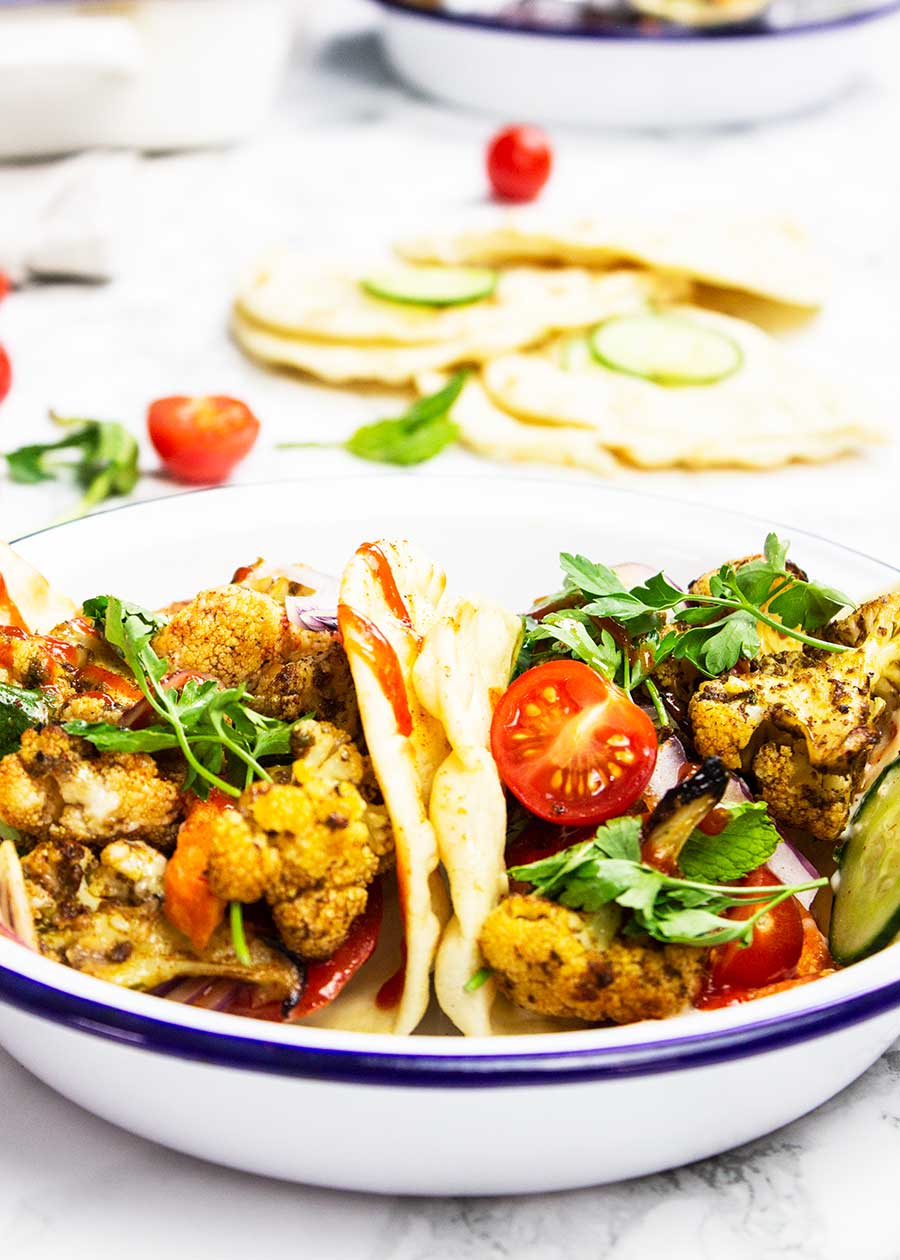 Homemade healthy vegan fast food 
When we say fast food, we don't actually mean fast. The original is only fast as the cooking and marinating has already been done. The food is just shaved right off a rotisserie onto a flatbread and barely wrapped before is gorged down. The preparation, although very quick and easy itself, you need patience, as for the marinade to do its job properly and penetrate the cauliflower all the way through, should be left for a minimum of 2 hours. You can get away with 30 minutes if you are short on time but ideally, marinades work best left overnight. To actually prepare the marinade is simple too as you just need to combine all the ingredients together and use a stick blender (handheld) to blend it all together
Cruciferous vegetable health
Cauliflower is part of cruciferous vegetables which is a diverse group that includes broccoli, cauliflower, cabbage, kale, bok choy, arugula, Brussels sprouts, collards, watercress and radishes. Many of these vegetables have a four-petal structure which bears a resemblance to a cross, hence the name which comes from the Latin cruciferae which means "cross-bearing". 
Cruciferous vegetables grow in different colours, shapes and sizes however they all share beneficial nutritional compounds. In nature different plants, fruit and vegetables develop certain compounds that help them grow and survive against insects, herbivores and bad weather. Cruciferous vegetables have unique polyphenols that when the plant cells are broken specific compounds known as glucosinolates cause a reaction which gives off and strong odour and sharp taste associated with these vegetables. Glucosinolates are uniquely synthesised in cruciferous vegetables such as cauliflower and even though designed as self defence for plants when consumed these plant compounds also then have beneficial properties for us too and especially in a cancer-fighting diet. 
There are ongoing studies researching more into the unique actions of these remarkable compounds but it has long been known that a diet rich in cruciferous vegetables is very healthy. When the compounds are broken down a chemical called indole-3-carbinol (I3C) is metabolised. This plant chemical has been studied in relation to its role in cancer management and has proven to suppress the proliferation of certain cancer cells. I3C also has the potential to regulate estrogen which could lead on to the reduction of hormone-dependent cancers. Studies have also linked this plant compound with apoptosis which is the programmed death of cancer cells.
Cauliflowers are also high in carotenoids which are powerful antioxidants which help neutralise the harmful effects of oxidative stress, which is the precursor of degenerative diseases. They are also high in Vitamin C, Vitamin K and fibre. A diet high in fibre is very important for an anti-cancer diet as fibre especially helps the body ferry toxins out of the body. As well as being low in calories this is a combination that will help the body feel full and help with not overeating.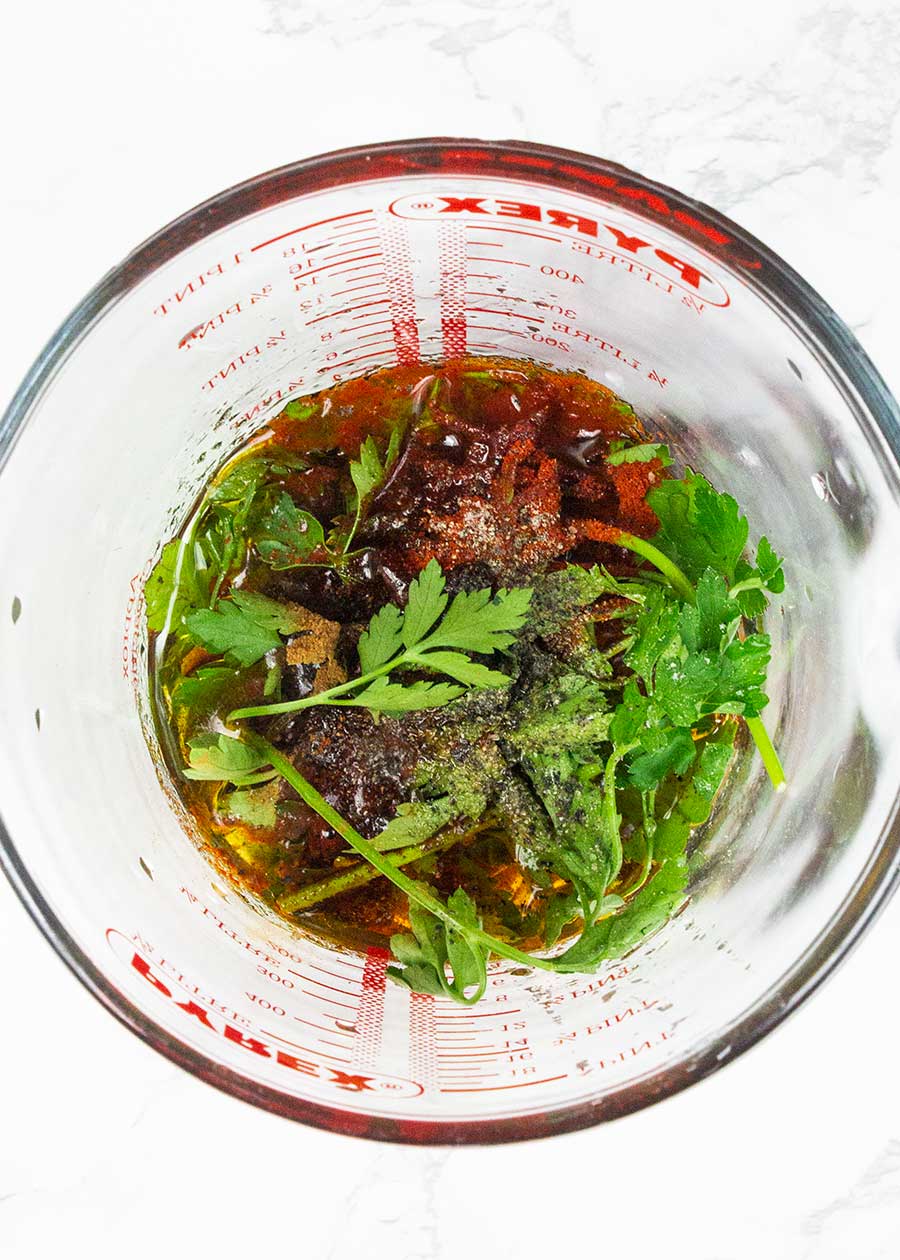 Vegan gyros with lots of garlic 
One of the important flavours for the vegan gyros with cauliflower is garlic which has long been associated with a healthy lifestyle. It has been prescribed for generations and even since ancient Greece where Hippocrates, the Father of western medicine often used garlic to heal ailments. His tenet, let food be thy medicine and medicine be thy food lives on today.
Historically, garlic was used purely for its medicinal properties but because it is so distinctive with an amazing taste and delicate spice it is a staple ingredient in everyday cooking and cuisines all around the world.
Garlic is highly nutritious and like onions (also in this recipe) as they hail from the same allium genus, they contain a small amount of practically everything you need in your diet. One of the main health benefits of garlic is down to its high concentration of Vitamin C. Studies have shown that diets rich in Vitamin C help people maintain an effective immune system. Garlic has long been known to help ward off illnesses such as the common cold and flu. It is also used to aid the healing of minor wounds and infections too due to its antifungal ability.  
Parsley and oregano
The addition of parsley and oregano adds an amazing Greek flavour, There is something very Mediterranean and warming with the combination of these two floral and leafy herbs. Like so many other dense green herbs, they are packed full of polyphenols that act as antioxidants in your body. Caffeic acid, chlorogenic acid, ellagic acid and rosmarinic acid which are all found in parsley and oregano have been linked to a whole host of health benefits including lowering the risk of cancer and improving brain function. These flavoursome herbs are packed with further antioxidants such as the flavonoid Quercetin and Vitamins C and K amongst others. The health benefits are numerous making these herbs some of the most nutrient-dense foods in the world. 
Have you made this delicious vegan gyros recipe?
We'd love to see your vegan gyros creations! Please leave a comment below, share or tag using @anticancerkitchen on Instagram and hashtag it #anticancerkitchen.
More Greek recipes on the blog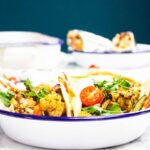 Ingredients
1 cauliflower broken into small florets

4 large Mediterranean flatbreads

16 sweet potato fries

1 red onion sliced

2 tomatoes sliced

10cm of cucumber sliced

For the marinade:

3 large garlic cloves, peeled and crushed

½ a cup of mixed fresh parsley and oregano leaves

½ a teaspoon of cinnamon

2 teaspoons of paprika (pimenton)

½ a teaspoon of date nectar (or honey if preferred)

½ a cup of olive oil

2 teaspoons of red wine vinegar

Salt and pepper to taste

Sauces:

Vegan garlic mayo

Chilli sauce

Tzatziki (vegan yogurt with shredded cucumber, garlic, mint and lemon juice)
Instructions
Place all the marinade ingredients together in a measuring jug and blend together with a stick blender.
Put the bite-sized cauliflower florets in a large ziplock /freezer bag and pour in the marinade. Seal the bag and shake the bag to cover all the florets in the marinade. Leave in the fridge for two hours.
Place the sweet potato chips on parchment on an oven tray and roast at 200°C (390F) for 20 minutes. Full recipe here. 
To cook the cauliflower, transfer them to a roasting dish and place under a hot grill (broiler) for 10 minutes turning once.
To make up the gyros, drizzle the sauces on the flatbreads and place some cauliflower florets on top. Top with 4 sweet potato fries, sliced red onion, tomato and cucumber and spoon on some tzatziki. Wrap the gyros up and serve. 
Step-by-step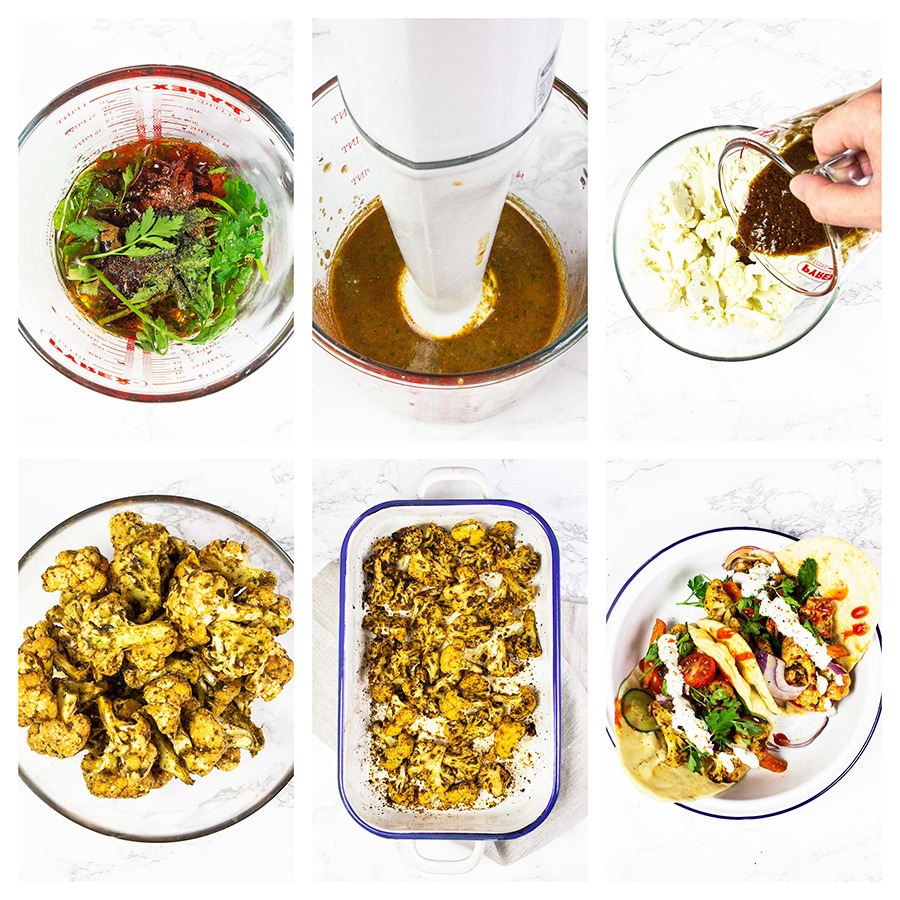 Copyright secured by Digiprove © 2020 The Anti-Cancer Kitchen