There are many different types of flatbread available to accompany dips, oils and mezzes. Most however are served on the side and aren't the star of the show. Most countries cuisines have their own wonderful flatbreads that sup up sauces such as India with their many breads such as naan, chappattis and rotis and countries such as Mexico with their corn tortillas and Greece with their pitta breads that wrap around a sumptuous filling of some sort. What we wanted however was a bread that was the star of the show a little more like an Italian pizza or focaccia but that can be dipped into something on the side, something not too thin, too crispy or too light and fluffy. We wanted something right in the middle. So, we found a traditional Greek bread called Ladenia.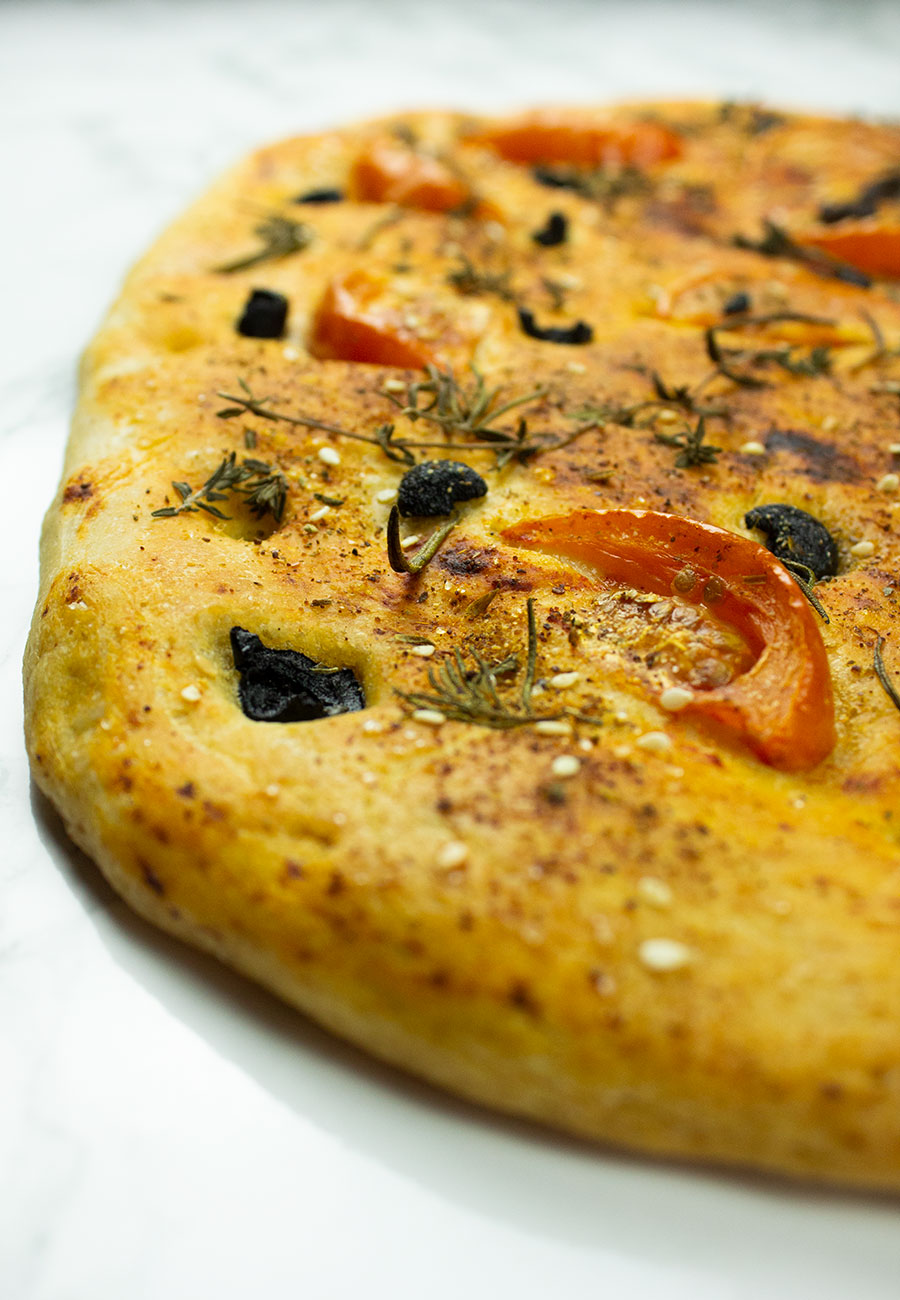 Greek Flatbread Recipe
This is a very easy Greek flatbread recipe that not only looks the part but tastes the part as it is baked with juicy ripe tomatoes and tasty black olives. The beauty of this bread is that you can actually put any of your favourite vegetables on top, but the traditional topping is tomato, olives and onions and a load of aromatic green herbs.
It isn't a pizza as the dough is easy to tear and dip and it is not as oily as a focaccia which likewise can be baked with an assortment of vegetables and herbs. A nice flat loaf of Ladenia will go well with almost any dip as long as you tailor the topping to match the dip.
Tomato and olive bread go well with tzatziki, hummus or red pepper dips as well as vibrant oils and vinegars. However, for a few tips and tricks why not try topping with peppers and coriander and serving with guacamole or top with potatoes and tarragon and serve with an amazing plant-based béarnaise sauce. Another great version is to top with spiced cauliflower and onions and serve alongside a mango chutney or tamarind sauce.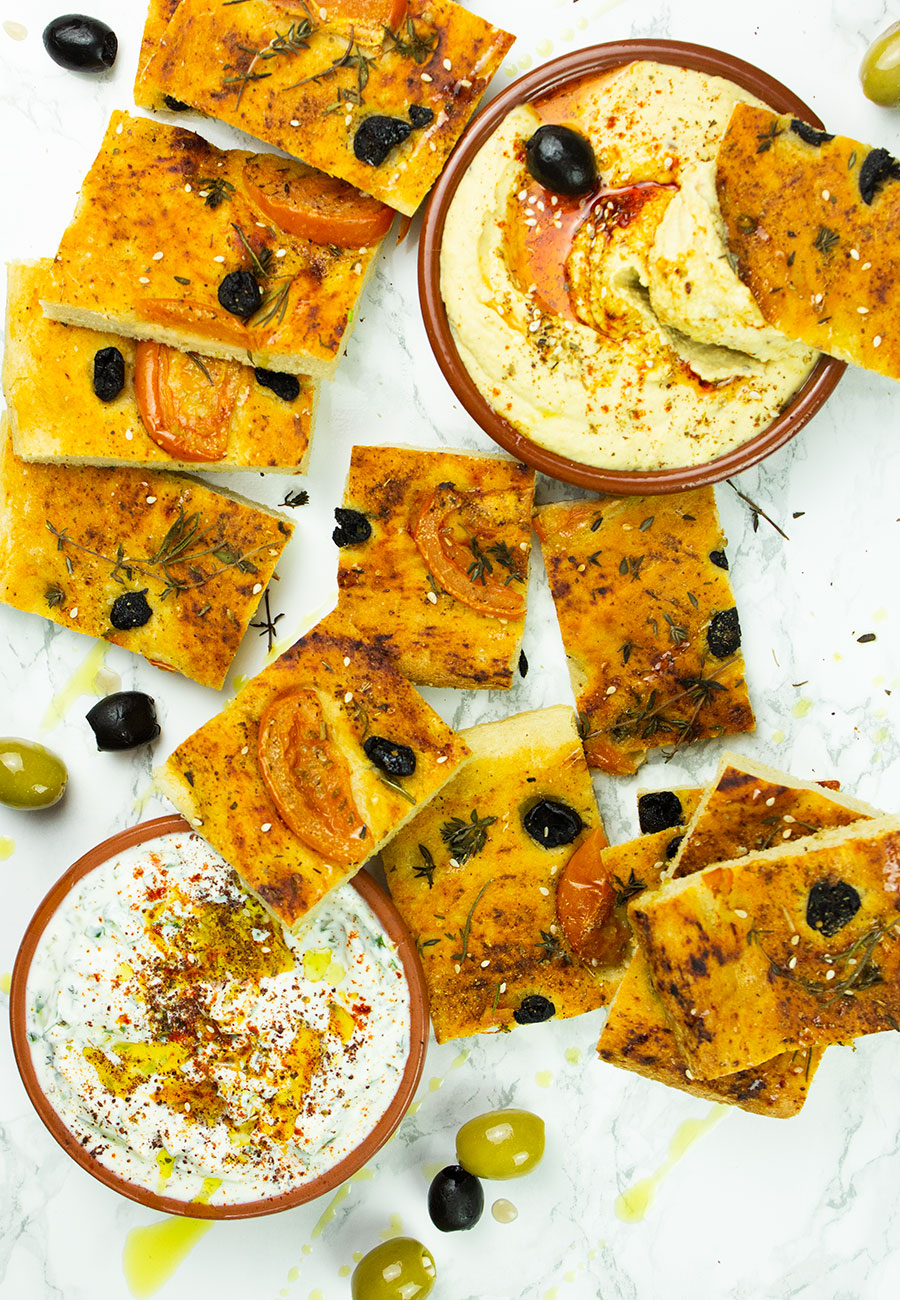 How to Make the BEST Greek Flatbread Dough
How to make the best Greek flat bread dough couldn't be simpler. You can combine the ingredients very quickly. The time it takes for the yeast to activate or the time it takes for the dough to rise and in fact the baking you can do anything else you want to, the actual time you take to be hands on is hardly any time at all.
You could buy your own flat breads and bake with some toppings, but you won't get the same result. Most flat breads are thin and would go hard and crispy. This is a fairly unknown bread and to be honest we think you'd actually struggle to find it in the shops full stop. Obviously, a big reason to make it yourself.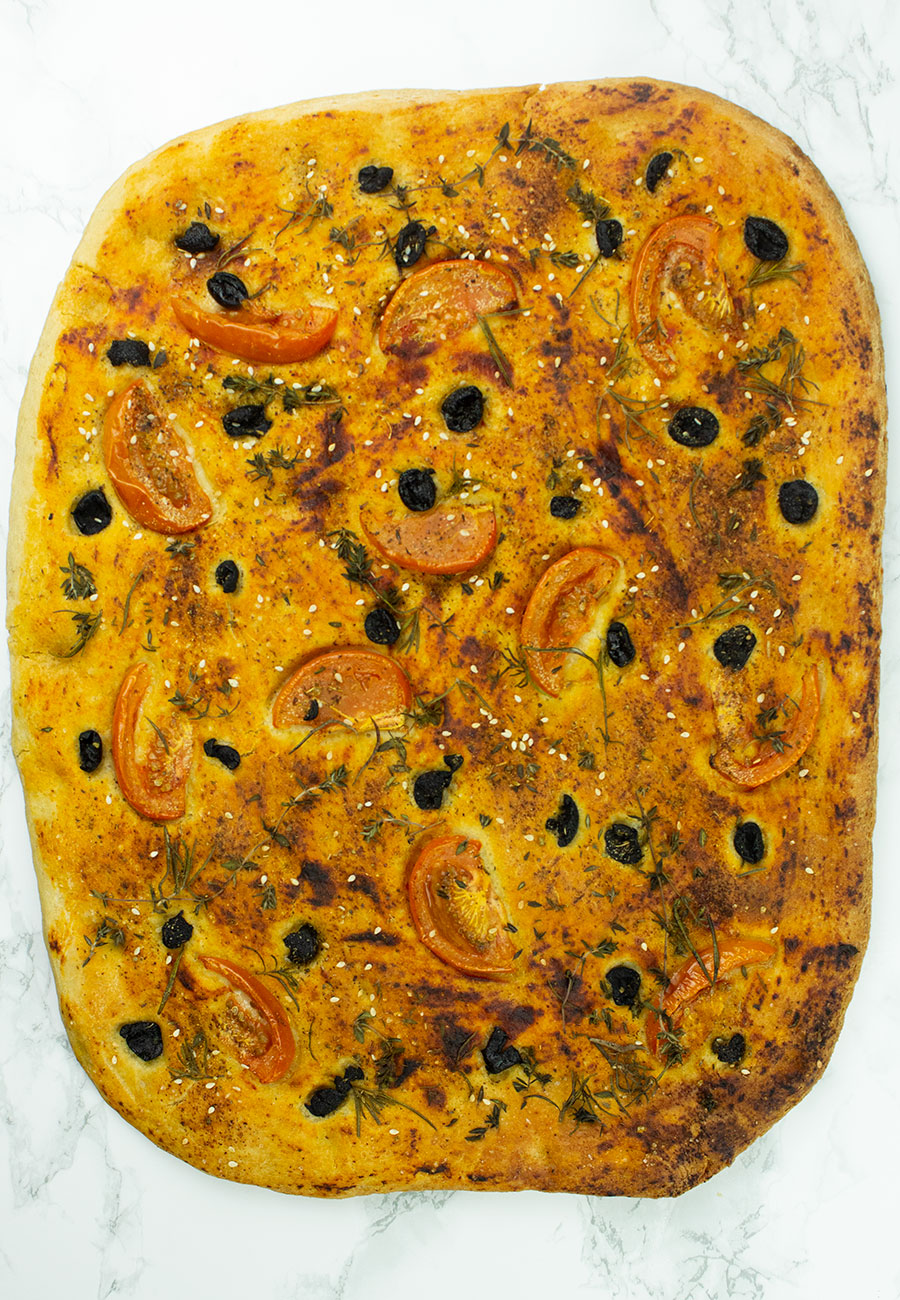 Health Benefits of this Easy to Make Greek Flatbread
Another big reason to make this amazing Greek flatbread is that you are normal loafs health benefits.
Tomatoes and olives have been an integral part of a healthy Mediterranean diet for centuries. Olives are high in vitamin E and other powerful antioxidants that may protect against cancer and are good for the heart.
Tomatoes contain lycopene which has also been linked to many health benefits including reduced risk if heart disease and cancer too.
Fresh green herbs such as oregano, rosemary and thyme are awesome for their anti-inflammatory properties so be free to liberally throw them on your bread as you can. The more the tastier so let loose, scatter the goodness and tear and share and dip and dunk and scoff. Enjoy.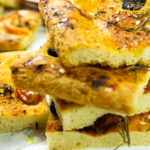 Ingredients
400g of plain flour (plus extra for dusting) / 2 ¾ cups

240ml warm water (slightly warmer than lukewarm) / 1 cup

7g dried active yeast

¼ cup of olive oil

1 teaspoon of agave nectar

½ teaspoon of salt

2 tablespoons of tomato puree

1 large tomato, halved and quartered

½ cup of pitted black olives

A few sprigs of fresh thyme (without stalks)

A few sprigs of rosemary (without stalks)

1 tablespoon of dried oregano
Instructions
Pour the warm water into a large mixing bowl and add the yeast and leave in a warm place for 15 minutes until the mixture has started to froth.
Stir in the Agave nectar to the water and add the flour, a little at a time mixing with a fork until the mixture forms into a dough. Season with the salt.
Dust your work surface with some flour and place the ball of dough in the middle and knead for 10 minutes adding a little extra flour to stop it from sticking.
Rub little oil round a clean bowl and place your dough in the bowl and cover with a wet tea towel and leave in a warm place until it has doubled in size (about an hour in the oven at 40c or 104F)
Brush an oven tray (roughly 40cm X 30cm) with olive oil and place the dough in the middle. Press out the dough slowly with your fingers until it covers the tray. Brush on the tomato puree all over the dough and season with salt and pepper. Arrange the tomatoes, olives and rosemary and thyme around the dough and lightly press them in. Drizzle over olive oil and sprinkle over the oregano and bake in a pre-heated oven at 210c (410 F) for 45 minutes until lightly browned.