If you are going to have a steak night, there are a few things that need to be on the menu. You'd think that first of all you would need steaks, wouldn't you? But in our household if Matt says fancy a steak? The answer (question) would be shall we have béarnaise sauce or creamy peppercorn sauce? And if Matt says that he can't be bothered to make either then the answer to shall we have steak is a big resounding no! So, to think that you need steak first of all we may have to think again.
Aubergine Steak, Chips & Easy Vegan Béarnaise Recipe
What we do though for The Anti-Cancer Kitchen is to think sauce first and then the protein and then the side (which are numerous) which we have opted to use in this easy plant-based aubergine (eggplant) steak night recipe are crispy and fluffy triple cooked chips – no deep frying though. Our triple cooked chips are boiled, fried and roasted. And the result is absolutely delicious.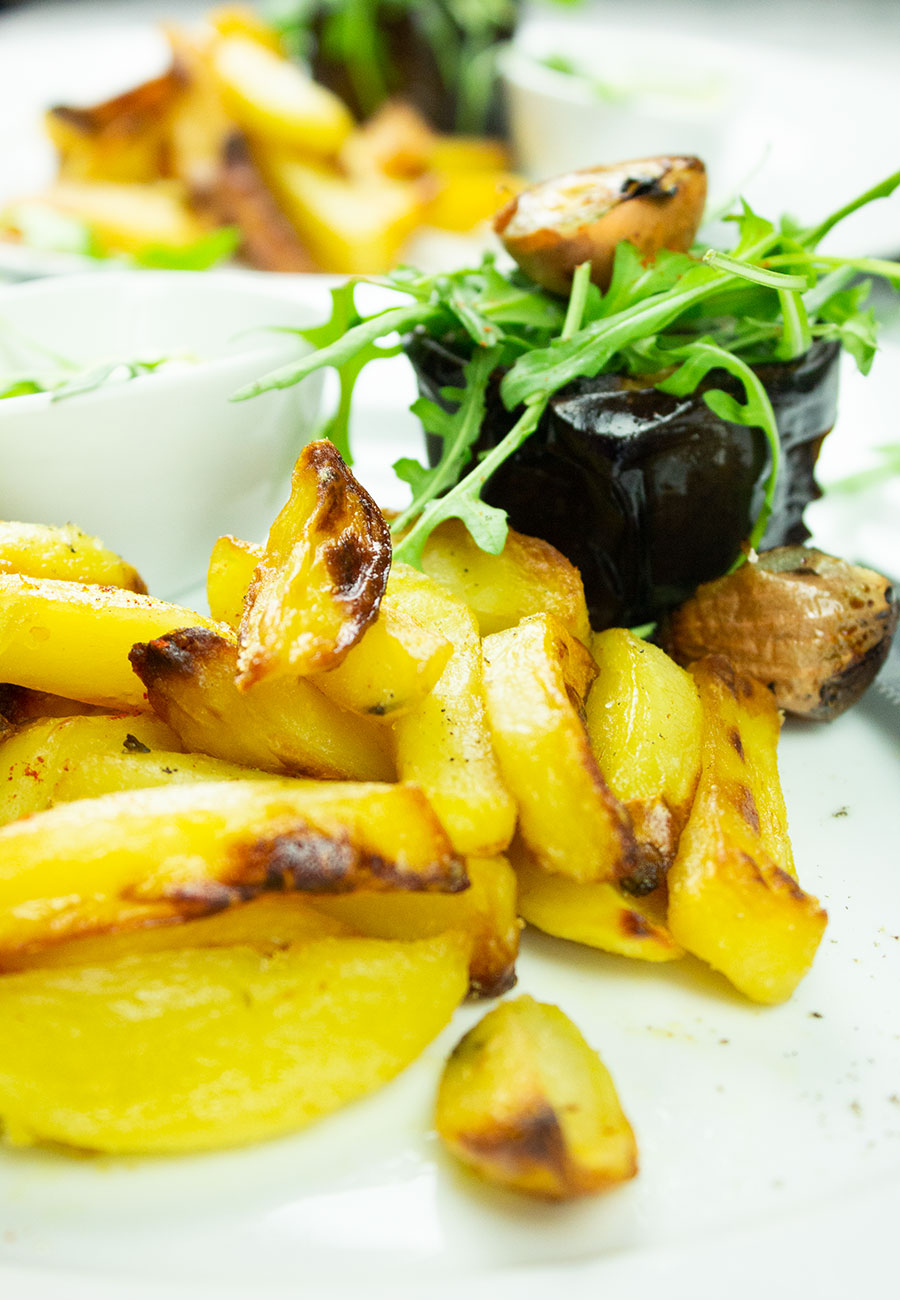 We feel that a steak night is an institution and that just because you are living with a plant-based diet you shouldn't miss out on this opulence and indulgence. A velvet buttery vegan shallot and tarragon béarnaise that would normally be a staple for this recipe has to be re-imagined so that the flavour and texture of the original is still there but minus the egg and the butter.
In this easy to make béarnaise sauce you have all that sharp and aromatic buttery flavour and we really think that you get the indulgence too. The shallots, vinegar and tarragon infuse together just like it would in the original recipe, here however, instead of reducing by half you reduce it a little longer because with the original you would sieve the liquid off and discard the remains of the shallot and tarragon stalks but with this recipe we're blending the sauce, so you can just put it all in.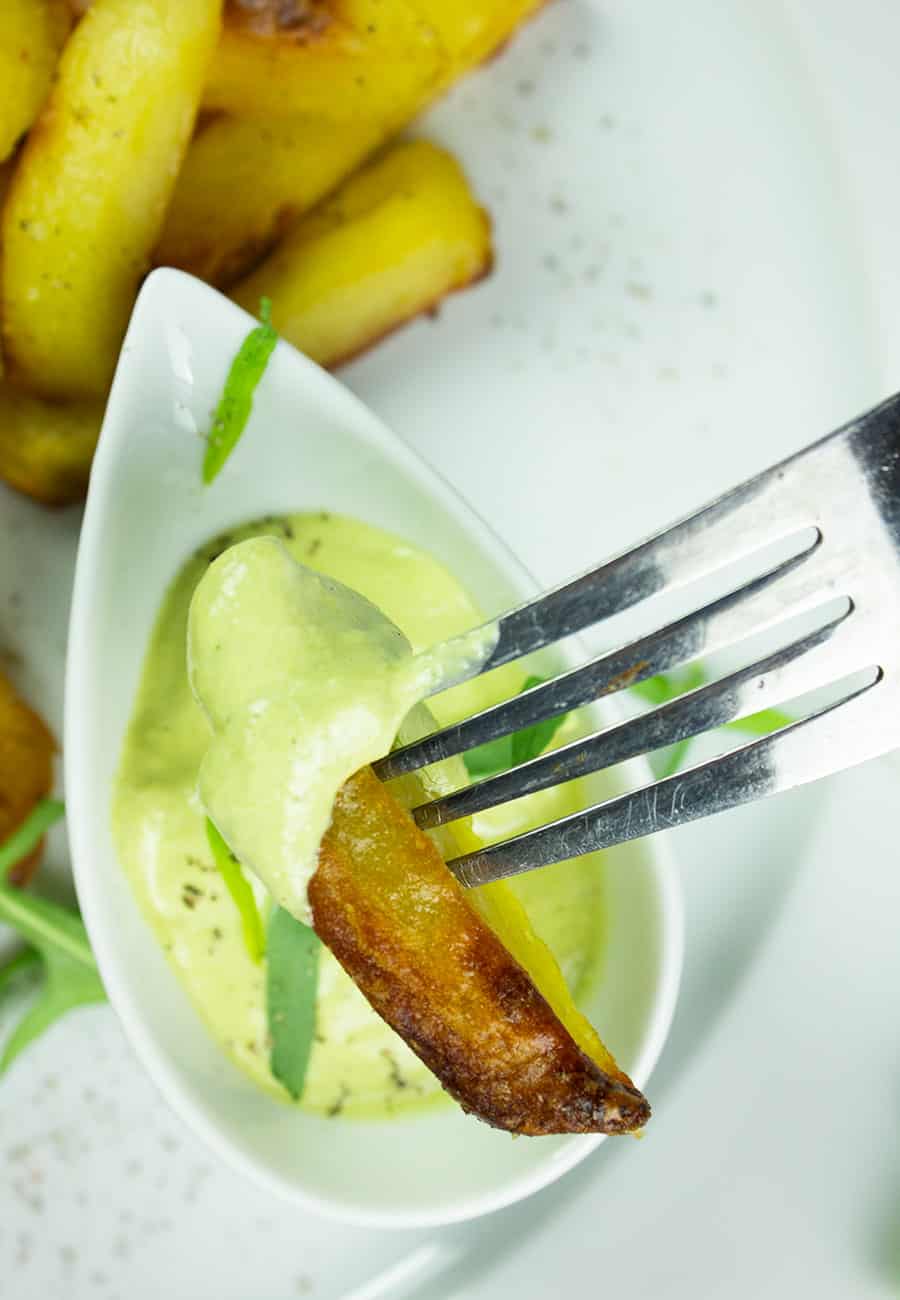 For the texture we have used a firm tofu blended with olive oil. This silken tofu acts as a host ingredient and sups up all the flavour created by the shallot, vinegar and tarragon. We add some turmeric for some original colour and not only that it's totally amazing as an ingredient linked to fighting cancer but that does help. We then stir some strands of fresh tarragon through and voila!
How to make a Perfect Vegan Béarnaise Sauce
You can't, in our opinion, buy a decent béarnaise sauce from the shops because fresh béarnaise sauce doesn't last long so the manufacturers have added preservatives and stabilisers etc, this does not go well with our anti-cancer ethos so making a home-made version is way better. Also making a traditional béarnaise sauce is fiddly and it can go wrong and if you've experienced that then you know what we're talking about when we say pots go flying! With this recipe you simply blend the infused shallots to tofu and oil. In fact this is so simple that if you were tempted to make an original béarnaise again we think you'll think again and make this recipe.
For the steak aspect you could go for many options such as a cauliflower, mushroom or seitan steak but there is something about an aubergine steak that really looks the part. It is firm yet has a soft enough bite and when served alongside some perfectly cooked crispy and fluffy chips you have the recipe for a perfect steak night.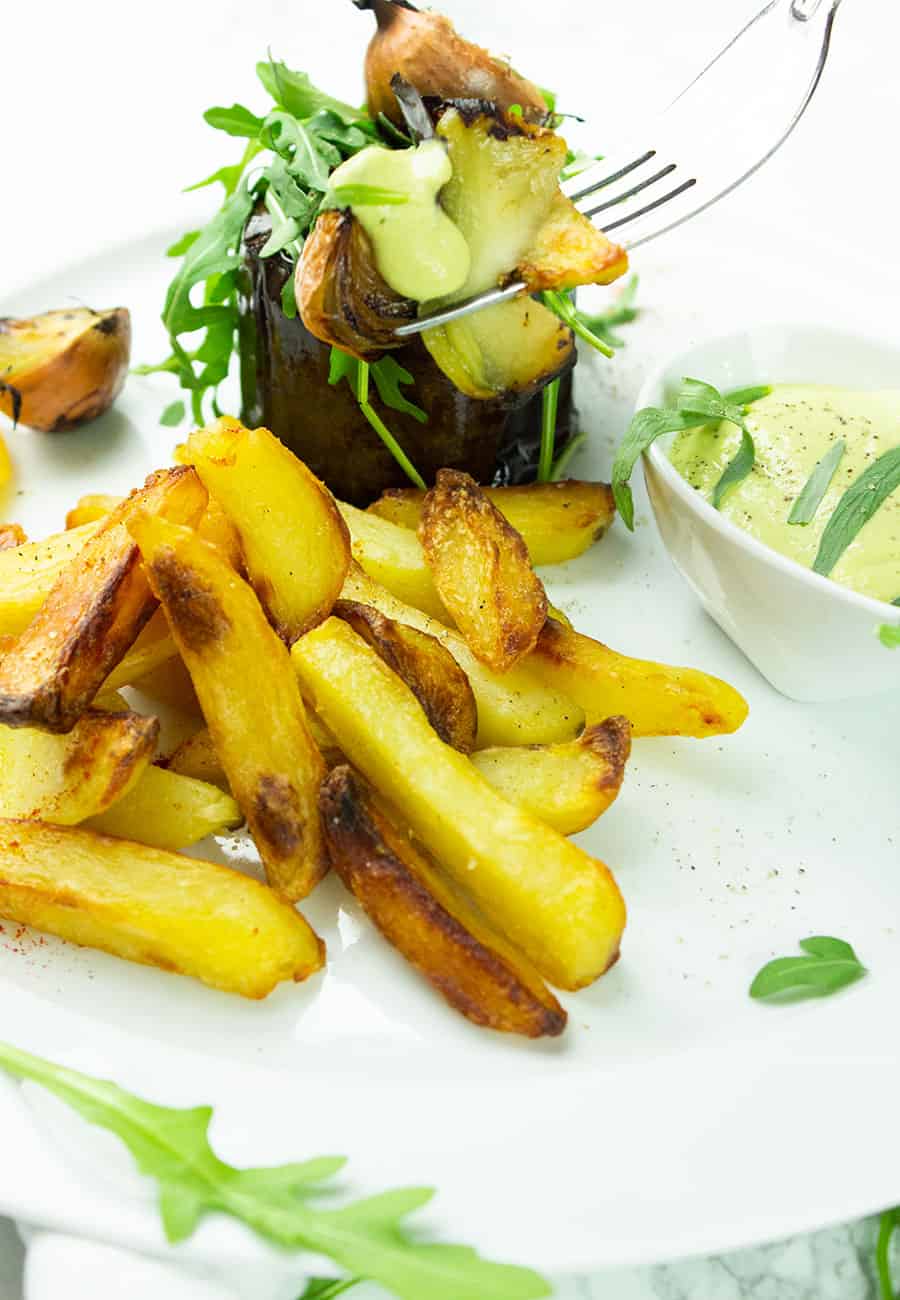 Perfectly Fried and Roasted Aubergine (Eggplant) Steak
To make this steak is super easy. Just add a drizzle of olive oil to a heavy bottomed frying pan and put on a high heat. Place the aubergine (eggplant) steaks into the oil and using tongs turn over on all sides equally to fry for about 9 minutes. Place in a 200c oven and roast for a further 5 minutes. How easy is that?
Have you made this recipe?
We'd love to see your food creations! Please leave a comment below, share or tag using @anticancerkitchen on Instagram and hashtag it #anticancerkitchen.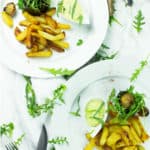 Ingredients
Steaks:

2 aubergines, the top and bottom cut off and halved

A drizzle of olive oil

Béarnaise sauce:

4 shallots, small

4 tablespoons of red wine vinegar

4 tablespoons of chopped fresh tarragon (a few leaves reserved)

1 teaspoon of turmeric

150g of firm tofu

¼ cup of olive oil

Chips:

4 large Maris Piper potatoes, peeled and chipped

2 tablespoons of olive oil

Salt and pepper
Instructions
Chips:
Bring a pan of salted water to the boil and add the potatoes. Boil for about 12 minutes and drain and set aside to steam.
Add the oil to a deep sided frying pan and put on a high heat. When the oil is hot add the potatoes and gently stir to cover in the oil. Fry turning from time to time for about 5 minutes until the chips have started to brown. Transfer to a roasting tray and season and place in a pre-heated oven at 200c for 45 minutes. Turn from time to time to stop them from burning.
Béarnaise sauce:
Drizzle a little olive oil in a pan and put on a medium high heat. Add the chopped shallots and tarragon and fry until the shallots have softened. Pour in the vinegar and reduce the liquid by just over half.
In a high-speed blender place the tofu and half the olive oil and blend until smooth. Pour in the shallot mixture and turmeric and blend once more to incorporate. Pour in the remaining olive oil in a slow stream until the sauce has taken on a smooth consistency.
Chop a few reserved tarragon leaves and stir into the sauce.
Steak:
Add a drizzle of olive oil to a heavy bottomed frying pan and put on a high heat. Place the aubergine steaks into the oil and using tongs turn over on all sides equally to fry for about 9 minutes. Place in a 200c oven and roast for a further 5 minutes.