A buddha bowl is the embodiment of everything that's good with vegan/plant-based diet.
Quite simply you prepare a variety of vegetables, grains, plant-proteins such as tofu and leaves and showcase them all in one small bowl.
There is no need to go fancy and create textures or go all "molecular" as the vegetables and grains whether cooked or raw do all of that for you. To be honest it is actually rather refreshing not to have to experiment with recreating a dish for the plant-based crowd such as "no" meat-balls or plant bacon etc for once.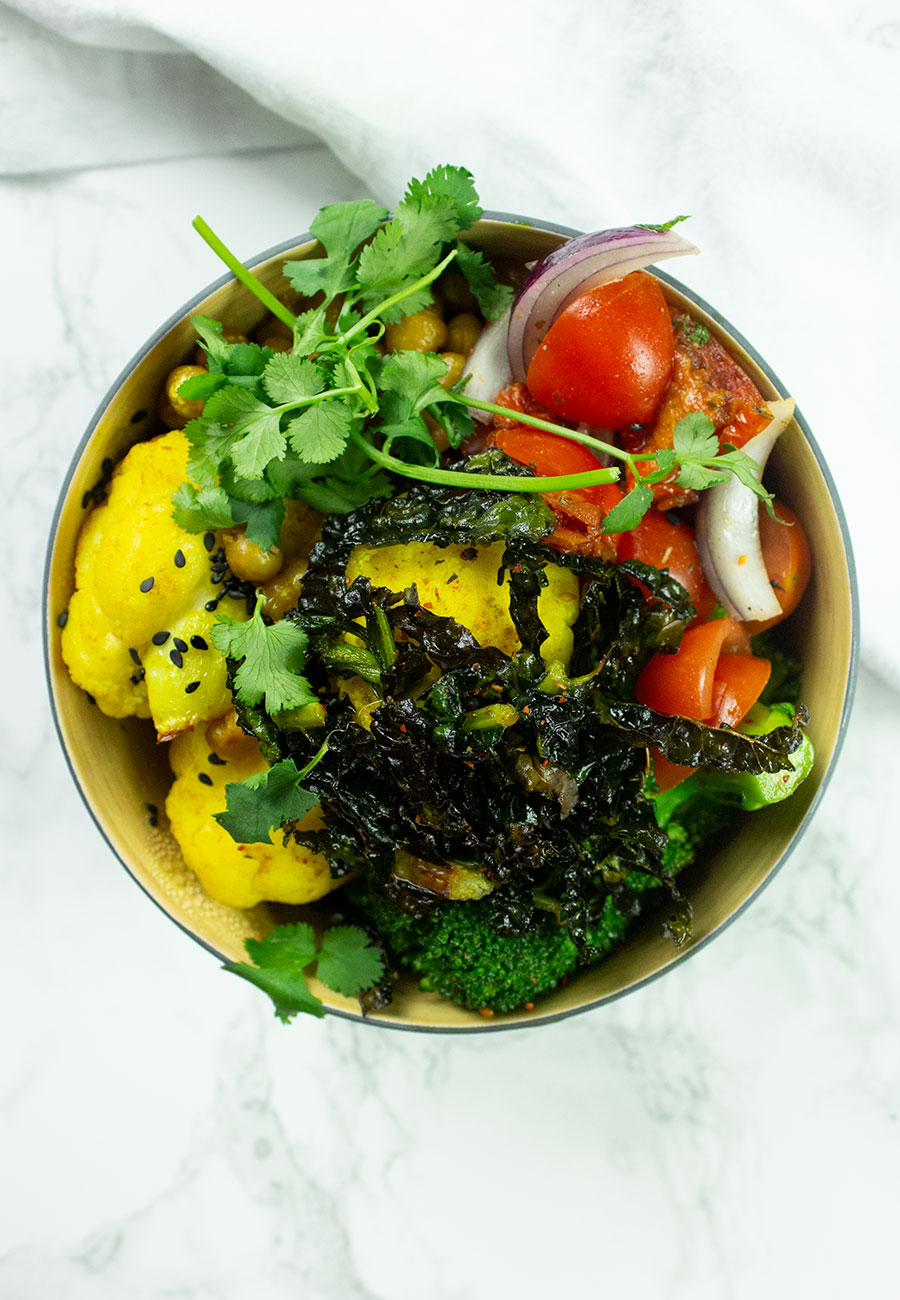 Vegan buddha bowl recipe
A buddha bowl is what it is, simple, nutritious and there is one for everyone. In this vegan/plant-based recipe we have gone for foods that encapsulate our anti-cancer ethos, some cruciferous vegetables, some turmeric, some ancient grains and legumes and not surprisingly these foods come in the colours red, yellow and green.
Finally, we like to take inspiration from all corners of the globe so we've gone a bit Mediterranean with some delicious Spanish Bravas sauce and Italian tomato salad, a bit Asian with sesame broccoli and crispy "seaweed". There's a little Middle-Eastern touch with chickpeas and a little American wild grain rice but whether you re-create this recipe or simply take inspiration from it we're sure you will be making many buddha bowls in the future.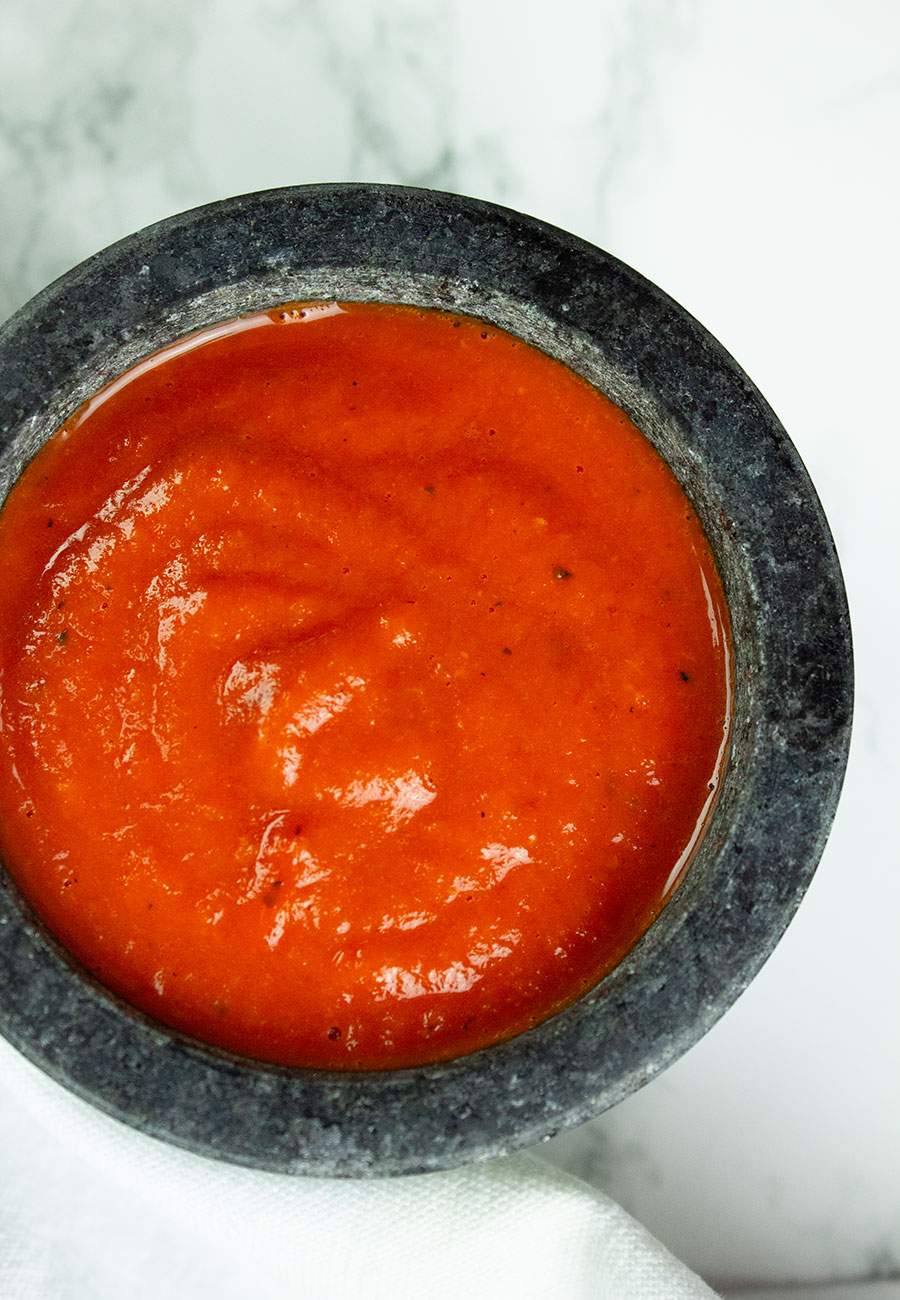 Have you made this vegan buddha bowl recipe?
We'd love to see your food creations! Please leave a comment below, share or tag using @anticancerkitchen on Instagram and hashtag it #anticancerkitchen.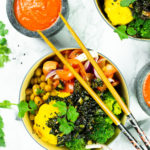 Ingredients
For the Buddha bowls:

1 ½ cups of wild black rice

1 teaspoon of salt

1 tablespoon of rice vinegar

200g of kale sliced into shreds

1 teaspoon of Chinese five-spice

1 tablespoon of olive oil

½ a cauliflower broken into 12 florets

240g of chickpeas

2 teaspoons of turmeric

1 broccoli broken into 12 florets

1 tablespoon of Sesame oil

1 teaspoon of black sesame seeds

16 cherry tomatoes quartered

8 sun-kissed tomatoes quartered

1 red onion diced

1 teaspoon of oregano

For the Bravas sauce:

3 roasted red peppers

½ red onion chopped

3 tablespoons of crushed tinned tomatoes

½ garlic clove, peeled and chopped

2 teaspoons of paprika

½ teaspoon of cayenne pepper

1 teaspoon of olive oil
Instructions
Rice
Put the rice in a pan and cover with 2 ¼ cups of water (ratio of 1-1.5) add the salt and rice vinegar and bring to the boil. Put a lid on the pan and turn the heat down very low and cook for 35 minutes or until the rice has fully absorbed the water and soft.
Kale
Preheat the oven to 200c/392°F.  Put the kale in a roasting dish and toss in the olive oil and Chinese 5-spice. Roast in the oven for 8-10 minutes until crispy.
Bravas sauce
Heat the oil in a small pan on medium-high heat and add the onion and garlic and fry for 2 minutes. Add the paprika and cayenne pepper and stir through. Add the peppers and crushed tomato and simmer for a further 4- 5 minutes. Transfer to a blender or using a hand blender process until smooth.
Cauliflower and chickpeas
Roast the chickpeas in a dry pan on medium-high heat for 4-5 minutes.
Parboil the florets in boiling water for 3 minutes, drain and transfer to the pan with the chickpeas and add the olive oil and the turmeric. Fry now on a high heat covering the cauliflower in the oil for 1-2 minutes. Transfer to an oven dish and roast for 12 minutes.
Broccoli
Parboil the florets in boiling water for 3 minutes. (you can boil with the cauliflower) transfer to a pan and stir-fry on high heat in the sesame oil for 2 minutes and sprinkle with black sesame seeds
Tomatoes and red onion
Simply stir the quartered cherry tomatoes, sun-kissed tomatoes, and red onion together in a little olive oil. Season and add the oregano.
To serve
Spoon the rice in the bottom of the bowls and now arrange the vegetables on top around the bowl in their colours. Top with the crispy kale "seaweed" and serve the sauce on the side.

Copyright secured by Digiprove © 2020 The Anti-Cancer Kitchen