So how about a creamy, chunky, garlicky greek Tzatziki dip with feta cheese? 'Yes yes yes please' I shouted when M suggested we give this a go. I love dips especially garlic dips like Tzatziki so I really don't need convincing, in fact, anything Tzatziki is my kind of thinking. Not too long ago we did experiment with turmeric Tzatziki and the results were pretty amazing. This one is with feta cheese (yuuuuum). It does not get more Greek than that.
Greek tzatziki dip with feta cheese
Feta cheese is (normally) made of goat or sheep milk (or a combination) and it's a cheese from Greece. It is a crumbly salty aged cheese, commonly produced in blocks, and has a slightly grainy texture. The best thing about this cheese that it is actually not bad for you. In fact, it has anti-cancer properties and promotes bone health and boost the immune system. Here is why.
Feta is a great source of calcium.
Research suggests that calcium combined with vitamin D can help protect our bodies against cancer. Moreover, the feta cheese is rich in the protein compound alpha-lactalbumin. Research suggests, when this protein binds to calcium and zinc, it also develops anti-bacterial and anti-tumour properties.
This is a guilt-free Greek tzatziki dip that is so simple and quick to make. It took us less than 5 minutes to combine all of the ingredients. It goes perfectly with bread, on salad leaves, roast veggies, portobello mushroom steaks.. the list goes on…
Have you made this Greek tzatziki dip with feta cheese recipe?
Do you share our love for Greek food? We'd love to see your dip creations! Please leave a comment below, share or tag using @anticancerkitchen on Instagram and hashtag it #anticancerkitchen.
For more healthy appetizers and dips from The Anti-Cancer Kitchen, click here.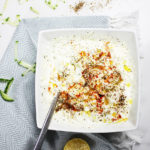 Ingredients
1/2 a large cucumber (shredded/grated/cut into small strings)

2 cloves of garlic (minced)

2 tablespoons of extra virgin olive oil

500g tub of natural (organic) Greek yoghurt (or dairy-free alternative)

200g feta

Juice of 1 lemon

1 small bunch of thyme (1 table spoon of or dried thyme would work too)

1 table spoon of dried mint

1 table spoon of oregano

1 tea spoon of paprika
Instructions
Cut the cucumber into small strings. Get a bowl and mix together the cucumber strips and the Greek yoghurt. Mince the garlic/or cut it finely and add to the yoghurt and cucumber strips. Crumble the feta cheese into bowl and mix well. Add the herbs and the lemon juice and mix one more time. Drizzle the olive oil on top and sprinkle smoked paprika (optional) and serve.