Gali's mum makes the best vegan Borscht in the world! You can argue with us how much you like but it's so true.
Every time we have this delicious vegan borscht soup in her house, we crave it more and more. Matt says that no one can make Borscht soup as good as the mother-in-law. Not sure what she does, as she never really follows a recipe and the soup is kind of different every time, but one thing that is consistent is that her plant-based borscht soup is always spicy, garlicky, super beetrooty and full of flavour.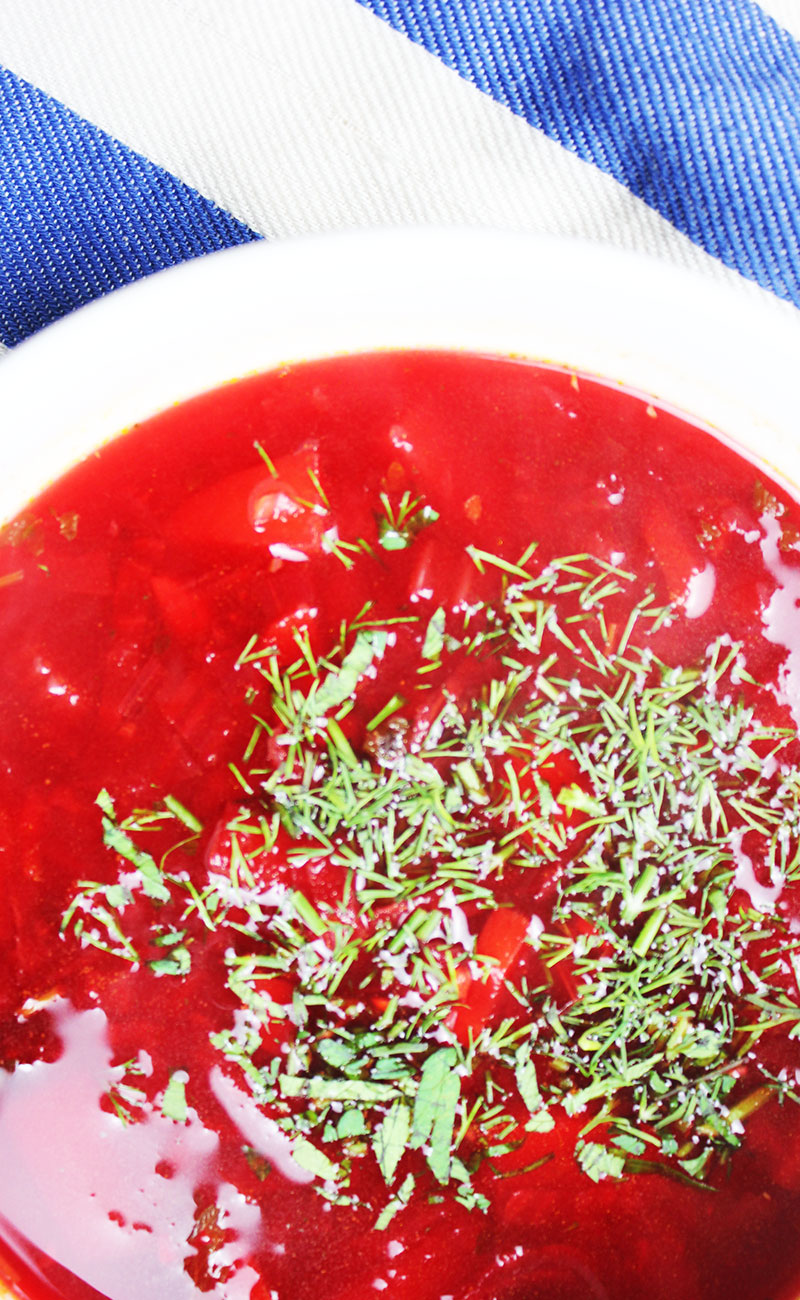 Have you made this delicious vegan Borscht soup recipe?
We'd love to see your food creations! Please leave a comment below, share or tag using @anticancerkitchen on Instagram and hashtag it #anticancerkitchen.
More healthy anti-cancer soup recipes
Check out our tasty and anti-cancer soup category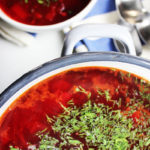 Ingredients
4 fresh beetroots peeled and shredded

4 carrots cut into small cubes

2.5-liter vegetable stock (3 cubes)

3 medium-sized potatoes peeled and cubed

1 medium-size onion finely diced

2 celery stalks finely diced

4 garlic cloves, peeled and crushed

400g of chopped tomatoes

3 tablespoons of tomato puree

1 tablespoon date nectar

1 tablespoon chilli flakes or to taste

A handful of chopped parsley and dill

Crème fraîche plant-based (optional)

Horseradish (optional)

Crispbread (optional)
Instructions
Pour the stock into a large pan and bring to the boil. Add the celery and onion to the stock and boil for 2 minutes. Bring the heat down and add the carrots and shredded beetroot and simmer for another 5 minutes. Stir in the chopped tomatoes, tomato puree, date nectar and garlic and the cubed potatoes, season with salt and pepper and add the chilli flakes to taste.
Simmer for 5 minutes.
Turn the heat down low and scatter with parsley and dill. Put a heavy lid on the pan and simmer the soup for 30 minutes. Serve with horseradish creme fraîche (add horseradish to creme fraîche and mix well) and crispy flatbread.