Delicious vegan pumpkin gnocchi tossed in a spiced pesto that is packed with flavour and nutrients – the perfect dish on your Thanksgiving table.
When it is pumpkin season it is always a nice thing to cut it up, make a lantern out of it and decorate the place with a bit of autumnal fun. However, make sure you use the actual meat of the pumpkin as it not only brings a wonderful seasonality to some dishes it is sweet and flavoursome. If you roast a full pumpkin though, what happens is that the inside intensifies in sweetness and flavour, loses a little moisture and creates the perfect pumpkin puree. This can be added to loads of dishes to add flavour. You will also be left with a load of beautiful puree for many dishes too. One particular favourite though is to add it to a classic Italian vegan potato gnocchi dough to create the perfect autumnal vegan home comfort food.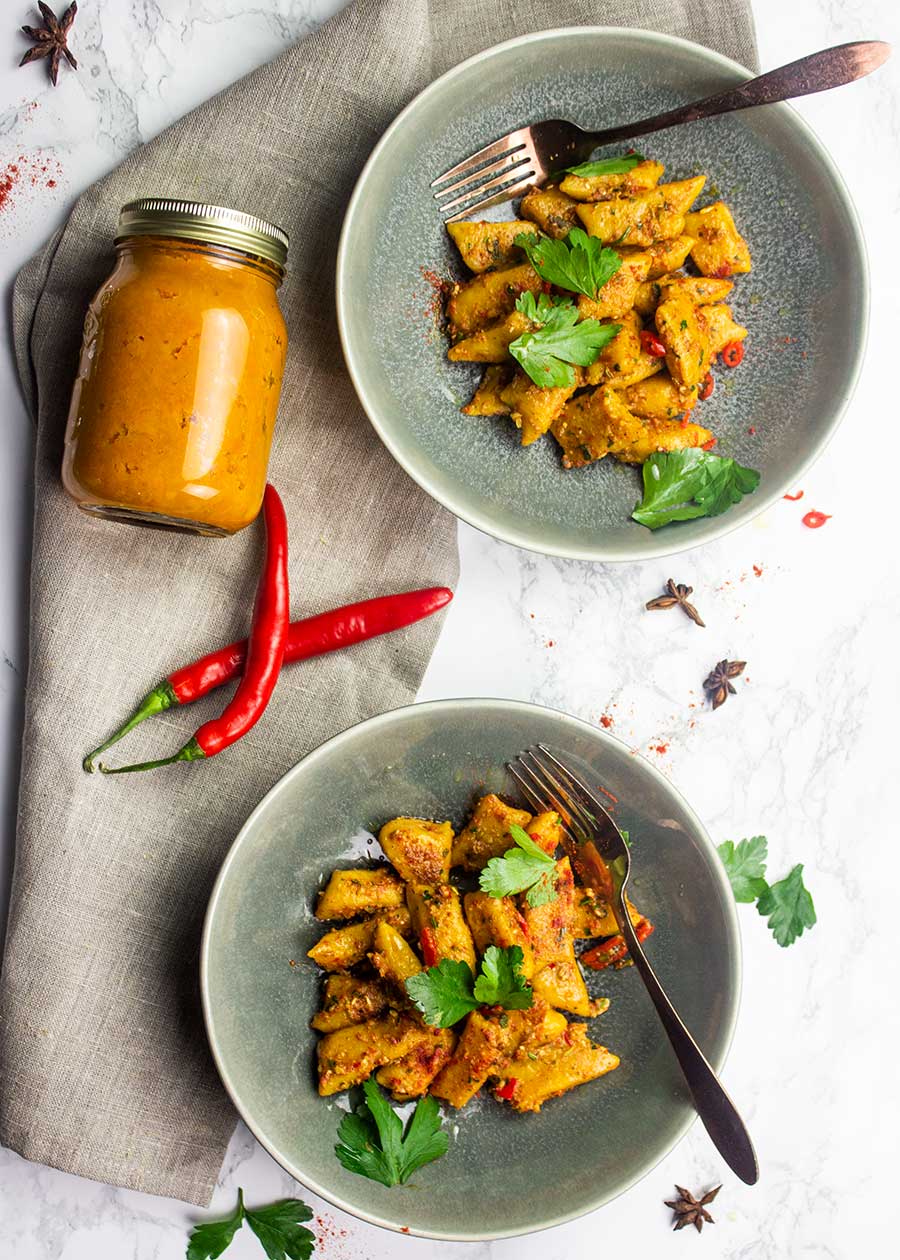 This vegan pumpkin gnocchi is also made without egg which is traditional but not essential. The addition of pumpkin not only gives the dumplings a beautiful vibrancy it adds another health benefit to the dish. These plant-based gnocchis are also very easy to prepare and once cooked you can easily freeze these pillowy dumplings to use another day. 
Pumpkin gnocchi is a very traditional version of gnocchi for the autumn time of year as is spinach gnocchi. The simplicity of some fluffy mashed potato mixed together with 00 flour which is then boiled does seem (at least on the face of it) quite bland. However, pasta, to which gnocchi is often mistakenly thought to be a type of, is also a staple prepared with very few ingredients, yet literally, hundreds of different versions are available. Pasta, for example, comes in so many different shapes and sizes are specifically designed around what sauce it will be paired with. Lasagne creates layers for perfect bakes, tubular pastas such as penne catch velvety sauce through the middle but are not good for thin sauces for example. Spiralled pasta or pastas with ridges on them again are designed to catch the sauce. Long stranded pasta such as spaghetti or linguine are often served with meat and fish as they can be twirled around larger morsels or scooped up like a net that catches chunkier sauces such as pesto or ragu.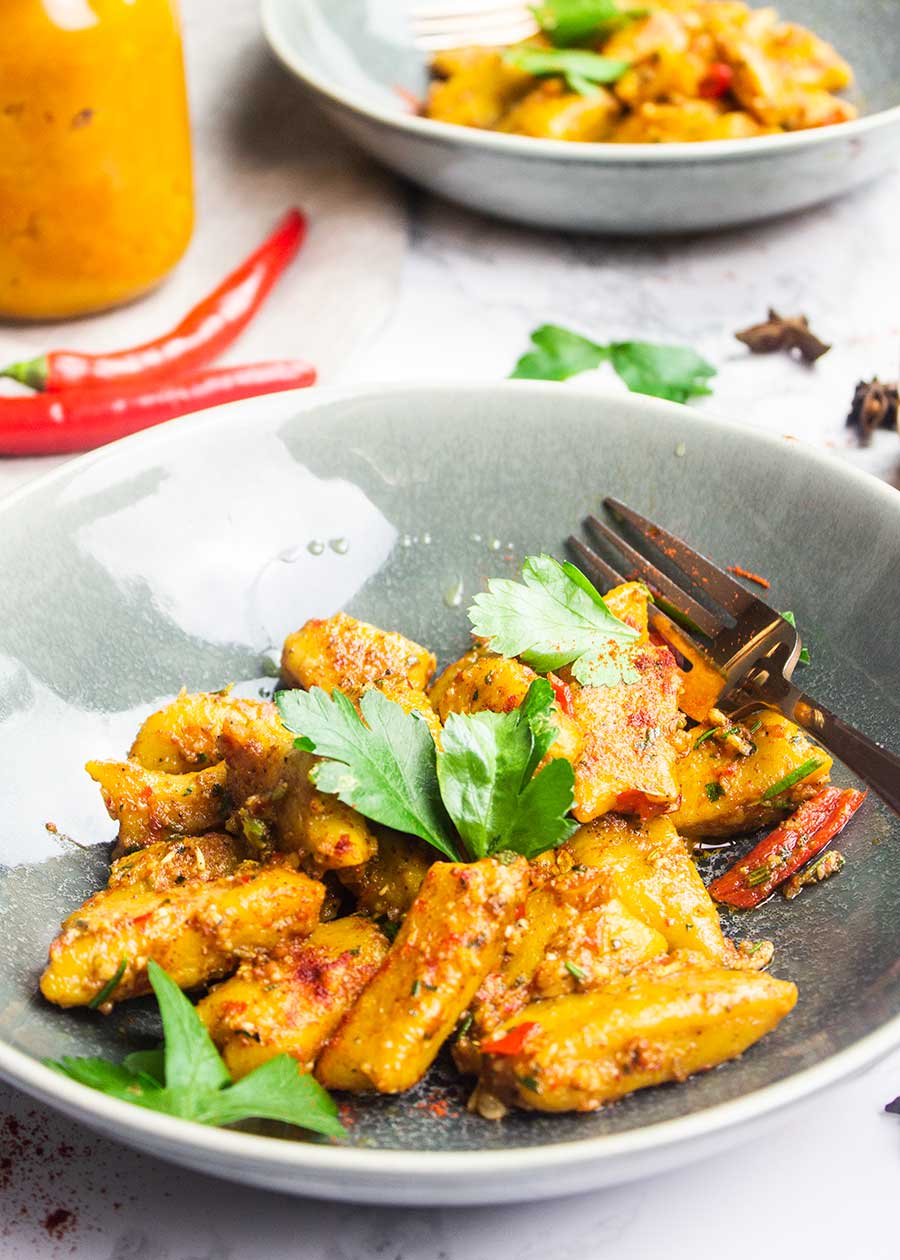 Gnocchi is really only ever made into a dumpling that either does or doesn't have ridges on it and even the size of the dumpling rarely fluctuates much either. The fact that its appearance is very much the same contributes to why it is so often confused as a type of pasta. To be fair, if you wanted to create large lasagne like sheets or ravioli style cushions, long strands like tagliatelle or little rice-like grains such as orzo or risoni, the dough would allow you to do that. However, for the sake of simplicity and tradition, we have paired this orange pumpkin gnocchi with a bit of a special spiced pesto.
Festive spiced pesto
Because pumpkin is often associated with the fall in the USA and the festive season it would seem natural to add some festive spices to our pesto which accompanies our pumpkin gnocchi with a little mix of mulling spices.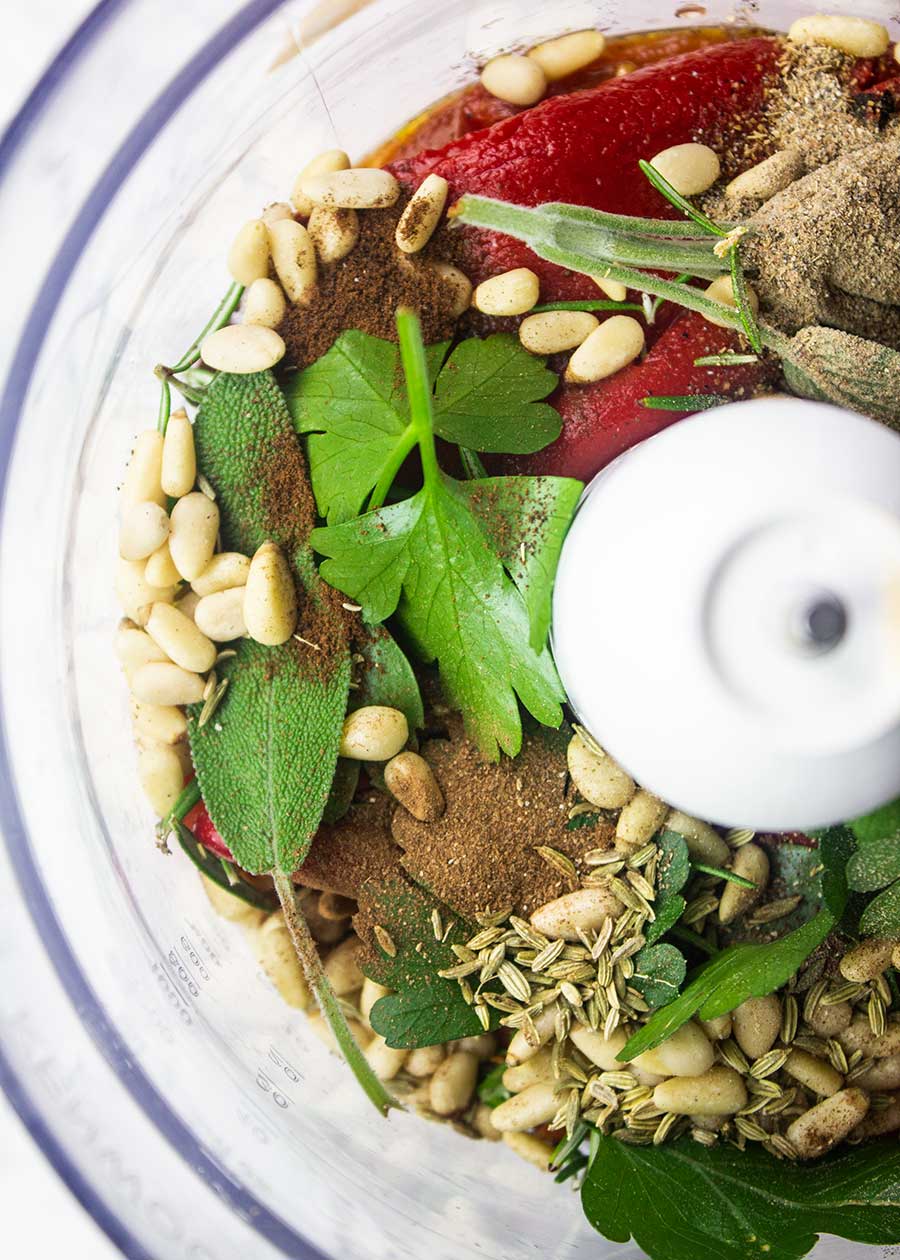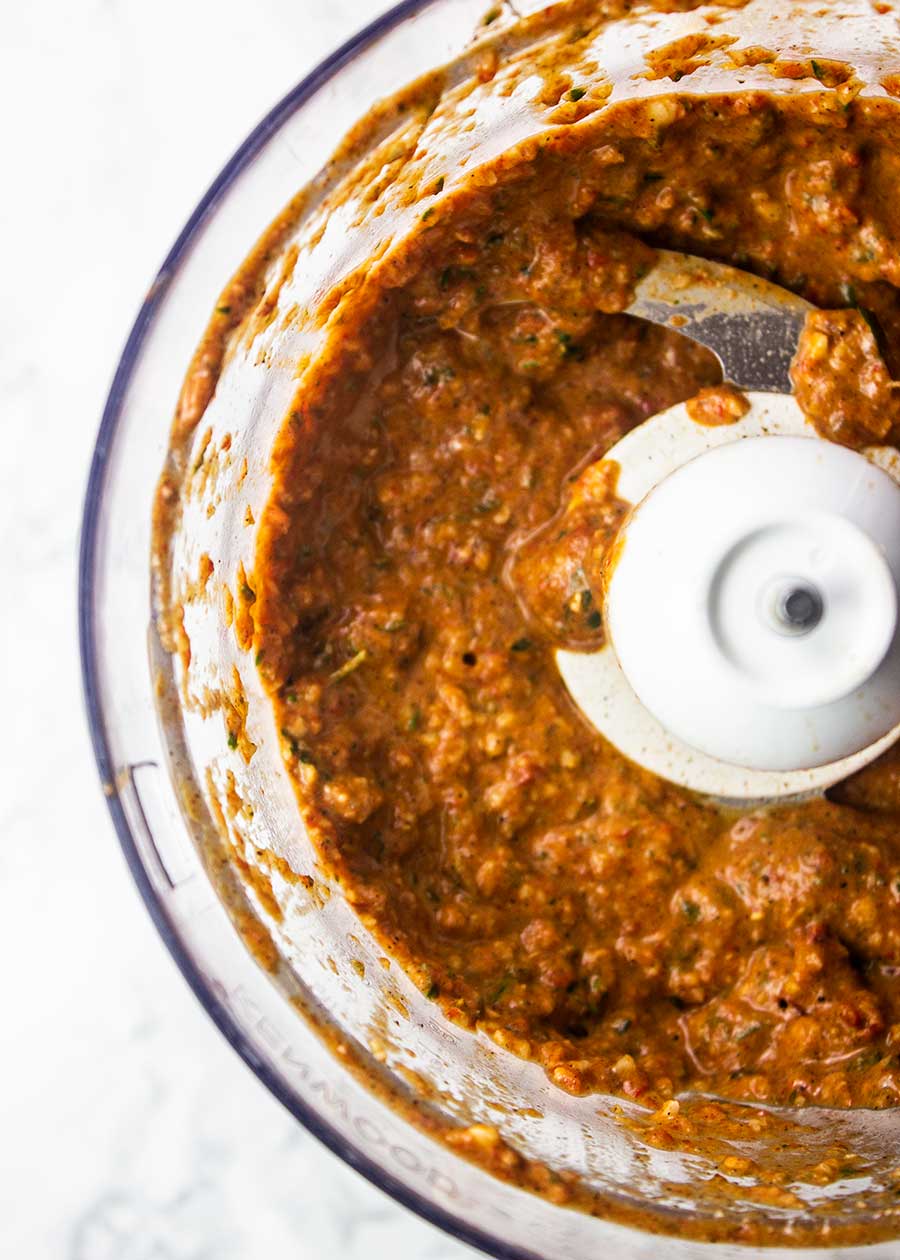 Instead of a green pesto, which would look and taste awesome, we wanted to continue with the redder tones more associated with falling leaves. So, as such, we have started with the bold colour and richness of some slow-roasted tomatoes. These are incredibly healthy too as they (as they have been slowly roasted) contain intensified amounts of lycopene which is a very potent antioxidant that has been associated with a whole host of health benefits including showing signs of potentially being able to fight cancer cells. This intensification also increases the tomato's taste too which is why it is such a good ingredient for pesto. One roasted pepper is added for depth of flavour as well as garlic which has been used throughout the ages to stave off illnesses such as coughs and colds and even used as antiseptic. Of the course, the flavour is very Italian and key for a great pasta sauce. A pesto would not be a pesto without some beautiful fresh herbs and we have gone for the more heady herbs found in more hearty meals such as rosemary and sage. Of course, you can opt for the more traditional basil and even parsley if you like or why not even just add as many fresh herbs as you want. Next goes the pine kernels which add the nuttiness and crunchy texture so key to a good pesto. Finally, and to add that unmistakable aura of the festive season and that is the mulling spices. We have used cloves, cardamom, fennel seeds, cinnamon, star anise and a small amount of shaved orange peel. We did decide on adding a hit of chilli purely because we like a little heat but that is totally up to you if you want to add it.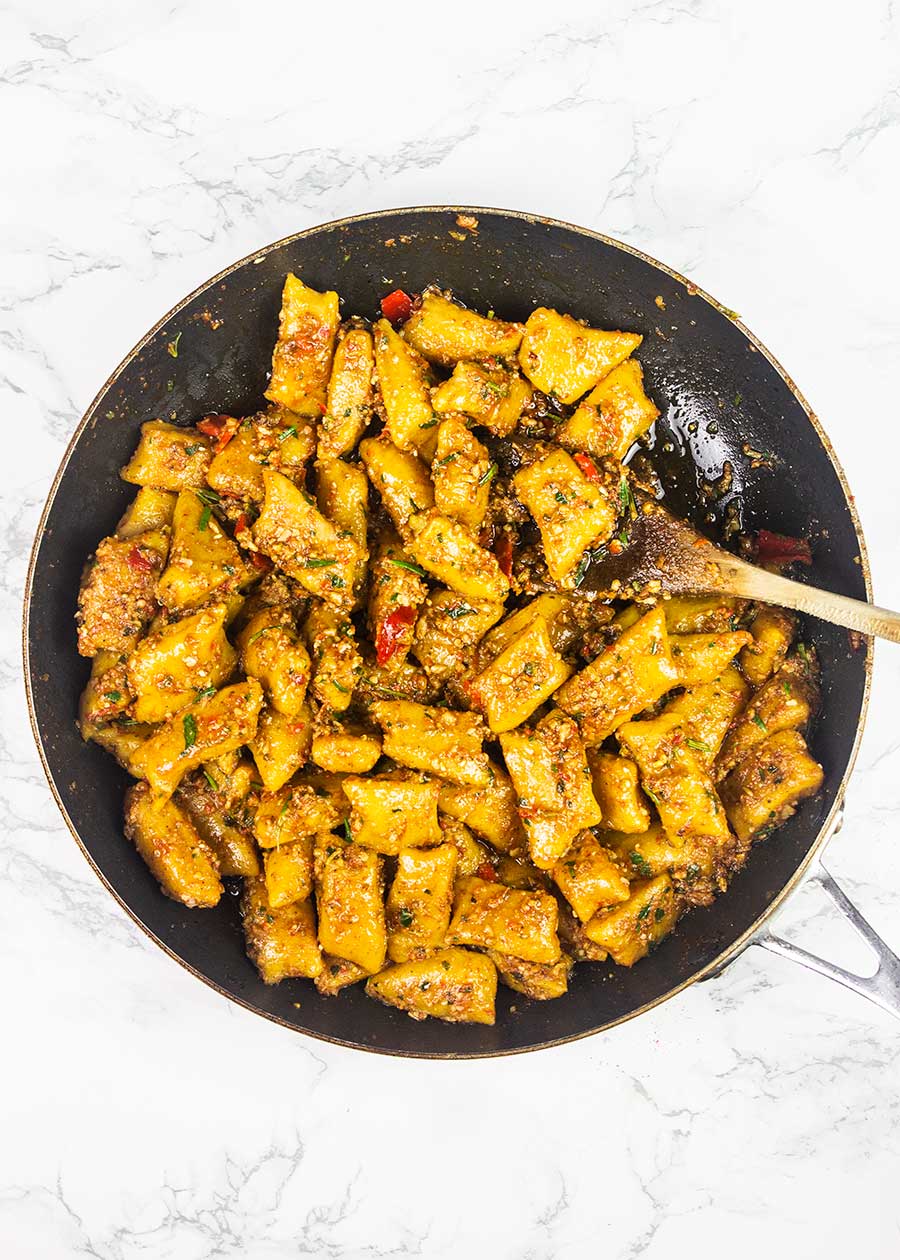 Origin of gnocchi
Gnocchi is a dumpling made with potato or semolina and just like pasta it hails from the Romans. The modern recipe that uses potato is relatively newer being that potatoes were introduced to Europe in the 1500s. Today though, because gnocchi was introduced via Roman armies who conquered all over Europe, many countries have their own versions which have now been passed down from generation to generation and now of course, the world. In Austria and Hungary, these dumplings are used in stews such as goulash. In Poland, they are called kluski and also made without egg and are spiced with various flavours such as cinnamon and pepper (very much like in our recipe. France has an indulgent recipe that adds bechamel sauce and gratinated not too dissimilarly to a Gnocchi alla Romana where the dumplings are baked in a dish until browned then sprinkled with cheese then baked once more. It goes to show how such a simple classic dumpling could be so versatile.
The key ingredient in our pumpkin gnocchi 
Although the main ingredient of our gnocchi would seemingly be pumpkin,  it is actually potato. Although potatoes have fallen out of favour in recent years due to the want of a carb-free diet they are actually very healthy. They remain one of the largest vegetable crops in the world and as such are economical and easy to get. No wonder that potatoes are made into so many different things from chips, mashes and bakes to wonderful gnocchi that people the whole world overeat on a day to day basis. Obviously, there are different nutritional advantages to how you cook them but generally speaking you lock the goodness into the potato when they are baked whole or steamed. This you can do for our recipe but with keeping time down to a minimum we gently boil the potato and let them steam until cooled to take out the moisture content which is key to getting a good texture. It is also the main reason to roast the pumpkin too.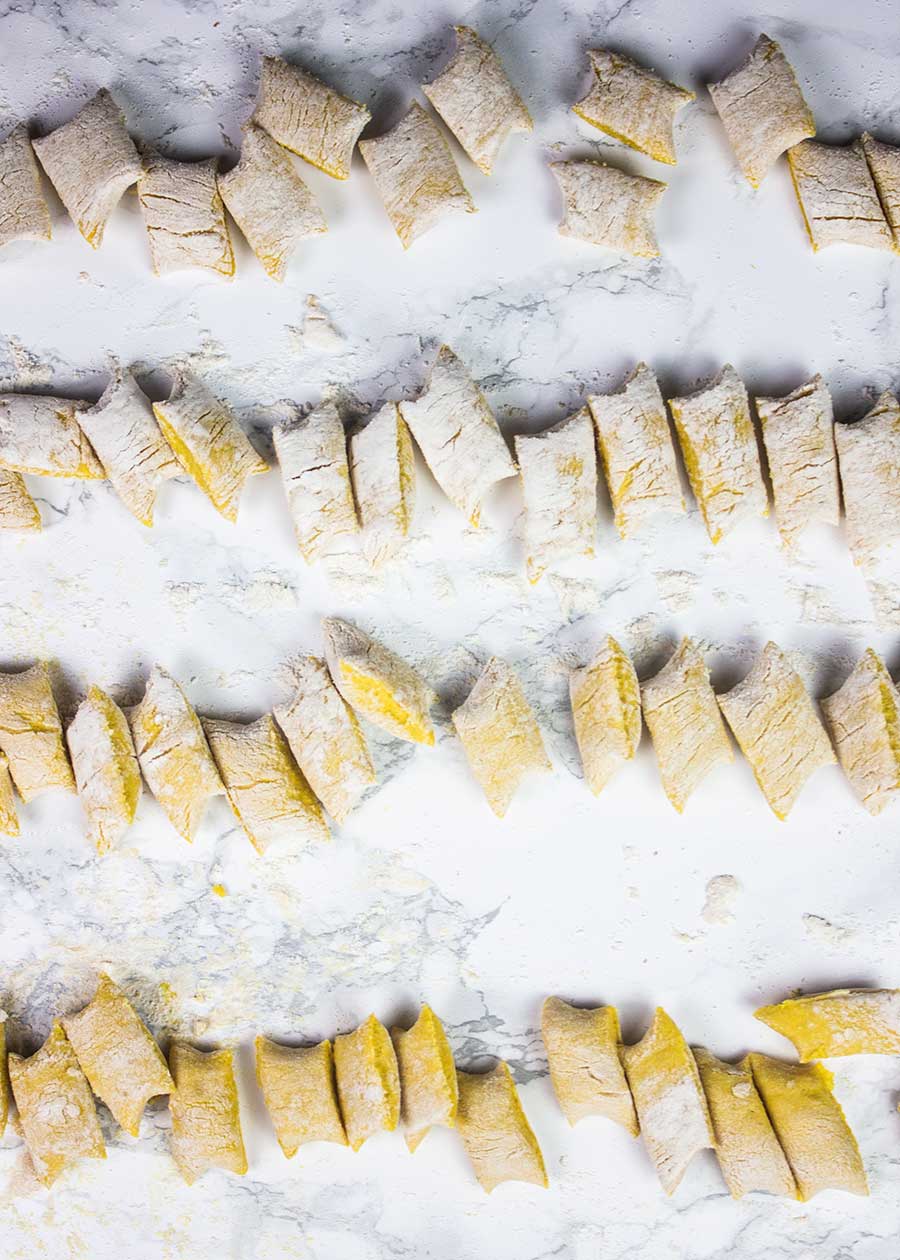 The humble potato is full of fibre, vitamins, minerals and phytochemicals (plant chemicals). Potatoes are a source of vitamin c which is an antioxidant but more importantly a source of Vitamin B, folate which helps repair damaged cells and could potentially prevent cancers. Potatoes are also high in potassium with which a high intake has been shown to reduce heart disease. Potatoes do have the effect due to the amount of dietary fibre they contain, of making people feel fuller for longer, which is actually an important part of weight management, so rather than thinking that potatoes are just full of carbohydrates, therefore, they must be avoided are in fact an important part of your diet.
Have you made our vegan pumpkin gnocchi recipe?
We'd love to see your food creations! Please leave a comment below, share or tag using @anticancerkitchen on Instagram and hashtag it #anticancerkitchen.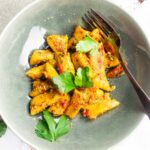 Ingredients
For the Gnocchi:

1 ¼ cups of roasted pumpkin puree

400g (3 medium-sized potatoes) of starchy potatoes

2 ½ cups of flour + extra for dusting

For the pesto:

4 tablespoons of roasted tomatoes

1 roasted red pepper from a jar

2 garlic cloves

¼ of a cup of pine nuts

A handful of fresh herbs such as sage and rosemary or basil

1 red chili (optional)

Mulling spices:

¼ teaspoon of cloves

½ teaspoon of cardamom

½ teaspoon of fennel seeds

½ teaspoon of cinnamon

1 clove of star anise

½ a teaspoon of shaved orange peel
Instructions
For the gnocchi
Cut a whole pumpkin in half and scoop out all the seeds. Place cut side down in the oven at 200℃/392°F for 1 hour. Remove and set aside to cool. Scoop out the flesh and measure out 1 ¼ cups to use and reserve the rest for other recipes.
Peel the potatoes and chop into cubes and boil until soft. Drain and let steam until cool. Mash or put through a ricer.
Combine the potato, pumpkin and 2 ½ cups of flour and season and stir together to make a dough.
Dust a cold working surface with more flour and start to knead the dough adding flour if slightly wet.
Divide the dough into quarters and roll out into equal lengths of about an inch thick.
Using a spatula or the back of a knife, cut each roll into bite-sized pieces slightly on the slant.
Bring a large pan of water to a boil and prepare a bowl of iced water (a bowl with water with a few ice cubes in it) on the side. Boil the gnocchis in batches and when they begin to rise to the top of the water transfer them to the iced water using a slotted spoon.  Set aside until ready to cook. 
Step by step pumpkin gnocchi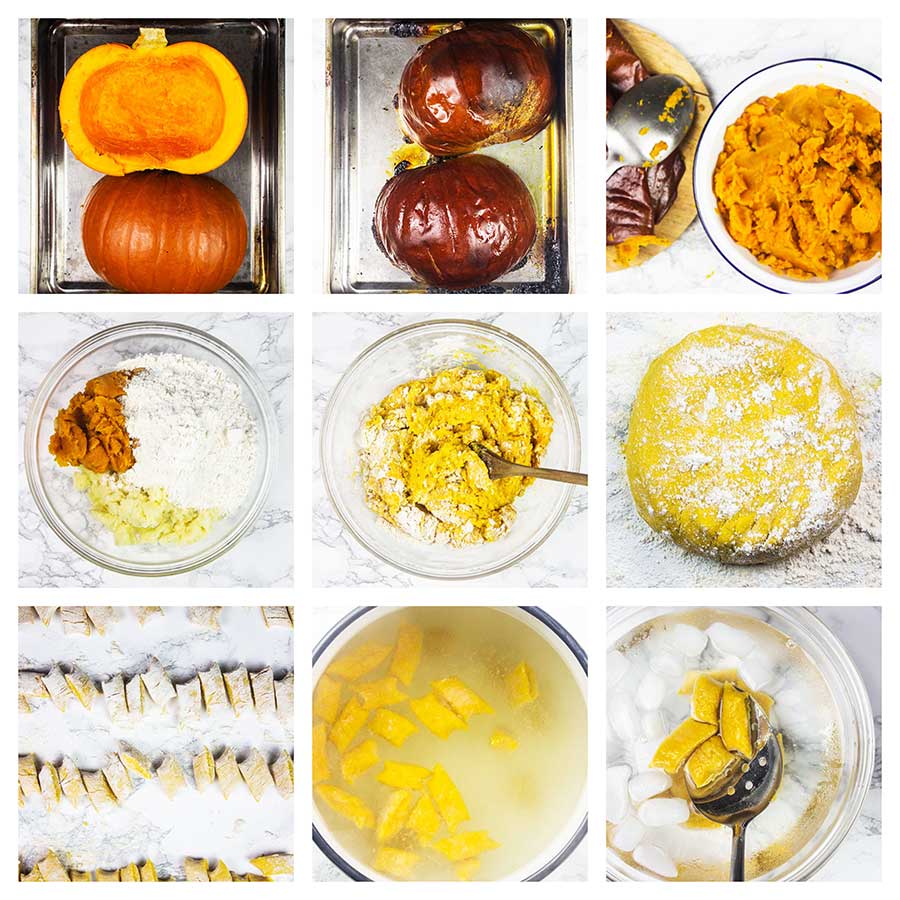 For the pesto
Simply combine all the ingredients in a food processor and blend together to a thick paste which still has the texture of chopped pine nuts.
To heat through
Add some olive oil to a large frying pan and heat on high heat, add the gnocchi and fry for about 2-3 minutes until starting to brown, add the pesto and stir through. Serve immediately.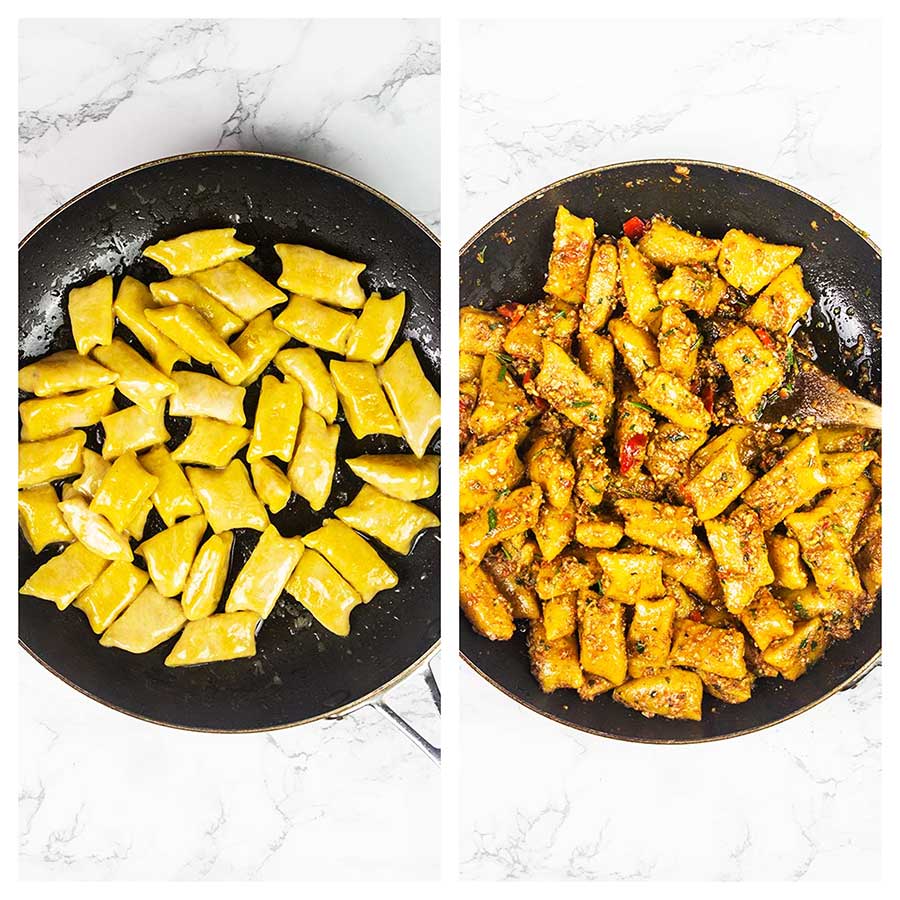 Copyright secured by Digiprove © 2020 The Anti-Cancer Kitchen