Whether you have a favourite tomato pasta sauce to buy or a recipe that has been handed down from your mother via her mother's mother, this slow-roasted tomato pasta sauce recipe is definitely a sauce to either claim as your new favourite tomato pasta sauce or a recipe to add to your repertoire. The reason this red sauce is so good is that the tomatoes have been slow-roasted. This brings out the nutritional goodness as well as deepening the flavour. As it is a vegan, vegetable sauce it has few ingredients and very easy to prepare. Other than a bit of chopping and cooking the sauce down on a hob the oven does all the important work for you. Once you have prepared the slow roast tomatoes, you can keep them in the fridge for about a week.
The best tomato pasta sauce recipe
These slow-roasted ruby gems can be used in so many things too other than an integral part of this best-ever tomato pasta sauce recipe. The same deep umami flavour-packed tomatoes can be spread on our pan con tomate for a totally amazing tapas, breakfast or snack, eaten by themselves with the other usual suspects of a good Mediterranean board such as olives, peppers and bread, added to a salad for a super fresh zingy burst or turned into an incredible healthy salsa to dip your favourite crispy vegetables or tortillas into or top a spicy red lentil chili. Whatever you use them for it certainly gives a pasta sauce such an incredible flavour, so you may want to cook a batch of slow-roasted tomatoes every week just to make the best ever rich tomato sauce that is always on hand.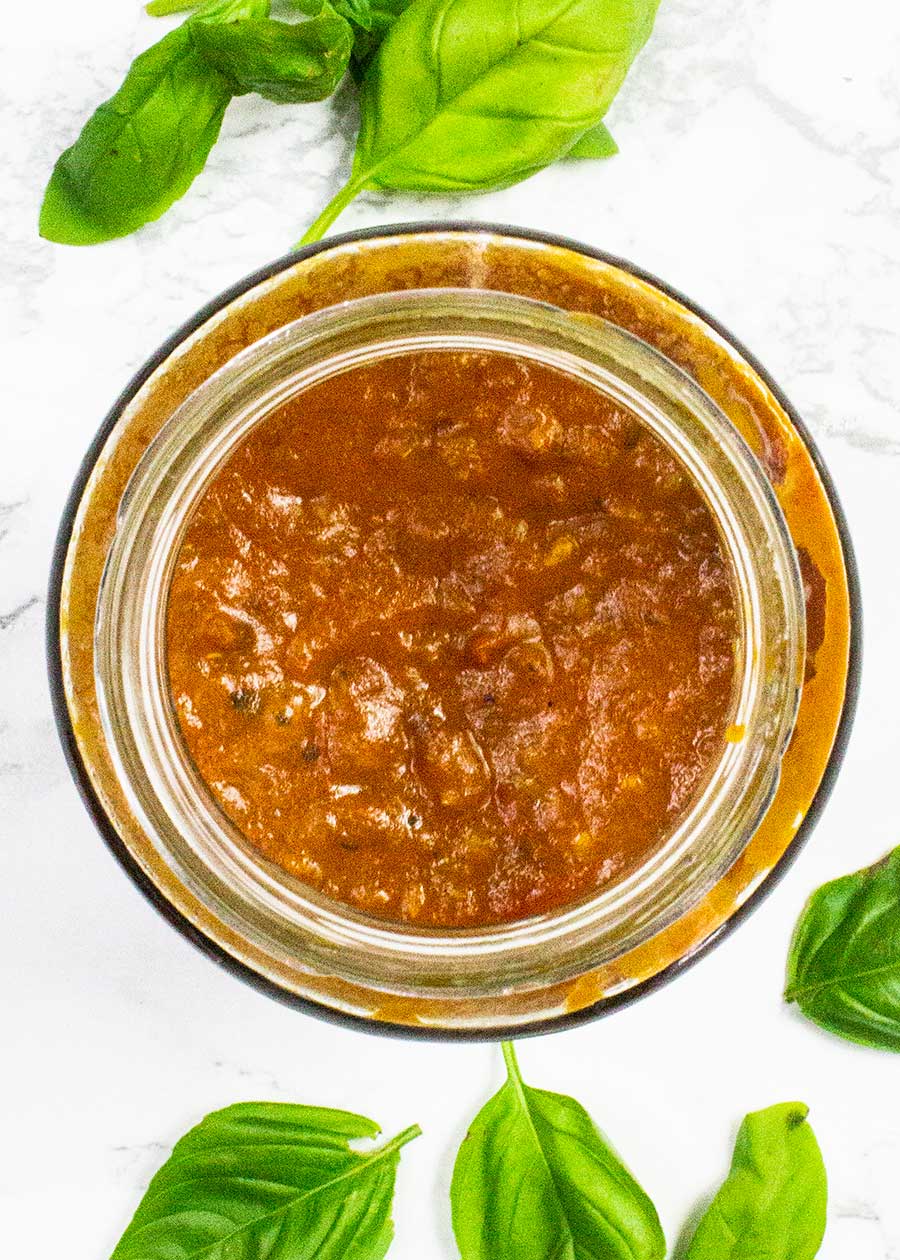 Try it with some chilli and mixed into some simply cooked penne and you will have an ass-kicking penne arrabbiata. Add some fried chopped celery, onion, carrot and grain mince for an awesome vegan spaghetti Bolognese. With the addition of some Indian spices such as turmeric, cumin and garam masala you can create a powerful tomato curry or add some North African spices such as Ras-el-Hanout and sumac you can prepare a wonderful aromatic Moroccan tagine. Whatever you use a tomato sauce or passata for, you can simply use this homemade easy to prepare tomato pasta sauce recipe instead. And here's the kicker, this sauce is super healthy as the concentration of antioxidants is incredibly high so the health benefits are huge too.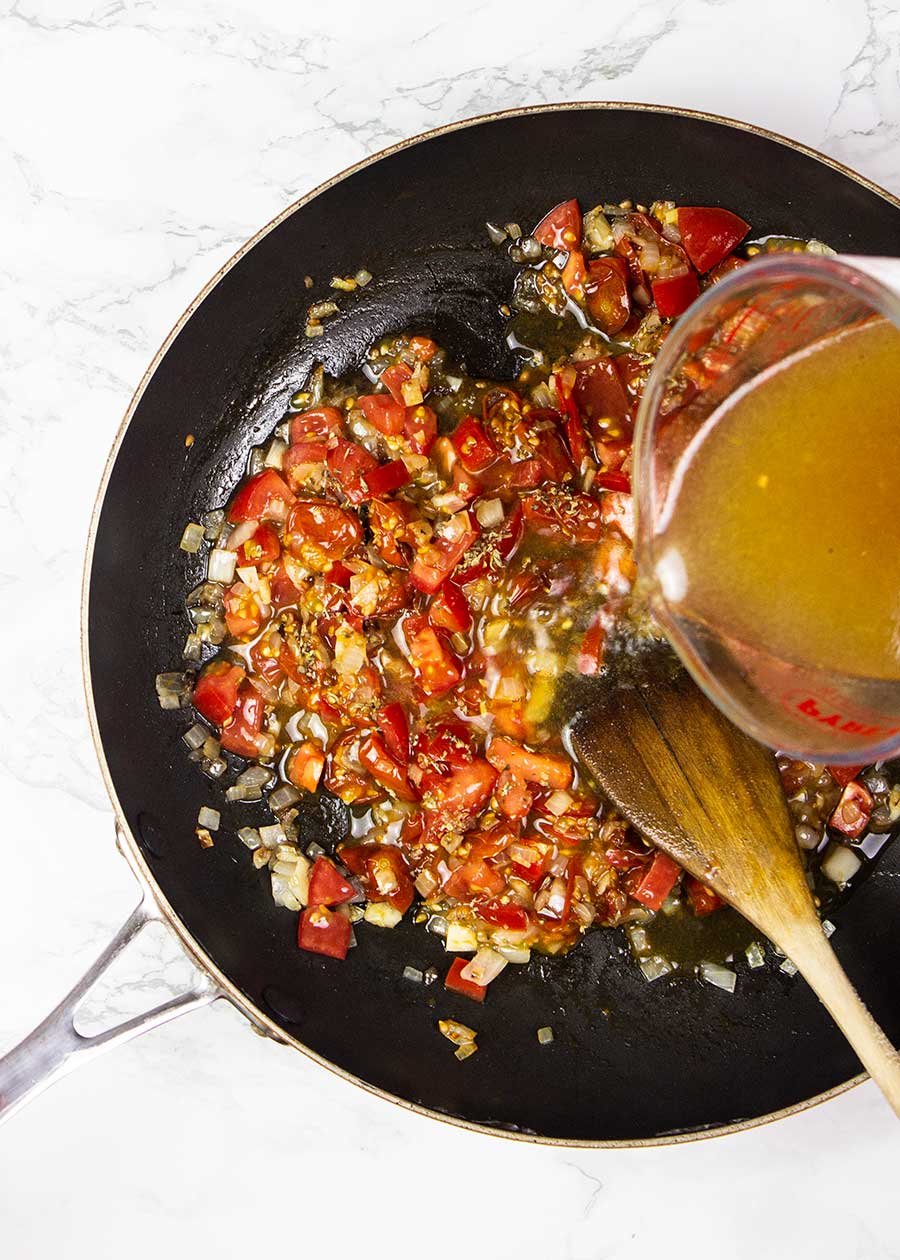 Why slow roast tomatoes in our tomato pasta sauce recipe 
Slow roasting tomatoes intensifies its lycopene content. Lycopene is a plant compound and one of 600 carotenoids found in fruit and vegetables but more importantly one of only a handful that is recognised as important to human health. Carotenoids are found in yellow, orange, red and dark green fruit and vegetables, including tomatoes, sweetcorn, oranges and spinach. Around 50 identified carotenoids including lycopene are converted into Vitamin A in the body. Vitamin A is a fat-soluble vitamin that is stored in the liver. It is essential for many functions in the body as it binds on to certain cells that regulate how our bodies read genes. It is vital for the production of some proteins and important enzymes that maintain normal growth and development of our cells including helping our bodies heal.
Lycopene which is the red pigment found in fruit and vegetables, namely tomatoes but also grapefruits, watermelons, guava and papaya amongst others, is not essential for humans, however, studies have suggested that there is a strong link between tomato intake and blood lycopene levels alongside the reduced risk of many cancers. Cooking tomatoes can release up to five times more lycopene than you would get by consuming just raw tomatoes. Slow cooking is the best way to concentrate these lycopene levels.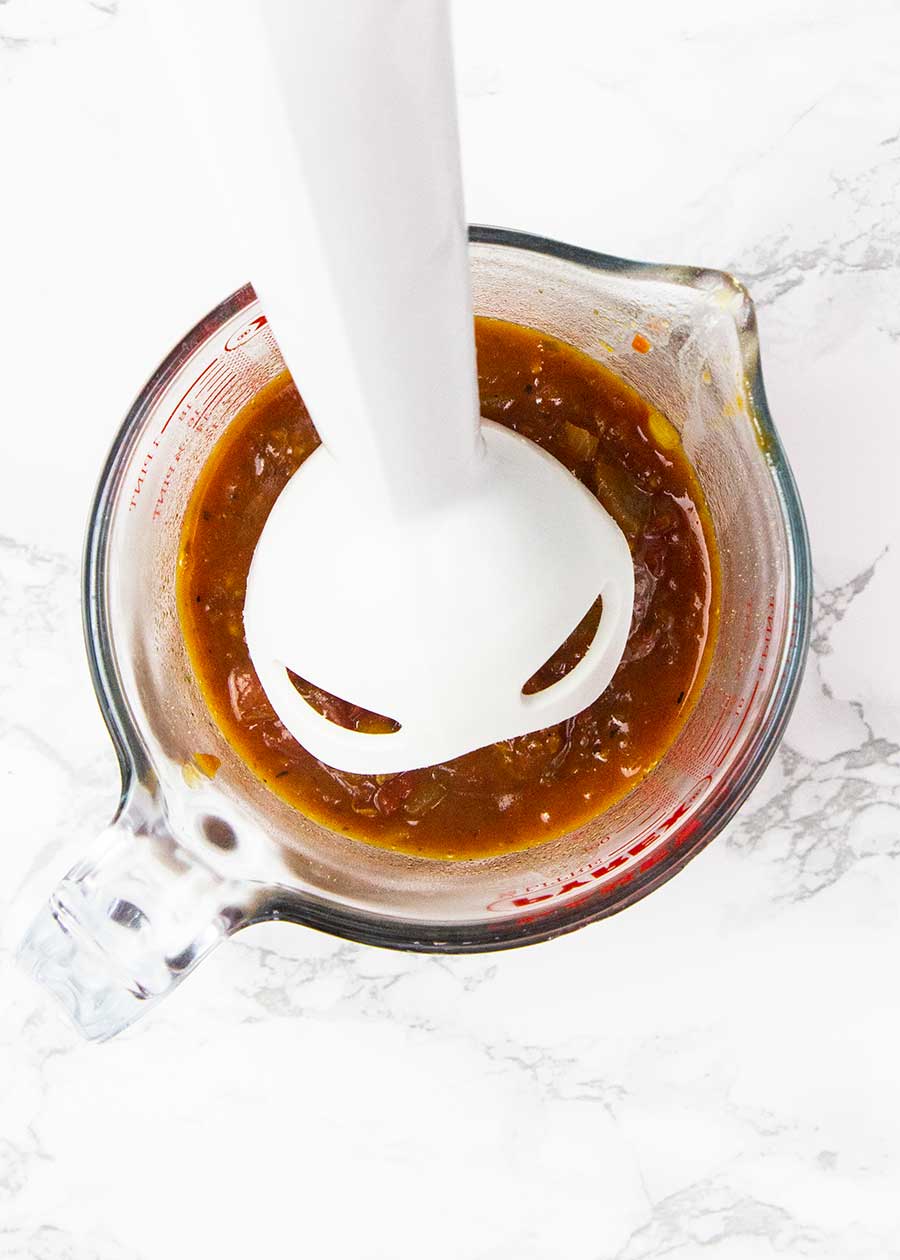 Lycopene
Lycopene is also a powerful antioxidant and is about three times more potent than Vitamin E. It has been studied that consuming just one serving of tomatoes can reduce oxidative stress to our bodies by as much as 50% within one day. Antioxidants help reduce damage caused by free radicals at a cellular level in our bodies. Free radicals are produced thousands of times a day in the body as a result of our metabolic reactions, muscle contractions during exercise, drinking, smoking and exposure to uva sunlight. Whilst these reactions are normal and essential and therefore unavoidable it is the antioxidant protection against excessive free radical damage that provides the benefits. Antioxidants come from fruit, vegetables and nuts in our diet and the correlation between people who have a high intake of fruit and vegetables and the reduced risk of high blood pressure, diabetes and cancer is overwhelming. 
An Italian tomato sauce 
This tomato pasta sauce is of course overwhelmingly Italian. The flavours that give this a totally Italian Mediterranean flavour its uniqueness come from a few other simply easily sourced ingredients these are:
Onion and Garlic

Oregano and fennel seeds
Balsamic vinegar
Onion and garlic
Garlic is highly nutritious like onions as they come from the same allium genus, they contain a small amount of almost everything you need in your diet. One of the main health benefits of garlic is down to its high concentration of Vitamin C. Studies have shown that diets rich in Vitamin C help people maintain an effective immune system. Garlic has long been known to help ward off illnesses such as the common cold and flu. It is also used to aid the healing of minor wounds and infections too due to its antifungal ability.  Hippocrates, the Father of western medicine often used garlic to heal ailments. His tenet, let food be thy medicine and medicine be thy food lives on today.
Oregano and fennel seeds
The addition of oregano and fennel adds an amazing Italian flavour, There is something very Mediterranean and warming with the combination of these two leafy and woody herbs. Like so many other dense green herbs, they are packed full of polyphenols that act as antioxidants in your body. Caffeic acid, chlorogenic acid, ellagic acid and rosmarinic acid which are all found in fennel and oregano have been linked to a whole host of health benefits including lowering the risk of cancer and improving brain function. These flavoursome herbs are packed with further antioxidants such as the flavonoid Quercetin and Vitamins C and K amongst others. The health benefits are numerous making these herbs some of the most nutrient-dense foods in the world.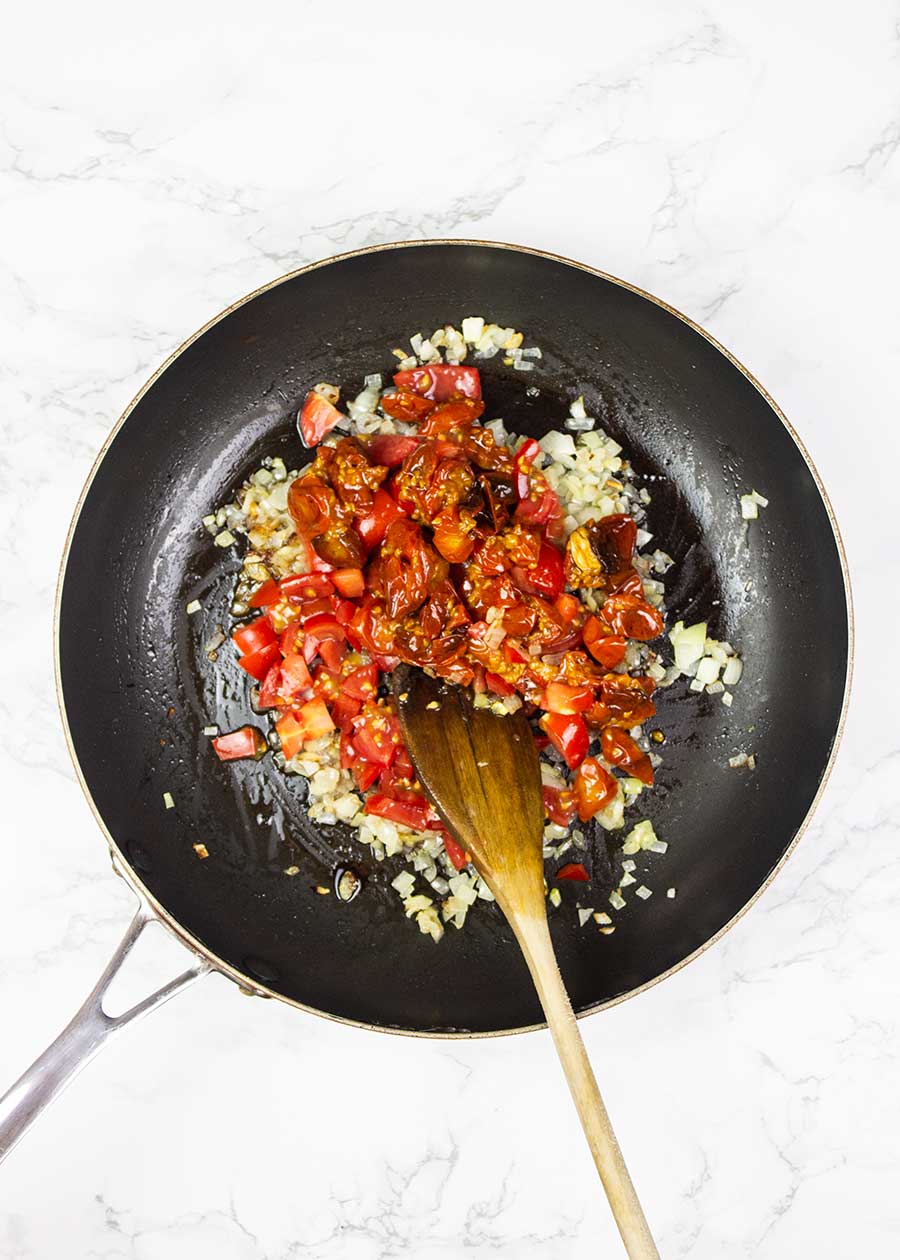 Balsamic vinegar
Balsamic vinegar is made with unfermented grape juice and can even be used as a tonic by itself. Other than imparting a complex flavour to Italian dished the health benefits are well documented too including helping lower cholesterol and relieving hypertension by helping on an antioxidant level in the body to targeting scavenger cells that are toxic. 
A vegan pasta tomato sauce recipe that is simple to prepare
The only waiting time that is significant is the time to slow roast the tomatoes. However once cut in half, drizzled with a little healthy extra virgin olive oil set the oven at 140℃ oven and roast for 2¼ hours. Once in, you have time to do whatever you like. 
You then only need to fry some onions, garlic with the fennel seeds and oregano, add your tomatoes (add some fresh chopped tomato for a redder colour and freshness too) then add some good quality organic vegetable stock and reduce for about 8 minutes.
The best texture
To create the perfect saucy texture you just need a hand blender and the trick is not to make a smooth sauce, so just immerse the blender in the sauce and blitz for a matter of seconds so that some texture from un-blitzed tomato and onions are still dotted. 
Other delicious sauce recipes on the blog 
Have you made this tomato pasta sauce recipe?
We'd love to see your food creations! Please leave a comment below, share or tag using @anticancerkitchen on Instagram and hashtag it #anticancerkitchen.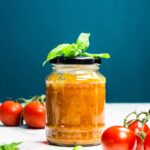 Ingredients
250g of cherry tomatoes - halved

150 of fresh larger vine tomatoes, chopped

1 onion, finely chopped

1 garlic clove, grated or finely chopped

1 teaspoon of fennel seeds

1 teaspoon of dried oregano

½ a tablespoon of balsamic vinegar

250ml of organic vegetable stock

1 tablespoon of tomato puree
Instructions
Cut the cherry tomatoes in half and place on a baking tray, drizzle with olive oil and season and roast in a 140℃/284°F oven for 2¼ hours. Remove and store in a sealable jar until ready to use.
Add the onions and garlic to a frying pan with a little extra virgin olive oil and fry for 3-5 minutes until softened.
Add the roasted tomatoes and fresh chopped vine tomatoes, oregano and fennel and vegetable stock. Stir through and reduce the sauce for 7-8 minutes.
Remove from the heat and blend quickly with a stick blender making sure you do not create a totally smooth sauce.
Put back on the heat and simmer for another 4-5 minutes until you create a thicker sauce.
Store in a sealable jar and heat through when ready to use.

Copyright secured by Digiprove © 2020 The Anti-Cancer Kitchen