How about a deliciously warm North African salad with aubergine/eggplant and zucchini/courgette tossed in a deliciously spicy Zhoug sauce and finished with a sprinkle of fresh pomegranate seeds? The perfect combination of sweet and spicy and hearty.
The fall or autumn is the time to transition between summer and all the light refreshing dishes such as salads and simple grills on a barbeque and the stews and heavy dishes of the winter.
Root vegetables take the place of beans and greens in the vegetable patch and mushrooms start carpeting the forest floors.
As such the palette changes accordingly. In a season that sees soups and stews and roasted dishes, the memories of salads fade away. However, what you can do is to re-invigorate these salads for the autumn/fall table by grilling all these new seasonal fruit and vegetables and envelop them in a luscious dressing. The perfect antidote for seeing the summer out and the autumn/fall in.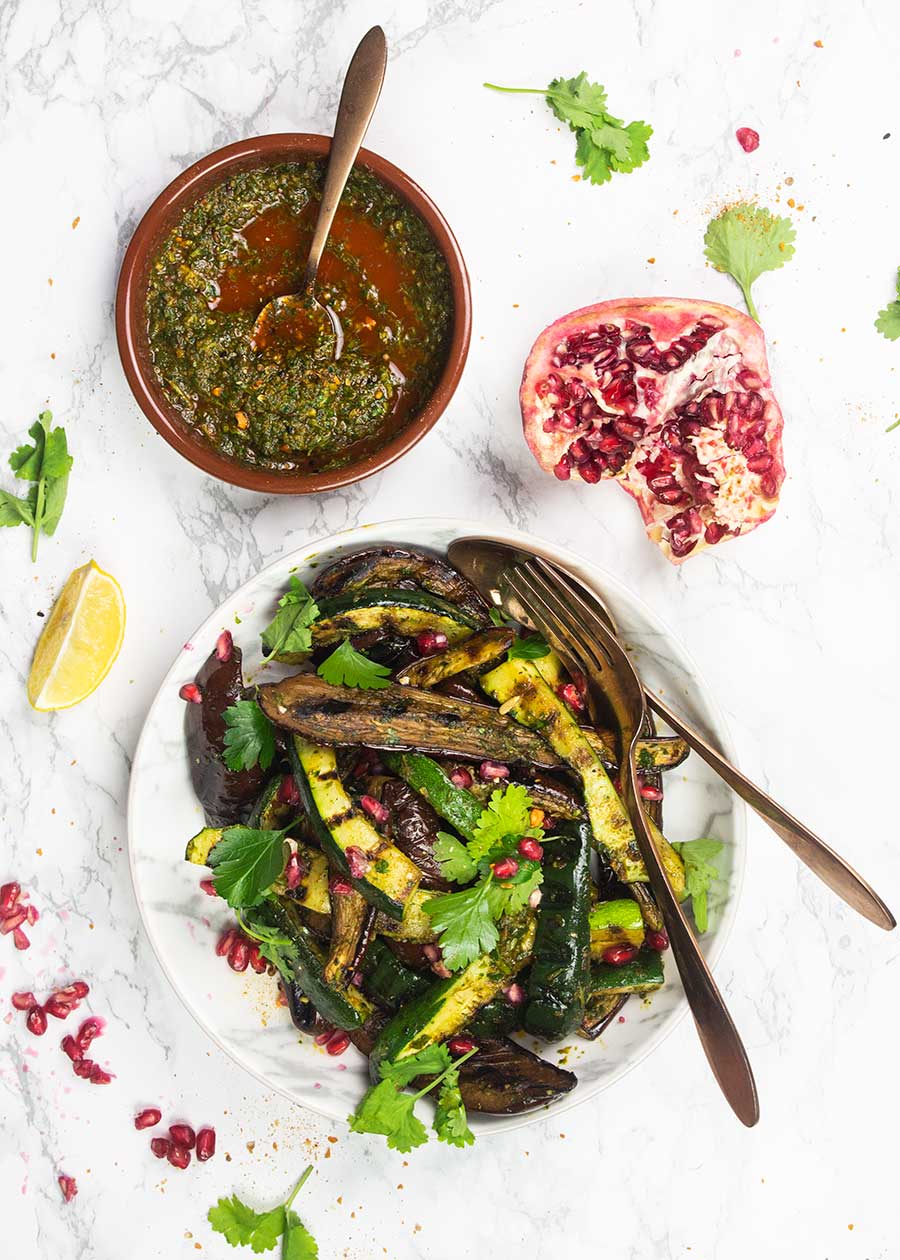 For summer, the rule of thumb or the taste of the season is for fresh produce quickly prepared with fresh vibrant flavours, autumn sees slow-cooked produce that produces hearty, filling meals. Combining the two trains of thought of how to produce a wonderful meal works amazingly well to create flavoursome warm autumnal salads. With both cooking ideas, what you end up with is slow-cooked produce such as our oven-dried aubergines/eggplants or jackfruit which give firm meaty textures normally associated with stew and roasts but with fresh vibrant dressings that normally coat summer leaves of quickly grilled ingredients on a bbq.
Our roasted eggplant (aubergine) slices add a meaty firm texture that partners some grilled courgette/zucchini perfectly and when enveloped in a herby Zhoug dressing you end up with a gorgeous warm aubergine courgette salad of your dreams that is full of flavour, taste and is a visual treat too.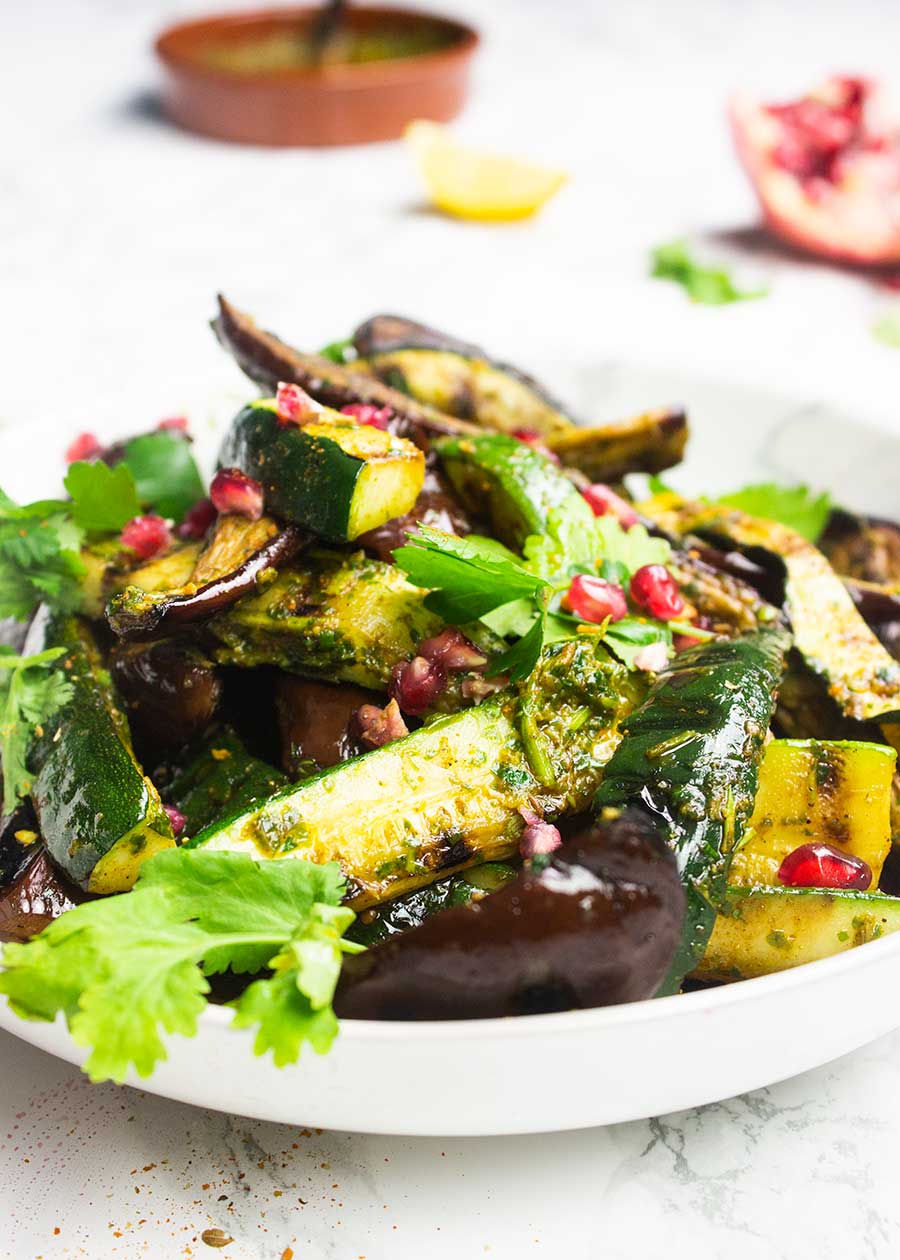 How to make aubergine (eggplant) courgette (zucchini) salad
We would always recommend preparing oven-dried or slow-roasted ingredients in advance and store them in sealable jars. Whether this is our slow-roasted tomato recipe or our roasted eggplants slices they are easy to keep and when you need them they have a much longer shelf life too.
For our aubergines/eggplants, they can be rehydrated in a soup, curry or stew but we love the firm texture so much we like to simply grill them on a hot griddle pan, like in this aubergine courgette salad recipe. If you take the skin off them you can also pull them apart like vegan pulled pork recipes. This aubergine courgette salad works well with pulled eggplants too.
Aubergines/eggplants make wonderful warm salads and especially salads and dishes with a Middle Eastern influence. With this warm aubergine courgette salad recipe, the aubergine/eggplant and courgette/zucchinis are coated in a vibrant green dressing known as Zhoug. We then top the dish with pomegranate seeds for a sweet and zingy finish. The result is absolutely delicious.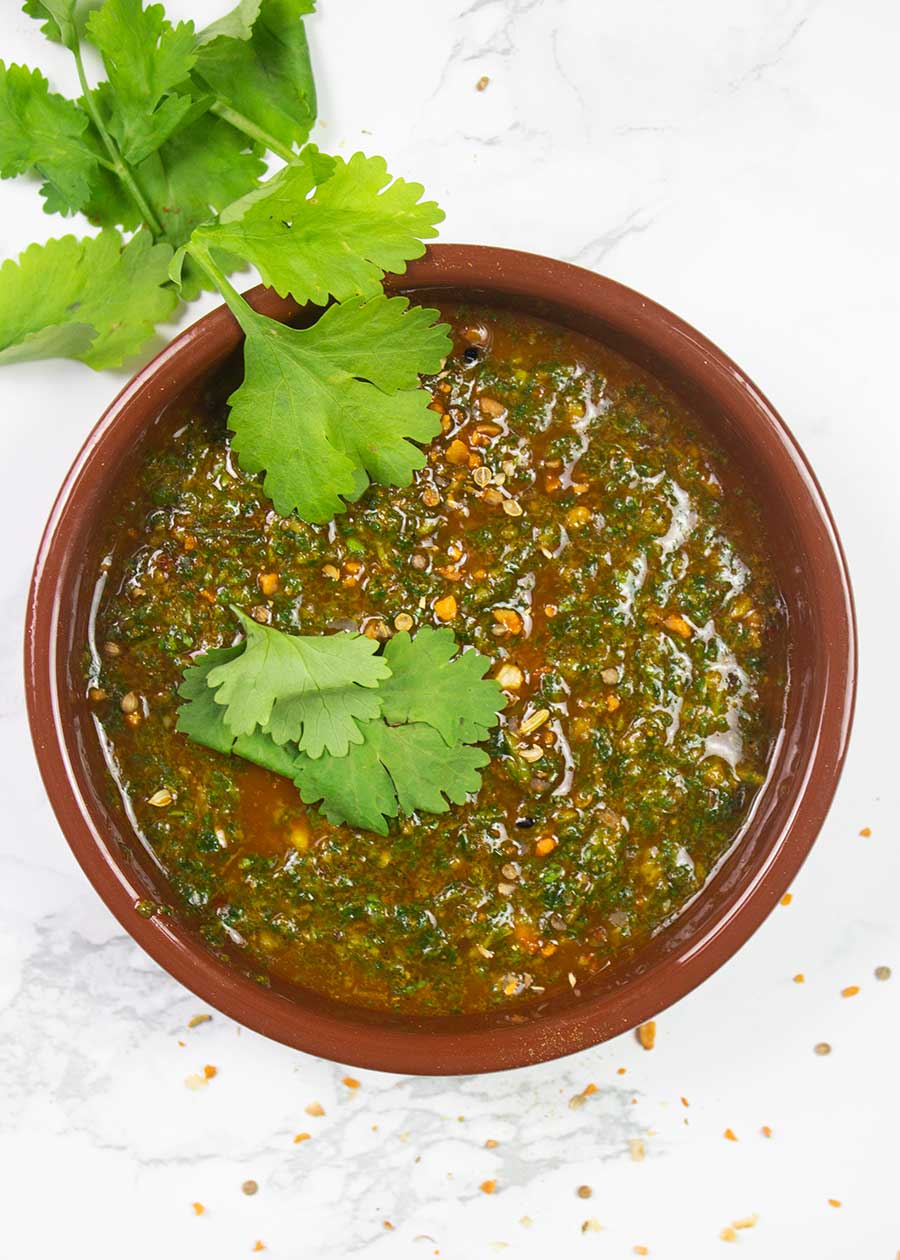 How to make Zhoug sauce 
Zhoug or zhug is a green salsa-like sauce that is ground down in a pestle and mortar. The main basis is fresh hot chilis and these can be either red or green and as such the final colour of your Zhoug will be either vibrant green or reddish. The sauce comes from the Middle-East and particularly Yemen where many variations exist that use different spice combinations including the addition of extras such as Yemeni cheese.
Traditionally the base is a hot pepper where spices such as cardamom, cumin, cinnamon are added with lemon juice, garlic and oil. There should always be a contingent of fresh herbs too such as parsley and coriander/cilantro. Mint can be used as well as other favourites which may add a slightly different slant to your dressing.
To control the spiciness of our Zhoug we prefer not to start off with green chillies rather than omit them altogether and add chilli flakes to taste. We also like the addition of paprika which gives a rounded warm and smokey addition to the sauce. If you have pimiento de Padron, then definitely use these or if you are certain about the heat of your pepper and are confident you won't end up with something too spicy then certainly go ahead with that. For the oil, we like to have a texture rather than a strong flavour such as an extra virgin olive oil which we advocate in so many dishes but with this Zhoug we like the other ingredients to sing rather than be overpowered by the oil, so use a mild flavour such as groundnut oil. Also rather than laboriously grind down these ingredients for ease, we like to add them to a food processor. Quick and easy.
What you end up with is something rather similar to a chimichurri but with a wonderful Middle Eastern feel. Use this as a great warm and healthy salad dressing or simply as a dip or to accompany grilled vegetables or flatbreads. 
The addition of parsley and coriander/cilantro gives this dip an origin. There is something very Mediterranean and traditional with parsley and something more exotic and aromatic with coriander. It's almost like you can see the journey these two herbs have undergone to be paired together to end up in the hub of humanity in the Middle East and of course in its food.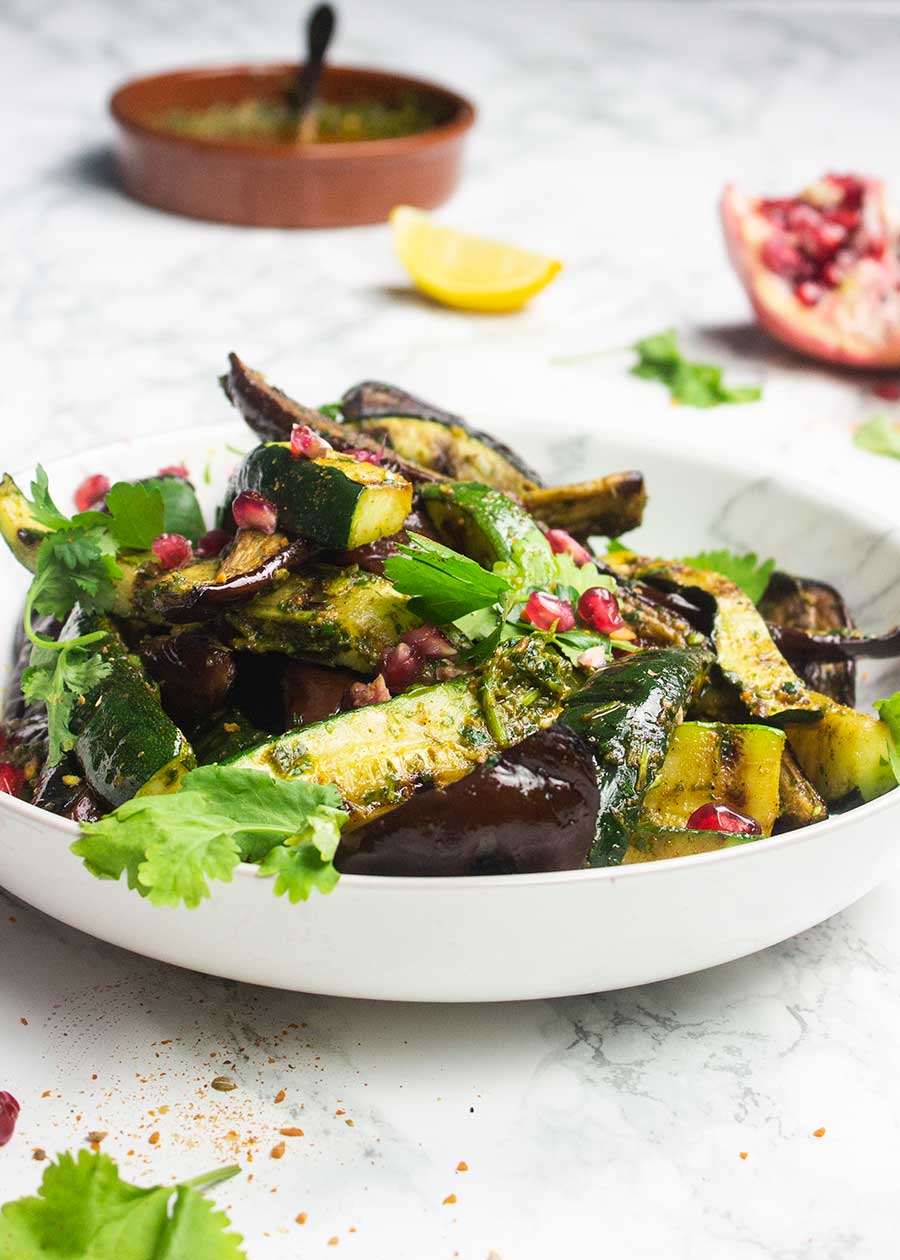 A healthy salad dressing
And of course, like so many other dense green herbs, they are packed full of healthy polyphenols that act as antioxidants in your body. Caffeic acid, chlorogenic acid, ellagic acid and rosmarinic acid which are all found in parsley and coriander have been linked to a whole host of health benefits including lowering the risk of cancer and improving brain function. These flavoursome herbs are packed with further antioxidants such as the flavonoid Quercetin and vitamins C and K amongst others. The health benefits are numerous making these herbs some of the most nutrient-dense foods in the world. 
Definitely worth doubling up on your fresh herb intake with statistics like this.
More healthy Middle Eastern salad recipes on the blog
Have you made this aubergine courgette salad recipe?
We'd love to see your salad creations! Please leave a comment below, share or tag using @anticancerkitchen on Instagram and hashtag it #anticancerkitchen.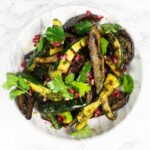 Ingredients
Ingredients salad:

6-8 slices of roasted aubergine/eggplant slices(see our recipe)

6-8 slices of fresh courgette/zucchini slices

⅓ of a cup of pomegranate seeds

½ a cup of Zhoug dressing

Ingredients Zhoug sauce:

10g of parsley

20g of coriander/ cilantro

⅓ of a cup of groundnut oil

½ a teaspoon of paprika

1 teaspoon of cardamom

1 teaspoon of cumin seeds

½ a teaspoon of cinnamon

½ a teaspoon of chili flakes (or to taste)

Juice of half a lemon

2 peeled garlic cloves
Instructions
Start with the Zhoug.
Combine all the Zhoug ingredients in a food processor and blend to a rough paste/sauce/dip/dressing.
Heat a griddle pan on a high heat and griddle the roasted aubergine/eggplant slices for about 2-3 minutes on each side until they have charred lines. You can use fresh slices of aubergine too if you prefer a less firm texture. Set aside. 
Griddle the courgette/zucchini slices for 2-3 minutes on each side until you get char lines. Set aside. 
Cut a pomegranate in half and hit the outside to smack out the seeds. Gather up about ⅓ of a cup.
In a bowl toss the eggplant and courgette together in the Zhoug dressing and serve with a sprinkling of pomegranate seeds.
Garnish with fresh herbs such as parsley and coriander/cilantro.

Copyright secured by Digiprove © 2020 The Anti-Cancer Kitchen