Middle Eastern salad with beetroot, butter beans and broccoli with harissa garlic bread? That's yes from us! To be honest, anything with harissa garlic bread is yes from us.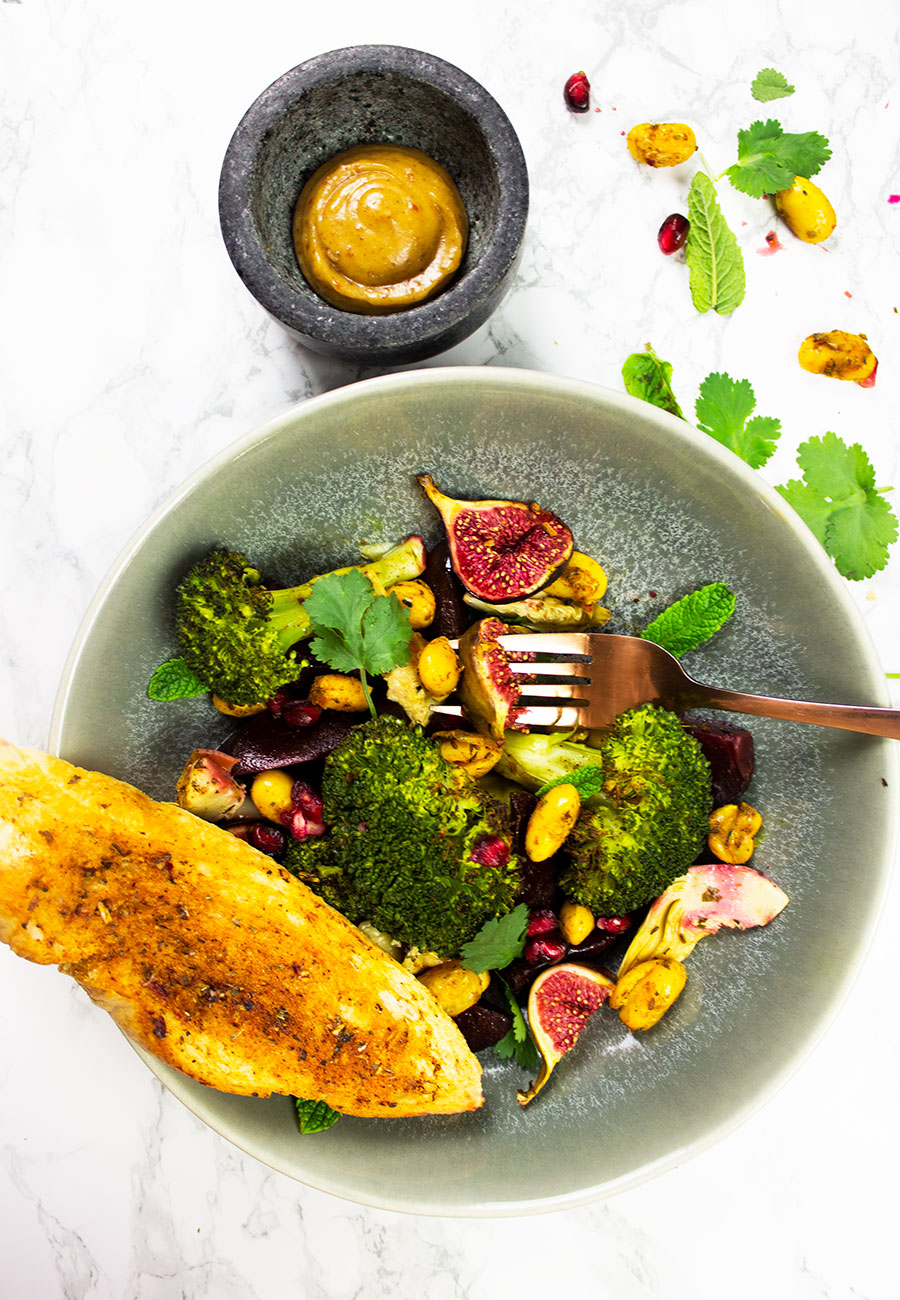 Middle Eastern Salad with Beetroot and Broccoli Recipe
When the weather gets warmer and winter has long gone, a fickle appetite no longer yearns hearty and filling foods it starts to crave more quenching and satisfying meals. Our ideal candidate for this seasonal conundrum is to serve up a warm Middle Eastern salad. With our formula to creating a seasonal salad not only will you feel satisfied with the variation of ingredients, textures and flavours, these fabulous dishes are full of nutrients, fibre and proteins which is exactly what your body needs.

A Warm Middle Eastern Salad
With this easy, warm plant-based salad we've taken inspiration from the fragrant flavours of Middle-Eastern and North African cuisine to jazz up some everyday pulses, fruit and vegetables to create a really flavoursome meal. In addition to the flavours introduced to this recipe, simply following this formula you can see how easy it is to change these everyday fruit and vegetables to take on a very different dimension when other classic herb and spice combinations are added, and we've put in a few ideas for you to try.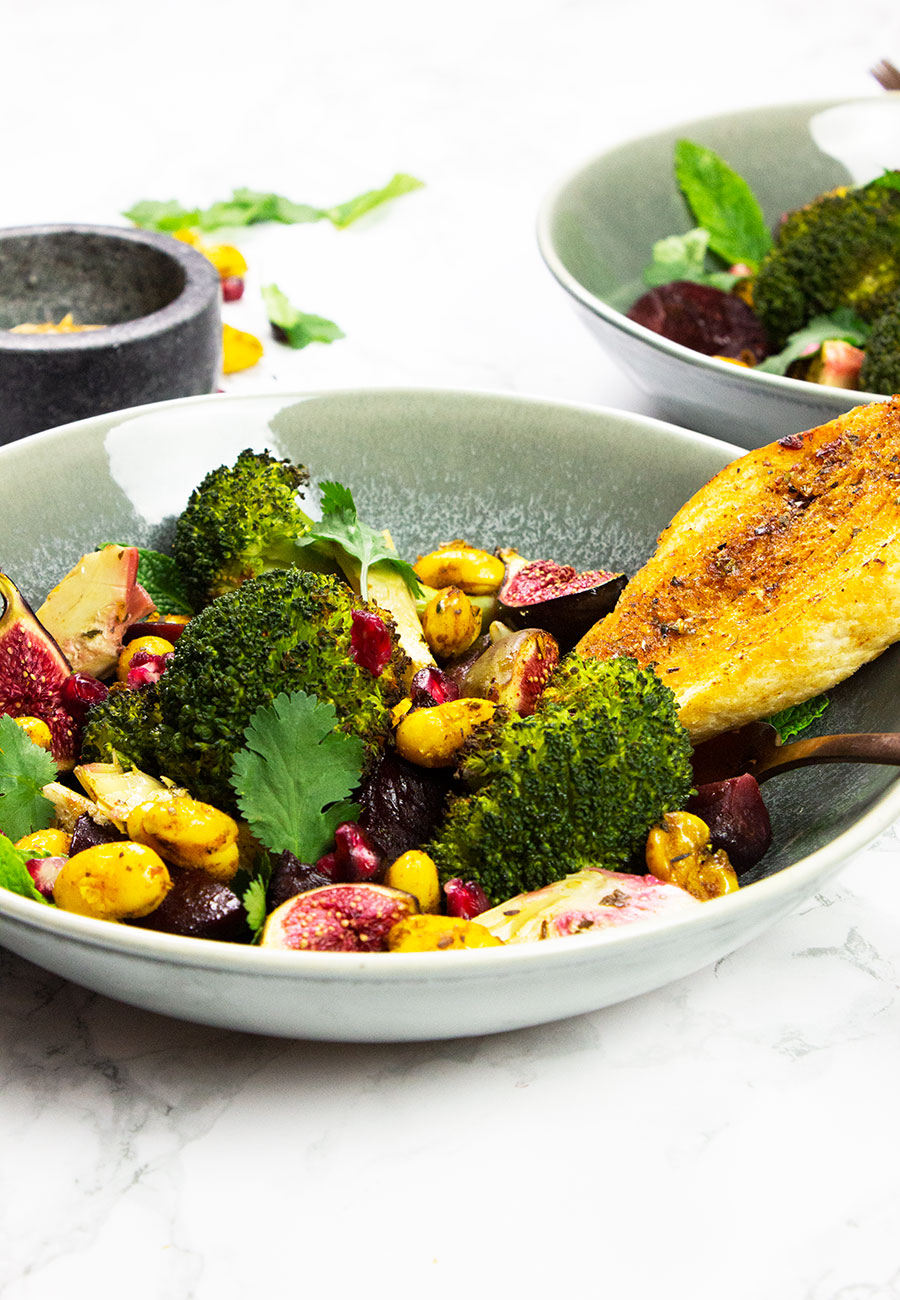 Antioxidant food for cancer
What we are doing is following a simple format using the ORAC score of fruit and vegetables which is the Oxygen Radical Absorbance Capacity score. Each vegetable is graded on its antioxidant potency, the phrase "your 5 a day" came about following this format of how you can increase your daily fruit and vegetable intake. The average person should be aiming for at least 7000 ORAC units per day but optimally a lot higher at 20,000 ORAC units per day. Looking at a chart of produce and their scores simply follow the system that will allow you to optimise your daily antioxidant intake by creating a warm salad with a diversity of ingredients that span the chart. The important part of this formula is to aim for the optimal score as not to end up with an extremely high score but with a very bizarre unsustainable mix of ingredients. The formula if roughly followed will see you taking an ingredient with a high ORAC score. In this salad we have opted for butterbeans.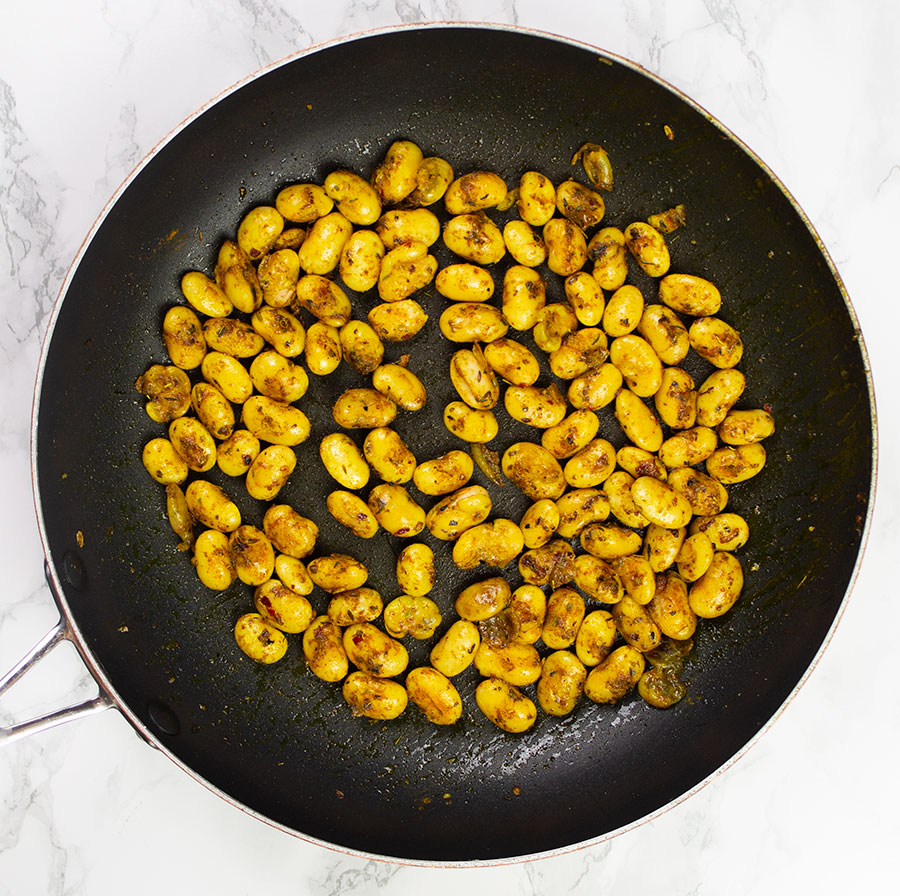 Then use a couple of ingredients with medium ORAC scores. Here we have introduced some beautiful flavours and textures of artichokes and figs. The bulk of your salad will most likely come from down towards the bottom of chart. These tend to be more everyday items, we've used broccoli and beetroot and to give a fragrant fruity North African flavour we've used dates in our dressing (along with other important ingredients that give your salad an identity). The reason that you should aim to balance your food intake to cover the ORAC scores from high to low is to incorporate as many vegetables as possible. Even though fruit tend to be higher on the ORAC score, your body needs other important nutrients, vitamins, minerals and fibre which tend to be more concentrated in vegetables as they contain less water and sugars.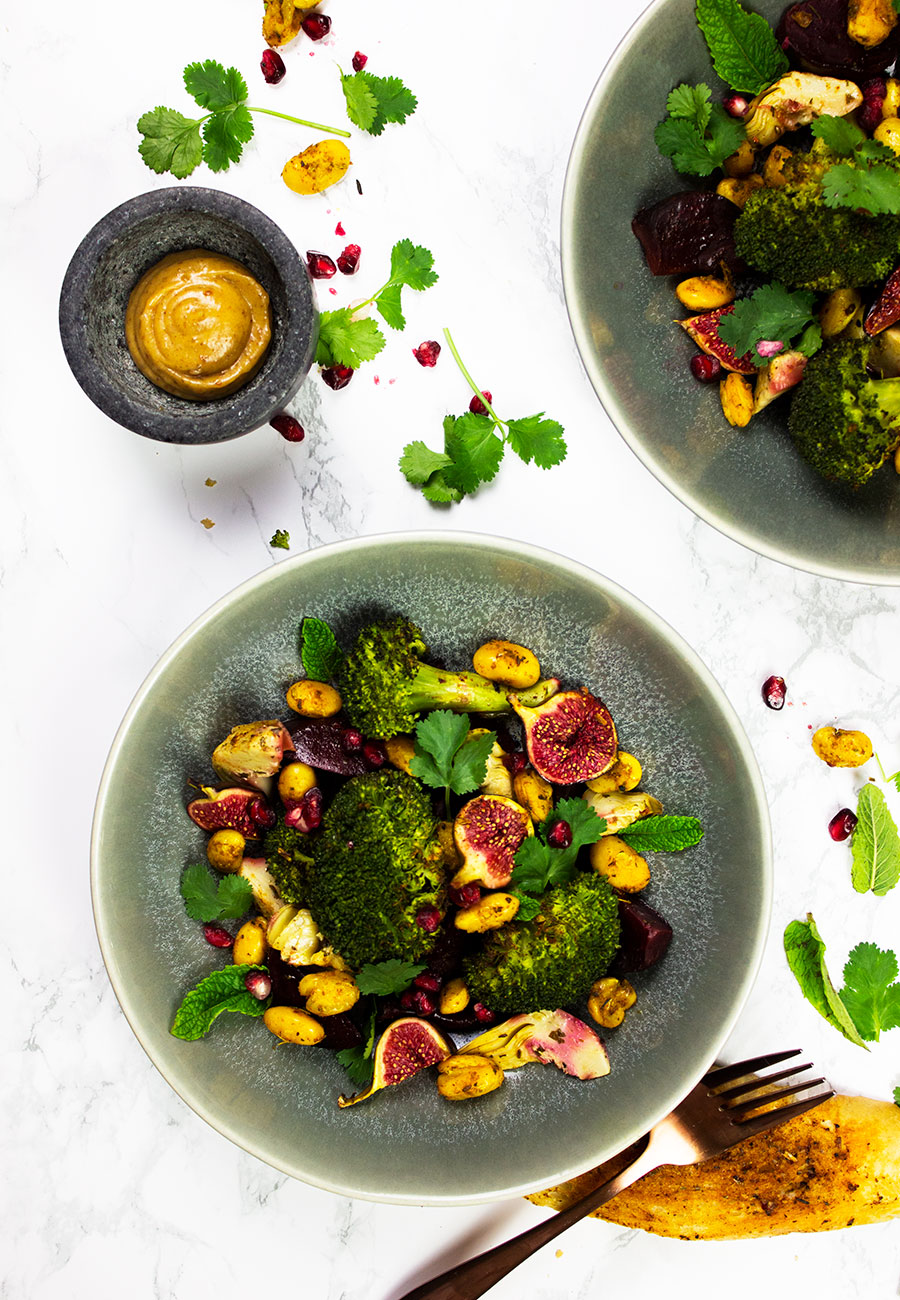 A Middle Eastern salad with anti-cancer ingredients
As we said earlier once you have selected your salad ingredients spanning the chart you can now start to add the flavours to add a specific dimension to the dish. As this salad has Middle-Eastern and North African influences we have opted for beautifully aromatic spices in the form of sumac, ras el hanout and turmeric to flavour the butterbeans. This trilogy of ingredients are in itself a powerhouse of anti-cancer ingredients. Turmeric, which contains a highly anti-inflammatory antioxidant called curcumin that research has shown actually merge into the body's cells helping them to stabilise and aid the cell's ability to stave off infection making them more resistant to inflammation and mutation. In Chinese and Ayurvedic medicine this has been used to cure ailments for thousands of years. The tangy dried red berry sumac has a rich content of polyphenols and flavonoids which add to this powerhouse of antioxidants too and should be a staple in any spice cabinet.
To follow this formula but end up with a different identity such as Chinese for example, you could add cinnamon, star anise and chili and soy. To make this salad with a Mediterranean twist, you could flavour with herbs like sage, basil and oregano. As we said, once you know the formula it will make healthy anti-cancer salads a doddle.
Cooking the beetroot, broccoli and figs are also very simple steps and easily interchangeable with other similar ingredients, cauliflower and carrots for example are just as simple to cook and add flavour too. These are the lower scoring vegetables on the ORAC score but they have massive other benefits for the body such as containing anthocyanins, carotenoids and flavonoids which amongst other actions work by turning off genes involved in mutation, all very important extras for your health.
That is the body for the salad and the key flavours but a salad is not a salad without a dressing.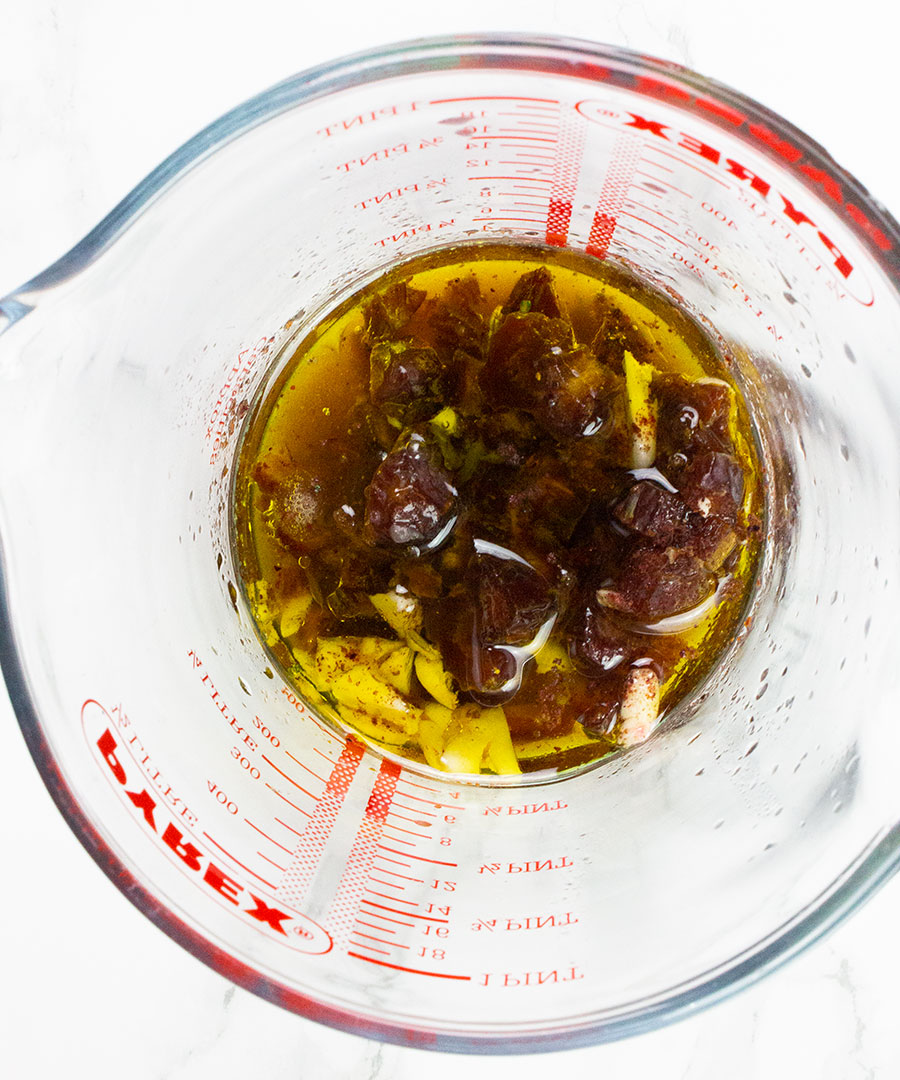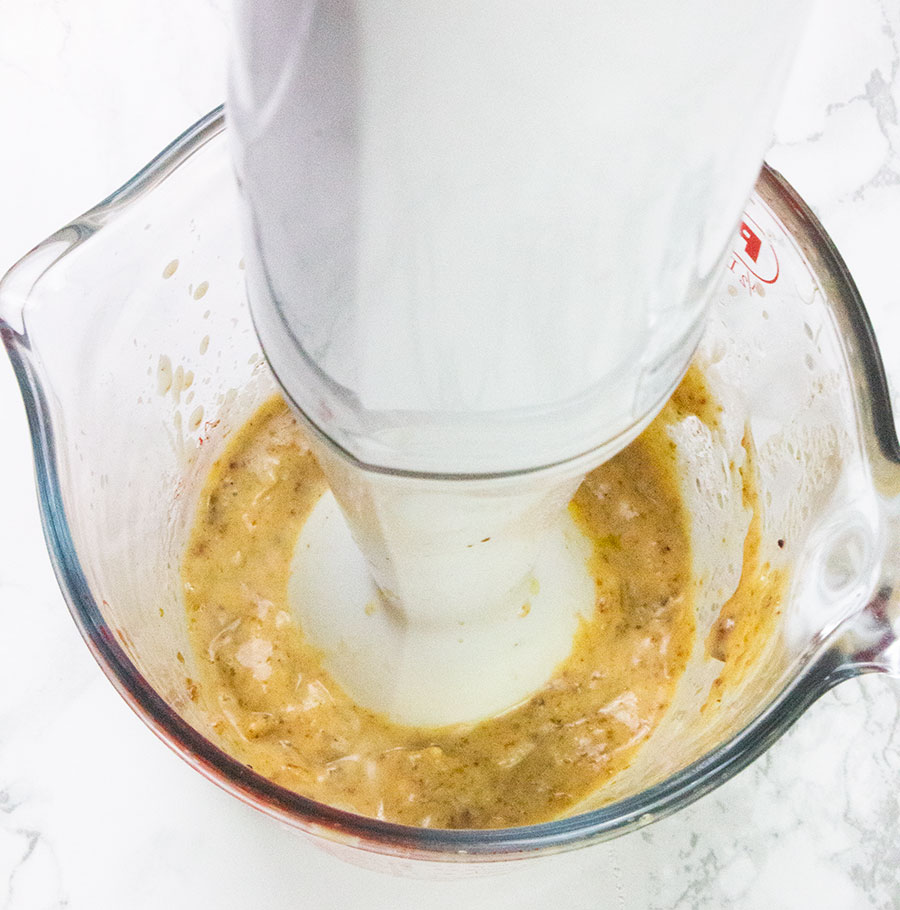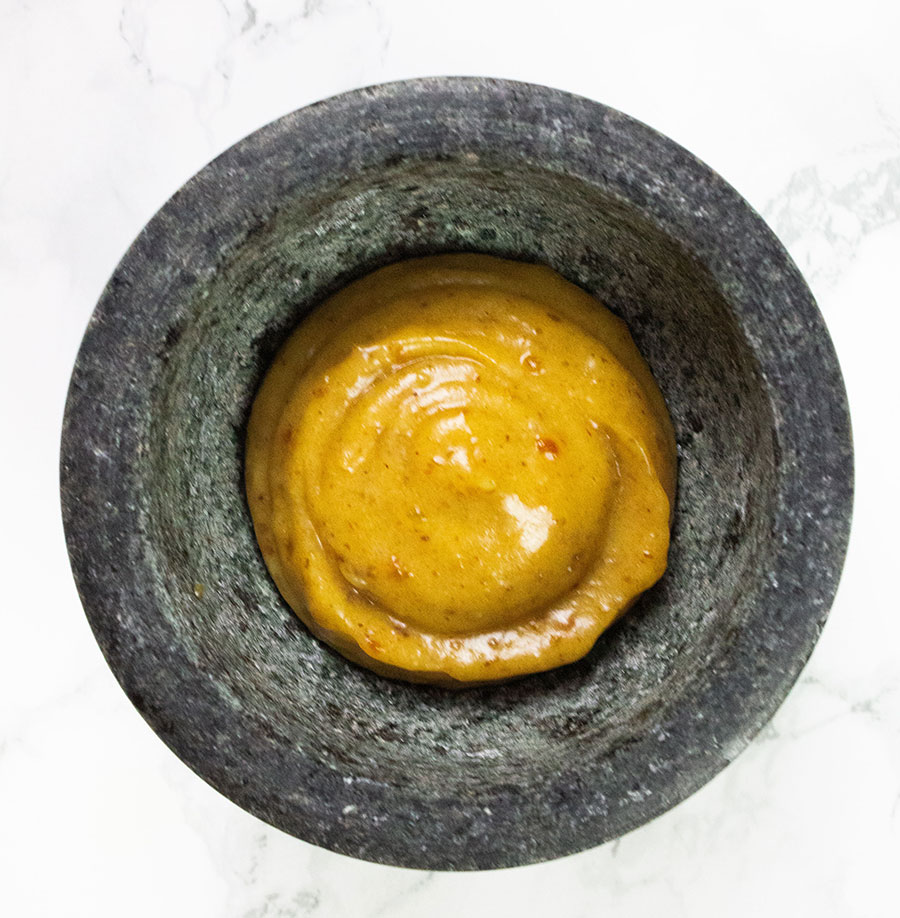 For this salad we have created a wonderful flavoursome dressing in the form of a plant-based date mayonnaise. This is a strong fruity dressing that works just as well as a dip but tossed through a salad really introduces a sweet and zingy additional dimension. Medjool dates are blended with olive oil and red wine vinegar and lime to make a thick unctuous mayo that contain great antioxidants such as quercetin, fistin, isoquercetin, astragalin, gallic acid and methyl gallate that protect the body against cancers. This is definitely a dressing that you may be asking to be served on the side of more than just this salad. Instead of dates try using blueberries for a massive antioxidant hit or if you want an Asian feel use Mangoes or pineapple. Look down the chart below for more inspiration.
Lastly, we have made a simple garlic bread flavoured with harissa to be served on the side and add a little heat and crunch. Very moreish.
ORAC scoring fruit and vegetables per 100g
Acai pulp/ powder 161,400
Dark chocolate 103,971
Goji berries 25,300
Pecan nuts 17,940
Red kidney beans 14,413
Walnuts 13,541
Pinto beans 12,359
Pomegranate 10,500
Red lentils 9,766
Hazelnuts 9,645
Cranberries 9,456
Blueberries 9,260
Prunes 8,578
Black beans 8,040
Pistachios 7,983
Black plums 7,339
Globe artichoke 6,552
Red plums 6,239
Blackberries 5,348
Almonds 4,454
Red apples 4,275
Garden peas 4,039
Chickpeas 4,030
Dates 3,895
Strawberries 3,577
Figs 3,383
Cherries 3,361
Peanuts 3,166
Red cabbage 3,146
Raisins 3,037
Gala apple 2,828
Beetroot 2,774
Golden delicious apple 2,670
Spinach 2,640
Aubergine/ Eggplant 2,533
Lemons/ limes 2,412
Avocado 1,933
Pears 1,911
Oranges 1,814
Peaches 1,863
Red leaf lettuce 1,785
Macadamias 1,695
Tangerines 1,620
Russet potatoes 1,555
Grapefruit 1,548
Green cabbage 1,359
Red grapes 1,260
Broccoli 1,259
Onions 1,220
Carrots 1,215
Green grapes 1,118
Mangoes 1,002
Kiwi 918
Cauliflower 647
Iceberg lettuce 451
Tomatoes 337
Watermelon 142
Cucumber 115
Have you made this delicious Middle Eastern salad recipe?
We'd love to see your salad creations! Please leave a comment below, share or tag using @anticancerkitchen on Instagram and hashtag it #anticancerkitchen.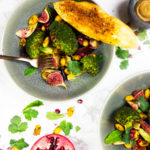 Ingredients
2 cups/ 200g of broccoli florets

2 cups/ 200g of chopped cooked beetroot

240g (1 tin) of butterbeans

½ cup of marinated artichokes

2 quartered fresh figs

1 teaspoon of ras el hanout

1 teaspoon of turmeric

A handful of mint and coriander leaves and pomegranate seeds to garnish

For the date mayonnaise:

¼ cup of medjool dates

1 clove of garlic

The juice of 1 lime

4 tablespoons of olive oil

1 teaspoon of sumac

For the harissa garlic bread:

2 slices of baguette

1 tablespoon of olive oil

A dash of sesame oil

1 teaspoon of harissa paste

1 clove of garlic, peeled and finely chopped

1 teaspoon of mixed herbs
Instructions
Parboil the broccoli for 3 minutes, drain and set aside.
Put the broccoli, beetroot, fig and artichoke in a roasting tray and put in a 200°C (392°F) oven for 20 minutes.
Add some oil to a pan on a high heat and add the turmeric and ras el hanout and stir. Add the butter beans and stir-fry for 2- 3 minutes.
Toss the ingredients together and garnish with the mint and coriander and pomegranate seeds.
For the plant-based date mayonnaise
Simply combine all the ingredients in a jug and mix with a hand blender until smooth.
For the vegan harissa garlic bread
Mix together the oils, harissa paste, garlic and herbs and brush onto the slices of baguette. Roast in the oven for 7-8 minutes until crispy and browned. 

Copyright secured by Digiprove © 2020-2022 The Anti-Cancer Kitchen