There are salads and there are super green garden salads. This is the latter. The great salads throughout history that have stood the test of time are adorning menus and family tables right across the world.
Caesar salad, salad Niçoise, a Greek salad or Tricolor salad to name a few come to mind when you think of one. These are dishes have been created with all the components in mind. They are not just ingredients made good by the addition of a nice dressing which to be fair are numerous but a dressing alone (however nice) does not make a salad.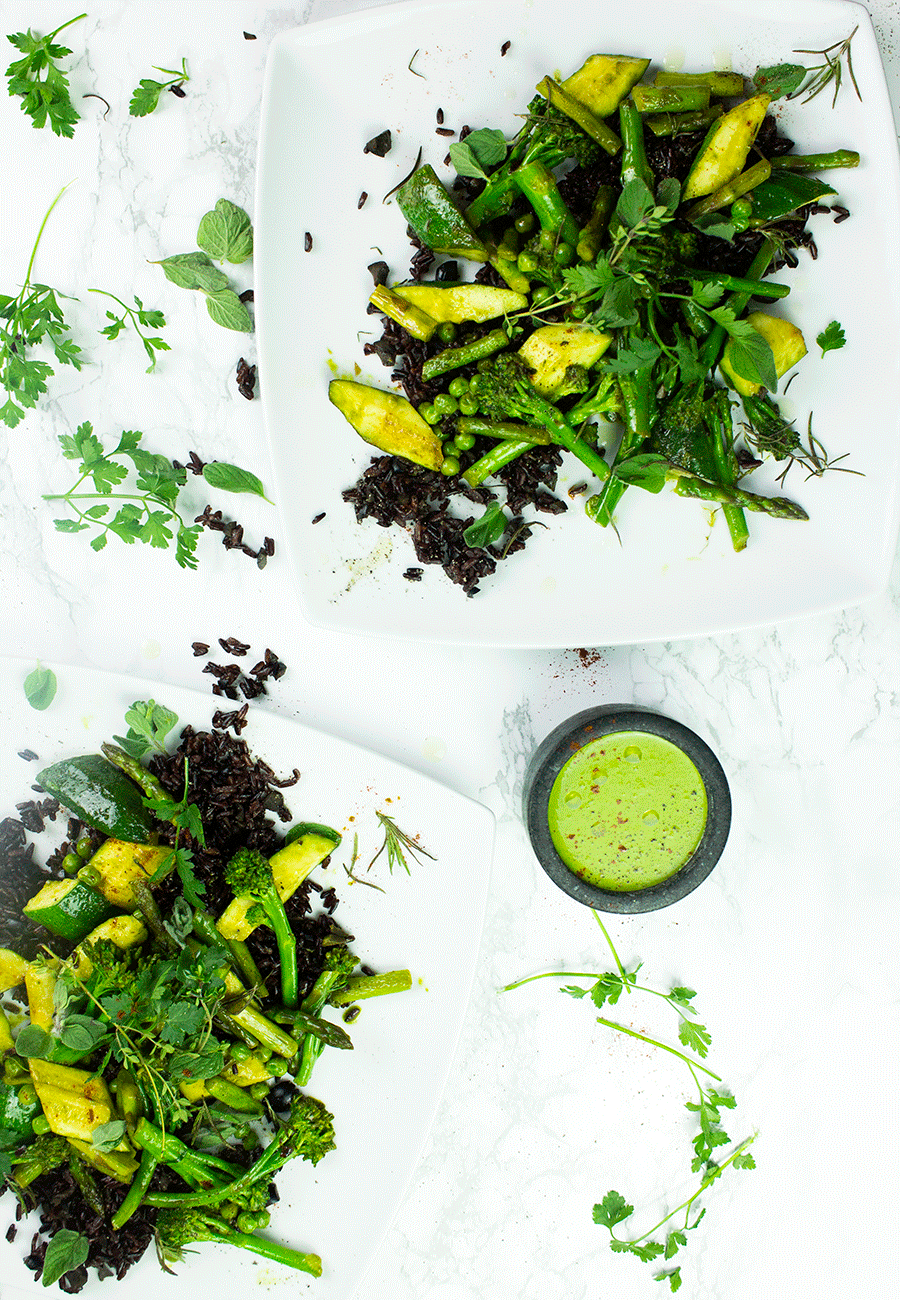 Green garden salad recipe
This is a warm green superfood garden salad that looks absolutely great so you can serve it when entertaining, it is also super easy and healthy so you can make it for a normal night in. It may look a bit 'cheffy', but to make it, it isn't.
This garden salad recipe represents an English country garden where beautiful green vegetables grow in nutrient-rich dark soil. Black rice and black olives combine to create a tasty textural soil and the vegetables and herbs sit proud above it.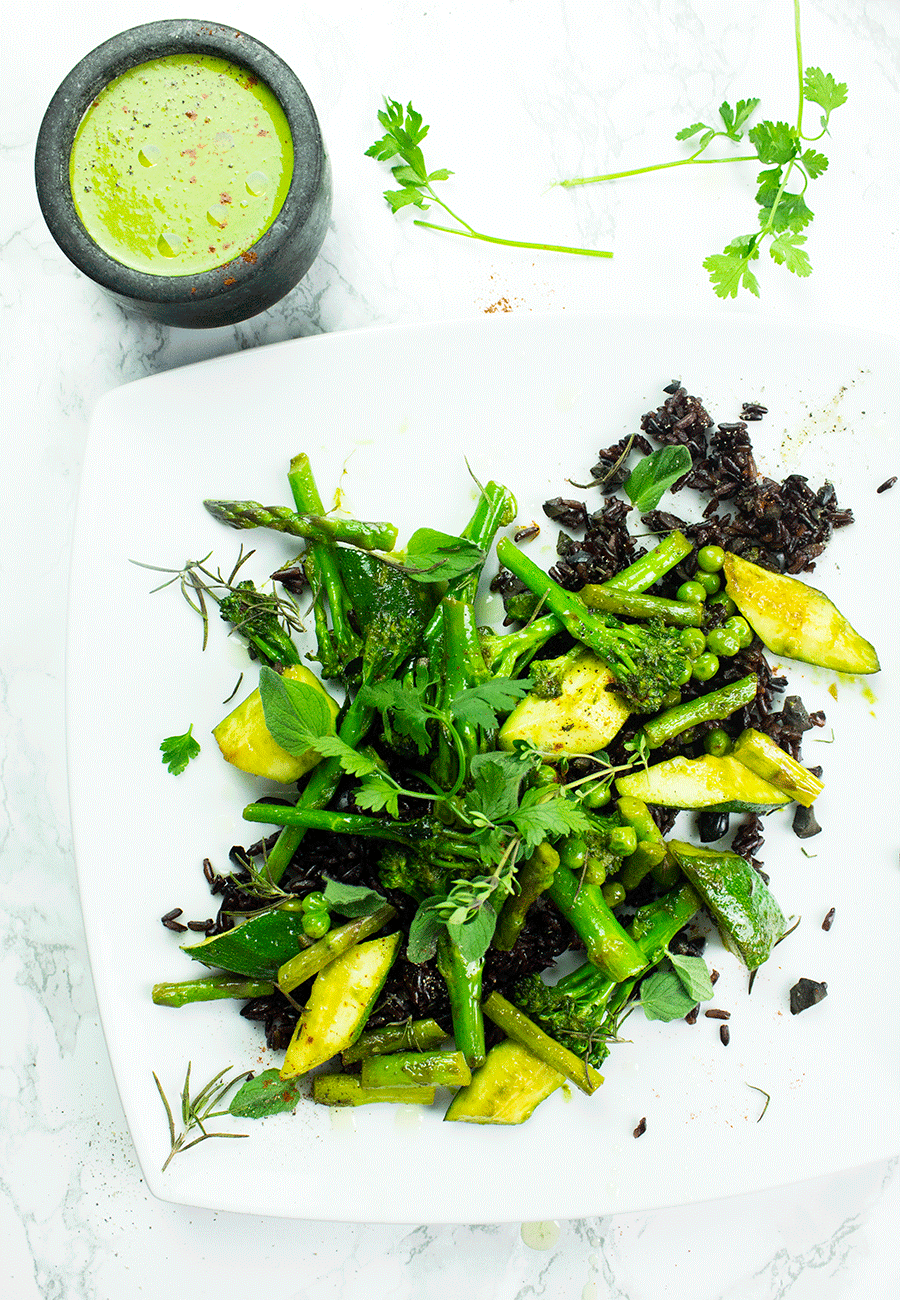 A filling, satisfying and nutritious garden salad with black rice
First of all, simply cook some ancient grain black rice, which is an absolute superfood.
A good reason to use black rice is that there are some significant differences between black rice, brown rice and white rice and a lot of this is to do with the colour. This is created by anthocyanin, an antioxidant which has been linked with helping the body fight against cancers and heart disease, it is the same antioxidant that give goji berries and blueberries their formidable health benefits too.
Another main reason to use black rice is that it is lower in calories than brown rice and white rice and is a known better source of fibre. Mixed with the black olives not only does the base of this salad represent a wonderful filling, satisfying and nutrient-rich edible soil which is tasty, it also has enhanced health benefits.
Olives are high in vitamin E, which has an astonishing ability to battle free radicals in body fat that cause oxidation, especially working alongside the healthy monounsaturated fats found in olives. A diet rich in olives and olive oil which is so prevalent in the Mediterranean can also help with your digestion, bone health and your cholesterol levels too, maintaining all round health and wellness.
The next level to this green garden salad is the all-important green vegetables and herbs.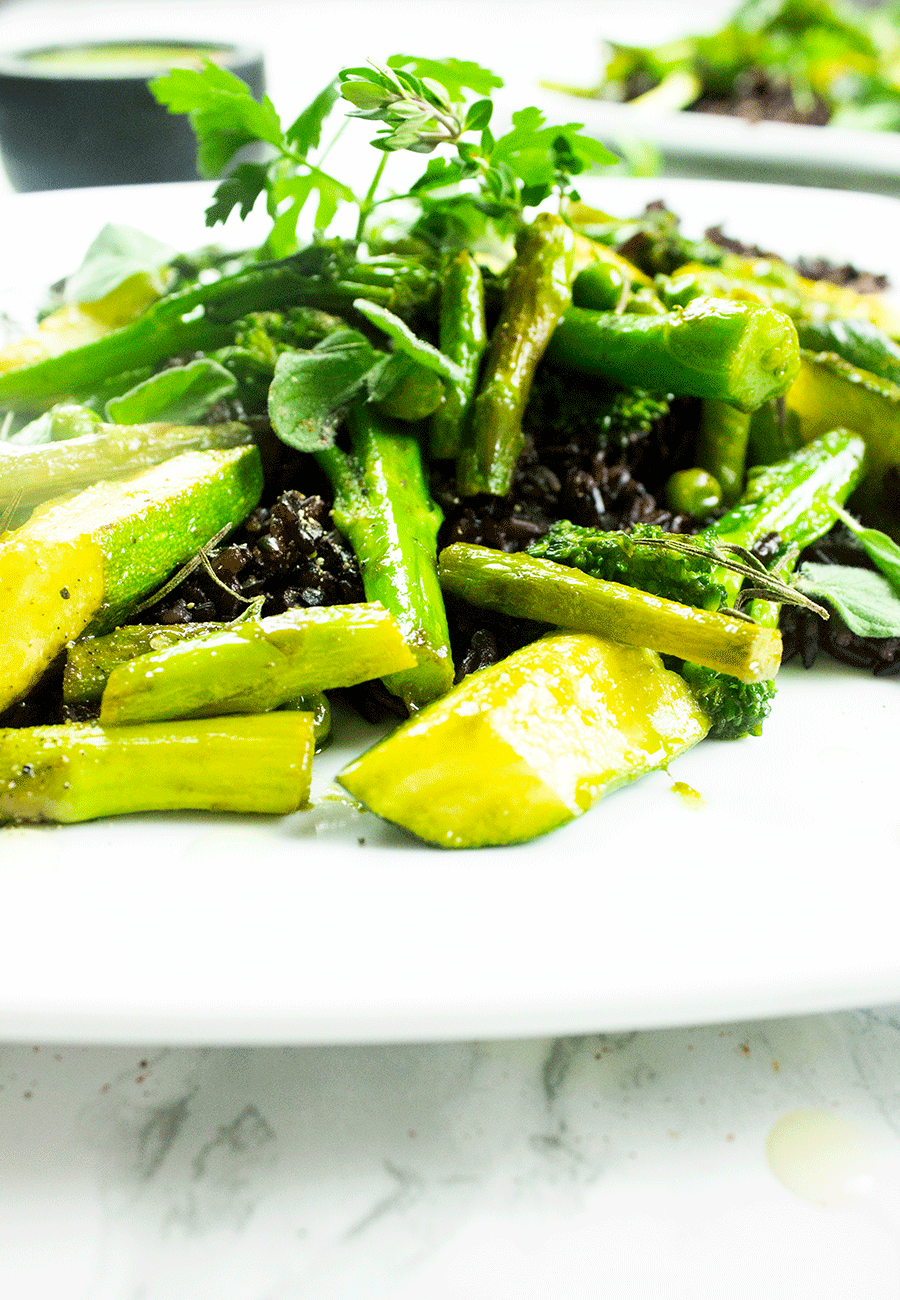 Full of antioxidant-rich vegetables
The list of antioxidants for cruciferous and green vegetables is fairly exhaustive and although research is ongoing about their specific health benefits it would be fair to say that they are super healthy.
What you want to add here though in this salad is a good mix of textures and taste. We have the sweetness of juicy garden peas, the bite of a crisp asparagus, broccoli and courgette and the aromatic qualities of oregano, parsley and rosemary. A combination that works like a family of peas in a pod.
Finally, the whole lot is brought together with a fresh, sharp and aromatic dressing that incorporates tender spinach, garlic and lemon for a wonderful fresh green zing.
We'd like to think that this give a whole new meaning to a garden salad.
Have you made this recipe?
We'd love to see your food creations! Please leave a comment below, share or tag using @anticancerkitchen on Instagram and hashtag it #anticancerkitchen.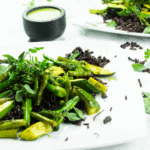 Ingredients
1 courgette cut into large bite size pieces

125g of thin fresh asparagus chopped into 3cm pieces

125g of broccoli florets

½ cup of garden peas

½ cup of black rice

1 cup of black olives finely chopped

1 cup of fresh herbs we've used parsley, oregano and rosemary

A dash of olive oil and sesame oil

For the dressing:

2 garlic cloves, peeled and finely diced

Juice of 1 lemon

1 cup of fresh spinach

¼ cup of olive oil or truffle oil

1 teaspoon of cider vinegar

½ teaspoon of agave nectar/syrup or Manuka honey
Instructions
Dressing
Simply combine all the ingredients together and using a blender blitz until smooth
Salad
Cook the black rice as per instructions. (ratio of 1:1.75 rice to water, no need to rinse, pour cold water directly onto the rice in a pan and bring to the boil and season. Turn the heat down low and put a lid on the pan and simmer until the rice has absorbed all the water, about 40 minutes)
Once the rice is cooked and the grains have popped mix in the chopped olives and set aside.
Pour the olive oil and sesame oil in a frying pan and put on a high heat. Add the chopped courgette, asparagus and broccoli and stir-fry for 6-7 minutes. This will brown the vegetables slightly but keep an al-dente texture. Add the peas and a spoonful of the dressing and toss the salad on the heat until mixed and set aside.
Place the black rice/ olive "soil" on a plate and arrange the green vegetables over along with plenty of the fresh herbs.
Serve the rest of the dressing on the side.