This super tasty and impressive vegan steak tartare recipe is so easy to make. You just need a bit of time.
Holidaying in France for much of our lives we really came to love a traditional steak tartare. Even on beach holidays all over the Mediterranean sea, most beach clubs will have it on their menus. In case you are new to this dish – steak tartare is a classic French dish that is traditionally made from finely cut beef fillet which is served raw with an egg yolk on top.
Despite its popularity, we still feel that this dish is disliked by as many people who do love it. Surely the raw meat aspect would be the reason and not the flavour? So we think this plant-based version is great. Our vegan steak tartare recipe is:
Full of flavour and tastes if not better than the original
Immune-system boosting
Packed with lycopene (cancer-fighting antioxidant)
Vegan/plant-based
The best vegan steak tartare
The sauce is the same so you get in the original but the protein aspect is substituted. This sounds obvious enough and quite frankly quite simple. However, it is in fact quite ingenious. Many substitutes feel exactly that, a substitute, something that replaces and never really adds anything else.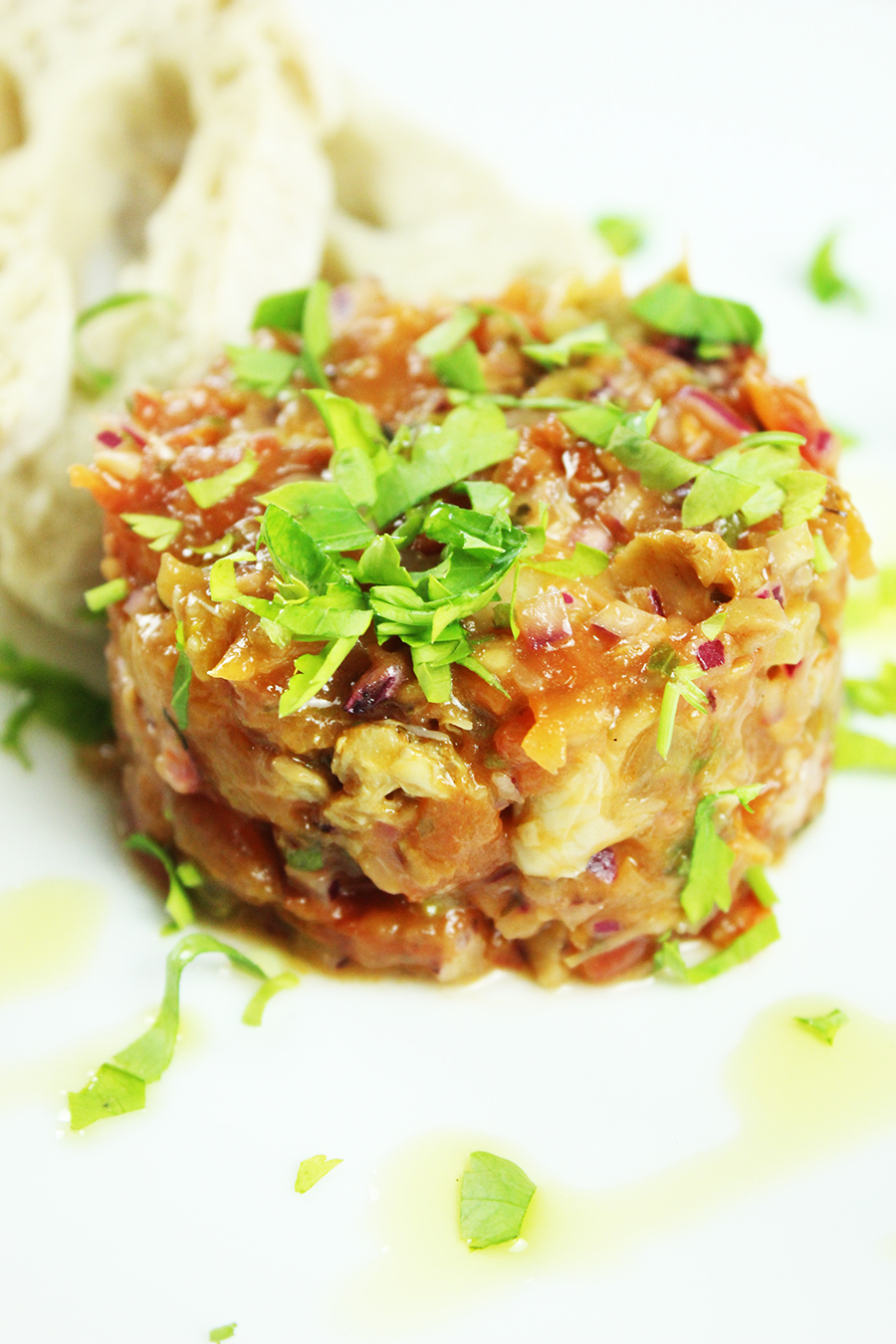 You can use protein substitutes such as soy or tofu and we can tell you that we've tried but they seem to detract somehow. The tomato, which is very high in the healthy and anti-cancer carotenoid lycopene, when roasted adds such a different note to the flavours it elevates it to a new level, and one that can be enjoyed by everyone, win-win you could say.
Health benefits of tomatoes
While it requires cooking for a good couple of hours, it is quick and easy to prepare and uses a blend of fresh and tinned tomatoes.
You might not realise just how beneficial tomatoes are for our health. One of the wonderful things about this fruit is that they come in a variety of colours, including green, purple, yellow, orange as well as the normal red variety. You also get a variety of shapes and sizes including beef tomatoes, cherry tomatoes and many more.
Tomatoes are the easiest source of lycopene which is an antioxidant and has many health properties specifically being able to reduce the risk of cancer and heart disease. Tomatoes are also packed full of vitamin C, potassium, folate, and vitamin K.
Our bodies require a good amount of vitamin C in our diet to boost our immune system and keep it functioning well. Vitamin K is needed for our bones, vitamin A is used for immunity, skin health, and eyesight, and potassium is vital for good heart function, healthy blood pressure and muscle health – bet you never even realised the humble tomato was so impressive and powerful.
How to make the best vegan tartare
Making your vegan tartar could not be any easier. Simply take your fresh tomatoes and season them well and place in the oven to roast for a couple of hours. Allow them to cool and then roughly chop them up into small pieces about 1.5 centimetres. Gently sieve them to allow the juice to release and preserve this for later. While you are sieving you should take care not to actually mash them just squash them a little bit to release the juice. Next, get the canned tomatoes chopped to the same size and add them in. In a separate bowl mix your ketchup, mustard, Tabasco and Worcestershire sauce together to taste and then mix them all into one big bowl.
The signature of a tartare dish is the round serving shape, and this can be achieved using a round cutter which you can press the mixture into and you can then drizzle with balsamic vinegar and make a syrup of the leftover liquid by cooking it on high heat to reduce.
More plant-based ideas and options for vegan steak tartare
Do try other vegetables such as a dried aubergine or other plant-based bacon but tomatoes with their anti-cancer attributes amongst other healthy offerings really work. It's not pâté or salsa or antipasti, it is a great vegan steak tartare and well worth a try.
Have you made this easy vegan steak tartare recipe?
We'd love to see your food creations! Please leave a comment below, share or tag using @anticancerkitchen on Instagram and hashtag it #anticancerkitchen.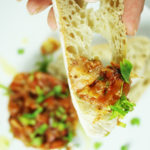 Ingredients
150g of fresh tomatoes (san Marzano)

3 plum tomatoes from a can

1 ½ tablespoons of organic tomato ketchup or homemade ketchup

3 teaspoons of Dijon mustard

1 finely diced small red onion

2 tablespoons of chopped capers

5 finely diced small baby gherkins

A handful of chopped fresh parsley

A dash of organic Worcester sauce

A dash of tabasco

French toast or ciabatta (to serve)

A drizzle of balsamic vinegar (to serve)

A reduction from the juices from the roasted tomatoes (to serve)
Instructions
Season the fresh tomatoes and roast in the oven for 2 hours at 165c. 
When the tomatoes have cooled, roughly chop them into 1.5cm pieces. Place in a sieve over a bowl and gently press them to release a little more juice and reserve and set aside. Be careful not to mash the tomatoes. Chop the canned plum tomatoes to the same size and add to the roasted tomatoes.
Mix the ketchup and mustard together and add Worcester sauce and tabasco to taste.
In a bowl mix all the ingredients together and stir through the sauce.
Put all the reserved liquid from the roasting tray and the bowl in a pan and on a high heat reduce the liquid to a syrup.
To serve, press the tartare in rounds and drizzle over the tomato syrup and balsamic vinegar. Serve with the toast. 

Copyright secured by Digiprove © 2020 The Anti-Cancer Kitchen