This super tasty Gazpacho soup recipe is packed with anti-cancer ingredients.
In the hot Andalusian sun where the origins of this chilled gazpacho soup recipe began, very ripe tomatoes were pounded along with red peppers, garlic, and stale bread and left in earthenware pots to cool by evaporation. Water and vinegar were then added with whatever garnish they liked. Cucumber is most traditional but sometimes cold meats, egg or almonds are other variations.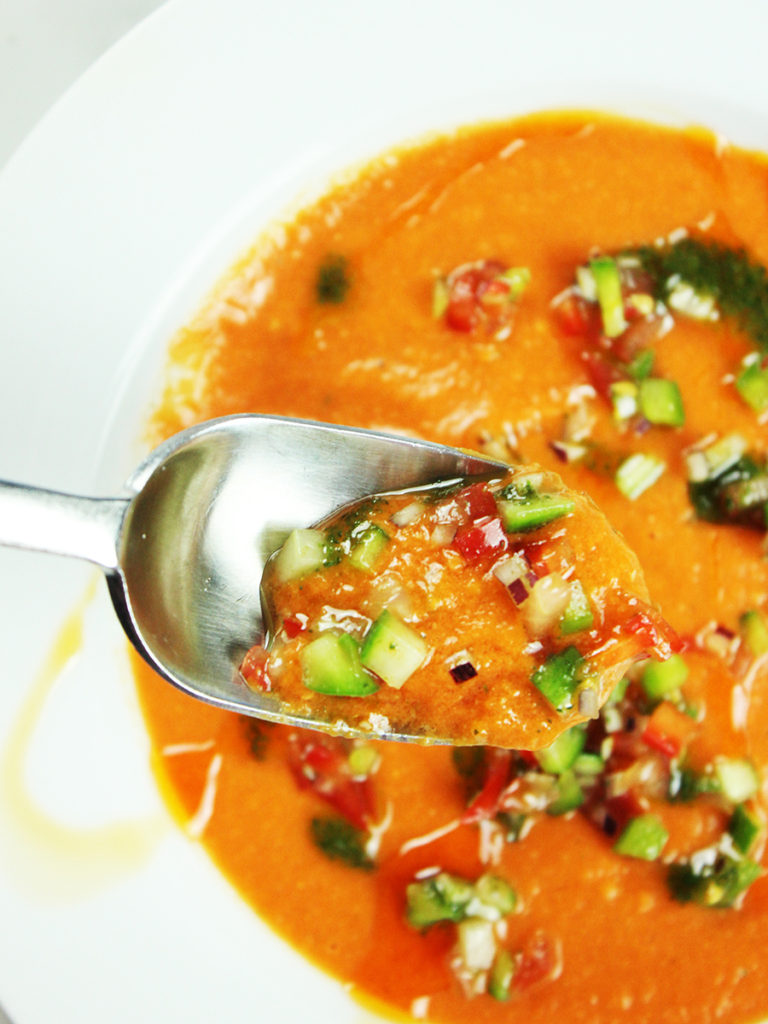 Chilled Gazpacho soup
This is a refreshing, zingy soup perfect for lazy summer days and nights and just look at the healthy ingredients that make this classic staple. Tomatoes and red peppers, packed with lycopene, which is an anti-cancer and anti-inflammatory agent which also activates thermogenesis and increases our metabolism without raising our heart rate or blood pressure. Basically this means it helps us lose weight. Also, red wine vinegar (acetic acid) suppresses body fat accumulation. On top of that, garlic is also a strong anti-inflammatory ingredient and may reduce the risk of common brain diseases. Let's face it, I think this gives us a pretty good reason to eat this don't you think?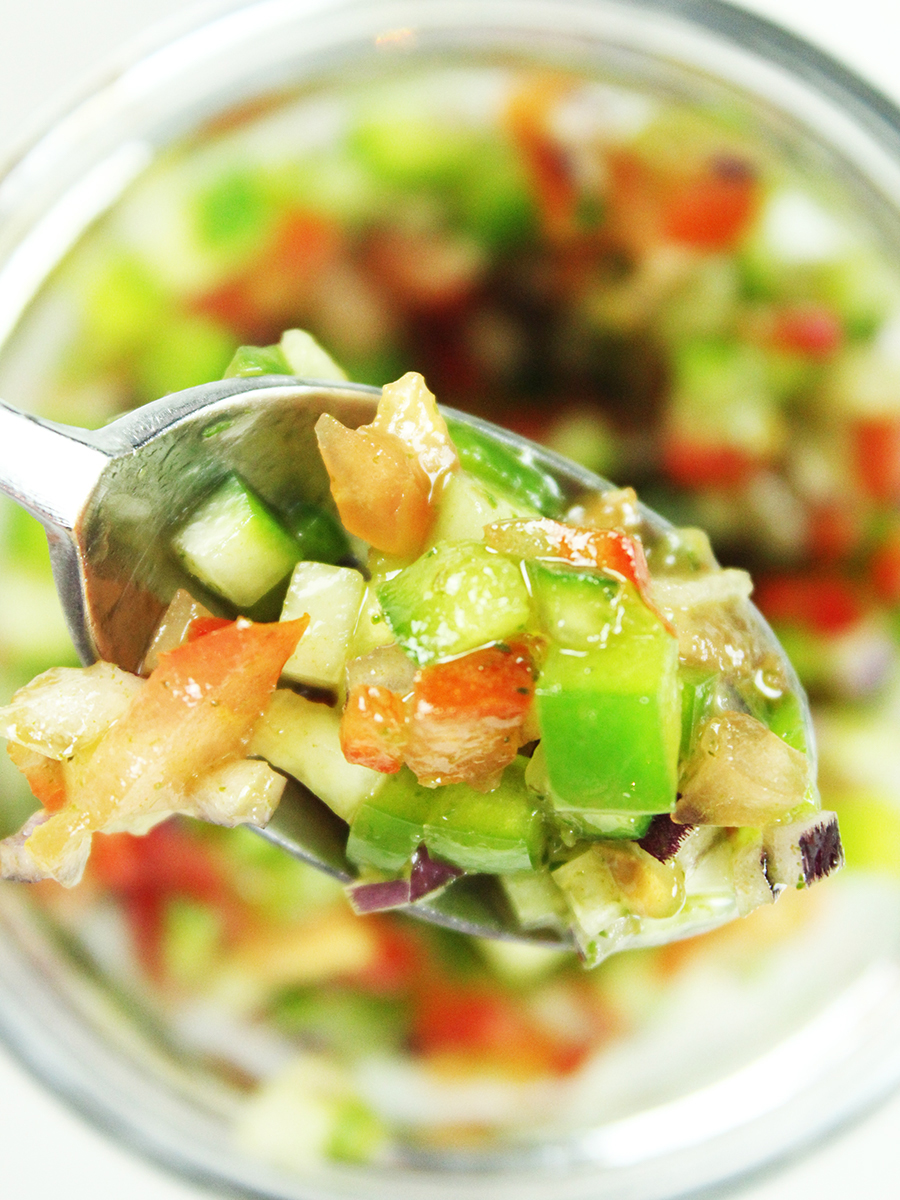 Oh, and one more thing….if this soup was designed in a hot Mediterranean climate would it make sense that some of these ingredients would have been sun-blushed? Especially when no fridges were available. The reason this is so important is that this is the very process that concentrates the vitamin c, beta-carotene and lycopene making it even healthier. It would seem to make sense as when you slow roast or sundry fruit and vegetables the flavours intensify and this is exactly why we use slow-roasted vegetables in our Gazpacho soup recipe to make it so tasty and so healthy. Just have a little patience. 
It's perfect to make this soup on a Sunday, chilled and ready to take to work on Monday.
Have you made this recipe?
We'd love to see your food creations! Please leave a comment below, share or tag using @anticancerkitchen on Instagram and hashtag it #anticancerkitchen.
More anti-cancer soup recipes
Check out our tasty and anti-cancer soup category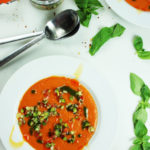 Ingredients
1 kg of ripe tomatoes cut in half
A handful of crustless stale white bread (roughly 2 slices)
2 sweet red peppers roughly chopped and de-seeded
4 unpeeled garlic cloves
2 tablespoons of red wine vinegar
1 sweet red pepper de-seeded and finely chopped
½ green capsicum pepper de-seeded and finely diced
½ a cucumber finely but not too finely diced
½ a red onion finely diced
A splash of olive oil
A sprinkle of dried oregano and thyme
Salt and pepper
Chilli flakes optional
Instructions
Place the tomatoes, 2 chopped red pepper and garlic in a roasting dish brushed with olive oil. Sprinkle over the salt, pepper and thyme and oregano. Place in a low oven at 110c and cook for about three and a half hours. (if you don't have time cover the dish with foil and cook in a 160c oven for about 45 minutes to an hour).
Remove from the oven to cool and remove the garlic from their skins.
Put the bread, vinegar and garlic and half the tomatoes and peppers in a blender and blitz until smooth.
Add the remaining cooked tomatoes and peppers and pulse lightly to incorporate into the soup keeping a thicker texture.
Add some chilli flakes for an optional kick. Chill the soup in fridge for a couple of hours.
Mix the remaining diced green pepper, red onion and red pepper together and use as a garnish over the soup when ready to serve.