This is the ultimate bloody Mary virgin that is a decades old recipe. The classic bloody Mary cocktail will never go away nor will its non-alcoholic partner the virgin bloody Mary. Our smoothie take on this classic tasty cocktail adds a little healthiness, takes away a little unhealthiness and delivers a taste and texture sensation that will see you having this for breakfast, lunch and dinner. This best-ever Bloody Mary recipe without vodka certainly packs a punch.
A bloody Mary smoothie is better than a bloody Mary juice 
By making one of the worlds most well-loved drinks into a smoothie does have its benefits. Firstly, by blending all of the tomatoes we can increase the fibre content and also their nutritional value. We have also put a little twist on the tomatoes too by adding some slow-roasted tomatoes.
Not only does this heighten their flavour but it also concentrates their antioxidant potency too. It has been said that bloody Mary cocktail is also one of the most favoured " hair of the dog" tonics so we have kept the heavy vegetable base to settle the stomach, included celery salts to replenish lost salts but added the juice of celery which has a calming effect in place of the vodka which was said to have been used to settle the aches and pains associated with a hangover. For the important added spice we have kept some healthy cayenne pepper and for the umami kick you can either use a vegan Worcestershire sauce or the tang from some tamarind paste with a little red wine vinegar, all healthy we promise you. A twist from the pepper mill and some classic garnishes provide the essential theatre that accompanies every discerning cocktail.
Even if you don't have some oven-roast tomatoes which are so good to have in your fridge you can always instead use some sun-dried tomatoes, but by blending your own fresh tomatoes and oven-dried tomatoes you end up with the airy bloody mary smoothie texture that is light and velvety whilst maximising on all the classic flavours you know and love. In all honesty, this is the best bloody Mary recipe you'll ever make.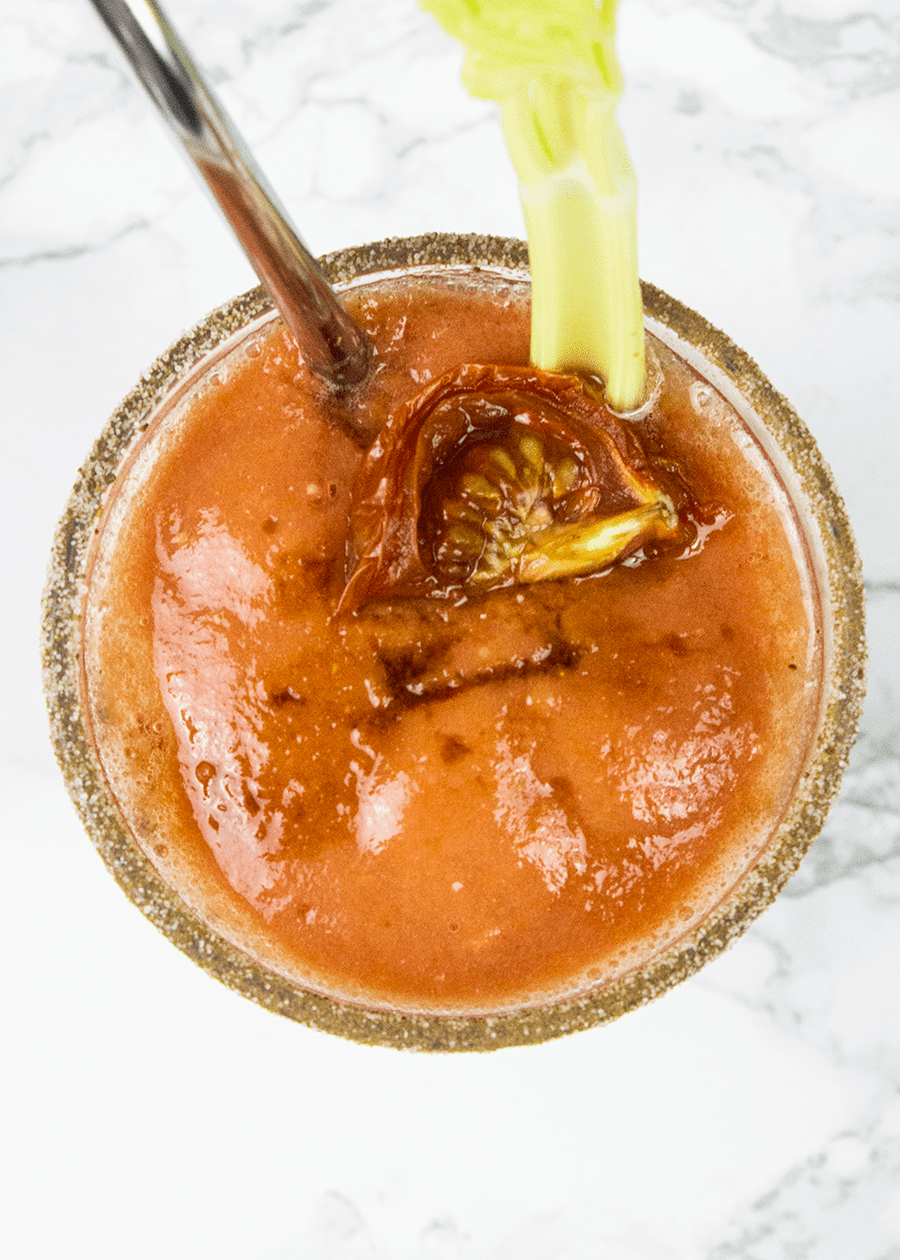 What you'll need to make the best bloody Mary smoothie
To make the best bloody Mary recipe you need fresh vine tomatoes, fresh celery, fresh carrot, oven-dried tomatoes (or sundried tomatoes if you like) the classic added flavours of celery salt, chili/ cayenne pepper and Worcestershire sauce (vegan version), lemon, a blender and a juicer. 
First of all, juice the celery in a juicer (you can blend with a little water then strain through a sieve if you don't have a juicer) then add to the blender with the fresh tomatoes, dried tomatoes, carrot, chili, cayenne and vegan Worcestershire sauce. Add some ice cubes and blitz a little longer if you want a cooler, wetter drink. Then put the celery salt around the rim of a glass and pour in the smoothie and garnish with a celery stick.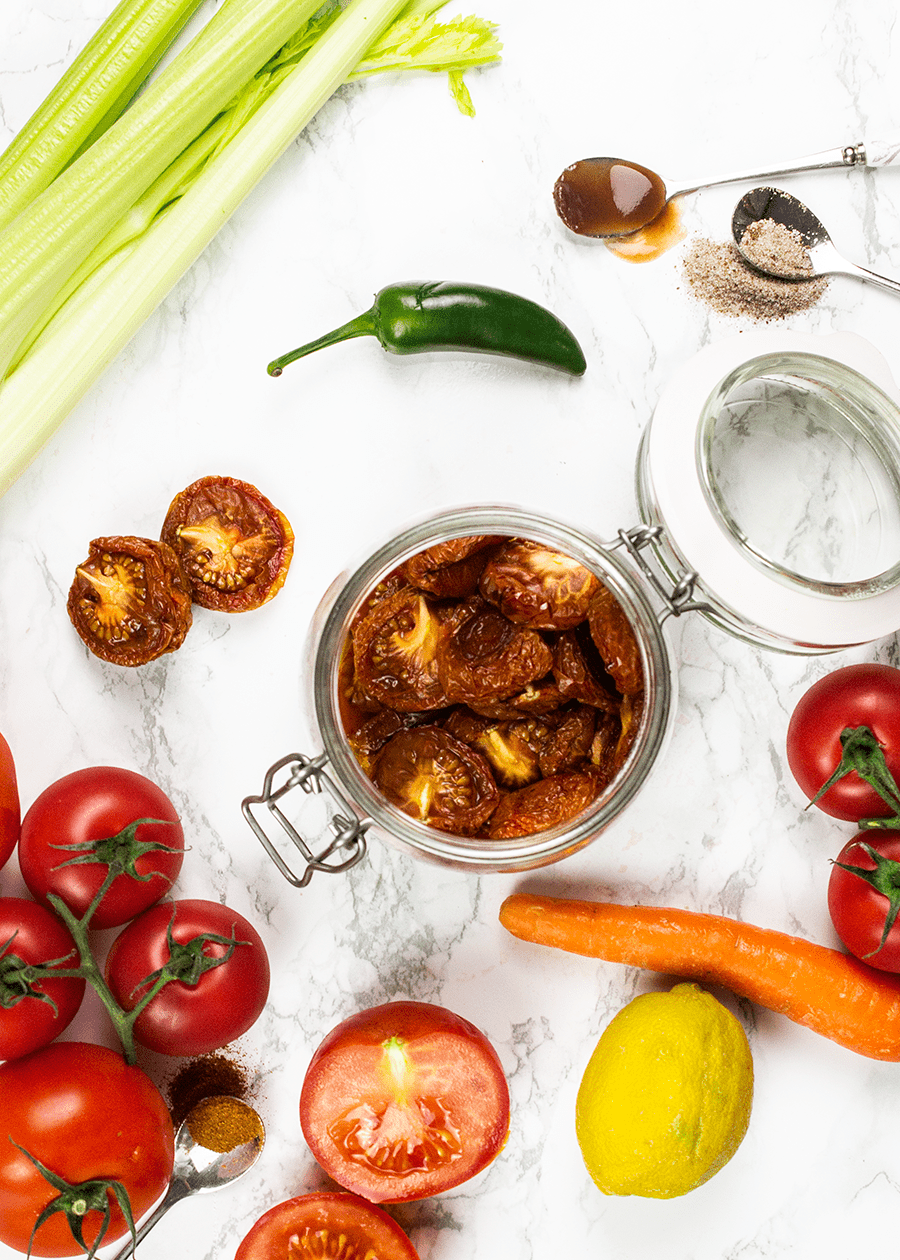 What is bloody Mary? 
The history of the bloody Mary is also an interesting one. A few places have laid claim to inventing it so does it seem to have been a recipe that has been refined over time too. One invention-claim with a lot of credence, however, comes from the infamous New York Harry's Bar which was also famed for the invention of other classics such as a White Lady which is a lemony gin drink thickened with egg white and the sidecar which marries cognac and orange too. It was said to have been made for a special guest, one Vladimir Smirnoff from the Smirnoff Vodka family, and perhaps the name is a mispronunciation of the name Vladimir!
The writer Ernest Hemmingway (who also frequented Harry's bar) is also associated with numerous alcoholic shenanigans including purportedly being responsible for such creations as the mojito and daiquiri is also known to have included bloody Marys into his list of favourites. It has been claimed he had said "anything less than a pitcher (of bloody Mary) "worthless". A sentiment we hope you'll adopt for this smoothie.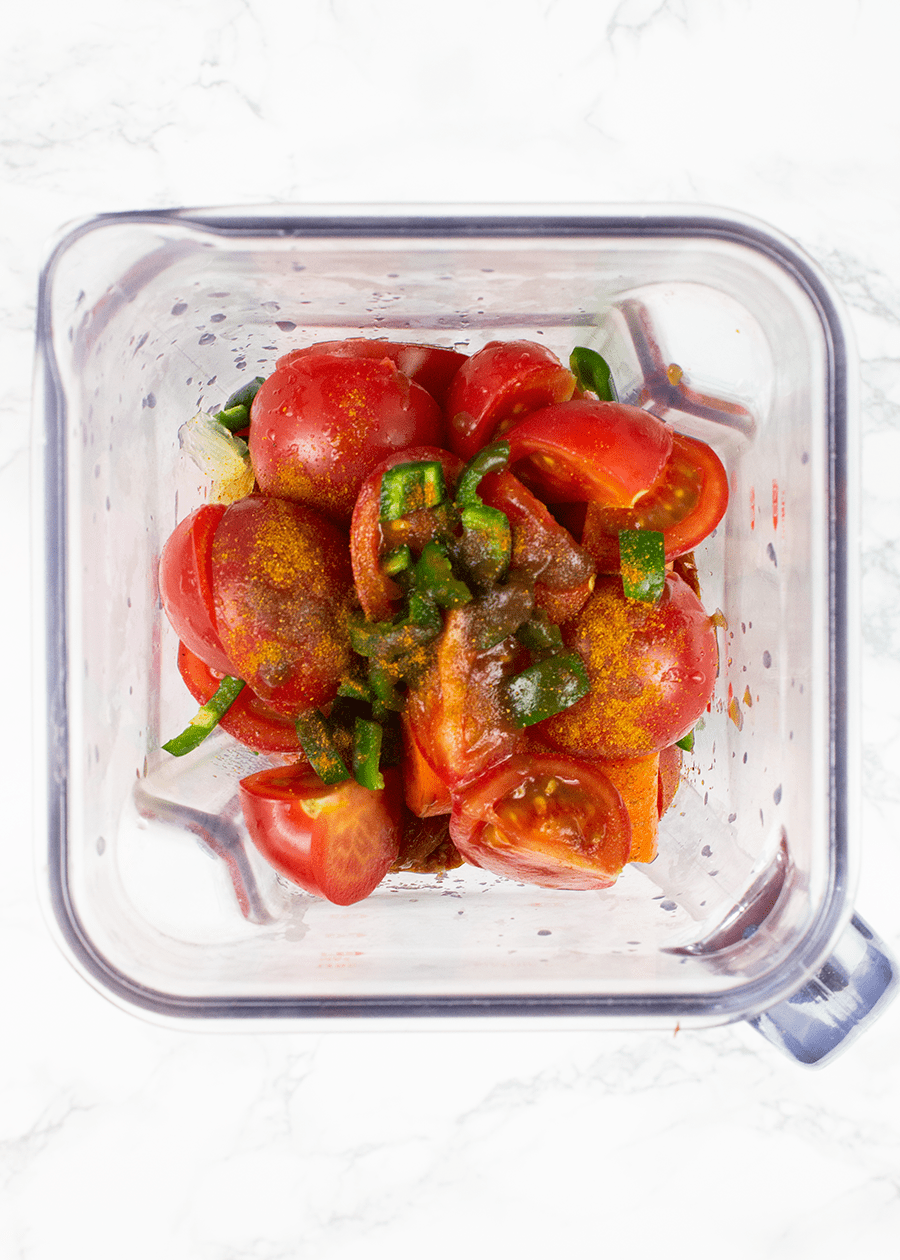 A healthy start to the day
Whether or not this cocktail was invented to cure a hangover or not, the principle ingredients excluding vodka of course, do make for a great wellness tonic. Tomatoes are full of antioxidants as are the chilis and the celery too. These ingredients combined not only create an amazing flavour they deliver nutrition and wellbeing. 
Cancer-fighting tomatoes
We use fresh tomatoes for the bulk of this drink but using slow-roasted tomatoes as well for this recipe intensifies its lycopene content. 
Lycopene is a plant compound and one of 600 carotenoids (polyphenols) found in fruit and vegetables but more importantly one of only a handful that are recognised as important to human health. Carotenoids are the pigments responsible for giving the colour to yellow, orange, red and dark green fruit and vegetables, including tomatoes, sweetcorn, oranges and spinach. Around 50 identified carotenoids including lycopene are converted into Vitamin A in the body. Vitamin A, which is a fat soluble vitamin stored in the liver that is essential for many functions in the body as it binds on to certain cells that regulate how our bodies read genes. It is vital for the production of some proteins and important enzymes that maintain healthy growth and development of cells including helping our bodies to heal.
Lycopene which is the red pigment found in fruit and vegetables, namely tomatoes, is not essential for humans, however, studies have suggested that there is a strong link between tomato intake and blood lycopene levels alongside the reduced risk of many cancers. Cooking tomatoes can release up to five times more lycopene than you would get by consuming just raw tomatoes. Slow cooking is the best way to concentrate these lycopene levels. 
Lycopene is also a powerful antioxidant and is about three times more potent than Vitamin E. It has been studied that consuming just one serving of tomatoes can reduce oxidative stress to our bodies by as much as 50% within one day. 
Antioxidants help reduce damage caused by free radicals at a cellular level in our bodies. Free radicals are produced thousands of times a day in the body as a result of our metabolic reactions, muscle contractions during exercise, drinking, smoking and exposure to uva sunlight. Whilst these reactions are normal and essential and therefore unavoidable it is the antioxidant protection against excessive free radical damage that provides the benefits. Antioxidants come from fruit, vegetables and nuts in our diet and the correlation between people who have a high intake of fruit and vegetables and the reduced risk of high blood pressure, diabetes and cancer is overwhelming.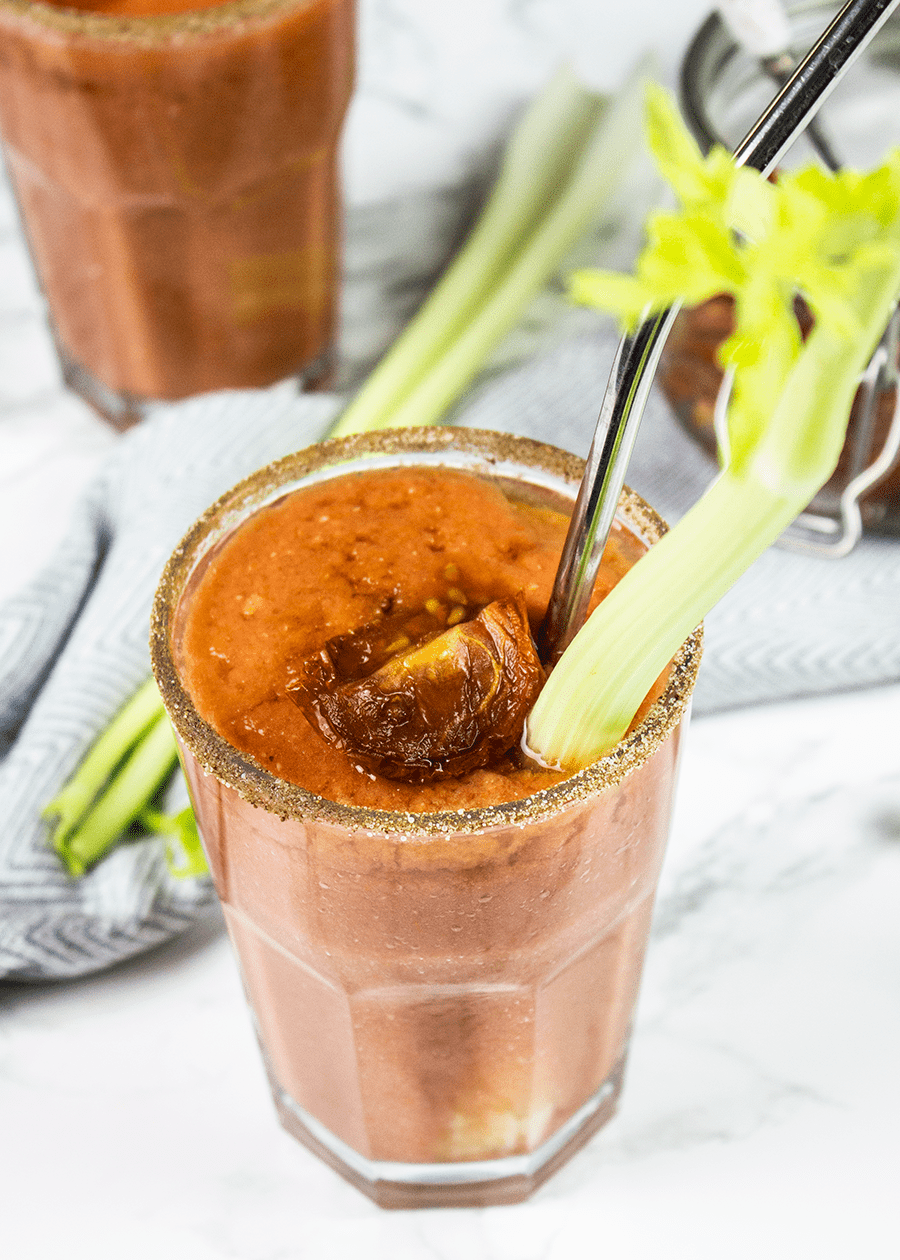 Calming celery
Celery is high in antioxidants including a compound called apigenin. This plant compound has been studied for its potential cancer-fighting properties as it could aid with apoptosis, which is the programmed death of cells as well as the potential capability of aiding neurogenesis which is the growth and development of nerve cells. It is this action that helps memory and the ability to learn that also gives you the ability to calm anxiety. This is definitely welcome in this day and age. 
Celery is also high in healthy salts that may have the effect of balancing blood pressure and help ferry toxins out of the body.
Celery is also high in Kaempferol which is in a class of phytonutrients known as flavonoids that have an exceptionally antioxidant potency. As an antioxidant, kaempferol has been linked to the prevention of chronic diseases such as cancer. Antioxidants balance the effects of free radicals in the body which are formed as the body metabolises the food we eat into energy. These molecules are negatively charged and as they try to lose this charge by passing it into other molecules in the body which cause damaging effects at a cellular level which is the precursor to chronic diseases.
Have you made this best-ever bloody Mary recipe?
We'd love to see your bloody Mary creations! Please leave a comment below, share or tag using @anticancerkitchen on Instagram and hashtag it #anticancerkitchen.
More healthy smoothies on the blog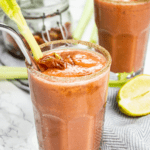 Ingredients
4 cups of chopped fresh tomatoes

Juice of 2 celery stalks approximately 125ml

½ cup of oven-dried tomatoes or sun-dried tomatoes

½ cup of chopped fresh carrot

1 small de-seeded mild fresh chili

1 tablespoon of vegan Worcestershire sauce (or ½ tbsp of tamarind and ½ tbsp of red wine vinegar)

1 teaspoon of cayenne pepper

Juice of half a lemon

4 ice cubes

1 teaspoon of celery salt

Celery stalks to garnish
Instructions
Wet the rim of the glasses and cover in celery salt
Juice the celery stalks and add to a blender with the rest of the ingredients and process until smooth
Pour into the glasses and serve with a celery stalk.

Copyright secured by Digiprove © 2020 The Anti-Cancer Kitchen