This is an incredible zesty non-alcoholic Mai Tai cocktail smoothie that will serve up as a nutritious breakfast smoothie or a virgin brunch cocktail packed with antioxidants and vitamin C or a virgin Mai Tai cocktail with flavours of juiced fresh orange and lime blended with a whole pineapple to give it a foamy thick texture flavoured with a little almond, just like the original.
The original Mai Tai cocktail 
A Mai Tai is one of those classic cocktails that has stood the test of time because it has only a handful of ingredients that deliver a strong alcoholic rum punch with a fresh zesty orange and lime flavour with nutty almond finish. It was created by the inspirational Trader Vic in the 1940s and at the height of tiki culture which saw people romanticising in South Pacific themed bars with an edge of perceived tribal and carnal danger.
The original concoction was treated as a secret as were many of these pioneering rum cocktails and often imitated over time to include other ingredients and other rums of different origin but never replicated. Some use a blend of orange and pineapple for added tropical pizzazz instead of flavoured liquor with the rum, lime and almond, but the original (which was is a strong drink) uses only a golden rum, orange liqueur, fresh lime and syrup de orgeat (almond syrup).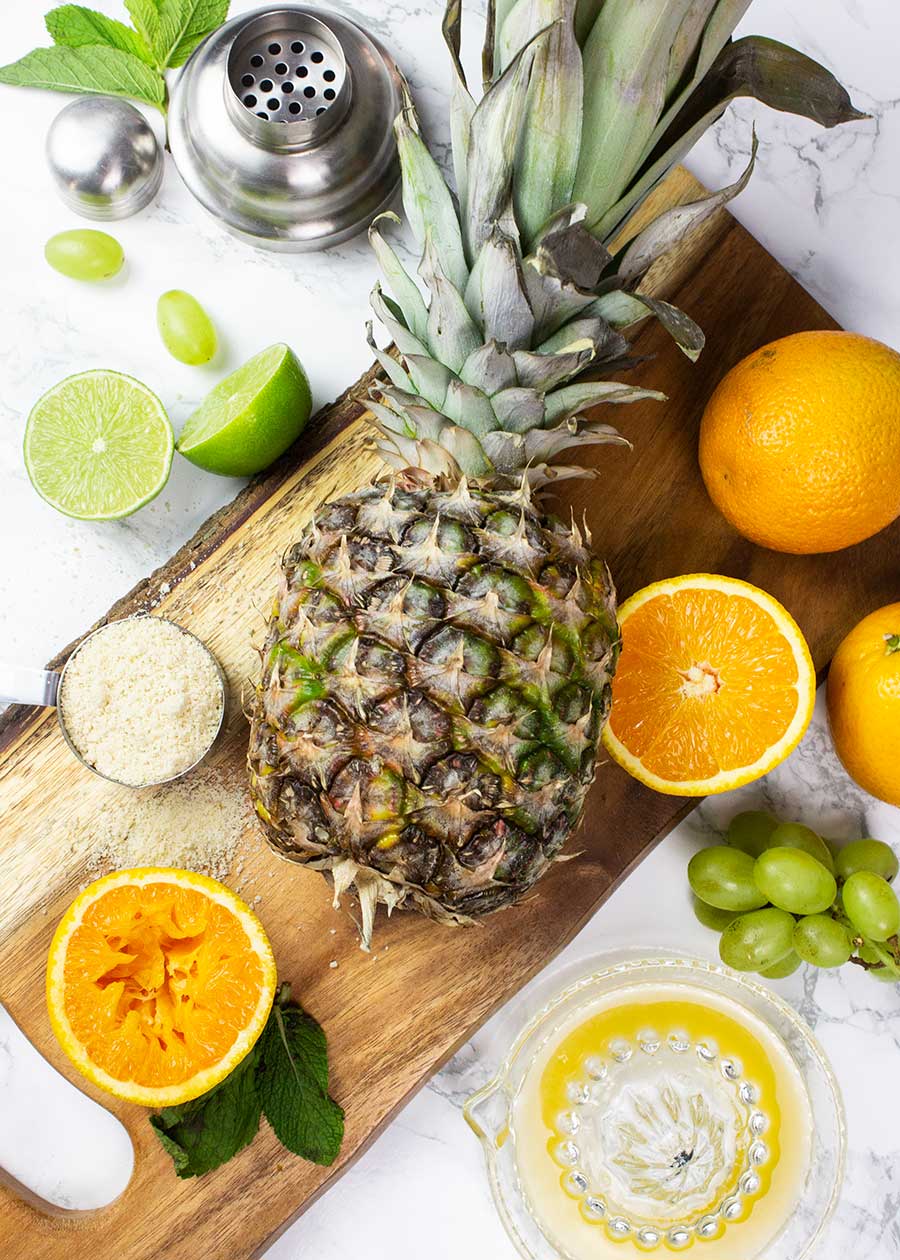 Mai Tai cocktail is our favourite 
Because Mai Tai is one of our favourite cocktails we have been inspired not only to produce a virgin Mai Tai cocktail with it but to go one step further and see if we can pull all the flavours of this classic cocktail and recreate the feel of this timeless decadence in a nutritious smoothie. So, we have

No alcohol
No added sugars or syrups
Just fresh orange
Fresh lime
Fresh pineapple
A handful of grapes
And natural almond   
Supping on this virgin Mai Tai cocktail Smoothie helps to transport your thoughts to sandy white beaches with flowing palms and reed huts. Nourishment not only for the body but for your mind too.
What you need to make this virgin Mai Tai cocktail smoothie
Apart from the simple ingredients of a pineapple, fresh oranges, a lime, 12 grapes and some almond flour (you can use desiccated almonds or even almond milk) you just need a blender. Start by squeezing some oranges and a lime then simply take the skin off the pineapple and remove the hard core, chop into chunks and blend with some almond flour and grapes. You can go to town on the garnish if you wish and reserving some of the pineapple leaves makes it nice and polynesian looking.  
This smoothie is high in Vitamin C
Pineapples are a very low calorie fruit and like oranges and limes they are rich in Vitamin C and very nutrient dense. 
Vitamin C is a potent antioxidant that is needed for over 300 metabolic reactions in the body including the production of collagen which is a major structural protein in the body. Collagen is essential for the growth and repair of healthy skin, bones, teeth and reproduction. Vitamin C not only regenerates other antioxidants such as Vitamin E it helps absorption of Iron and has numerous other benefits such as protecting cholesterol against oxidation. Oxidised cholesterol is associated with the hardening and furring up of arteries and can raise the risk of strokes and heart attacks. 
Studies have also shown that people with the highest intakes of Vitamin C are less likely to develop certain cancers. Up to 15% of cancers have been shown to have come from mutations in  DNA which Vitamin C can be prevented by Vitamin C.
A lack of Vitamin C could result in the higher susceptibility to colds and coughs, poor healing, prevalence to bruising, hair loss, dry lips, inflamed, bleeding gums and lethargy. A good reason to consume pineapples, oranges and limes.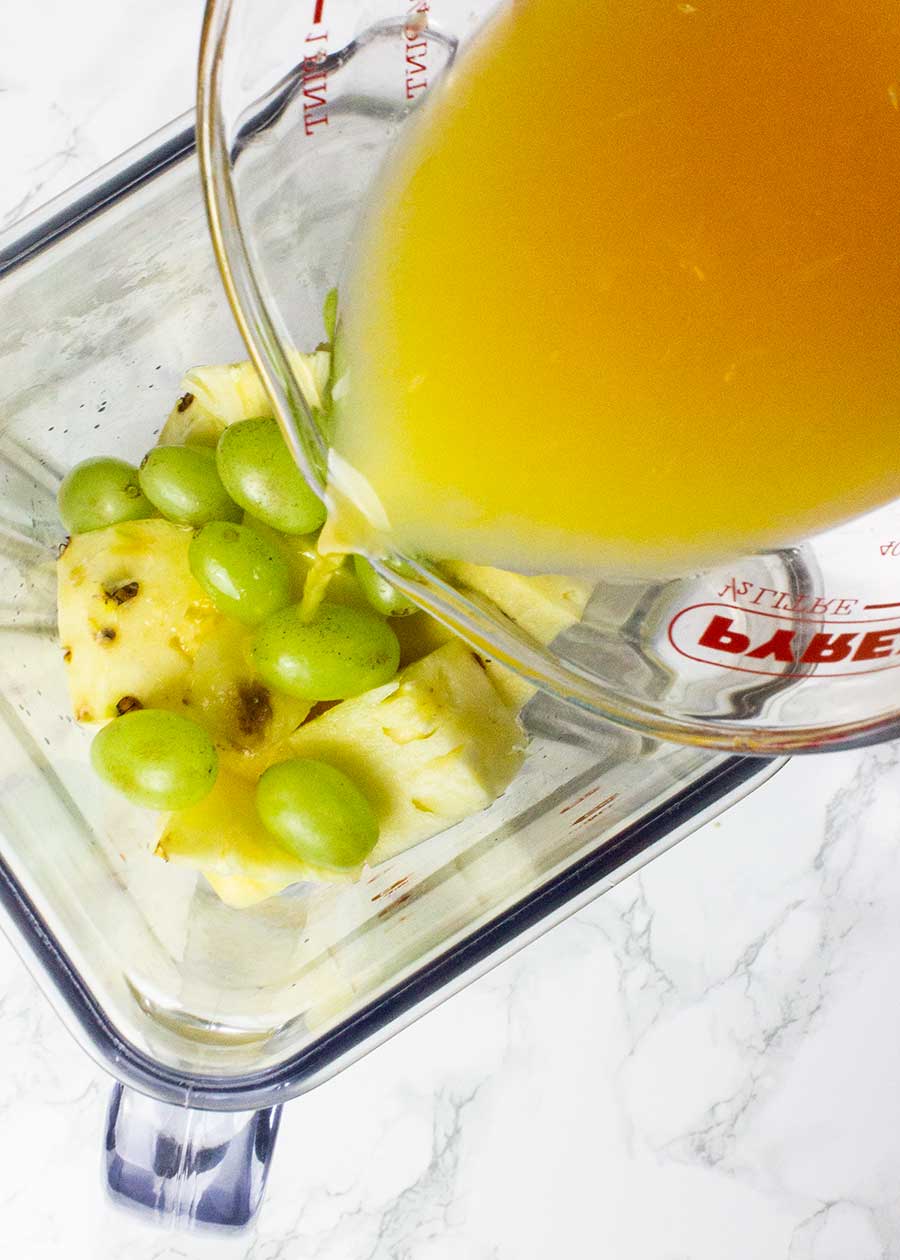 Antioxidants
Pineapples are high in other antioxidant plant compounds known as flavonoids. These polyphenols are responsible for giving pineapples their bright yellow colour. Antioxidants help balance the damage caused to cells from oxidative stress in the body caused by free radicals. One of these compounds is the group of digestive enzymes called bromelain which research has shown to help fight certain cancers such as breast, skin and colon amongst others by suppressing the growth of mutating cells and stimulating cell death (apoptosis). These studies have also linked bromelain to potentially stimulating the immune system to produce molecules that could make white blood cells more effective at suppressing cancer cell growth and eradicating cancer cells.
D-limonene which is found in the skin and pulp of oranges to give off a strong scent to ward off predators when they grow is also a potent antioxidant and is touted for its anti-cancer properties too.
Almonds are also incredibly high in Vitamin E.
Alkaline juicing 
Pineapples along with oranges and other citrus fruits are a good ingredient to form part of an alkaline diet. 
Even though citrus fruits are high in citric acid they are part of a food group that will alkalize your body. This is because when you metabolize /convert your food into energy there is a chemical reaction that leaves behind metabolic waste and this waste is either acidic, alkaline or neutral. When the residue (ash) is left behind its Ph level will affect your body's acidity. The more acidic your body is, the more susceptible you are thought to be to illness and disease. The more alkaline your body is, the more protected you are to potentially lowering the risk of cancers and other chronic diseases.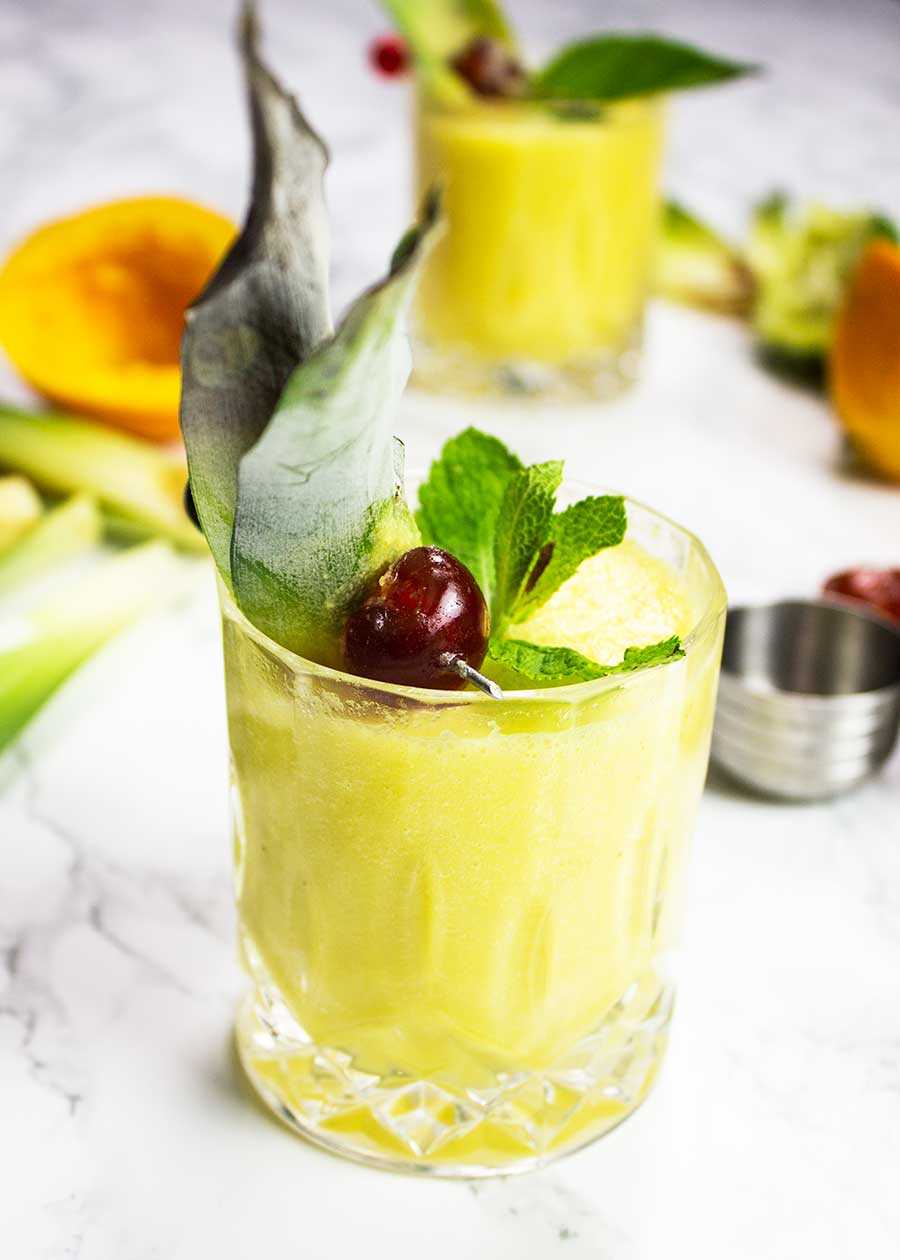 Varieties of virgin Mai Tai cocktail smoothie
One of the main flavours we want to capture in this Virgin Mai Tai cocktail smoothie is the sweet orange flavour which would normally come from an orange curacao. Oranges do come in two forms, sweet and bitter, other varieties of oranges to use are blood oranges or mandarins of which you could use satsumas, clementines or tangerines. If you have any Seville oranges why not try adding a little to give a little bitterness as one obvious dimension to an original Mai Tai is rum which we can't use and rum extract still contains alcohol and corn syrup so you have to be a little creative. Perhaps a little vanilla pod would work too.  
Almond health
For the unique added dimension that syrup de orgeat delivers in an original Mai Tai we have used almond flour made with 100% natural almonds. Not only does almond flour give a more defined flavour of almonds it also means that they contain healthy fibre which would not be in the almond milk form. Fibre is necessary for your diet as it helps to ferry toxins out of the body.
Alongside fibre, almonds are also high in, magnesium, protein and healthy fats such as Vitamin E. Almonds are among the world's highest sources of Vitamin E which is a potent antioxidant. They contain about a third of your recommended daily intake of Vitamins in just 25g and can help protect your body at a cellular level. 
Have you made this delicious virgin Mai Tai cocktail smoothie?
We'd love to see your healthy virgin cocktails/smoothie creations! Please leave a comment below, share or tag using @anticancerkitchen on Instagram and hashtag it #anticancerkitchen.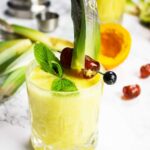 Ingredients
Juice of 2 fresh oranges (we use a lemon juicer)

Juice of 1 lime (we use a lemon juicer)

1 pineapple, cored, peeled and chopped

2 tablespoons of almond flour

12 white grapes
Instructions
Add all the ingredients into a blender and process until smooth.
Optionally, garnish with pineapple leaves and cherries.

Copyright secured by Digiprove © 2020 The Anti-Cancer Kitchen