To make a classic Pad Thai totally vegan and gluten-free in only a few minutes is really easy. With this quick and simple vegan Pad Thai recipe, we use sweet potato noodles with nutritious crunchy stir-fried vegetables and probably the healthiest and tastiest plant-based Pad Thai sauce you'll ever make full of authentic sweet, sour and spiciness.
Pad Thai noodles – classic and tasty
Pad Thai is a classic Thai street food noodle dish. It is one of the most popular dishes served in Thai restaurants around the world and commonly features in the top 10 most delicious foods lists compiled around the world. The traditional recipe will vary with certain ingredients but the basis will be noodles with beansprouts tossed together in a sweet, sour and salty dressing with peanuts and lime. One main aspect is the depth of flavour given to the original sauce with the use of fermented fish sauce, nam pla. For a purely plant-based flavoursome Pad thai sauce this ingredient is easier to substitute for an authentic flavour than you'd think.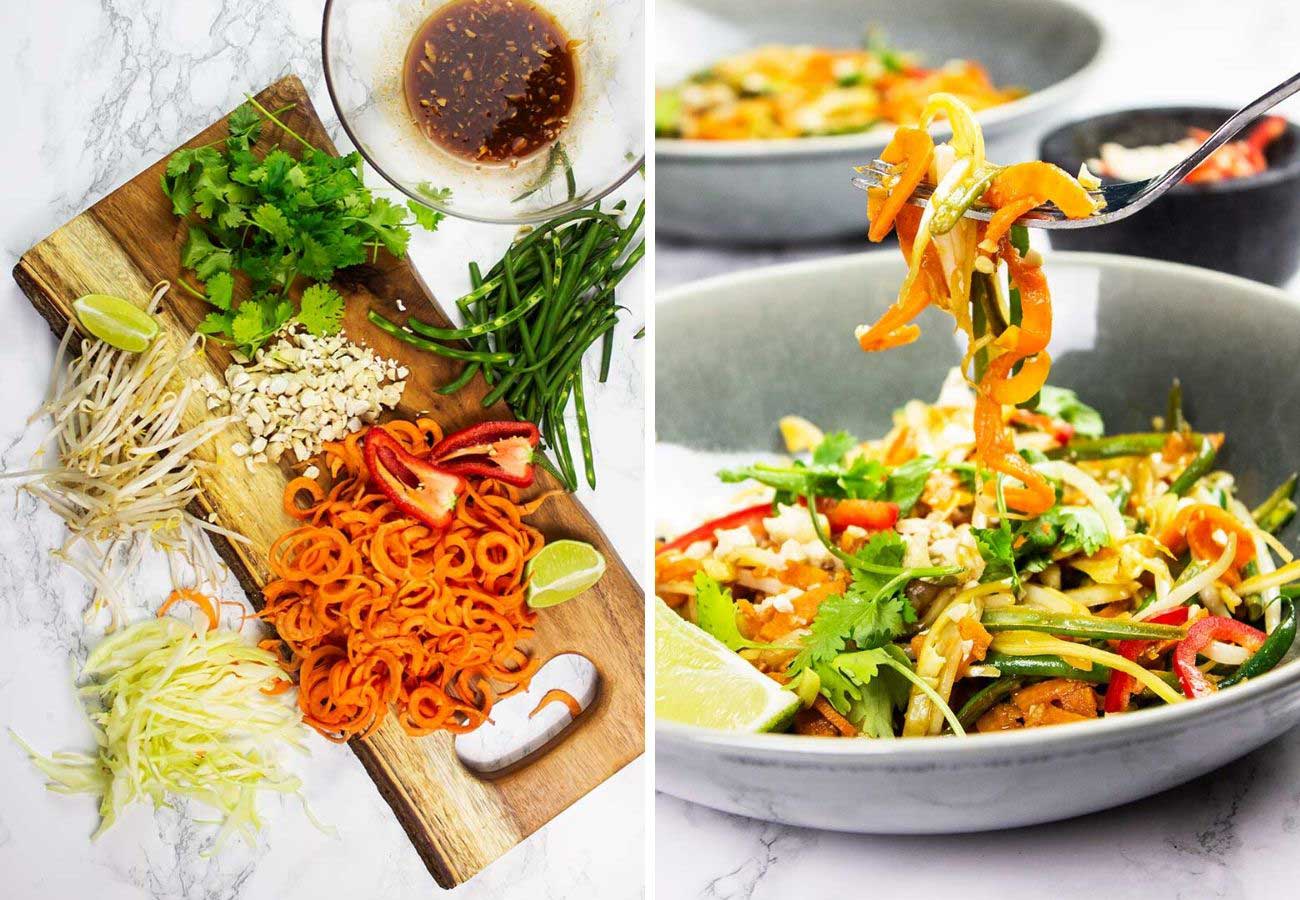 Pad Thai recipe is easily made plant-based
To make a vegan version of a Pad Thai recipe as tasty and authentic as possible, we have used two other sour and umami filled ingredients instead of fish sauce, white miso and tamarind which is also a typical Thai ingredient.
Easily sourced these days, most supermarkets will stock tamarind paste and white miso paste. The addition of these ingredients to our vibrant vegan noodle dish creates a full flavoured and authentic taste without having to prepare a complex sauce at home by steeping mushrooms and seaweeds etcetera.
Tamarind is wonderfully tart, sweet and sour and when added to miso which is a fermented soybean paste the result is incredibly authentic. 
Sweet potato noodles in this Pad Thai recipe
Our best ever vegan Pad Thai recipe also introduces another noodle instead of the classic rice noodle which even though is low in calories, the overall nutritional values are quite low. Rice noodles are a good option for people looking to lose weight but we wanted an ingredient which offers a more antioxidant potency and fuller flavour, so the use of sweet potato noodles works really well. If you prefer to use the original rice noodles then, of course, go ahead, you could also prepare zoodles (zucchini/ courgette noodles), kelp noodles or soybean noodles for a more nutritious option or soba noodles which use buckwheat.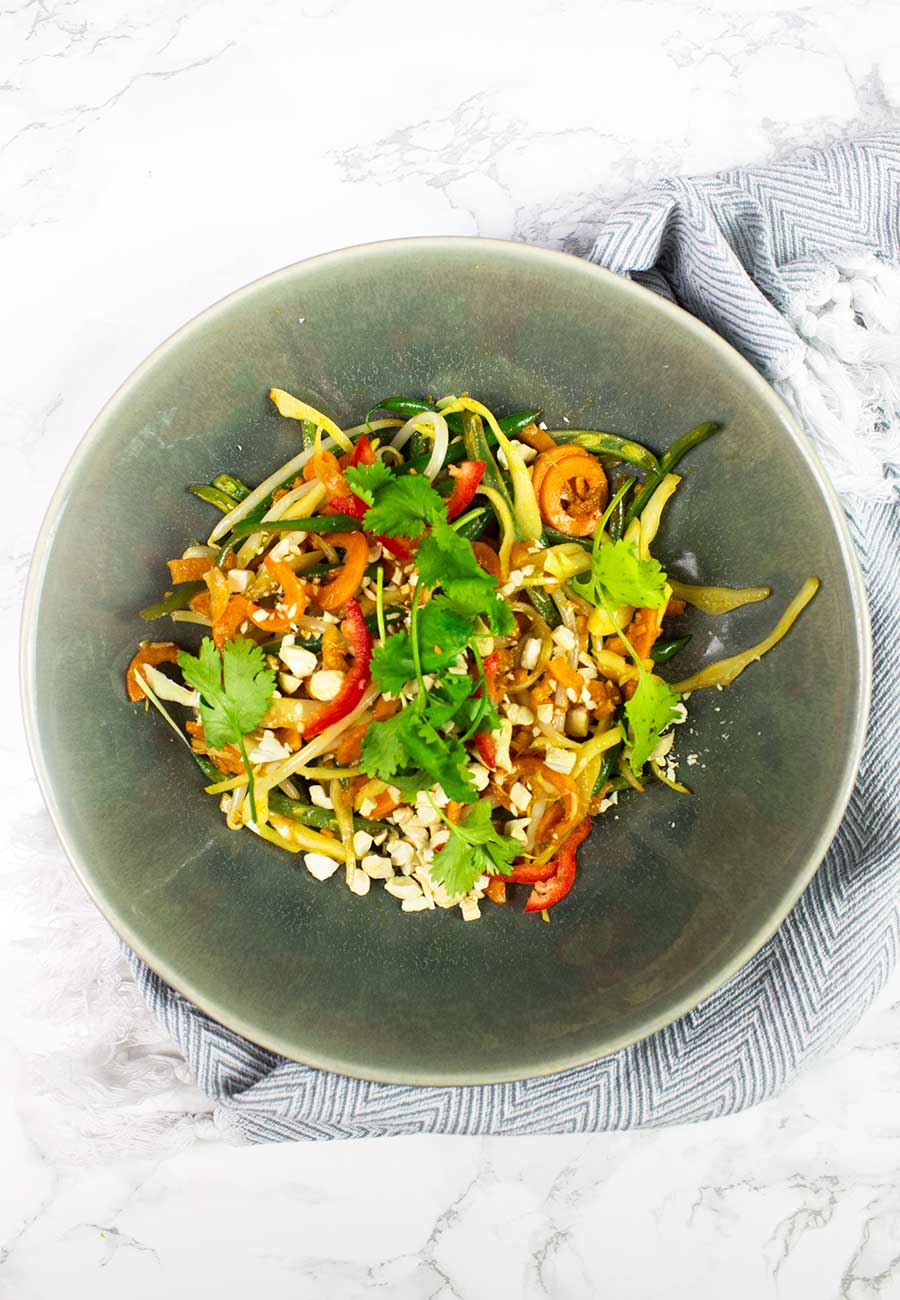 Interchangeable ingredients: What else to use in a vegan Pad Thai recipe?
Using sweet potato noodles, beansprouts, white cabbage and green beans with a simple sauce this is a very satisfying, very quick meal to prepare just like the street food original. It is also very simple to embellish should you want to.
A traditional Pad Thai often incorporates proteins such as prawn, chicken and egg. Tofu is a good extra too but so are the various other vegetables such as radishes, broccoli, carrots and even seaweed. As long as there is soft noodle and crunch of the beansprouts and some nuts the main flavour to be fair comes from the sauce!     
The BEST EVER vegan Pad Thai sauce
There are four elements of a great Pad Thai sauce, sweet, sour, salt and spice. Just like any great sauce, the result shouldn't be overwhelmed by any one of these constituents, in fact, a great sauce often becomes something entirely different.
It could be for this reason why so many Thai restaurants are graded on how good their Pad Thai noodles are. 
For the sweet, we have some lime juice sweetened with agave or honey. Palm sugar is the traditional sweetener but this is very calorific and sugars have been linked with obesity and inflammation. Agave syrup is a healthier option and although not plant-based, honey is a very nutritious sweetener that we do advocate too. 
For the sour, the tamarind paste and miso meld really well together and give this much-needed dimension to this sauce.
For the salt, we use soy sauce, a classic staple in much of Asian cuisine.
For the spice, of course we use chili but in this case in the form of sriracha so that the dressing easily covers the noodles. A clove of small garlic gives a little more flavour and antioxidant kick too. Together this is one great vegan Pad Thai sauce for our incredibly delicious vegan Pad Thai recipe with sweet potato noodles.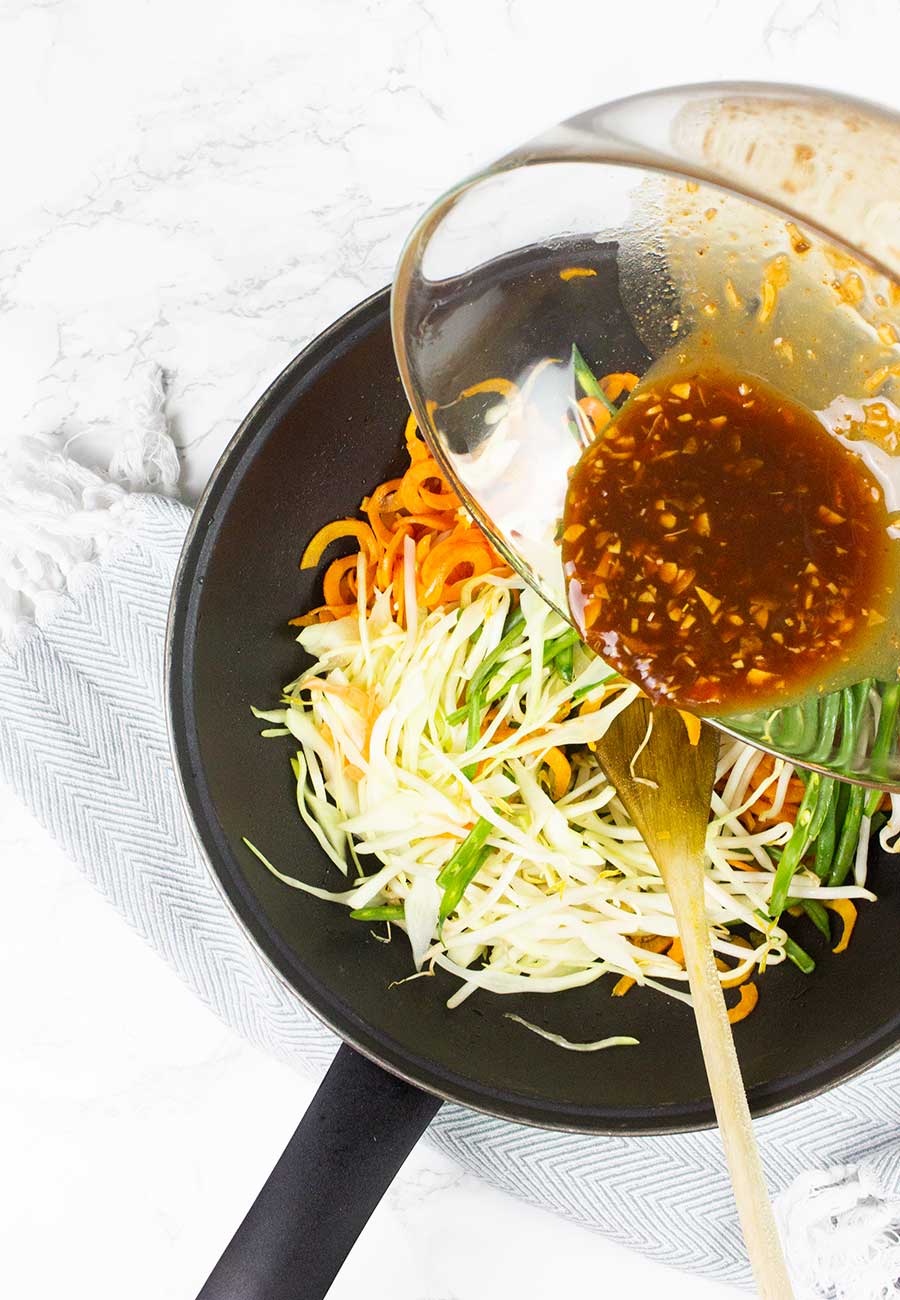 Best garnish for your vegan Pad Thai with sweet potato noodles
To serve, there are always nuts on a Pad Thai dish. If you have an allergy this can be substituted for crunchy cooked rice which is common is Thai cuisine but peanuts give an unmistakable taste and cashews work well too. Next, we have coriander/cilantro and lime which add an extra citrus burst and aromatic flavour, however, mint works well as well as Thai Holy basil. If you want more heat, add chilis or chili sauce. 
Why sweet potato noodles
To make your own noodle for a start is very easy if you just peel a sweet potato and spiralise it. There is no need to bring a pan of water to the boil and cook the noodles either, a sweet potato can be just thrown into a wok and cooked in 3-4 minutes. 
The nutritional content of these potatoes are also beneficial for your health and much more so than a normal noodle, it is after all a vegetable. Sweet potatoes are very high in beta-carotene which is the pigment that gives the potato its orange colour. Beta-carotene can be converted to Vitamin A in the body in the form of Retinol which aids cellular health in the skin and eyes and for our immune systems. Beta-carotene is also an antioxidant which helps protect against oxidative stress from free radicals in the body. 
If you use the purple sweet potatoes variety then the polyphenol anthocyanin content is very high and has been linked with the ability to inhibit tumours.
Health benefits of white cabbage
Putting cruciferous vegetables in your meals is incredibly healthy as they contain polyphenols not found in other vegetables. One of these compounds found in cabbage as well as other vegetables in the Brassica family is Kaempferol which has been studied in relation to its anti-cancer capabilities. Research has shown that Kaempferol helps regulate healthy cells and activates apoptosis in cancer cells which is their programmed death.   
They are also high in Vitamin C which is an important antioxidant in all body tissue and is needed for at least 300 metabolic reactions including producing collagen which is a major structural protein in the body. They are also high in vitamin K which is essential for healthy blood. Cabbages are easy to add into your meals and add not only great flavour and texture but a huge amount of nutrients.
Beansprouts are perfect in this vegan Pad Thai recipe 
Beansprouts are sprouting beans with a common variety sold being the mung bean. They are very common in Asian cuisine and add crunch to salads and stir-fries like our vegan Pad Thai recipe. As they are essentially young plants, different varieties have different health benefits. However they may change from bean to bean, they are a good protein source which for people observing plant-based diets is beneficial as they provide us with energy. 
Proteins are the basic building blocks for our bodies which have complex structures with chains of over 100 amino acids. When they are consumed they are broken down into these amino acids which are absorbed into our cell lining then transported through the bloodstream. They are then converted into over 50,000 different proteins that play important roles within the body such as creating the structure of our bodies, regulating our metabolic reactions to protecting our immune systems.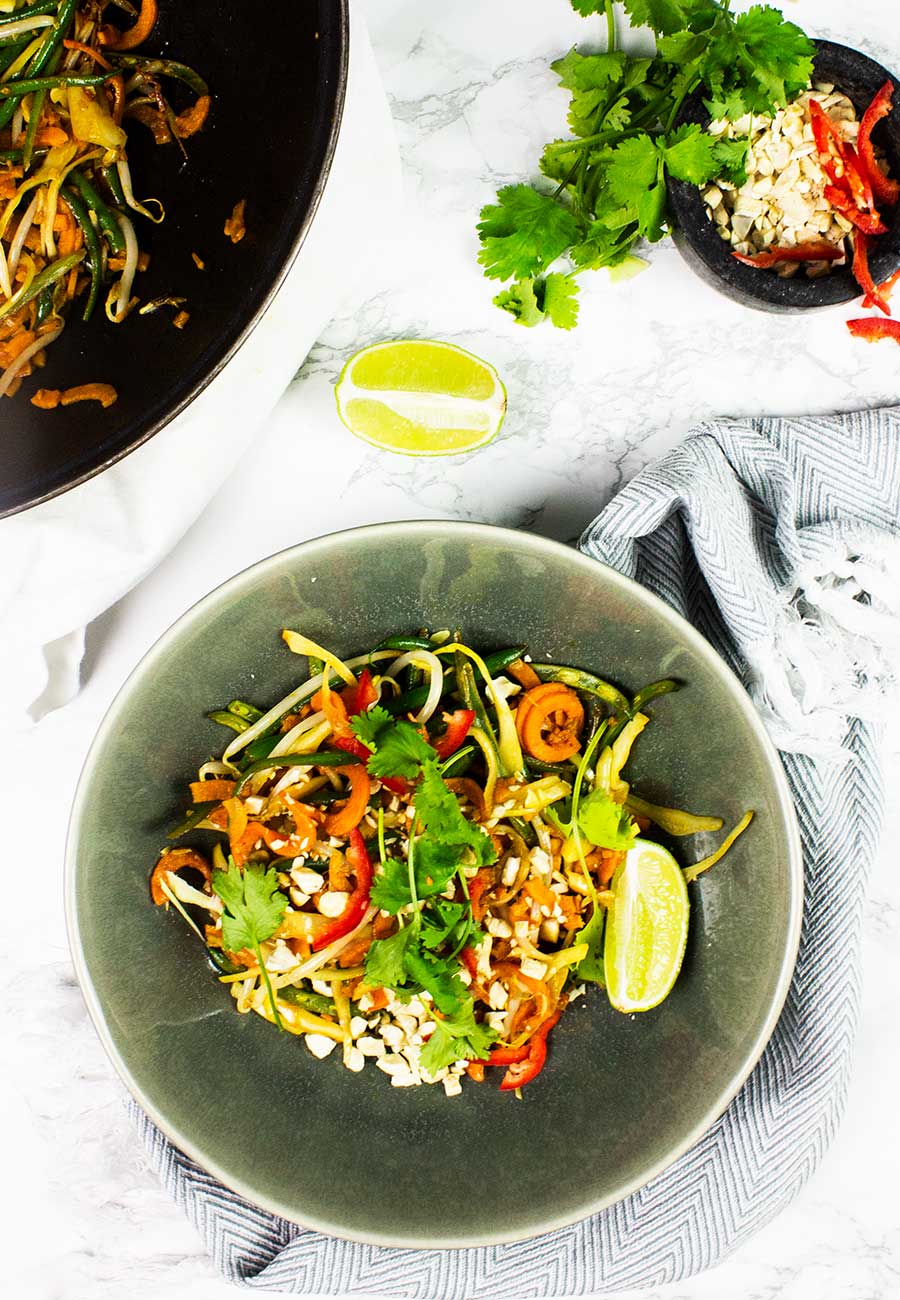 There is no Pad Thai without the crunchy peanuts
Peanuts are a good source of energy through healthy fats, complex proteins but low in carbohydrates. They are as rich in nutrients as many fruits and as such contain a healthy amount of plant compounds such as resveratrol which is also notably found in red wine and is a potent antioxidant. The polyphenols, isoflavones are compounds that are also linked to fighting inflammation in the body which is the precursor of chronic illness and diseases such as heart disease and cancer. Peanuts can cause anaphylaxis in people with peanut allergies so it is recommended to use a substitute such as crisp rice or seeds such as pumpkin seeds if this is the case. Otherwise, they are nutritious and tasty and almost essential for a great vegan Pad Thai recipe. 
Other healthy Thai inspired recipes on the blog
Have you made this healthy plant-based noodles recipe?
We'd love to see your vegan Pad Thai creations! Please leave a comment below, share or tag using @anticancerkitchen on Instagram and hashtag it #anticancerkitchen.
Subscribe to our newsletter using the form below and follow along on Facebook, Pinterest and Instagram for all of the latest updates.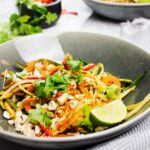 Ingredients
Pad Thai vegetables:

3 sweet potatoes, peeled and spiralised

⅔ of a cup / 80g of bean sprouts

⅔ of a cup / 80g of fine green beans

⅔ of a cup / 80g of white cabbage shredded

Pad Thai sauce:

Juice of 1½ limes

2 cloves of garlic, minced

1½ teaspoons of sriracha chili sauce

1½ teaspoons of white miso paste

3 teaspoons of tamarind paste

1½ teaspoons of agave nectar or honey

Garnish:

¼ cup of chopped peanuts

½ cup of coriander/cilantro leaves

½ a lime cut into wedges
Instructions
Prepare the sauce by adding all the ingredients in a bowl and mix.
Heat some oil in a wok and add the sweet potato noodles. Stir fry for 1 minute.
Add the bean sprouts, fine green beans, cabbage and sauce and stir fry for 3 minutes 
Serve with the garnishes. 

Copyright secured by Digiprove © 2020 The Anti-Cancer Kitchen