Super tasty soy cakes recipe (vegan Thai fishcakes) that is healthy and full of flavour.
This is a plant-based version of the Thai street food fishcake classic that we love so much. The original, which uses prawns, white fish or crab as the protein definitely adds a texture that is hard to recreate but soy mince does a great job.
Soy cakes recipe
Kaffir lime leaves and the Galangal and chilli from the red curry paste give this the unmistakable flavour of Thailand. The carrots cooked in agave not only sweeten but add another dimension too.
Experiment with other vegetable combinations such as beetroot and cauliflower or peppers and courgettes. Sweet potatoes and other roots vegetables would also work very well. Just finely chop your chosen vegetables and fry until soft with the curry paste, then blend to a paste and add the finishing flavours of the lime leaves and fry… honestly, it's easy. Serve with your favourite dipping sauce and away you go.
Why did we choose to make this dish with soy? 
The main reason to make it with soy is that soy is anti-cancer. Research suggests that certain chemicals in soybeans called isoflavones are responsible for lowering the cancer risk. Isoflavones are phytoestrogens which act as an oestrogen block when inside our bodies which means that they keep oestrogen levels under control as they can act both like a weak oestrogen when body oestrogen levels are low and can inhibit oestrogen's effects when body oestrogen levels are high. This is very beneficial for someone with HER2 positive breast cancer.
Have you made this soy cakes recipe?
We'd love to see your food creations! Please leave a comment below, share or tag using @anticancerkitchen on Instagram and hashtag it #anticancerkitchen.
More anti-cancer recipes
Check out our tasty and anti-cancer mains category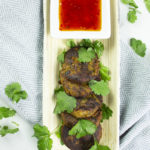 Ingredients
100g of dried soy mince

2 finely diced shallots

1 finely diced carrot

1 chopped garlic clove

1 tablespoon of vegan red curry paste

1 sheet of nori seaweed paper torn

2 tablespoons of cornflour

1 teaspoon of agave nectar

6 kaffir lime leaves finely shredded

Sesame/ wok oil to fry
Instructions
Pour 300ml of water over the dried soy mince and leave for 10 minutes to re-hydrate. Drain and place in a muslin tea towel and squeeze out the excess water. Set aside.
Heat some sesame oil in a hot pan and fry the carrots and agave nectar for 5 minutes.
Add the shallot, garlic and red curry paste and stir fry for a further 5 minutes until softened.
Add the soy mince to the pan and stir until fully mixed. Transfer half the mix along with the nori seaweed paper to a food processor or blender and blitz until smooth. Add back to the rest of the mix and stir through.
Stir in the cornflour and kaffir lime leaves.
Take small amounts of the mixture and mould into patties roughly 5cm wide and 1cm deep and set aside ready to fry.
Pour enough oil into a shallow frying pan to shallow fry and heat to a medium high heat.
Fry the soy cakes in batches for a few minutes on each side to brown and serve straight away.