This delicious asparagus salad with tamarind is just perfect – sweet, sour, crunchy, healthy, juicy – the list goes on.
When spring arrives so does the asparagus, but what do you do with it? Salad!
We've created one of our best ever asparagus salad recipes that makes a side salad using fresh seasonal spring asparagus glazed in aromatic, sweet and sour tamarind and served alongside the crisp crunch of a juicy cucumber. This wonderful plant-based asparagus salad can pair with whatever is on the menu or if you expand on it, it can be the star of the show itself.
By glazing the stems in a simple tamarind stock this is not only a quick and simple way to cook asparagus this is one of the best ways to cook asparagus so that it remains firm to the bite but with a softness that almost melts. Being glazed in tamarind and sesame produces a gorgeous Asian style dressing that is as moreish as the salad itself and it is very easy to do.
Seasonal produce is the best produce 
When you are looking for inspiration for what to eat, one of the best ways is to look at what is in season and our tastes change with the seasons. In the Spring there are notable additions to the supermarket shelves with beautiful spring greens and especially asparagus. There are also many classic asparagus dishes such as with hollandaise and egg, creamed asparagus soup or simply grilled. You can also cook asparagus in a number of ways too, either boiled, steamed or grilled (broiled). With this recipe, we put them in a hot pan with some healthy olive oil to wilt the stalks a little like you would spinach, this way you keep a firm bite and avoid the pallid mush that can occur when over boiled or steamed. Sometimes when you have asparagus the question of what to do with them can be the hardest to answer but this might just well be our new go-to recipe.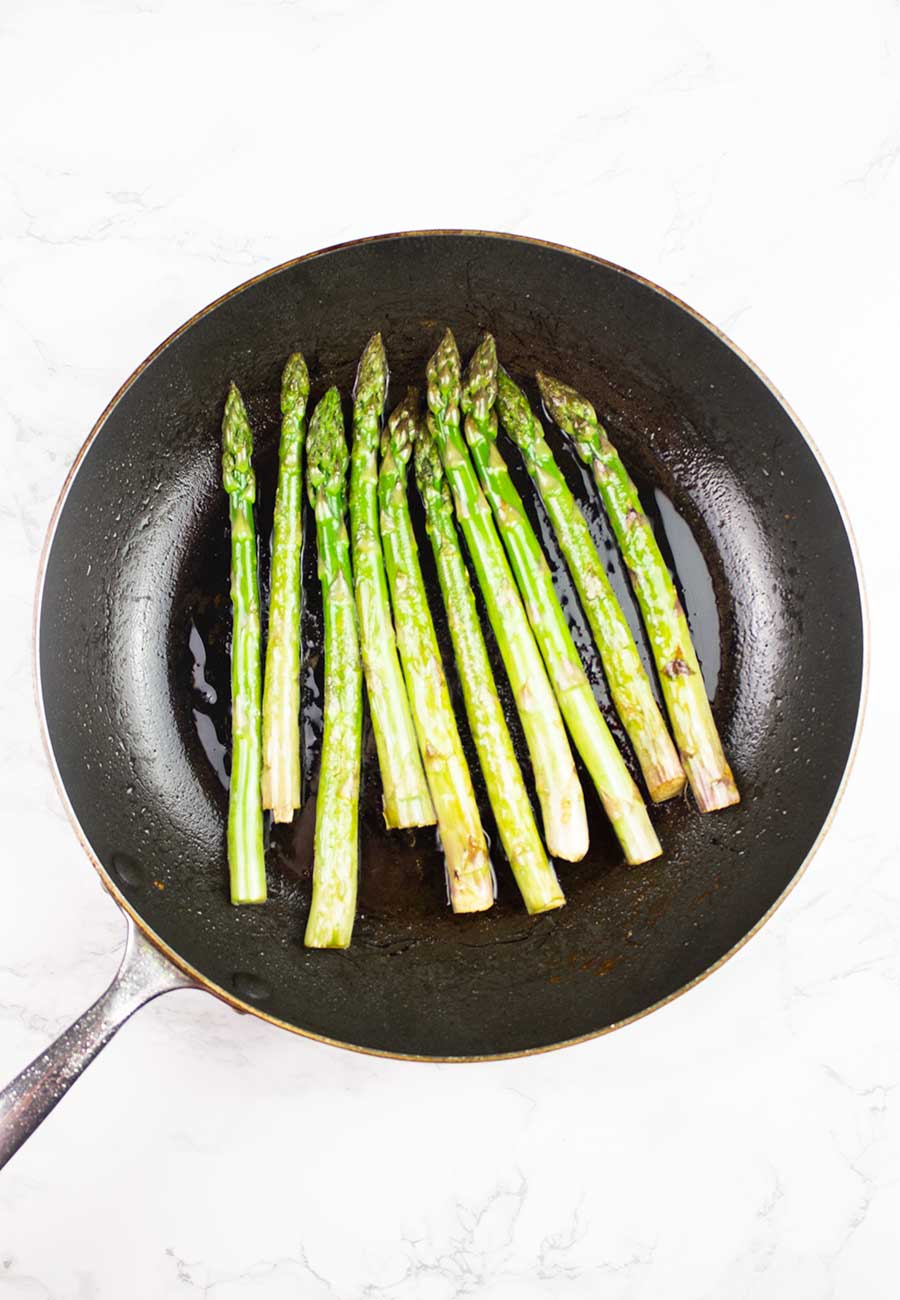 History of asparagus
Asparagus, believe it or not, is one of the oldest used cooking ingredients with one recipe found in Apicius's De re Coquinaria, which is one of the oldest surviving recipe books dating back to ancient Rome.  Even as far back as 3000BC asparagus was depicted on wall reliefs in ancient Egypt too. With all those years of practice, we should be adept at cooking them and floppy grey/green stalks should be a thing of the past too.
Varieties 
Native to Europe and western Asia, asparagus comes in different colours from white, which is covered in soil to avoid photosynthesis for them going green which is common in mainland Europe. These varieties such as edible ivory are thought to be less bitter and more tender. To green which is perhaps most common of all and purple which is now bred in the United States and New Zealand to create the Pacific purple variety. They come in varied sizes too where the stalks can be quite thick and woody. The older asparagus gets the more woody they become so generally younger shoots are picked. Cooking times will need to be adjusted on the size of the asparagus but the flavours remain unique and prized and many restaurants will advertise when they have asparagus on the menu.  Freshness is the key to seasonal asparagus but you can find jars of marinated stalks but they won't work in this recipe
Asparagus is full of antioxidants
Now that asparagus should ultimately end up on your plate this spring what other reasons are there for you to eat it in the first place.
Asparagus is a low-calorie vegetable that is high in essential vitamins and minerals. The amount in this recipe will provide about a quarter of your recommended daily intake of Vitamin C which is vital for the body  in numerous ways such as protecting against common illnesses and helping the body to maintain healthy cells and repair damaged cells. It will also provide the body with about half the recommended daily intake of Vitamin K which is an essential nutrient for healthy bones and blood. It is also high in folate which is essential for DNA formation and cell health.
Green vegetables such as asparagus contain phytonutrients (plant compounds) that help the vegetables survive when growing in their natural environment which also have healthy antioxidant capabilities for us when consumed. One class of phytonutrients known as flavonoids have exceptionally antioxidant potency. Asparagus is high in three flavonoids known as the flavonols, quercetin, isorhamnetin and kaempferol which have been linked to the prevention of chronic diseases such as cancer. Antioxidants balance the effects of free radicals in the body which are formed as the body metabolises the food we eat into energy. These molecules are negatively charged and as they try to lose this charge by crashing into other molecules in the body this has damaging effects at a cellular level which can then cause inflammation which is the precursor to chronic diseases.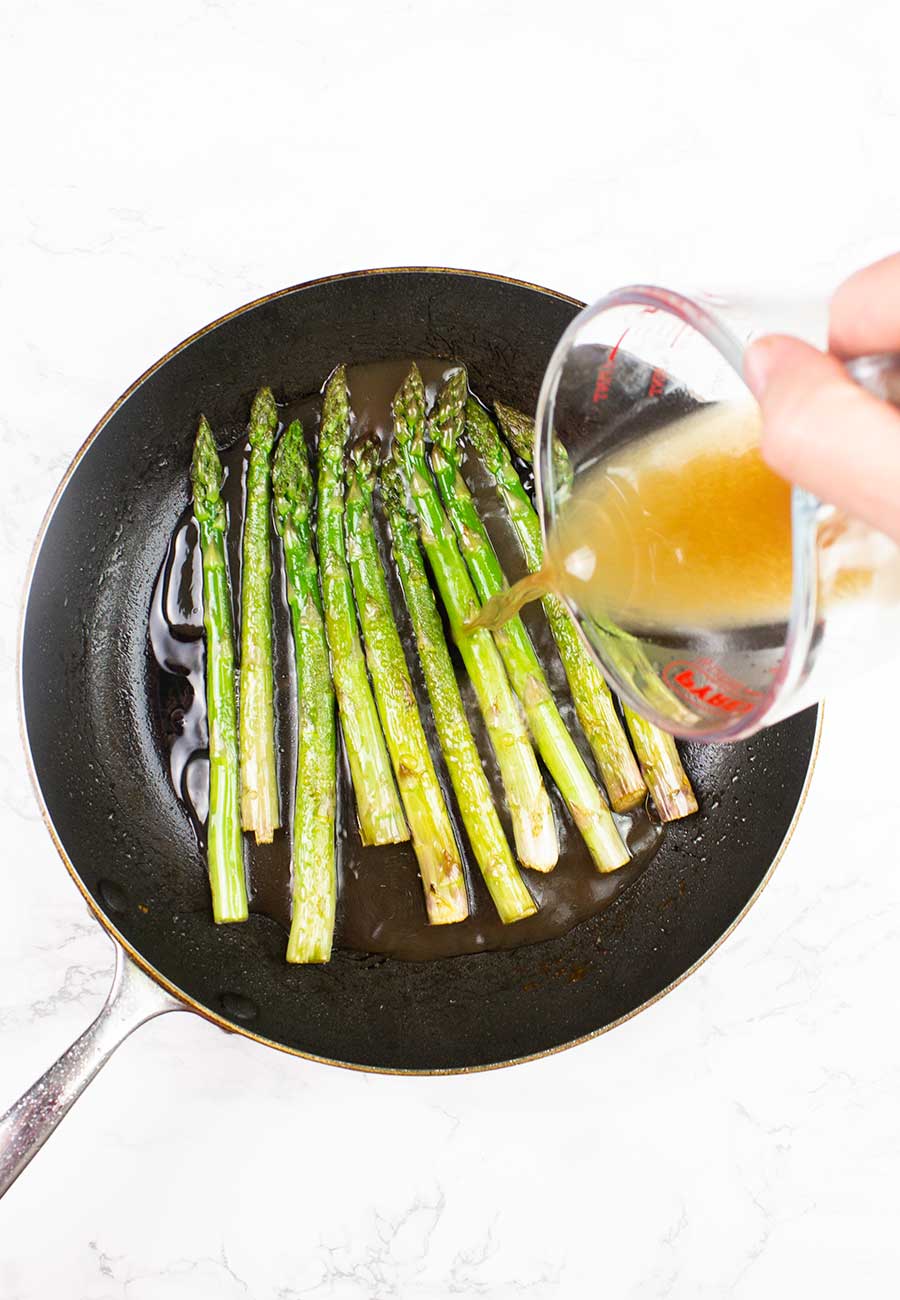 Why tamarind in this asparagus salad
Tamarind is a pod fruit native to Africa but grown in tropical regions. India is the most prevalent grower of the fruit and due to the acidic and sweet flavour this fruit commonly flavours chutneys and often used in highly spiced dishes. In Thailand tamarind is a popular flavour for savoury dishes and it is its use there that we gained the inspiration for its use here. The fruit commonly comes in three forms, a pressed block, raw pods where the pulp is extracted and in concentrated forms such as pastes available in mainstream supermarkets. 2 teaspoons of this paste dissolved in 150ml of water is added to the grilled asparagus in the pan and turns thick as the water reduces and creates a sweet and savoury glaze which compliments green vegetables superbly. In Thailand, this sauce is often served with purple sprouting broccoli and ginger.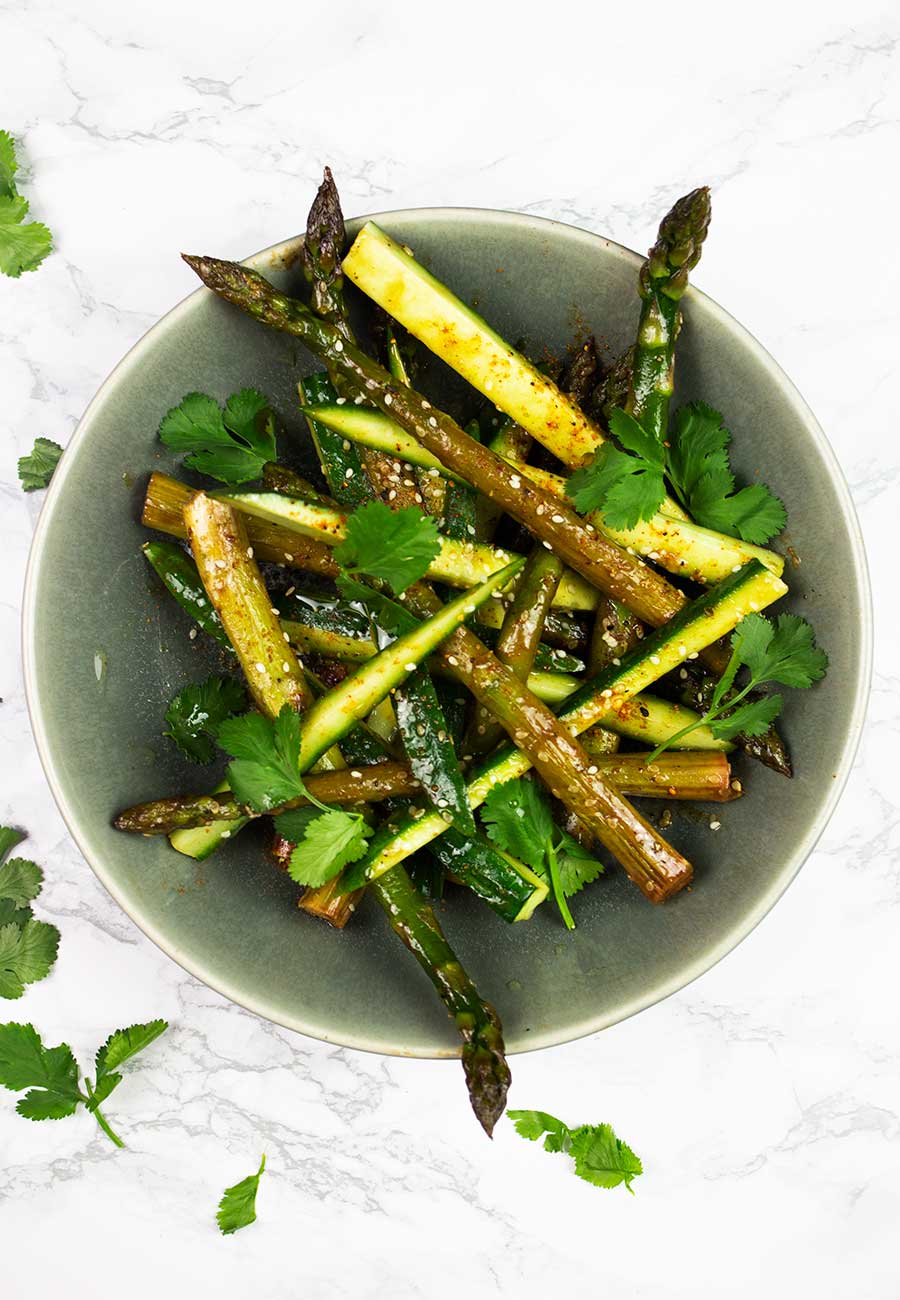 How to create the best asparagus salad 
To cook and glaze the asparagus takes just under 10 minutes only. First, add some healthy extra virgin olive oil to a pan on fairly high heat, then add the asparagus and coat in the oil for 2 minutes then deglaze the pan with a little rice wine vinegar or a citrus juice such as lime. 
Asparagus is sometimes best enjoyed just with a squeeze of lemon so a little citrus burst works really well to pair with the flavours and add another sharpness with the tamarind for the dressing. It is at this point that you need to assess how cooked the asparagus is. 
For thin asparagus, you can add the tamarind stock straight away or for thicker stalks they need another 2-3 minutes to fry. 
When adding the tamarind stock simply add 2 teaspoons of paste to 150ml of boiling water and pour in. As the water bubbles away, move the asparagus around in the pan to fully glaze them then add some sesame seeds and a little sweetness of date nectar (in Thailand, honey is common). The consistency of the dressing/ glaze will take about 4-5 minutes to thicken to a nice enveloping sticky dressing. 
This salad works well with warm asparagus just as it does cold so it is up to you when you want to serve. Simply cut some long centimetre strands of cucumber and toss in with the asparagus. Add some optional extras if you want such as red chili, spring onions or ginger and garnish with coriander. This salad is simple in ingredients and surprisingly simple to create but it will certainly impress. This salad is:
A simple yet impressive asparagus dish
An excellent way to cook wonderfully textured asparagus every time
Full of flavour and texture
Quick and easy to prepare
A seasonal salad at its best with beautiful Asian flavours
High in antioxidants, vitamins and minerals
Have you made this asparagus salad recipe?
We'd love to see your food creations! Please leave a comment below, share or tag using @anticancerkitchen on Instagram and hashtag it #anticancerkitchen.
Other delicious recipes with asparagus on the blog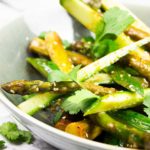 Ingredients
200g of fresh seasonal green asparagus

½ a cucumber cut into long cm strands

2 teaspoons of tamarind paste

150ml/ 0.63 cups of boiling water

1 teaspoon of sesame seeds

½ a teaspoon of rice wine vinegar or lime juice

½ a teaspoon of date nectar or honey

½ tablespoon of extra virgin olive oil

2 tablespoons of fresh coriander/ cilantro leaves to garnish
Instructions
Prepare the tamarind stock by adding the tamarind paste to the boiling water.
Heat a pan on a fairly high heat and add the oil. Add the asparagus and coat in the oil for 2 minutes.
Add the vinegar and cook for a further 2 minutes, add the stock and date nectar (or honey) and reduce the liquid until it coats the back of a spoon (4-5 minutes) add the sesame seeds. (for fine asparagus do not cook for a further 2 minutes with the vinegar)
Set aside and toss in the cucumber and serve.
Garnish with coriander/cilantro leaves and any optional extras.

Copyright secured by Digiprove © 2020 The Anti-Cancer Kitchen