We love an easy green bruschetta, especially this recipe.  It's beautifully green and full of flavour and packed with important vitamins and minerals our bodies need.
What is bruschetta?
Bruschetta in Italian means toasted bread with toppings. The actual word bruschetta comes from the Roman dialect verb bruscare, which is the equivalent of the Italian word abbrustolire which means 'to toast'.  A typical bruschetta recipe that you would find in most Italian restaurants (in Italy) is toasted bread rubbed with garlic and topped with olive oil and salt. However there are many variations. A very popular bruschetta recipe (outside Italy) normally would include tomato, basil, garlic and red onion.
It's believed that bruschetta originated in Italy during 16th century. However, the dish can be traced to Ancient Rome when olive growers would bring their olives to a local olive press and taste a sample of their freshly pressed olive oil using a slice of bread.
Easy green bruschetta recipe
Some of the simplest dishes can be some of the most timeless and most well loved dishes. 
What could more simple than topping a crunchy piece of toast with something hearty and warming. We've documented the beautiful tastes of mushrooms on toast, brought you a Moroccan spiced bruschetta with roasted vegetables and created an easy from scratch baked beans recipe ideal for breakfast or brunch. Smashed avocado on toast is now such a popular brunch item that no self respecting breakfast and brunch menu is without it.
Obviously, anything that is good to eat in the late  morning is also ideal for an evening supper. We think that this type of food is massively underrated and as such doesn't get the kudos it deserves or the variety of recipes to try. We want to shake that up a bit and create loads of delicious ideas to top toast with and make it tasty, nutritious and even gourmet when we can. With that in mind we would like to introduce the "green bruschetta". The special ingredient here is the amazing sea vegetable samphire. This is a salty grass like plant that grows in rocky and marshland areas near salt spaying water sources. It is sometimes known as sea asparagus which is rather apt as we have  paired it with normal asparagus for our toast topper. It is used in many cuisines around the world similarly to seaweeds, and like seaweeds and other sea vegetables they have remarkable health benefits too.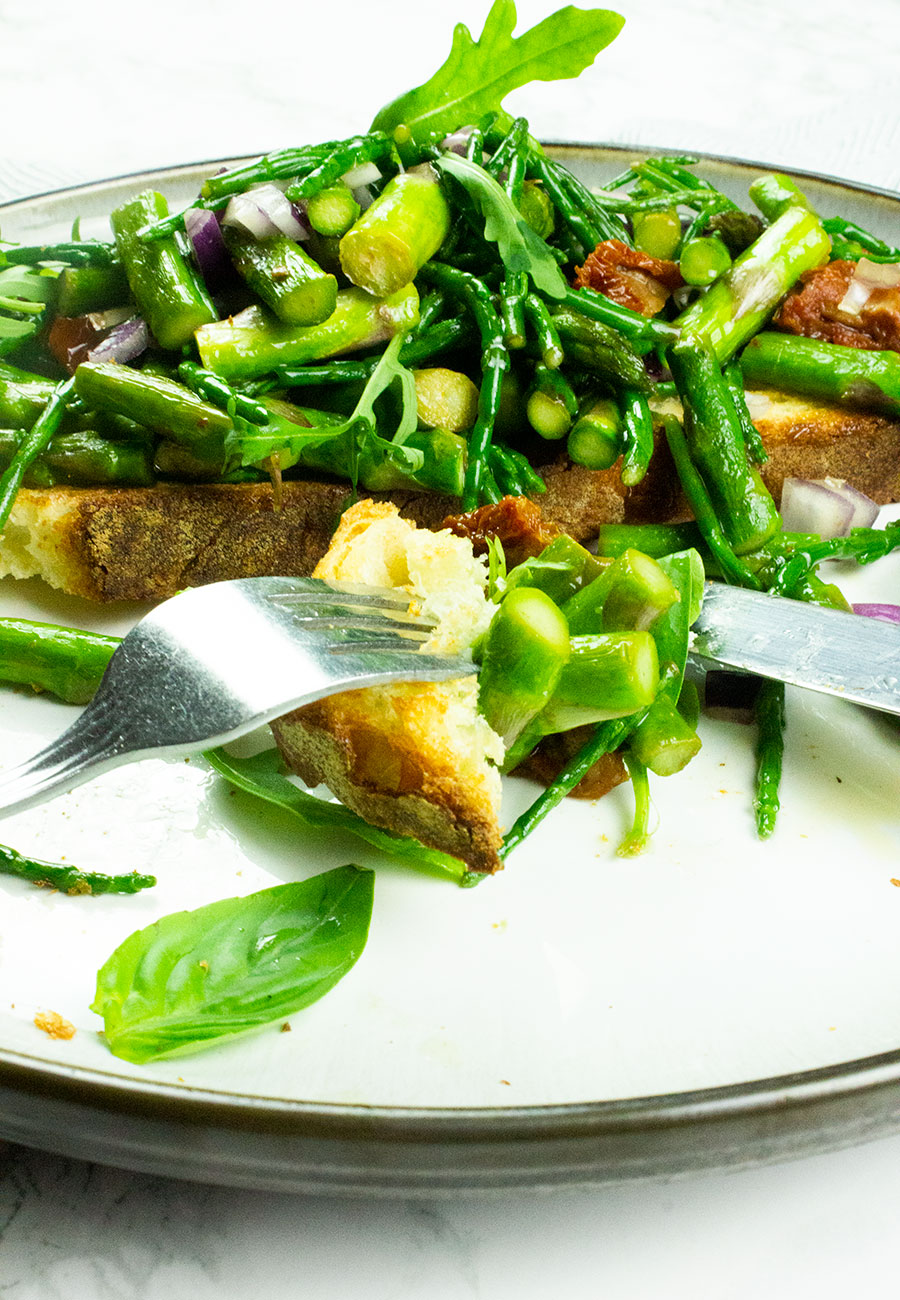 The taste is quite awesome as well. For coastal regions you would see samphire in a lot of recipes especially accompanying fish, but there is no need to keep it at that. When we visit the seaside we want the taste of the sea too. We yearn briny umami flavours and a prescription of samphire certainly hits the spot. Most people visit the seaside when it is hot so this recipe includes all the flavours you would associate with a beautiful spring / summer day too, and the mix works wonderfully.
For a Mediterranean touch we have added sun dried tomatoes and red onion which adds silky rich sweetness and a sharpness to the recipe. For a firm bite and a unique flavour we have used tender crunchy asparagus tips and of course this pairing with samphire creates a memorable experience that will remind you time and time again of a visit to the coast.
If you were to imagine living on a sun drenched farm next to an artisan bakery next to the sea, this is what you would be eating. The bread too important and we love artisan breads too. Try ciabatta, a crusty loaf or whole grain bloomer, our favourite however is an Italian durum wheat toasting bread.
The health benefits of our green bruschetta recipe
Durum is the wheat used in pasta and in fact has its own impressive list of health benefits including delivering major nutrients such as selenium, manganese and phosphorus. It is also rich in antioxidants and iron. For The Anti-Cancer Kitchen, antioxidants are key in order to help the body neutralise the bad effects of oxidative stress from free radicals which causes inflammation and potentially cancers.
Lycopene is another potent anti-cancer antioxidant that is found abundantly in tomatoes and it has been suggested that slow cooking certain vegetables such as tomatoes can actually intensify the effects, so naturally slow cooked tomatoes such as a sun dried tomato are not only powerfully flavoured but powerfully healthy. The last flavour to this trilogy are sea vegetables, which we feel need to be introduced more and more in to everyday food as they too contain healthy antioxidants known as fucoidans which have also been linked to fighting cancer. Samphire like seaweeds really pair well with other vegetables because of their punchy salty and umami flavour so mix it up, add them to your other favourite meals. Stir through a pasta, or roast them and sprinkle them on salads or simply steam and serve on the side.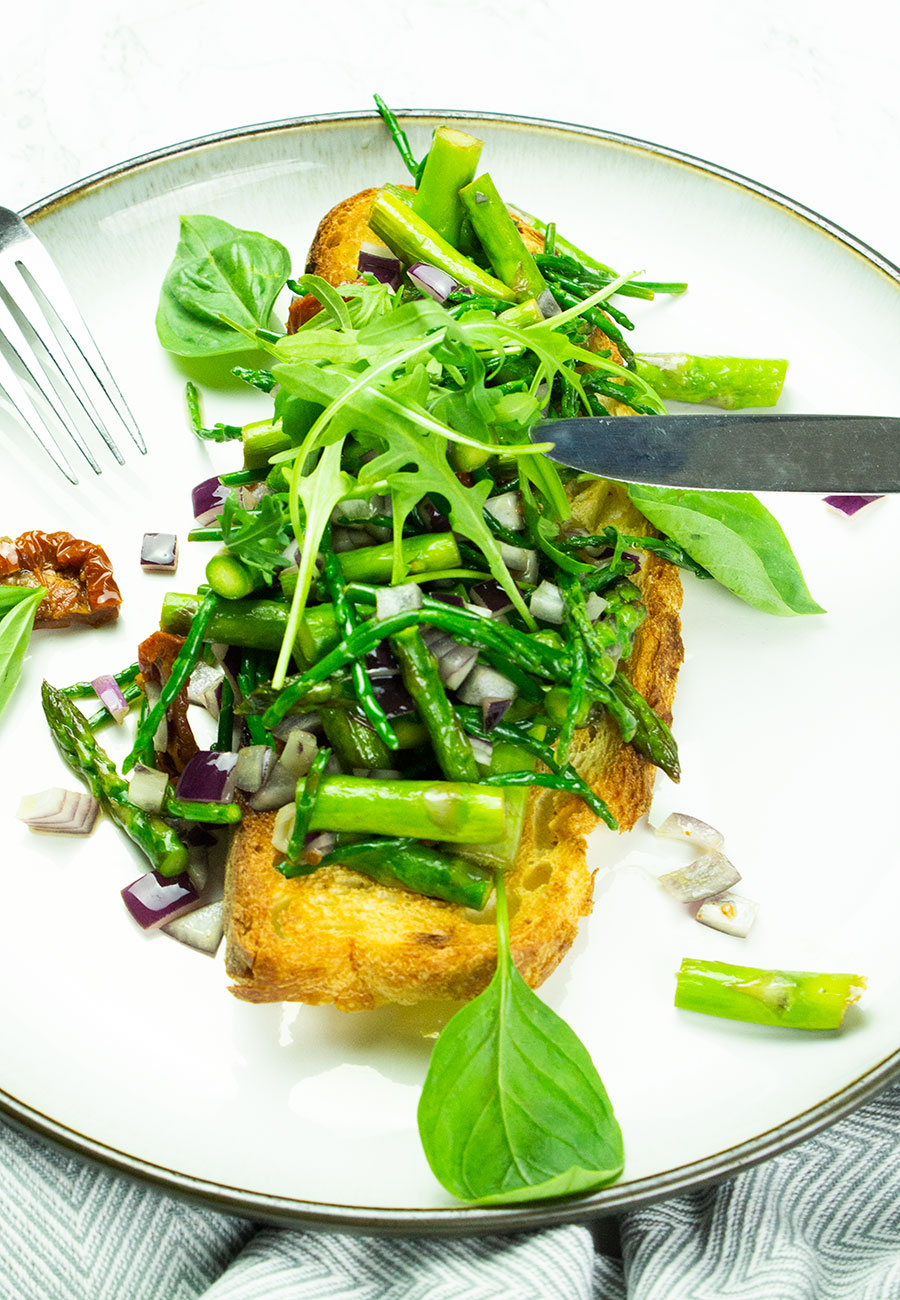 Easy to make bruschetta topping
Lastly, the preparation couldn't be easier, simply toast some bread, heat some heart healthy olive oil in a pan and stir fry these healthy ingredients. Jazz it up with some flavoured oils such as a garlic oil, lemon oil or chilli oil or really go to gourmet town with some truffle oil. Add what you like but we promise you, you won't need to as either way this easy supper will feel like a treat just with the simplicity of natural flavours.

Have you made this bruschetta recipe?
We'd love to see your bruschetta creations! Please leave a comment below, share or tag using @anticancerkitchen on Instagram and hashtag it #anticancerkitchen.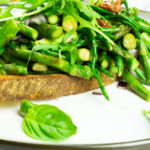 Ingredients
2 slices of toasting bread

2 cups of tender asparagus tips

½ cup of samphire

1 red onion sliced

¼ cup of sun-dried tomatoes

A handful of fresh basil leaves

A handful of rocket leaves (arugula leaves)

A drizzle of your flavoured oil (truffle works well)
Instructions
Pour some olive oil in a hot pan and stir-fry the asparagus tips for 2-3 minutes until al-dente.
Add the red onion. Sun-dried tomatoes and samphire and warm through for a further minute.
Toast the bread, and serve the mix on top and garnish with truffle oil, rocket (arugula) and basil leaves.

Copyright secured by Digiprove © 2020 The Anti-Cancer Kitchen