Introducing our tasty grapefruit smoothie recipe with pink grapefruit, sweet apple, strawberries, mint, and ice.
This grapefruit smoothie is everything, it's fresh, zingy and has three of your five-a-day. A lot of people think that grapefruit is acidic, because it tastes acidic and bitter but it is not, it's alkaline. Grapefruit, similar to lemons, is alkalising for us when ingested.
Health benefits of grapefruit
Grapefruits are generally very low in calories and is great for digestion. They are full of antioxidants and nutrients such as potassium, lycopene, vitamin A, vitamin C, and choline which are all fantastic for your general health, skin and wellbeing. Lycopene and vitamin C is brilliant for your anti-cancer diet as these can help combat the formation of free radicals in your body.
Just bear in mind that if you are undergoing chemotherapy or if you have breast cancer that is stimulated by the hormone oestrogen your doctor might advise you to avoid grapefruit, this is due to a substance in grapefruit that blocks/inhibits enzymes and/or interfere with ER+ treatment such as Herceptin.
Grapefruit smoothie with mint
We have added mint into this grapefruit smoothie and let me tell you it works beautifully with red grapefruit, strawberries, and apple. It makes this grapefruit smoothie somehow sweeter. If you want you can also add a small teaspoon of date nectar to make it, even more, sweeter if you feel that grapefruit is too bitter. Some people love the bitter taste and some don't. We actually prefer it a little bit sweeter.
Mint has amazing health benefits. Not only is it a calming and soothing herb, mint has one of the highest antioxidant capacities of any food. It also contains antibacterial, antiviral, antimicrobial, and anti-fungal properties. Mint carotenoid beta-carotene and flavonoids apigenin have been found to have anti-cancer properties. Also, research has suggested that certain active enzymes present in mint are equipped with the ability to prevent and fight cancer.
For more tasty healthy smoothie and juice recipes, click here.
Have you made this delicious grapefruit smoothie recipe?
We'd love to see your smoothie creations! Please leave a comment below, share or tag using @anticancerkitchen on Instagram and hashtag it #anticancerkitchen.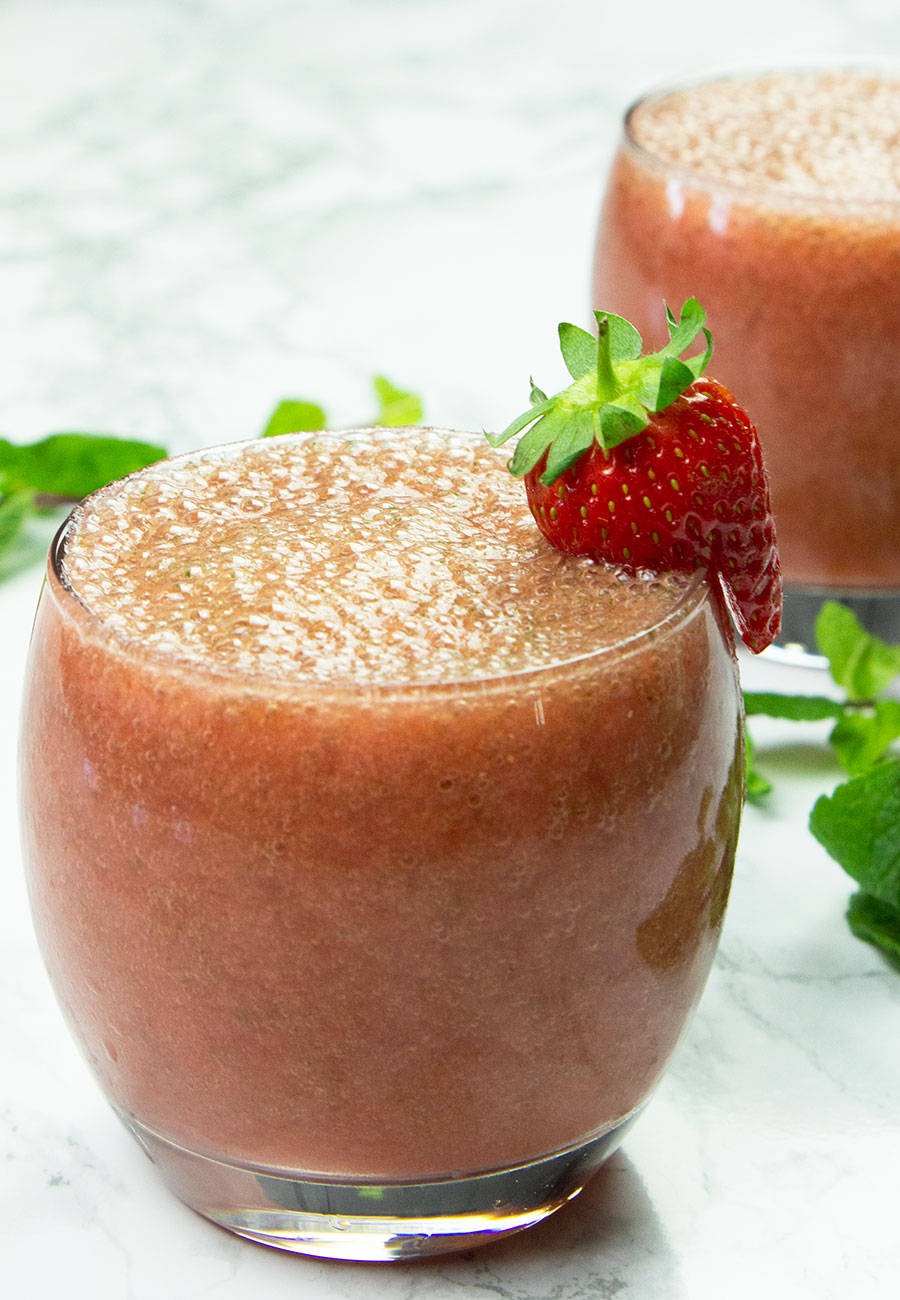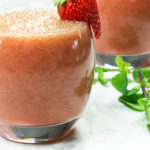 Ingredients
1 red grapefruit, peeled, seeded, and chopped

1 sweet apple, cored and chopped

200g/2 cups of fresh or frozen strawberries (hulled)

A handful of fresh mint

8/10 ice cubes

1 tea spoon of date extract (optional)
Instructions
Combine red grapefruit, strawberries, apple, mint and ice cubes (and date extract) in a blender and process until smooth.