This is a totally 100% vegan cottage pie with all the flavour of a classic cottage pie but with added cancer-fighting ingredients easily sourced from your local supermarket. The one thing that is essential to a cottage pie above all, especially a pie which is so meaty is exactly that, the meat. A rich flavour and a firm texture which is a hard thing to re-create with plant-based ingredients and we've tried with jack fruit which is great but here the classic mushroom works ever so well.
Vegan cottage pie with mushrooms
Why mushrooms?
Reason one that mushrooms are so good is the availability. We can't remember a time when we've gone to the supermarket and haven't been able to buy them. There is always a pack of the common button mushroom to purchase. Use whatever there is to buy though. In the Autumn you will find many kinds of fungi to experiment with and all of them will give you a very different earthy flavour to finish with. Try a chestnut mushroom or a portobello for a robust and rich flavour. If you are lucky enough to see chanterelles or porcini mushrooms absolutely use these as these flavours are quite simply out of this world. These decadent morsels are so good you can enjoy them simply cooked on toast which is enough to start off a dinner party for even the most critical gastronomes. Asian mushrooms such as oysters or shiitakes are also widely available and I would especially recommend these when cooking a mushroom cottage pie. Shiitakes have a particularly meaty texture which is reason number two of why mushrooms are so good. Re-creating a firm bite which gives some resistance in your mouth is key to any good plant-based dish. The most important thing to remember is that these mushrooms or any fruit or vegetable you use as a meat substitute contain a lot of water. This has to be reduced to effectively give the right texture and it's easy to do. Dehydrate them quickly under a very hot grill and they won't disappoint, also the liquid left is a power punch of flavour that you will want to enrich your dish with too which is reason three of why mushrooms are so good. Chanterelles, porcinis, shiitakes or more common mushrooms are not delicate and dainty. There is rich umami and earthy flavour which adds a lot to a classic dish just think stroganoff or coq au vin or even a full English breakfast which would be nothing without the mushroom. Lastly and most importantly, the health benefits. Mushrooms are full of selenium which is a powerful antioxidant. This protects our immune system and prevents damage to our cells and tissue, here at The Anti-Cancer Kitchen this is exactly what we're looking for.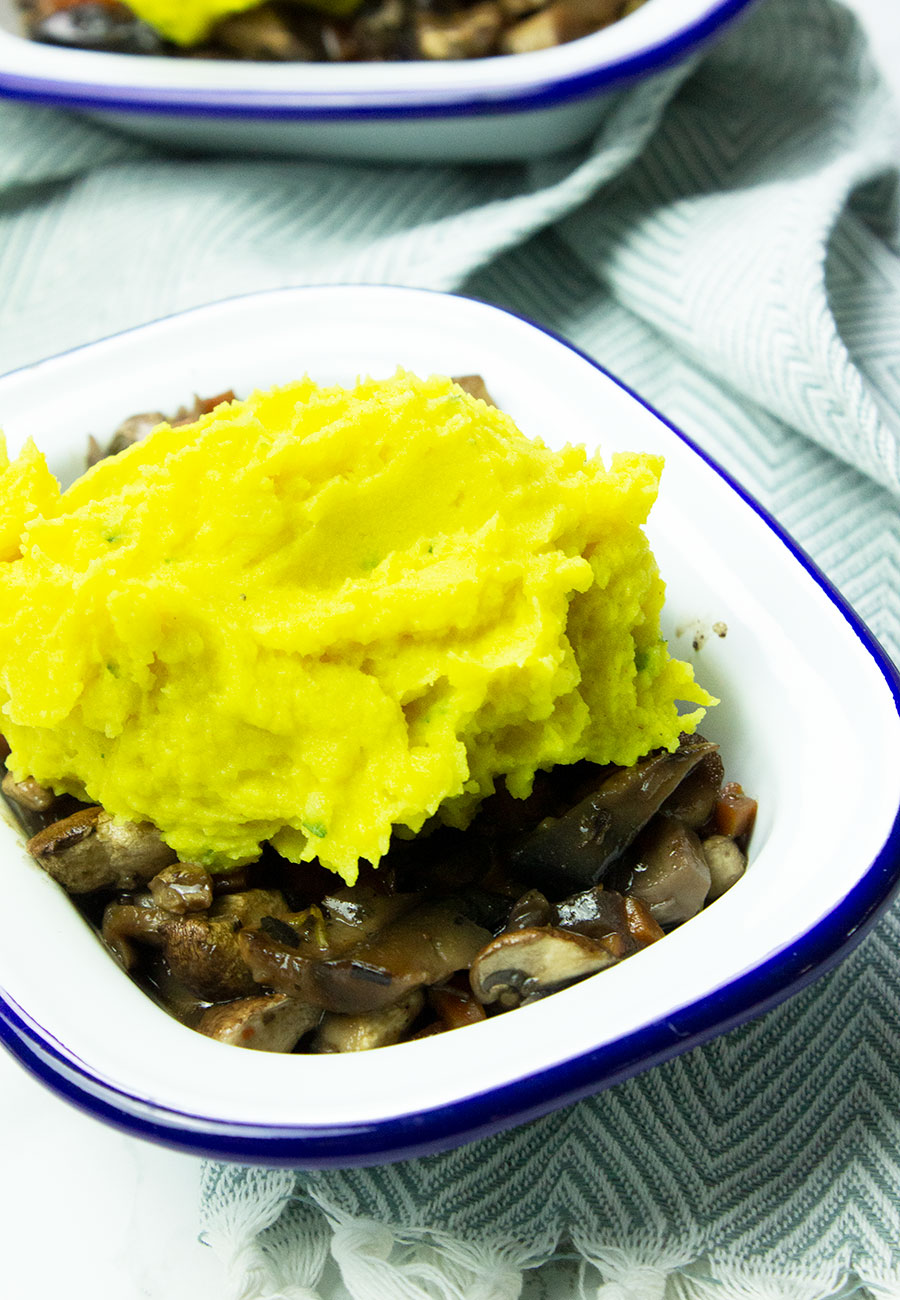 Also in this vegan cottage pie, we have used my favourite mashed potato which is with tarragon and Dijon mustard but with extra turmeric. Why? Because we can and turmeric is now becoming known the world around for its phenomenal cancer-fighting properties. Don't worry the turmeric doesn't at all make this dish taste like a curry, it just makes the potato go a vivid yellow colour that we think looks amazing especially if you want to serve it with some green leaves or vegetables. For the most traditional of cottage pie lovers just add the turmeric for its health-boosting powers in the mix instead of the traditional potato mash and no one will be the wiser.
For more tasty plant-based anti-cancer recipes, click here.
Have you made this healthy vegan cottage pie recipe?
We'd love to see your food creations! Please leave a comment below, share or tag using @anticancerkitchen on Instagram and hashtag it #anticancerkitchen.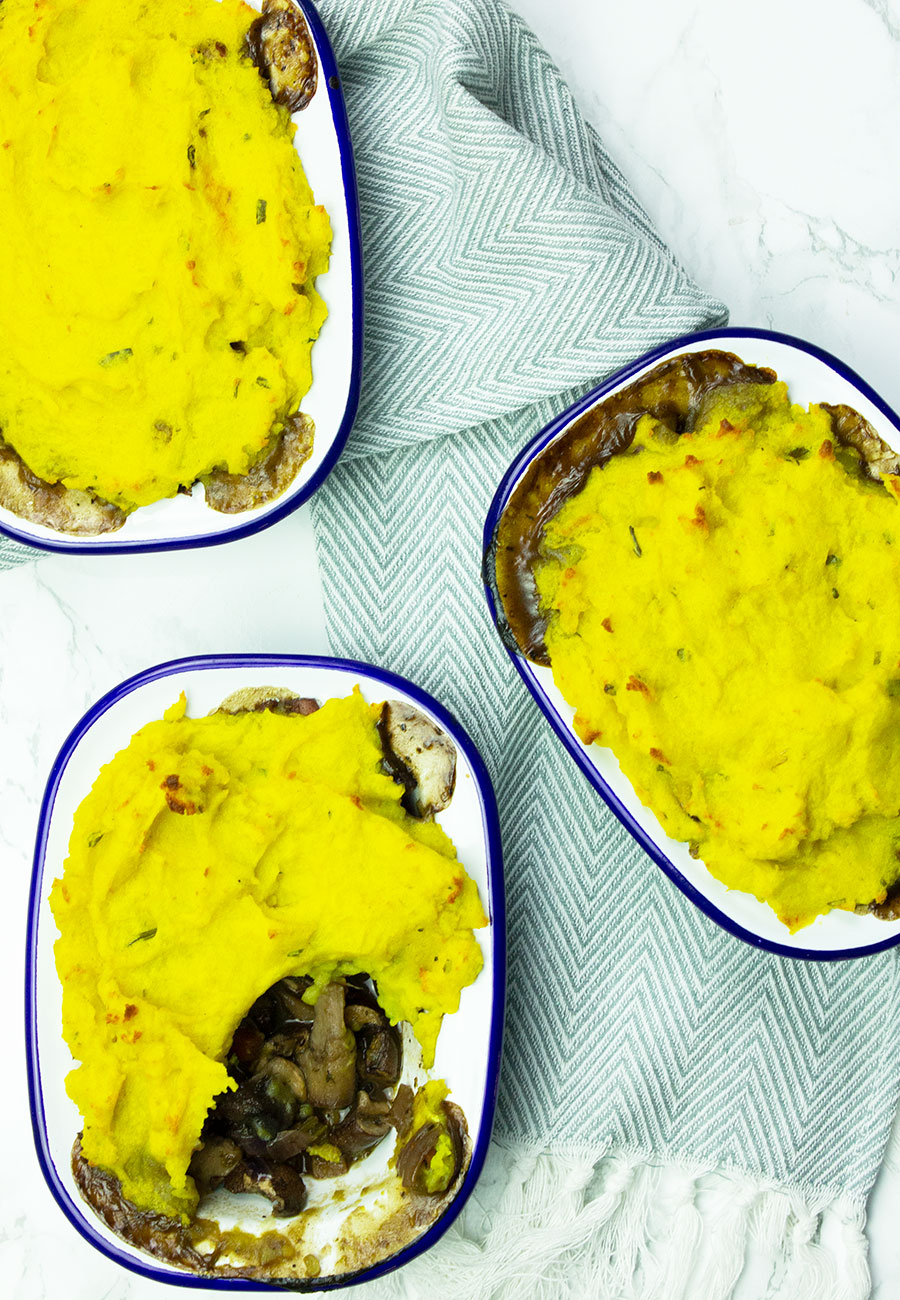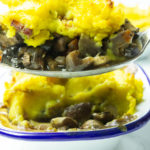 Ingredients
500g of torn fresh mushrooms

1 red onion chopped

1 stick of celery chopped

1 large carrot chopped

1 tablespoon of flour

1 tablespoon of mixed herbs (thyme, rosemary, tarragon, parsley)

150ml of red wine

1 teaspoon of date or agave nectar

300ml of organic veg stock

1 tablespoon of nutritional yeast or miso paste

½ teaspoon of marmite

For the mash:

6 medium potatoes

1 teaspoon of turmeric

1 teaspoon of tarragon

1 teaspoon of Dijon mustard

A splash of oat milk

20ml of olive oil
Instructions
For the pie mix -
Fry the celery and carrot in some olive oil in a large pan on a high heat, stir through the date or agave nectar and cook for 7-8 minutes until nicely caramelised. Add the onion and cook for another 2-3 minutes.
Place the torn mushrooms in a roasting dish and grill for 10 minutes under a hot grill as close to 300c as possible. Drain the liquid off and set aside to prepare the stock with. Place the mushrooms back under the grill for a further 5 minutes
Whisk the flour into the reserved mushroom liquid and add to vegetable stock to make 300ml of liquid.
Pour in the red wine to the pan and reduce by about a third then add the vegetable stock, marmite and nutritional yeast or miso to enrich the flavour. Adjust the heat to medium high and simmer the mix until thickened to a gravy consistency.
Lastly, add the mushrooms and stir through the herbs and transfer to a pie dish or individual dishes.
For the mash -
Peel the potatoes and cut into even sizes, bring a pan of salted water to the boil and cook the potatoes for 15 minutes or until they split apart when poked with a fork.
Drain the water off and let the potatoes steam for a minute or so.
Mash the potatoes and add the turmeric, tarragon and Dijon mustard and stir through. Pour in the olive oil and a splash of oat milk to make the potatoes fluffy.
Spoon the mash over the pie(s) and spread evenly. If eating straight away place in a 200c oven for 25 minutes to brown the potato.