This delicious seekh kebabs recipe is vegan and full of flavour.
If someone showed us a picture of these finished kebabs and asked us what was in them we must admit we'd be hard-pressed not to say lamb or beef, pork maybe?
We certainly wouldn't have thought that it was potato with a bit of beetroot.
This is totally 100% plant-based, totally 100% tasty and a really clever way to introduce a beautifully muscly texture to a vegan recipe. This is not a run of the mill vegetable kebab where a variety of colourful peppers, bulbs, mushrooms and roots are skewered together (although very nice) this is a re-imagined way of creating an impressive snack or bbq crowd pleaser.
How to make plant-based seekh kebabs
There is a genuine Indian flavour and appearance and it is actually really easy to make. The technique of grilling grated potato under a high heat keeps an important amount of starch that gives the bite and bounce that is really rare in plant-based dishes, the high heat also roasts the edges of the potato to a wonderful crunch. Add beetroot for rich colour and added health benefits which come from betalaines which are water-soluble antioxidants that research suggests locate and help destroy unstable cells in our body.  This potato mix which is like a moulded swiss potato rosti is also very versatile as you can use it in practically anything as a meat substitute.
Making these kebabs really fragrant and slightly spicy is also very easy by just adding your favourite Indian spices. Turmeric, not only for a depth of flavour but for its well documented anti-cancer properties. Chilli, cumin, paprika, cloves and ginger are all known for their potency too and they help make a very authentic flavour. The chestnuts or pistachios which are low in calories, high in nutrients and high in antioxidants add yet another dimension which will really hit the spot.
These are easy to make in advance and if you want a different cuisine for the finished kebabs to add someone Middle Eastern or North African spices for a Lebanese mezze or some lemongrass and lime leaves for a Thai starter. Go ahead, experiment and enjoy.
For more tasty plant-based anti-cancer recipes, click here.
Have you made this healthy plant-based seekh kebab recipe?
We'd love to see your food creations! Please leave a comment below, share or tag using @anticancerkitchen on Instagram and hashtag it #anticancerkitchen.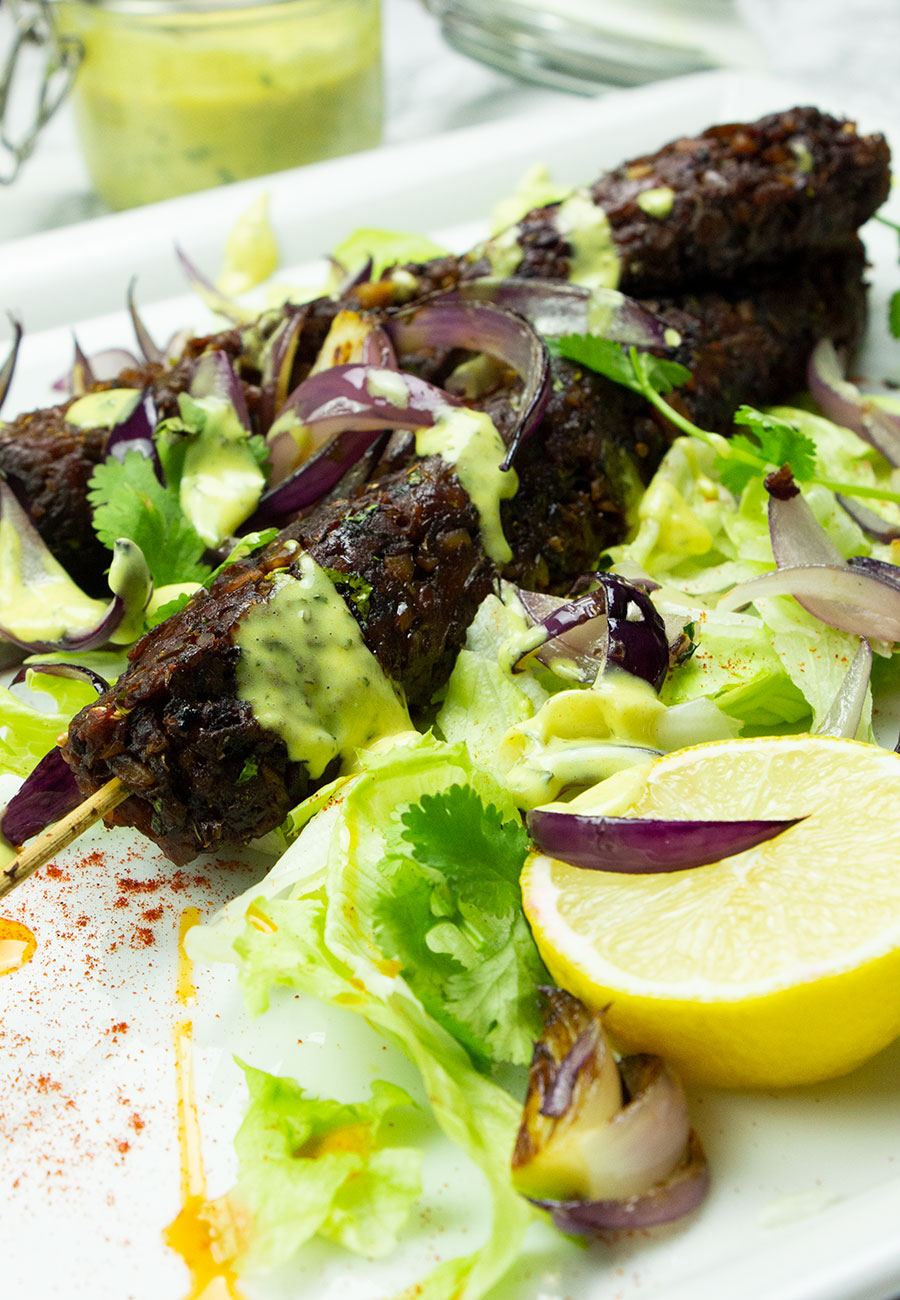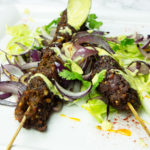 Ingredients
2 grated unpeeled jacket potatoes grated
1 fresh unpeeled beetroot grated
1 red onion finely diced
1 garlic clove finely diced
80g of chestnuts or pistachios finely chopped
1 ½ tablespoons of masala powder
Fresh coriander leaves chopped
2 tablespoons of olive oil
Instructions
Spread the grated potato and beetroot on a roasting tin and place under a hot grill (300c) for 10 minutes. Take out and using a spatula turn the potato and beetroot over and put back under the grill for 5-8 minutes until the mix looks charred on the outside but still starchy in the middle. Remove and set aside to cool.

Heat the olive oil in a pan and stir in the masala powder and mix. Add the onions and chestnuts and fry until onions soften (about 5 minutes)

Add the potato and beetroot mix to the pan and stir to fully mix together. Remove from the heat add the coriander and set aside to cool.

Once cooled mould a handful of the mix around each skewer ready to heat to serve

Best cooked in a 200c oven for 10-12 minutes.