Sourdough croutons are an integral part for many soups and salads adding extra crunch and flavour and they are so easy to make at home.
A caesar salad for example or an onion soup would be missing much of their identity without them. A classic gazpacho is made with stale bread but flavoured sourdough croutons can give it that extra dimension. However, in our green gazpacho recipe we use stale tortillas to give it a more Mexican twist but don't be afraid to also try these delicious sourdough croutons. Don't worry if you don't have sourdough at home, you can also use ordinary baguettes or leftover sliced bread and follow the cooking method. We just prefer sourdough. 
Add whatever extra flavours you like to pair well with your dishes but make them this way first and you will be preparing loads of them to put in your soups, stews and salads such as our vegan Caesar salad or even making larger ones to scoop up your favourites dips such as our chunky guacamole for movie night or serve them up a crudites for a party night.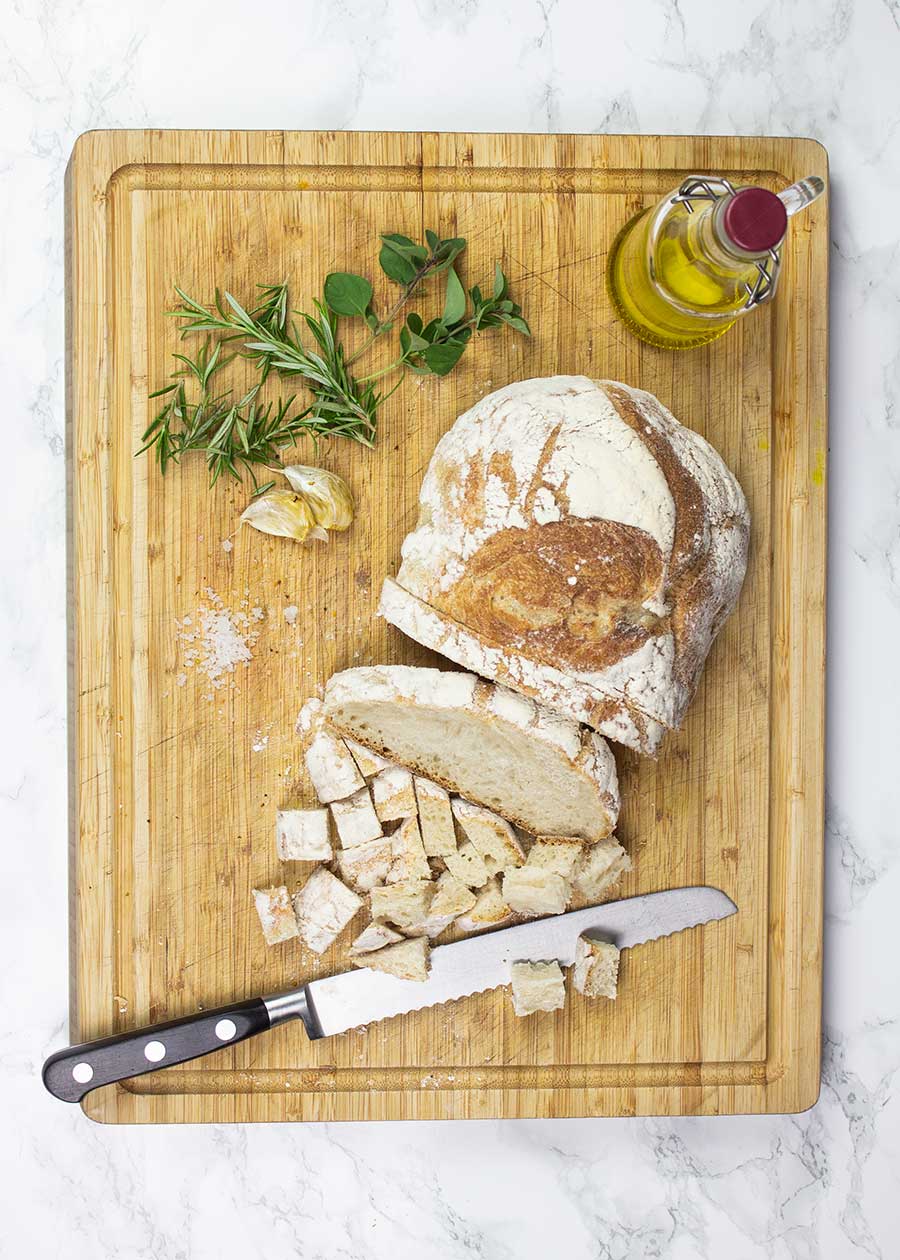 Homemade sourdough croutons that are crunchy, chewy and herby
Our sourdough croutons are made without even having to wait for your bread to go stale. Sourdough also has a lighter, fluffy texture but with a fuller, deeper flavour than most bread. What's more, when turned into croutons they are crunchy and at the same time chewy to bite which really adds an amazing texture to your soups or salads.
All you need to do is simply:
Slice your sourdough and cut them into cubes about an inch thick   

Coat them in olive oil in a hot pan

Add you herbs and spices, salt and pepper and special flavours

Fry for about a minute

Transfer to an oven and bake for 10 minutes at 180°C/356°
For a classic flavour that will pair well with a lot of foods, we have used the classic woodiness of aromatic rosemary with fresh warming oregano and sweet roasted garlic. Crushed sea salt brings out these flavours perfectly. We like to use fresh chopped herbs for an added health kick but dried herbs can often be even more flavoursome and easier to use so try either. For the slow roast garlic flavour, we always like to have some slow roast garlic cloves in the fridge leftover from we prepare our slow roast tomatoes but you can buy slow roast garlic puree or garlic powder for ease.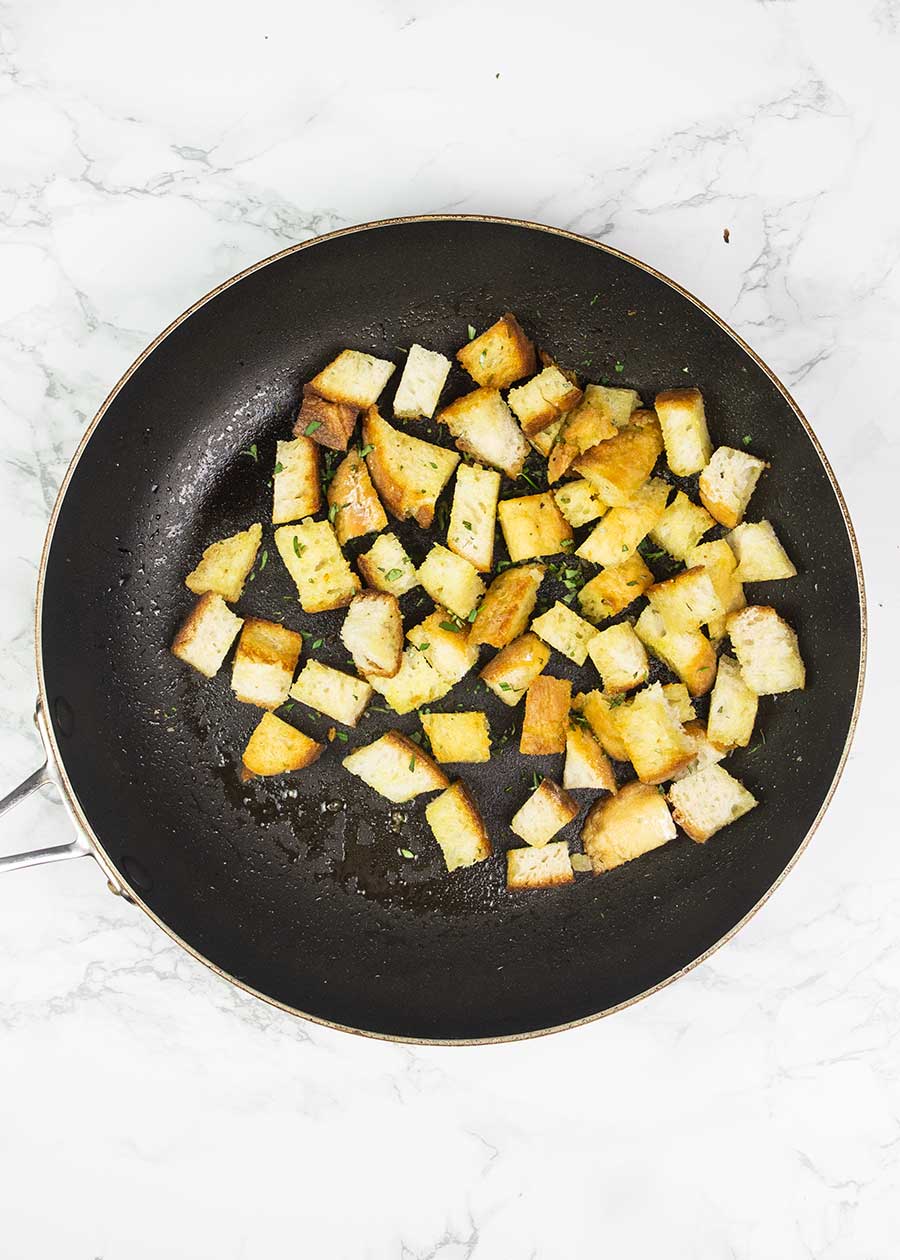 We use a traditional full flavoured extra virgin olive oil to soak up our flavours into our croutons but you could experiment with flavoured oils to add even more oomph. Try a chili oil to give your sourdough croutons a kick or even a truffle oil for a more refined finish. You can blend your oil with fresh green herbs or sundried tomatoes to give a little Meditteranean colour too or go avant-garde with beetroot to really show these crispy delights off.  Enjoy! 
Have you made this homemade croutons recipe?

We'd love to see your croutons! Please leave a comment below, share or tag using @anticancerkitchen on Instagram and hashtag it #anticancerkitchen.
More tasty bread recipes on the blog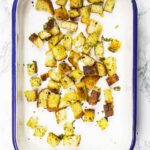 Ingredients
3-4 slices of sourdough cut into inch thick cubes

2 tablespoons of extra virgin olive oil

2 sprigs of fresh rosemary, woody parts removed and finely chopped

2 sprigs of fresh oregano, finely chopped

1 clove of slow-roasted garlic, crushed ( garlic puree from a tube also works)

Sea salt and pepper to season
Instructions
Pour the olive oil in a pan and bring to medium heat. Add the cubed sourdough and coat in the oil and fry for about a minute.
Add the herbs and salt and pepper and toss to fully coat the croutons.
Transfer the croutons to a baking tray and bake in the oven at 180°C/356°F for 10 minutes.
Store the sourdough croutons in an air-tight container up to 5 days.

Copyright secured by Digiprove © 2020 The Anti-Cancer Kitchen