Easy gazpacho recipe that is full of greens, nutrition and spicy freshness. Are you ready for this?
How to make an incredibly quick, incredibly authentic classic easy green gazpacho that has ancient origins but with a modern flair that will suit any summer dinner party? This plant-based chilled soup is packed with fresh nutrients for a healthy mind and body and as it is so simple to prepare, as you only need a sharp knife and a blender. Full to the brim of Mediterranean flavours such as peppers, parsley, olive oil and cucumber spiked with garlic and sherry vinegar, our easy gazpacho recipe looks as impressive as it is tasty.  
What is gazpacho?
Green gazpacho is a classic Spanish chilled soup that is as refreshing on a hot day as it is as invigorating as a quick shot or zingy starter as anticipation for an amazing meal. It is very similar to its tomato counterpart which uses tomatoes, cucumber and bread blended and spiked with vinegar and garlic but just greener (and very antioxidant too). 
The greenness comes from the cucumber with added spinach and green peppers rather than red pepper in the more well-known version. Many recipes use avocado but the texture created with just a handful of vegetables with some stale bread and a few choice fresh herbs is just so refreshing.
Historians have said that this version of the soup is older than the tomato gazpacho which was said to have been introduced somewhere in the 1800's. The soup, which arrived in Spain with the Romans, started life as stale bread rejuvenated with water, olive oil, vinegar and garlic. Not too dissimilar really to the flavour we end up with today.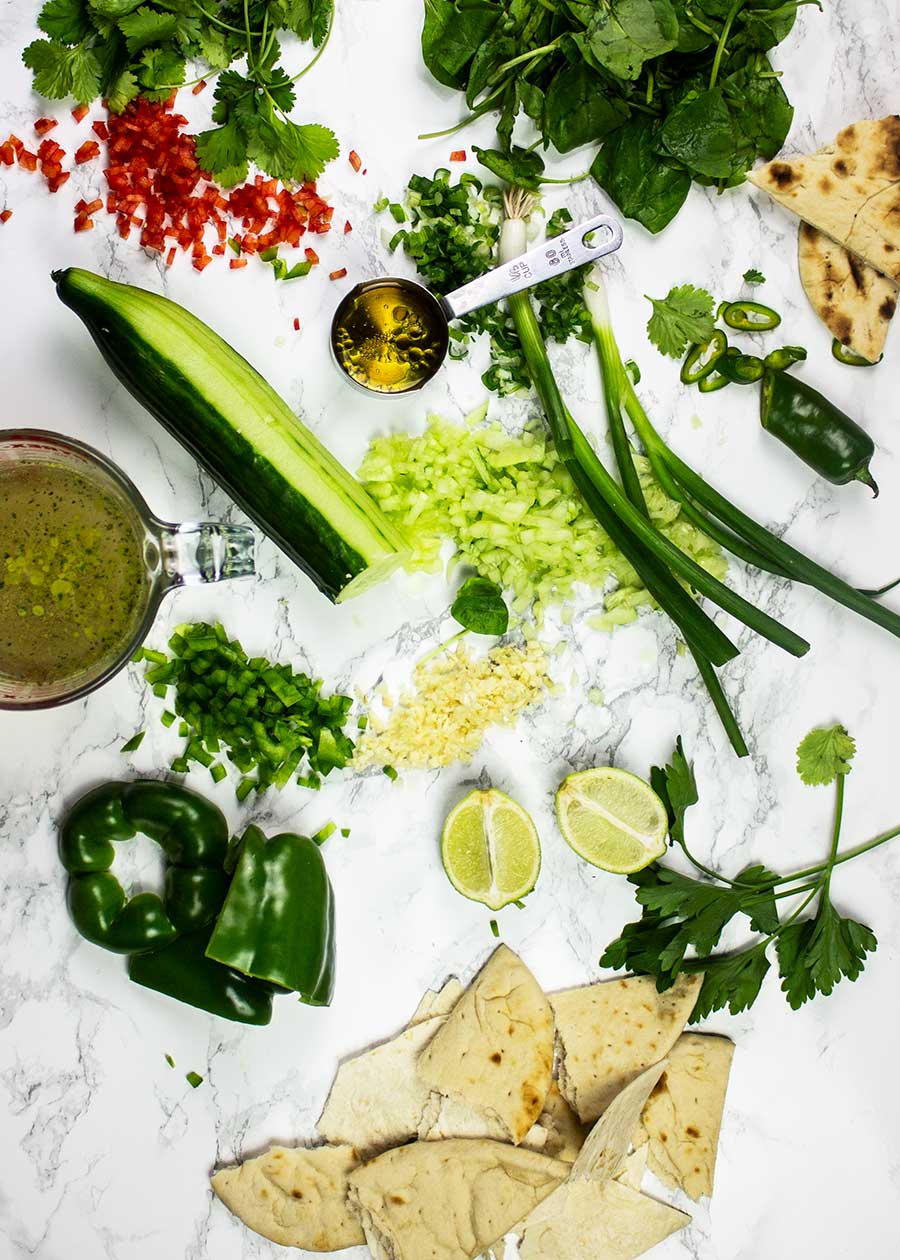 Our easy green gazpacho recipe
Still, today on a hot day there may be no better dish than a gazpacho to fulfil and refresh you. Our easy gazpacho recipe is not only full of flavour, it is simple to prepare with no cooking involved. You just need fresh ingredients, a blender and something to chill it in.
The greenness comes from
Cucumber: which is truly rehydrating 

Green peppers: that give crunch and Mediterranean flavour

Spinach: which adds vibrancy and minerally goodness

Spring onions: which brings a spicy freshness
These flavours combine to really well already but when added with some powerful herbal flavours of some fresh green herbs such as:  
Coriander / cilantro 

Parsley: The infusion starts to really work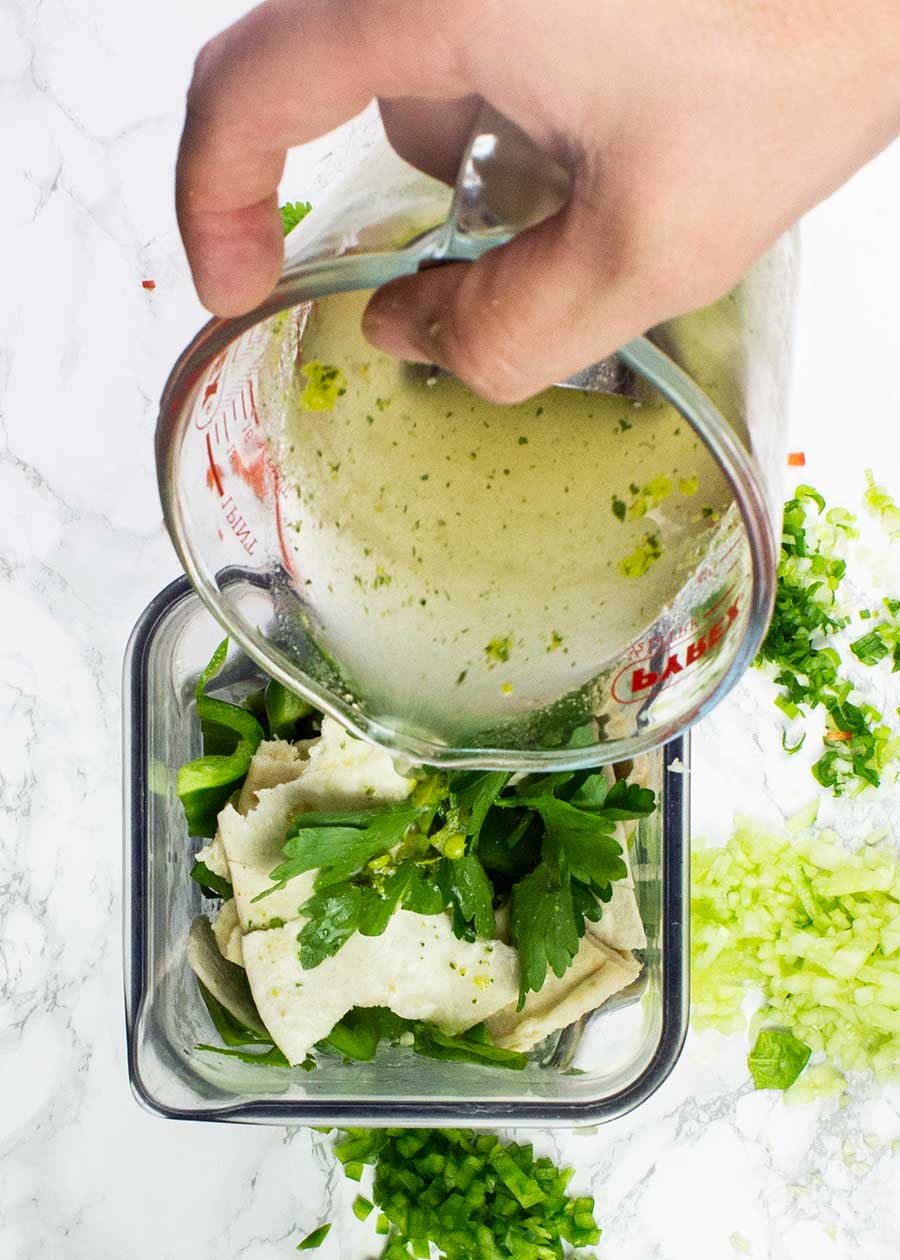 We then add some proper zing which then brings this super green soup to life.
Fresh garlic: which adds the spice and aroma

Sherry vinegar: which brings the vibrant taste of Spain

Fresh Lime juice: which like the vinegar adds acidity and brings it all together
To make this super easy gazpacho soup rather than an amazing dip, the bulk of the texture comes from:
Vegetable stock: to add depth of flavour

Stale bread: such as flatbreads or tortillas for substance

Olive oil: which gives a luscious finish to it which glistens
Finally, the trick is to keep a third of the cucumber, green pepper (also a little red pepper) and spring onion and finely chop it to mix into it at the end. The result is the perfect, best evergreen easy gazpacho chilled soup.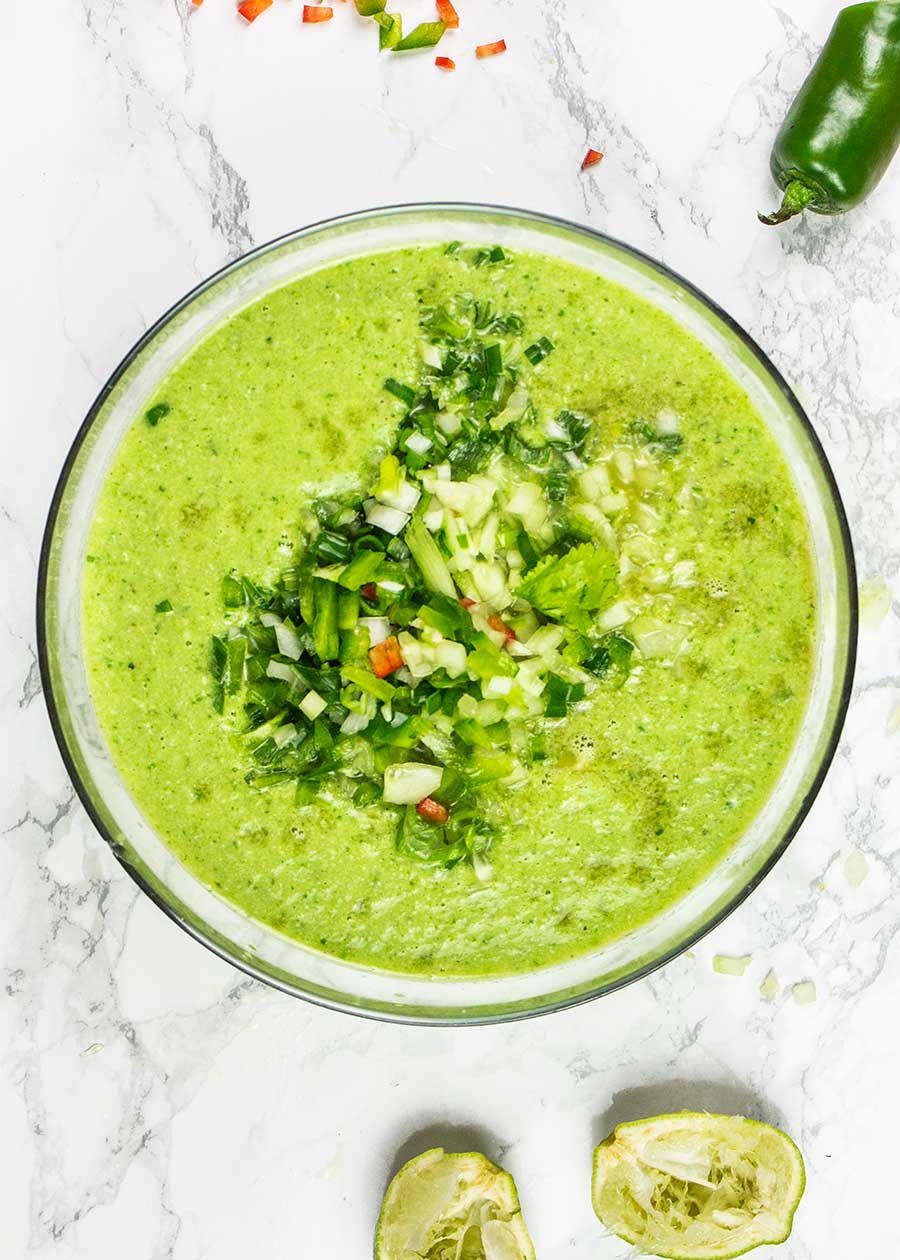 An army marches on its stomach!
The Roman army has been accredited with the creation of numerous recipes which have then gone on to become classics. Gazpacho is no different. With an invading horde such as the Romans, it was inevitable that foods would travel around the known world. Such things as bread would travel only so far so it almost makes sense that Romans occupying Spain would have the need to bring stale bread back to life. Not that it would be impossible to make bread in camps further afield but to know that you could travel further with food (such as bread) if you knew you could turn it into a delicious meal after keeping it for a few extra days would have been a benefit.
So, if we know that an army could survive and thrive with this kind of food then we know that it is not only doing its job as far as keeping an army healthy it was doing its job in terms of keeping them happy too.
What are these health benefits of our easy gazpacho soup recipe 
First of all, what does your food and diet need to give you? The right answer is – energy, vitality and enjoyment. This is one of the main reasons that this soup has flourished in popularity. 
Carbohydrate for energy
Carbohydrates give us energy in the form of a molecule called adenosine triphosphate (ATP) which comes from when we break the carbohydrate down into glucose. This is then taken up in the body's cells after it goes into the bloodstream through a process called cellular respiration. The body can produce ATP from several sources including carbohydrates such as bread which is the easiest way to produce this energy molecule. The other part of carbohydrate in dietary terms is fibre which is essential for a healthy gut and helps extract toxins from the body. 
When consuming carbs, if the body has used all the energy it needs it can store the excess glucose for later, however complex carbs do take longer to break down which means the energy is slowly dispersed throughout the day. 
Often people look to maintain a low carbohydrate diet as research suggests this will improve health but this is purely down to the type of carbs consumed. There have been numerous healthy cultures throughout history that have thrived on high carbohydrate diets, particularly today in Asia where rice is consumed as the largest crop staple and so it seems was the Romans. 
Bread is the second most common staple after rice consumed the whole world around. So if you find yourself having a little bit leftover, whether it be a baguette, simple sliced bread or some old tortilla or flatbreads, then don't throw them away, rejuvenate them with vinegar, garlic, oil and greens.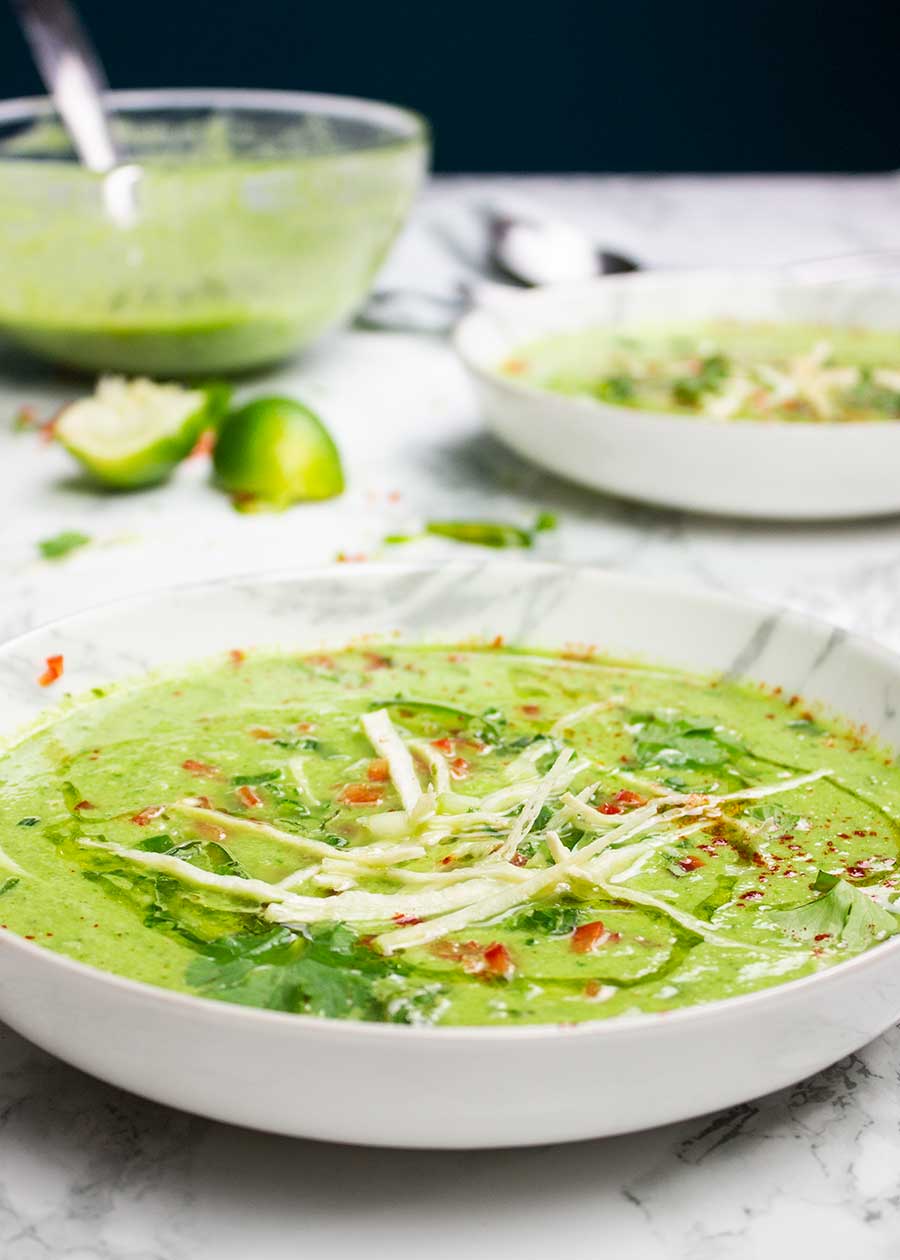 Cucumbers
There are quite a large amount of cucumber varieties that you can choose from. However, always use a fresh, crisp cucumber such as the common seedless variety you would find in your local greengrocers or Mediterranean varieties such as the Armenian cucumber. 
The skin can be peeled and then chopped later for a garnish.
Simply blitz it up to produce a really refreshing and hydrating juice. Cucumbers also alkalizing too.
When your body metabolizes /converts foods into energy the chemical reaction leaves behind metabolic waste, this waste is either acidic, alkaline or neutral. When the residue or ash is left behind whatever its Ph level is will affect your body's acidity. That is the more acidic you are the more susceptible you are to illness and disease. The more alkaline you are the more protected you are to potentially lower the risk of cancers and other acute illnesses. Animal proteins are known to leave behind some of the most acidic ash, but fruit and vegetables such as cucumbers are one that leaves behind very alkaline ash.
Spinach 
Fresh spinach leaves are added to our cucumbers to give even more green goodness. Not only are these leaves full of antioxidants such as carotenoids which help the body at a cellular level to combat oxidative stress which can be a cause of cancers, but there are also ongoing studies regarding an x-ray structure in the leaf that aids its photosynthesis MGDG (monogalactosyldiacylglycerol) Studies link this plant compound to the inhibition of tumours. This potential cancer-inhibiting ingredient is a must-have in a weekly healthy diet and can be eaten in numerous ways such as wilting with main meals or simply blitzed in smoothies or a chilled soup such as this easy green gazpacho recipe.  
Garlic
Garlic has been prescribed for generations. Hippocrates, the ancient Greek Father of western medicine often used garlic to heal ailments. His tenet, let food be thy medicine and medicine be thy food lives on today.
It was once used for purely medicinal properties but because it is so distinctive and tasty it makes a regular appearance in everyday cooking and cuisines all around the world.
Garlic is very nutritious and contains a little bit of pretty much everything you need. One of the main effects of garlic may be due to it being high in Vitamin C. Studies have shown that it is this that helps people keep an effective immune system which can stave off illnesses such as the common cold and flus. It can also aid healing of minor wounds too.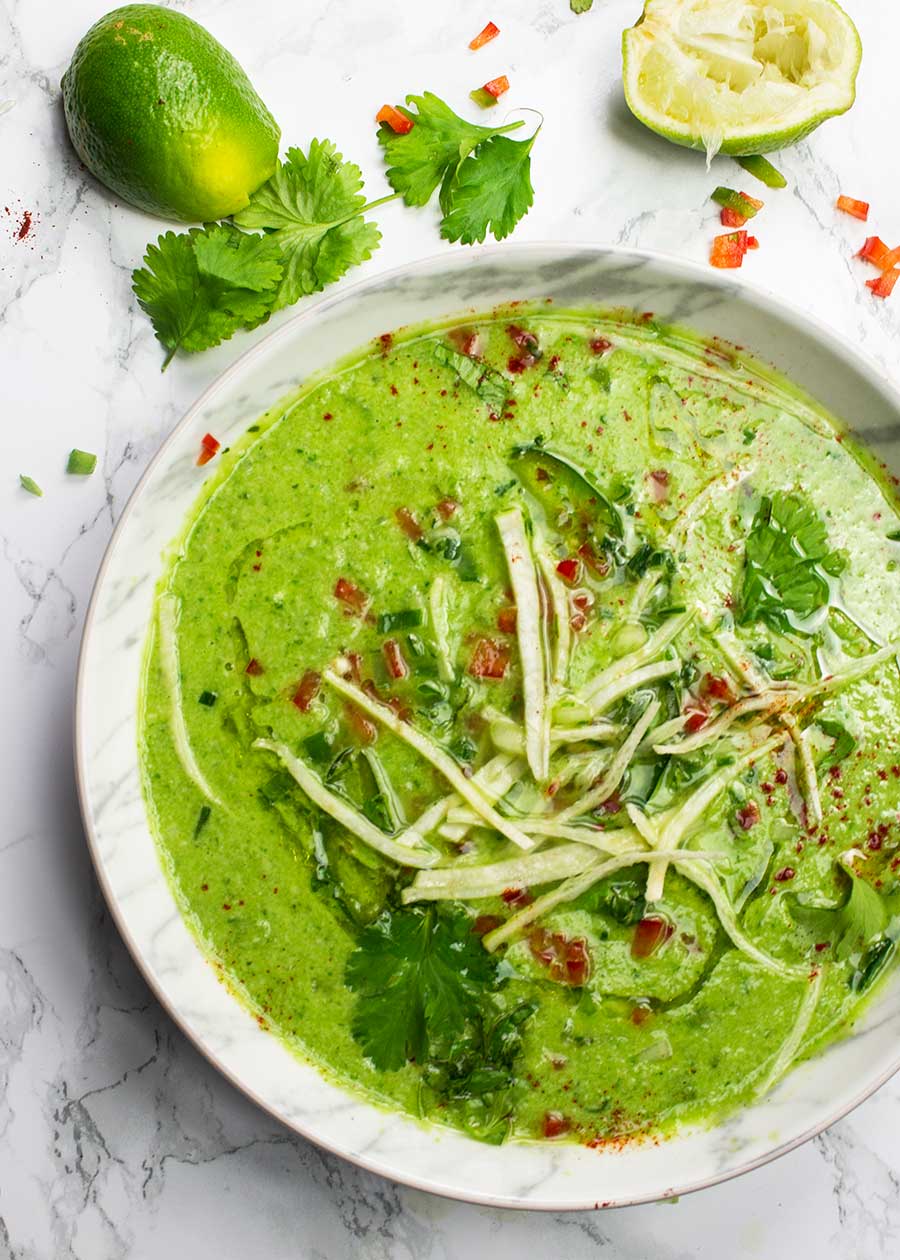 Green gazpacho – a very simple soup recipe to prepare
This amazing plant-based and super easy green gazpacho recipe is prepared in a matter of minutes and needs no cooking. You just need a few chopping skills and a blender.
The trick is to create a texture which gives a little crunch to your soup as well as the zingy silky smoothness too. The way to do this is to finely chop a third of some of the ingredients and reserve them whilst the rest is being blended. The best textures come from the finely chopped cucumber, green pepper and spring onions which also look great in the finished article.
Use within two days of preparation.
Have you made this easy green gazpacho recipe?
We'd love to see your food creations! Please leave a comment below, share or tag using @anticancerkitchen on Instagram and hashtag it #anticancerkitchen.
Other delicious and healthy soup recipes on the blog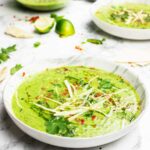 Ingredients
1 large ½ peeled cucumber (400g), ⅓ finely chopped

3 spring onions, 1 finely chopped

4 peeled garlic cloves, chopped

1 green pepper (capsicum) de-seeded and ⅓ finely chopped

1 cup of fresh spinach leaves

400ml/ 1 and 2⁄3 cups of vegetable stock

⅓ cup of loosely packed fresh coriander/ cilantro

⅓ cup of loosely packed flat-leaf parsley

Juice of 1 lime

2 tablespoons of sherry vinegar

80g/ ⅔ cup of stale tortilla bread or flatbread

⅓ cup of olive oil

(a slice of finely chopped red pepper (capsicum) to garnish)

Half a fresh jalapeno chili thinly sliced (optional)
Instructions
Combine the ⅔ of un-chopped cucumber, ⅔ spring onion, ⅔ of green pepper (capsicum), stale flatbreads/tortilla bread, spinach, coriander/cilantro, parsley and garlic in a blender and process whilst pouring in the vegetable stock for a soupy texture.
Transfer to a bowl and stir in the olive oil, sherry vinegar, and lime.
Add the remaining chopped cucumber, chopped green pepper (capsicum), and chopped spring onion and stir through. Chill in the fridge until ready to serve.
Garnish with chopped red pepper, coriander/cilantro leaves, and sliced jalapenos.
Step-by-step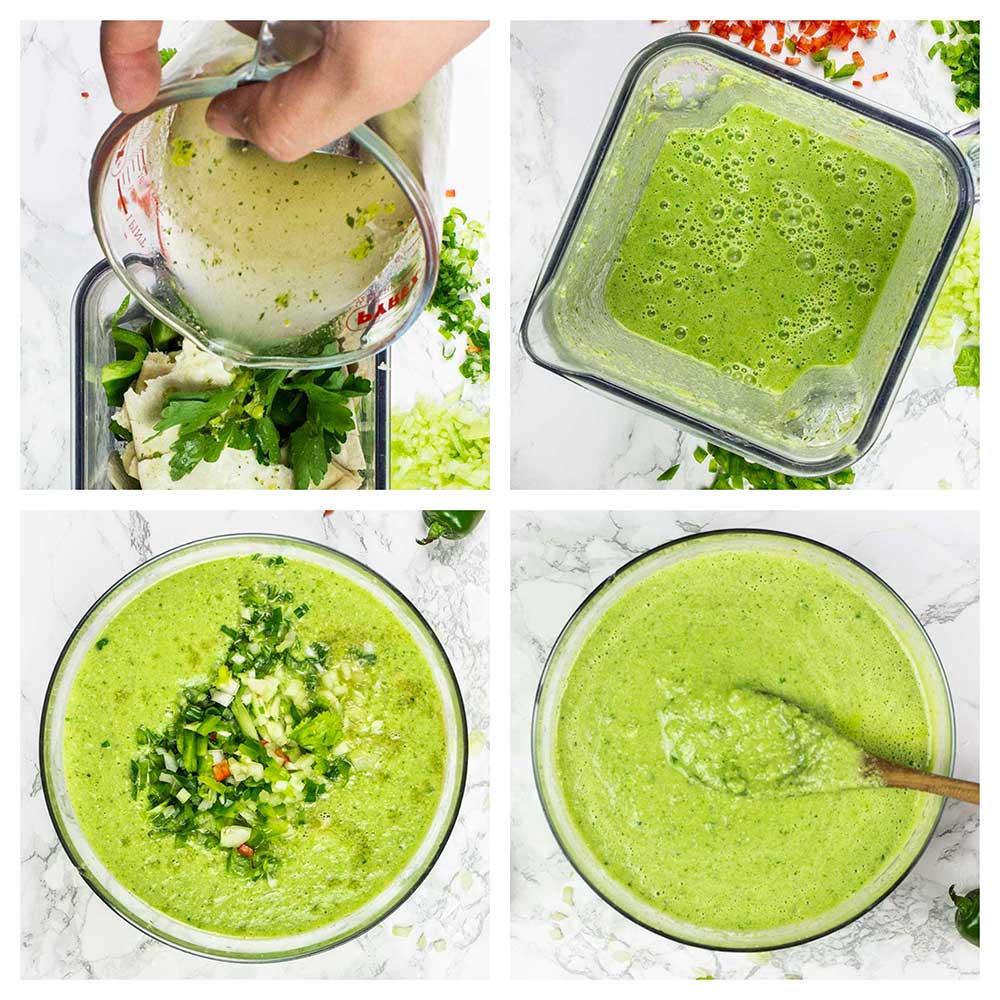 Copyright secured by Digiprove © 2020 The Anti-Cancer Kitchen