This goji berry smoothie is healthy, creamy and delicious. It's easy to make and it's made with 5 superfood ingredients  – dried goji berries, frozen blueberries, chia seeds, linseeds also called flaxseeds and pure coconut water.  Just load them into in a blender, blend and you have an energy-boosting powerhouse full of nutrients and antioxidants.

Easy & healthy goji berry smoothie recipe
Our goji berry smoothie is made with blueberries as they complement goji berries perfectly. The fantastically healthy chia seeds makes this smoothie's consistency beautifully thick and creamy. Linseeds have incredible anti-cancer benefits and coconut water makes it all happen by blending it all together into a delicious shake.
We use dried goji berries and they can be found in most big super markets. To make the goji berries softer, soak them in water for approximately 15 minutes. You can also soak them overnight in the fridge to save time in the morning.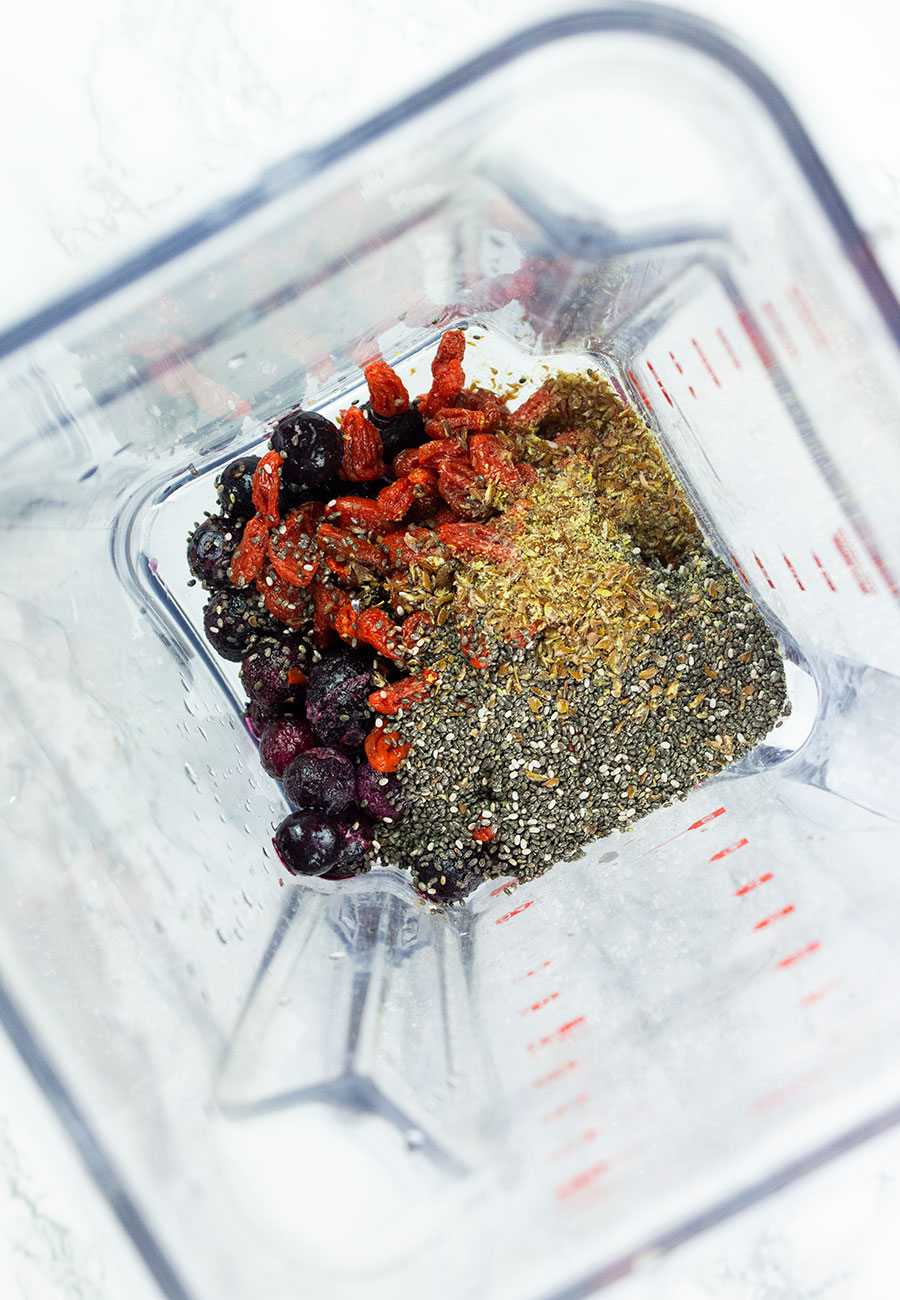 What's a goji berry?
Goji berries, also known as wolfberries, are a medicinal plant which has roots in ancient China. These berries have in the past been used to treat eye, liver, and kidney conditions and infections. They are packed with several vitamins, minerals and other important nutrients.
They are known for giving us more energy, supporting our immune-system, boosting cognitive functioning and strengthening our bones. Goji berries contain more than 20 mineral compounds which make them one of the most nutritious berries in the world. So if you are looking to add more nutrition into your diet, then goji berries are good ones to add to your weekly shopping list.
Goji berry health benefits
Goji berries have an impressive CV. Not only are they known for keeping us younger and healthier, they contain a vast array of vitamins and minerals including sodium, potassium, calcium, iron, zinc, vitamin C, carotene, lycopene, zeaxanthin to name a few.  All these are crucial for the anti-cancer diet.  Research has shown that goji berries could have an anti-tumour effect against various types of cancer cells. Saying that these healthy berries can also react with certain anti-cancer drugs so please always check with your oncologist or doctor before introducing large amounts of goji berries into your diet.
Have you made this recipe?
We'd love to see your smoothie creations! Please leave a comment below, share or tag using @anticancerkitchen on Instagram and hashtag it #anticancerkitchen.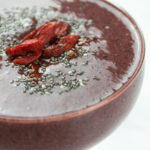 Ingredients
¼ cup goji berries

250ml / 1 cup blueberries, frozen

250ml/ 1 cup coconut water

2 tablespoons chia seeds

½ tablespoon ground linseeds/flaxseeds
Instructions
In a small bowl mix the goji berries and with water, allow to soak for 10-15 minutes to make the berries softer. Alternatively, soak the goji berries in water in a small bowl overnight.
In a blender, add the goji berries, blueberries, chia seeds, linseeds and coconut water and blend until smooth.
Serve and drink immediately.