Delicious spelt flour pancakes recipe that is healthy and immune system boosting.
We just might think we know how to tantalise your tastebuds. Made with spelt flour and oat milk, these mouthwatering spelt flour pancake recipe is not only healthy but incredibly tasty too. Choose your favourite topping and you are good to go. We just love them with fresh blueberries and raspberries and dark chocolate sprinkled on top with a drizzle of Agave nectar to finish it of.
Spelt flour pancakes recipe
So why spelt flour? Spelt flour is great as it promotes bone health, improves blood circulation, helps lower the levels of dangerous cholesterol and boosts the immune system in our bodies. Spelt is a grain that is closely related to wheat and it is believed to have first been used approximately 8,000 years ago. It is packed with important nutrients and minerals such as iron, copper, magnesium, potassium, zinc, niacin, vitamin B6 and folic acid. Additionally, spelt flour has a high content of fibre which is great for healthy digestion. Moreover helping to reduce conditions like constipation, bloating and cramping and more serious gastrointestinal issues like ulcers.  You can find spelt flour in most big supermarkets.
Other sweet recipes on the blog you might like
Have you made this recipe?
We'd love to see your food creations! Please leave a comment below, share or tag using @anticancerkitchen on Instagram and hashtag it #anticancerkitchen.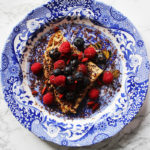 Ingredients
1 egg

100g organic spelt flour

200ml or 0.85 cup milk (oat milk or almond milk)

1 teaspoon salt

1 tablespoon of coconut oil or olive oil

1 teaspoon cinnamon

1/2 teaspoon turmeric
Instructions
Crack the eggs into a mixing bowl and combine all the ingredients.
Whisk with a wire whisk until smooth and let sit for 10 minutes.
Heat up a pan and brush coconut or olive oil so it covers the frying area. Pour a small amount of batter into the pan tilting the pan to spread the batter as thinly as possible. Flip when golden and fry the other side until the other side is golden.
Repeat until the batter is gone.