Healthy homemade waffles that are also crispy, plant-based, gluten-free, fluffy and delicious. Is there such thing? Waffles are probably one of the most popular breakfast or brunch choice in the world and normally associated with being rather fattening and unhealthy. Not this healthy homemade waffles recipe though as it's made with gram flour, cinnamon, turmeric and chia seeds which are all nutrient-rich and cancer-fighting superfoods.
The best, healthiest, homemade gluten-free waffles recipe
We are very proud of this recipe as it's totally naughty-free and gluten-free. We opted for strawberries, raspberries, blueberries and banana as our topping with a drizzle of Maple syrup. But there are so many other options you can pair them with such as blueberry chia seeds & linseeds jam or mixed berries compote with dairy-free vanilla crème fraîche or plant-based ice cream or sorbet.
To make healthy homemade waffle batter is easy, and takes less than 10 minutes. What you need to have is two bowls. In the first bowl you mix wet ingredients and in the second bowl you mix the dry ingredients. Then combine the ingredients using a whisk. Slowly stir in the dry ingredients into the milk/oil mixture and whisk for a minute or so.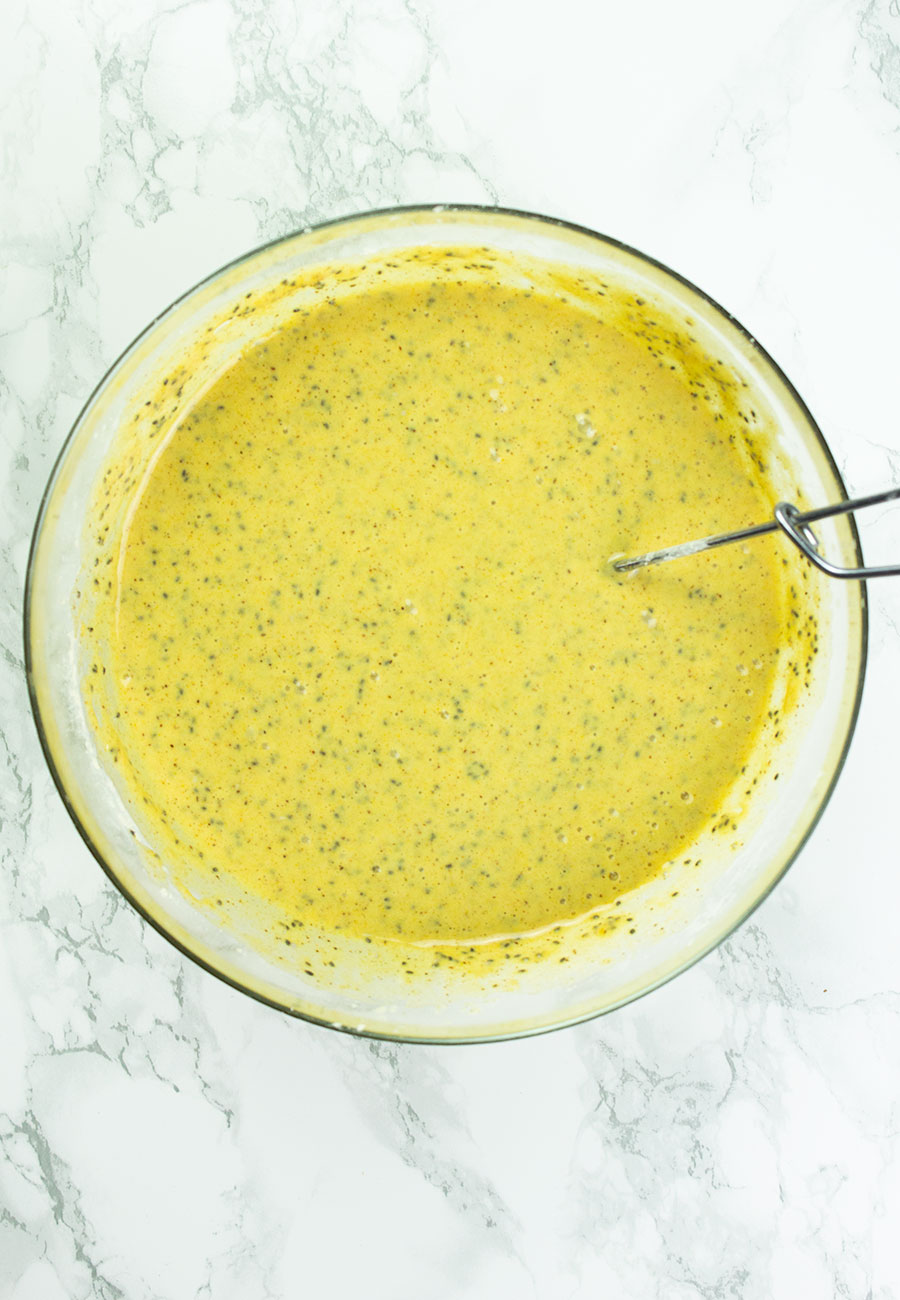 Now onto the health benefits.
The health benefits of gram flour (chickpea flour)
Gram flour, also called besan or chickpea flour is naturally gluten-free. All it is, is milled chickpeas that are either raw or roasted. This flour is high in protein, iron and fibre.
Chickpeas originally made appearance in the Mediterranean and the Middle Eastern cuisine. They are also known as garbanzo beans. It's a versatile legume that is now used around the world in various cuisines especially in the plant-based/vegan cooking as they are a good source of protein. They are delicious either roasted, pureed or in flour form.
Moreover, the health benefits of chickpeas are astonishing. They are full of vitamins and minerals. They are rich is phosphate, calcium, magnesium, manganese,  zinc, and vitamin K – which are all important in regards to building and maintaining a good bone structure and strength. Chickpeas also contain selenium which helps the enzymes of our liver to function properly by removing toxic compounds from our bodies. Nevertheless selenium prevents inflammation and may even decrease tumour growth rate.
Why make healthy homemade waffles
Because waffles are delicious. And, most in-store bought waffles are unhealthy and full of sugar. The have stabilisers, preservatives and fat. Same with batter mixes. By making the batter from scratch you can dictate what goes in it and make it healthy and in this case gluten-free. Additionally add superfoods such as turmeric, cinnamon and chia seeds, like we've done in this recipe.
If you also, like us, enjoy long breakfasts/brunches on the weekends with family and friends, and make lovely meals from scratch, there is no doubt that this recipe will quickly become a favourite in your weekend kitchen too.
PS. These are toddler approved. Yay!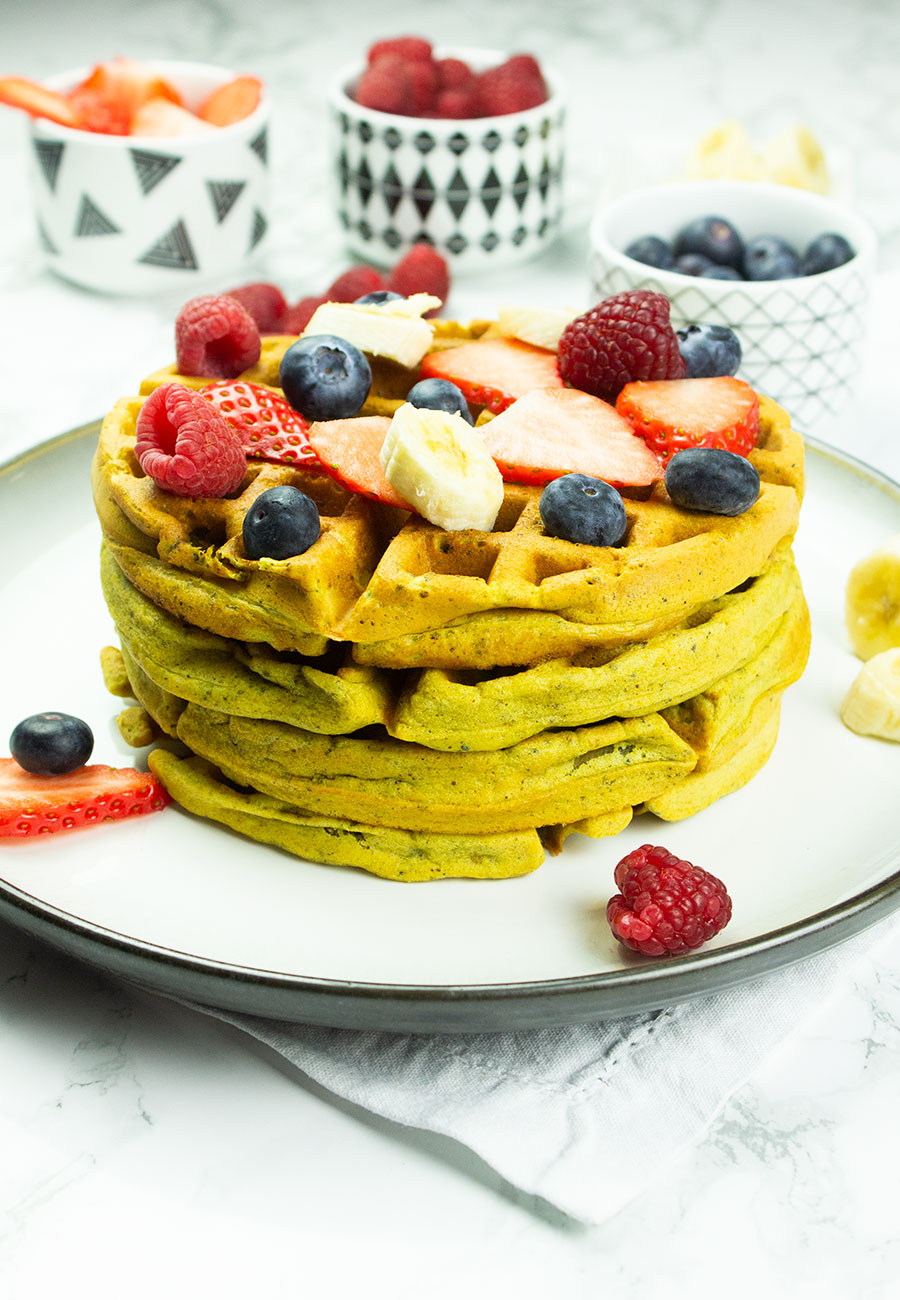 Have you made this recipe?
We'd love to see your food creations! Please leave a comment below, share or tag using @anticancerkitchen on Instagram and hashtag it #anticancerkitchen.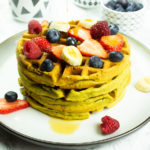 Ingredients
1 ¼ cup oat milk (or almond milk or other dairy-free alternatives)

¼ cup of melted coconut oil

1 tablespoon apple cider vinegar or rice vinegar

½ tablespoon of vanilla extract or powder (unsweetened)

½ tablespoon of Maple syrup

1 ½ cups gram flour (chickpea flour)

2 teaspoon of baking powder

½ tablespoon of cinnamon

1 teaspoon of turmeric

¼ cup of chia seeds

1 cup blueberries (topping)

1 cup raspberries (topping)

1 cup sliced strawberries (topping)

2 bananas sliced (topping)

Maple syrup (topping/drizzle)
Instructions
Heat the waffle iron.
Combine the milk and vinegar in a mixing bowl, stir and let the mixture stand for a few minutes. Add the melted coconut oil, Maple syrup and vanilla extract. And mix well.
Grab a second bowl and combine flour and all the dry ingredients and spices. Then slowly introduce the dry ingredients into the wet bowl stirring/whisking until the dry ingredients have been incorporated and the mixture/batter is nice and smooth.
Use a small dip sauce spoon to pour the batter in to the hot waffle iron. When you have filled all the sections simply close the lid. Cook the waffles for a few minutes depending on your waffle iron (until the light goes green if you have a light button) or until golden brown.
Plate up with your favourite toppings and drizzle some Maple syrup on top.