Raw kale salad with red cabbage and seeds that is full of nutrients and antioxidants.
Christmas – the most wonderful time of the year is finally here which also means total overindulgence for most of us. Whatever you do just don't forget your powerfoods and those dark leafy greens and vegetables. Leafy greens such as kale and spinach are not only incredible weight-loss foods, they are also packed with good nutrients and other important antioxidant compounds. The benefits are many and here are just a few: brain protection, cellular support, anti-inflammatory and anti-aging and most importantly cancer-fighting as these vegetables supply phytochemicals such as indoles that help stop cancer before it starts.
This raw kale salad is what we all need to eat on a daily basis to stay happy and healthy. It is energy-boosting, alkaline, filling, nutrient-rich, detoxifying and just perfect for cancer prevention and healing.
So what's in this raw kale salad? Well, lots of raw organic vegetables, seeds & herbs. Let's talk you through each ingredient and explain why they are so good for you:
Kale –
This leafy green vegetable provides us a great level of sulforaphane which is a unique cancer-fighting compound. Sulforaphane boosts detoxification and helps to get rid of free-radicals in our bodies.
Spinach –
Spinach is rich in antioxidants. It contains lutein and zeaxanthin – carotenoids that help remove free radicals from our bodies. Spinach is the perfect supplier of vitamin A, vitamin K, vitamin C, magnesium, folic acid, iron, potassium and is rich in dietary fibre and omega-3-fatty-acids. 

Red cabbage – 
Cabbage is one of the world's healthiest food. It's incredibly antioxidant and anti-inflammatory. One of the best in fact! Cabbage also is an excellent source of vitamin C and a very good source of manganese.
Thai Holy Basil –
Now Thai holy basil is a true superfood (herb) as it is rich in the powerful antioxidant ursolic acid. Research has shown that ursolic acid can help stop the dividing of abnormal cells and preventing tumour growth and metastasis.
Coriander (Cilantro) – 
The essential oil of the coriander seed helps relieve nervous tension and anxiety. Moreover, coriander has anti-inflammatory properties and helps with the removal of toxins and heavy metals.
Pumpkin seeds – 
Pumpkin seeds contain cucurmosin, which is a type of inactivating protein. Cucurmosin has been shown to induce apoptosis – cancer cells death.
Sunflower seeds –
Sunflower seeds are rich in vitamin E, which inhibits cancer cell growth and protects our bodies from free radicals. Additionally, vitamin E boosts our immune-system's fighting abilities. 

Carrots –
Research suggests that they have powerful anti-cancer properties as carrots contain phytochemicals such as beta-carotene and alpha-carotene. These are the carotenoids that our bodies convert to vitamin A. They are super important for our immune-system and function and maintaining healthy cells.
Red onion –
Onions contain high concentrations of quercetin, a type of flavonoid. Red onion not only has high levels of this but also large amounts of anthocyanin, which boosts the properties of quercetin and has shown to reduce cancer risk.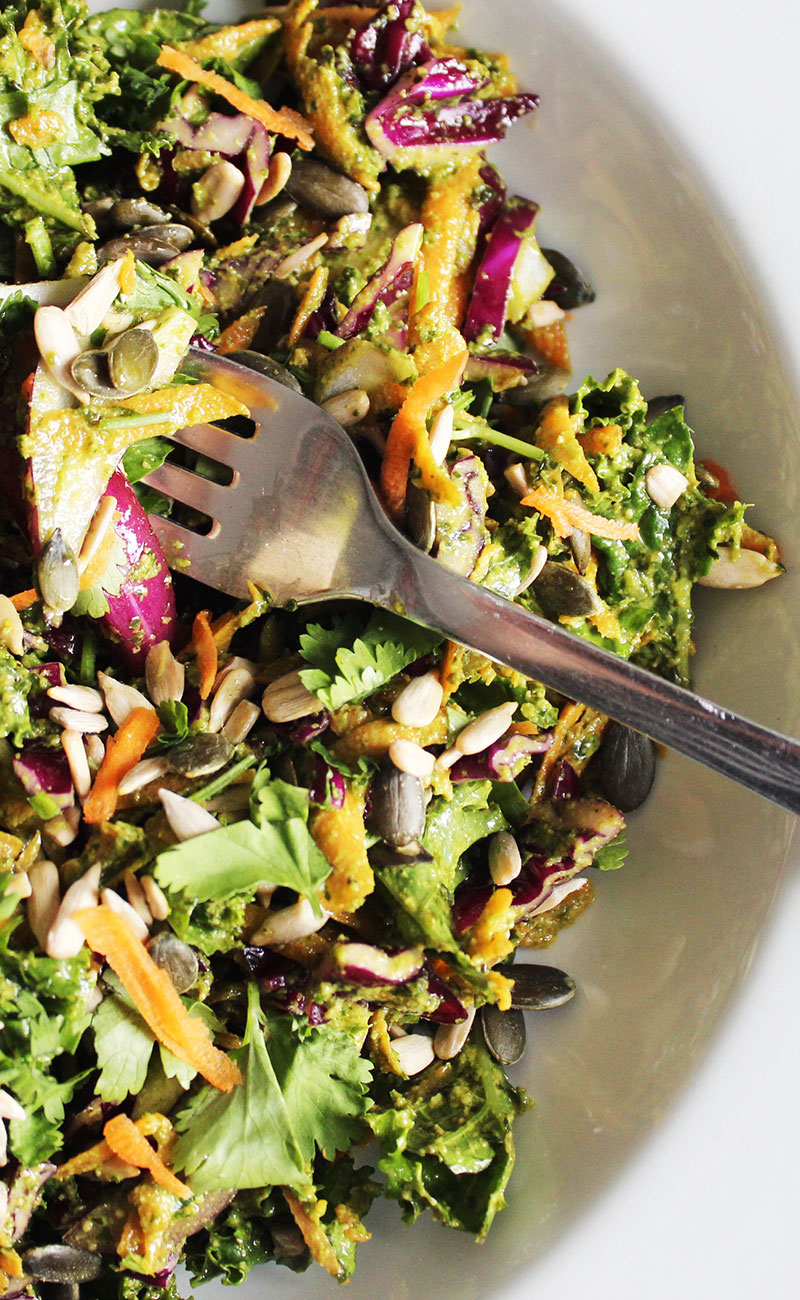 Have you made this raw kale salad with red cabbage and seeds recipe?
We'd love to see your salad creations! Please leave a comment below, share or tag using @anticancerkitchen on Instagram and hashtag it #anticancerkitchen.
More anti-cancer salad recipes on the blog
Check out our mains and salads category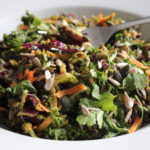 Ingredients
160g red cabbage sliced (1/4 approximately)

100g curly kale

¼ red onion sliced

1 carrot shredded

1 table spoon of olive oil (cold-pressed)

A handful of coriander (cilantro) – chopped

2 table spoons of pumpkin seeds

2 table spoons of sunflower seeds

For the pesto:

50g pine nuts

1 garlic clove

30g spinach

25g kale

10g/A handful of Thai holy basil

10g/A handful of coriander (cilantro)

50ml olive oil

Juice of 1/2 a lemon

Salt & pepper
Instructions
Start with the green superfood pesto. Put the pine nuts into a food processor together with garlic, kale, spinach, Thai holy basil, coriander, squeeze the lemon juice and pour olive oil. Add a pinch of sea salt and black pepper. Process until smooth.
Put sliced red cabbage, shredded carrot, sliced red onion and kale in a bowl and add two generous table spoons of pesto and mix well. Drizzle a little bit of olive oil and sprinkle the seeds and coriander on top.